In continuation to our previous research about anti-malware tools, we pursue further and deeper into the topic of internet security – for you, our reader. Spyware is especially perilous, as it might steal your passwords, record you, collect browsing habits, etc. Anti-spyware software is usually an antivirus program, general or threat-specific.
We've collected 20 spyware protection tools from simple Google search and studied their features, performance, issues. These programs include typical antivirus (Avira, Avast, AVG, McAfee), Internet security suites (eScan, Emsisoft, Comodo, Spybot, Dr.Web, ESET), specific anti-spyware tools (Malwarebytes, Spyware Terminator, SUPERAntispyware, Spyware Fighter, SpyHunter), and one Microsoft tool – Safety Scanner.
There are four chapters of our analysis: feature summary table, brief introductions of each tool with pros and cons, performance tests and short guide about anti-spyware. Here goes the first part. 
Key parameters summary
Product
License
Pricing
License offers
Platforms
Languages
Installer size
Disk space
Portable version
SpyShelter Premium

14-day trial

$32

Anti-keylogger, passwords

Windows

19

10 MB

11 MB

✘
Avira Free Antivirus

Free

$22

Web protection, encryption

Windows, Mac

18

130 MB

195 MB

✘
Emsisoft Anti-Malware

30-day trial

$20

Unlimited use

Windows

20

320 MB

663 MB

✘
eScan Total Security

30-day trial

$55

Unlimited use

Windows

20

430 MB

473 MB

✘
Comodo Internet Security Suite

Free

$28

Firewall, virus free guarantee, 24/7 support

Windows, Mac, Linux

17

70 MB

156 MB

✘
Malwarebytes Premium Trial

14-day trial

$40

Mac/Android  support, real-time protection

Windows

25

77 MB

140 MB

✘
Spyware Terminator

Trial

$50

Zillya antivirus, security tools

Windows

13

9 MB

41 MB

✘
Microsoft Safety Scanner

Free

Free

Unlimited use

Windows

1

149 MB

149 MB

✔
McAfee Total Protection

30-day trial

$50

Unlimited use

Windows, Mac, Linux

15

626 MB

579 MB

✘
AVG Antivirus Free

Free

$20

Firewall, anti-spam tools

Windows, Mac, Linux

21

263 MB

790 MB

✘
SUPERAntiSpyware

14-day trial

$20

Real-time shield, various scan types

Windows

1

34 MB

102 MB

✘
Avast Free Antivirus

Free

$20

Online banking protection, PUA protection

Windows, Mac, Linux

48

260 MB

873 MB

✘
Spybot Search & Destroy

Free

$22

Boot CD creator, secure shredder, antivirus

Windows

11

67 MB

218 MB

✘
Dr.Web CureIT

Free

$28

Online-shopping and banking protection

Windows

27

172 MB

172 MB

✔
Spyware Fighter

30-day trial

$20

Unlimited use

Windows

20

2 MB

21 MB

✘
Trend Micro Internet Security

30-day trial

$40

Up to 3 devices, payments protection

Windows

20

277 MB

756 MB

✘
Norton Security

30-day trial

$50

5 devices, 50 GB Cloud

Windows, Mac, Android, iOS

17

355 MB

2.04

✘
Kaspersky Internet Security

30-day trial

$30

3 Devices, Webcam control

Windows, Mac, Android, iOD

14

182 MB

482 MB

✘
Anti-spyware software
According to Techopedia, anti-spyware is designed to find and remove harmful programs. In turn, spyware is typically installed on a phone/computer in disguise to collect information. With these special anti-spyware programs a user can remove malware that is already hiding on a PC, or use them as antivirus to prevent spyware from installing. We've tested top 16+ programs (in no particular order) and here's what we've found out. If you want to know more about anti-spyware, it's types and trends, you can find it in last part of this article.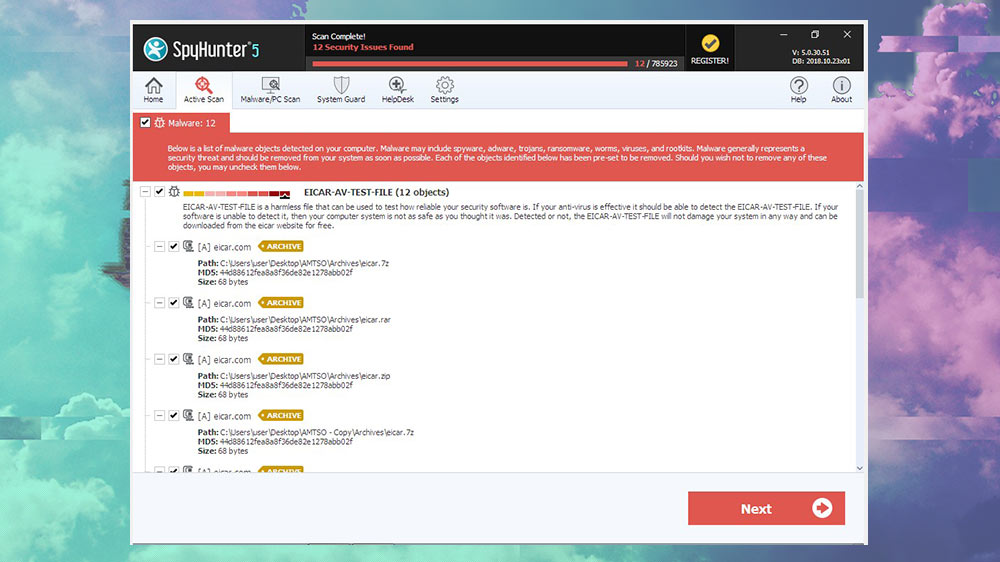 A program by EnigmaSoft from Ireland, who also delivers Total PC Utility, RegHunter, System Medic, etc., and conducts the ongoing research into new types of malware. SpyHunter 5 is essentially an anti-malware tool, with emphasis on constant updates to be able to cope with new threats.
It can detect ransomware, worms, viruses, rootkits, adware, potentially unwanted programs, and other spying software. On the other hand, we can neither praise nor criticize its performance, as we got 39% success rate with it in our test.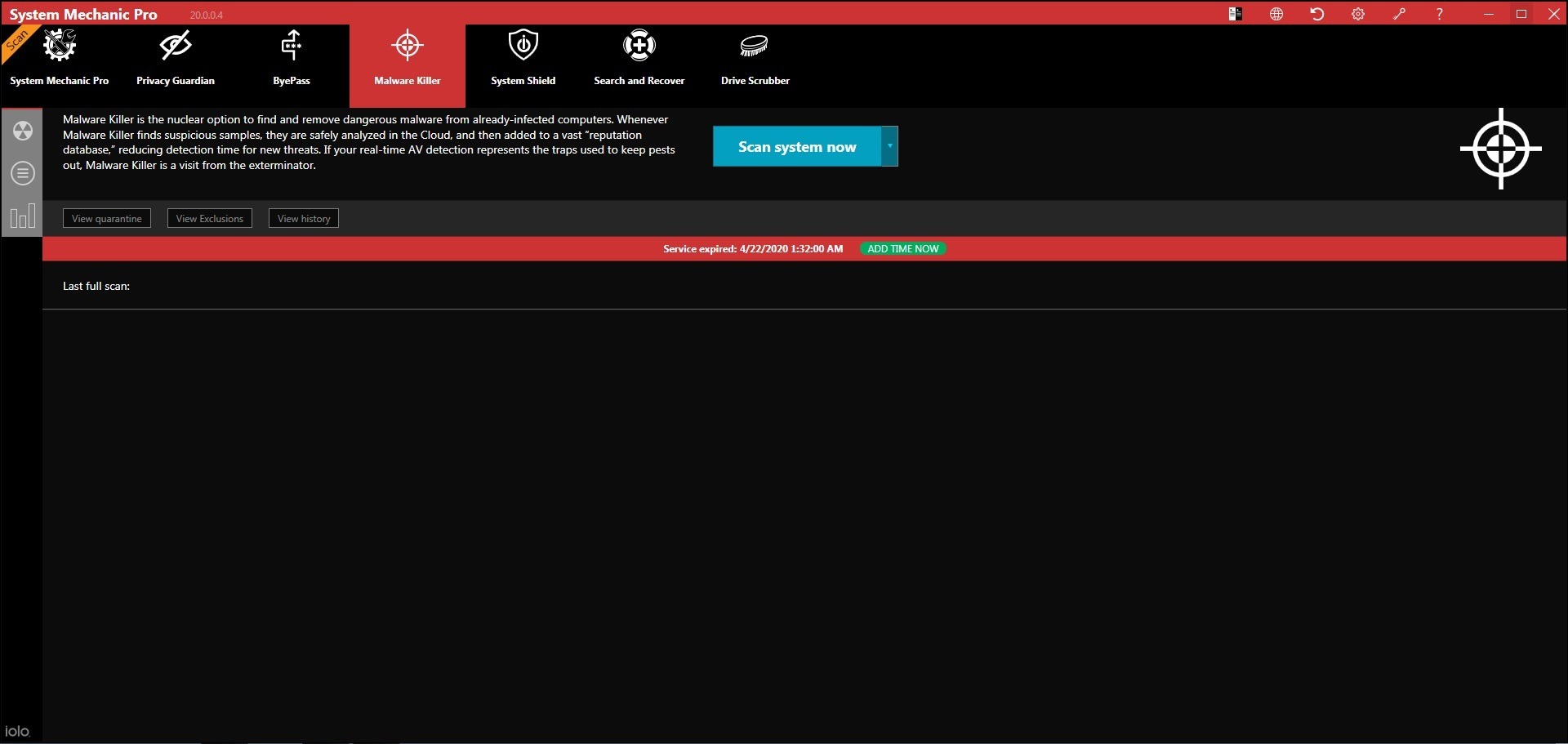 Ultimate Defense is an enhanced version of the well-known PC optimizer System Mechanic. It provides protection against malicious files and spyware. This is an ideal solution for organizing a second level of protection (in addition to antivirus) thanks to its lightweight components.
The Malware Killer component scans user and system files in real-time mode, and thanks to the cloud component it has minimal impact on PC performance. Ultimate Defense also offers a whitelist and a quarantine. Other components of System Mechanic allow to optimize registry, delete junk files, restore accidentally deleted files, etc.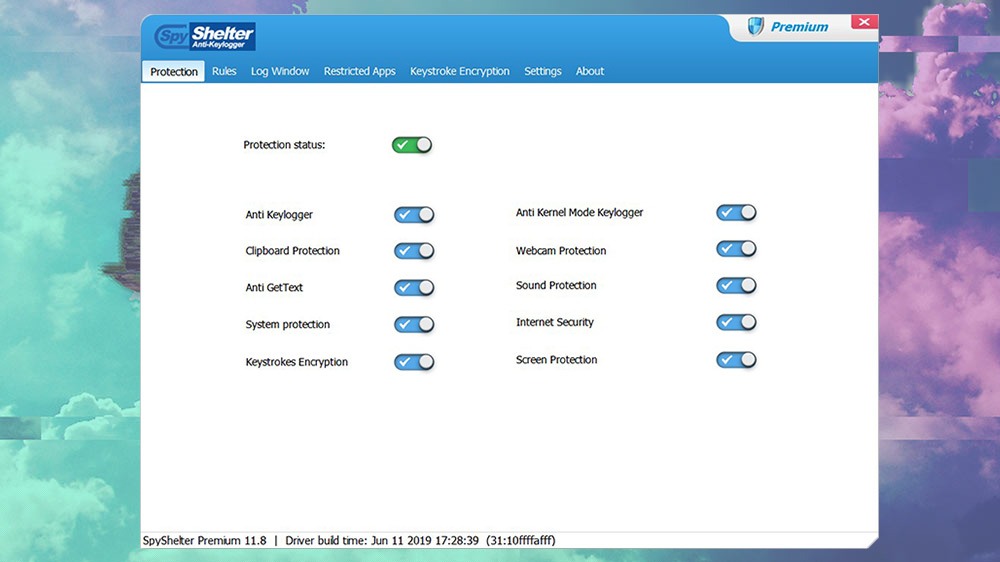 Spyshelter Premium 11.8 provides protection against spyware, automatically tracking 55 different components (behavior analysis) and deciding whether a given application/process is safe or not. Also, users can set their own rules and apply them to files/folders.
Unlike other antispyware apps, SpyShelter does not contain signature detection, cloud components, scanning, it uses the least amount of resources. On the other hand, no scanning feature will be a dealbreaker for some users. There is  even a lighter version – Spyshelter Silent, providing only keylogging protection and keystrokes encryption.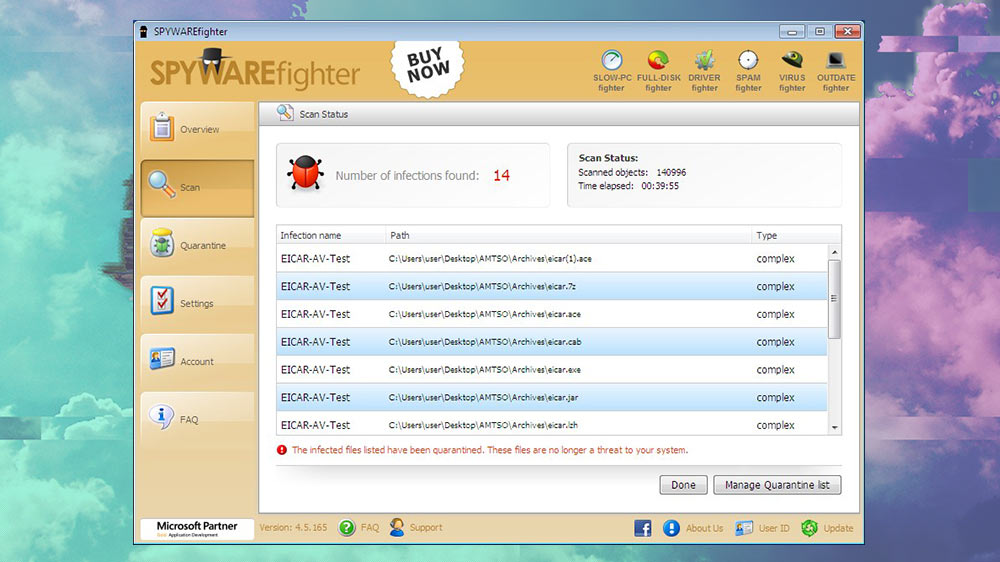 If you deal with specific threats such as trojans, hijacking dialers, keylogger spyware etc., another anti-spyware software in the list is this Spyware Fighter. It is good for Windows systems, has the 'automatic clean' feature that removes traces of bad files, startup entries. It also monitors a device in real-time, basically to protect from malware infection.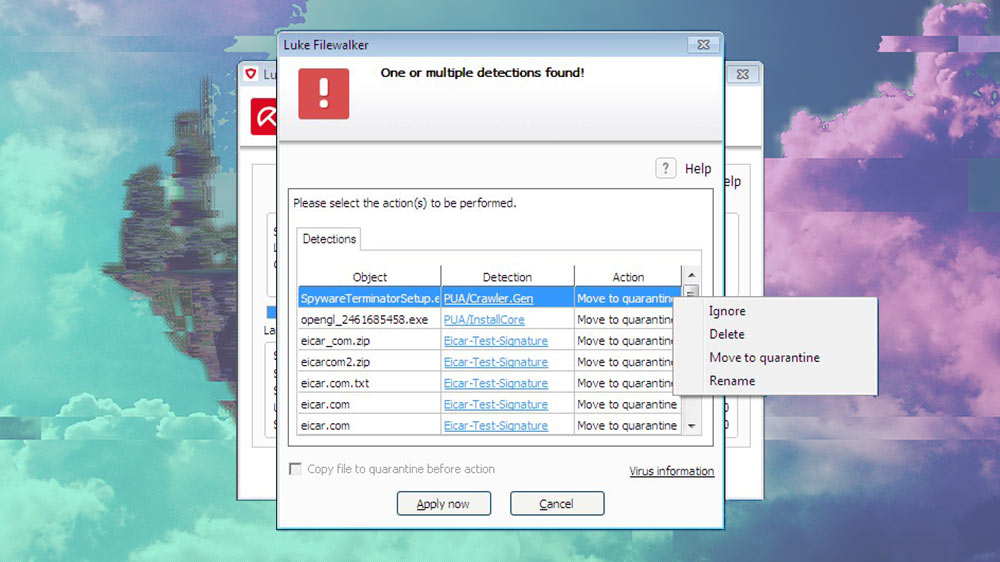 Avira is the company known for providing free antivirus and additional tools to users. With components like ransomware / web / mail protection, though only available in Pro version, it comes with Real-time protection. During our tests it detected and stopped 94% of threats, plus there's a 'browser safety' tool that blocks URLs with malware.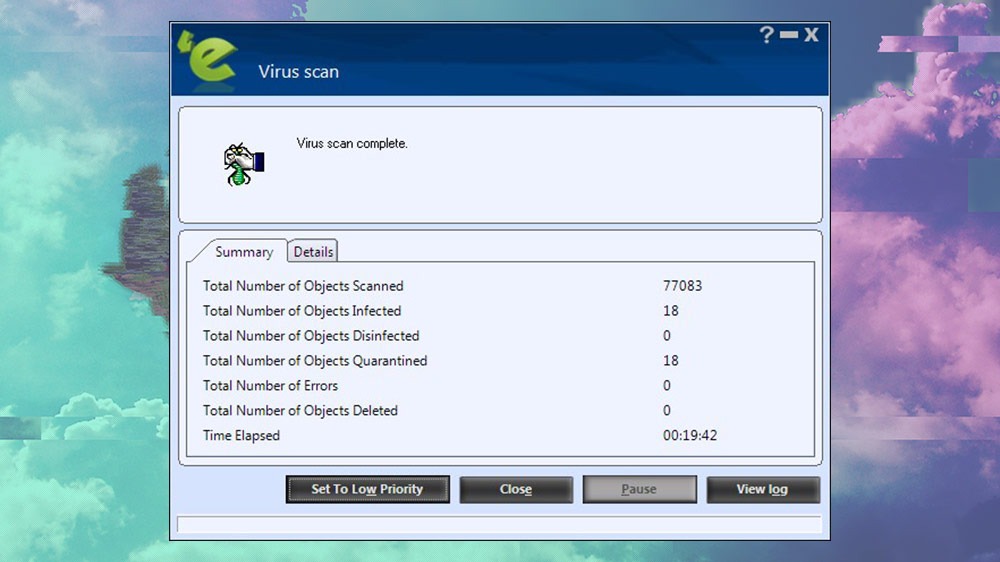 Among many security suites, there's eScan, incorporating antivirus, mail/spam protection, web protection, firewall, privacy control and other tools. In terms of combating spyware, it offers real-time protection against phishing URLs and malicious URLs (though detects roughly ⅔ of threats), file and folder protection, prevention against virus infection of USBs, webcams, SD cards.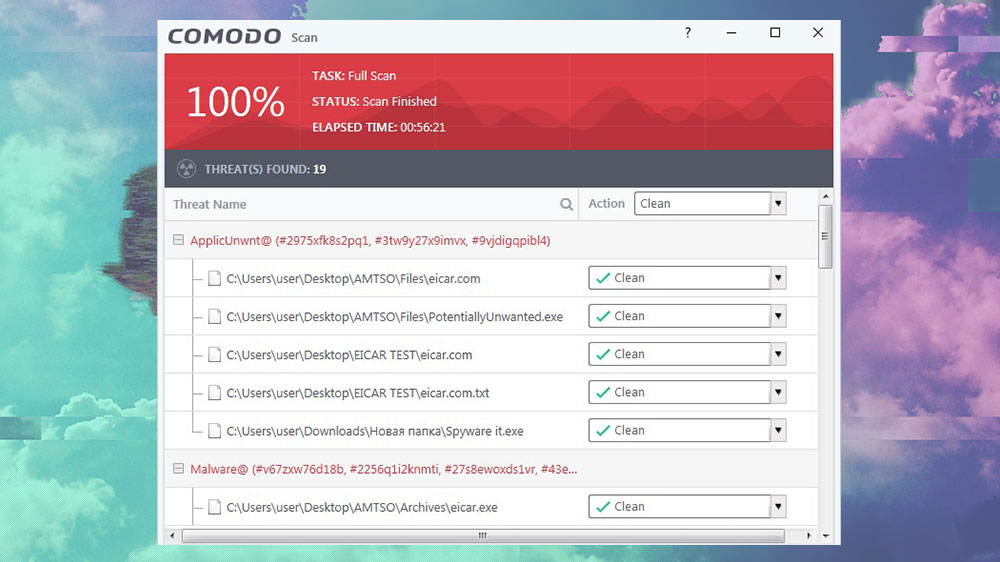 With a pretty extensive set of security software, Comodo also offers an antispyware program, which is unavoidable for such company in 2018, as it seems. Comodo Internet Security Suite is a free anti-spyware/anti-malware app against common threats, with effective countermeasures.
In practice, there's just one irritating thing: while installing, study every windows carefully, if you don't want to end up also installing Comodo homepage, Yahoo search, DNS provider, or Comodo Dragon browser. Seriously, guys?!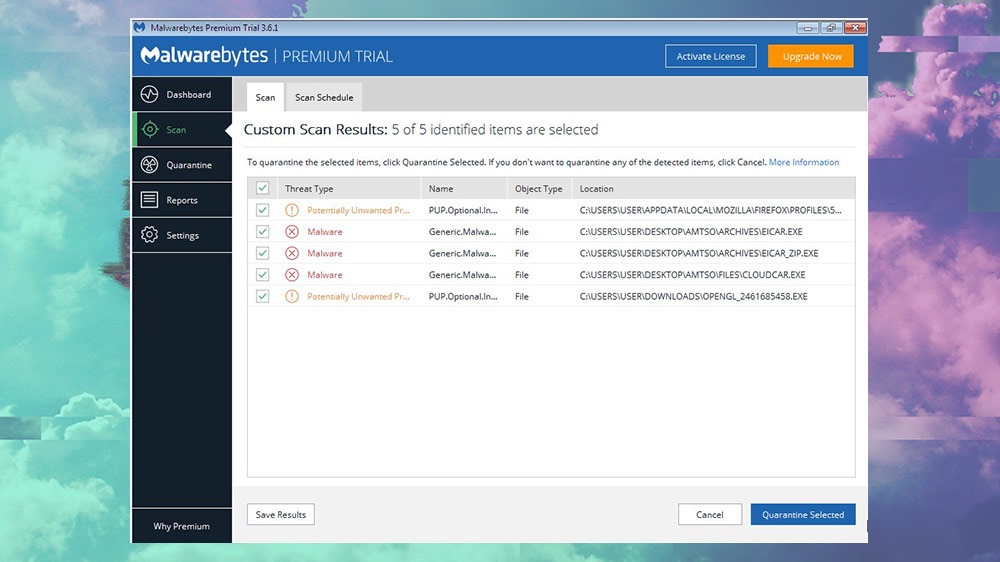 Malwarebytes free version works only for 14 days, so we've decided to test the Premium, as Malwarebytes is probably a #1 tool when it comes to anti-malware protection. It is easy to use, while actually and efficiently fighting spyware and other malicious software.
It scans files, registry keys/values, processes, etc., quarantines threats and alerts a user right away. The program applies heuristic analysis. Malwarebytes Premium provides automatic updates, scanning schedule, automatic quarantine.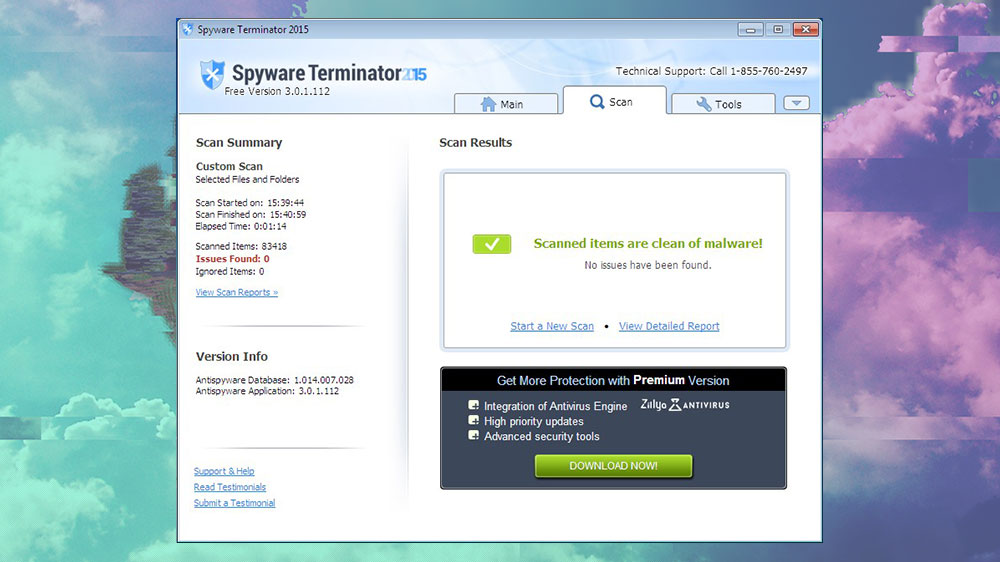 Honestly, if this hadn't showed up in search engine results, it wouldn't be mentioned at all. Spyware Terminator 2015 (yes, that's in the name) from Czech Republic (though doubtful) performed less than poorly against malware during our test. The scan lasted about 1 minute, while other tools take 30 minutes on average, and found 0 – zero – threats. Not without bemusement, we've tried it on another PC and got the same result. The end.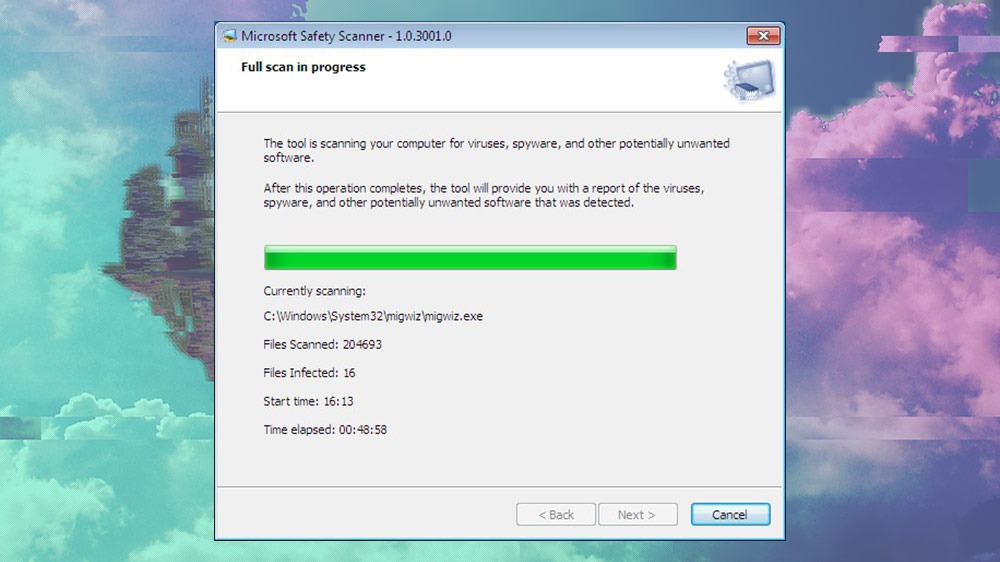 If you're looking for a tool alternative to standard antivirus and security suites, and you need it for Windows system exclusively, check this. Microsoft Safety Scanner is a little and totally free spyware removal program, which users may run manually, even alongside other similar programs. Basic Windows interface, three types of scan (quick, full and custom), good performance (88%), portable.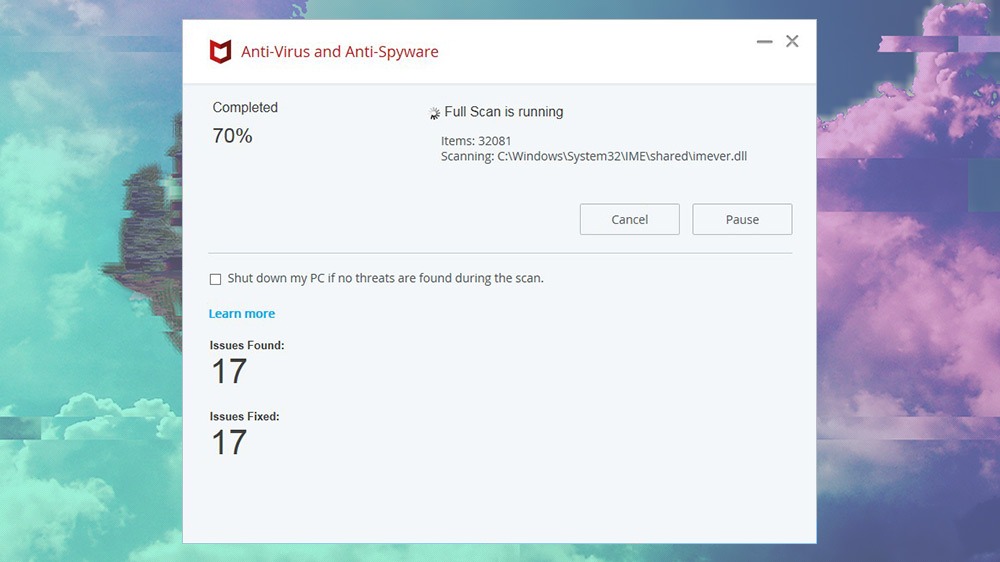 Supporting Windows, MacOS, Android, iOS devices, McAfee is an anti-spyware software with extensive reach and functionality. To that point, Total Protection is very similar to McAfee Internet Security, excluding parental control option. In terms of protection against spyware and malware, it adds value with the help of tools like password manager, file lock utility, file encryption system, identity protection service.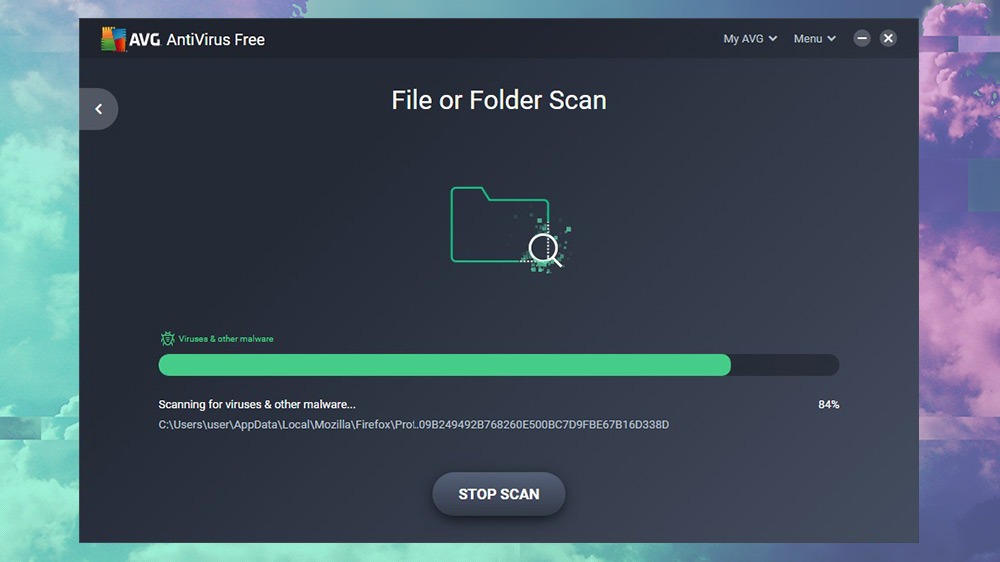 A popular antivirus that also serves as a spyware/malware/ransomware scanner, automatic killer of viruses, and all of that could be for free. It also provides defense for web browsing and email, full system scans, boot time scans, and more. 'Deep scan' feature could also be used against spyware, and you can set it to check files by content and not the extension. It can even cut through 20 archive file types, e.g. ZIP and RAR.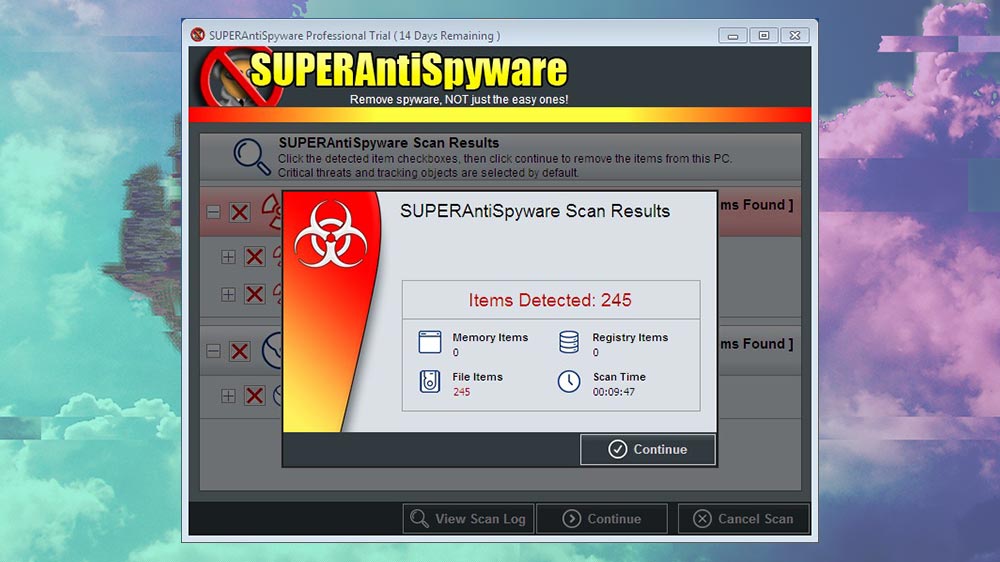 In its free version there's no real-time protection (one has to run scans manually) and no automatic definition updates. However, if you need a tool to remove the spyware that has already infiltrated your PC, SUPERAntiSpyware is great. It scans fast and with full user control of what to scan.
But what is really outstanding, is the option to detect files that have been amended within last 1/5/10 days etc. Then the option to utilize  more CPU to scan faster, to ignore files exceeding 4 MB, to skip files that aren't .exe. For more go to Supera web page.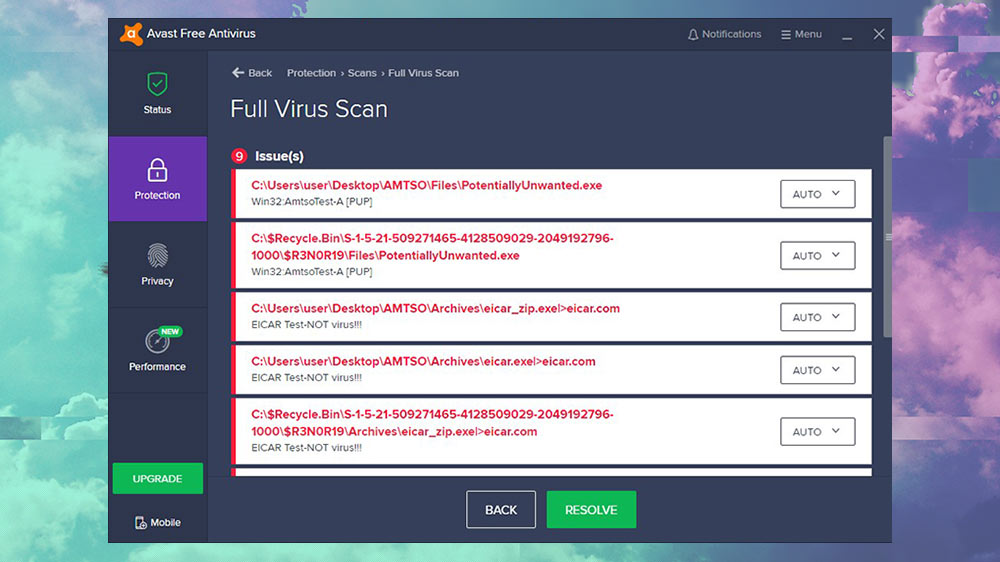 Although it is a general antivirus in the first place, Avast can detect and remove spyware effectively. With many settings one can tweak its performance, e.g. to block unrecognized files, to scan for potentially unwanted programs (PUP) while excluding folders/files/URLs, to inspect wi-fi connections, to clean junk files, to protect mailing, etc.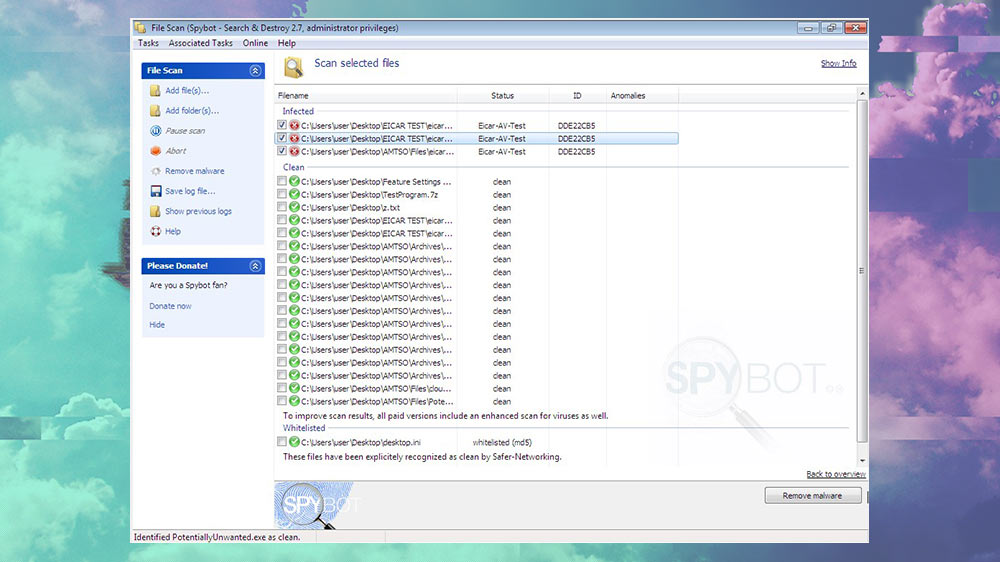 Spybot is mainly for advanced users, as it offers a full control over settings and protection parameters. Besides typical remove spyware and scan particular files options, there are plenty of outstanding features. 'Apply immunization', for instance, blocks threats in browsers, or disable tracking cookies, scan files of any user on a computer. Read the full Spybot review.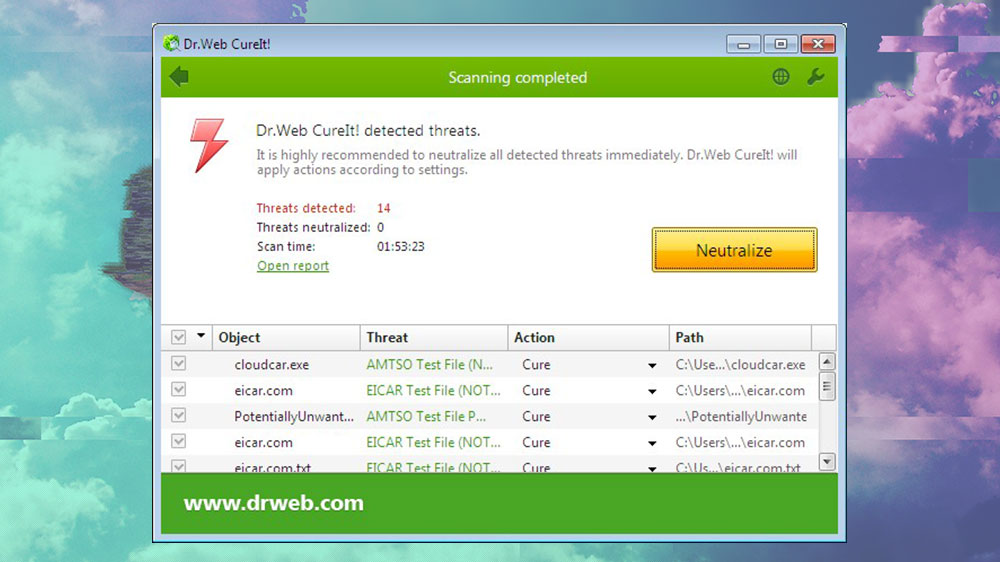 Although it does not offer real-time protection, Dr.Web CureIT tool can disinfect a computer when launched. It includes a set of virus databases and works on that basis. Users should also be aware that this free anti-spyware tool, when scanning, collects and sends statistics and certain data to the publisher. This helps to perfect the program, and includes parameters such as CPU, RAM, operating system, configuration, antivirus, firewall, detected threats.

Emsisoft, known to us from the previous anti-malware tools review, has this 30-day free Anti-Malware program that one can use against spyware as well.  It offers various scan types and performs well – it took 30 minutes to scan and showed 94% efficiency during our tests.
It seems the company likes the number 4 – four layers of protection (surf/real-time/behavior blocker/anti-ransomware), four panels in the interface (protection/scan & clean/logs/settings), four types of malware to combat – ransomware, bots, banking trojans, PUPs.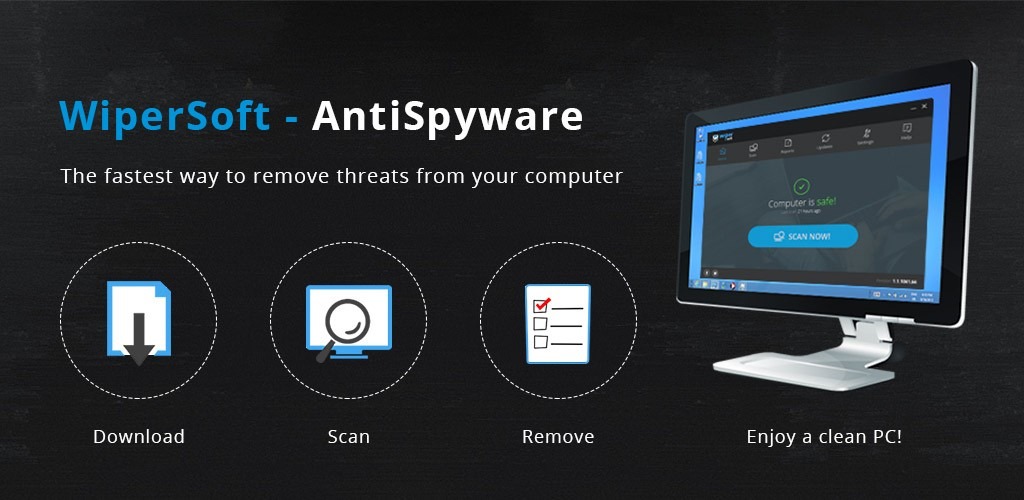 WiperSoft succesfully  detecting and blocking different types of threats: spyware, PUA, Adware and Browser Hijackers. It has two version: free and 6-months subscription. Free version doesn't  provides full protection, because has only passive scanner. Both versions contains reporting tool which collect info after every detection or scan and auto-update tool. In full version also availabled real-time protection and based on Helpdesk services support.

Spy Emergency scans the system, monitors online activities and browser surfing, detects rootkits, provides anti-spam for inbox, creates a restore point before removing spying software, disinfect files, and more. Active protection (real-time) can be adjusted to work with memory, cookies, web traffic, browser add-ons, websites, home pages, etc. Scanning settings are rich as well: heuristic search, default action towards threats, universal extractor, immunization, rootkit search, host scanning, pause/stop, browser protection, restore home page, ADS (alternate data streams) analysis, exclusions, anti-spam, automatic updates of virus signatures, quarantine, file removal.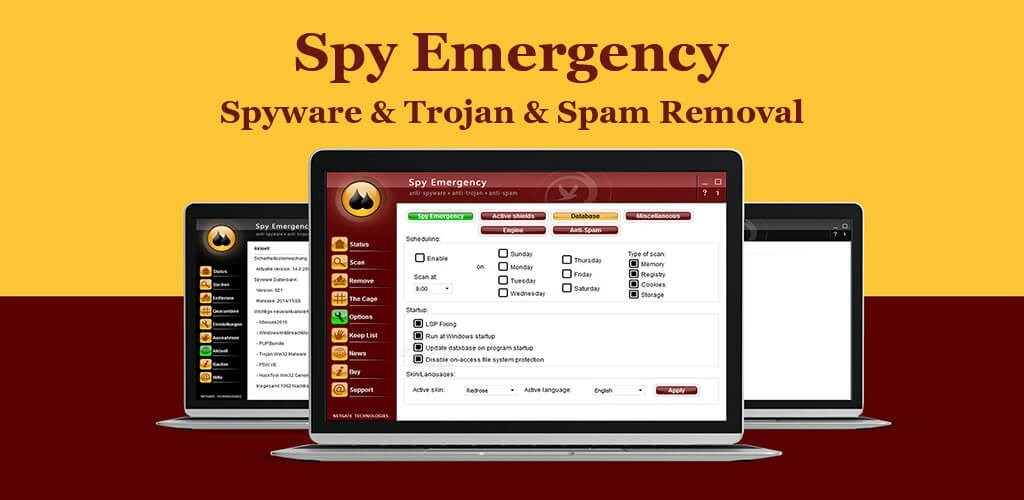 Basic antispyware functionality, unhampered light-colored interface and zero cost definitely prompt to consider SpywareBlaster. With it, users may tweak Mozilla, Chrome and Internet Explorer browsers with options like host file control (and it's backup copy), snapshot, homepage protection, downloads monitoring, blocking Macromedia Flash. One big disadvantage compared to other similar software is no scanning ability. However, active protection against spying attempts and other digital threats is decent.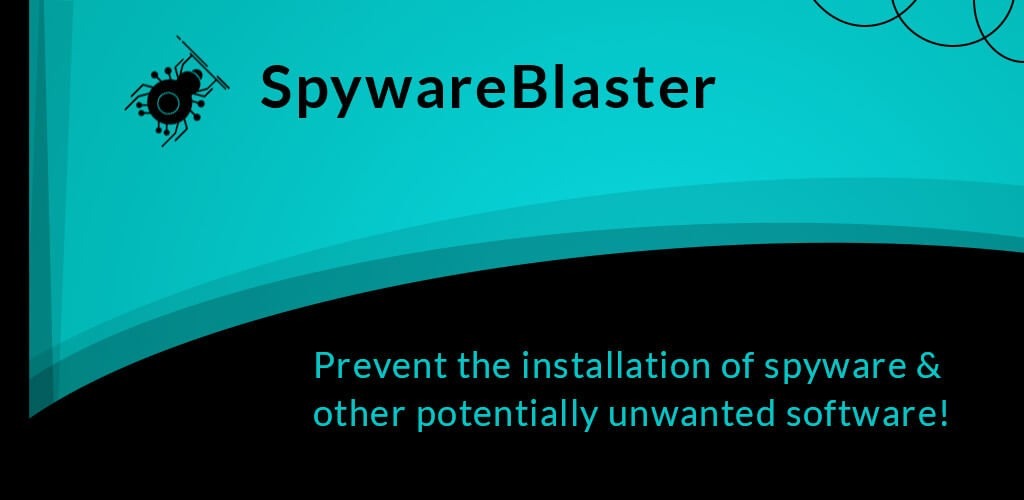 Whether you have to scan computer, create a restore point, manage autorun, keep track and control running apps/processes, delete files and protect folders from intrusions and infections, Max Secure Spyware Detector can be your choice. Sign up to receive access to trial period if not sure about the purchase right away. Interface is convenient, with 3 main tabs – scan, backup, updates. This utility is aimed at spyware of all sorts, forms and shapes and provides lots of extra features to protect personal data. In terms of performance, close to 90% rate of detections in real-time indicates good results. Quick, standard and custom scanning, plus scheduler. Instruments such as whitelist / blacklist, anti-ransomware module, password manager, registry backup and restoration, etc.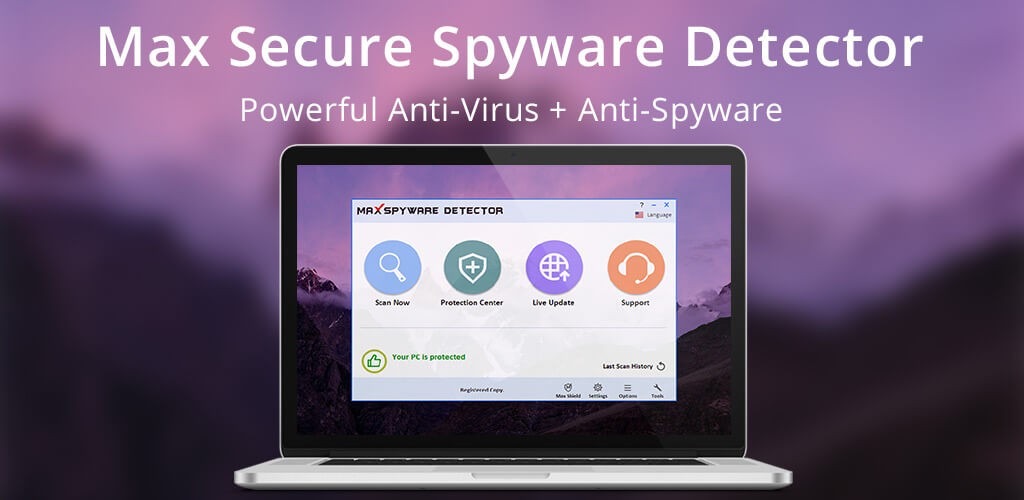 This product was developed by Trend Micro, the experienced Japanese tech vendor of data protection solutions. It uses a traffic analyzer and a powerful firewall to provide safe web surfing. There is also a special module against email spam and malicious file attachments, as well as webcam and microphone access control. Read more in Trend Micro review.

Norton monitors devices and networks via real-time protection modules and other tools. In particular, Dark Web monitoring for regular checks and alerts about data loss threat. Additionally, it incorporates password manager, webcam access control, advanced firewall.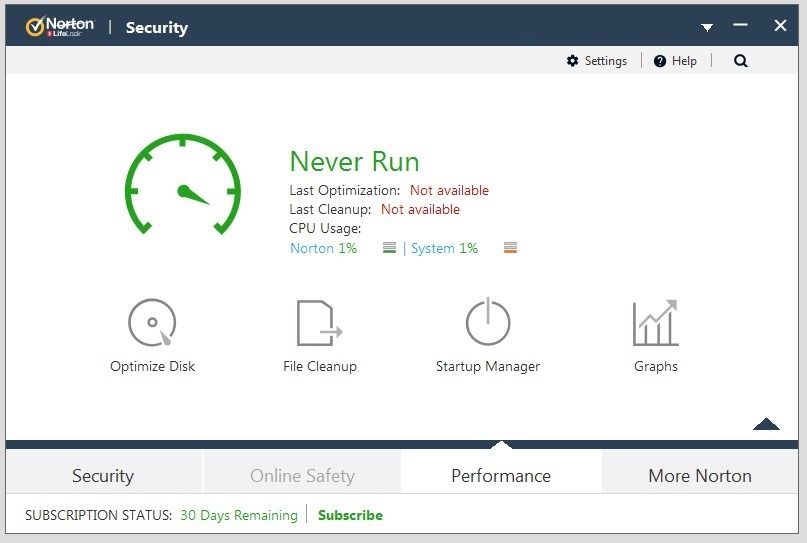 Read full Norton Security review
Kaspersky Internet Security contains extensions for Chrome, Firefox and IE, to make surfing the Internet secure. Through its own threat database, Kaspersky even prevents redirects on scam websites. Virtual keyboard and top-level encryption guide online transactions from attacks like MITM, or data hijacking. For mobile devices, there's the Anti Theft function.
Read full Norton Security review

Antispyware features
Now, let's also compare which key features all those security programs have. For instance, one would argue that real-time protection is crucial for any anti-spyware tool, and still not all of them got it.
Feature set comparison
Active scanner
(real-time)
Passive
scanner
Automatic
updates
Quarantine
Cloud
component
Self-protection
Scheduler
SpyShelter Premium

–

✔️

✔️

–

–

✔️

–

Avira Free Antivirus

✔️

✔️

✔️

✔️

✔️

✔️

✔️

Emsisoft Anti-Malware

✔️

✔️

✔️

✔️

–

✔️

✔️

eScan Total Security

✔️

✔️

✔️

✔️

✔️

–

✔️

Comodo

✔

✔️

✔️

✔️

✔️

✔️

✔️

Malwarebytes Premium Trial

✔️

✔️

✔️

✔️

–

–

✔️

Spyware Terminator

–

✔️

✔️

✔️

–

–

–

Microsoft Safety Scanner

–

✔️

–

–

–

–

–

McAfee Total Protection

✔️

✔️

✔️

✔️

–

✔️

✔️

AVG Antivirus Free

✔️

✔️

✔️

✔️

–

✔️

✔️

SUPERAntiSpyware

✔️

✔️

✔️

✔️

–

–

✔️

Avast Free Antivirus

✔️

✔️

✔️

✔️

–

✔️

✔️

Spybot Search & Destroy

–

–

✔️

✔️

–

–

–

Dr.Web CureIT

–

✔️

–

✔️

–

✔️

–

Spyware Fighter

✔️

✔️

✔️

✔️

–

–

✔️

SpyHunter

✔️

✔️

✔️

✔️

–

–

✔️

Trend Micro Internet Security

✔️

✔️

✔️

✔️

✔️

✔️

✔️

Norton Security

✔️

✔️

✔️

✔️

✔️

✔️

✔️

Kaspersky Internet Security

✔️

✔️

✔️

✔️

✔️

✔️

✔️

Performance tests
The third and final part (and probably the most significant one) of review was to conduct spyware detection tests and measure the performance closely. For these purposes we used two standards: the European Institute for Computer Antivirus Research (EICAR) and Anti-Malware Testing Standards Organization (AMTSO). We installed EICAR files and archives, AMTSO files and archives, then ran each of 16+ anti-spyware programs to test the detection. Find results below.
Anti-spyware performance comparison
Product
Scanning Time
(32GB)
EICAR
Files (2)
EICAR
Archives (2)
AMTSO
Files (3)
AMTSO
Archives (11)
PUA Detection
Total Test Result
Avira Free Antivirus

00:24:03

2

2

2

11

✔

94%

Emsisoft Anti-Malware

00:30:18

2

2

2

11

✔

94%

eScan Total Security

00:19:42

2

2

2

11

✔

94%

Comodo

00:56:21

2

2

3

10

✔

94%

Malwarebytes Premium Trial

00:53:40

2

2

1

11

✔

88%

Spyware Terminator

00:01:14

0

0

0

0

✘

0%

Microsoft Safety Scanner

00:49:53

2

2

1

11

✘

88%

McAfee Total Protection

01:26:17

2

2

1

11

✔

88%

AVG Antivirus Free

00:16:18

2

2

1

11

✘

94%

SUPERAntiSpyware

00:09:47

1

0

2

1

✘

22%

Avast Free Antivirus

00:32:11

2

2

3

11

✔

100%

Spybot Search & Destroy

00:17:44

2

0

1

0

✘

17%

Dr.Web CureIT

01:53:23

2

2

3

11

✔

100%

Spyware Fighter

00:39:55

2

2

1

11

✘

88%

SpyHunter

00:25:58

2

1

1

3

✘

39%

Trend Micro Internet Security

00:18:52

2

0

3

6

✔

61%

Norton Security

00:51:28

2

0

2

9

✔

72%

Kaspersky Internet Security

00:33:21

2

1

3

5

✔

61%
Anti-spyware software guide
What is anti-spyware
It's a special type of software that detects, prevents and removes spyware programs. Spyware is a new-era malicious files and scripts that penetrate computers and networks without user's knowledge or permission. The goal of such malware is to "spy" – to collect personal or business information, thus the name "spyware". According to Wikipedia, there are 4 main groups of spyware: adware, system monitors, tracking cookies, trojans, and the most spread examples include keyloggers, rootkits, web beacons.
With the rise of such spyware, new methods and tools have appeared to prevent it, e.g. anti-spyware. This type of software by commercial tech companies as well as big antivirus vendors utilizes rule/definition methods to detect spyware. It can be used to remove spyware or, like an antivirus, to stop spyware on its way into the system. Modern security suites are adding anti-spyware features, as a rule.
Antispyware apps inspect data from email messages, websites, downloaded files, Windows registry, system files, etc. and then deletes files if they match known spyware. Real-time protection is identical to antivirus – file scanning, blocking spyware, stopping attempts to install external unwanted items. Developers of anti-spyware tools are devising new updates regularly to be able to counteract new and evolving digital threats.

Best anti-spyware tools
There are literally hundreds of security suites, anti-malware and anti-spyware programs. Which one is best depends on a number of factors, starting with user's goals, features he is seeking, infrastructure, and budget, of course. One can also narrow down the search (to get results close to expectations) by googling phrases like "anti-spyware for Android", "anti spyware for iPhone", "antispyware for Mac", "best free anti-spyware", and so on.
Big antivirus companies, like Avast or McAfee, are also in the mix, as they are also adding antispyware tools to their packages. But if we take the big-three of Avast, AVG and Avira as search terms over the past 3 years, we see that they are losing their share, probably because of newly emerging niche security software.
Generally speaking, such spyware removal tools like Spybot 'Search & Destroy', Emsisoft Emergency Kit, Malwarebytes, Adaware, SUPERAntiSpyware, Comodo, SpywareBlaster, proved to be reliable over time and gained positive user and expert reviews. In the current Antispyware software category you can see over a hundred of products, so there's plenty of choice for any needs. Overall, a good anti spyware app should be able to seamlessly clean a computer from spying worms and trojans, apply various methods of sophisticated malware detection, be able to monitor networks/processes/services/browsers, protect web cameras and microphones, have a quarantine and removal options.
Types / Features 
An anti-spyware program should be able to detect and stop all kinds of spying applications: from domestic spyware used by employers or parents, legal commercial third-party spyware that tracks user's online activities as a customer, to illegal malware collecting private data, recording user's actions, installing viruses, scripts and so on.
Having analyzed dozens of these security tools, we've summarized the following common features:
Active + passive protection
Cloud security
Quarantine
Camera protection
Microphone protection
Network monitoring
Memory monitoring
Processes monitoring
Services monitoring
Browser privacy check / browser files cleaner
Privacy registry keys cleaner
Ad blocker, app blocker
Anti fingerprint tool
Trends
Anti-spyware tools are gaining more and more traction because of market demand. New kinds of malware, adware and spyware are emerging constantly, and the number of cyber attacks is rising, even posing a risk to state and international institutions, communications, infrastructure, military operations etc. There are many sorts of such malicious things, e.g. URL loggers, screen recorders, web camera recorders, chat loggers, email interceptors, keyloggers, password recorders, browser hijacking, modem hijacking, trojans.

FAQ
Q: What is antispyware?
A: Anti-spyware is a type of software designed to detect and remove unwanted spyware programs. Spyware is a type of malware that is installed on a computer without the user's knowledge or permission in order to collect information.
Q: What is the best antispyware?
A: There is no way to tell. Every program has pros and cons, but just like with antivirus software, there's no one able to bale guarantee 101% safety and spyware detection. Nevertheless, weshould point out SpyBot, SpyHunter, Malwarebytes, SuperAntiSpyware.
Q: What is the best antispyware for Windows 10?
A: Windows 10 has built-in tools against spyware and viruses, but there's no 100%-guarantee surely, as modern malware/spyware becomes more sophisticated each day. As for anti-spyware, same basic considerations as with other versions of Windows apply, so feel free to check the reviews above.
Q: Is antispyware free?
A: Nowadays almost all products have trial version or free version with limited functionality. Although, the only free cheese is found you know where.
Q: Is antispyware safe?
A: It is not just safe, it makes you safe! Indeed, the security of personal data today is important to every user of the global network.
Q: What's the difference between antispyware and antivirus?
A: Anti-virus and anti-spyware programs work similarly, the difference is in the type of malicious files that it searches and scans a hard drive for. Today, some antivirus programs include spyware protection and vice versa.
Q: How to choose the best antispyware?
A: For each user the concept of "best" are different, and there are various criteria: price, safety, privacy, design, fast performance etc. Check out our list above and maybe you'll find the right spyware protection software.
Q: Which antispyware is good for Mac?
A: By default, the Mac operating system is sufficiently protected from viruses and spyware, one has to try on purpose to catch a virus. Though, to feel even safer, consider Malwarebytes.
Q: Which antispyware is good for Android?
A: You can protect your device with any popular antivirus, for example: 360 Security, Avira, Avast Antivirus, Dr. Web Security Space or many other protection applications. As a bonus, you will also receive the optional anti-theft protection, parental control and other benefits.
Q: Which antispyware is good for iOS?
A: It is practically impossible to infect iPhone/iPad with spyware as physical access is required for installation. Anyway, check out these tools: : iAmNotified, Lookout, Avira Mobile Security, Mobile Security & Anti-Theft Protection for iPhone.
Q: Is Windows Defender antispyware too?
A: Yes, there is spyware protection in it as well, and starting with Windows 10, virus protection has been integrated. For more information refer to Microsoft security blog.
Q: Malwarebytes vs Kaspersky
A: Both programs have similar malware detection and removal rates, performance and usability results. Malwarebytes has won over more users, though.
Q: SuperAntiSpyware vs Malwarebytes
A: Basically, both programs are designed to do the same job, and perform about equally. However, Malwarebytes prevails in the number of users.
Q: SuperAntiSpyware vs Spybot
A: SuperAntiSpyware and SpyBot are similar anti-spyware applications designed to detect and remove malware and various types of malware.
Q: Avast vs Bitdefender
A: Bitdefender is one of the best antivirus products available. It has excellent protection performance, a wide range of features and a reasonable price. Avast, although lacking in some of these areas, has a generous free plan. Up to you to choose which way to go.