Every user knows that an operating system needs care, otherwise, sooner or later, crashes, errors or lags are inevitable. PC cleaner software was introduced to prevent this by keeping the PC sound and fit. Yet the choice is overwhelming. Even trimming it down, we end up with 20 different products.
These programs allow you to conduct a system scan, detect and fix potential issues. Some have extra options – from system startup optimization to registry defragmentation. We are going to run each one of 20 and compare the results. To level the field, we'll create a system restore point and revert to it after each cleanup.
Test stand:
Windows 10 64-bit, Intel Core i5-9400 2.90 GHz,
8 GB RAM, VirtualBox Graphics Adapter.
Basic info (pricing, installation, OS)
| | | | | | | |
| --- | --- | --- | --- | --- | --- | --- |
| Product | License type | Price (annual) | Installer  | Size | Languages | Operating system |
| ASC | Free / Pro | $19.99 | 49 Mb | 255 Mb | 34 | Windows XP or higher |
| ASO | Trial / Pro | $52.95 | 17 Mb | 80 Mb | 14 | Windows XP or higher |
| Ashampoo | Trial / Pro | $29.99 | 20 Mb | 73 Mb | 28 | Windows 7 or higher |
| Auslogics | Free / Pro | $50.96 | 27 Mb | 129 Mb | 8 | Windows 7 or higher |
| Avast Cleanup | Trial / Pro | $59.99 | 1 Mb | 219 Mb | 45 | Windows 7 or higher |
| AVG Tuneup | Trial / Pro | $49.99 | 1 Mb | 220 Mb | 25 | Windows 7 or higher |
| Avira SpeedUp | Free / Pro | $31.99 | 6 Mb | 112 Mb | 14 | Windows 7 or higher |
| BleachBit | Free | – | 13 Mb | 19 Mb | 1 | Windows XP or higher |
| Ccleaner | Free / Pro | $24.95 | 27 Mb | 60 Mb | 5 | Windows 7 or higher |
| Clean Master | Free / Pro | $29.90 | 29 Mb | 91 Mb | 1  | Windows XP or higher |
| CleanMyPC | Trial / Pro | $39.95 | 28 Mb | 50 Mb | 19 | Windows 7 or higher |
| Eusing | Free | – | 2 Mb | 3 Mb | 1 | Windows 98 or higher |
| Glary | Free / Pro | $19.97 | 9 Mb  | 35 Mb | 93 | Windows XP or higher |
| iolo | Trial / Pro | $55.96 | 67 Mb | 128 Mb | 10 | Windows 7 or higher |
| JetClean | Free | – | 4 Mb | 14 Mb | 20 | Windows XP or higher |
| Jv16 | Trial / Pro | $10.00 | 6 Mb | 60 Mb | 20 | Windows Vista or higher |
| OneSafe | Free / Pro | $36.00 | 6 Mb | 18 Mb | 19 | Windows XP or higher |
| Slim Cleaner | Trial / Pro | $19.97 | 1 Mb | 912 Mb | 6 | Windows XP or higher |
| WinUtilities | Free / Pro | $19.95 | 7 Mb | 29 Mb | 30 | Windows XP or higher |
| Wise | Free | – | 4 Mb | 13 Mb | 36 | Windows XP or higher |
Key features
Product
Junk
files
Registry
Broken
shortcuts
Privacy
traces
Duplicate
files
Backup
Ignore
list
RAM
optimizer
ASC

✔️

✔️

✔️

✔️

✔️

✔️

✔️

✔️

ASO

✔️

✔️

✔️

✔️

✔️

✔️

–

✔️

Ashampoo

✔️

✔️

✔️

✔️

✔️

✔️

–

✔️

Auslogics

✔️

✔️

✔️

✔️

✔️

✔️

✔️

✔️

Avast Cleanup

✔️

✔️

✔️

✔️

✔️

✔️

–

✔️

AVG Tuneup

✔️

✔️

✔️

✔️

✔️

✔️

–

✔️

Avira SpeedUp

✔️

✔️

–

✔️

✔️

✔️

✔️

✔️

BleachBit

✔️

–

–

✔️

–

–

✔️

–

Ccleaner

✔️

✔️

✔️

✔️

✔️

✔️

✔️

✔️

Clean Master

✔️

✔️

–

✔️

–

–

–

✔️

CleanMyPC

✔️

–

✔️

✔️

–

–

✔️

✔️

Eusing

✔️

✔️

–

✔️

–

✔️

✔️

✔️

Glary

✔️

✔️

–

✔️

–

✔️

✔️

–

iolo

✔️

✔️

✔️

✔️

–

✔️

✔️

✔️

JetClean

✔️

✔️

✔️

✔️

–

✔️

✔️

✔️

Jv16

✔️

✔️

✔️

✔️

–

✔️

✔️

–

OneSafe

✔️

✔️

✔️

✔️

✔️

✔️

✔️

✔️

Slim Cleaner

✔️

–

–

✔️

✔️

–

–

✔️

WinUtilities

✔️

✔️

✔️

✔️

✔️

✔️

–

✔️

Wise

✔️

–

–

✔️

–

–

✔️

–
Performance testing
Product
Junk files 
Invalid
shortcuts
Registry
entries
Privacy traces
Scanning time (mm:ss)
ASC

531 items / 339 Mb

11 items

376 items

2314 items / 157 Mb

02:00  

ASO

74 items / 258 Mb

4 items

54 items

337 items / 65 Mb

08:20 

Ashampoo

453 items / 219 Mb

13 items

129 items

3303 items / 129 Mb

02:05

Auslogics

822 items / 250 Mb

14 items

171 items

3558 items / 116 Mb

00:25

Avast

943 items / 177 Mb

30 items

82 items

1097 items / 46 Mb

00:50 

AVG Tuneup

1012 items / 205 Mb

33 items

82 items

1098 items / 47 Mb

00:55 

Avira

734 items /285 Mb

–

81 items

162 items / 64 Mb

00:35

BleachBit

895 items / 232 Mb

–

–

1146 items / 101 Mb

00:25

Ccleaner

280 items / 271 Mb

13 items

339 items

2662 items / 129 Mb

00:35

Clean Master

– / 1.3 Gb

–

0 items

370 items / – 

00:10

CleanMyPC

764 items / 90 Mb

–

113 items

2262 items / 260 Mb

01:15

Eusing

211 items / 70 Mb

–

123 items

492 items / 37 Mb

09:45

Glary

279 items / 81 Mb

13 items

–

2168 items / 121 Mb

00:25

iolo

370 items / 149 Mb

13 items

18 items

1783 items / 47 Mb

00: 20

JetClean

232 items / 76 Mb

21 items 

1025 items

377 items / 30 Mb

01:05

Jv16

570 items / –

11 items

10 items

263 items / –

01:15

OneSafe

562 items / 125 Mb

8 items

107 items

2582 items / 127 Mb

03:15

Slim Cleaner

187 items / 58 Mb

–

–

2370 items / 102 Mb

01:05

WinUtilities

–

21 items

348 items

– / 538 Mb

03:00

Wise

479 items / 369 Mb

12 items

–

3624 items / 153 Mb

00:40
Top-20 PC cleaner software reviews
Note: In most cases, we have used trial versions, even though the developers provide free versions, as those have many features blocked. The main functionality of these programs is aimed at system cleaning, and drastic change in PC performance should not be expected. The essence of PC cleaner tools is removal of residual files and fixing broken registry paths. Similar category: PC optimization software.
Although this program belongs to the optimizer segment, PC cleaner functionality is at a high level. It provides scanning of 12 different system segments. With 4 areas selected, the scanning process took 2 minutes in our case and it found 496 Mb of useless data.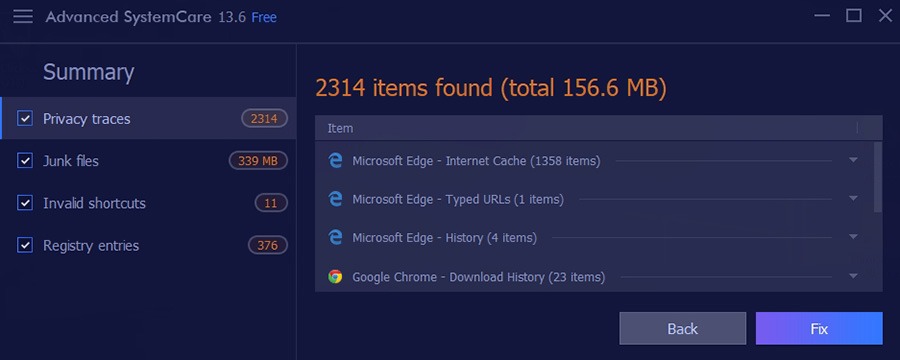 Extra tools might be of use too: privacy shield, real-time monitoring, ads removal, software updater, browser activity, etc. A system optimizer includes Turbo Boost mode – it stops unnecessary processes to release RAM. Overall, a powerful app covering a huge number of system objects.
Read more: IObit Advanced SystemCare review.
An undeniable leader in the Utilities category, CCleaner brings a large number of features. At the first launch, it will perform a full system scan covering the following issues: privacy, disk space, speed, security. Of course, custom scans and registry fixing can be done later on.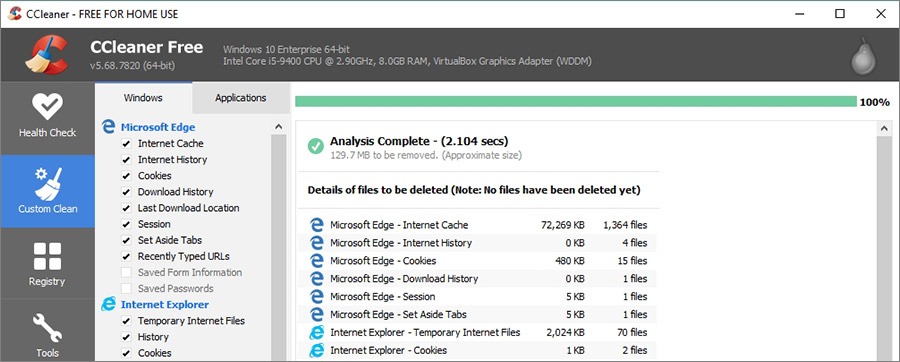 One of advantages is the structured distribution of registry and residual files. The scan includes a massive number of data types that you can check/uncheck before the process. To get access to additional options, use the Tools tab (uninstaller, software updater, browser plugins manager, etc.). The total amount of junk in our case was 400 Mb. On the flipside, more info on scanned files would be nice.
It is safe to say that BoostSpeed includes the most extensive functionality range in this list. This is also the cause of why it may seem not very user-friendly. This program covers every possible system cleaning task – from primary registry fixing to software uninstallation. All functions are divided into 26 modules located in the All Tools tab. The Dashboard tab provides information about CPU, RAM, HDD, etc.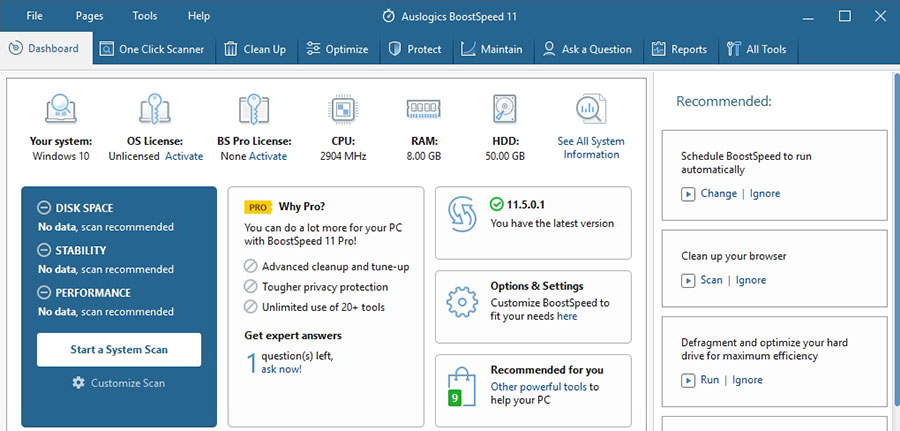 We've used v.11.5.0.1 free license of Auslogics BoostSpeed 11 for tests and were positively surprised. The scanning process took only 25 seconds, and unearthed 350 Mb of residual files, as well as 150 registry issues. Scheduler and RAM optimization available in the Pro version. 
Read more: BoostSpeed review.
Jet Clean is the most straightforward PC cleaner program on the list. Before the cleaning process, it is recommended to check file groups to prevent accidental deletion of necessary data. Go to Settings > Rescue to create a restore point. The utility will carry out scanning of all system folders and files, including registry, apps, shortcuts, and RAM.

The Tools tab contains detailed information about PC characteristics, drivers, connected devices, etc. Since Jet Clean is a free program, the interface has room for improvement. Scanning results are average. The full scan, though, did not last long, but Jet Clean found 1026 registry issues, and this is 3 times more than most programs have found.
This one provides an intricate system scan and effective cleaning afterwards. General analysis takes less than a minute. All found data is sorted into 6 groups: broken registry items, broken shortcuts, system junk, browser cache, tracking and cookies, download history.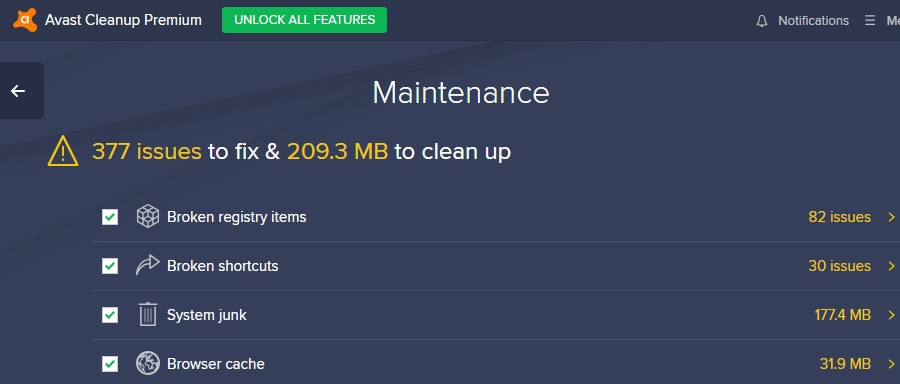 The scanning has shown great results: 209 Mb of unnecessary data and 377 issues. All these files are temporary, and their deletion will not affect OS performance. If not sure, use the Rescue Center. 45 interface languages is encouraging. Pro license costs $60, and there's a 30-day money-back guarantee. 
Read more: CleanUp review.
Similar to Avast CleanUp due to the same developer, AVG TuneUp contains almost identical functionality: system and registry cleaning, program optimization, software sleep mode, etc. Scanning effectiveness is at a high level – under the Maintenance option 252 Mb of obsolete files were found.  

Note that the number of broken shortcuts is incorrect both in AVG TuneUp and Avast CleanUp. This is due to additional content of erroneous registry items – not a critical problem, yet it is present. Pro version costs $50 for up to 10 PCs, which is 10 bucks less than CleanUp for essentially the same product. 
Avira is a set of tools for PC maintenance. It includes 8 blocks such as system speedup, antivirus, software updater, password manager, VPN. Each block can be installed separately so that it does not waste disk memory. In the free version of System SpeedUp, you can delete only 1/3 part of junk.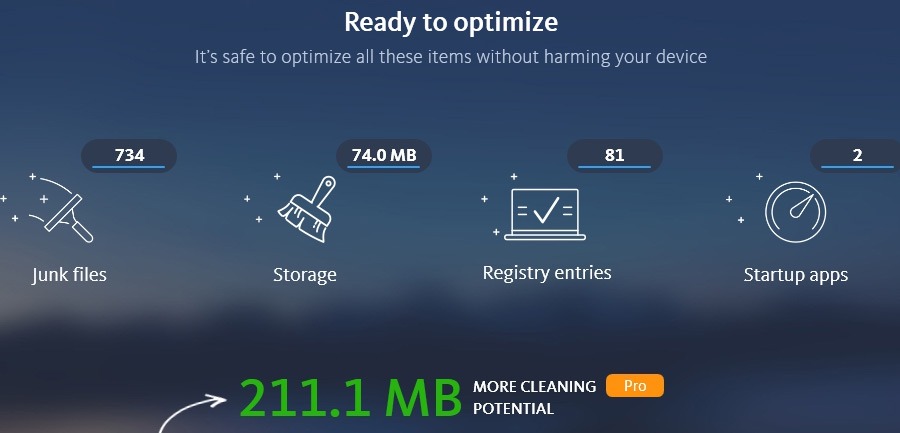 A full scan is named Power Cleaner, and it costs $32 under Pro subscription. 80% of features are available in it as well. Overall, modern interface, ease of use and separate functionality modules place this app to a podium of top PC cleaners.
Skipping the basics, a widget on the right indicates CPU load and PC status in 8 separate groups. Information on any specific file, registry path, invalid shortcut, etc. is presented. The Automatic tab is quite handy – set up auto-cleaning, live monitoring and gaming optimization.

In general, this utility has a large number of different modules for special tasks – configure right-click menu, recover files, manage system restore points, uninstaller, etc. In other words, this is an all-in-one type of software. Dark and light mode to choose from. Trial lasts 10 days and there's a free license, yet limited in functionality.
WDC will help you get rid of useless files in a few clicks. As in most listed utilities, you can mark a specific file group for cleaning. All data is divided into 2 types: files and traces. After the scanning process, you will be able to expand each tab and check the location of any file. The app also contains a scheduler, which allows you to perform automatic cleaning tasks at a set time.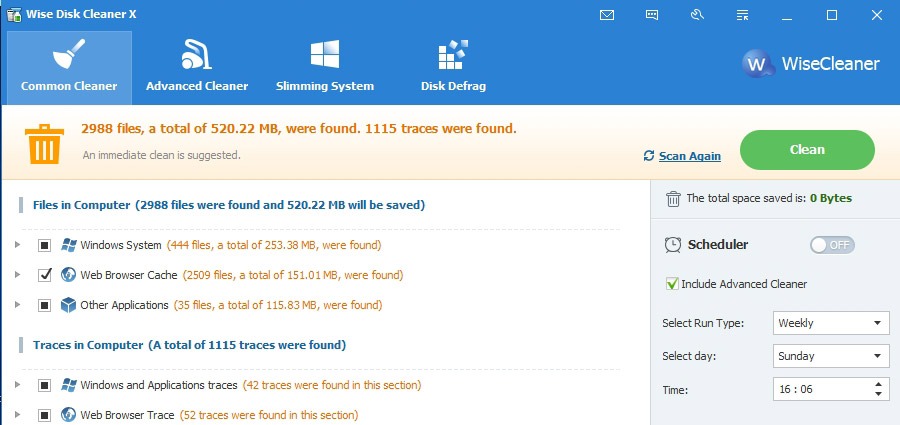 WDC performed very well in testing and found 522 Mb of junk. The only drawback is no possibility of system registry cleaning. To do that use Wise Care 365, which includes a large number of features, including the registry fixing option. 
Friendly and relatively easy to use. All functions are strictly for system cleaning. The advantage of CleanMyPc is its convenient structure. Note that standard scan-and-fix does not cover registry issues. A special registry cleaning tool appears in the Registry Maintenance tab. macOS version is called CleanMyMac.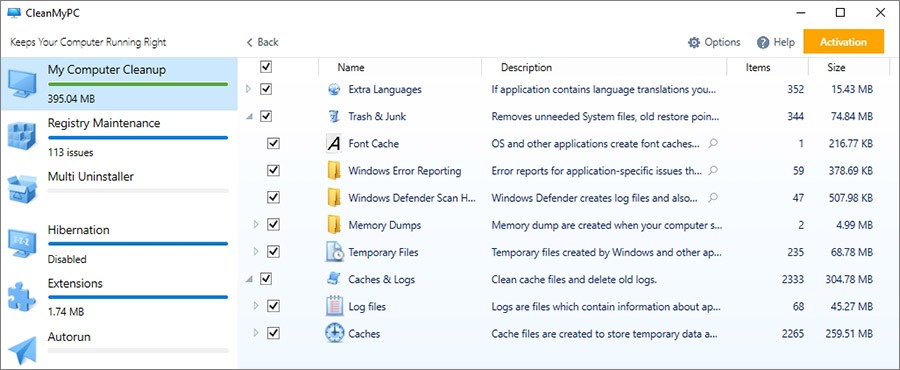 Extra functions are uninstaller, browser extension manager, autorun optimization, file shredder, etc. We can't say that our PC worked faster after the cleaning process, but unnecessary data was properly removed. In trial you can clear up to 500 Mb of junk data only. Pro version costs $40 yearly or $86 as a lifetime license.
Read next: PC optimization software review.
Another optimizer from the Indian company Systweak. The first start of the program will be accompanied by a system scan. ASO can create backups of necessary files, recover accidentally deleted data, and provide protection against certain types of malware. In Quick Scan mode it found 58 registry issues, 74 residual files, and 327 privacy traces.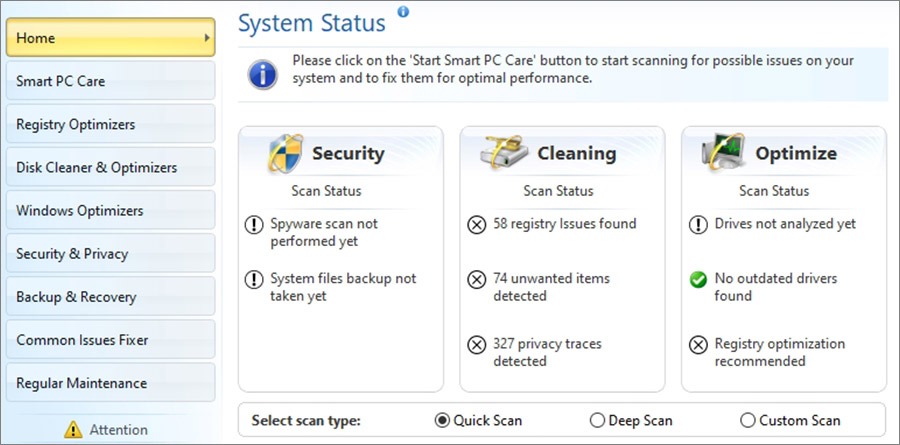 There are also 3 useful features in the Windows Optimizers tab: game optimizer, memory optimizer, and driver updater. Overall this program is worth checking out, although the trial period is too short – only 24 hours. 
One of the advantages of this software is free access to most features. The scanning process can take 1 to 5 minutes – in our case it took 03:15, and 265 Mb of junk files and 115 issues were found. Notably, OneSafe will be most suitable for users with SSD disks as it includes a special setting to speed up data exchange.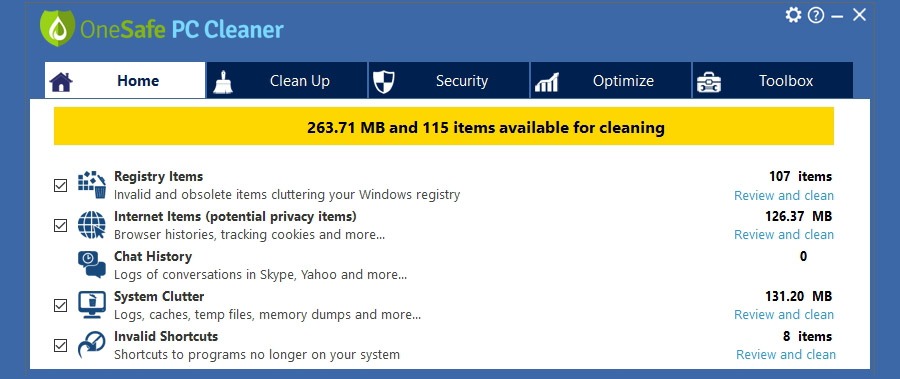 In addition, customers get protection in the form of Malicious Programs scanning, firewall and Windows updates check, file shredder, etc. Also, OneSafe works on all Windows OS versions. One thing we'd like to be gone is unnecessary scans each time the app is launched.
Glary Disc Cleaner by Glary Utilities is free and capable of performing almost all tasks related to system optimization. Only the registry fixing option is missing. Whenever you launch the program, it automatically performs a system scan. GDC provides data on each category of files, e.g. the number of files, memory consumption.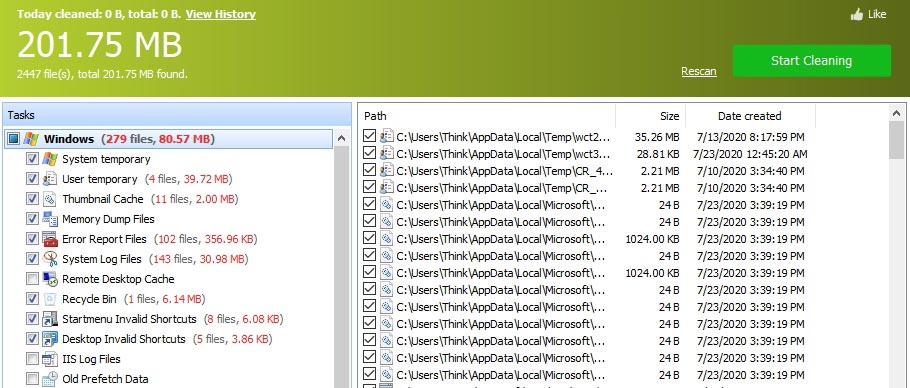 If this functionality is not enough, and say you want to perform processes optimization, registry and disc defrag, look for Glary Utilities 5 (Free / Pro). By the way, you can add custom folders for scanning in the Edit tab. Pro license ($20) will get you the full set of tools, including registry optimization.
It performs 2 types of scanning: quick and deep mode. The Pro version provides many useful features (privacy guard, anti-malware, recovery, etc.), all aimed at system cleaning, fixing, and protection. There is no free version, only a 30-days trial.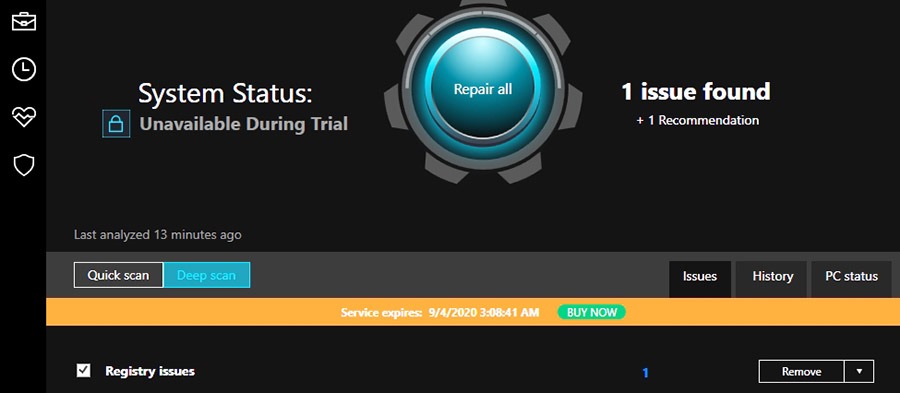 During our brief testing, we've found out that there is no chance to change Quick and Deep scanning preferences. To perform the scanning with personal settings, you should go to Toolbox > Clean > All-in-One PC Cleanup. Note that to use trial one has to visit the website and get an activation key. 
Read more: System Mechanic review.
Plentiful positive user feedback was the primary reason to add BleachBit to our list. So we were hopeful, however a complicated and poorly-designed interface was not a welcoming start. In this case, we can clearly see that price matters. Scanning doesn't contain concise and comprehensive information. Too many notifications are annoying too, to be frank.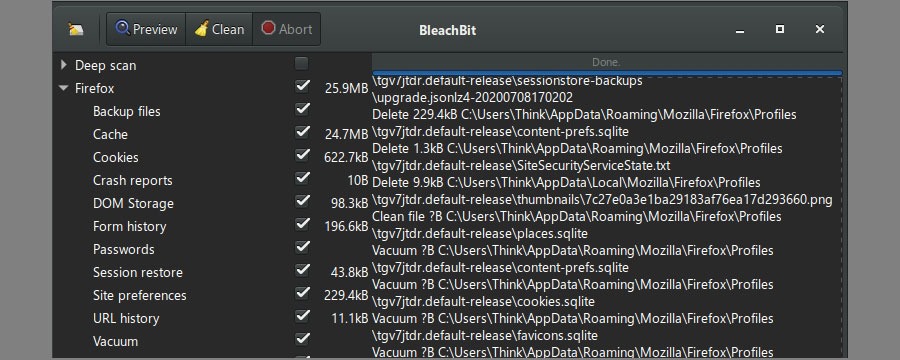 In terms of performance, the app executes decent system cleaning, yet omitting registry as many similar programs do. It is probably more suitable for stubborn files deletion, we'd rather say. Pros are deep scans, effective cleaning and free price, while cons are plenty of pop-ups, complex interface, unclear file information.
Features are divided into 3 categories: Internet optimizer, system cleaner, and software uninstaller. Obviously, System Cleaner is our guy, it has lots of settings, yet productivity is quite low. During the use, Jv16 PowerTools found only 10 registry issues and 11 broken shortcuts. It didn't show enough information about junk files, privacy traces, or the amount of consumed memory. By the way, it offers the cheapest Pro license among all apps on the list – $10 per year. But, as we see in this case, cheaper doesn't mean better.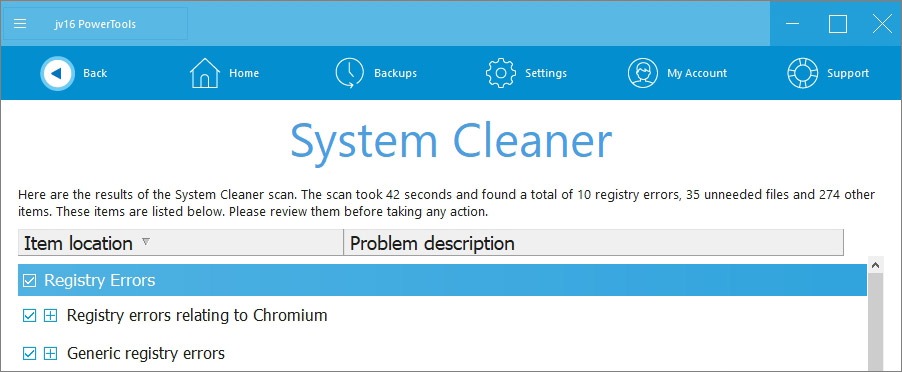 Along with 3 main functions, junk cleaning, PC boosting, and privacy traces cleaning, it also contains extra, e.g. file shredder, data recovery, etc. Scanning has no configuration options, one can ignore found files. It also didn't find any registry issues. On the other hand, it dug up 1.3 Gb of obsolete files, and it's impressive. By the way, users can check system information through the Tools tab > Driver Booster > Hardware info. Clean Master for PC is only available in English.

WinUtilities is a set of tools divided into 6 modules: Cleanup/Repair, Optimize, Privacy/Security, Files/Folders, Registry, System tools. The main values are the Rescue feature and 4 types of schedulers. Information during system cleaning is scarce though. Also, it didn't find any junk files. The scanning and cleaning process took 3 minutes. Both free and Pro ($20/year) versions are available.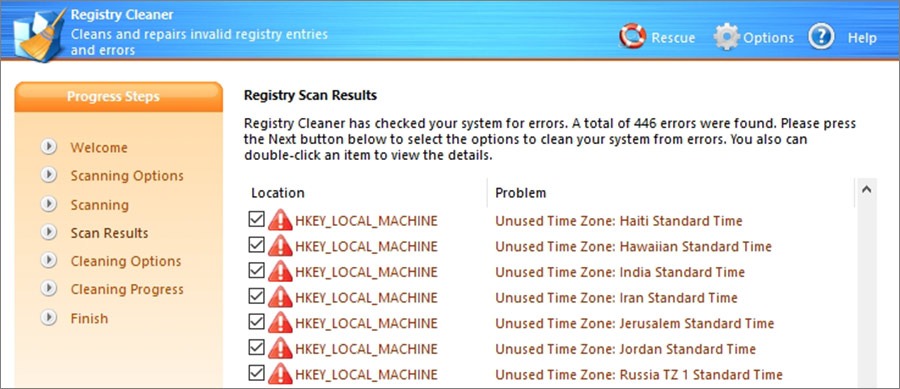 Eusing Cleaner is the perfect example of a simple yet robust PC cleaner. It works on all Windows versions, back to Win 98. Basic features enlist system junk deletion, registry fixing, defragmentation, startup manager, registry backup. This program will be a good fit for low-performance PCs. Note that this instrument is completely free, so you should not expect too much.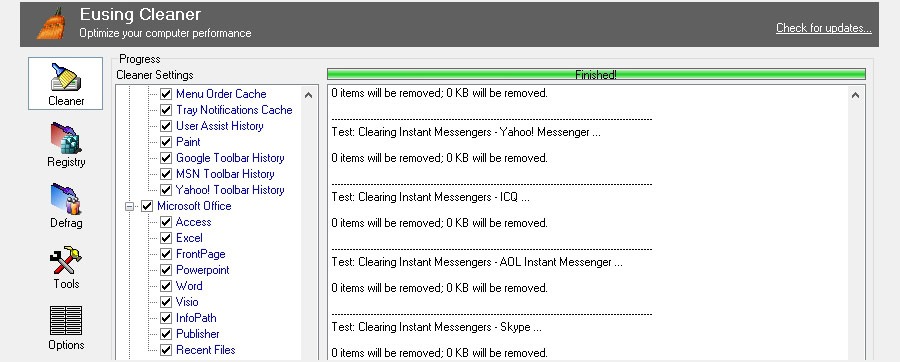 Compared to other programs, Slim Cleaner proved to be on the losing side. Scanning efficiency is low, it does not detect broken shortcuts (despite the fact that we've manually created several). A practical feature is Startup Optimizer that helps decrease CPU and RAM loads. A system scan accompanies each program launch, and although the process is fast, it becomes irritating quickly, though you can turn off this option in settings. The total amount of junk files in our case was 160 Mb. Trial version is available for 7 days with full access to all features.

Summary: Editor's choice
Among the aforementioned apps, the obvious favorite is Advanced System Care from IObit. It beats many competitors on pure performance. Even with a free license you get almost all features. The pricing ($20 per year) is among top-3 cheapest programs on the list. 
CCleaner deserves a mention too. It gained massive popularity for a reason. Free or Pro at $25, and unlike Advanced SystemCare, a free version has optimization and protection features blocked. Wise Disc Cleaner manifested decent results too with a deep scan. 
Finally, Ashampoo WinOptimizer is suitable for any kind of user, advanced or casual. All PC cleaning features are in place and it has a friendly interface. Pro version costs $30.
Why do I need a PC cleaner app?
Reason 1. Keeping a PC in a sound shape. 
Why should I use special software if I can manually delete all residual files? Well, because  there is no guarantee you have checked all system folders, removed erroneous shortcuts, etc. The human factor, in other words. Special PC cleaner software saves time and executes the tasks correctly.
Reason 2. System acceleration.
A clogged operating system lacks performance speed, obviously. In addition, most installations of modern software are accompanied by adding it to system startup, leading to slow system boot. Another critical factor is the hidden processes that impact computer resources. Pay attention to programs that include functionality for optimization, as not every app has this feature.
Reason 3. Prevent issues and malfunctions.
Manual junk deletion can also be risky – quite often people accidentally delete system files, and this leads to errors or crashes. Especially when it comes to the registry. PC cleaners will delete and fix registry issues automatically, as well as create backups.
FAQ
Q: What is a PC cleaner?
A: This is special software designed to maintain the operating system's health by cleaning junk files, old programs and fixing the wrong registry paths. All cleaning software is usually safe, and can't damage your PC if you use it correctly.
Q: Are PC cleaners free?
A: There are 2 types of cleaners on the internet: free and paid. The difference is that free programs contain less features and usually poor interface as well. The scanning and cleaning effectiveness can also differ.
Q: Why should I clean my PC?
A: When on PC, every user installs/uninstalls a large number of programs, listens to music, downloads pictures/films, etc. Due to these actions, the OS accumulates a massive amount of unnecessary data, which, over time, can lead to problems. That's why we recommend using PC cleaner apps.
Q: What are the most essential PC cleaning features?
A: At the moment, all programs that belong to this category include a massive number of functions. It may not contain system clean options, as in Slim Cleaner or Glary Disc Cleaner. All in all, pay attention to features such as: removal of junk files, fixing registry issues, removal of cache, cookies, logs, broken shortcuts, startup optimizer, scheduler.
Q: How often should I clean my system?
A: As often as you feel the need. System performance depends on the amount of data being processed. The best practice is once a month, more or less.
Q: Can cleaners damage the system?
A: Usually, the functionality is not aimed at essential system files, so you shouldn't worry about it. But there is a risk of data deletion (saved passwords, files, pages, etc.). Therefore, you should carefully check the scanned data before the cleaning process.
Q: Can I clean my system manually?
A: Yes, of course, but the cleaning process can take a long time, and there is also a high risk of accidental deletion of important system files.
Q: How to choose the optimal PC cleaner app?
A: Make sure it's reliable, read user reviews, and check the description. If the program doesn't include the critical features for your needs or has an inconvenient interface - just look for something else.
Q: Is it possible to improve PC performance?
A: First of all, it all depends on the program. The main functionality of PC cleaners is aimed at system cleaning, but not at optimization or acceleration. But if you use such programs as Advanced SystemCare or Avast CleanUp, there is a chance of system speedup.
Q: Can I restore cleaned data?
A: In most cases, you can do it through the program, which was used for system cleaning. If it creates a backup before the process, you can use it for file recovery.
Q: What is the best cleaner for Mac?
A: There is no need to reinvent the wheel. We recommend getting a Mac version of CCleaner or CleanMyMac.
Q: How to determine the effectiveness of a PC cleaner?
A: The more system objects a program can cover while scanning, the more effective will the cleaning be. But be careful, because often users are deceived by presenting fake results.
Q: CCleaner vs Advanced SystemCare
A: AS provides more informative scanning results and a modern interface than CCleaner. Besides, it provides full functionality for free.
Q: Advanced SystemCare vs Auslogics BoostSpeed
A: Without a doubt, BoostSpeed contains a more comprehensive features set than Advanced SystemCare, although it costs x3 times more.
Q: Advanced SystemCare vs Wise Disc Cleaner
A: Both products perform deep and powerful cleaning, but unlike the WDC, Advanced SystemCare covers all essential objects. It especially applies to system registry issues fixing and files deletion.
Q: Advanced SystemCare vs Avast CleanUp
A: By modern design standards, both apps are decent, but in terms of scanning, AS shows better testing results and performs a deeper system scan.