How does one balance online security, performance and anonymity issues in today's digital era? No solution can guarantee 100% confidence, although one of the options is a VPN. We took a 2-week dive into the world of virtual private networks, free and paid, to select best free VPN services.
As with any other free products, there's no way around certain trade-offs to free VPNs. It may slow down one's device, it may be full of ads, it may sell data to 3rd parties. Though, whether one wants to stay anonymous or secure an out-of-office wi-fi connection, you know what you're getting into.
Benefits of VPN
This technology establishes a secure, i.e. encrypted, connection while using Internet. 2 common types of VPN are remote access (via public infrastructure, for remote users secure connection) and site-to-site (via a gateway device, for connection between specific networks in specific locations). Why do people use VPN?
It hides and/or changes an IP address

Encrypts sensitive data transfers (e.g. when using public wi-fi)

It hides user's location / Connects to Internet from a country of choice

Grants access to websites not available in certain areas or blocked by governments

It hides user's browsing activity

Costs less than a real private network for company's employees
Best Free VPN services (Win/Mac/mobile)
Reviews of all the following VPNs were conducted on Acer Aspire laptop, with Windows 7 64-bit system, 3 GB RAM. All eight were downloaded as .exe files, installed and run for two days each. Let's also stress one more time that we only tested free VPN versions, and here's the table with core parameters to start things off.  
The following are the brief reviews of 8 best free VPN services – in no particular order. First, as a video round-up to watch and share, then some reading.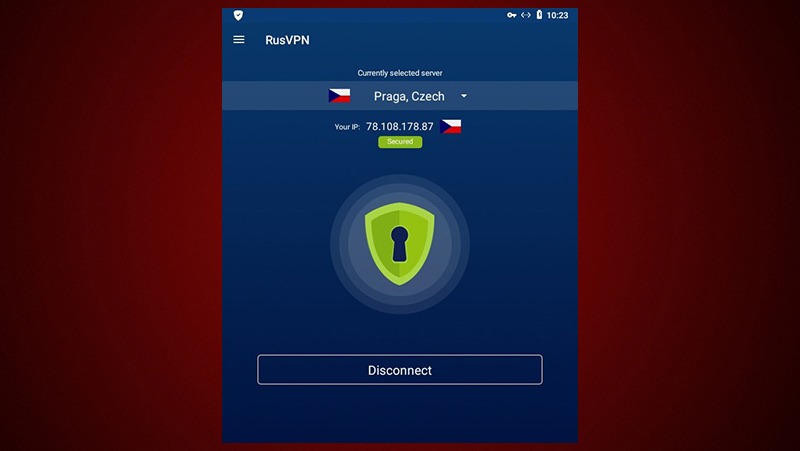 The first impression of RusVPN – it isn't a free VPN. Although it is cross-platform: it works on all three main desktop platforms (Win, Mac, Linux), mobile devices both Android and iOS, web browsers (Chrome, Firefox), as well as Wi-Fi routers. RusVPN grants free and unlimited VPN extensions for browsers, which, along with streaming services support (e.g. Netflix) distinguishes it from other free VPNs.
RusVPN version features:
While smartphone and tablet users have access to 7-day free trial without limits, there's neither a free version nor a trial for standard desktop application. On the other hand, among 38 locations in 29 countries that RusVPN provides, there are quite exclusive ones. Countries like China, Russia, Turkey – that are inaccessible in most VPNs due to government restrictions. In our short tests, this product displayed an average 90 Mbps upload speed and 160 Mbps download speed.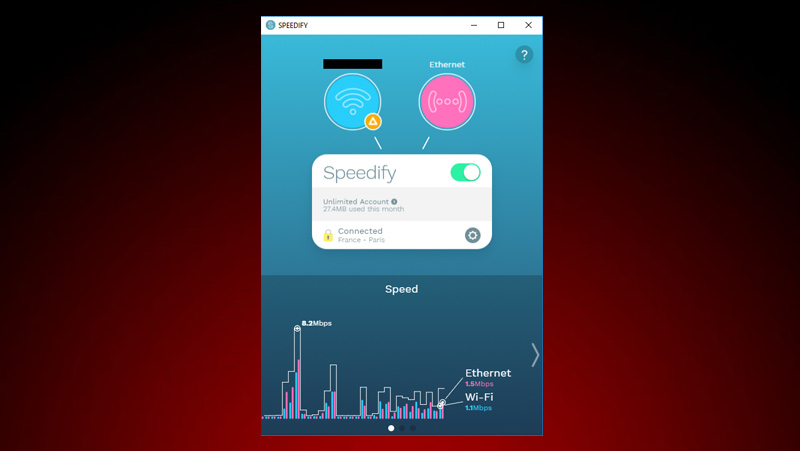 With Speedify VPN users are able to mask an IP address, change location, secure the connection. Free version does not require an account registration, although if one would wish to tweak some settings or upgrade it would be otherwise. As a nice bonus to basic functionality, Speedify offers additional features: setting connection priorities, redundant mode (for streaming, gaming, etc.), speed optimization.
Free Speedify version features:
For enterprise-level use Speedify also has some developer tools, including SDK, API, cloud, dedicated servers, as well as custom programs upon request. Concerning disadvantages to this VPN, there are several. Firstly, issues with installation connected to Windows updates, and initial setup screen might not appear in a language of your region. Secondly, while interface is undeniably awesome in a desktop app (showing networks, internet speed, data flow), strangely we found no browser extension.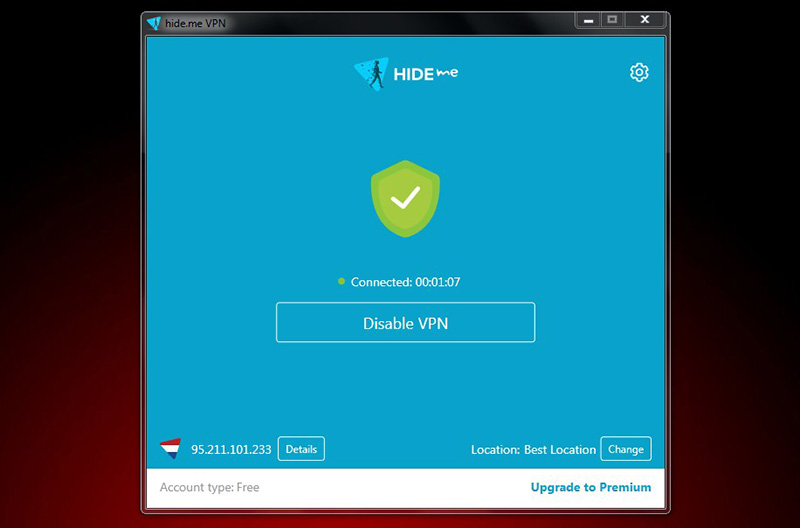 Fast, easy and reliable, free version of Hide.me gives a user 2GB monthly cap to use, with 500MB daily limit. It is truly super-light and installation takes literally seconds – that was a real surprise when comparing to other VPNs. Of course, free service has its limitations, one of them being only three locations (Netherlands, Canada, Singapore) available.
This service does not log user information and does not pass it to other parties, and there are no ads besides Hide.me own promotion popups. There are also some "smart" features like split tunneling (assigning certain apps to use VPN), killswitch (to block the connection when interrupted), auto server (picking the fastest location).  
Free Hide.me version features:
A dozen languages in settings to choose from. Simple neat interface with plenty of options in Settings. You can tweak settings for the app, network, protocols, split tunneling, killswitch, connection logs.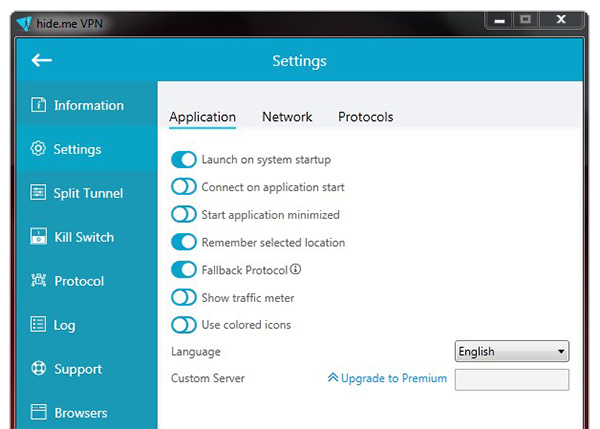 It also has instructions on how to set up manual connections for routers, how to use protocols such as IKEv2/IPsec, IKEv1/IPsec, OpenVPN, SSTP, PPTP, L2TP/IPsec, etc. Summarizing it all, we should day we didn't experience any disconnections during numerous hours in use during our test.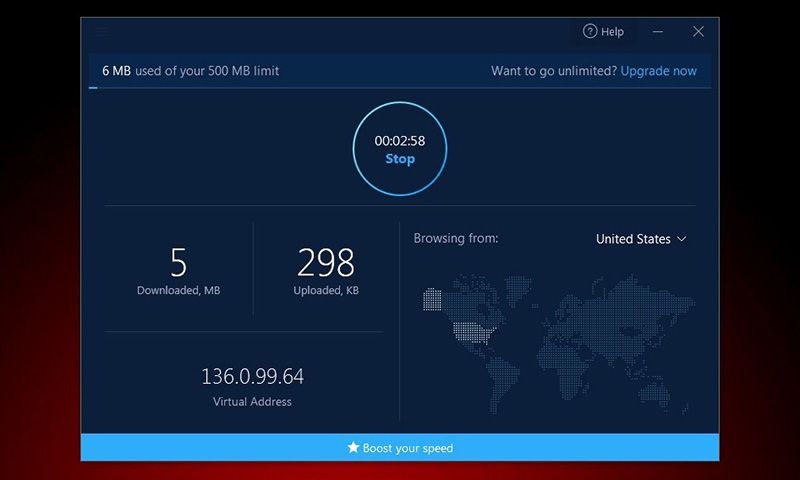 One of the most popular VPNs around, Hotspot Shield offers 15GB monthly traffic cap, on 500MB per user per day condition. Once you exceed that cap today, you'll have to wait until tomorrow, there's no possibility to use a monthly cap however you like. It, actually, is the first warning sign with HS. Unfortunately, while being a fine VPN service, the vendor makes all possible efforts to get users to pay (well, we all need to put food on a table).
From the first screen after setup, one seems to have the only option of starting the 7-day free trial and nothing else. However, try another angle of vision or look closer to the screen, and you'll be able to find a small gray back-arrow in the upper left. By clicking it we access the free interface. It is pretty plain with nothing excessive – just click Connect. A user then sees the location (USA), data usage, virtual IP address and settings.
Free Hotspot Shield version features:
Now, to drawbacks. With installation there might be issues in regards with user's device configuration – in our case Microsoft .NET Framework had to be upgraded, which took 15 whole minutes. Then, installation itself was quite lengthy. The other setback is that free version is essentially impossible to use. Only 7-day trial for free, plus all features that matter are paid: connect from another country – go Premium, use over 500 MB per day – go Premium, faster performance – go Premium.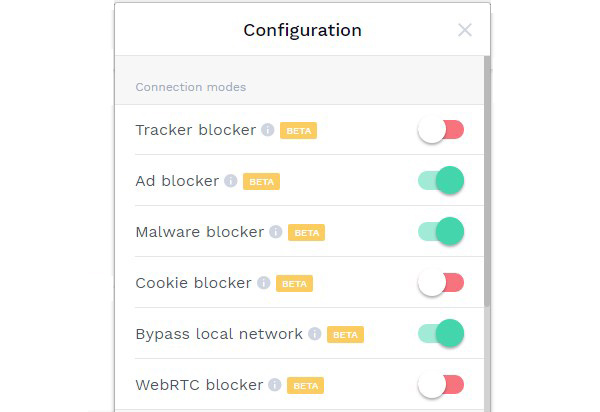 Finally, there are questions in relation to private data. HS collects "aggregate" data on websites and apps that  users visit. They claim to do so in order to place ads, gather analytics and improve the service. With all of the above in mind, we decided to also check HS browser extension. Hotspot Shield Chrome addon turned out to be a great free tool. Besides access-blocked-sites functionality, it offers extra goods, like ad/malware/cookie blocker or local network bypass.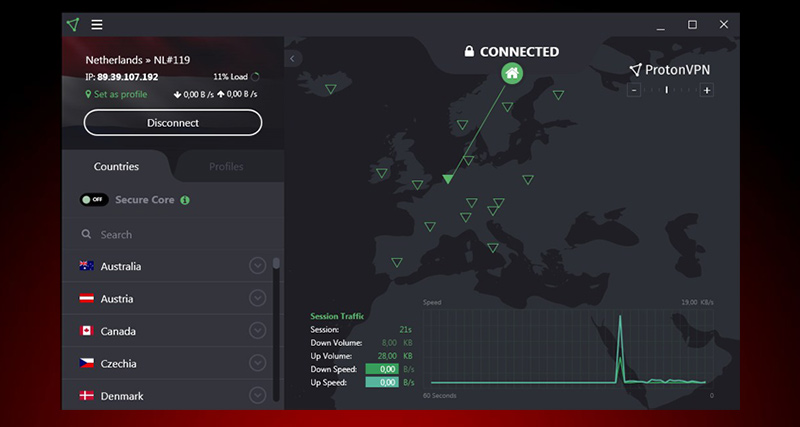 With flawless reputation and track record, unlimited data and strong privacy policy ProtonVPN is truly one of the best free VPN services. It is a provider from Switzerland where effective privacy laws are in play, and in addition the country is outside of EU/US jurisdiction. And that's one of the biggest benefits of Proton – they do not track users' activities, do not log any session, do not disclose any information.
Another huge bonus is no limit on data usage – something that no other free VPN has. And this is real, the only VPN without bandwidth limitations. This totally trumps free version restrictions such as 1 device only and 3 locations to use. And of course, speed is lower, which is we also experienced when trying out various locations, and it also slowed down other apps on a laptop.
Free ProtonVPN version features:
When signing up for a free account, there was an issue with email verification, so it was also an opportunity to test ProtonVPN support. We wrote in a live help chat on a website and they've sent us direct invitation to email to create an account right away. Good stuff. Interface and design, performance, usability is nothing to complain about.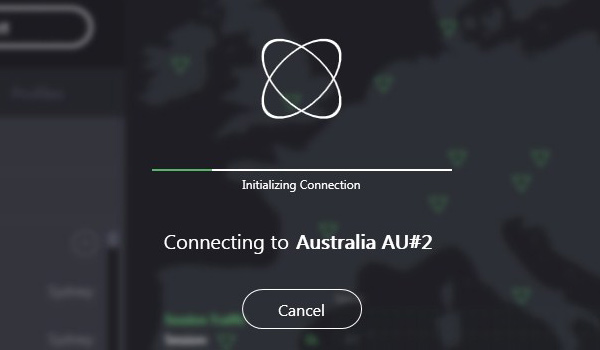 Overall, a great VPN, where free version is very generous and close to paid one. When a user is ready to get a subscription, $4 basic or $8 best offer with full features is totally worth it.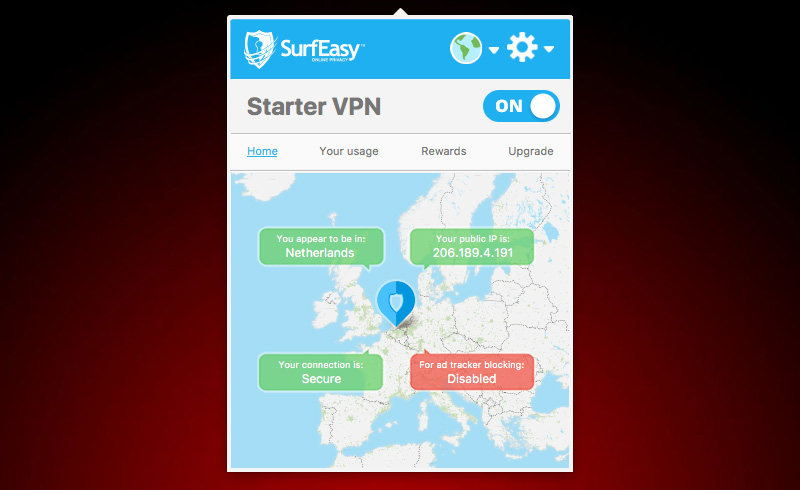 To try a free version, one has to create an account by entering email address and a password. Then choose the installation file for a specific device from a web dashboard. SurfEasy is VPN from Canada allowing five devices at the same time within 600 MB monthly limit. This would be good for occasional use, and frankly, that use won't be so user-friendly. Performance, anonymity, security is solid, though usability is terrible.
Free SurfEasy version features:
On one hand, features like no-log policy, high-end encryption, ad blocker, positive uptime are all great – on paper. On the other hand, poor usability and design, lagging outweigh all the positives. For instance, installation resulted in some grey hair for sure, we found no possibility to change the app menu language, connection speeds were too slow.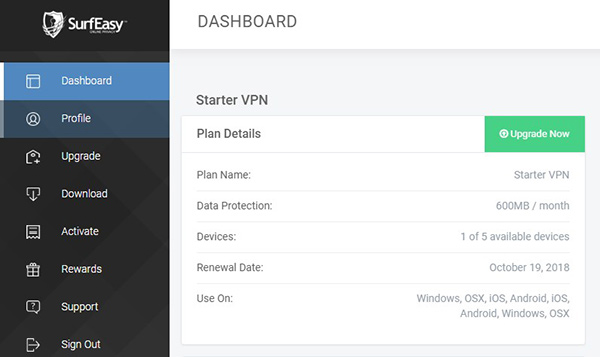 In all honesty, we decided to review this VPN as many users seem to recommend it, but SurfEasy ain't easy. Hint: maybe it has something to do with Opera browser?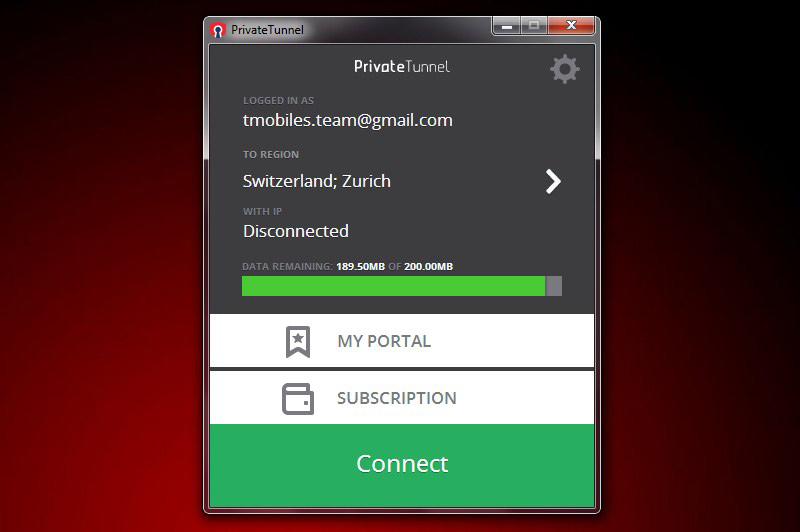 Powered by OpenVPN, a US tech company producing open source software, this VPN is actually free only for 7 days as a trial. After that you either sign up and pay or leave. Right away, for the first time use after download and installation one has to sign up with email and password. Yet, free period has its perks, compared to other services: multi-user account or up to three devices use, 23 countries to choose from, data cap per session.  
Free PrivateTunnel version features:
PrivateTunnel covers key platforms like Windows, Mac, iOS, Android, although there are no browser extensions. Another not so pleasant drawback is that not only free trial is limited but even a paid subscription, as it seems. Paying customers reaching 200 Mb limit per session have to spend extra to use more data. Pretty strange model, losing out to competitors.
In regards to user data privacy, PT collects email addresses, phone numbers and credit card information from registered users. They claim to use it only for improving the service and not to disclose it to outside parties, except OpenVPN. All in all, this VPN performs solidly, has a simple interface and a bunch of locations. It is a good service to give it a try.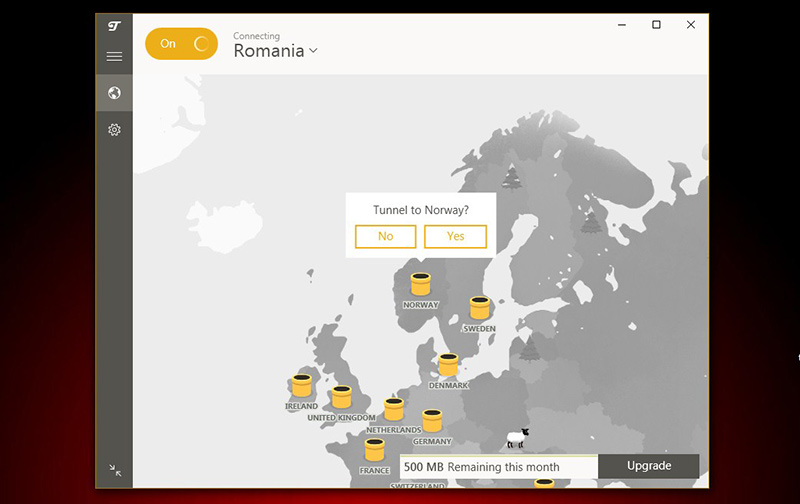 Very eye-catching top-notch design VPN with free version and paid subscriptions with only 500MB monthly data limit for free. This could be enough though, for casual use, email check, etc. Otherwise it is great – nice interface, big world map with countries as honey, data amount in the corner.
With 20 locations available to choose from, there's also a "GhostBear" setting that also hides user's activity of using VPN. You can also add a network to a list of "trusted networks" so it won't hide it next time. Oh, and one more thing – you will need to create an account to start using TunnelBear.
Free TunnelBear version features:
On the other hand, this free VPN has serious drawbacks. Installation wasn't that easy and quick as promoted, and connections to various locations we've tried were desperately slow. Plus, there's a grey area concerning company's origin – claiming to be from Toronto, Canada, then rumors about acquisition by US antivirus McAfee, while system notifications received in Russian language.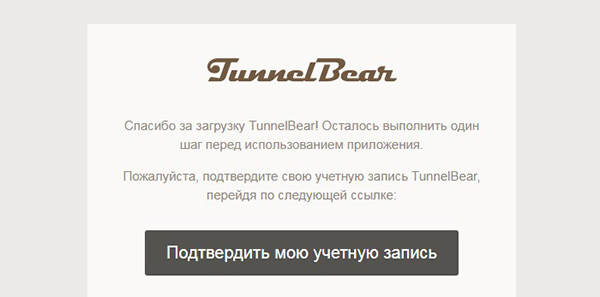 Verdict: skilled in web-design, humor and internet swag, but less so in actual VPN.
In conclusion
Surely, with totally free VPNs there's a significant risk of private data leaks, loss of bandwidth or unwanted ads. Providers listed and reviewed above are a relevant alternative, where users may install free versions by trusted names. All have limitations in data and/or speed, but at least you know what you pay for (or not in this case) to secure your online activities.
Certainly, not all networks out from those eight we would rank as the best free VPN. In our own humble rating the top-3 by far are Windscribe, ProtonVPN and Hide.me.