Registry cleaner programs are crucial in a way that they will remove hundreds of useless registry entries from a Windows device. For example, files that do not exist anymore and which would take hours to delete manually. Rather than publishing a typical list of top programs, we'd like to test and compare free registry cleaner tools.
Ccleaner: Free/$12 Pro
Windows, Mac, Android
More than registry cleaner
Regular updates

JV16: Free/$35 per year
Windows XP, 7, 8.1, 10
Certified Microsoft partner
Easy to use

Wise RC: Free/$20 Pro
Windows XP, 7, 8.1, 10
Backup/Restore option
Cleaning scheduler
We've selected 10 top registry cleaners that have the most positive user reviews online. Overall, all of them remove entries like Invalid class keys, program shortcuts, shared DLLs, application paths, help files, file associations, empty registry keys, etc. Most of them provide useful features such as scan progress, scan scheduler, severity indicator, ignore list, automatic backups, startup manager, run on startup, log files. And, of course, all these registry cleaner programs have one click repair feature.
The idea of testing was obvious: see how many errors would each registry cleaner find and clean, and how would it affect a PC performance. We used a median desktop PC with 8GB RAM running on Windows 7 Professional. But first, a quick basic data summary and short descriptions.
| | | | | |
| --- | --- | --- | --- | --- |
| Product | Version | Installer size | Disk space | License |
| Auslogics Registry Cleaner | v.7.0.17.0 | 12.2 MB | 42.0 MB | Freeware |
| Ccleaner | v.5.47.6716 | 16.0 MB | 36.7 MB | Free / non-commerce |
| Eusing Registry Cleaner | v.4.2 | 1.0 MB | 1.95 MB | Freeware |
| jv16 PowerTools | v.4.2.0.1898 | 7.3 MB | 10.7 MB | 60 day trial |
| AVG PC TuneUp | v.16.79.3.36215 | 3.5 MB | 41.8 MB | 15 day trial |
| Wise Registry Cleaner | v.9.6.5.631 | 2.7 MB | 8.61 MB | Freeware |
| Little Registry Cleaner | v.1.6.0 | 5.4 MB | 6.39 MB | Freeware |
| JetClean | v.1.5.0 | 3.6 MB | 13.2 MB | Freeware |
| Registry Fixer | v.2.0.0.0 | 0.6 MB | 1.0 MB | Freeware |
| WinUtilities | v.15.4 | 6.4 MB | 27.7 MB | Freeware |
Now, let's briefly describe what we've experienced with each of 10 free registry cleaners.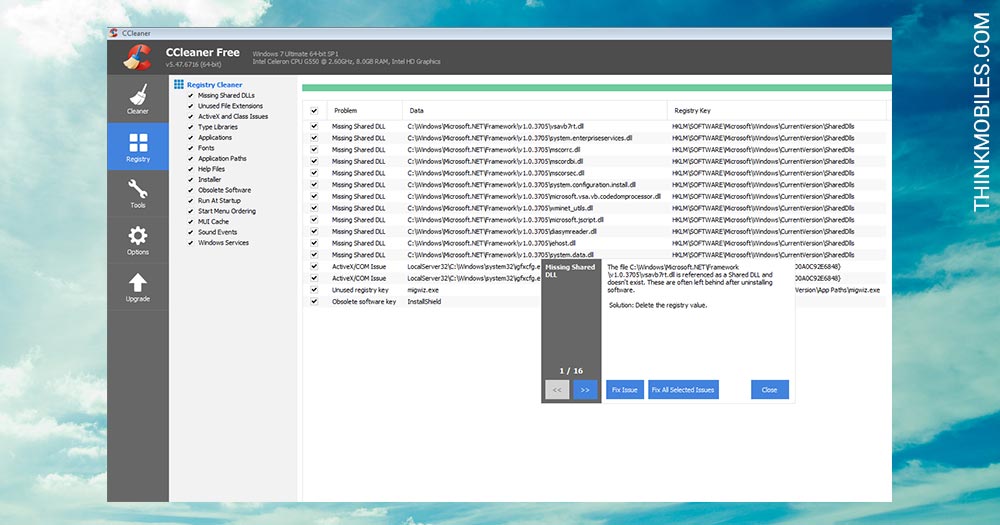 Undeniably, Ccleaner is one of the most popular free registry cleaners among users globally. In our test it found 16 errors, though we'd also want to point out the following. Ccleaner isn't just a registry cleaner program, as it doesn't only optimize registry. One can install it from an executable file or as a portable version. There's also a Pro version that offers real-time monitoring, automatic updates, premium support, and costs $25.
Pros:
ignore list
big set of features
regular program updates
Cons:
frequent pop-ups
does not improve boot time
CCleaner can remove registry keys and registry values that point to files or programs that no longer exist. Same goes for the DLL files, file extensions, COM/ActiveX objects, type libraries etc. Tools section allows to view, change or uninstall programs, find and remove files that taking up a lot of disk space. One can install free CCleaner in two ways: full installation or via a portable version, that does not require installation.
A free version of Wise Registry Cleaner offers a lot in itself: a cleaning scheduler, automatic registry backups, restore points, various types of scan (normal, safe, or deep). A Pro version for $15 grants such extra features as multi-user access, system boost, tune-up or optimization, customizations. When we scanned our PC, it found 160 errors, which is more than others.
Pros:
scan scheduler
simplicity, clean interface
quick performance
Cons:
will try to install other programs
If you're looking for a free registry cleaner for Windows 10 or older versions, this one is a nice choice for basic registry tasks. Users can find and then explore problems and their description after the program has finished scanning and analyzing the system. There's a possibility to create a shortcut to make regular cleaning easy – go to Settings > Autorun > press a "Clean with 1-click" icon. Registry defragmentation and backups are available too.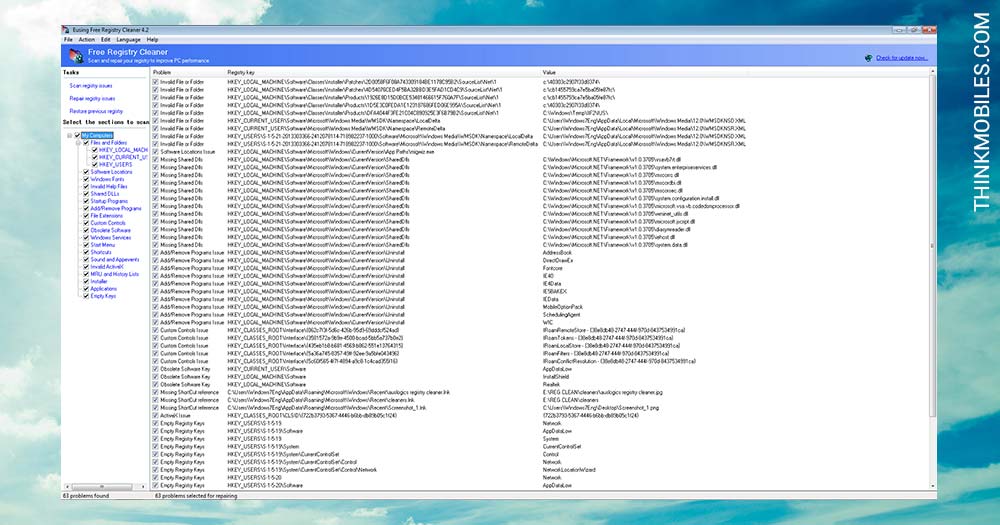 With Eusing we were able to find 63 errors on our PC. It is another free registry cleaner tool, and is as simple as such a program could be. It does not speed up the system so well, though is good to clean out the registry. Eusing is a free registry cleaner that works on Windows 98, Me, 2000, XP, 2003, Vista, Windows 7, 8, 10.
Pros:
no license - totally free
compatible with older versions of Windows
multiple languages, portable version
Cons:
insufficient data on registry issues after the scan
may require a follow up clean by RegEdit
It scans Windows registry for invalid information, then provides a list of errors found. There one can view the problem, its registry keys, value for each entry. There's also a backup for repaired entries, the Startup Manager to view/edit applications which automatically run upon each start up. Menu can be presented in one of 33 languages available.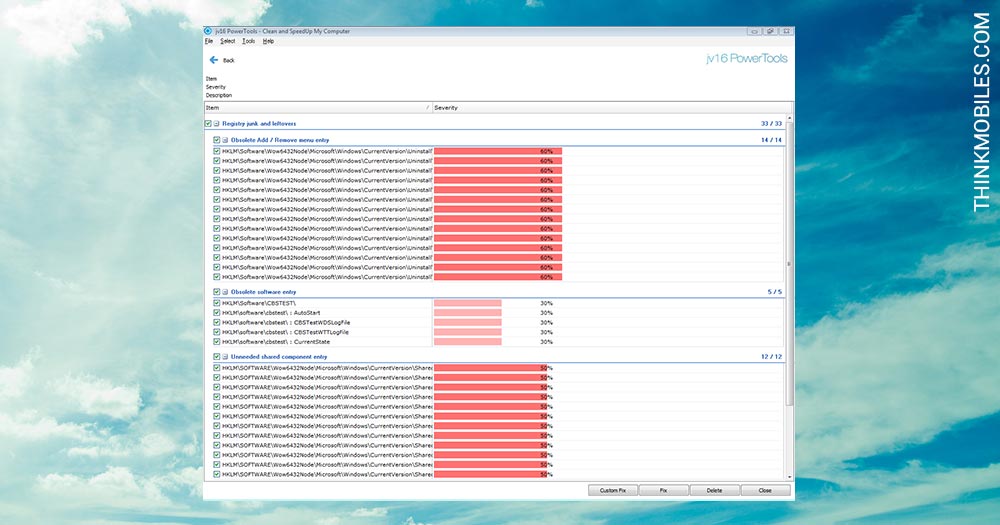 This is actually a set of PC optimization tools, that includes "The clean and speedup my computer" – a registry cleaner tool. During our test it detected 35 errors. Other useful tools by Macecraft Software include History Cleaner, File Cleaner, Startup Optimizer, Registry Compactor, Windows AntiSpy, Software Uninstaller. Free version works as a 60-day trial with full functionality, subscription costs $11 per year.
Pros:
simple to use
automatic registry backups
lots of settings
Cons:
less user-friendly than other tools
Free, lightweight, compatible with all Windows versions. After the scan you can save results as a CSV, LiteLS, HTML, EML, DAT, or a SQL file, or even print it out. Errors can be viewed in detail separately in the Registry editor. Users may search processes, apps and files by entering keywords. One fine additional feature is websites blacklist.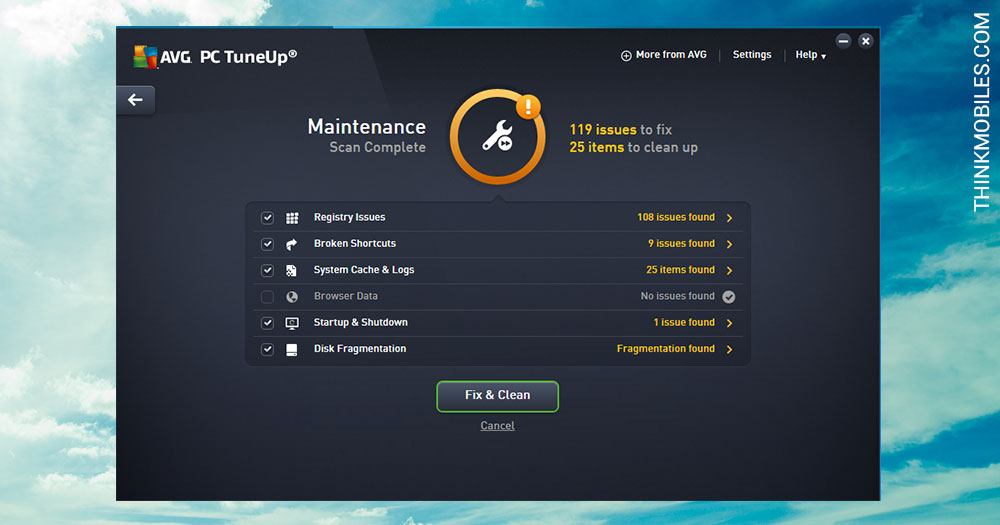 A big powerful security software vendor has introduced this registry cleaner called AVG PC TuneUp. On the website, AVG claims that TuneUp will improve a boot time by 77%, but our little test showed not so optimistic figures – 95 seconds before cleaning and 91 seconds after cleaning, which is about 13%. Nevertheless, it has good.
characteristics. Finally, it uncovered 108 registry errors in our test.
Pros:
runs quietly in background mode
rich functionality, clean interface
clears disk space after cleaning
Cons:
no "undo deletion" option
$50 annual license
It only takes about 42 MB of space on a hard drive. Its functionality set includes sleep mode, unwanted software removal, disk cleanup, browsing clearing, as well as the 'basics' such as permanently delete files, optimize Internet connection, recovering accidentally deleted or damaged files.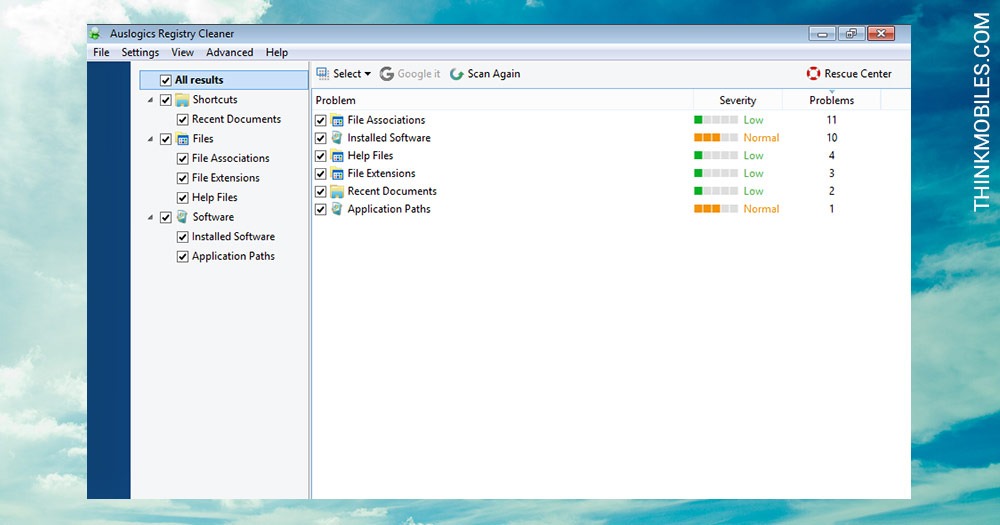 The program will group detected errors and issues into "file associations", "history lists", "missing software", which is convenient. It also shows registry errors locations that one can open right there. During our test Auslogics found 31 errors.
The installer size of v.7.0.17.0. is 12.2 MB and it takes 42.0 MB of disk space. One of the core benefits is that its a is freeware. Auslogics works on Windows 10, 8 and 7 (64-bit/32-bit), as well as 32-bit versions of Vista and XP. This utility combs through areas like shortcuts, file extensions, help files, startup apps, fonts etc. during the scan for problems.
Pros:
totally free
easy setup, one click fix
automatic backup available
Cons:
might install additional software
One nice touch is the ability to pause and continue its work anytime. In Auslogics Cleaner detected issues are presented in groups and level of importance – low, medium or high. For many users there are certain potentially useful things: viewing any error separately by right-clicking it the results, flexible backups and restore points at any moment, ignore list, one-click fix button called "Scan and Repair".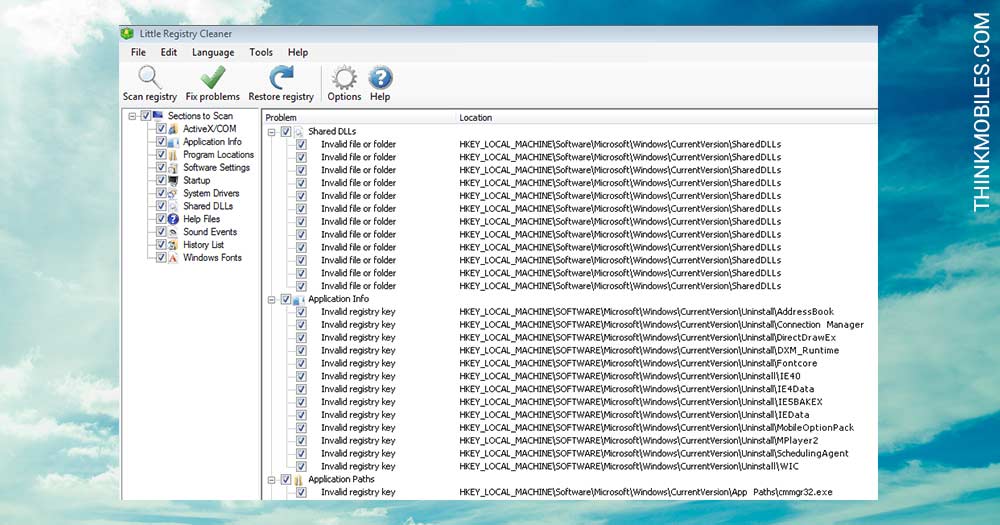 Though it didn't display the number of errors upon initial run, Little Registry Cleaner claimed to have cleaned more issues than other free registry cleaner tools did. This cleaner is absolutely free, and you can specify a folder for backups, certain files/folders as exclusions, as well as set a scanning schedule.
Pros:
actual freeware, open-source
positive performance
easy workflow
Cons:
vague descriptions of errors
possible slowdowns while cleaning
little guidance
This utility is available in 17 languages, that include English, Arabic, Chinese, French, German, Greek, Russian, Spanish, etc.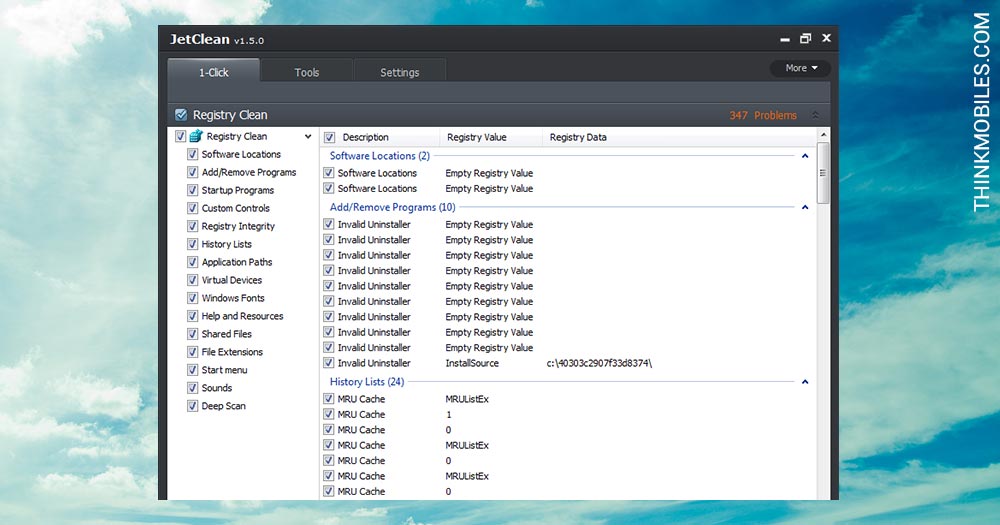 The biggest number of errors – 347, was detected by JetClean registry cleaner, which is free. There's one-click repair, automatic  shutdown after the repair, scanning for specific issues (e.g. application paths, startup, DNS cache, memory, sounds, fonts, virtual devices). Few extra tools won't hurt – program uninstaller, startup optimizer, performance booster, registry defragger.
Pros:
emergency backup
quick scans, nice interface
portable version
Cons:
some features only in Pro version
unnecessary programs in the installer
In "Ignore List Log files" of settings all reports of every single cleaning action are stored. Jet Cleaner also provides a hardware information tool, flush the DNS cache, scheduling automatic cleaning. Overall it is quite effective in reducing system errors and slowdowns, locating and deleting junk files in recycle bin, recent documents, temporary files, log files, clipboard, memory dumps.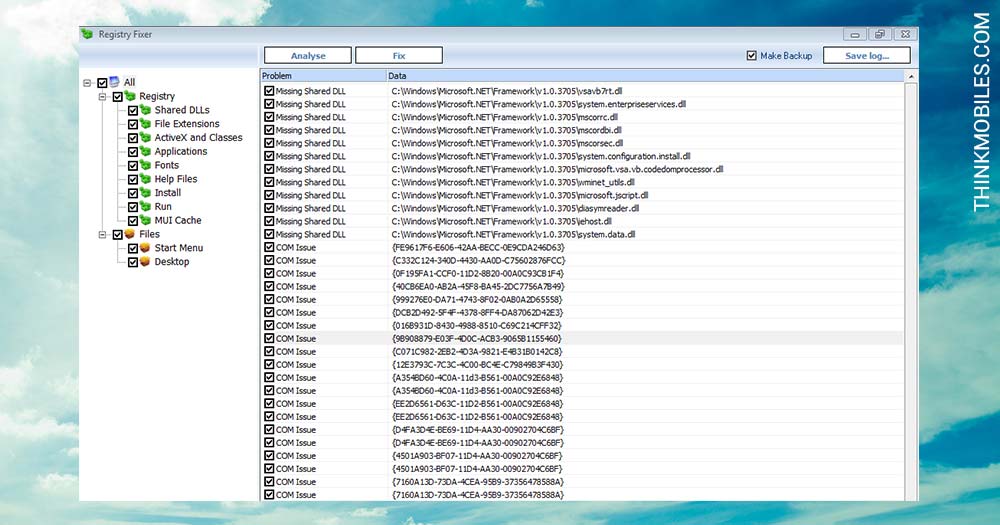 Another free registry cleaner program, easy and as straightforward as it gets. In a way, it is a good quality – you look for a registry cleaner – you get a registry cleaner. Nothing more, no ads, no license, no limitations. Just a clean program to start fixing errors in seconds. Only one extra option is a backup before cleaning.
Pros:
freeware
detects traces of old software
Cons:
only basics provided
It has a nice simple interface, although it seems like the whole program is in dire need of upgrading. It fixes the registry, displays error information – name, description, registry key. Users can fix issues in bulk or individually.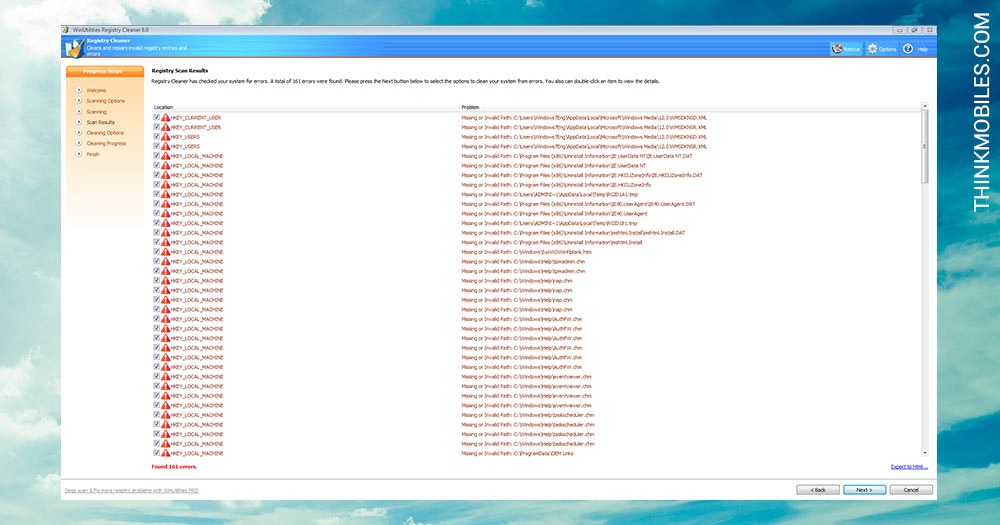 With WinUtilities tool we found 161 errors. With it you can also choose which areas to scan, make a restore point, and export the log of errors as HTML file. Additional settings to automatically remove restore points after a number of days is quite handy as well – to keep your PC light. Paid License offers 3 devices support, disk optimization, file encryption, 24/7 support.
Pros:
good performance
handy settings
Cons:
only basics
lack of advanced features
This cleaner tool includes over 20 modules, for example, hard disk backup, disk remover, registry backup and restore, disk analysis and defrag, to name a few. It has both free and paid versions, clean and convenient interface, regular automatic upgrades.
Performance tests
So, we measured how many registry errors each of ten tools found and cleaned, as well as how it did affect PC startup time. For fair results, each time we had created a restore point, and went back to it to test the next program. You can see the results in a table, though remember that a registry cleaner isn't a PC maintenance tool and it isn't designed to speed up or optimize a computer.  Registry cleaners only help fix registry errors.
| | | | | |
| --- | --- | --- | --- | --- |
| Product | Errors cleaned | PC startup time before | PC startup time after | Boot time boost |
| Auslogics  | 1052 | 23.83 sec. | 25.95 sec. | +2.12 |
| Ccleaner | 57 | 23.83 sec. | 22.72 sec. | -1.11 |
| Eusing Registry Cleaner | 4680 | 23.83 sec. | 25.27 sec. | +1.44 |
| jv16 PowerTools | 237 | 23.83 sec. | 22.52 sec. | -1.31 |
| AVG PC TuneUp | 115 | 23.83 sec. | 24.3 sec. | +0.47 |
| Wise Registry Cleaner | 860 | 23.83 sec. | 21.93 sec. | -1.9 |
| Little Registry Cleaner | 361 | 23.83 sec. | 19.48 sec. | -4.35 |
| JetClean | 2598 | 23.83 sec. | 19.96 sec. | -3.87 |
| Registry Fixer | 275 | 23.83 sec. | 18.9 sec. | -4.93 |
| WinUtilities | 4907 | 23.83 sec. | 19.93 sec. | -3.9 |
P.S. Few more decent registry cleaners.
If you're still like none of those ten tools, you can go explore AML Registry Cleaner, Registry Repair, SlimCleaner, Kingsoft PC doctor, EasyCleaner, Argente, Cleanersoft Free Registry Fix, nCleaner, ACleaner, Pointstone, Registry Distiller, Registry Life, System Mechanic, RegSeeker.