The Internet is not a private place – a cliche worth repeating. More than 80% of websites use one or more tracking tools. According to the Beyond the Front Page study from 2020, 55 cookie files are loaded on average on each landing page, and 78 cookies when more pages are visited. Therefore, visiting 10 common websites will get roughly 550 tracking files saved on a computer. 
Personal interests, financial status, health condition, political views, sexual orientation, religion… everything about everyone is of value. Whether this is right or wrong is a global ongoing debate. What we want to do instead is to focus on user counter-options. We're talking about anti-tracking software. 3 common types are browser extensions, secure browsers and special desktop programs. All act similar to ad blockers, and often are in the same category or the same product. Let's get some examples.
Anti-tracker browser extensions
Browser extensions (add-ons, plugins) are the largest group of anti-tracking software. Significant advantages: easy to get, part of a web browser, work on most browsers, light on system resources, block advertising, automate tasks, effectiveness, often free.
Disconnect Basic is a free version available for Chrome, Firefox, Opera, Safari, Samsung Browser. The developer specifies that on average, it makes websites load faster by 27% and to consume less traffic by 17%. At the bottom of the window, you can see those indicators. In the Disconnect window, we see categories of blocked requests – Facebook, Google, Twitter.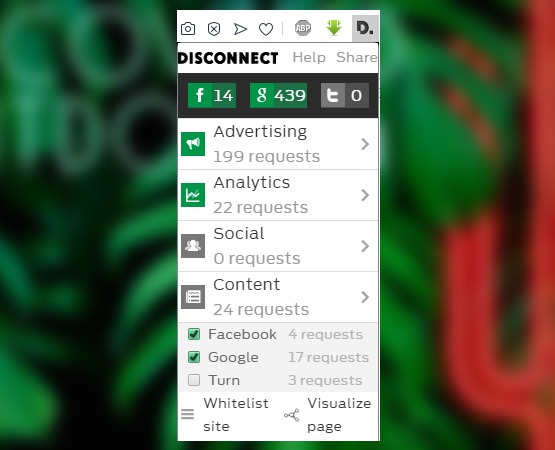 The Whitelist/Blacklist button is there to manually manage which pages to allow or stop from collecting web data. You can also see the sources of incoming tracking files, although not always correct – Disconnect classifies most as Google origin. As for a simple extension to block trackers and ads, it is a fine choice.
Ghostery is a free browser extension that blocks advertising and tracking. It is available for Chrome, Firefox, Opera, Cliqz, Edge. Neat light interface, ability to customize, displaying of stats, plus it is not recognized by most websites. However, it detects less cookies and scripts than similar anti-tracking software.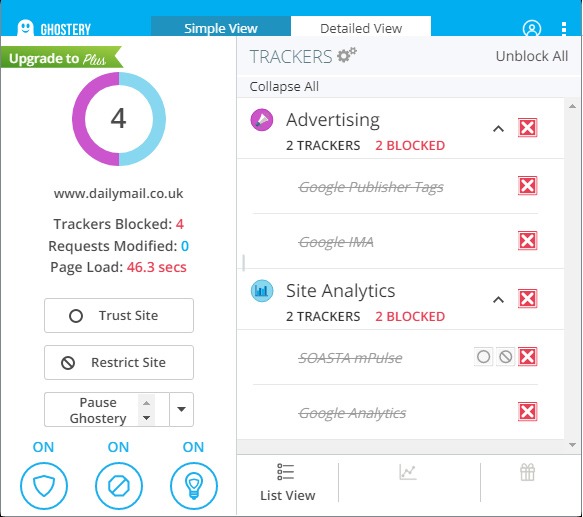 According to the vendor, Adguard has a large number of filters, containing more than 5,000 rules. The extension blocks web trackers, advertising, and other data collecting tools. In a concise interface, numbers are displayed separately – per website and total per session. There is also an option for manual blocking of unwanted objects on the page.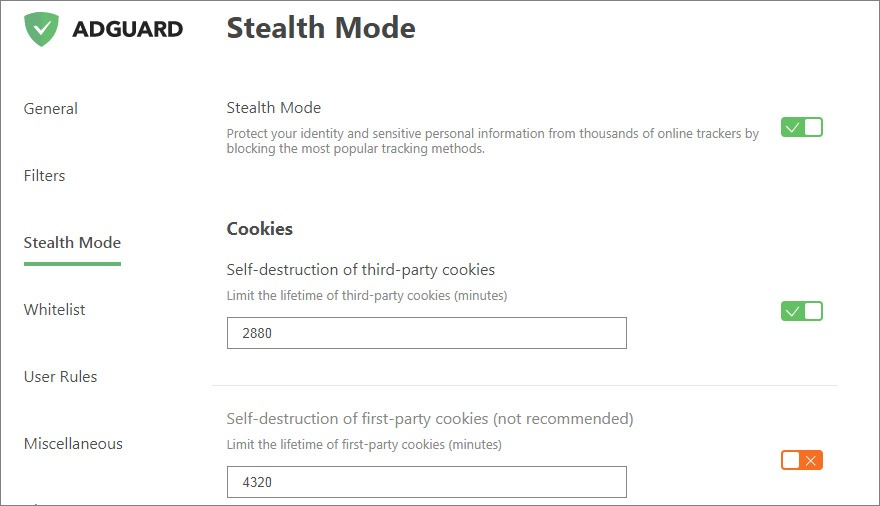 On the other hand, it is not possible to see exactly what Adguard has blocked, there is no list of requests. Interesting features are hiding search queries and blocking IP-address disclosure when using a VPN.
Available for Chrome, Firefox, Opera, Edge, Privacy Badger is a free browser extension. It was developed as part of the Electronic Frontier Foundation (EFF) project, an international non-profit focusing on civil rights in the digital area. A distinctive feature is algorithmic methods to block cookies, local "supercookies", and fingerprinting. If PB notices that one domain is tracking a user on three separate sites, it automatically disables such attempts.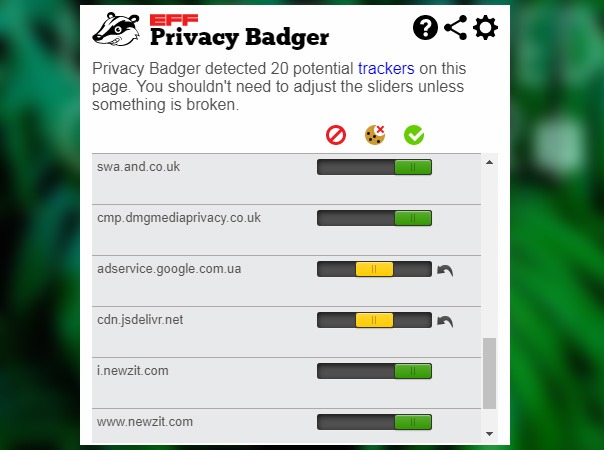 Users can allow/deny domain, block cookies, disable filtering altogether. It is also possible to export/import settings from another browser or device, which will require synchronization. In general, Privacy Badger is easy to use, performs its basic functions quite well, displays all blocked web trackers with names and sources.
An open-source piece of anti-tracking software with a clear and informative window. There is a function of manual blocking of page elements, which works in most cases. You can also change certain settings on each page: disable JavaScript, block large media items or all pop-ups. Advanced manual settings can be accessed per each script, and custom filters can be added. It also shows sources, so you know what you're dealing with.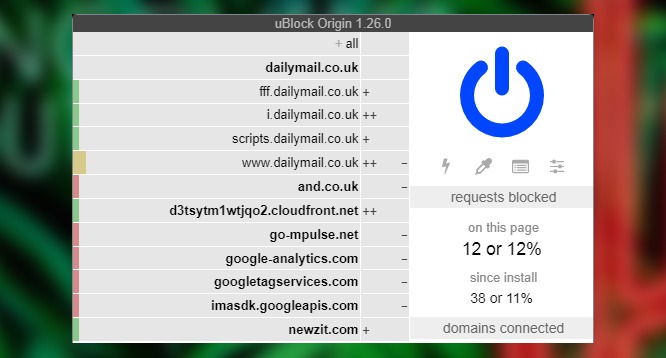 We should note that we've tested each extension through Panopticlick 3.0 by the aforementioned EFF project. Let's summarize our 5 examples.
| | | | | | |
| --- | --- | --- | --- | --- | --- |
| | Disconnect | Ghostery | Adguard | Privacy Badger | uBlock |
| Browsers | Chrome, Firefox, Opera, Safari, Samsung | Chrome, Firefox, Opera, Cliqz, Edge | Chrome, Firefox, Opera, Edge, Safari, Yandex | Chrome, Firefox, Opera, Edge | Chrome, Firefox, Opera, Edge |
| Ad blocker | Effective | Effective | Effective | Effective | Effective |
| Anti-tracker | Effective | Effective | Effective | Effective | Effective |
| Selective blocking of page elements | No | No | Yes | No | Yes |
| Detection by websites | No | No | No | No | No |
| Tracker sources | Yes | Yes | No | Yes | Yes |
Read also: How to block porn content.

Secure browsers
For users who need more privacy, there are web browsers that not only block tracking requests, but also have a built-in VPN, and can hide computer parameters. Unfortunately, despite developers' claims about security and anti-tracking, our brief testing has shown otherwise. In particular, it failed for Epic Browser, Iridium, Pale Moon and SRware Iron. Yet, we've found 3 browsers that can be considered as effective anti-tracking software.
Cliqz Browser is based on the Firefox platform and created by a German developer. It supports Windows OS (7/8/10, 32- and 64-bit) and macOS (10.9 and later). Cliqz anti-tracking feature prevents unsafe data communication, even if a user has accepted cookies. To block all data, check the Strict box at the bottom, under the number of blocked ads.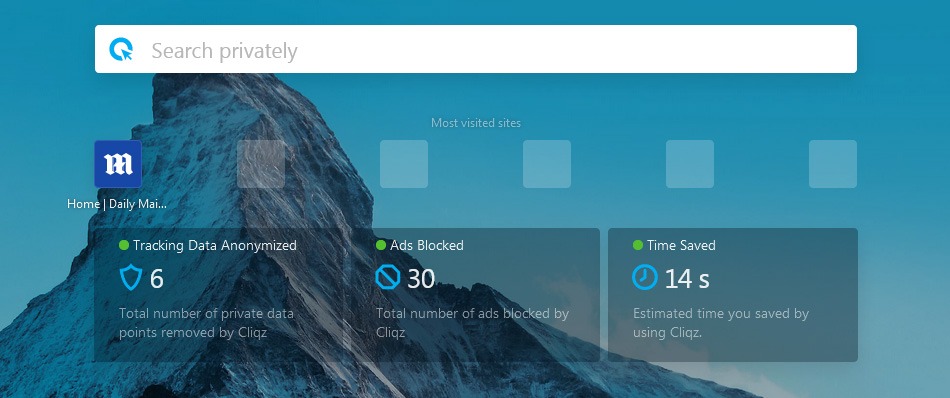 A peculiar feature is its own search engine Cliqz, available in the address bar. The results are pleasantly surprising, especially for English language queries. But you can also select an alternative search engine and change other settings in the search settings under the Q icon. It's a pity, though, that Panopticlick test showed insufficient level of protection. No protection against invisible trackers and fingerprinting scripts, in particular.
Brave is a Chrome-based browser that promises a high level of privacy and security protection. The developer claims that its servers do not collect or store user browsing data, so it remains private on their devices. Brave automatically uses HTTPS everywhere for secure encrypted communication. The default settings block phishing, malware, adware, and other tracking requests.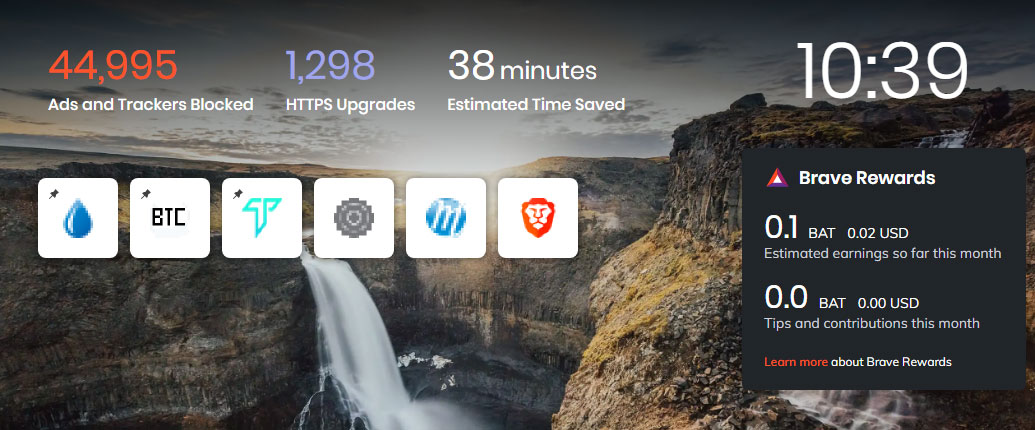 An unusual feature of Brave is a reward system with its own currency – BAT. It allows users to earn for viewing Brave partner ads, donate money to website owners, etc. In the browser settings, you are free to tweak settings for: ad blocking, cookies, protection against digital fingerprinting, blocking scripts, HTTPS, social media buttons. One extra feature is opening a private window in the TOR browser.
As for testing, Brave browser copes well with ads and trackers, but is powerless against fingerprinting. All in all, it is visually similar to Chrome, offers HTTPS encryption, several search engines, and a variety of extensions.
Tor (for Windows, macOS, Linux) is a browser famous for an anonymous network of proxies, translating into increased privacy and ability to bypass geo-restrictions. It is based on Mozilla Firefox, and all Mozilla add-ons are available for it. Security settings have three tiers: Standard, Safer, and Safest. You can't change any particular parameter within a set.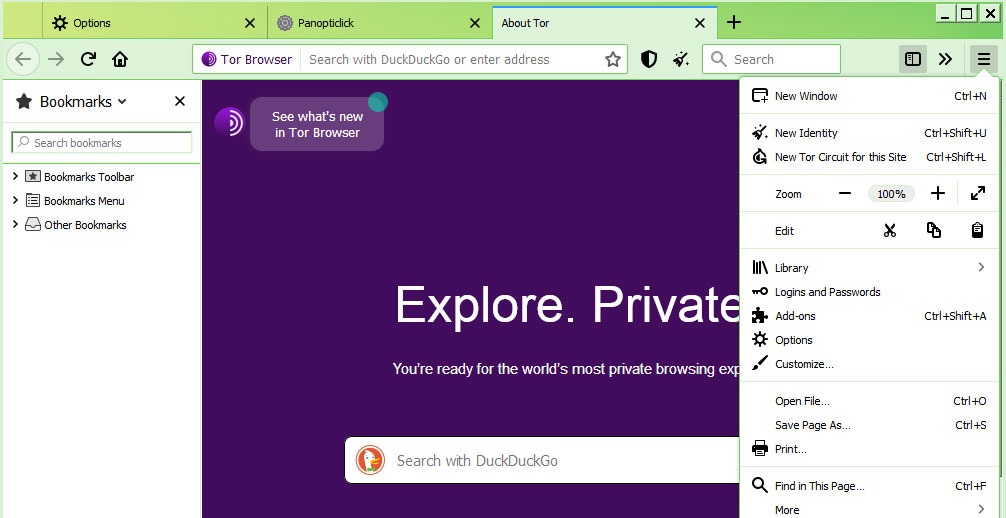 In Standard mode, almost all ads and cookie requests are displayed, which is unpleasant. In Safer mode most ads disappear, and in Safest it is close to 100% for websites working on JavaScript. Therefore, the best option in terms of site functionality and ad blocking is the Safest mode.
Tor Browser does not display a web tracker list and sources. In terms of performance, Tor in the Safest mode confirms high levels of protection against tracking ads, cookies, scripts, as well as fingerprinting. One of the biggest benefits is IP-address disguise.  
Let's round up these 3 special browsers.
| | | | |
| --- | --- | --- | --- |
| | Cliqz | Brave | Tor |
| OS | Windows, macOS | Windows, macOS, Linux | Windows, macOS, Linux |
| Ad blocking | Effective | Effective | Effective in the Safest mode |
| Trackers blocking | Effective partially | Effective | Effective in the Safest mode |
| Detection by websites | No | No | No |
| Search engine | Yes | No | No |
| VPN | No | Yes | Yes |
| Fingerprint protection | No | No | Yes, in the Safest mode |
As you can see from the table, choosing a reliable anti-tracking software in the form of a browser is not an easy task. For high-level anonymity and protection the Safest mode of Tor is the most suitable. For usability and an IP hiding option pay attention to Brave. Cliqz performs well and provides its own search engine that helps to avoid Google tracking.

Desktop applications
Comprehensive privacy protection software is quite uncommon because users are mostly satisfied with secure browsers and browser extensions. Features include anti-tracking, ad blocking, anti-phishing, hiding browser data and IP address, digital fingerprint management, parental control. We'll highlight two programs.
In addition to browser extension, AdGuard has this desktop app with an extensive set of features. It comprises an ad blocker, parental control, anti-phishing, anti-malware, blocking cookies, hiding IP. Personal license for 1 year starts at $30. Settings in the Stealth Mode are quite advanced. Here one can configure removal of cookies (third-party and direct) and cache, do-not-track requests, blocking WebRTC, Flash, Java.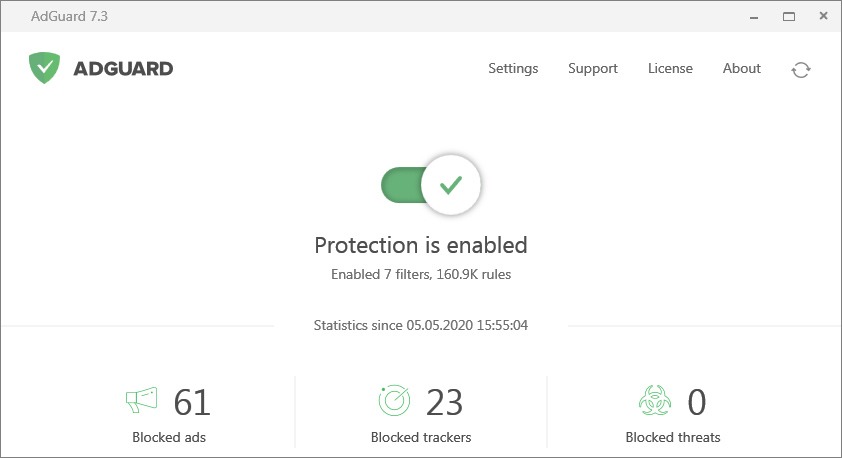 We should note that hiding the IP address does not allow bypassing regional content restrictions – it is not a VPN. Testing via Whoer shows that system and browser settings are successfully masked, although the IP address is recognized. Therefore, you should not expect a full level of anonymity. Yet, as for an anti-tracking software, it will be quite enough.
For family people, a parental control tool could be useful. It filters search results and blocks adult content. In general, AdGuard is productive, it works in all browsers and other programs (such as Utorrent), blocks tracking attempts. However, full privacy protection still requires digital fingerprint and VPN protection.
Avast AntiTrack Premium by a popular developer of antivirus software, designed to use the Internet safely and protect from third-party tracking. The vendor defines such key features as alerts about web trackers, blocking suspicious websites, anonymous browsing, ad blocking, anti-fingerprinting. Add to that a user-friendly interface with data summary.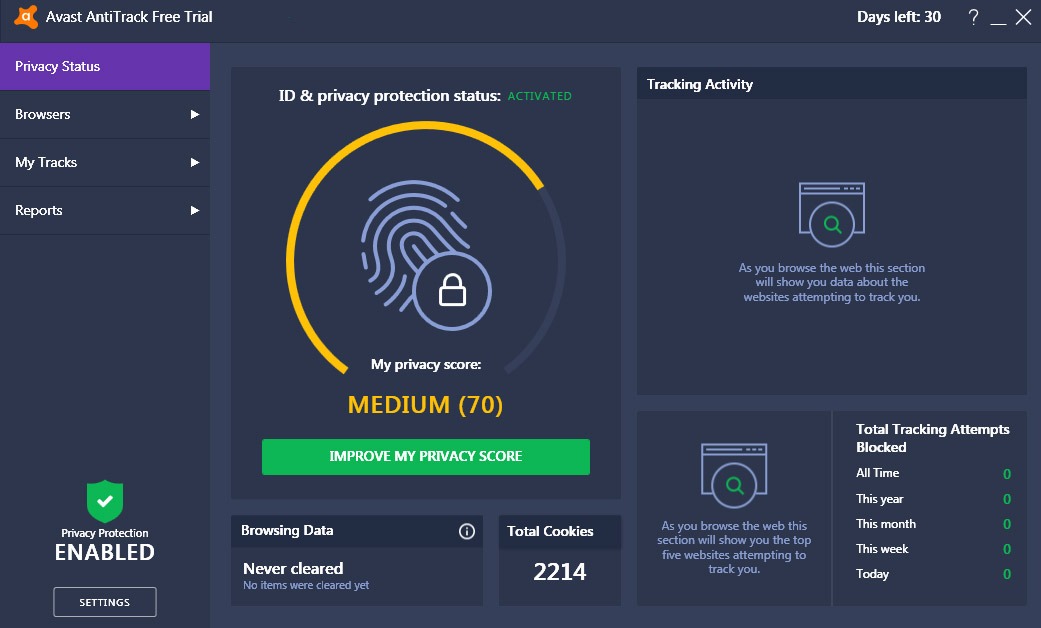 While using the browser, the program is in the tray, yet it quite effectively blocks incoming ad scripts. In the report tab you can only view the information, without the ability to change anything. One of the most interesting things in terms of security is the feature of changing the digital fingerprint – to avoid de-anonymization. The program automatically changes fingerprint after detecting tracking attempts.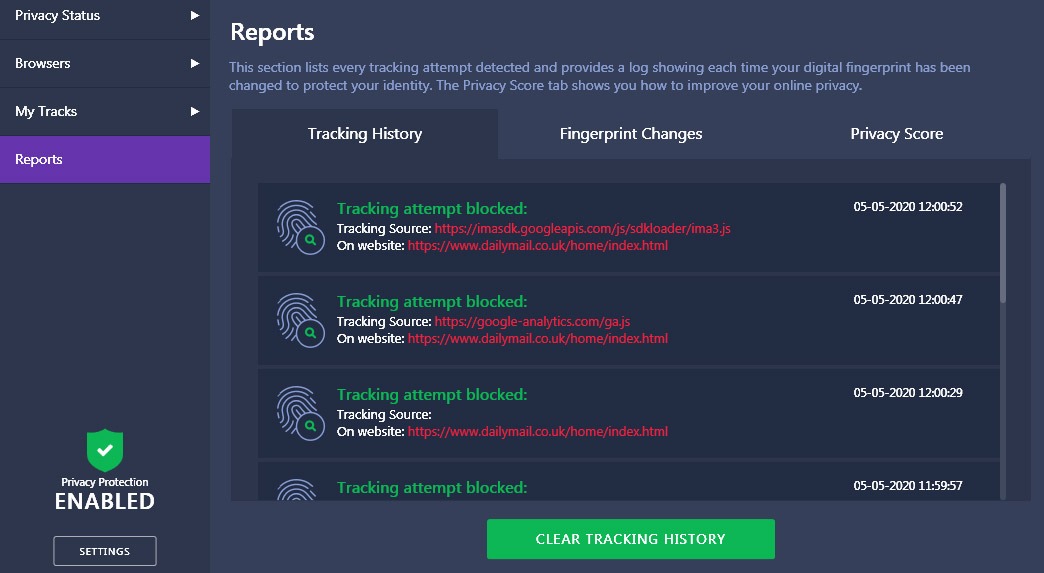 To check if Avast AntiTrack does really modify a device fingerprint, we've made 2 tests on Panopticlick: before and after. Both times, trackers were blocked and the fingerprint was effectively amended. Most users will like the ease of use because almost all functions are automatic. Although many users will think twice due to the pricing.  
Let's sum up these 2 anti-tracking software applications.
| | | |
| --- | --- | --- |
| | AdGuard | Avast AntiTrack |
| OS | Windows 10, 8.1, 8, 7, Vista. macOS X 10.10 or later. | Windows 10, 8.1, 8, 7, Vista. macOS X 10.11 or later. |
| Trial period | 14 days | 30 days |
| 1-year price | $29.88 | $49.99 |
| Money-back guarantee | 60 days | 30 days |
| Ad blocking | Effective | Effective (except Internet Explorer) |
| Tracker blocking | Effective | Effective |
| Advanced settings | Yes | No |
| Fingerprint protection | No | Yes |
| Change of IP address | Partially effective | No |
| Parental control | Yes | No |

Anti-tracking software: Wrap up
As we have seen, anti-tracking software comes in various forms and capabilities. If you mostly need to block ads and trackers, then a browser+extension combo is a relevant option. Special programs do the same going beyond browsers – to other 3rd party apps. If fingerprint protection is important, Tor Browser (in the Safest mode) and Avast AntiTrack Premium can be of use. If you wish to protect multiple devices for a family with children, it is best to use AdGuard with parental control. All these extensions and programs have trial versions.
FAQ
Q: What is web tracking?
A: Tracking is a technology of following the actions of users on the Internet when they visit websites, with a purpose to further analyze and use the obtained information. It is commonly used to personalize advertising but is also widely used by think tanks, analytics companies, and government agencies.
Q: What does fingerprinting mean?
A: Digital fingerprinting is a method of identifying users by the unique characteristics of IP addresses, web browsers, system and device settings. Because these features remain the same and cannot be disabled, this method allows monitoring of all user activity on the Internet. It does not require data storage on the device, like a cookie, so it is difficult to notice and avoid.
Q: Can browser extensions protect against fingerprinting?
A: In most browser extensions, this type of tracking protection is not available. Some have it, but unfortunately, none of the tested extensions showed such capability.
Q: Why use anti-tracking software?
A: Anti-tracking tools help avoid advertising and secure browsing activity from targeted adware, malware, scams, frauds, etc.
Q: What is the difference between VPN and anti-tracking?
A: A virtual private network (VPN) hides the IP address but does not provide complete privacy of actions on the Internet. VPN does not block tracking requests.
Q: Are Opera and Firefox anti-tracking options good?
A: The latest versions of Opera and Firefox include advanced privacy settings (but not the default). Though it does not provide complete blocking of tracking, in particular - advertising.
Q: Is an ad blocker the same as an anti-tracker?
A: Ad blockers are designed to protect against advertising requests, and anti-tracking extensions block all types of trackers, cookies, scripts, including advertising.
Q: What are third-party cookies?
A: Third-party cookies are files that get into a user's computer from a visited site because they were placed in the code. Also, when viewing site A, the user can receive cookies of site B. The cookies of site B will collect information about user actions on site A.
Q: What is phishing?
A: Phishing is a method of fraud when the victim entrusts personal data (credit card, passwords, addresses) to a scam site that mimics a legitimate service. Typically, such links are received by email. Thus, criminals gain access to accounts, documents, or other valuable information.
Q: Can anti-trackers protect against phishing?
A: Many anti-tracking browsers and extensions use HTTPS. In this mode, you can only access the protected area of ​​the site. Besides, anti-tracking extensions and browsers have databases of malicious and suspicious sites.
Q: Do I need to enable Do-not-track queries in a browser?
A: After activating it, websites should stop tracking certain actions. However, most will still continue to collect data.
Q: How to check if an anti-tracker is working?
A: There are special websites such as Panopticlick.eff.org.
Q: How to test the effectiveness of a VPN?
A: To check how effectively a VPN hides an IP address, you should go to special websites, such as Whoer.net.
Q: Why does anti-tracking software block social buttons?
A: Because regardless whether one clicks it or not, social media buttons collect information about user activity on the sites where they are located.
Q: What type of anti-tracking is the best?
A: For common needs, browsers and extensions will do. If you seek comprehensive protection against tracking and fingerprinting, as well as hiding the IP address, Tor Browser will be the best.