Do you remember the time, when you were buying a chair, a lamp, a carpet, or anything else? Remember how excited you were about the fortunate purchase, rushing home… and find out that an item did not fit the room? Argh. And there were only two further options: either return the goods and go back to the start, or leave and live with it. Fortunately, with new tech advances and stuff like Augmented Reality these times are gone. Selecting colors for the  interior, creating a drawing or a model of a room, staging it with the furniture – all of this is possible thanks to AR furniture apps.
15 best AR furniture apps to check
And here we've prepared the list of best Augmented Reality furniture apps and AR design apps, all of which are worth trying out. Enjoy. 
1. Houzz
As one the best app for designing, building, re-modelling and decorating, Houzz immediately took over the new AR technology. Besides buying (choose among more than 10 million products or use the Visual Match to scan the products from the pictures) and social options (sharing pictures), the user can use View in My Room 3D mode to visualize the furniture or decor elements in the surrounding space with the help of AR. After launching new ARKit in 2017, they have updated app with the new features, adding options to place and move more than 500,000 objects.

With last updates, the app 3D images became more reliable: the image transfer of material texture is now better, the room lighting is already accounted. The same as the official website, the Houzz app is multi-languages (English, Danish, French, German, Italian, Japanese, Russian, Spanish, Swedish), free to download, available on App Store, Google Play, Amazon, Microsoft Store (AR mode is valid for first two).
Headquarters: Palo Alto, CA, U.S. / Founded: 2009 / App launched: 2017 / Download App Store, Google Play /Contact: +18003684268
Website: https://www.houzz.com/
2. IKEA Place
Probably, on the most expected app after releasing new ARKit from the furniture giant. IKEA Place gives the opportunity of virtual placement the any of the furniture element from their store. 3D images are quite accurate and can сonvey the real-life sizes. The consumer can share the result of virtual fitting through the social media.   
Headquarters: Leiden, Netherlands / Founded: 1943 / App launched: 2017 / Download: App Store / Contact: +18888884532
Website: www.ikea.com  
3. DecorMatters
Relatively young but ambitious company, DecorMatters helps to visualize any interior design. Unlike the IKEA Place, using this free app, consumers can place the furniture from such stores as Amazon, Wayfair, Crate & Barrel, West Elm, IKEA, Ashley, Target, Lamps Plus, Living Spaces or fit in the own-made crafts from HomeGoods, Michaels Store, Hobby Lobby, Etsy. The clients can switch from different colours, fabrics, patterns and styles. The newest addition, AR ruler, helps to measure the size of the rooms, compare 3D furniture with real dimensions to provide customers with the best understanding how good each object will suit their place.  
Headquarters: Milpitas, CA, U.S. / Founded: 2016 / App launched: 2017 / Download: App Store / Contact: +18006869161
Website: https://decormatters.com/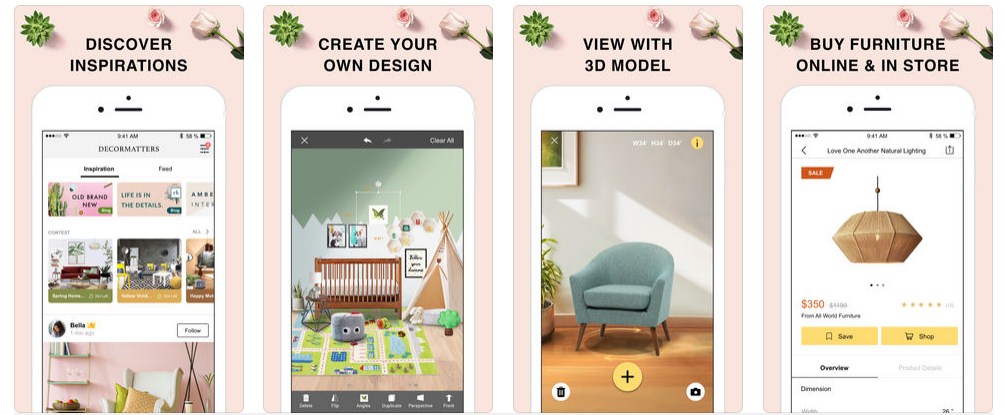 4. Homestyler Interior Design
In its early years, the Homestyler was one of the first websites which provided accurate and easy-to-interact web floor planner. But with the growth of the AR technologies the company started to move forward into a mobile version with the use of advanced technologies. Available for both major app markets, Homestyler AR app gives the ability to decorate the living space by styling the walls, adding furniture and decor items.
With this app, your phone or tablet transformed into a virtual fitting room. Simple took a picture, refine the photo by aligning walls with room corners, browse and select any item, rotate, lift and shift it where you want to see it in your room. The Easyhome Homestyler app helps to find inspiration among the existing projects in Design Stream, provides social media sharing features and is available in such languages as English, French, German, Hebrew, Italian, Japanese, Portuguese, Russian, Simplified Chinese, Spanish.
Headquarters: Beijing, China / Founded: 1999 / App launched: 2014 / Download: App Store, Google Play  / Contact: +861084098771
Website: https://www.homestyler.com/
5. Hutch
Focused on the simple idea "to discover the inner interior designer", Hutch app helps to virtually customize the living space, without risk to make of unnecessary and unsuitable purchases. The app catalogue includes furniture and decor elements from the most popular companies, the customer can sort products by price, style, colour or brand. The latest updates make it possible not only place the objects, but also virtual paint the walls and save the different variants of the design.
Headquarters: Los Angeles, U.S./ Founded: 2015 / App launched: 2017 / Download: App Store, Google Play / Contact: +12676871099
Website: https://www.hutch.com/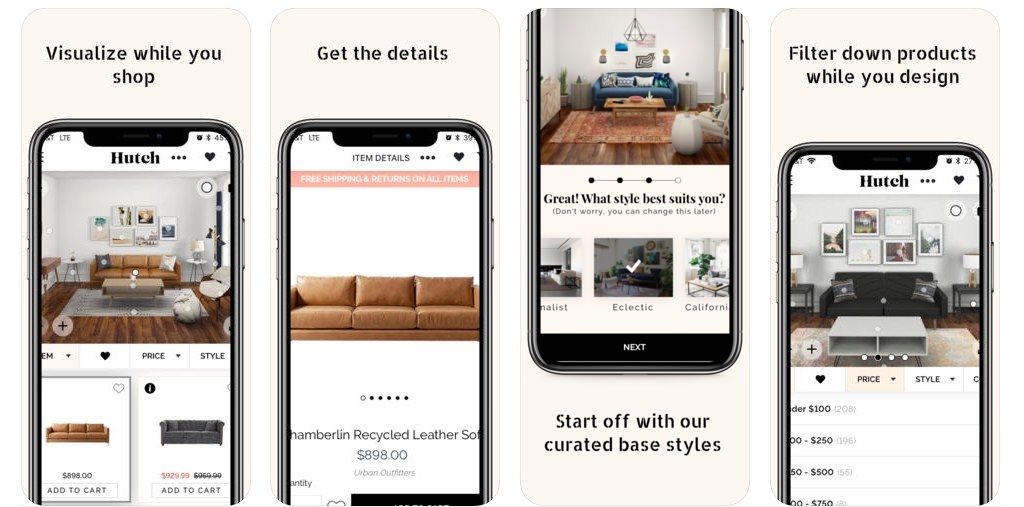 6. Neybers
Neybers, unlike similar apps, provides the range of designed room-templates additional to those, which the user can create by himself with the camera on the mobile device. The app counts numerous products from real brands and designers, provides options to change the floor, ceiling, windows and wall-textures, add lighting effects, shadows and photo filters. With Neybers, user can publish unlimited amount of rooms, share the results via Instagram, Facebook, Twitter, Pinterest, email and iMessage and interact with friends through the app. With the subscription to Neybers Plus for $4.99/month, user gets unlimited access to all products and templates.
Headquarters: Stockholm, Sweden / Founded: 2012 / App launched: 2014 / Download: App Store, Google Play / Contact: info@neybers.com
Website: http://partner.neybers.com/
7. roOomy
With the largest in the world gallery of furniture products, as they claim, roOmy AR app helps to discover tons of new design ideas to renovate the apartment. The head function "try, before buy", which runs on AR technology, makes it possible to view the 3D models of selected products on the background of the room, decide if they're fit. Each AR model has a tag "view info" which leads to all necessary information with the ability to start shopping.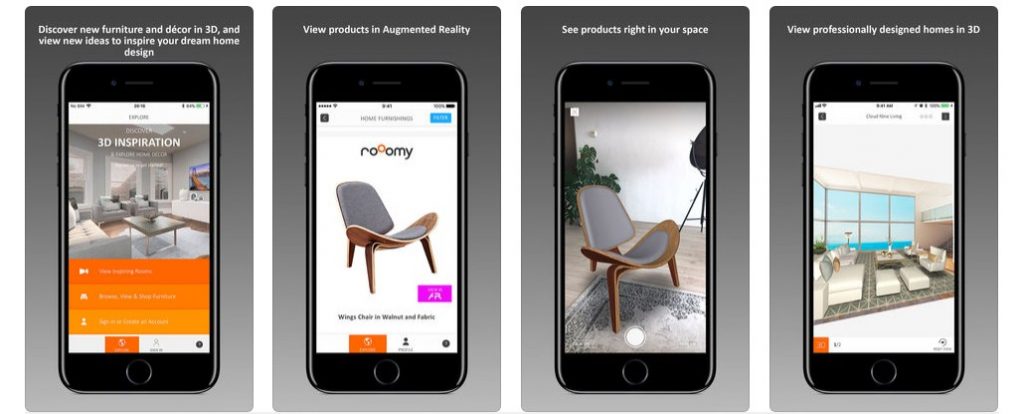 All presented products like tables, chairs, beds, floors, curtains and others can be changed and selected by colurs, fabrics, patterns and styles. roOmy collaborates with such design companies and websites as Houzz, Amazon, Wayfair, Crate & Barrel, West Elm, Target, Haverty's to provide the widest range of furniture and accompanying materials. Any proud self-named designer can create, save and share the projects via email or social media ( Facebook, Instagram, Pinterest, and Twitter). If there is a need for some inspiration, the user can find a library of sample 3D rooms.
Headquarters:San Jose, CA, U.S. / Founded: 2010 / App launched: 2015 / Download: App Store / Contact: +14087824301
Website: https://www.rooomy.com/
8. Housecraft
The app, alike to the interesting game, helps to place fully rendered 3D models. Even with a limited number of usable products, the consumer can easy to plan the future look of the room. Housecraft app has the intuitive interface, makes precise measurements of each item (width, height, depth), allows to save room templates. The great feature is persistent tracking, with which the user can view the 3D objects from any angle.
Headquarters: Los Angeles, US / App launched: 2017 / Download: App Store / Contact: hello@housecraftapp.com
Website: http://www.housecraftapp.com/
9. Room Remix
Still young, but already attracted the public attention, Room Remix, the same as its competitors/partners, provides the function of visual staging. Simple and understandable user interface makes the work in AR mode very easy. Take a picture of the designing space (portrait or landscape), arrange and rearrange furniture and decor elements (move and rotate them across the scene), share the pictures of redecorated rooms, buy the selected items. Room Remix offers products from trusted online retailers.
Headquarters: Minneapolis, U.S. / Founded: 2016 / App launched: 2016 / Download: App Store / Contact: contact@roomremixapp.com
Website: https://www.roomremixapp.com/
10. SayDuck
Trusted by such companies as Alessi, Archiproducts, Artemide, Kristalia, Wilde+Spieth, the app allows selecting over 5000 products from 150 world leading design brands. The AR mode makes it possible to stage the own living environment, with the product you are considering to buy, create own collections of favourites objects. The decor and furniture elements can be dragged, zoomed, rotated, duplicated and removed from the working scene.
Headquarters: Helsinki, Finland / Founded: 2012 / App launched: 2015 / Download: App Store / Contact: info@sayduck.com
Website: https://sayduck.com/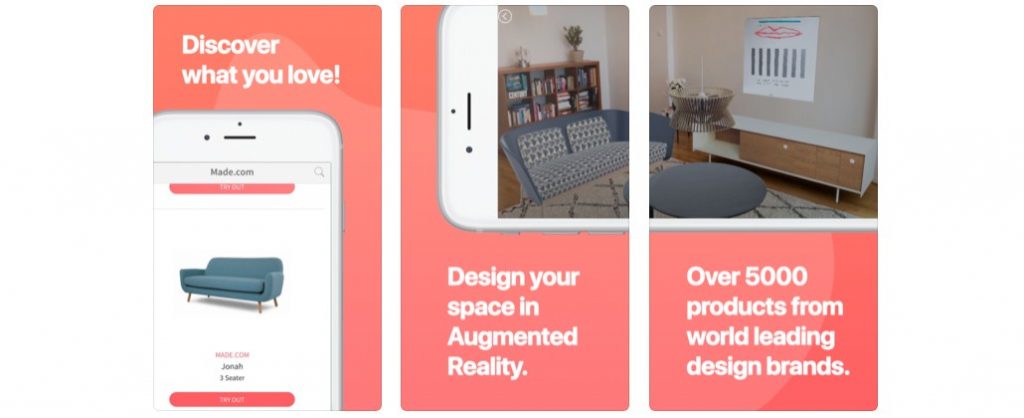 11. Pottery Barn 3D Room View
Like with IKEA Place, Pottery Barn AR app gives opportunity to virtually visualize only their own products, fortunately, their amount can impress any inveterate designer. AR mode is both suitable for already furnished or empty places, allows to easily add, remove, or move items around the room, select and change their colour, zoom to see each detail.
Headquarters: San Francisco, U.S. / Founded: 1949 / App launched: 2017 / Download: App Store, Google Play / Contact: +180015002222
Website: https://www.potterybarn.com/pages/3d-room-view/
12. iStaging
The most significant part of iStaging is that this app works in both AR and VR mode. The primary function of fitting in any kind of the furniture is added by the ability to take the pictures of the projects and share the result. Aside from AR experience, iStaging platform is also a great tool for virtual decoration the real estate for sale. VR Editor and VR Maker help to create beautiful 360° VR tours, by using rendered panoramas, adding a floor plan and hotspots and more.
Headquarters: Taipei, Taiwan / Founded: 2014  / App launched: 2014 / Download: App Store, Google Play / Contact: https://www.istaging.com/en/contact
Website: https://www.istaging.com/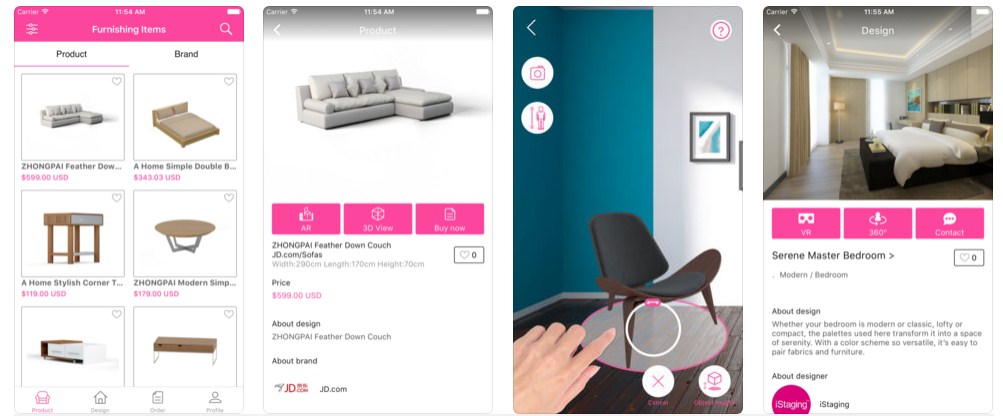 13. Amikasa
An award-winning app, on monthly basis is adding more elements of furniture to their AR catalog. Providing one of the best AR experiences, it allows to model real items with further opportunity to buy them. All 3D models are performed with a high quality, and, according to the consumers, the app is simple and clear in use. As a business owner, you might be interested in collaboration with Amikasa – no matter if you are a well-known brand or start-up with a few items to show, the company will create by itself 3D model based on product information  (photos, drawings, samples, etc.).
Headquarters: Amsterdam, Netherlands / Founded: 1999 / App launched: 2015 / Download: App Store / Contact: info@amikasa.com.
Website: http://www.amikasa.com/
14. Overstock
As one of the biggest American online retailers, Overstock has a lot to offer to its consumers. The app's latest AR upgrades were focused on providing a smarter way to furnish the house. Overstock app works not just like mobile retail platform with all features (Android Pay, Apple Pay, ordering, notifications, etc). It also allows to browse, search and virtual fit in selected decor or furniture items. Users can visualize a product within a room, save and share pictures, add products to the shopping cart.
Headquarters: Midvale, UT, U.S. / Founded: 1999 / App launched: 2016 / Download: App Store, Google Play  / Contact: +1919579926
Website: https://www.overstock.com/
15. Anthropologie
Anthropologie is another retail giant, who saw the potential in AR to boost sales and implemented it into their app. Being only on the early start, AR updates already delivery almost 100% fabric details and colour accuracy. Thanks to integration with ARKit, app users can play with furniture items with 152 colors and 130 styles. And the Home Décor section is a part of this app, to deliver best buying experience to customers.
Headquarters: Philadelphia, PA, U.S. / Founded: 1992 / App launched: 2015 / Download: App Store / Contact: +18003092500
Website: https://www.anthropologie.com