If you enter 'best hotel apps' in browser search, first of all, you'll see lists of booking apps for travelers e.g. TripAdvisor, AirBnB or Expadia. Surely those giants enable you to find a nearby hotel or book tickets in advance. But did you know that large hotel groups have their own mobile apps?
Well, they do. And those free applications have very interesting and specific features no booking can give you. We mean opening the door with your own mobile phone or reading a QR code to know more about that unique picture on the wall.
So let's talk about best hotel apps we've chosen for you. Our list is based on the TOP-20 most valuable hotel brands in 2016 and their apps, plus some applications we thought you shouldn't miss. Together they form 15 most successful hotel apps. So let's start.
1) Hilton Honors
In 2016 Hilton hotel brand was evaluated in 7,82 million US dollars. The AAA rated hotel chain has its own unique mobile app – The Hilton Honors with over million downloads on Google Play and an average rate 4.6. By the way, this result is the best out of 15 analyzed apps.
The app lets you search for and book over 4,600 hotels of famous world-class brands like Hilton, Waldorf Astoria, Conrad, Curio Collection, Canopy, DoubleTree, Embassy Suites, Hampton Inn, Homewood Suites, Home2 Suites etc.
How it works:
Hilton Honors enables users to search and book a room in one of Hilton hotels or get an Uber ride to it. With this app, one can request extras like food, drinks, extra pillows and more to be in the room at the moment of arrival. And afterward, customers can leave feedback about received service.
An app will show visitors current weather or maps with directions to the hotel. It also helps to contact the Hilton staff.
Cool features:
Mobile phone as a door key. If you are afraid to lose your room key, Hilton app will help you. But for now mobile key works at over 700 brand hotels only.
Mobile check-in. This feature allows users to make check-in from any place using their devices.
User Tip: Another nice feature of the app is getting Hilton Honors points to book free stays or pay for part of your stay. And if you book directly with Hilton, you can access special offers too.
Also in one of the last updates, Hilton baked their Conrad Concierge into the Hilton Honors app. So now you can install one application instead of two.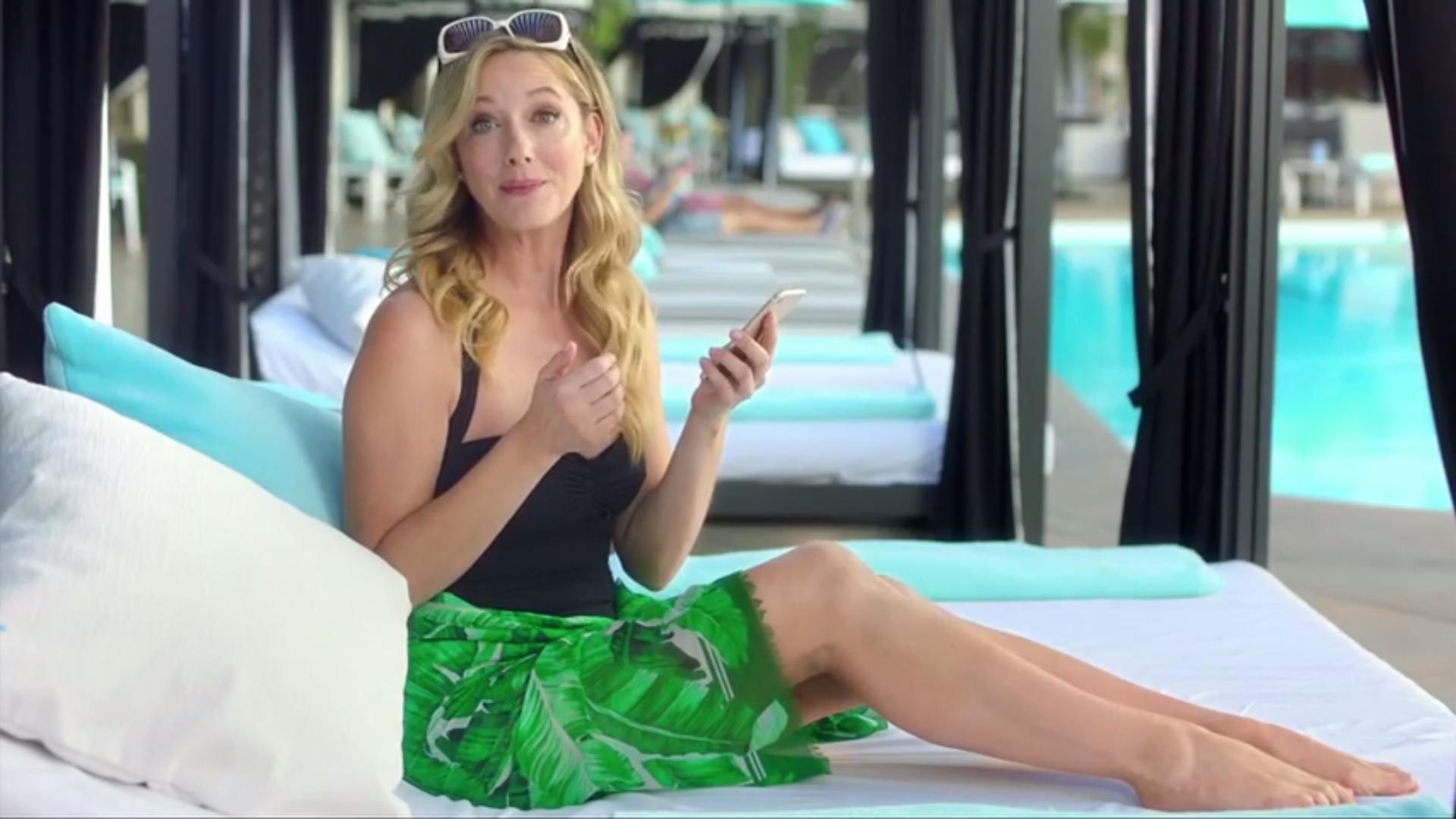 2) Marriott International
In 2016 Marriott International brand was estimated in 5,32 million US dollars. Their main application Marriott International is regarded as innovative service and often gets awards. Now, this app has over 1 million downloads on Google Play.
The Marriott mobile app makes booking hotels really easy. With over 4,000 hotels and resorts in over 78 countries, one can quickly find a needed room and make reservations across any of Marriott's 19 hotel brands including The Ritz-Carlton, Renaissance, Moxy, Gaylord, Courtyard, SpringHill Suites etc.

Get free estimation for your mobile app
Post your project or request a dedicated team - we'll quickly match you with the right experts.
How it works:
Marriott app enables its users not only to book a room in advance but also manage all their trips with a mobile device. Customers can directly contact a Marriott hotel from an app or choose needed items from the proposed list. Also with its help clients can browse maps, city guides and amenities.
Regular clients can enjoy Marriott Rewards Member Rates and get lowest prices at every hotel, all the time when booking through the app. Also, they can save preferences in the phone and earn points for booking a trip. Elite Members get access to priority late check-out requests.
Cool features:
Mobile check-in and check-out. Users can enter their room or leave it completely skipping hotel registration desk. This helps travelers save their time.
Mobile key. The app can be used as an alternative to usual room key.
User Tip: You can perform most of the needed actions holding a phone in one hand. Marriott updated its app to this 'one-button' design in 2017. So that you can easily hold your luggage and make hotel arrangements at the same time.
You can read, ho much does it cost to make an app like Marriott on our blog.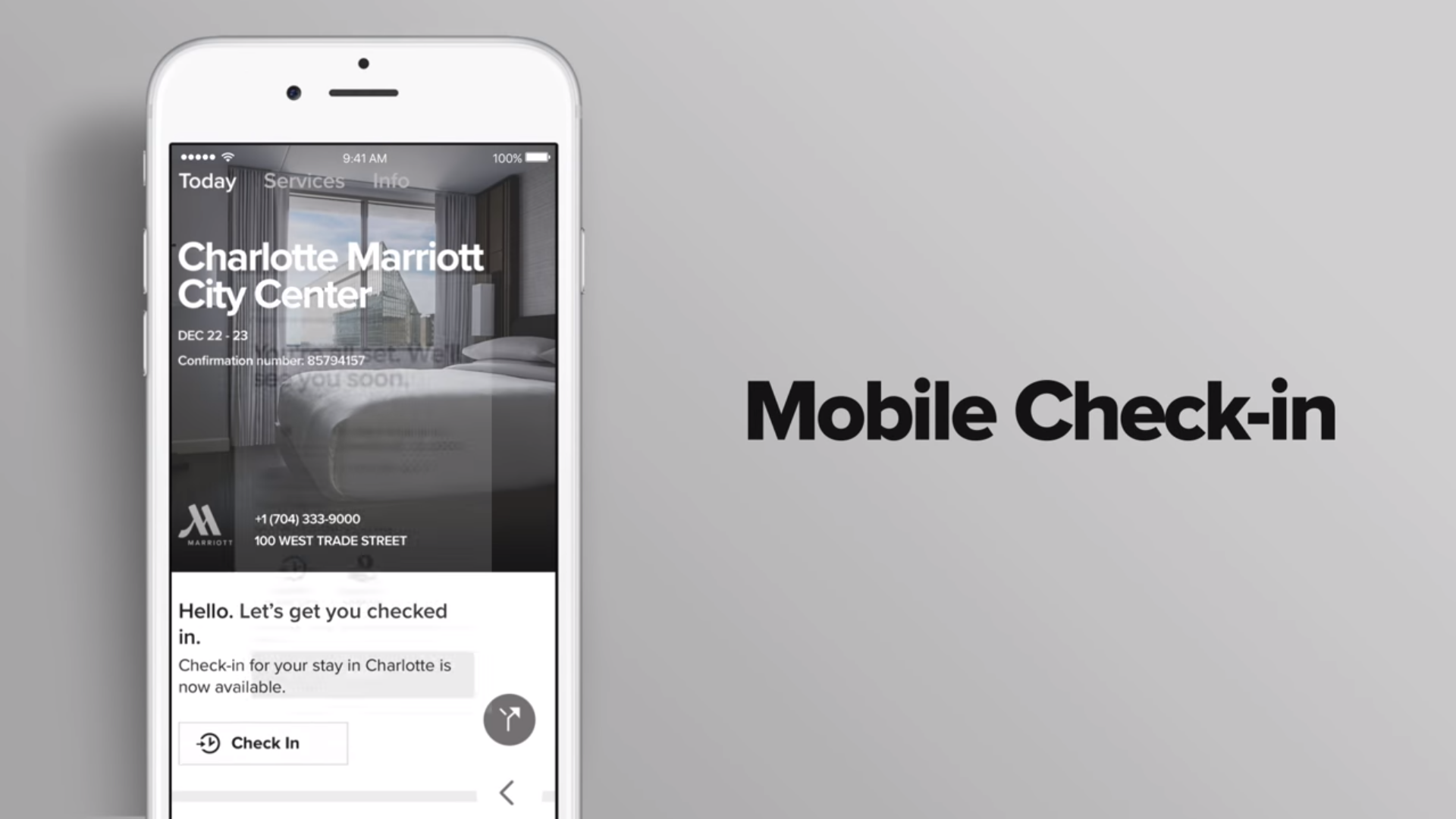 3) SPG: Starwood Hotels & Resorts
This app gathers clients of Starpoints, Four Points, W, Aloft, The Luxury Collection, Le Méridien, Element, Westin, St. Regis and other respective trademarks of Starwood Hotels & Resorts Worldwide, Inc., or its affiliates. For instance, Sheraton hotels with 3,4 million US dollar brand value also belong here.
Just like other apps SPG: Starwood Hotels & Resorts gives users access to nearly 1,100 hotels and resorts in over 100 countries just within 1 application. In Google Play it now has over 500,000 downloads.
How it works:
With this app, users can book chosen hotel through touch or voice-activated search. SPG support team would be ready to assist clients anytime during that process. The app can help customers get driving directions to the hotel or give them in-language addresses when traveling abroad. Also, the app shows hotel information related to one's travel plans.
Regular clients get member benefits, special offers, and Starpoints. An SPG Member who books a stay through SPG app receives complimentary standard in-room Internet access.
Cool features:
SPG Keyless – users can get access to the room with their own mobile device. Also, the app can remind visitors their room number.
User Tip: In 2016 Marriott International, Inc. bought Starwood brand. So now you can link your Marriott Rewards and SPG accounts. Your status will automatically repeat in another chain, for instance, SPG Platinum = Marriott Platinum and so on.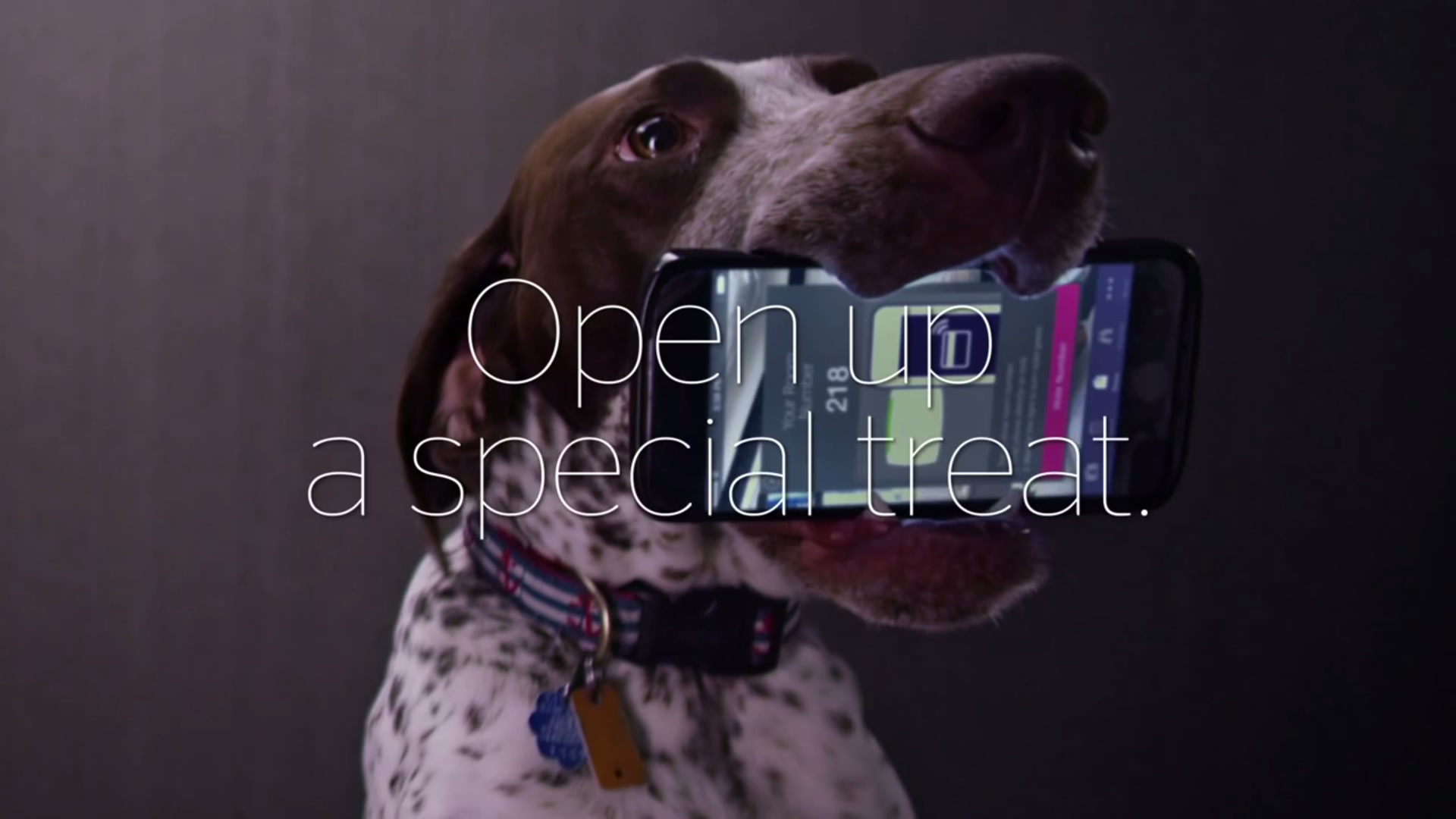 4) IHG® Hotel Booking & Deals
IHG group united more than 5,000 hotels in over 100 countries. Those include outstanding IHG brands like InterContinental, Hotel Indigo, Crowne Plaza, Holiday Inn, Staybridge Suites, Candlewood Suites Kimpton Hotels etc.
So there is nothing strange in the fact that IHG Hotel Booking & Deals app got more than 1 million downloads on Google Play. With its help, travelers can easily take control of booking and managing their hotel stays.
How it works:
IHG app helps users find a needed hotel just in few taps. It also saves previous stays so next time one doesn't have to search for the admired hotel. With this app, travelers can manage their complete trip including not only hotel preferences but also transportation (Uber or car rental), dining and visiting local attractions.
IHG app gives access to special IHG offers and discounts. With its help, guests can earn special Rewards and later spend them om free nights or Digital Rewards.
Cool features:
Check reviews. Guests live real reviews about different hotels in the app. It can be really helpful while making a choice.
Current charges. During a stay, clients can see their current hotel expenses.
User Tip: Turn your phone horizontally to see your IHG Rewards Club or Ambassador card. Also, you can download IHG Translator. It is another IHG hotel app with most popular phrases in 12 languages, including slang.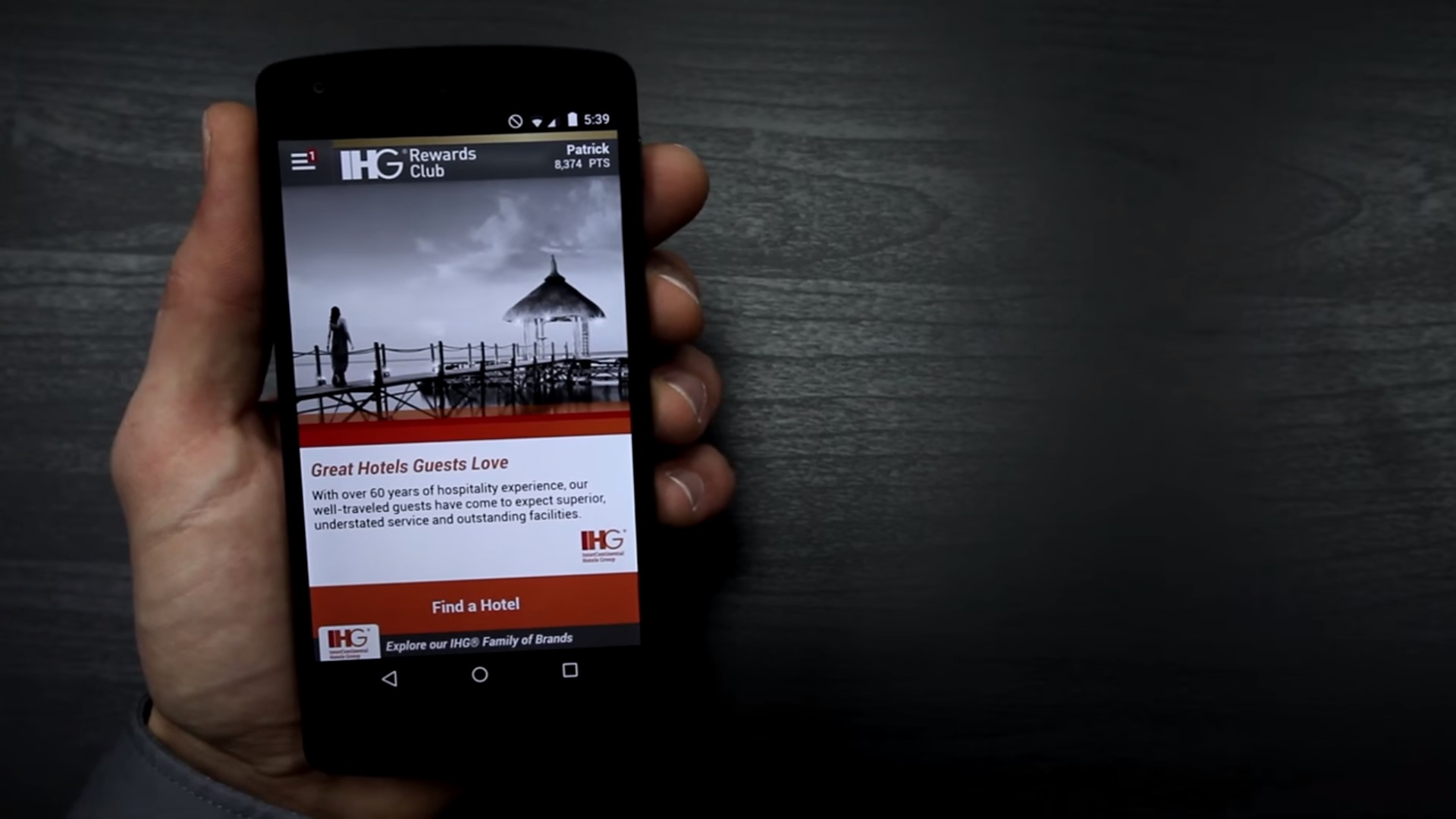 5) AccorHotels
All Accor group hotels like Ibis, Novotel, Raffles, Fairmont, Swissôtel, Mercure, Sofitel, Pullman, MGallery, Adagio, Mama Shelter are merged with one AccorHotels booking application. It gives users access to the group's 4,100 hotels and some more partners' property.
The app itself has over million downloads on Google Play and quite a big amount of reviews.
How it works:
The basic principle of Accor app is quite the same: it helps users to find nearby hotels, book rooms and check in online. Besides, if you travel a lot, the app will send you a booking reminder 48 hours before you leave.
This app will tell you about expected weather during your trip and can recommend some travel ideas with the help of 70 city guides. The last even work offline. Also, this app helps to book Uber driver or you can contact a hotel directly by email or telephone.
Cool features:
360° view. This app section allows clients to estimate hotels with their own eyes in 3D view.
Accor Press. App gives users access to free press publications.
Real reviews. In Accor app, one can find TripAdvisor notes and comments about brand hotels.
User Tip: All information about your flights, trains, and hotels is gathered in one place called Wipolo. This is a unique feature of Accor app. Also, don't forget to earn and use your loyalty points for staying at Accor hotels.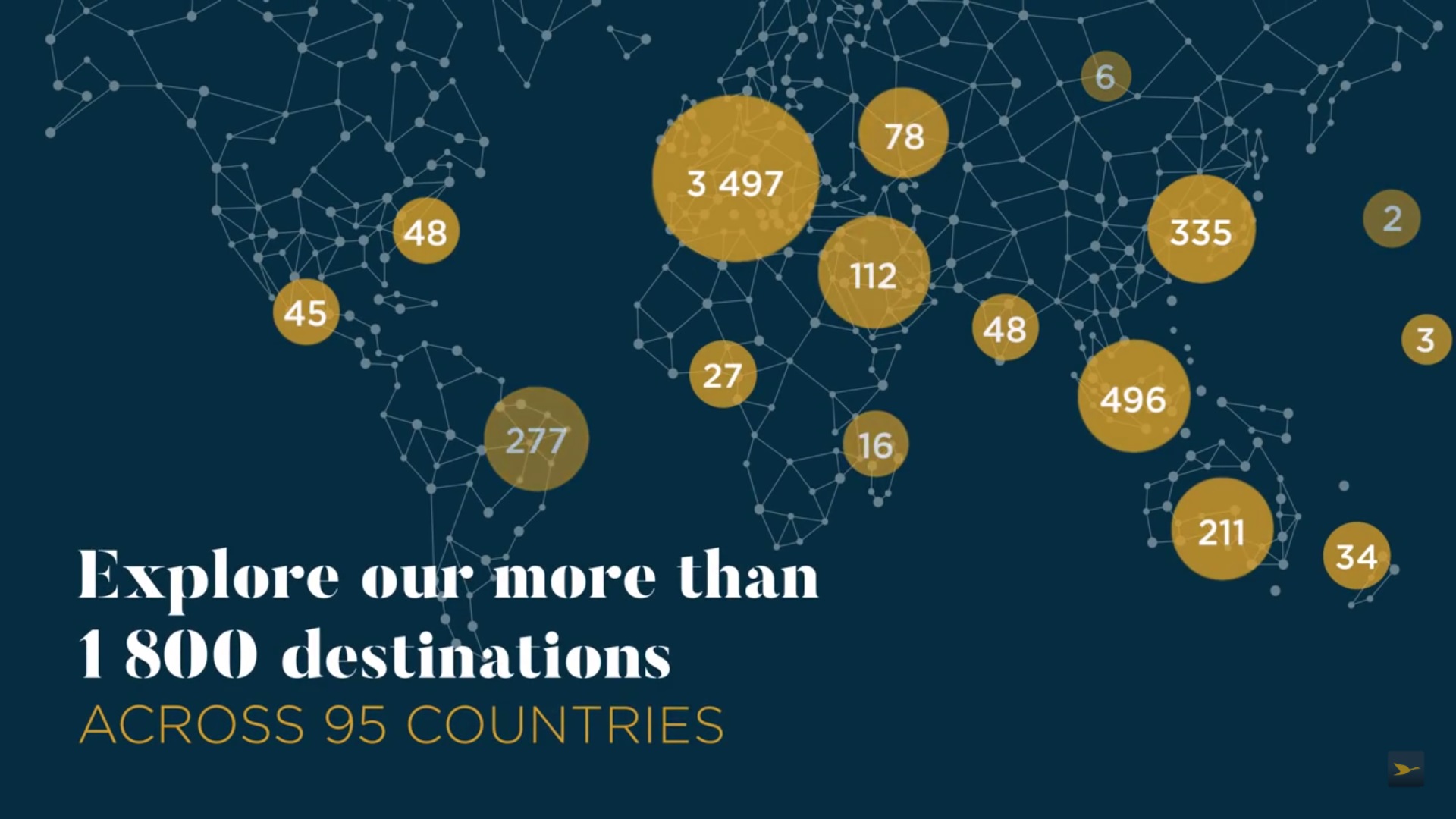 6) Hyatt Hotels
Hyatt Hotels with 3,45 million US dollars brand value are in the third position in hotel top. However, their app is not the most successful if compared to similar one. It managed to gather more than 100,000 downloads in Google Play. On the other hand, Grand Hyatt Seoul app has more than 5 thousand downloads and that number is quite impressive for a separate hotel.
With Hyatt Hotels app one can book rooms at 600+ hotels and resorts in different parts of the world (almost 50 countries).
How it works:
Hyatt Hotels app offers planning a trip and booking rooms in advance. With its help, clients can request additional items to the room or connect with Hyatt employee using Facebook Messenger or Twitter.
The app enables travelers to log in the World of Hyatt and get member benefits, discount rates and to redeem free nights. A user gets access to mobile check-in and check-out.
Cool features:
Room charges online. Using Hyatt app travelers can observe room charges during their stay.
Request Uber. An app can help clients to request an Uber taxi to the needed Hyatt hotel.
User Tip: Using the Hyatt app, you can take advantage of Hyatt's Best Rate Guarantee. iPhone or iPad owners can add their reservation and account details to Apple Wallet.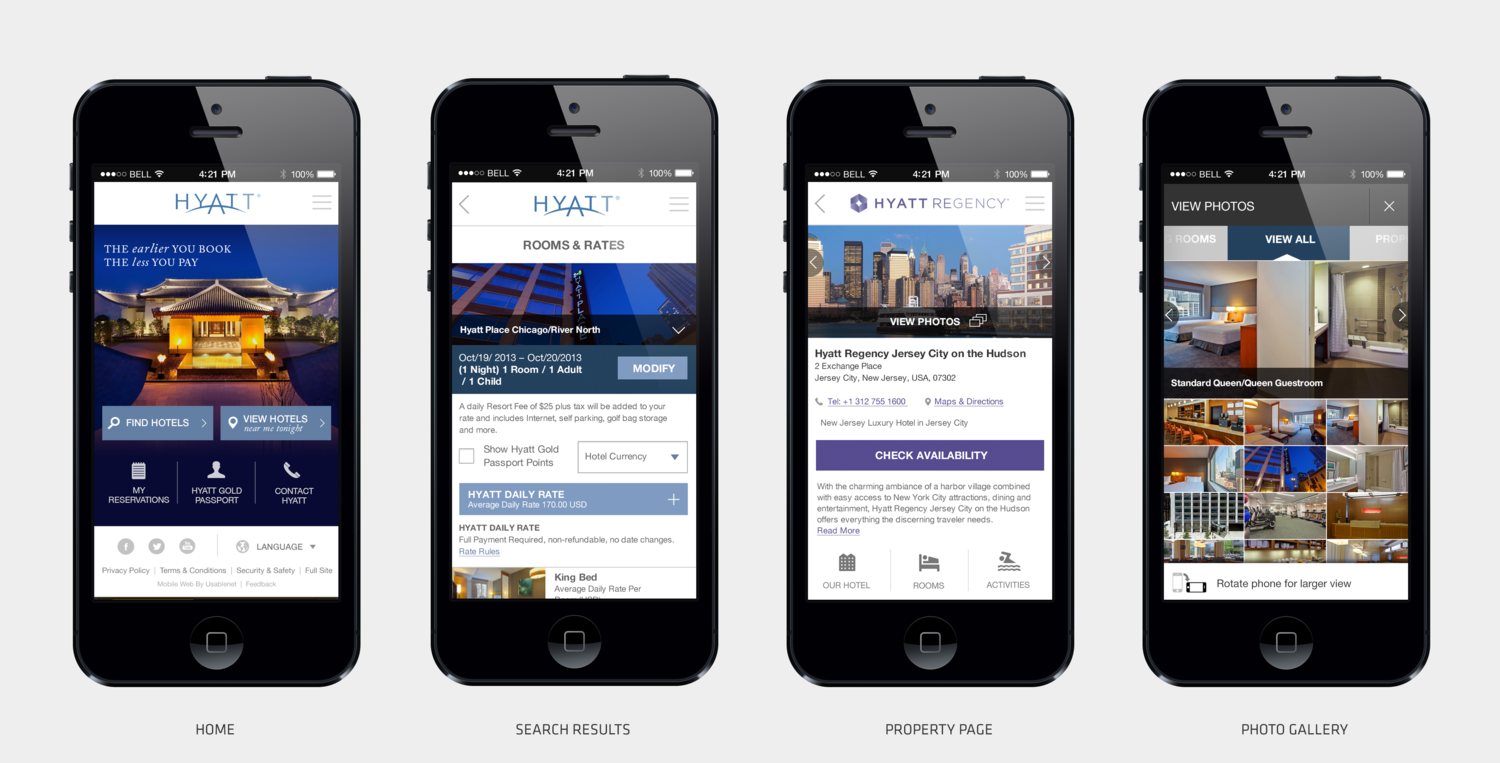 7) Premier Inn Hotels
Premier Inn hotels gathered more than 700 hotels in one application. It is mostly a chain of hotels across the UK and Ireland, but now it also includes Germany, the UAE, India, and South East Asia too. Hotels are well-known for their budget accommodation.
Premier Inn app managed to gather more than 100,000 downloads on Google Play although the number of brand hotels is not that big.
How it works:
The main purpose of this app is a fast and comfortable search for a hotel and booking a room. Developers tried to make it as easy as possible. In the app, you can look through the list of hotels or use a location-based search. The app shows users way to the hotel and lets them leave a feedback after a stay.
With My Premier Inn, guests can view the past and future reservations or change their details.
Cool features:
Mobile check-in. Users can check in online on the way to the hotel. At the same time, travelers can order additional meals in just a few taps.
User Tip: Premier Inn app has access to both Flex and Saver rates so that you can get the best value for your money.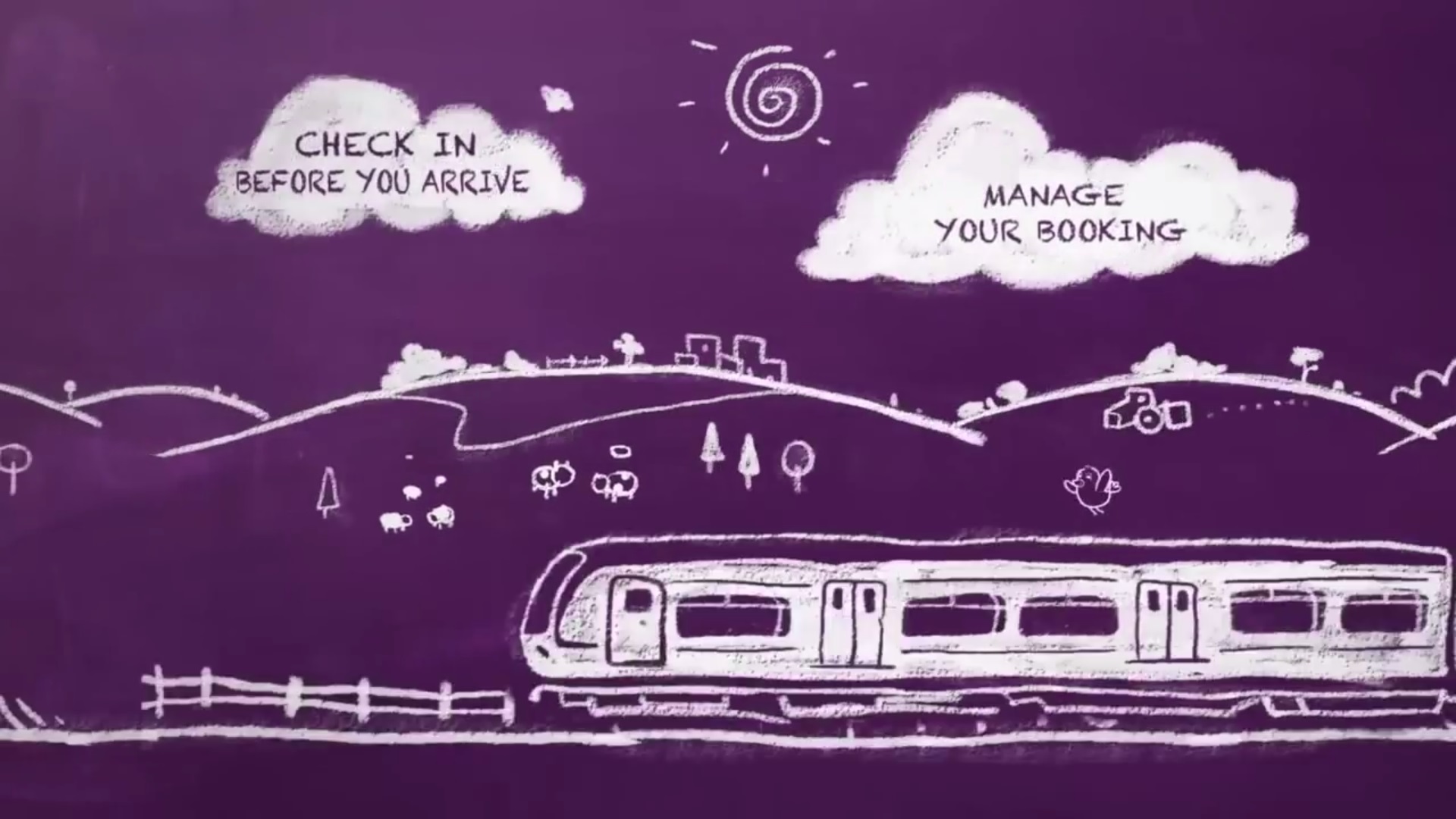 List of brands can't always represent success in developing apps. So we continued our survey to write about few more successful hotel apps like the next one. You'll be impressed.
8) OYO – Online Hotel Booking App
This app was launched by India's largest network of hotels only in 2015 and now it has more than 5 million downloads on Google Play! Absolute success, at least we can't find any hotel brand with better results.
OYO app gives users access to over 50 thousand rooms across 200 cities in India including Delhi, Mumbai, Bangalore, Goa, Kolkata and many others.
How it works:
OYO app allows users to book a hotel room 'in a matter of just five seconds' or three taps, as developers say. You can find closest OYO hotel using specific landmark or your GPS location.
An app lists all amenities – like the availability of parking or payment systems so that users can choose exactly what they look for. Guests can request room service and pay for it with their mobile wallets. And with the last update, an app remembers previous searches and shows hotels, visited earlier, on top in the results.
Cool features:
 Sunrise Check-in. OYO app provides guaranteed early check-in. It starts at 6 AM and is available in 2 thousand brand hotels.
Transportation.  Users can book a cab to the hotel through the app or get best directions to the chosen accommodation.
User Tip: OYO app shows the latest and the cheapest bookings across India, so it is a good tool for saving money during your Indian tour.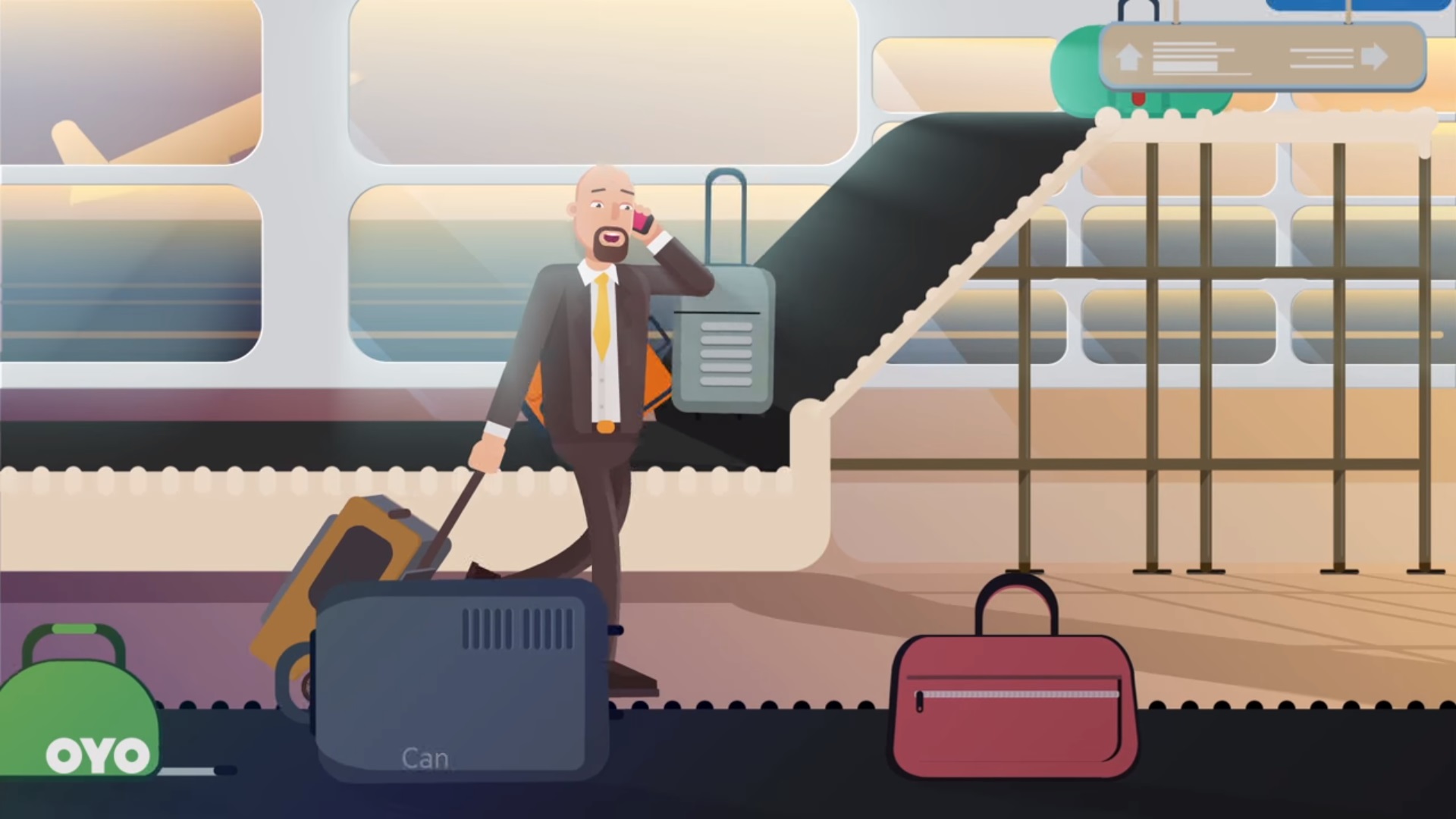 9) Choice Hotels
Choice Hotels is an American hospitality holding corporation. It owns more than 6,400 hotels in over 35 countries all over the world. The company manages the hotel and motel brands like Comfort Inn, Quality Inn, Sleep Inn, Clarion, Cambria, Mainstay Suites, Econo Lodge, Rodeway Inn and others.
Choice Hotels app has more than 500,000 downloads on Google Play. It gives users access to all Choice Hotels in one place.
How it works:
The app helps travelers to find nearby Choice hotels, book rooms there and manage previous reservations. Choice app allows guests to plan a vacation ahead or book a room in last minute. Users can search for the needed hotel by city, address, landmark or even their current location. And reviews left by other travelers will help to make the right choice.
Also, app users get access to the rewards program Choice Privileges. With its help members can redeem points for free nights, earn fuel rewards, get digital gift cards and more. Members can combine Choice Privileges points and cash to reserve a room.
Cool features:
360° view. Users can look at the hotel, room details, and amenities with 360-degree virtual tours.
Find a friend. Guest may let their friends know about the current stay by sharing properties via text message, email or social media.
User Tip: Don't forget to save your credit card information for easy check-out.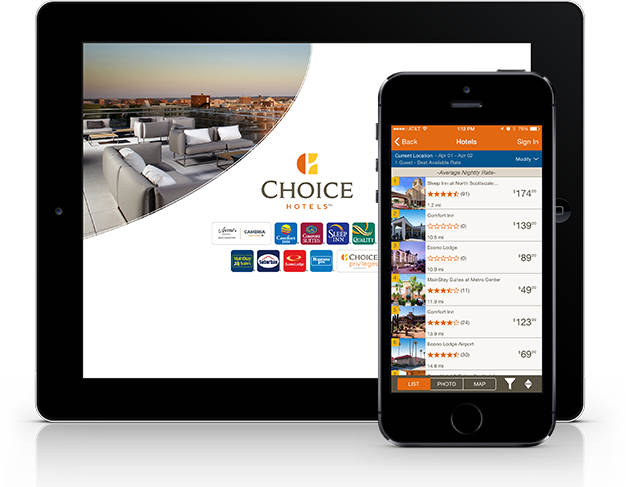 10) Best Western To Go
Best Western Hotels & Resorts is an award-winning global family. It has 4,100 hotels located in over 100 countries. This group consists of seven unique brands including Best Western Premier, Vīb, Glō, Executive Residency etc.
However, Best Western app is quite simple. Now it has over 100,000 downloads on Google Play.
How it works:
Best Western app helps users to search for most suitable brand hotels by map, images or via a usual list. Also, travelers can sort search results due to their specific needs. Up to 3 hotels can be compared at the same time.
The app enables users to access loyalty program Best Western Rewards, manage their account and watch earned points.
Cool features:
Find a friend. Users can easily share travel plans about the trip with their friend or relatives.
Entertainment. The app show guests nearby attractions like restaurants, transportation or famous landmarks.
User Tip: This app includes TripAdvisor reviews, which can help you make the final and best choice.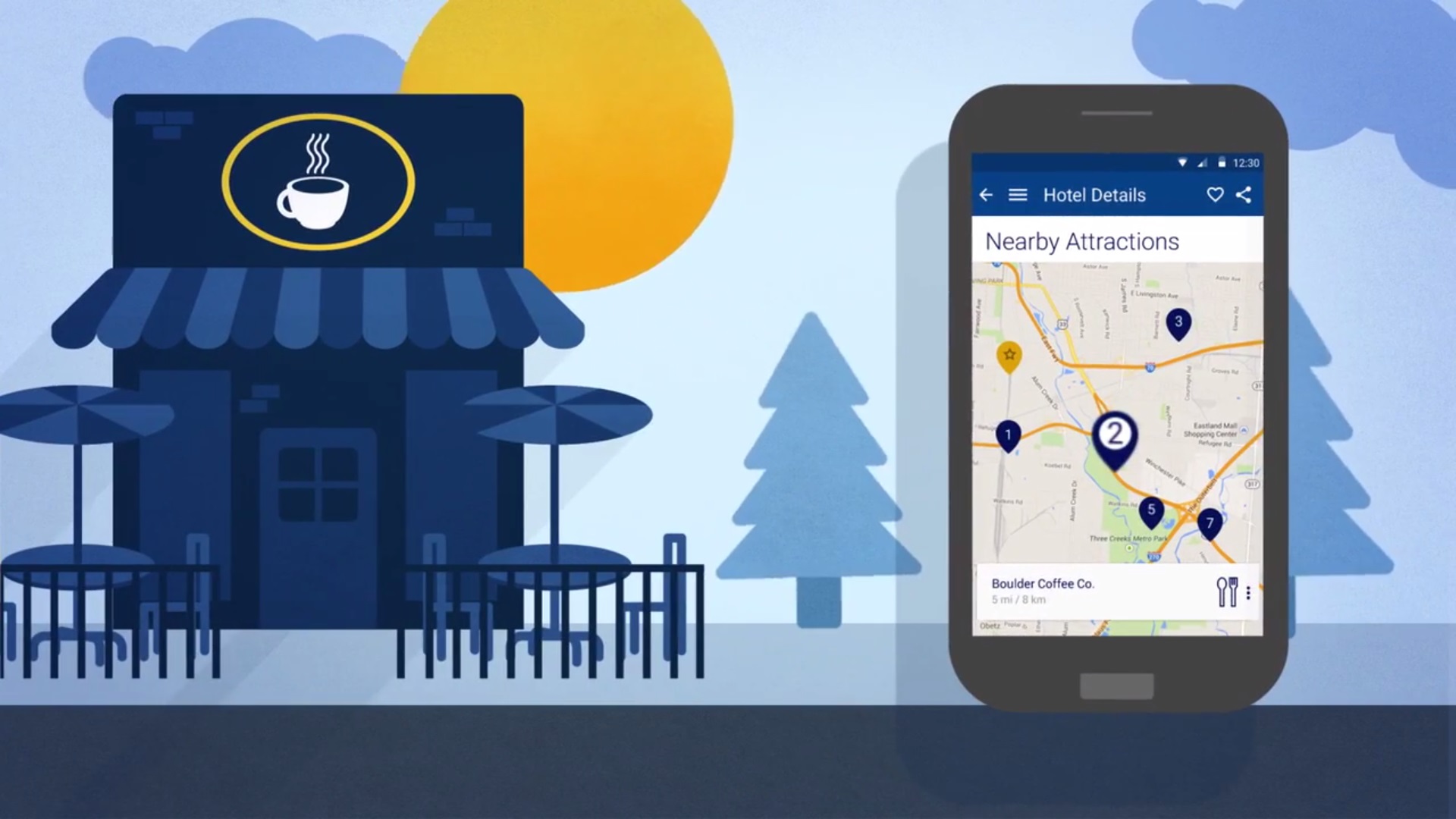 11) Wyndham Rewards
Wyndham Hotels & Resorts are located on 5 continents in 22 countries. Their networks include famous hotel brands like Dolce Hotels, TRYP, Wingate, Hawthorn Suites, Microtel Inn & Suites, Ramada, Days Inn, Baymont, Super 8, Travelodge and others.
Wyndham Rewards is a mobile app, owned by Wyndham Hotels. Its name stays also for hotel loyalty program, which gets quite a big attention from owners. The app itself now has more than 100,000 downloads on Google Play and is mostly aimed at regular hotel users.
How it works:
Wyndham app is mostly based on the map search. First of all, it helps users to look for best accommodation in the needed area. Secondly, after booking a room map helps guest to find most interesting locations around the hotel like a good pizza or local concert.
The app is closely connected with loyalty program Wyndham Rewards. Guests get points for each dollar they spend or each stay. Later those points can be used for free or discounted nights t any of over 7,800 Wyndham hotels.
Cool features:
Booking Magic. This app allows users to get a room with minimal efforts. One just has to point the time and Wyndham associate will call back and help that person to book a stay.
User Tip: Don't forget to enter your credit card information into the app so that later you won't have to repeat this process.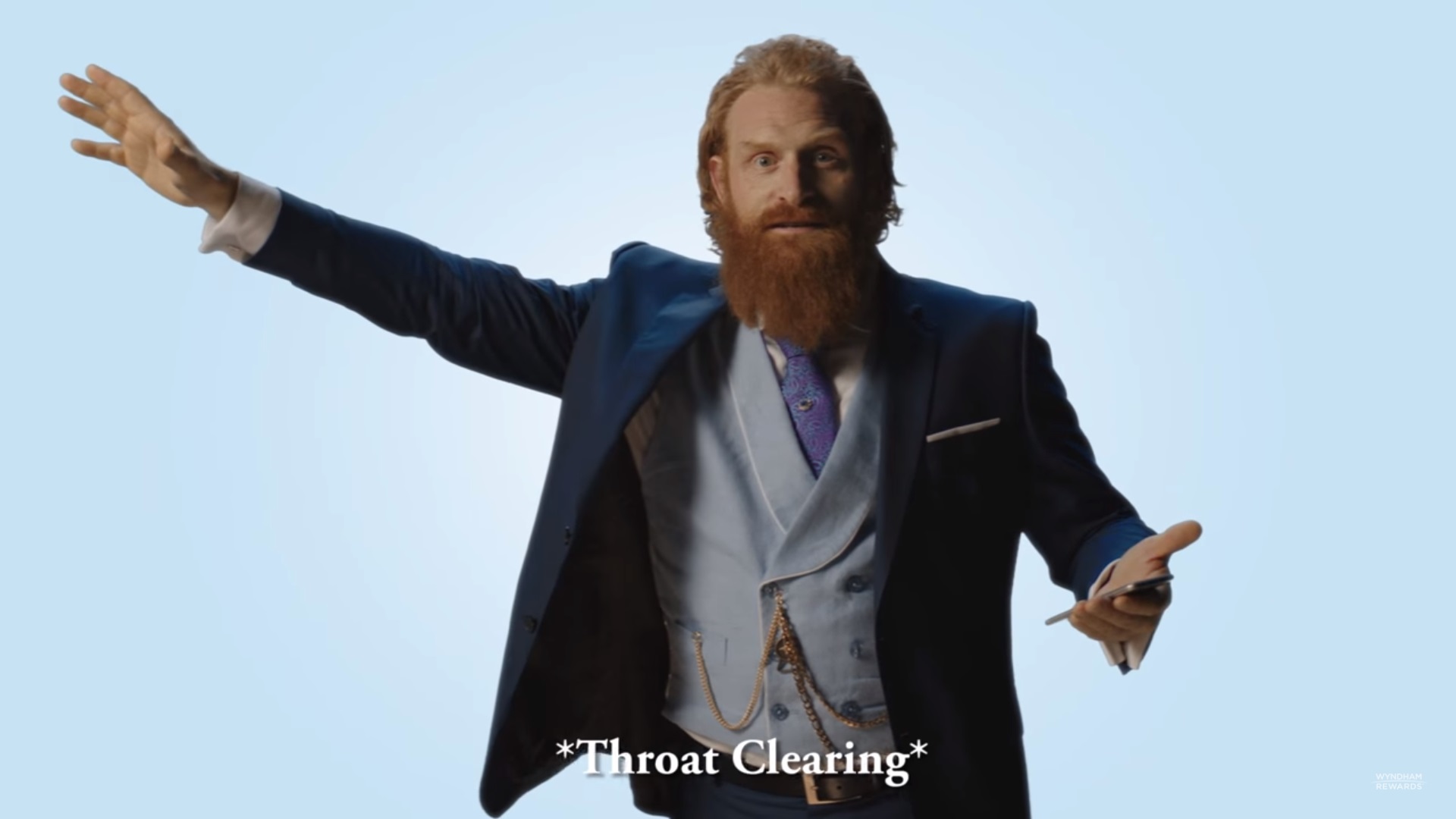 12) La Quinta Returns
La Quinta hotels can be found across the U.S., plus Mexico and Canada. All the network includes more than 870 hotels. La Quinta Returns app was downloaded more than 100,000 times at Google Play.
With La Quinta app users can access their personal account, earn points during their stay and later use them for free nights.
How it works:
This app enables travelers to book a room using only their mobile phone number. Hotels can be found with flexible search options. e.g. user location or destination. Travelers watch hotels on the interactive map or in a list.
The app is integrated with popular applications like TripAdvisor and Yelp so that its users can easily find a nice local restaurant nearby or read reviews about each hotel. An app itself also has hotel photos and detailed amenity info.
Cool features:
Fingerprint login. Users can get access to their La Quinta Returns account with TouchId on iOS devices or with fingerprint login on Android. However, this feature depends on the type of device.
Mobile Check-Out. Users can check out of the room with a tap on phone. They will get a receipt for stay at the hotel via email.
User Tip: Text alert from the hotel will notify you when your room will be ready to check-in.  Instant Free Night feature also notifies users when they have enough points for a free stay.
13) NH Hotel Group
NH Hotel Group is one of the 25 largest hotel companies worldwide. It owns 4 various brands to suit all peculiar needs like urban hotels NH Collection or Hesperia Resorts in perfect locations for relaxing.
NH Hotel Group app has more than 100,000 downloads on Google Play. It opens travelers way to unique advantages of brand's hotels.
How it works:
The app enables users to find wanted hotel based on their location or destination. The results can be filtered due to personal needs. Then guests can look at hotel reviews from real visitors or watch hotel photo galleries. Also this app show hotel amenities like gym, swimming pool or airport shuttle.
NH Rewards member can use this app to access their personal accounts, earn more points or get free nights for it. Also, a member of the NH loyalty program get 5% discount on all bookings and receive special hotel deals. Guests can reserve, change or even cancel their bookings from any location.
Cool features:
Offline functions. With new update users now can do many operations offline, for example, check their points, manage bookings or access hotel helpline.
Arrange meeting. NH Hotel app helps users to organize private events in many different meeting rooms on choice.
User Tip: If you got hungry, book a table in partner restaurants directly through the app.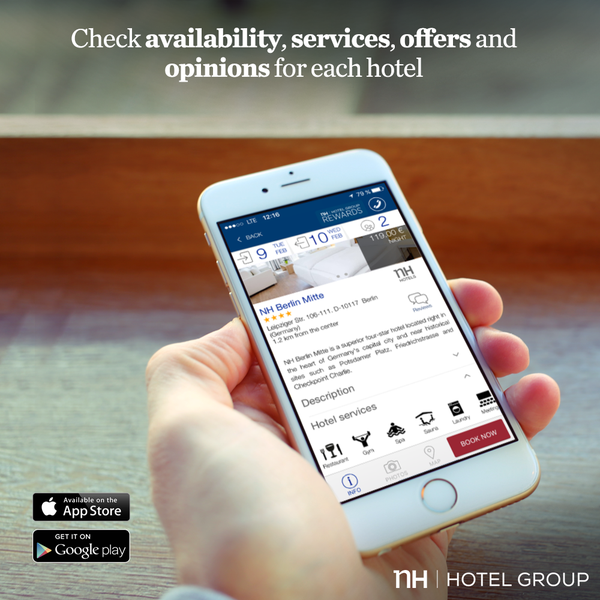 14) Shangri-La Hotels & Resorts
Shangri-La Hotels and Resorts brand value achieved 1,71 million US dollars in 2016 and got into TOP-10 of best hotel brands in the world. A Hong Kong-based multinational hospitality company has its own complimentary mobile app for all hotel guests.
This app has only more than 50,000 downloads on Google Play and is not very popular at first sight. But on the other hand, the app works for over 80 Shangri-La, Kerry, Traders Hotels and Hotel Jen, which is not so much if compared to previous hotel giants.
How it works:
With Shangri-La app you can easily plan your trip, find needed hotel and make a room reservation. GPS technology allows users to see all closest brand hotels.
The app gives access to Golden Circle, a hotel loyalty program for frequent guests. The rewards can be used not only on free nights but also on dining or Spa. Travelers can get tips from an app or receive special offers.
Cool features:
QR code scanner. The app has built-in QR scanner, which allows users not only to get special offers from the hotel but also read stories about it.
Share your stories. Travelers can write down own travel stories and share them with other Golden Circle members. At the same time, users can read stories of other people.
User Tip: You can download your digital card and use it instead of printed membership card.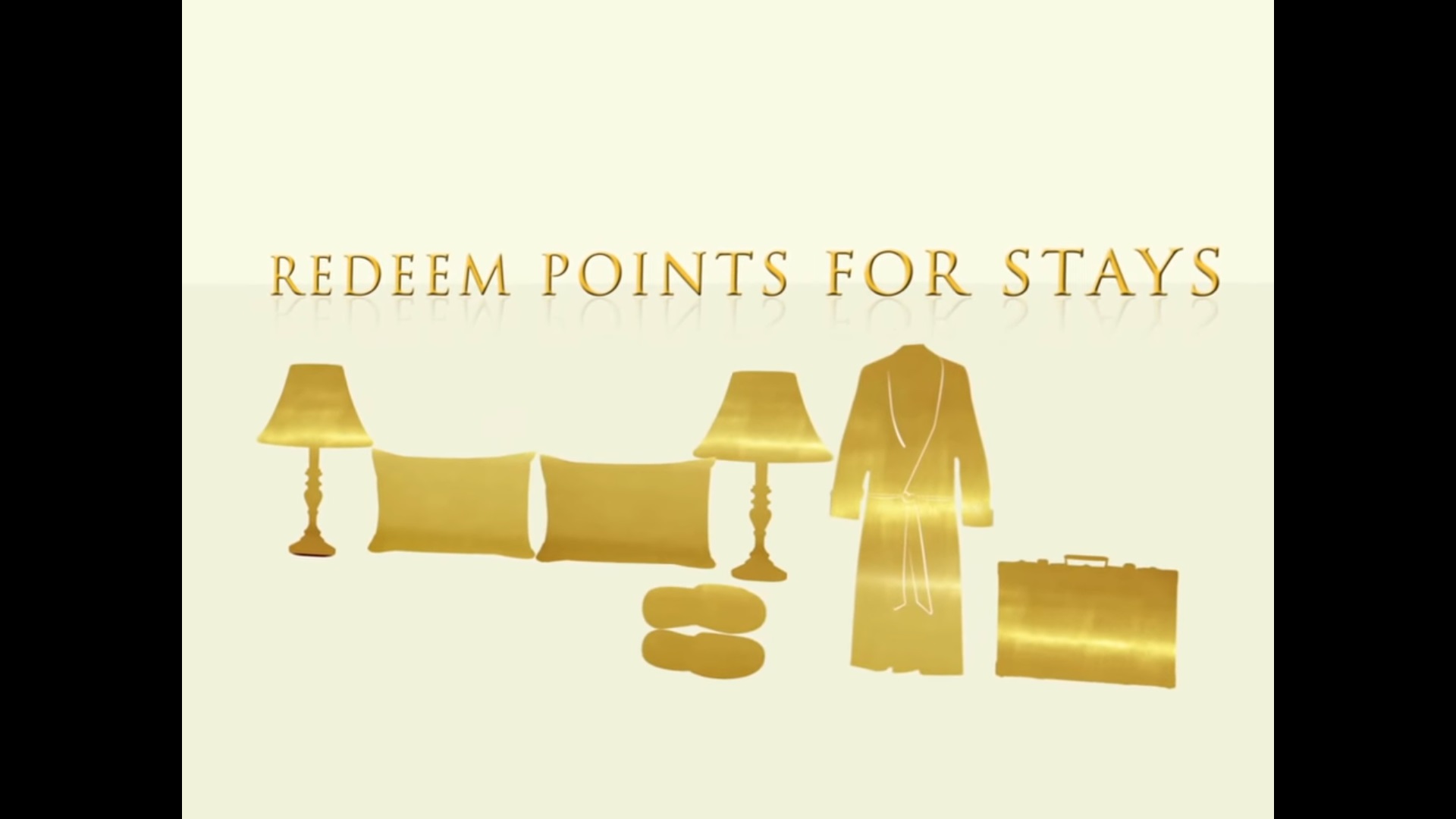 15) The Ritz-Carlton Hotels
The Ritz-Carlton Hotel Company owns 91 luxury hotels and resorts in 30 countries. Despite this relatively small number brand's app managed to get more than 50,000 downloads on Google Play and an average rаte of 4.3 points.
The hotel company is today a subsidiary of Marriott International.

Get free estimation for your mobile app
Post your project or request a dedicated team - we'll quickly match you with the right experts.
How it works:
The Ritz-Carlton app allows users to make hotel reservations at all brand's hotels and resorts all over the world. Travelers can browse full hotel information, photo galleries, and amenities or get useful recommendations about dining, spa, and local attractions. Also, they can use interactive maps with detailed directions to get to the hotel.
The app contains innovative features like Mobile-Check-In, Check-Out, Service Requests and many others. Those options help users to get better travel experience. Also, location-based service shows guests only relevant content.
Cool features:
QR code scanner. With built-in QR code scanner guests can get new experiences and unlock stories about Ritz-Carlton hotel.
Electronic folio. Ritz-Carlton guests can request their eFolio without stopping at the front desk.
User Tip: SPG, Marriott Rewards, and The Ritz-Carlton Rewards work together, so you can easily link this accounts to receive two additional advantages: elite status match and points transfer. The Ritz-Carlton Rewards program gives a client access to exclusive preferred rates and their current point balance.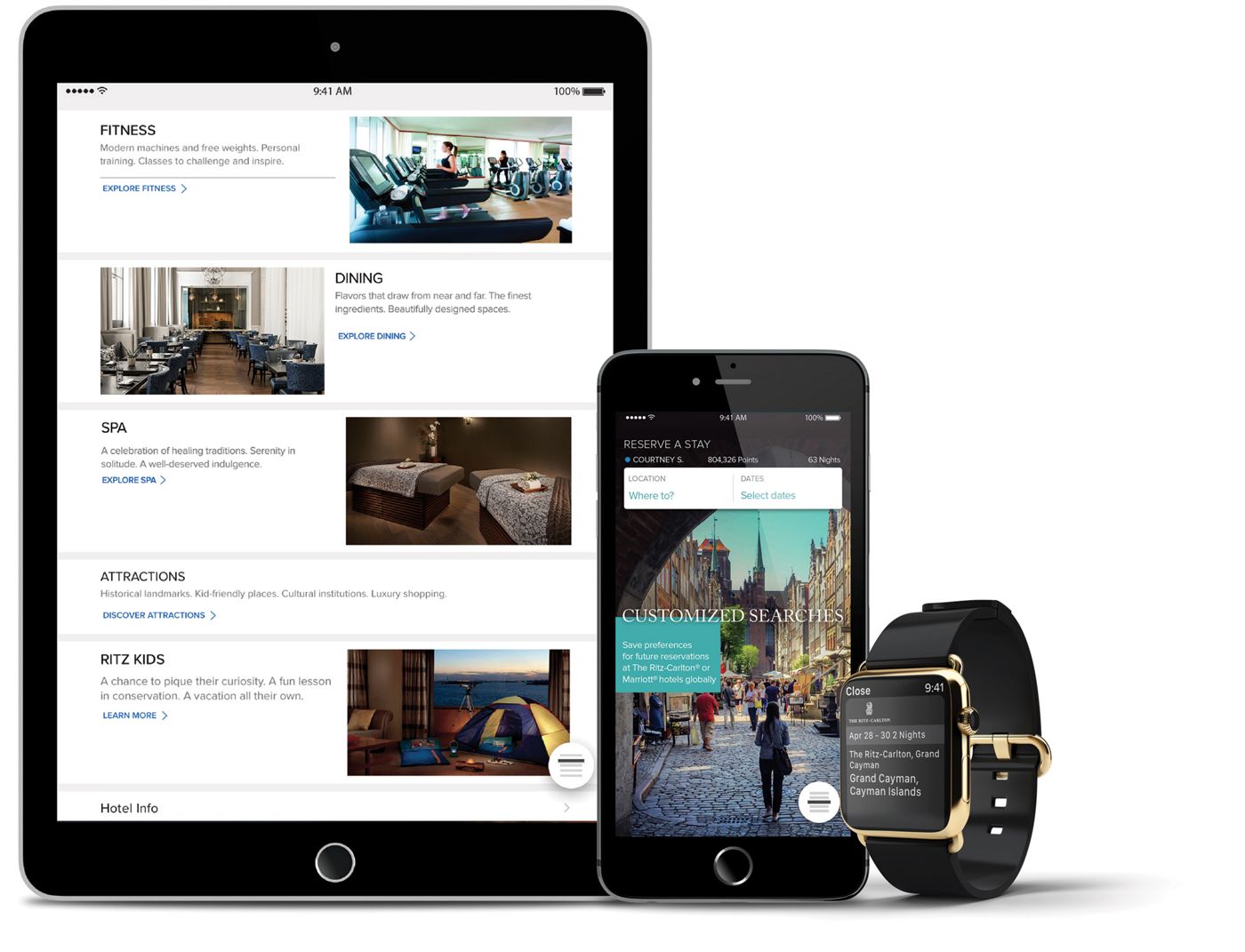 Conclusion
So, congrats, you've managed to read that all! If you were that devoted you could notice that all apps above belong to very rich companies. But still, none of them has average rating 5 and not always the number of downloads is big enough. But what it means for you?
Where one makes mistakes another can see ways of improvement. Thinking of your own hotel app you should regard all competitors' weaknesses. First of all remember about basic features like booking room, loyalty program or contact with hotel employees.
But small details are also important. Scanning QR codes, weather details or keyless enter – this is what makes your service truly unique. These features will motivate your visitors to download your app. Because after all, we are talking about loyalty. And mobile app, in this case, is very good opportunity to make your clients return again and again.