Online investing has never been easier and more profitable. We are witnessing a long list of reputable companies competing with their best offers to attract new investors and make them stay on their platforms. As the rivalry keeps on growing, we created a list of the best investment apps. You can decide which one is worth giving a try according to your goals and preferences.
Warning: CFDs are complex instruments and come with a high risk of losing money rapidly due to leverage. Between 74-89% of retail investor accounts lose money when trading CFDs. Also some parameters like margin can be volatile according to market trends.You should consider whether you understand how CFDs work and whether you can afford to take the high risk of losing your money.
13 Top Investment Apps
1. Coinbase
Coinbase is the largest cryptocurrency investment app. The world recognizes it as the top app for Bitcoin trade. Users can choose between two available wallets – one for beginners, other for advanced traders.
How it works: Coinbase is a trading platform and a wallet for digital currencies at the same time. Here, users can register easily, make a deposit and start buying and selling the most valuable cryptocurrencies, such as Bitcoin.
Cool features: Instant buy, insured deposits. Shift Card – a special VISA debit card issued by Coinbase for all its users. Two wallets – Standard (for beginners) and Multisig Vault (advanced).
User tip: Get the benefits of Coinbase Instant. Usually, you would have to wait for your deposit to be confirmed in the upcoming Thursday and then be able to use it. With this feature, you do not have to wait.
Business model: Free registration
Clients from US must pay a fee of 4% for every transaction
Variable withdrawal fees
Free deposit fees except from US wire ($10)
Other payout fees:
3.99% for PayPal transactions
3.99% for Credit/Debit card transactions
Free bank wire transactions, 1.49% for US bank transactions, €0.15 for SEPA transactions
1.49% for a Coinbase wallet transactions
Coinbase supports four main cryptocurrencies: Bitcoin, Bitcoin Cash, Ethereum, Litecoin.

2. Personal Capital
Personal Capital is a free management tool. It serves to track your income, outcome, stock earnings and everything related to your finances. Available on several gadgets, allowing you to monitor your investments anytime, anywhere.
How it works: After connecting your Personal Capital account with the investment accounts, bank account, credit/debit cards, and similar, you will receive a precise summary of your financial state. This app is very important for investing because it gives clear results of which investments are profitable and which ones are not.
Cool features: Investment Checkup, Budgeting, Retirement Planner, Education Planner, 401(k) Analyzer, Upcoming Bills, Asset Allocation Target, Email Notification.
User tip: In order to prevent any hacking attempts or misuse of your financial accounts, do not access public WiFi while using Personal Capital. In fact, you should try to avoid Web surfing while connected to a public WiFi as well.
Business model: Free app. Personal Capital takes small annual commissions after users invest their first million in the assets managed by this app.
0.89% for the first $1 million
0.79% for the first $3 million
0.69% for next $2 million
0.59% for the next $5 million
0.49% for investments over $10 million

Get free estimation for your mobile app
Post your project or request a dedicated team - we'll quickly match you with the right experts.
3. Motif
Motif is a thematic investment app, a rare combination of a broker and portfolio manager. Here, investors can trade for a very low price ($4.95). Users are enabled to trade "motifs", a proprietary collection of ETFs or stocks.
How it works: Investors can buy or create motifs (maximum 30 ETFs or stocks) that follow a specific theme, such as "Lots of Likes" that shows a list of companies with most likes on Facebook. You can also mix multiple themes and make unique portfolios. Afterward, you can trade your motifs and get attractive prices, based on the quality of your creation.
Cool features: Creator Royalty Program, portfolio monitor, position tracker, custom motifs, Pre-built motifs, instant deposit, trading alerts, scheduled transfers. Horizon Motifs features creates a stock ratio based on your time horizon.
User tip: Once you build your own motif, connect your Facebook to your Motif account and share it publicly. After joining the Creator Royalty Program, you will receive $1 per every purchase or re-balance of your motif.
Business model: Free registration. The app requires a minimum of $300 balance on your account for a motif investment. Fees per real-time trade:
$4.95 for ETFs and stocks
$9.95 for a professional motif trade
$19.95 for a proprietary or community motif trade
Motif Blue / 19.95 per month
Advanced automated service
Users get three months of beneficial features, including unlimited commission-free trades.
One-of-a-kind app that lets users invest in appreciative assets such as classic cars. These investments are converted into tradable stocks. Once you create your portfolio, you can sell all of your collected shares.
How it works: Every classic car is considered a type of a company on Rally Rd. Users do not need to buy the whole vehicle but only invest the amount they choose. That car can be divided in up to 2,000 shares, each one of them  belonging to a different investor.
Cool features: Car browsing; photos, videos, reports, and records of each model. User tip: Do not exist your investment too soon. The prices of the collector cars increase with the time and typically, the longer you wait, the more you gain.
Business model: Free registration / $50 minimum investment / No commissions / No maintenance fee

5. Yahoo Finance
Yahoo Finance is a senior platform with many years of business experience. The app has great options to analyze and invest in the most convenient stocks. You can easily track the selected investments in real-time.
How it works: Yahoo Finance app requires access to your brokerage accounts in order to be able to make in-app trades. You can search for different quotes, create lists of your interests and keep up-to-date with their latest updates.
Cool features: Real-time watch list, easy navigation, enhanced tracker, charts comparison, well organized portfolio.
User tip: By turning your device on the side, the visual presentation of the full screen charts will be highly improved.
Business model: Free app. Yahoo introduced the trading system recently. Before that, it used to be just a vigilance app of user's investments. Now, you can use its in-app trades as well and considering it is still free, it will certainly save some of your money.
6. CNBC
CNBC is an all-inclusive app that supplies investors with all the necessary financial information. The app follows the stocks and saves them into your watch lists. You get global market quotes on a daily basis, without looking for information elsewhere.
How it works: CNBC doesn't support direct trading. However, it is a great tool for investors to keep side-by-side with their brokerage platform. Look for all the suggestions, advice and estimations regarding your investments from this app.
Cool features: Stock alerts, business news, live streams, watch lists, interactive charts, real-time quotes.
User tip: Keep your notifications on. Instead of entering the app and reading the news, CNBC can send you a breaking news alert that will help you react quickly in case your stocks are at risk.
Business model: Free app. CNBC is one of the best investment apps because a successful broker does not have any free time and needs to stay up-to-date with latest, most reliable news.

7. Betterment
Betterment is a highly efficient app that manages over $13.5 billion in assets, with over 300,000 users. The company offers two different options – Betterment Digital and Betterment Premium. Based on your skill level and goal, you can choose either of the mentioned plans.
How it works: This automated investment app offers a financial portfolio of ETFs (exchange-traded funds) and creates the best strategy for user's retirement plan, wealth growth, education goals and others.
Cool features: In-app advice, SmartDeposit, Socially Responsible Investing (SRI) and Smart Beta Portfolio, Charitable Giving, Custom Asset Allocation.
User tip: Betterment has a Two-Factor Authentication and App Passwords options that will secure your finances and avoid any potential security risk. Enable them as soon as you start using the app.
Business model: Betterment Digital $0 / Betterment Premium $100,000 account minimum. Account management fees: 0.25% Betterment Digital, 0.40% Betterment Premium.
8. Bloomberg
Informative investment app mostly used for stock monitoring and simplified management of financial accounts. Many similar apps are too confusing for new users but Bloomberg is not. The navigation is extremely easy and all the data is clearly presented.
How it works: Bloomberg consists of all the necessary tools the average users need for their financial activities. Many of its clients focus on fundraising so the app has developed unique features that display the donor retention rate and incoming donations of the organizations.
Cool features: Profile summary, trading challenges, interaction creation, adjustable reports, cloud based, simple email templates, database sync with the online donation forms.
User tip: Bloomberg merge with your Microsoft Excel account. Once you link them to one another, the data you enter on one platform will automatically update on the other.
Business model: Free monthly trial. $34.99 monthly subscription.

ETFmatic is a European app designed to implement ETF investment portfolios. It is a well-organized program for users who want to avoid spreadsheet updates and hidden fees. This app focuses on the future of your investments and having this tool will build long-term goals for your business.
How it works: By using the ETFs and investment strategies based on an index, ETFmatic creates and manages investment portfolios of the users, adjusting it to one's personal needs and requirements.
Cool features: Automated investment, unlimited virtual funds, tax wrappers, tax monitoring, custom allocation, multi-currency.
User tip: Use the virtual funds to practice before uploading real money. You can learn all the basics and start building your portfolio once you know how to operate the app.
Business model: Free registration, 0.48% Asset Management fee, ETF issuer fee, 0.12% average ETFs TER.
TradingView is designed especially for experienced traders wanting to share signals and experiences. The app creates and analyzes stock charts and shows the latest results you can use for your next trade. You can also get informed  about many asset types, such as commodities and currency pairs.
How it works: TradingView is not an ordinary monitoring app. It emphasizes a social connection between members who want to learn more about investments. Here, users can read and share strategies and ideas while keeping eyes on the charts.
Cool features: Fibonacci retracements, technical analysis, trading signals, real-time news, watch lists, chart analysis, stock screener, pine script, trading simulator, trading courses.
User tip: In case you are trying to multitask, split your screens within the app and stay productive without closing any tab.
Business model: Free account with limited features. Advanced: PRO account / $9.95 per month, PRO+ account / $19.95 per month, Premium account / $39.95 per month.

11. Coinseed
By adding the spare change of your purchases to your Coinseed account, you can invest in 11 valuable cryptocurrencies. Create your portfolio, monitor your finances and participate in most convenient deals. Simple design and ease of use make this app convenient for all skill levels.
How it works: Coinseed is a minimalist app that builds up the savings on your account up to $5 and invests in best-known cryptocurrencies such as Bitcoin, Bitcoin Cash, Bitcoin Gold, Ethereum, Ethereum Classic, Ripple, Dash, Monero, ZCash, Litecoin, and NEO. Connect this investment app to your credit/debit cards and watch your earnings grow unnoticeably.
Cool features: Portfolio tracker, custom portfolio, asset management, daily recurring, community discussions.
User tip: If you get to a certain cipher and you are proud of your successful investments, you start to hesitate whether to make a new risky investment because you have a lot to lose, don't do it. If you lose something you can't afford to lose, you will not be motivated to go on and your career of a broker will most likely go down before even starting properly.
Business model: $1 monthly fee, 1% deposit fee for US members, 5% deposit fee for international members,  1% fee for the asset conversion to another portfolio.
12. Emma
The artificial Intelligence-based app known as ideal for millennials, although it is suitable for every user that wants to stop overspending. Rather than investing, this app helps you save money that you can use on your investments. By
collecting all the data of your financial accounts, it points out your unnecessary costs and subscriptions.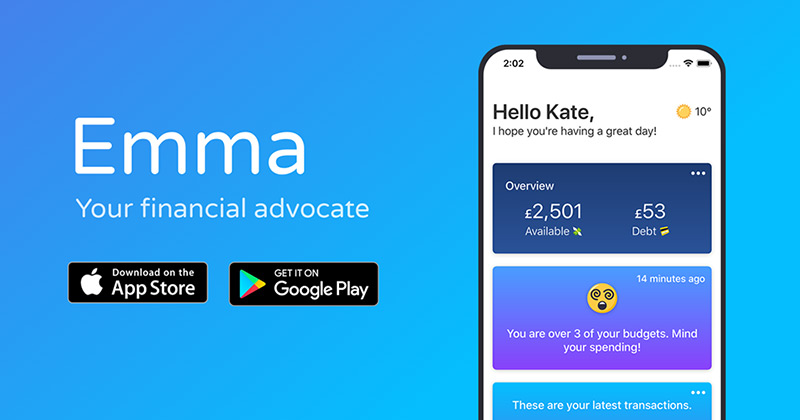 How it works: With the bank-grade encryption of this app, you can easily connect it with all of your debit/credit cards. Upon that, Emma will collect all the available data and start offering solutions for the critical aspects of your financial management.
Cool features: Fees tracker, debt reminder, budget limit, finding and cancelling uneconomical subscriptions, monitoring the monthly progress, countdown to your payday.
User tip: If you are an owner of a big property or various properties, it is probably difficult to keep track of all your bills. Insert the data for all of these payments to the app and get notifications near the specified payment date.
Business model: Free app. With a free innovative app of this kind, there is a 0 risk of losing a cent of your earnings. You can only save the money that got lost from your bank account without you knowing where, such as forgotten subscriptions.

Peer-to-peer app that allows users to invest in small-sized businesses in the UK, US and Continental Europe.
Apart from being a high-quality investment app, it is also very efficient in portfolio creation and management.
How it works: After investing in small businesses, users earn a specific return. So far, the expected return was 7.1% but that percentage varies. The businesses, however, benefit by gaining access to loans without associating themselves with banks. The value of these loans ranges from £5,000 to £1 million.
Cool features: Balanced and Conservative Lending Settings, Autobid, Funding Circle ISA, customizable notifications.
User tip: Use the lending tool to diversify your portfolio and lend a small percentage (minimum 0.5%) of your portfolio to the business of your choice.
Business model: 1% annual fee. Business loans fees: 1.5%- 6% fee for 6 months – 1 year / 3.0%- 6% for 2 – 3 years / 4.0%- 6% for 4 – 5 years. Asset finance fees: 5% for 6 months – 5 years.
Disclaimer. All data for the article has been gathered from the official websites of aforementioned companies as of 01/07/2019. It may not be 100% accurate at the moment you are reading this review, other or extra fees may apply for trading activities. All trading platforms/apps/software are not affiliated to each other, and are solely responsible for their products. Any type of trading carries a substantial risk of loss.
Feel free to contact us via info@thinkmobiles.com if you want to place your app here.

Get free estimation for your mobile app
Post your project or request a dedicated team - we'll quickly match you with the right experts.