ThinkMobiles is one of most trusted companies conducting IT & software reviews since 2011. Our mission is to provide best reviews, analysis, user feedback and vendor profiles. Learn more about review process.
8 popular social trading platforms

CAUTION: This article is for informational purposes only and should not be construed as investment advice. We also warn that automatic trading is of high risk. In addition to technical issues, there may be a human factor on the side of a followed trader. 
Social trading is a fusion of social networks and online trading on the financial markets. It boils down to copying (mirroring) experienced traders' deals. Unsurprisingly, it has quickly gained traction with novice traders as it does not require sophisticated decision making. Yet keep the risks in mind. Social trading platforms are the gateway to this approach.
The most challenging thing is to choose a befitting signal provider to follow. By selecting the right trading platform and signal providers, duly dealing with risk management, one can raise profits, or at least prevent the loss of deposit funds. For financial terms, notions and specifics – find the FAQ section at the end.
3 trading concepts and differences
Mirror trading, social trading and copy trading are often confusingly thought of as the same thing. Let's elaborate on the actual differences.
In mirror trading an algorithmic trading strategy (robots) is applied. Transactions take place on trading servers, not on the user (investor) side. A user evaluates automatic strategies, selects one, and monitors it in his account.
Copy trading is similar, except users follow real traders who share signals via a trading platform that logs all transactions. An investor views it and chooses to repeat whichever action. A trader sending signals is called a signal provider, though he can use an auto-trading bot as well. Transactions take place on a trader's device.
Social trading is a common umbrella term for copy and mirror trading strategies. We may perceive it as an exchange of ideas about markets and trends. Traders share their insights and operations, comment on the actions of others, etc. It mainly takes place in social networks, instant messengers, and niche websites such as TradingView.
The best platforms for social trading
We've selected 7 diverse social trading platforms in terms of trading concept (mirror, copy), regulation (UK, USA, Cyprus, etc.), minimum deposit requirements ($1, $200, $500), signal providers (dozens to thousands).
ZuluTrade was founded in 2007 in the United States. In March 2015, it received the European portfolio management license. ZuluTrade is an online social platform for copy trading, granting access to investment strategies of Forex trading experts, performance ratings. And, of course, allowing to monitor and copy other traders. Trading includes stocks, binary options, goods and indices (NASDAQ).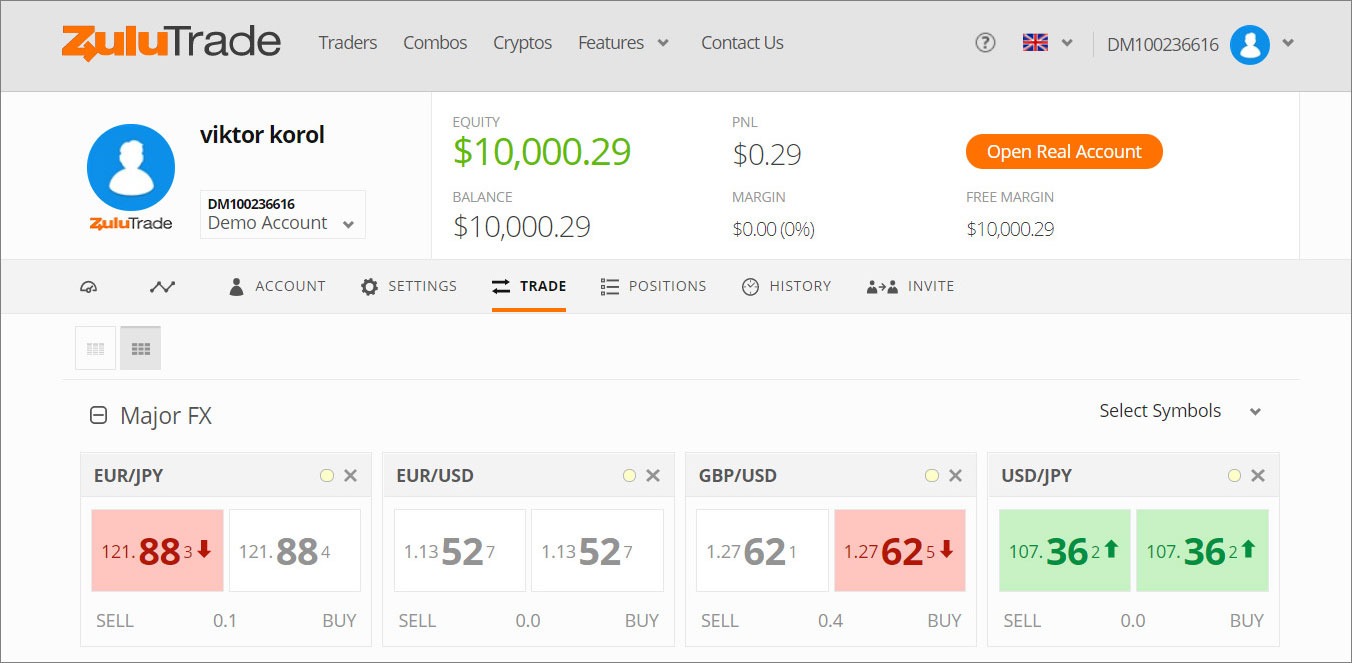 The platform lets you manage trading with several unique features such as Zulu Guard, Lock Trade, and Zulu Script.
Lock Trade – to check transaction execution after receiving a signal.

Zulu Guard – to automatically disable a signal provider if strategy changes.

Zulu Script – to create scripts with specific criteria for auto transactions.

Zulu Rank – an algorithm ranking traders by multiple factors.
The minimum deposit amount depends on a broker working through ZuluTrade, e.g. AAAFx, Pepperstone, FXCM, etc. Some require as little as $1, yet the average is 200-300 USD (Broker list). ZuluTrade also supports MetaTrader accounts. As for fees and commissions, brokers charge a fee for linking an account to ZuluTrade – up to 3 pips.
The distinguishing feature of ZuluTrade is the number of traders to copy. Although we could not find the exact number, it exceeds several thousands, possibly tens of thousands. Another important feature is the ability to create a portfolio of interacting traders who trade similar strategies. A portfolio can also be shared publicly.
There are 2 types of accounts: classic – trade as a signal provider and/or use other signal providers, and profit-sharing (follower) – for beginners to copying others. Signal providers receive compensation when followers make profit, and a penalty in case of loss, respectively. Both types of accounts are also available as demo.
To wrap up, ZuluTrade is not a trading platform. Investors connect MT trading accounts to ZuluTrade – available as Android, iOS and web application. It provides statistics and risk assessment.
Pros: Leading copy-trade service Works with the AAAFx broker without commissions Transparent signal provider statistics
Cons: The risk of losing capital Unavailable for US residents
eToro Group Limited was founded in 2007 in Cyprus (with offices in England and Israel). Positioning itself as a web-based trading platform, it is primarily a CFD and Forex broker, and, one of social trading platforms since 2016, inherently. It's Copy Portfolios feature involves Machine Learning technology to optimize performance.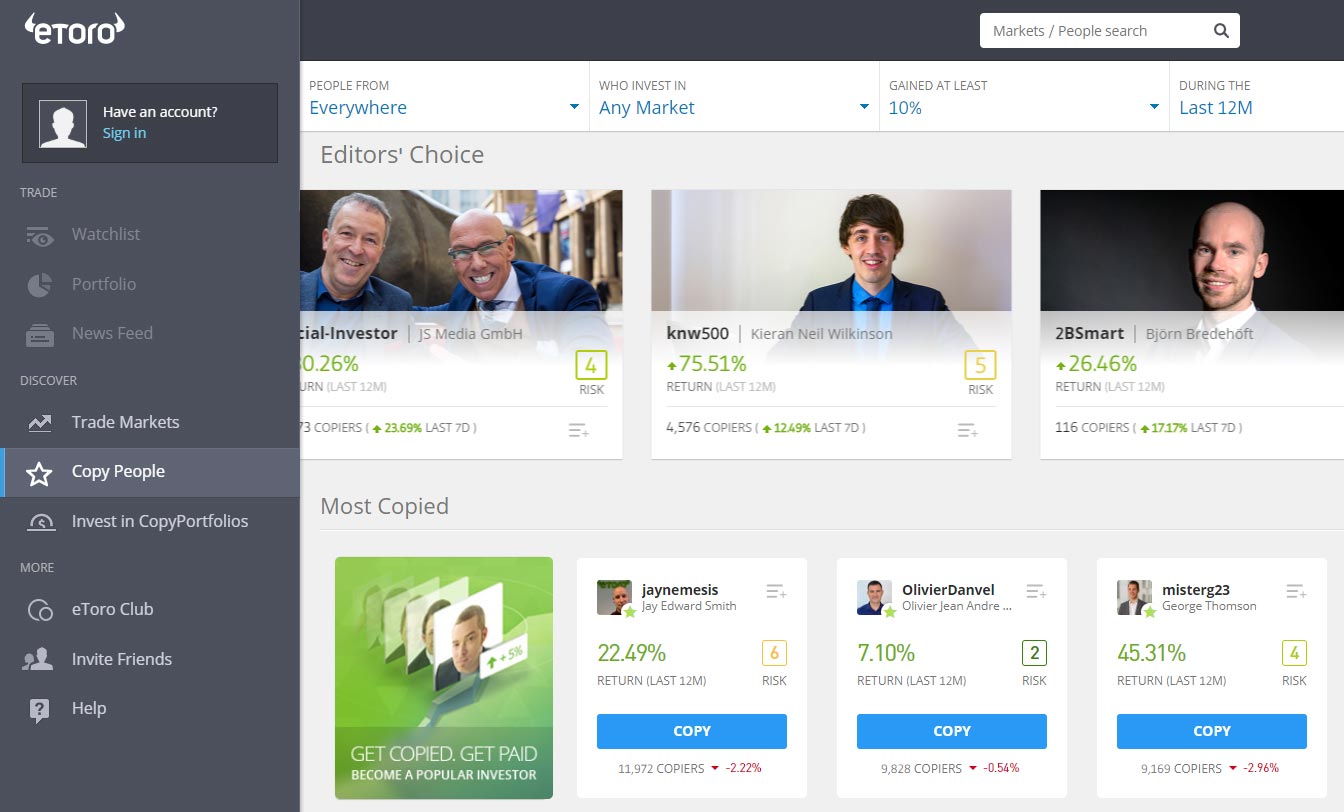 Unlike most copy trading platforms, eToro does not offer signal providers and brokers separately, eToro is a broker in itself. Despite regulation in the UK (FCA), Australia (ASIC), and Cyprus (CySEC), eToro is not listed on any stock exchange, does not provide annual reports, and does not have a parent bank.
To start working, one has to bring a minimum deposit of 200 USD. Demo accounts are available to US citizens, but a valid (live) account is not. Statistics for each signal provider is open to each user, and it is informative and visually pleasing.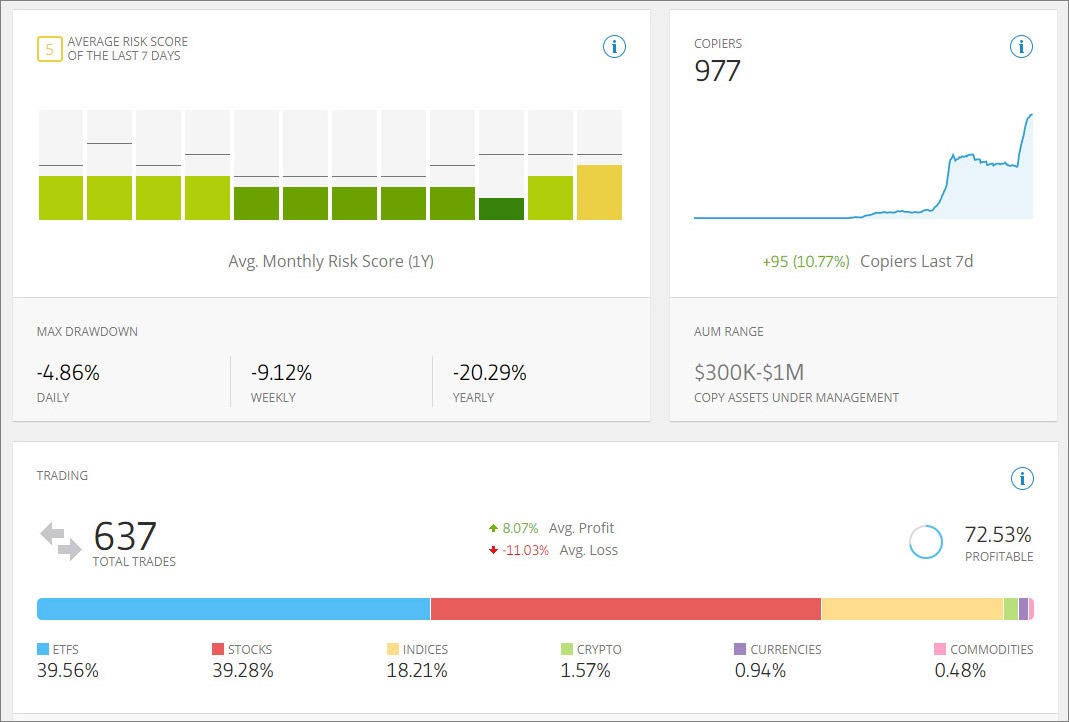 eToro warns that social trading tools it provides are just for informational purposes. Also, we like the fact that it actively cautions about the risks of losing savings. However, the inability to limit the risks when copying signal providers is a significant drawback.
Pros: Is among top social trading platforms Informative web page Easy to get started
Cons: Still in the early stages No risk limitation for social trading

Darwinex (formerly TradeSlide) is a British broker headquartered in London and managing social trading assets, founded in March 2012. As any well-regarded broker, Darwinex is regulated by the UK financial market (FCA). It's social platform is called DARWIN and it provides both mirror and copy trading tools.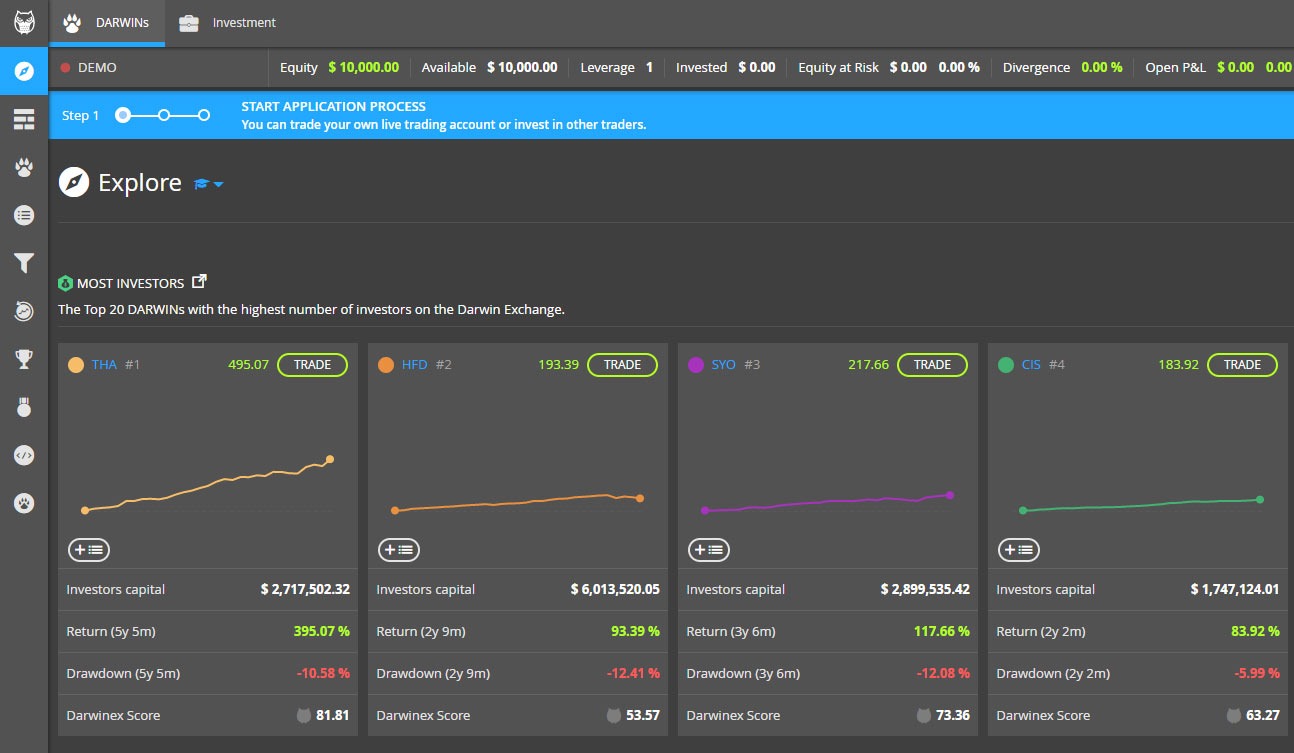 Stats for each algorithm are quite comprehensive. Trader strategies can be evaluated in terms of risk, performance, experience. A great advantage is the risk limiting option available, namely setting a max loss amount per month, e.g. $100.
The signal copy service by Darwinex differs from conventional social trading platforms. As you are invited to copy trading strategies, the initial index is 100, and it increases or decreases (in contrast to Profit/Loss ratio in other brokers).
As for account opening, the minimum deposit is 500 USD, three currencies to choose from (EUR, USD,  GBP), via bank transfer, card payment or Trustly payment system. Experienced traders working with Darwinex get the opportunity to mandate transactions by followers' funds, and gain up to 20% from it if profitable.
Pros: Large selection of signal providers Setting risk limits
Cons: High deposit amount Signal providers deals are hidden
Read also: Best CFD platforms.
DupliTrade is a web platform for mirror trading. Demo account (14 days) does not require a broker to connect to or a trading account. DT Direct Investment Hub Ltd. manages DupliTrade. They are a licensed Cyprus investment firm regulated by the CySEC: license number 347/17. 

Unlike some fraudulent auto trading projects, DupliTrade does not invent success stories and huge profits. The software is free for anyone, though a minimum deposit is a requirement to start trading. The number of strategies is 12 as of July 2020, all algorithmic. Each strategy has a description, however is somewhat limited (the entire list).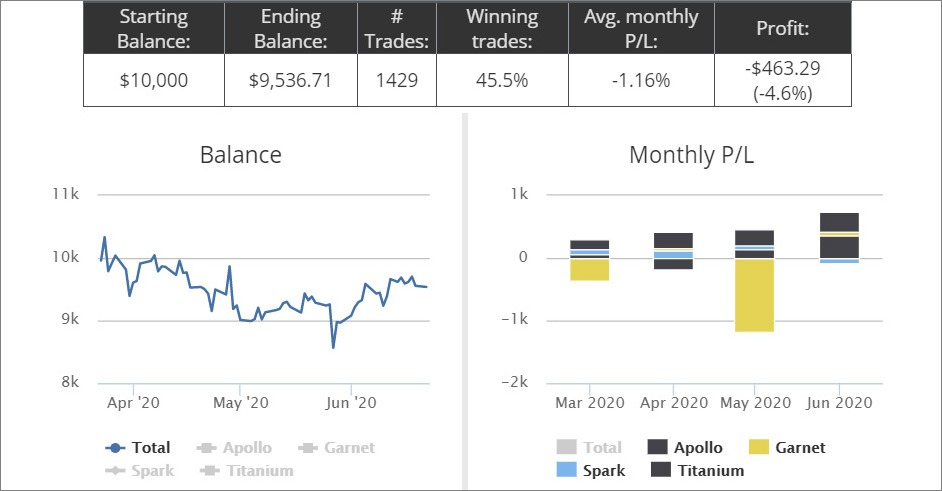 A trading simulator is available on the website – choose an initial deposit, trading strategy and timeframe (1 month to 1 year). Account reports are informative, but keep in mind that the simulator may be more favorable than the actual trading at any given moment.
Pros: Micro lots are available at all brokers Large selection of brokers
Cons: Tech support response time is frustrating No limit-risk options

Since 2001 Collective2 has been offering algorithmic trading systems on behalf of brokers and retail traders. Our impression about it is ambivalent: on one hand the C2 platform is informative, and there is  practically no sociality in it, on the other hand.
The latter is limited to signal provider profiles with strategies, and messaging a trader directly. Activity feed displays new participants, their subscription to strategies, profits and losses, etc. Collective 2 users communicate on the forum mostly.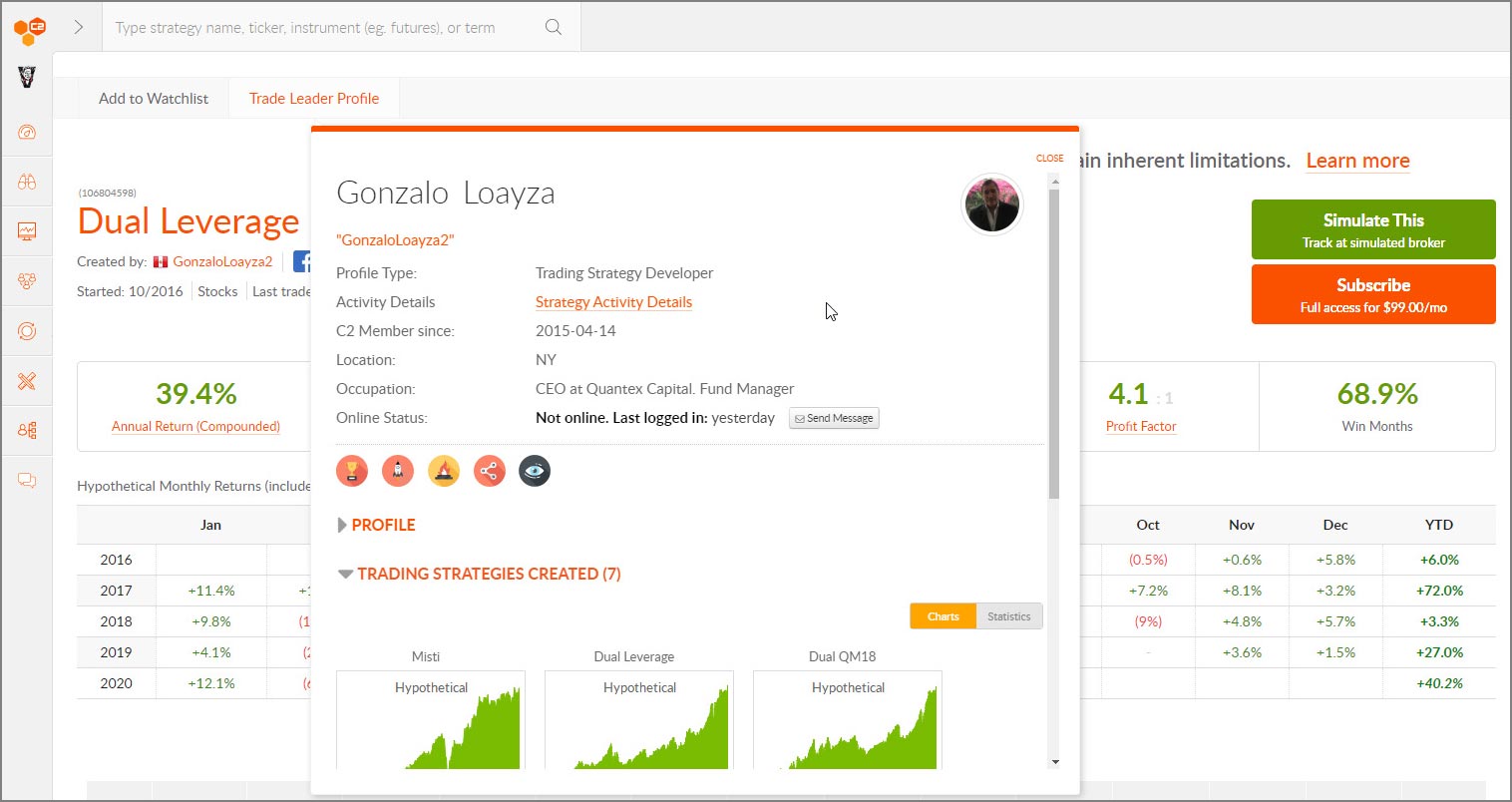 The data and intricacies for each strategy are extensive, which would be quite tough on beginners. Skilled investors, though, will enjoy useful data, e.g. broker data, correlation statistics, risk assessment, drawdown stats, etc. The pool of signal providers is huge, and most trading strategies require a live account and a fee (0 to 1,000 USD per strategy). C2 subscription costs 49 USD. A 14-day free trial with a demo account is available.
Pros: Statistics on strategies Easy to master Active forum
Cons: Separate fees for using the platform and strategies
FBS, founded in 2009, is the broker with a stable growth rate, a variety of awards, and global outreach. Currently, the total amount of traders exceeds 14 million in over 190 countries. FBS CopyTrade social platform was launched in 2018, it is a purely mobile platform for Android and iOS. Account sign up is free. Placing a deposit takes place via the app itself, using a payment system of choice (Neteller, Connectum, Bitcoin, Skrill, Perfect Money). The minimum amount and commission depend on which payment system is used.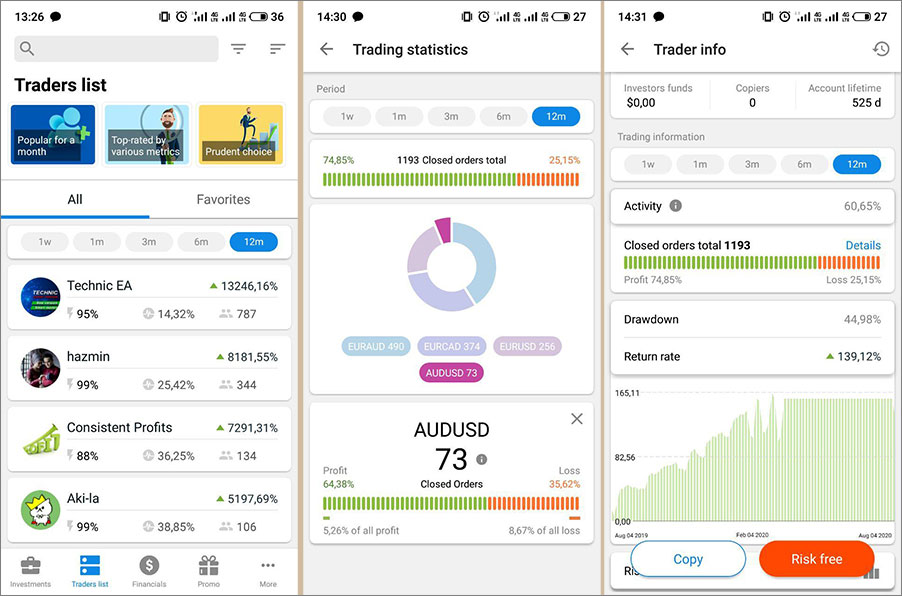 The app supports authorization using biometrics, it contains five tabs and a chat with technical support. Although, the Viber bot is probably improperly set – it did not answer us. As for signal providers, the list is vast and ever-changing. There's no risk-limiting feature and trader statistics are scarce.
In terms of commissions and fees for using the signal provider, we were unable to find official information anywhere. Please note that you will not be able to use the platform (copy suppliers) until you go through the verification process. The service is not available in the following countries: Japan, the USA, Canada, UK, Myanmar, Brazil, Malaysia, Israel, Iran.
Pros: No minimum deposit Mobile platform Fast technical support
Cons: No demo account No desktop version No info on commissions and fees
MQL5 is a copy trading platform connected to MetaTrader 5 and 4 among others. It is free, yet to follow a specific signal provider (trader), one has to pay a fee that varies from 30 up to 500 USD. MQL5 does not offer accounts and does not complete transactions for customers. Essentially, it provides a web portal for trading analysis, social trading, shared hosting service, and some other off-topic extra features.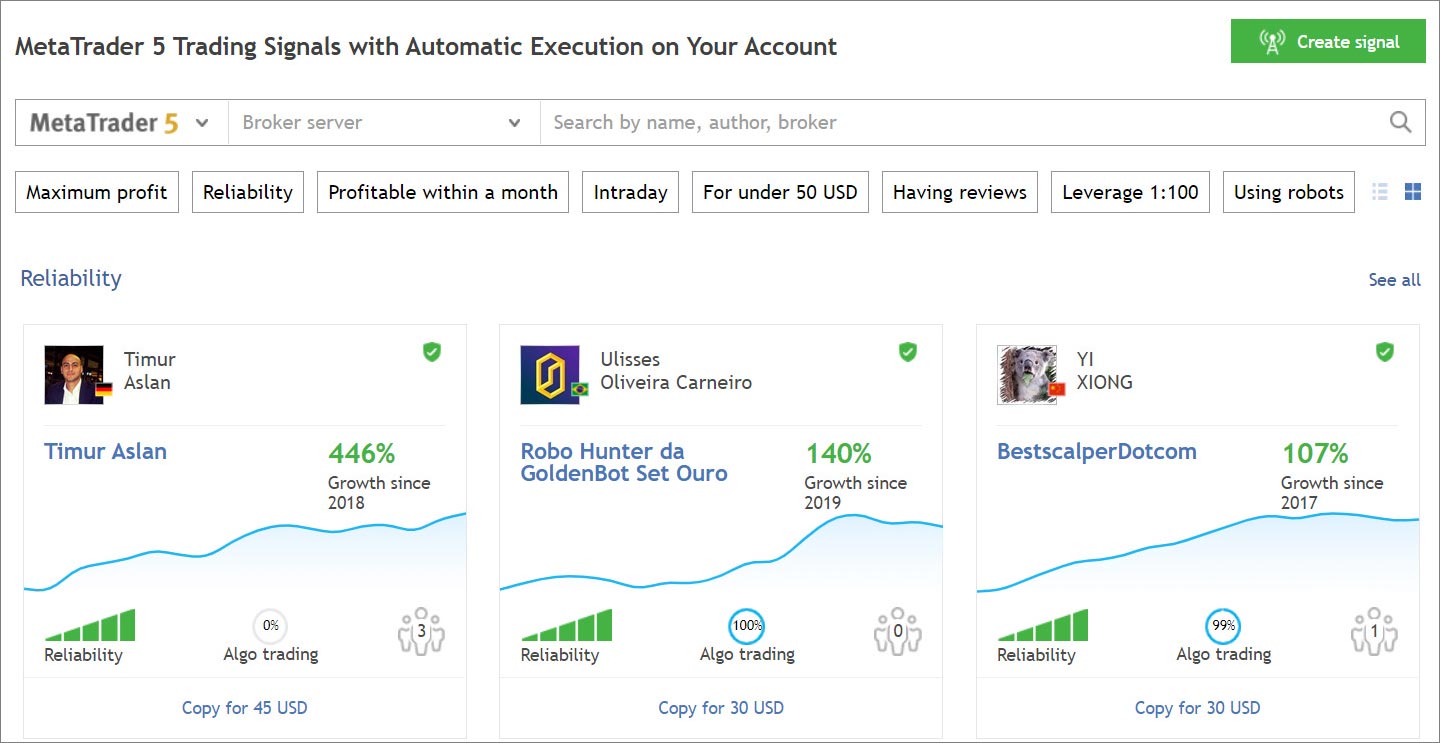 There is a legion of signal providers, varying significantly – partial or full algorithmic trading, or manual trading, maximum drawdowns and return on investment, and more (visit the MQL5 website). In general, MQL5 seems a peculiar choice. However, do not forget about dishonest signal providers, many of whom do not even set a risk limit.
Pros: Multifunctional platform A large choice of signal providers Free software
Cons: Capital risks independent of MQL5

Tradency BVI, founded in 2005, is a financial and technological company, one of the pioneers in mirror trading. Their trading platform, called Mirror Trader, was introduced in 2010 targeting FX traders. It works with third-party brokers, therefore, a minimum deposit depends on the selected broker, in the first place. 

The platform is a web interface supporting seven languages and providing safe demo trading. In general, it is straightforward and should not be a burden for any user. To assess the quality of trading strategies in Mirror Trading, the T-Score parameter is used – the closer it's value to 10, the better the strategy. Although, evaluation parameters behind this system are not known.
Risk management settings per strategy are available, which is quite outstanding. Drawdown is calculated for closed deals only and does not include drawdown for open positions.
Pros: Free demo account Risk management for copied strategy Informative data
Cons: Each strategy is for one currency pair only No social interaction
Summary
Before the advent of social trading platforms traders mainly had to enter the game through brokers. Now, investors can create a portfolio of financial products, as well as signal providers, i.e. traders as a financial instrument. 
Investments are made by copying traders who have proven profitability and who allow replicating deals automatically. New companies are emerging in mirror/copy/social trading, yet only a few offer high-quality services.
As for signal providers, it is more complicated. There's no real data on investor losses (no matter what you might see or hear), our impression is that it's about 90% on average. Compared to CFD trading, for example, with an average of 80% of investor deposit losses, trust management is more treacherous. Before you go into it, consider carefully whether you can afford losing your money.
Read next: Best stock trading platforms for US/UK markets.

FAQ
Q: How do signal providers and brokers earn money in copy trading?
A: When buying or selling an asset, you pay a commission, also called a spread. The broker receives income primarily from spreads and commissions on transactions conducted by customers. With copy trading buy/sell orders come from signal providers. Even if transactions result in money loss, brokers and signal providers still get spreads. This leads to a tendency to raise the number of operations.
Q: How safe is social trading?
A: In most cases, social trading is not safe in terms of capital loss. This is caused by fraudulent signal providers, absence of risk-limiting tools. Scam traders often do not have a trading strategy, their main goal is to imitate profitability and trust, gain followers and earn money through commissions.
Q: What restrictions for US residents are in place for social trading?
A: While most countries allow copy trading, US residents are limited in opportunities. This is due to restrictions imposed by the 2010 Dodd-Frank Act. Also, CFD trading is prohibited in the USA.
Q: Is copy trading legal?
A: It is legal in most countries. Trade restrictions may be on the broker's side, yet account verification procedures ensure the legitimacy of trading.
Q: vHow to choose the best signal provider?
A: Use information that a platform provides to analyze traders, if possible, use demo accounts or simulators. And do not forget about risk limits if available.
Q: What social platform is best?
A: All platforms on our list have individual advantages. It all depends on your funds, risk management, time spent, etc.
Q: How to secure the investment deposit?
A: First of all, learn how to use risk control tools. Also, your account and its associated brokerage account should be highly protective of data, and use 2-step verification (2FA) preferably.
Q: How to avoid scammers when choosing signal providers?
A: Look at history and activity in general. Use analysis tools provided by a social trading platform.
Q: Does the amount of investment affect income?
A: Sure. After all, each transaction brings interest income or loss. Also, consider trading strategies that require a fixed deposit amount to be able to impact the market.
Q: What financial assets do signal providers trade?
A: In social trading, the following financial assets are being traded: stocks, ETFs, CFDs, Forex, cryptocurrencies, options, etc.
Q: Why do I need a broker for social trading?
A: Without a broker, there is no access to the stock exchange. This also applies to other trading platforms.
Q: How to deposit and withdraw funds?
A: Each platform has different ways, some work with brokers and rely on their terms and conditions. Typically, we are talking about credit card payments, bank transfers, PayPal, cryptocurrencies, etc.
Q: How much time should be devoted to copy trading?
A: As an investor, it depends on your goals and skills. If you are confident in your signal provider and there is no desire to explore trading, then just deposit funds and wait. To really learn all the ins and outs, you'd have to sacrifice all the time you've got.
Q: What risk management options are available?
A: Each platform has a unique set of options. Some do not have such functionality at all.
Q: How much signal providers charge?
A: Each trader has different conditions, some do not charge a fee, others require a certain amount of money for a subscription, and someone prefers to take a fixed percentage of profit, for example, 10%.
Q: How to become a signal provider and start earning?
A: Choose a platform that openly collaborates with signal providers, read terms and conditions. Sign up, try to make a profit. We recommend such platforms as eToro, ZuluTrade, Collective 2, MQL5.
Q: How to manage a social trading account?
A: Find this information in chosen software tutorials.
Q: What is the minimum amount to invest?
A: The minimum deposit depends on a platform and a signal provider. Some providers charge as little as $1, others $1,000 and more. According to our observations, the average value ranges from $200 to $500.
Q: Is copy trading legal in India?
A: For legal trading, Indian citizens must use an Indian broker, for example: BSE, NSE, MCX-SX, or OpenTrade or TraderBhai social trading platforms.
Q: Is copy trading automated?
A: The most common answer is Yes, but it also depends on your platform and its account management. Some platforms offer to get acquainted with the proposed transactions and execute them at the request of the investor.
Q: Is Metatrader a copy trade software?
A: Yes, Metatrader supports copy trading and provides a list of signal providers.
Q: How many signal providers can I copy at the same time?
A: Some platforms provide an unlimited number of strategies to copy. At the same time, some companies (e.g. Collective 2) charge a fee for copying each single strategy, therefore be careful.
Q: What fees/commissions do copy platforms charge?
A: It depends on terms of a platform and a broker. For example, ZuluTrade does not charge any commissions if your trading account is open with AAAFx.
Q: How many trade deals are allowed daily/weekly/monthly?
A: Each broker has its own conditions.
Q: Are there traders endorsed by a broker?
A: Some brokers provide lists of signal providers and evaluate them according to different criteria. But no official endorsements. Some platforms only offer algorithms (mirror trading).
Q: Can I speak directly with a trader I'm mirroring?
A: 50/50. Often, traders add contact information, yet many of them do not.
Q: What is the maximum profit allowed (or not)?
A: There are no restrictions.
Q: Are all financial assets open for copy trading?
A: Yes, probably except binary options.
Q: What if I lose money?
A: If you lose money by copying other traders, this is your responsibility only. If funds were lost due to some kind of error, you can insist on returning it or sue.
Q: What is AAAFx?
A: AAAFx is a popular European broker.
Q: What is FCA, ASIC, CySEC etc.?
A: These are the official financial market regulators from different countries.
Q: What is a risk score?
A: Risk assessment is a general practice in statistics. The calculation formula for the platforms in the article above is different and typically is not disclosed.
Q: What is AUM?
A: Assets under management (AUM) is the total value of investments a trader or entity manages on behalf of others. AUM definition and formulas vary by company.
Q: What is a drawdown?
A: A drawdown is a decline of trading account funds within a specific period. For example, with an initial balance of $50,000 and $40,000 after a bad deal, the drawdown is $10,000.
Q: What is a return rate?
A: RoR, a rate of return, is the gain or loss of an investment as a percentage from initial value.
Q: What is algorithmic trading?
A: Algo-trading, or auto-trading, uses computer algorithms to place trades. The potential benefit to it is high speed and frequency.
Q: What is P/L?
A: Profit and Loss - a financial statement over a time period, a month or a year, as a rule.
Q: What is SL and TP?
A: SL means stop loss - a price limit to prevent loss of funds. TP means take profit - automatic position closing when a target is reached.
Q: What is intraday?
A: It means "within a day". In other words, something that is traded during business hours.
Q: What is slippage?
A: The difference between anticipated deal price and the actual one. Slippage happens all the time, and especially during high volatility periods.
Q: What is diversification?
A: A risk management strategy that incorporates a wide variety of investments.
Q: ZuluTrade vs Etoro
A: eToro acts as a trading platform (software) and a broker, whereas ZuluTrade works with the AAAfx broker, as well as dozens of others in many countries. Also, ZuluTrade provides more research tools for traders. In terms of risk management, eToro is more straightforward and intuitive.
Q: Etoro vs Darwinex
A: Etoro has better credentials (2 License 1-Level) and more participants. Both platforms are brokers, and Darwinex is a trading platform solely for social trading, for financial transactions it uses MetaTrader.
Q: DupliTrade vs ZuluTrade
A: DupliTrade is primarily a platform for mirror trading, while ZuluTrade is a leading copy trading platform.
Q: Collective 2 vs ZuluTrade
A: To use C2 there's a monthly fee, averaging at $100. ZuluTrade, in turn, is free though offers a much larger number of signal providers, who can work within a demo account and still be copied.
Q: ZuluTrade vs MQL5
A: MQL5 is a potent social trading platform. Overall, both are very alike, a slight upper-hand for ZuluTrade being a more user-friendly interface with a number of additional services for automated trading.
Q: ZuluTrade vs Tradency
A: Tradency is a mirror trading platform, the amount of signal providers is much less than of ZuluTrade. Tradency is a veteran who had initiated the movement of social commerce first. ZuluTrade, on the other hand, is sort of a benchmark for a copy trading platform today.
Q: ZuluTrade vs MetaTrader
A: Totally different environments. MetaTrader is an information and trading platform, while ZuluTrade is a copy trading platform. MetaTrader hosts traders' accounts, and those accounts can then utilize ZuluTrade to copy trading strategies. They interact with each other, but perform different functions.
Q: Copy trading vs Mirror trading
A: In copy trading, you can select individual traders to follow by copying their transactions or copying their entire investment strategy. Mirror trading implies automatic asset trading based on algorithmic strategies, and not on individual transactions.
Did you like the article?
3
Comment