The cause of PC performance deterioration often is not that obvious. The main concept behind niche PC repair apps / software is to solve this riddle, i.e. the widest possible range of issues. The arsenal includes startup optimization, deleting system junk files, fixing registry issues, accelerating hardware, updating drivers, etc.  
Since we have previously reviewed the best PC optimizers and registry cleaners, we'll focus on applications combining all of the above. Our goal is not to bore a  reader with lengthy descriptions, rather to present crucial facts and features of PC repair software. That's why we'll start right away with comparison tables for key facts, functions and performance. 
PC repair software comparison
Note that the older a Windows is, the more it may need to be taken care of. We are talking about Windows XP and 7, as Windows 10 already has tools to scan and fix all sorts of issues. Microsoft itself offers a free utility for removing temporary and residual files – Total PC Cleaner. Unfortunately, it did not make it to our list due to its modest potential. 
We've compared over a dozen of popular PC repair apps in an unbiased way using a virtual machine to test them all out. We've used a vintage but still well-running laptop on Windows 10. Note: all data in the following tables is relevant as of September 2020.
As we see, most programs provide a basic free version, and Pro plans range from $20 to $50 per year. Now, let's look at essential features of selected PC repair utilities, e.g. junk removal, registry fix, RAM boost, driver updates. 
Literally all 15 apps take care of junk and registry, while other functions differ. There may be many additional features too. For the next table we've taken into account the most significant ones, i.e. backup tool, uninstaller, software updater, password manager and anti-malware protection.
Finally, the central part: effectiveness in practice. All the data was obtained by using free or trial versions in the same environment over and over again. We tested both detection (invalid shortcuts, security issues, etc.) and repair capabilities (freed space, registry issues fixed). 
We excluded files in the Recycle bin, since this is not the type of files that we would like to delete. Also, we did not take into account the memory freed as a result of clearing cache and passwords inside a web browser, since this is optional. Yet, it is worth remembering that these numbers do not necessarily point to clear conclusions about efficiency. Therefore, we have to describe each of these PC repair apps, extracting core details and forming pros and cons.
Top-15 PC repair apps
Once again, we underscore that one has to be extremely cautious because there are many fraudulent offers pretending to be the best and omnipotent repair applications. In fact, this type of software has a small impact on PC performance at best.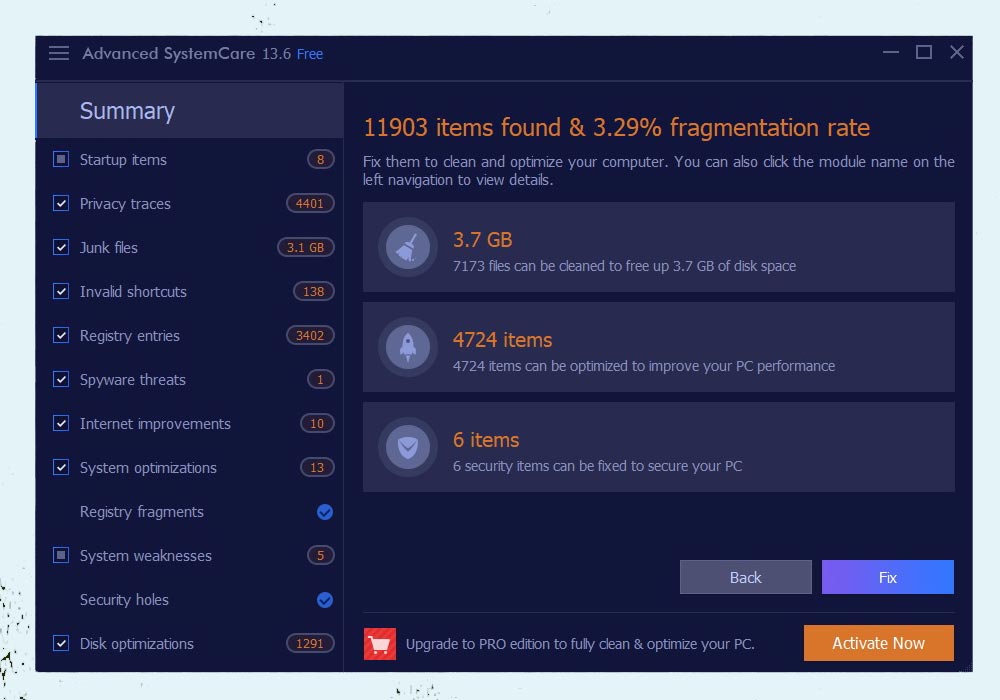 Advanced SystemCare is a multifunctional application developed by the highly promising IObit team. It comes both in free and Pro versions. In addition to the basics, it contains anti-spyware and anti-tracking systems, ad blocker and more. It offers full automation of computer monitoring. Read the full review on Advanced System Care for more details.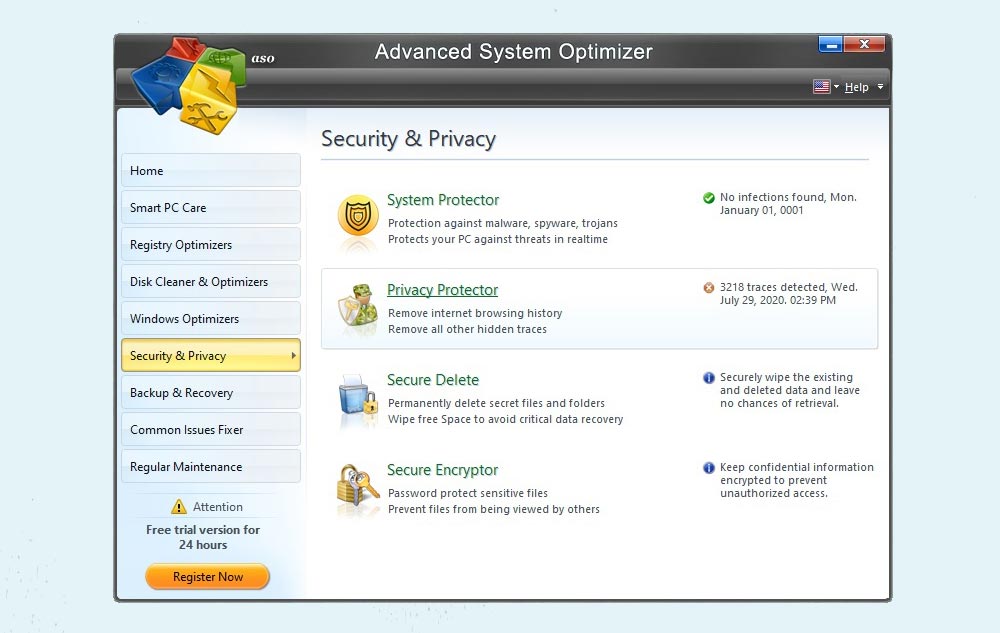 Since 2002 the program has been regularly improving and expanding. It can work in the background mode and brings features for gaming optimization. The Privacy Protector module proves to be one of the best among all PC repair apps on the list. As a whole, this app leaves an ambiguous impression. On one hand, it is flagged as malware, yet on the other hand, it performs its tasks well. One sure tip is to use each tool separately instead of a quick scan.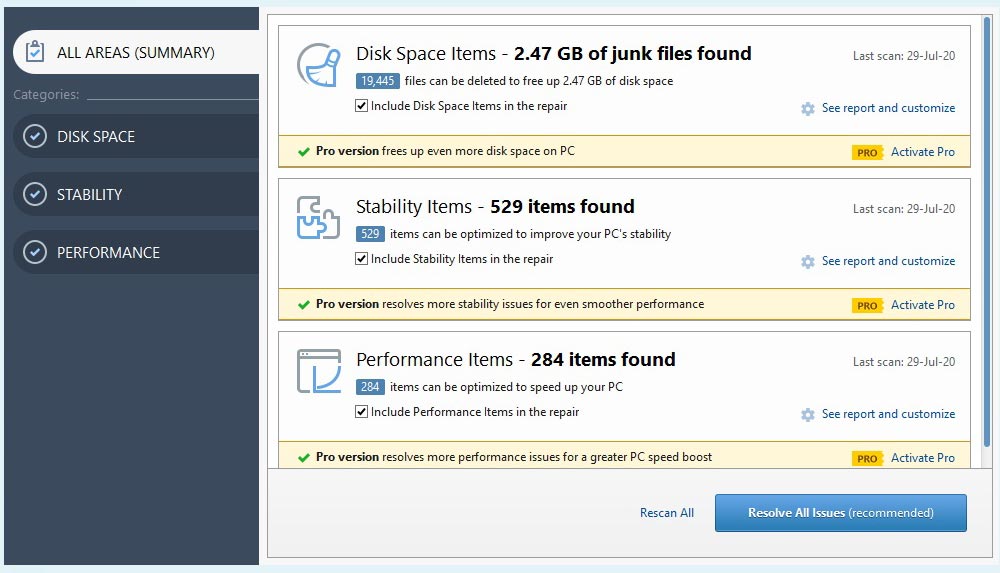 Not promising much, unlike other vendors, BoostSpeed ​​has a range of basic options for computer maintenance. A browser assistant, antivirus, disk defragmentation, tools. In general, it resembles a web browser, which isn't bad, and there are no ads or unauthorized opening of pages. Find out more in Auslogics BoostSpeed 11 review.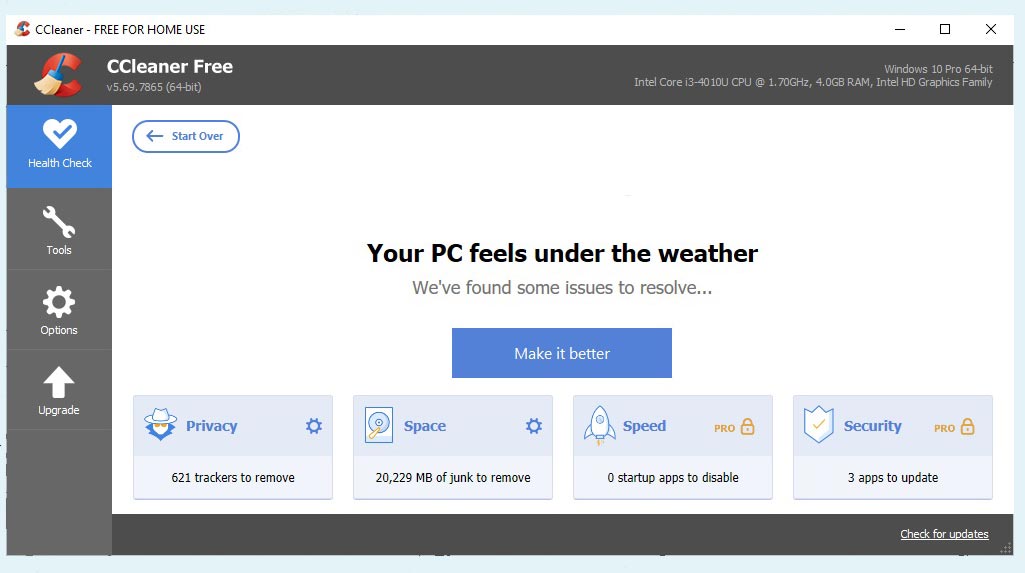 More focused on cleaning (deleting junk and cache) rather than computer repair, CCleaner proves to be really effective. It was once again demonstrated in our brief testing, in terms of registry especially. Thus, we recommend pairing it with other software to set up cleaning, optimizing and protection procedures. The Privacy Issues Search function still is enough for basic needs.

CleanMyPc is a straightforward utility with a free version that covers system cleaning, registry check, managing Windows startup, etc. It is primarily designed for macOS, while the  Windows version is more of a side gig. It feels unfinished.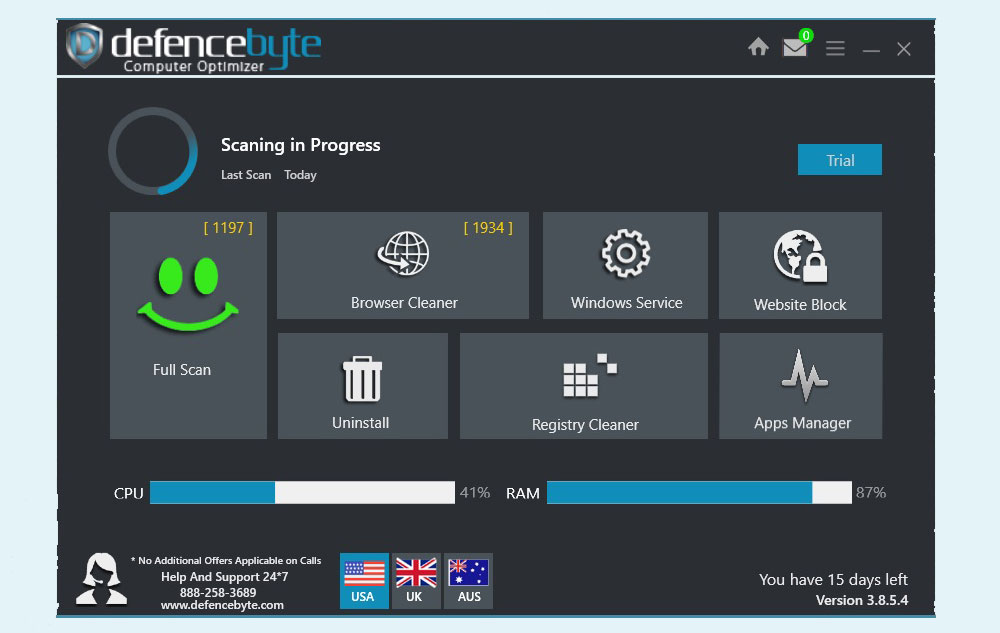 Computer Optimizer by Defencebyte is a minimalist utility: a single-click scan and removal of temp files, cleaning registry afterwards. Defencebyte is primarily known for its antivirus products, which perfectly complement this app. You can choose between 1 or 3 devices tariffs.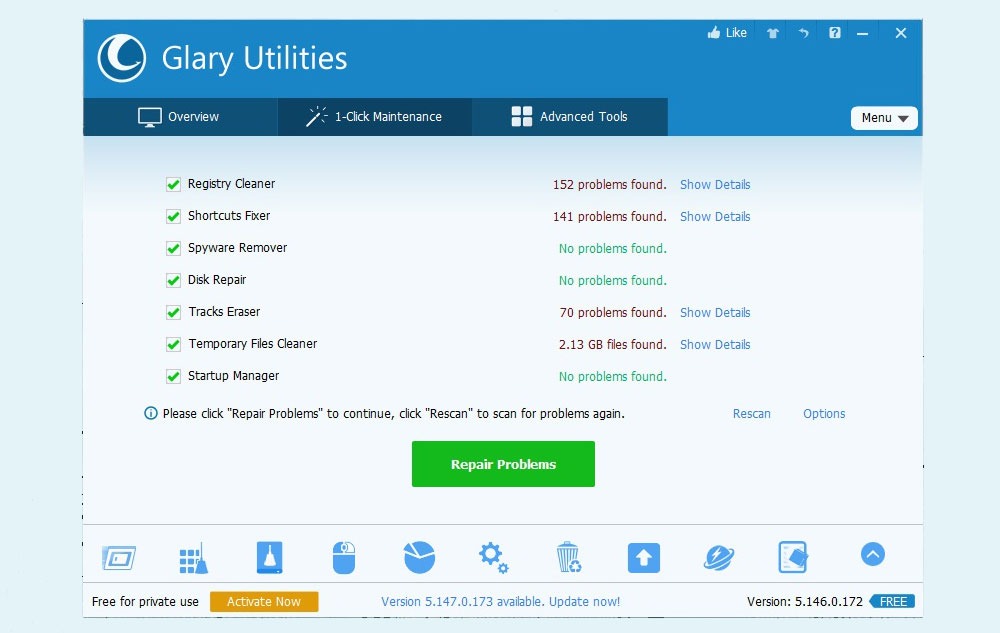 Despite the unadorned design, Glary Utilities copes with basic PC repair tasks. Along with cleaning and optimizing, it offers driver fixing, defragmentation. It is an ascetic application, one might say, able to work both in window and a background mode.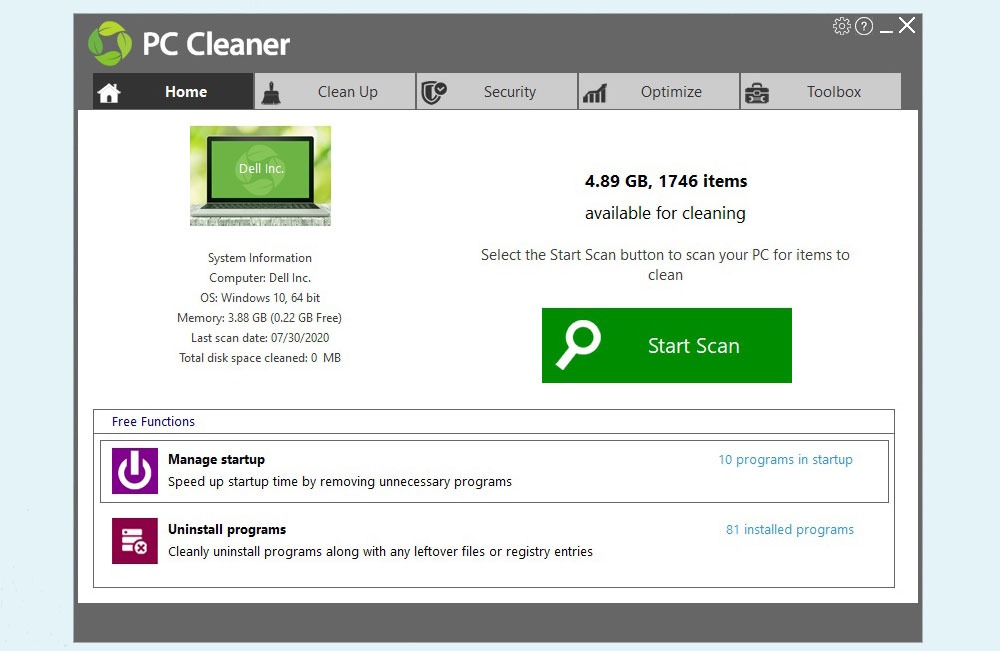 Except for a controversial registry cleaning, PC Cleaner by Helpsoft consists of a basic set of tools endorsed by Microsoft. This could be perceived both as good and a bad thing, of course. As a computer optimizer tool it performs well, but it is not sufficient for protection or for complex system care.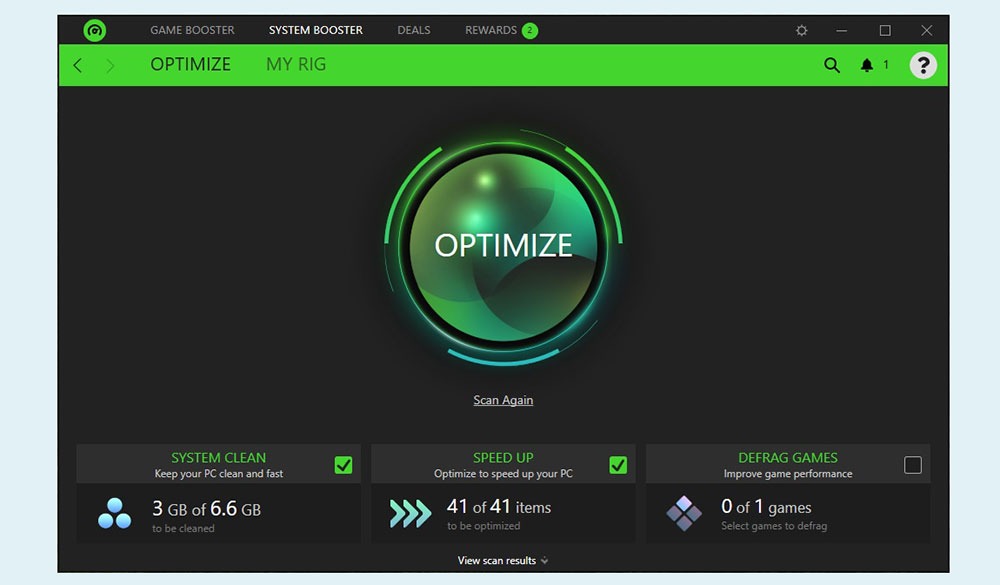 A niche application geared towards optimizing computers for smooth gaming performance. Razer Cortex tools focus on reducing CPU and RAM load, and cope with the task quite well. It can increase the FPS rate and accelerate Windows boot. It has two modes of operation: 1-click optimization and background process during gaming.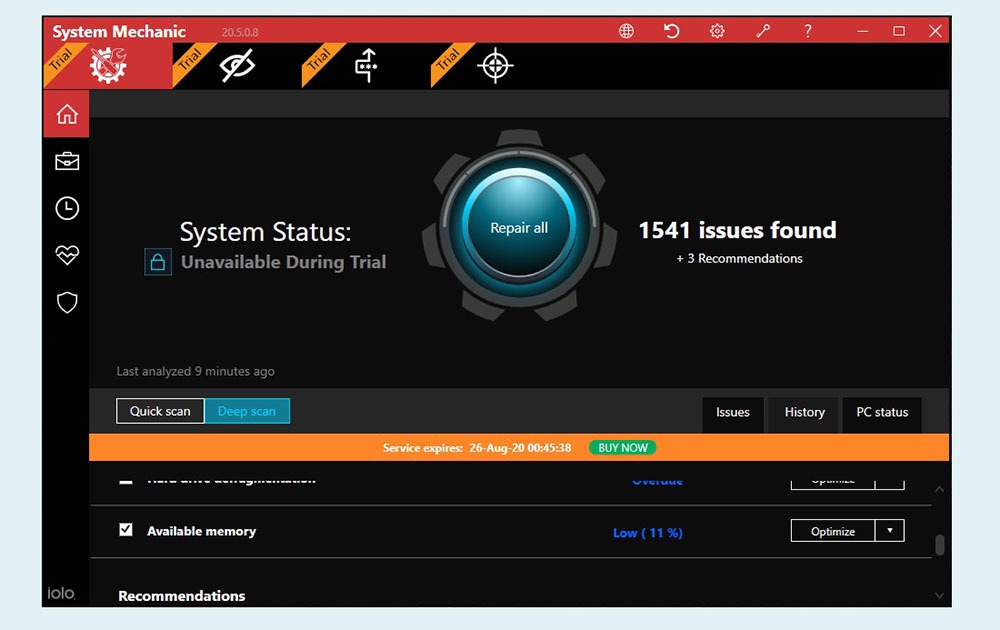 iolo System mechanic is one of the veterans among PC repair apps. Deep scan allows users to delete junk files, including browser cache, defragment the CDM, clear registry, optimize OS startup. The app may seem overwhelming at first (no light theme also doesn't help) yet with each launch it will be ok. Read more in our System Mechanic review.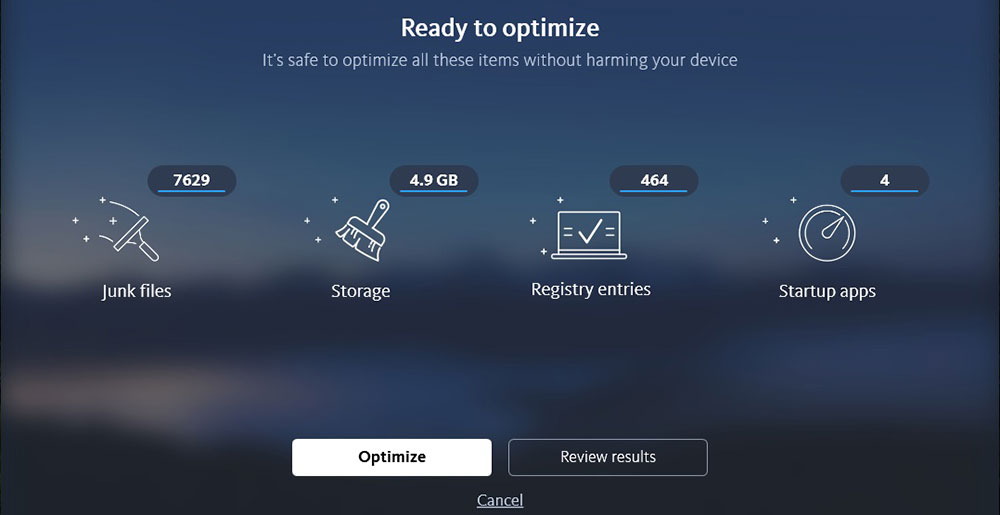 With a diverse Avira client you are free to choose which tools to use. In terms of our topic we have to study a tool called System Speedup. It is actually designed in such a way that a user of absolutely any skill can perform tasks in just a few clicks.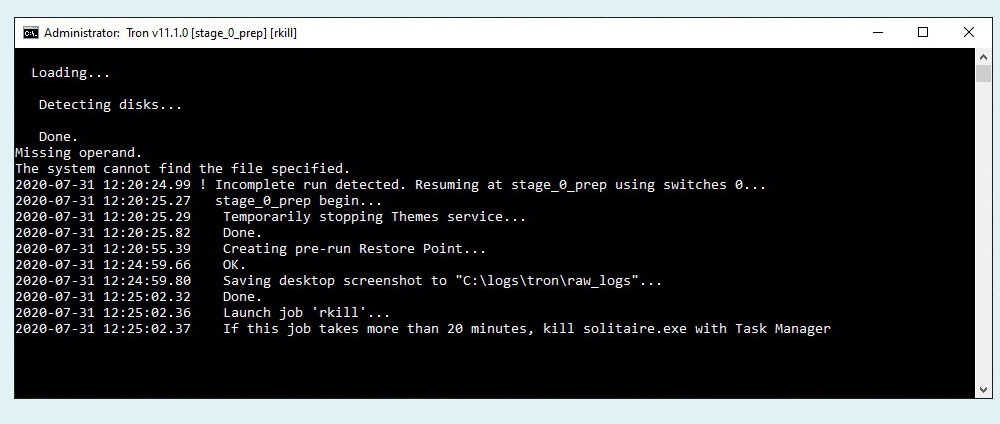 Probably, the most controversial utility on our list. In fact, Tron Script is an open-source project created by a single user and maintained by the community on Reddit, GitHub, and Quora. It actually is not a program at all but a set of scripts, launching a bunch of apps (Windows tools, CCleaner, Malwarebytes, KVRT, USB device security, McAfee, etc.) and removing it all after the use. It has no interface, being executed as a command line.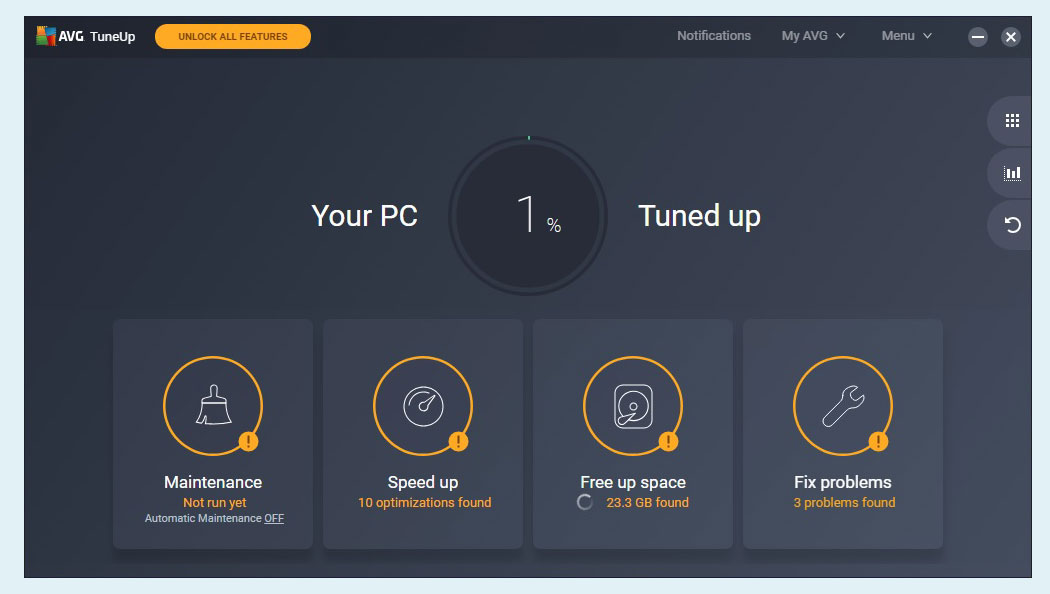 AVG TuneUp helps to maintain the life of old computers, but not only. Developed by Avast, the same vendor that had introduced CCleaner. Trial version allows scanning a PC yet to fix issues, a verification and a credit card number is required, meaning one becomes a paying customer already. Often, such a tactic is a marker of so-called scareware. In all other aspects, the app is typical.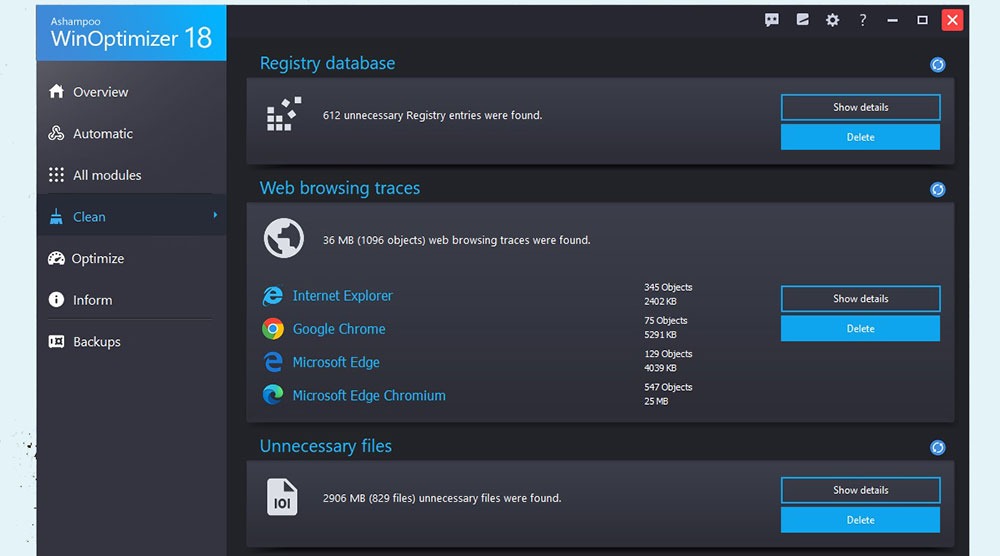 WinOptimizer simplifies many actions to take care of computers. It has both one-click scanning and sector-specific problem fixing, both basic and advanced tools in its trial version, which is definitely an advantage; both window and background mode. Anti-tracking and protection systems are a fine addition too.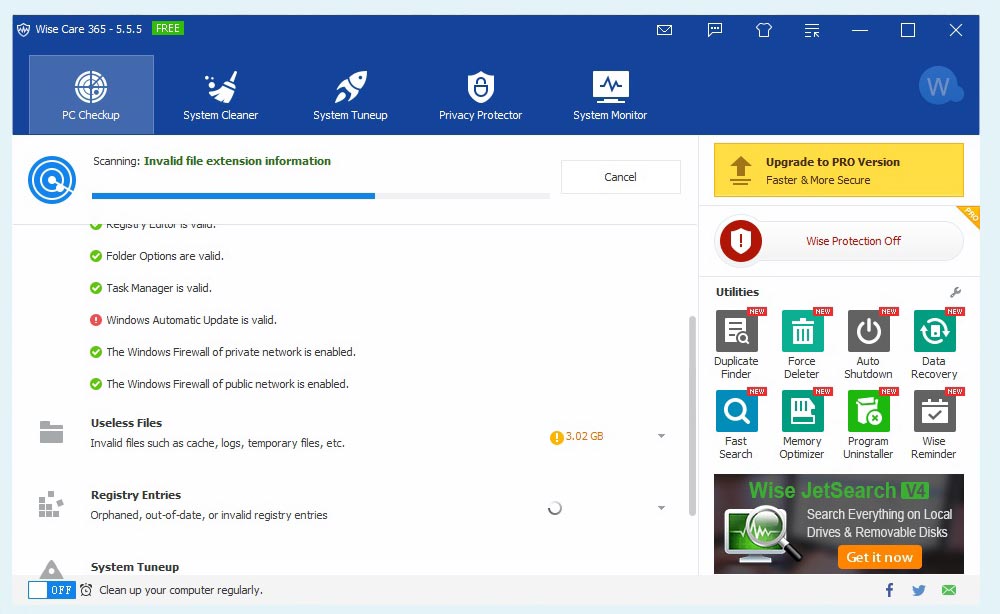 Wise Care 365 is a set of useful small utilities. The results of our in-house tests were solid, as well as the overall impression. Except usual mode, there's a Wise mode, which sends the application to the tray but still working. The active customer support, replying faster and more attentively than other companies, is a big plus.
P.S. How to repair a computer with Windows tools?
One can also fix a computer manually, without resorting to third-party solutions. Before making any changes to the system, we recommend creating a system restore point to safeguard against irreparable consequences that may or may not occur.
Step 1: Manual deletion of unnecessary files. You can safely delete almost all files into the recycle bin, revise the Downloads folder.
Step 2: Enable or disable automatic Windows updates according to your preferences. Look up the status of Windows Updater in the list of services.
Step 3: Disable unnecessary processes in the task manager, e.g. processes that Windows does not require or you do not use every day. Also, you can turn off some basic applications from Microsoft, for example, OneDrive.
Step 4: Clean disk space, delete each needless file you don't need and use.
Step 5: For Windows 10, use the built-in utilities to defragment disks, clean superfluous files inside the system, and other utilities recommended by Microsoft.
Step 6: Scan a computer with an antivirus after the aforementioned steps.
Step 7 (optional): Try to reinstall Windows saving all personal files on removable media or a cloud service beforehand. If nothing changes in terms of poor performance, maybe it is time to upgrade hardware.
Read next: Best PC optimization software.