Let's leave the iOS vs Android debate for now, and concentrate on issues with iOS, such as  updating to a newer version, and see if there are ways to deal with it before sending a device to a repair shop. As phones are increasingly becoming an integral and technological part of our lives, it is a matter of safety to be able to find a quick fix to errors and glitches. 
In this article we want to talk about common issues with iOS devices, i.e. iPhones, iPads, iPods Touch, Apple TVs, and highlight several tools, apps and utilities that could be of help in this regard. The main one is AnyFix, so let's start with it.
Developer: iMobile Inc.
Source: Official website
Available for: macOS, Windows
Current version: 1.1.0.20200928
Size: 16 MB
iMobile is a software production company, known for macOS and PC optimization tools, data recovery tools, data management apps for Android and iOS. AnyFix is their crown achievement, it is a universal set of tools that will help you out with most issues with iOS, iPadOS, Apple TV devices. 
How to use AnyFix to repair iOS system issues
For starters, even updating the OS on a mobile phone always comes with a certain risk. Remember those times when updating an iPhone 4 via iTunes using a glitchy USB cable felt like a timebomb? Nowadays, of course, it is safer and faster, yet not ideal still. Often users get the device stuck on the Apple logo, stuck during the update, stuck in recovery mode, etc.
So how does AnyFix fit into this picture? It is developed to take care of technical issues and errors linked to iOS upgrading, downgrading, recovery. Upon the very first launch and phone hookup to the computer, AnyFix will ask for permission to accept system files. Unlock your iPhone, click Trust and enter a password if there is one.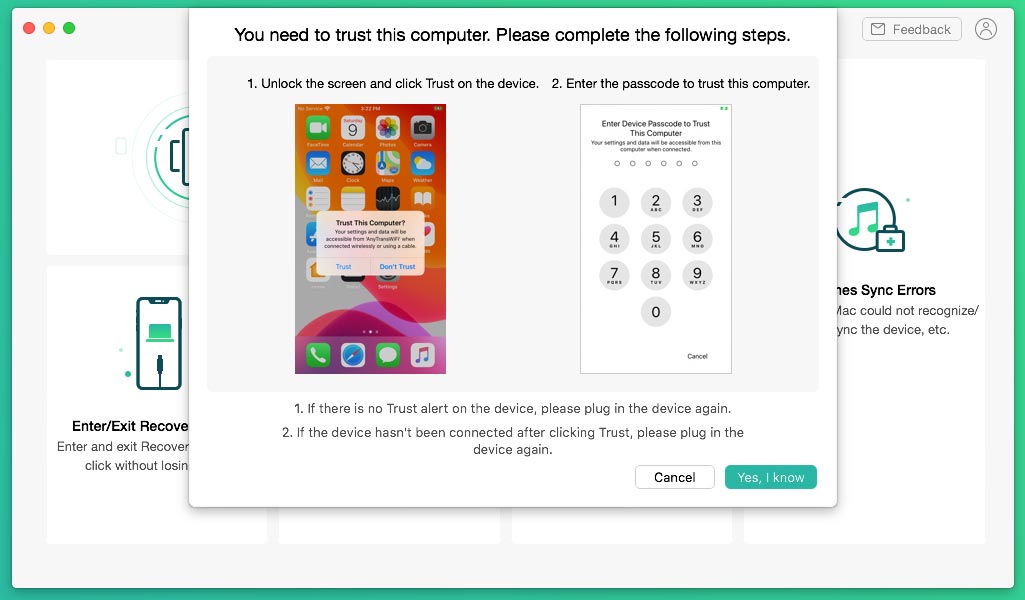 Navigation by separate tabs certainly helps to master the app quickly, by the way. Click on any tab to reveal the full list of possible issues or features this exact tool can fix. There are 5 of those tabs: System repair, iTunes sync errors, Recovery mode, Upgrade/Downgrade, and Reset device.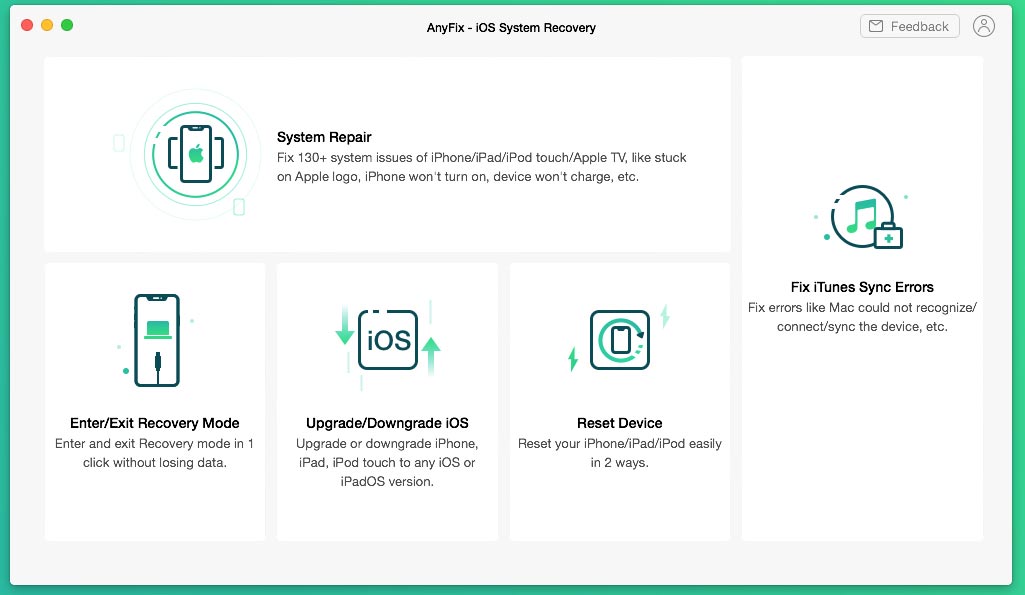 1. System Repair
The System Repair tab contains most of the reasons you may need this app. Click on it and just select the device to repair, and AnyFix will do the rest. There are over 50 different foreseen scenarios of your iPhone getting stuck, for instance:
stuck in DFU / Recovery Mode/ backing up

stuck on Apple logo

stuck on iTunes logo

won't stop restarting, or won't start, or just freezes
This AnyFix feature contains 100+ fix solutions for different devices, including iPhone, iPad, iPod, Apple TV, etc. The program automatically scans and detects the issue, which is clearly convenient for any user.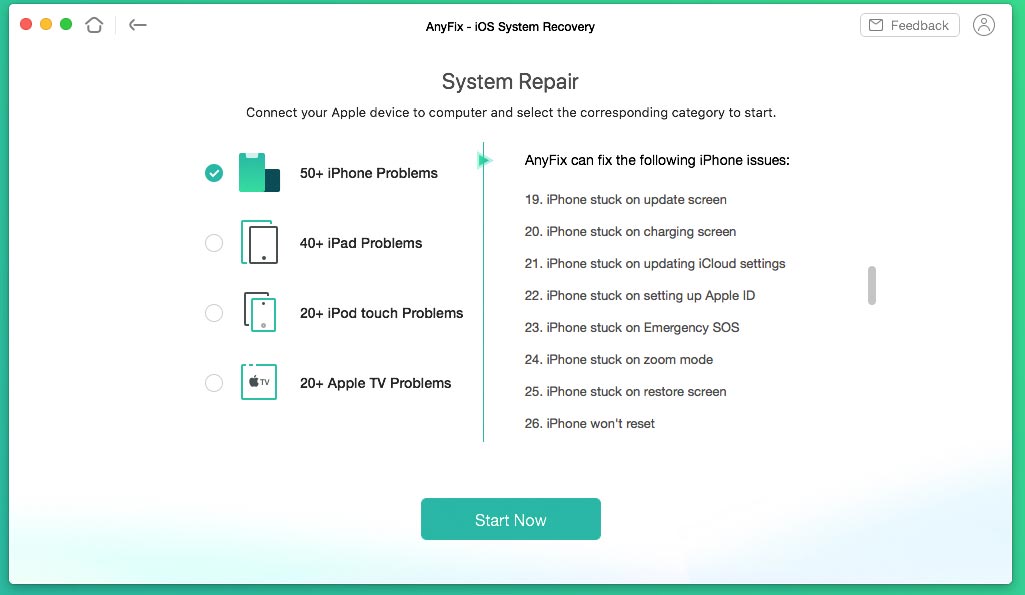 2. Enter/Exit Recovery Mode
Recovery Mode is a unique iPhone condition when it is prepared for file system integrity analysis, content and settings reset. It is akin to DFU mode (device firmware update), used for OS updates.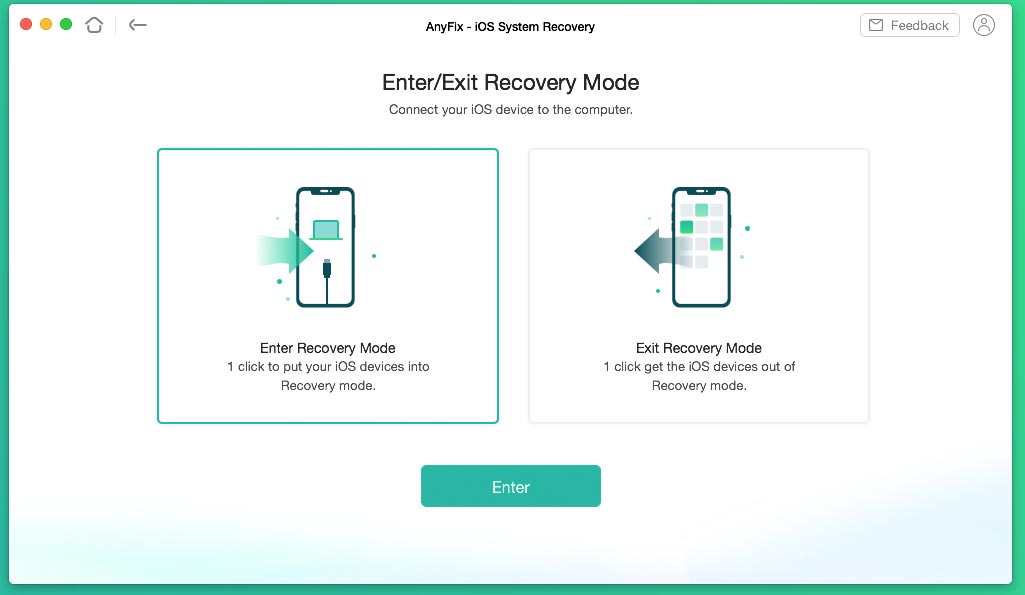 3. iOS upgrade / downgrade
A particularly handy option with AnyFix is downgrading the OS. For many users, system upgrades aren't necessarily a positive, this phenomenon was especially noticeable during iOS 6 to iOS 7 transition. AnyFix offers two ways of interacting with the OS, you can either upgrade or downgrade it.
Downgrading allows us to go back to the older iOS, as long as Apple is still supporting it. So, if you are not satisfied with your latest upgrade, you can switch to an earlier iOS version with this feature.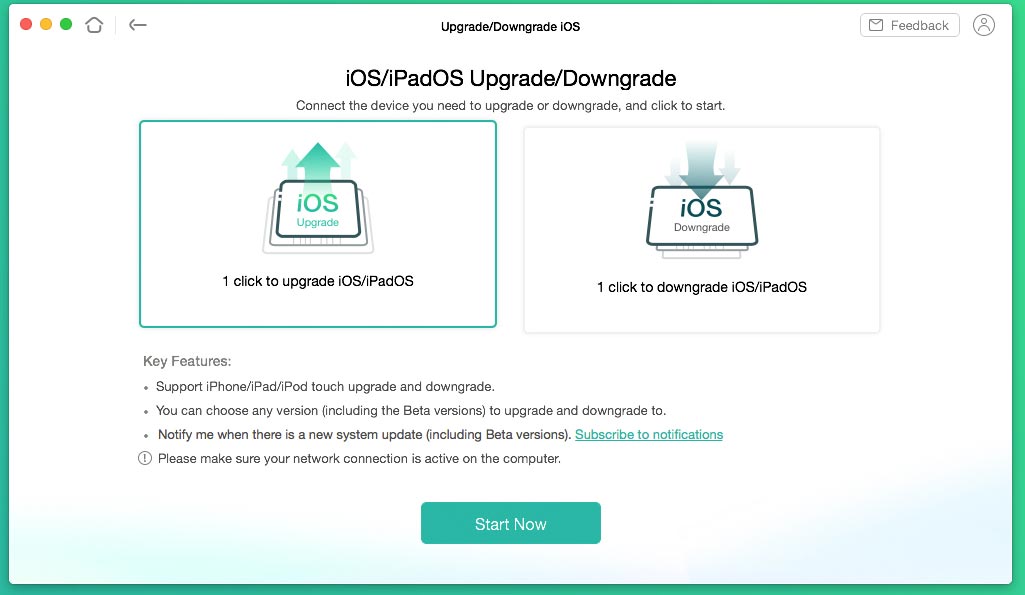 4. Reset device
Hard Reset and Regular Reset are two available options here that could be of great help when a user can't unlock the device. The difference is that under hard reset a device will be upgraded to the latest OS version as well automatically and all the data and settings (lock screen password, etc.) will be erased. The Apple ID account remains active, so you will have to pass the verification by logging into it afterwards.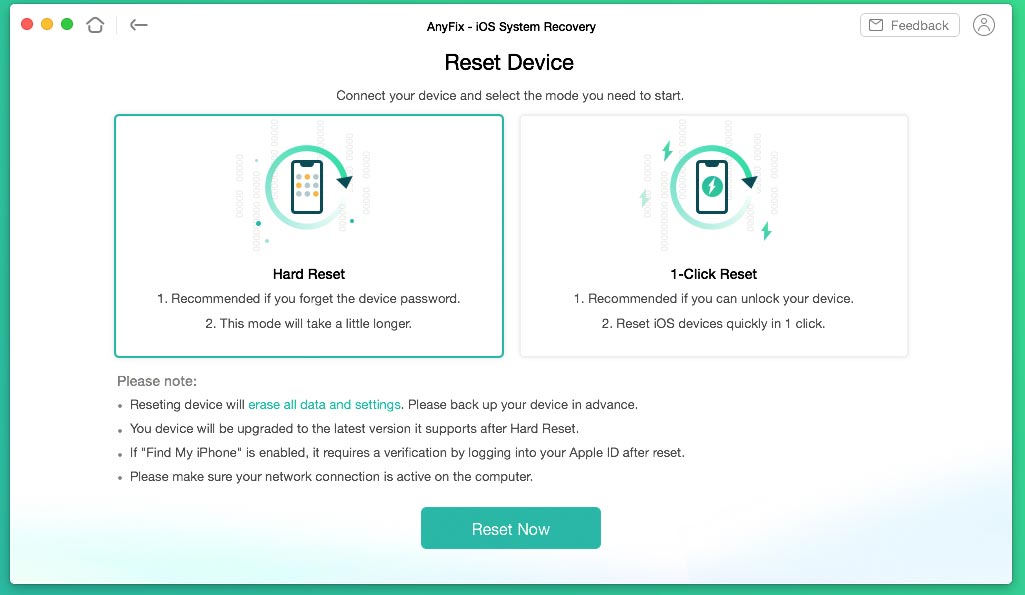 5. iTunes sync errors
iTunes is an application by Apple that is meant to manage iOS devices backups and contents. Sometimes users can face problems with iTunes functioning too. For example, devices do not sync, do not connect to iTunes, or iTunes doesn't recognize a phone. Go to this tab in AnyFix and click Fix Now to solve such issues.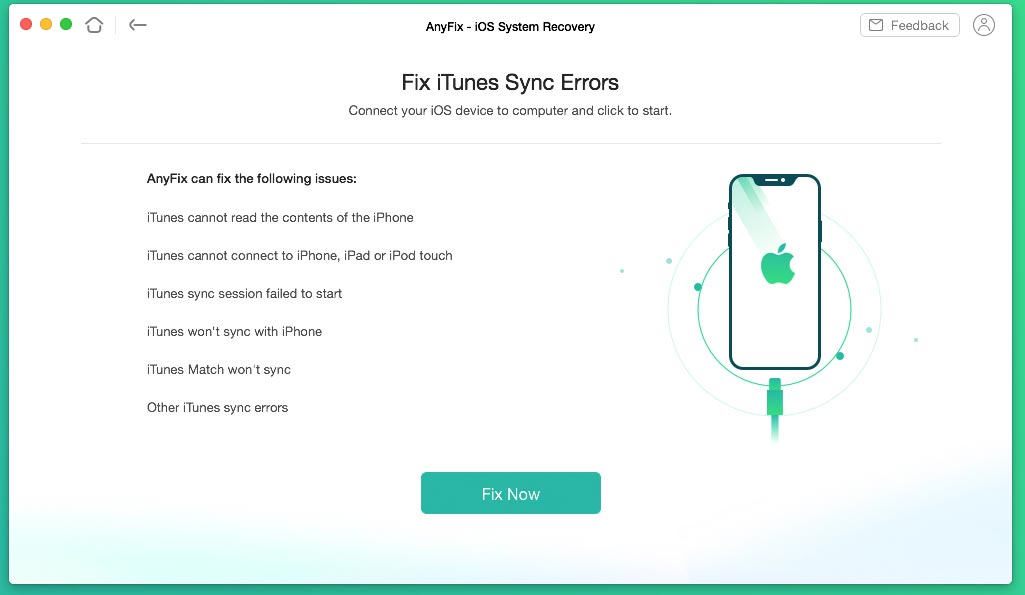 P.S. PhoneRescue
One more application by iMobile is there to cover all potential areas of trouble, and this time both for iOS and Android. It can be perceived as an extended iTunes in terms of processing backups and solving issues. PhoneRescue can also be launched on Mac or PC.
Developer: iMobile Inc.
Source: Official website
Available for: macOS 10.8+, Windows Vista+
Current version: 4.1.0.20200928
Size: 111.1 MB
With AnyFix, user data is safe, except reset activation. But sometimes, things happen that neither AnyFix nor any other app can prevent: broken screen, lost phone, lock password forgotten, etc. This may lead to loss of valuable personal data.
PhoneRescue could salvage some of those situations. Options are divided into two categories: Data Recovery and Device Rescuer. For instance, Recover from iOS Device feature creates a backup of a whole device, when it is damaged or left behind (but only if the device can be detected). Other tools are recovery from a local backup or iCloud.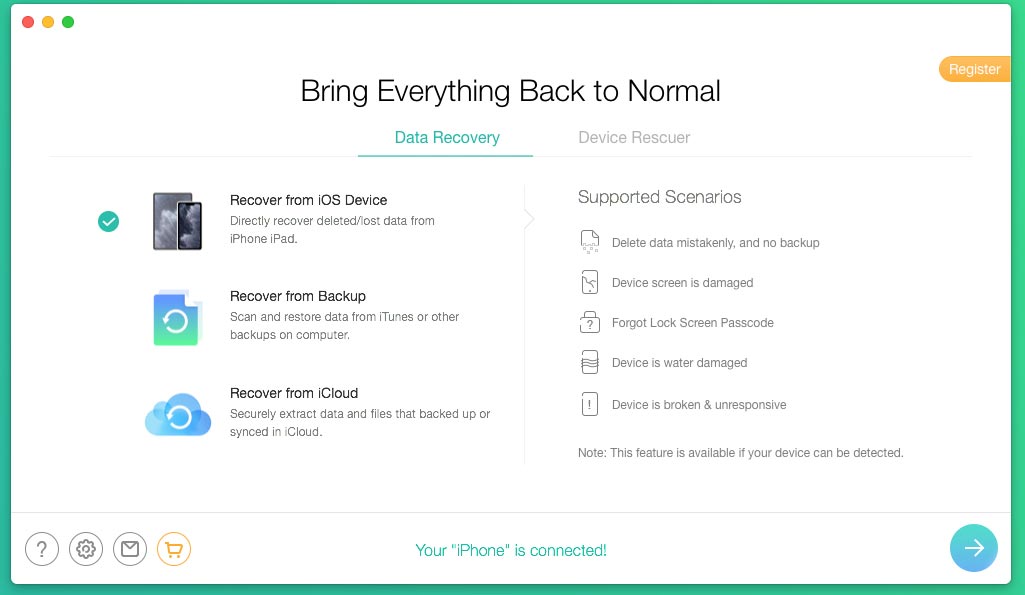 The Device Rescuer tab contains tools to fix generic issues, more like in AnyFix. Repair iOS System tool supports a few scenarios in relation to upgrades and "stuck" situations. Remove Lock Screen Passcode and Recover Screen Time Passcode are the features that make it easy to deal with different kinds of passwords that are set on your device.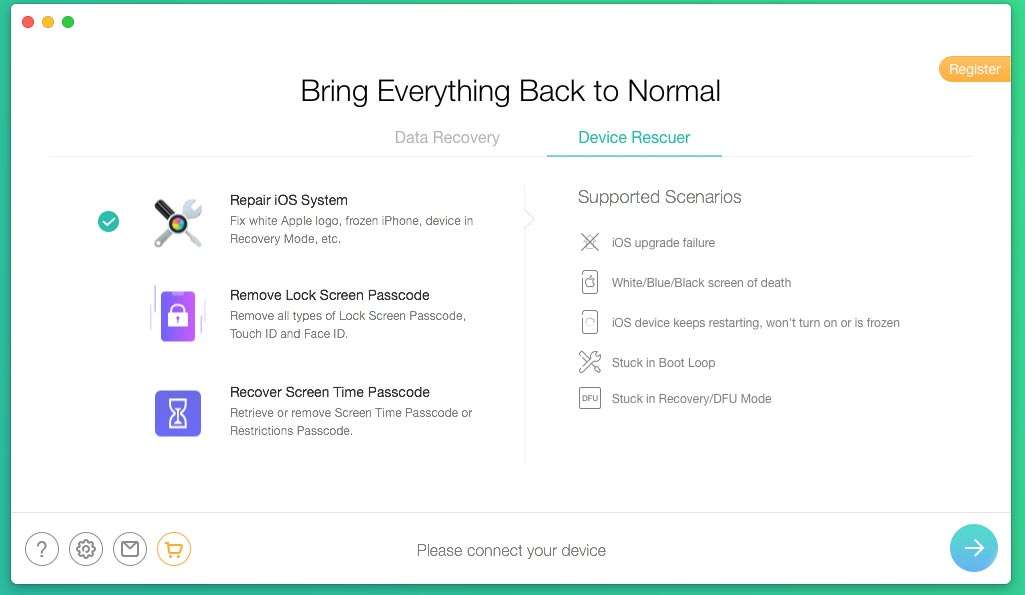 Read next: 7 best data recovery tools.