Previously, we have been discussing how to get started with Bitcoin, then we also gave out some essential tips how to buy and sell cryptocurrency. Perhaps, now it is time for one more piece to this puzzle – marketpalces to buy and sell  Bitcoin and other altcoins. To protect you from the possible risks, by trial and error method, we have evaluated current most popular cryptocurrency exchanges.
In our estimation approach, we considered services' reputation, usability, user acceptance, security measures and fee rates. So now we will gladly share the 15 best cryptocurrency exchange platforms of 2019.
1. Coinbase
Due to its beginner-friendly interface, Coinbase became one of the most popular and lovable digital currency exchange, offering its services in more than 30 countries. With over 28 million monthly users (June 2018), this platform is still able to provide high-edge security measures.
Among the main advantages of Coinbase, we can name the following: 2 secure wallets, insured deposits, fast buy/sell operations through debit/credit cards, ability to use PayPal, etc. Unfortunately, the disadvantages also exist. Besides quite inflated transactions fees, users usually point out limitations of fiat currency (USD, EUR, GBP), digital currencies (Bitcoin, Ethereum, Litecoin), and weekly limits in transactions.
Our verdict is that Coinbase is the best choice for beginners, but those with some experience, probably, should take a look at other exchanges in our list.
Headquarters: San Francisco, US/ Founded: 2012 / Employees: 591 / Contact: +18889087930
Website: http://www.coinbase.com
2. Kraken
The second largest cryptocurrency exchange, known by wide range of currencies, is Kraken. The biggest European exchange allows buying, selling and margining 16 digital coins with EUR, USD JPY, CAD, forming 39 trading pairs. The daily trading volume on Kraken may be slightly lower than on Coinbase, but nonetheless incredible – $178,521,474 (May 5, 2017).
More suitable for skilled or professional traders, Kraken has one of the lowest and flexible fee politics of transaction/withdrawal operations, depending on currency volume – from  0.10% (> 10,000,000) – 0.26% (< 50,000). The system has also a few levels of account upgrades – tiers (0-4), which has different validation requirements and trading possibilities.
Headquarters: San Francisco, US / Founded: 2011 / Employees: 146 / Contact: support
Website: https://www.kraken.com
3. Poloniex
One of the crypto-to-crypto exchanges, Poloniex shows 25% monthly growth of user registrations (plus to 50 million visits per month) and has a daily trading volume of $70m.  In 2015 the platform's old version was completely revamped by new trading features, secure and fast-processing.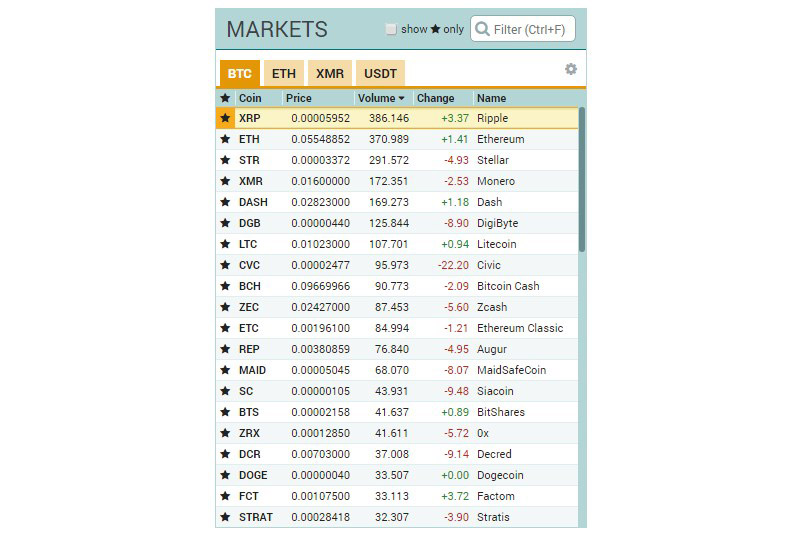 Users of Kraken will see some familiar traits, but with a less intuitive approach. To avoid any schemes, each user is allowed to have only one account. Registration process will seem quite easy, if you have previous experience with other exchanges.
Although, users hve to pass three levels of verification: 1 – email address, name and country of residence, 2 – physical address, postal address, phone number, date of birth and passport ID, 3 – ID photo and a passport photo. As for fees, don't worry – because Poloniex does not accept fiat currency, the service has the lowest fee rank in the market.
Headquarters: Wilmington, US/ Founded: 2014 / Employees: – / Contact: support
Website: https://poloniex.com/
4. KuCoin
Only one year since its release, KuCoin has rapidly entered the list of top cryptocurrency exchanges. With HQ in Singapore, the company has offices in Philippines and plans to open more in the UK, Lithuania, Dubai, Malta, Japan. Working with over 133 cryptocurrencies and 300 trading pairs, KuCoin's main focus is on Bitcoin, Ethereum, NEO, USDT and their own KuCoin Shares (KCS).
In June 2018, this exchange has implemented a new feature of self-releasing cryptocurrency pair, which was one of their foundational goals. Promising to keep fee's rates as much low as possible, the company also offers loyalty program – KuCoin Bonus (for holding users) and Invitation bonus (awards for new-user inviters).
Headquarters: Singapore / Founded:2017 / Employees: 36/ Contact: support
Website: https://www.kucoin.com
5. Bittrex
Both beginners and experienced traders will find Bittrex easy-to-use platform with option to trade over 190 cryptocurrencies. Showing high-stability, anti-fraud measures and speed of performance, this exchange is responsible for one of the biggest BTC trading volumes out of all the exchanges in the world.
If you ask to describe Bittrex in few words, we'll probably point out such features:
secure platform (elastic, multi-stage wallet strategy,  two-factor authentication),

custom-built trading engine +  fast deposits and withdrawals,

friendly interface, convenient functionality,

funds and account protection
At the same time, one key drawback is that each transaction, buying/selling or withdrawal will be followed with 0,25% fee.
Headquarters: Seattle, US / Founded: 2014/ Employees: 232 / Contact: support
Website: https://bittrex.com
6. Binance
Binary + Finance = Binance, they explait the title on homepage. Wordplay is fine, but what's more important is that  this cryptocurrency exchange offers zero fee for transactions. Not without a pint of aslt, Binance offers 0 fees only for NEO and NEO-GAS coins, their long-term partners. But this marketing move helped make gains in terms of popularity.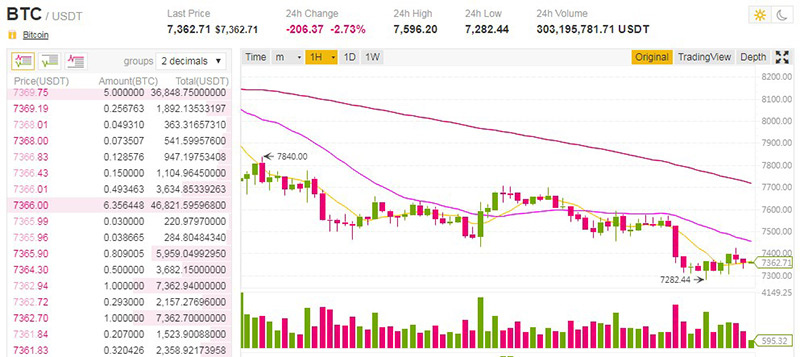 Besides, Binance, unlike other exchanges, started out by selling Tokens and later – its own currency Binance Coin, with a first supply of 200 million tokens. Pretty common registration, verification and trading processes, multi-tier and multi-cluster system architecture. Binance has capability of processing 1,400,000 orders per second, plentiful resources and partners, performs on different devices (Web, Android, iOS, Mobile Web, Windows, macOS).
Headquarters: Bei Jing, China/ Founded: 2017 / Employees: 333/ Contact: support
Website: https://www.binance.com/
7. Bitfinex
Bitfinex is one of the oldest digital coin platform, which operates with Bitcoin, Ethereum, EOS, Litecoin, Ripple, NEO and other coins. The service provides a wide range of ordering tools – Limit, Market, Stop, Trailing Stop, Fill or Kill, One Cancels Other (OCO), Post only, Hidden order.
The standard for big exchange protection measures – two-factor authentication (2FA) and universal 2nd factor (U2F) – are intensified with withdrawals protection, advanced API key permission, email encryption with OpenPGP.
In terms of interface and user-friendliness, Bitfinex goes further. It grants options to customise dashboard according to the user's needs – choose layouts, themes, set up notifications and data preferences.
Headquarters: Taipei, China / Founded: 2012/ Employees: 100 / Contact: support
Website: http://www.bitfinex.com
8. Cex.io
The first thing we noticed with CEX.IO is quite advanced UI comparing with other cryptocurrency exchanges. The company started in 2013, successfully made way from cloud mining service to digital exchange and trading platform.
Based in London, Cex gives access to its web service across 39 counties. With a daily trading volume of about $9 million, the platform ensures safe cryptocurrency storage, financial viability and provides advanced order-matching algorithms.
Users can easily deposit and withdraw funds, trade via a website, mobile app and API, and get advanced and transparent reports and 24/7 client support. As for the commission, Cex charges from 0% to 0.2%, depending on quantity and coin type.  
Headquarters: London, UK/ Founded:2013 / Employees: 71 / Contact: support
Website: https://cex.io
9. Coinmama
First things first, Coinmama, probably, is the only exchange available across 188 countries and supporting various payment methods (Visa/Mastercard credit/debit cards, Western Union, etc.). Note for users from USA – service works only in 23 states.
While passing traditional registration/validation steps, a user can choose the account verifications level (from 1 to 3 depending on personal data). This has a direct impact on a daily (from 5,000 USD/EUR) and monthly limits (from 20,000 USD/EUR). Talking about security, Coinmama, unlike many other huge exchanges, avoided the fate of being hacked.
Headquarters: Ra'anana, Israel / Founded: 2013 / Employees: 30 / Contact: support
Website: https://www.coinmama.com
10. Bitpanda
While Coinmama has a wide range of payment options, Bitpanda is even more flexible in this regard. It works with Eps, GiroPay, Mastercard, Visa, SEPA, Skrill, Sofort, and its own Bitpanda To Go. This Austrian service provides an option for fast selling and buying Ethereum, Dash, Litecoin, Bitcoin Cash, Ripple, Komodo and IOTA with EUR, CHF, GBP or USD.
Features with a simple and understandable interface, Bitpanda mostly gets positive feedback from users. Another great benefit is the security basis: two-factor authentication (2FA), encrypted user data, cold storage, separate web and wallet servers and SMS verification.
Headquarters: Vienna, Austria/ Founded: 2014 / Employees: 34/ Contact: support
Website: https://www.bitpanda.com
11. LocalBitcoin
LocalBitcoin trades in over 200 countries, probably including the one you are reading our blog from. Totally decentralized, this exchange allows its users from different countries exchange their local currency for bitcoins.
Transactions are simple: find an advertisement for the coin of interest (with an acceptable amount of altcoins, rates and payment methods), contact the seller and make a deal. As this exchange is oriented on "local availability", the cash payment can also happen. And the most interesting part – the fees. Seller will be commissioned by 1% for each successfully deal, additional to 0.5% for invoicing services.
Headquarters: Helsinki, Finland  / Founded: 2012/ Employees: < 10/ Contact: support
Website: https://localbitcoins.com/
12. Bitstamp
Created by two childhood friends from Slovenia, Bitstamp has a primary goal to overcome the monopoly of Mt.Gox back in 2011. In 2019 Mt.Gox is already forgotten, but Bitstamp is still alive and continues its successful growth.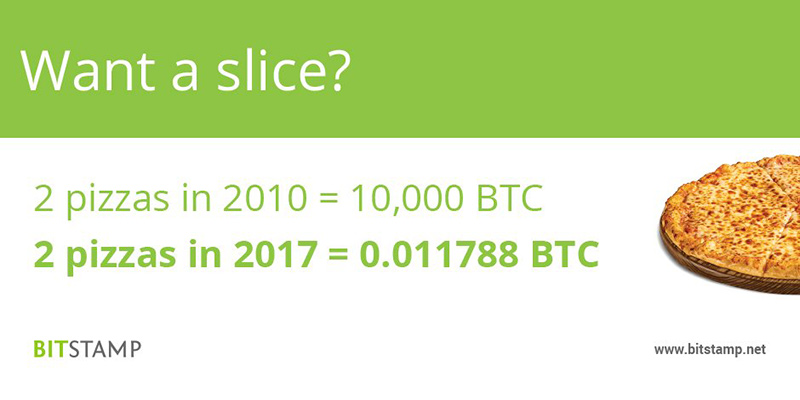 To prove this, we'd refer a reader to statistics: in 2017 Bitstamp got hold of 9% share of global cryptocurrency market, with a $12 billion (with a B) trading volume in first 6 months of the year, accroding to Bitcoinity.org.
Headquarters: London, UK/ Founded: 2011 / Employees: 91/ Contact: +442038689628
Website: https://www.bitstamp.net
13. Gemini
Do you remember the story of how Winklevoss brothers sued Mark Zuckerberg for their original idea of the social networking website? Well, in 2014 they established their own cryptocurrency exchange, Gemini. Targeting the American market primarily, it also provides its services across UK, Singapore, Canada, South Korea, Puerto Rico and Hong Kong.
Unlike other cryptocurrency exchanges, Gemini owners prefer to keep platform fully centralised. The only thing we can assume from it, is that it helps to maintain service protected – no hack attacks were identified. Other robust features are two-factor authentication, low fees, and Bitcoin/Ethereum offline wallets.
Headquarters: New York, US/ Founded: 2014/ Employees: 50/ Contact: +18662405113
Website: https://gemini.com/
14. Changelly
Probably, the most welcoming cryptocurrency exchange in the current market. Changelly provides fully anonymous accounts (no ID verifications), there are no daily or monthly limits, with no geographical restrictions and is constantly open for new coins.
Famous for its speed, it allows buying or selling within from 5 to 30 minutes and also accepts over 50 national currencies with only 0,5% fee. Also remarkable is that Changelly, besides being an exchange/conversion platform, can be used as a widget to 3-party apps and websites.
Headquarters:Prague, Czech Republic / Founded: 2015 / Employees: 11/ Contact: hello@changelly.com
Website: http://changelly.com
15. Cryptopia
From New Zealand with love, plus with a competitive quality of service and security level. Cryptopia offers to trade over 500 coins in relevant trading pairs. User security is provided by 2FA (Google Authenticator, emailing codes, security questions), and site security is backed by a long list of advanced measures. Despite all of that, Cryptopia could not avoid hacks and phishing attacks during 2017 and first half of 2018. So a stark warning to everyone.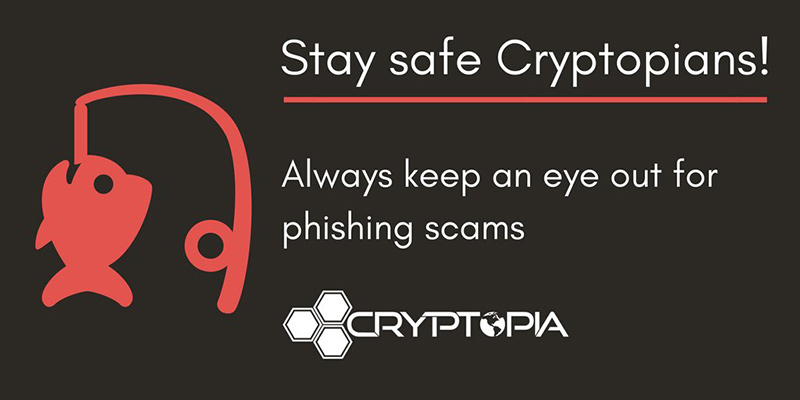 Headquarters:  Christchurch, Canterbury, NZ / Founded: 2014/ Employees:34 / Contact: support
Website: https://www.cryptopia.co.nz/
Feel free to contact us via jane.todavchych@thinkmobiles.com if you want to place your company here.