It is supereasy to join and use WeTransfer. Just specify the email, get a verification link, confirm and you're set. For a Pro account a bit more details are required but nothing overwhelming: name, billing info, yearly or monthly plan. You don't even have to start with that, open the website, add files right away, and you'll be guided further on.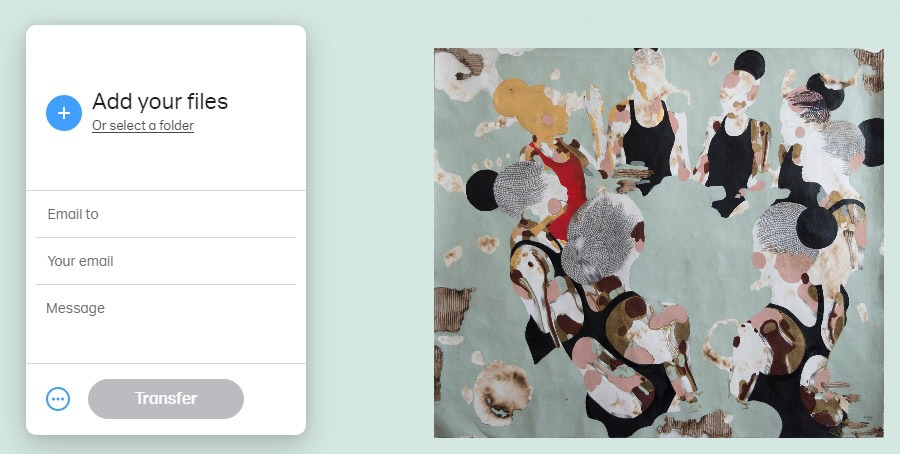 Add files, your email, receiver email, an optional message to a person and click Transfer. A tiny dotted icon offers two options: send email transfer or get a transfer link. In case of the latter, then copy a link to a clipboard in a shortened format – https://we.tl/xyzxyz.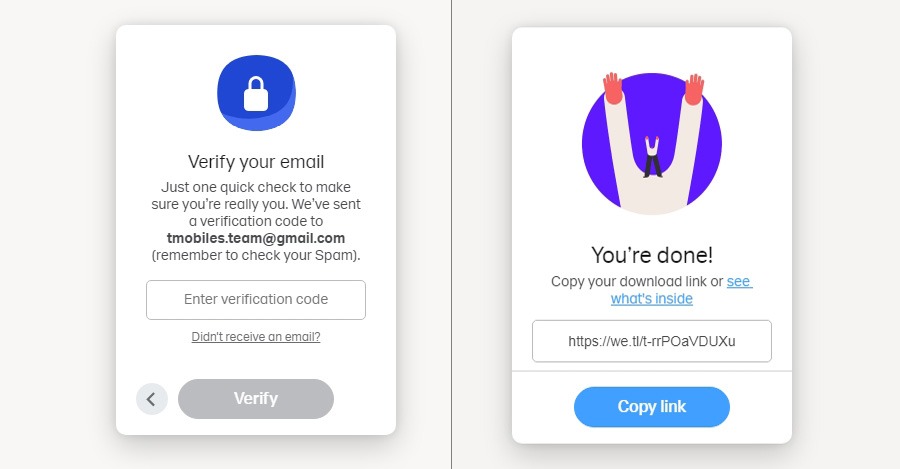 Total file size up to 2 GB within a free version is outstanding. A receiver person will get an email message with the download link. You, as a sender, will get a confirmation too. Files are stored 7 days, although you can delete it earlier anytime manually.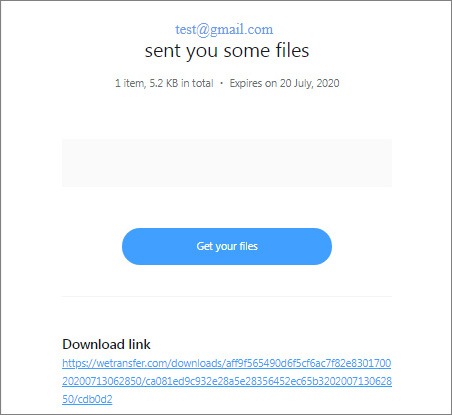 Free vs Pro
The paid version allows you to set the file storage time. Before sending, you can choose how long your files will be stored: 1 week, 2 weeks, 1 month, permanent, or setting a deletion date. Additionally, Pro users can set a password to access files on the other side. 
| | | |
| --- | --- | --- |
| Feature | Free | Pro |
| Cloud storage | No | 1 TB |
| Number of receivers | Unlimited | Unlimited |
| Maximum file size | 2 GB | 20 GB |
| Simultaneous sending | 10 emails | 50 emails |
| Password protection | No | Yes |
| Storage time | 7 days | Unlimited |
| Online file browsing | Yes | Yes |
Performance tests
To check the speed of Wetransfer, we have prepared several files of different sizes and types. Let's start with the largest one. 1.5 GB file, an MP4 video, takes 6 minutes and 30 seconds to upload, whereas downloading lasts 9 minutes.
For the second scenario, we have multiple JPG images with a total size of 791 MB. Without archiving it into a single file, the upload takes 33 minutes. When archiving, the upload speed increases many times over (3 minutes). 
As we see, WeTransfer works much faster when processing a single file. Both upload and download speed in such cases deserves to be praised. Also, regardless of whether files are archived or not, when downloading, all files come as a RAR folder.
| | | | |
| --- | --- | --- | --- |
| Size | Upload time | Download time | Format |
| 1.5 GB | 6.5 minutes | 9 minutes | MP4 |
| 791 MB | 33 minutes | 4.5 minutes | JPG |
| 789 MB | 3 minutes | 4.5 minutes | RAR |
Mobile app
Currently, there is also a mobile app for Android and iOS called Collect. It is available for download in the Play Store and the App Store. It is a simple solution to transfer files from a smartphone via Collect, along with other options such as Facebook, Gmail, ShareMe, WhatsApp, messages. A drawback is the need for an additional account.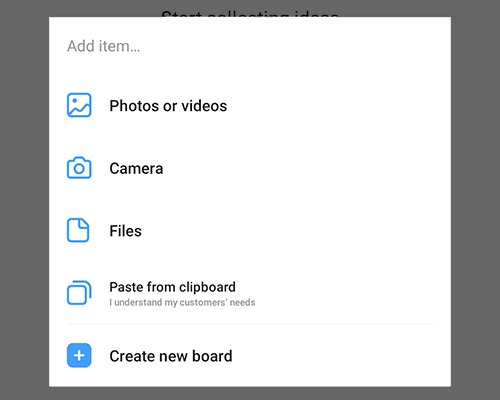 Files are located in special "boards" with View and Edit options. No ability to grant access to single files here, only the whole board. This might be handy as you don't need to update the link when deleting or adding files.
Pricing
WeTransfer offers choices from two package plans, Free and Pro. Pro costs $12 per month, or $120 per year (saving 17%). Free account for non-commercial use will do just fine for casual users: send files up to 2 GB, active link for 7 days, send to 10 people at once. 
The Pro package is much more potent. It includes a permanent file storage for up to 1 TB, sending files up to 20 GB – 10 times larger than in the free version. More features: customize file storage time, set a password to access files, get own page with the URL, chat and email support.
Security and privacy
WeTransfer is a Dutch company based in Amsterdam. Therefore, the company adheres to GDPR standards of confidentiality and security of personal data. WeTransfer stores data on servers in the EU and the US, depending on user location. Access to user files is only possible through unique links that are sent to recipient and sender.
Accepting the terms of confidentiality implies granting WeTransfer the right to use your data. The company uses it to improve the quality of service. Yet, most importantly, WeTransfer cooperates with law enforcement agencies. The company does not check user content, only when receiving filed complaints. The company is also not liable for potential damage caused by content. 
WeTransfer stores information about user IPs. To avoid this, use a VPN or incognito tab in a browser. Other options for anonymous file transfer are either getting a link without sending it or using a fictitious email address.
WeTransfer alternatives
Just in case anyone is seeking alternatives to WeTransfer service, here are some suggestions:
Google Drive

: 15 GB free storage, upload/download/edit files, 2 TB for $10/month.

MediaFire

: 10 GB free storage, 4 GB per file, various Pro packages from $5 to $50 per month.

OneDrive

by Microsoft: 5 GB free storage, ability to run programs.
| | | | | |
| --- | --- | --- | --- | --- |
| | WeTransfer | Google Drive | MediaFire | OneDrive |
| Free version | Yes | Yes | Yes | Yes |
| Cloud storage | 1 TB | 2 TB | 100 TB | 1 TB |
| Maximum price per month | $12 | $10 | $50 | $7 |
| Maximum file size | 20 GB | Unlimited | 20 GB | Unlimited |
| Password | Yes | No | Yes | Yes |
| One-time links | No | No | Yse | No |
WeTransfer review: Conclusion
WeTransfer is a great free file sharing service. Although, for frequent use and large volumes you'll definitely need the Pro subscription. The service is easy, safe and accessible on a mobile phone.
Pros
Free plan

Password protection

1 TB storage
Cons
No money back option

No one-time links

Separate account for mobile app
Read next: Popular email providers.
FAQ
Q: Why is WeTransfer so slow?
A: There could be many reasons impacting upload or download speed. Internet connection, incorrect browser settings, un-archives files, file volume, active antivirus, etc.
Q: Can I upload multiple files?
A: Yes, but the total size should exceed 2GB in the Free version and 20GB in Pro.
Q: Which is better: Dropbox or WeTransfer?
A: It depends. For business needs WeTransfer will be better. For cloud storage and data processing online - probably, Dropbox. In terms of data security, both companies provide proper options.
Q: Is WeTransfer a virus?
A: No, WeTransfer is a real legitimate file sharing service. Yet, keep in mind that it does not check each and every file sent or received. It is better not to download anything from an unknown sender. The company is also not responsible for the content or damage caused.
Q: How safe is WeTransfer?
A: TLS, a newer version of SSL protocol, is used for data transfer protection and AES-256 is used for storage. This is pretty safe and reliable. In the Pro plan users can set 2FA authentication to the account and set a password for files when transferring.
Q: How long do files stay on WeTransfer?
A: With a free plan files are stored for 7 days. With Pro it is unlimited or to a certain date set by a user. At the end of the subscription, there are extra 28 days and then everything is erased.
Q: Does WeTransfer have a limit?
A: The key limits are 2 GB files per one transfer (Free) and 20 GB (Pro).
Q: How can I send large files over the Internet for free?
A: Currently, there are services like WeTransfer, Google Drive, One Drive, MediaFire etc.
Q: How to detect malicious files?
A: Most email services provide a spam filtering feature. But this does come with 100% guarantee, so act carefully. Never rush to click links.
Q: Cannot upload files via the Collect app on iPhone
A: The problem may be due to lack of memory on the device.
Q: Why is my board empty?
A: If you get a link to files from Collect yet the board is empty - make sure the upload is complete. This is the most frequent explanation.
Q: What's the 'Uh-oh' error message?
A: Often, this is related to old browser versions, so updating it could solve the issue.
Q: Do I need to register to use WeTransfer?
A: No, not necessarily. Only your email as a sender, and email of the receiving person.
Q: Which file sharing service is best for business?
A: For SMBs, i.e. up to 5 employees, Dropbox goes well. For medium size G Site is a decent option. For large storage (1 TB) go with WeTransfer and you won't regret it.
Q: What are the best mobile services for data exchange?
A: Google Drive (Android, iOS), Collect (Android, iOS), AirDroid (Android), Superbeam (Android, iOS), BitTorrent Sync (Android, Kindle Fire, iOS, Windows Phone), Portal (Android), Xander (Android, iOS).
Q: Google Drive vs Dropbox
A: Google Drive provides 15GB of free space, while Dropbox gets you 2GB. For 2TB storage Drive charges $10 monthly, and the same price is at Dropbox. Everything else is a thing of personal preference.