NetCut review: How to control your network
NetCut is a network monitoring tool that protects against so called "spoofing" attacks. Such attacks, also referenced as ARP cache poisoning, ARP poison routing (ARP = address resolution protocol), target LAN so that to gain access to IP addresses of computers within a network. As a result, the attacker could potentially intercept all data that goes through an IP address. Often such attacks facilitate other bigger attacks, DDoS for example. This is a threat of grave concern these days, this is very evident. Let's find out more in NetCut review below.
What is NetCut?
NetCut is a type of software designed to protect networks from such vulnerability. It is not the only program in network security software, but it is one of the most popular, therefore this review was in order. We can say that NetCut (v.3.0.58, as of August 2019) is light and easy. It scans a network and displays all devices in it.
But most importantly, it detects spoofing attacks and attempts. It can work constantly in the background. You can launch scanning of a PC or a network with the app. Other options with NetCut include blocking Internet access for specific devices, viewing reports and history, detecting unknown (guest) users.
Specifications for NetCut
Vendor
Arcai (website)
Newest version (for Windows)
NetCut v.3.0.58 out September 2019
Operating systems
Windows 7 /8 /8.1 /10
Installer file size
2.87 MB
Menu languages
1
Optimization modes
ARP spoofing protection, Network monitor, Auto logging
Extra features
NetCut Defender, MAC changing, Scheduler
License
Free / Lifetime
Pricing
$2.95 Lifetime, 1 PC
Many security enthusiasts start to googling "NetCut free download" right away. So to clarify the NetCut pricing matter, the good news is that there is a free version. For Pro version there are two options: monthly subscription – costing just $1 per month, as annual subscription – costing $9,99 per year.
Installation & Interface
Go to arcai.com, there you will see 2 versions for PC – Netcut Defender as a desktop app, and Netcut v3.5, the newest version. The latter one has a more user-friendly web interface. Select which one you wish, download and install it. Note: do not forget to check the "Automatically start the WinPcap driver at boot time" option.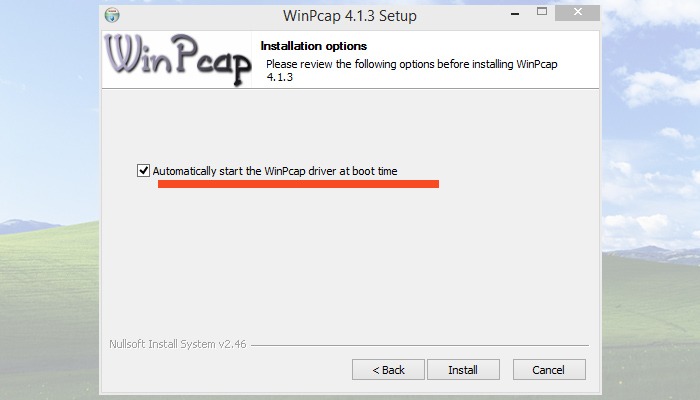 Run the program – this will open a page in your web browser. All the elements and the UI is simple and straightforward. There no themes or interface language to select – just dark-grey color and English. You will see several tabs: Users, Options, Pro, Records, Log. Below, a green or red status button indicates whether Netcut is On or Off at the moment.
Lock/Unlock Wi-Fi is the first and essential feature in the Users tab. If On, no new users will be able to join the computer network, and won't have Internet access. Also, note that this function is available in Pro version only. Next to it, you will see icons/buttons for Network re-scan, Block/Unblock all devices, Search, Schedule offline.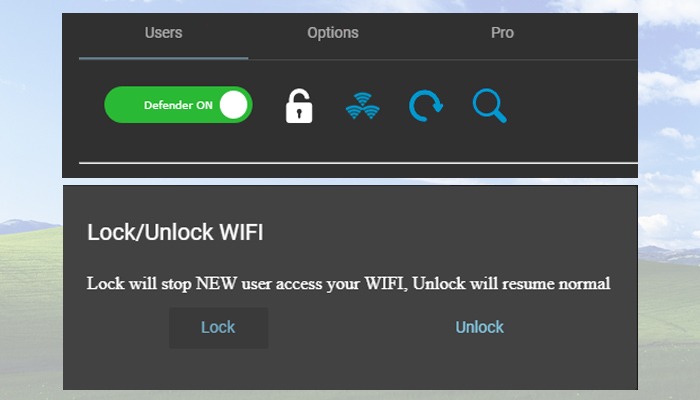 In the Users tab there are 3 columns: blocked (blacklist), other, trusted (whitelist). Admins are able to move items between columns, taking action by drag-and-drop. With scheduler admin could also set time period for users' blocking, as well as turn on timer (in minutes). If you see the "Attacker" status for any IP or device in the Other column, certainly you would want to move it to the left column, actually blocking that IP.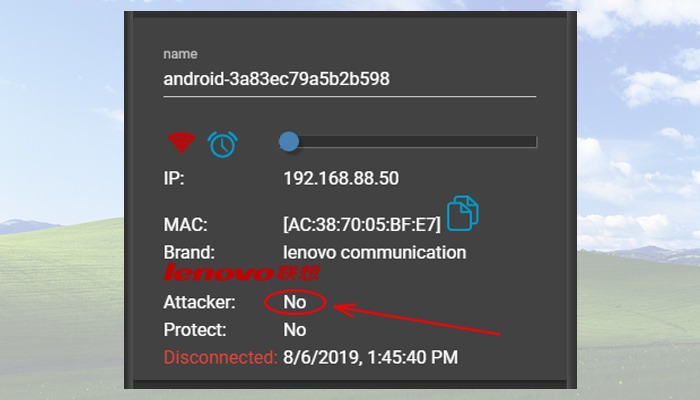 Protect status "Yes" means a computer has NetCut installed and Defender enabled. This would be positive, of course. "Options" tab is basically the settings – and all except one, "Cut affect gateway and user", are available when Pro is purchased. The most useful setting is "Fake MAC address", which allows random changes of the MAC address. The tab "Pro" is obviously for users to buy the subscription. There are 2 ways to sign up: email and Google account, and there are technical issues with email channel as it seems (no message with account activation link in the inbox).
In "Record" tab you will be able to view visitors to your network. Free version though only shows "guest" users with no details, while the Pro version will display lots of data: IP, time in and out, device name, location. Additionally, you'll be able to lock such devices off.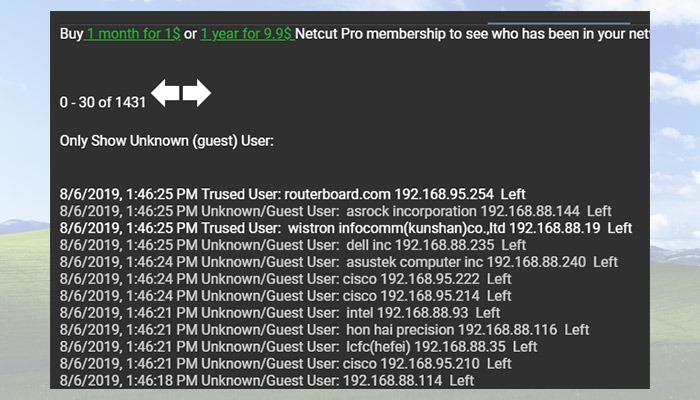 Feature overview
NetCut Defender. Protects a PC/laptop/device, works silently in the background. When turned off, users will only be able to scan the network, see hosts info – and no ongoing protection, all in all.
Lock/Unlock wifi. Allows to block the access to new users. This means any users that would have joined the network after it was enabled, would be automatically blocked. To let anyone in, you would have to turn off the locker temporarily.
Schedule offline. Allows to schedule network blocking, with only 2 options: a daily period (start time and end time) and a timer (a given time before a user is blocked).
Fake MAC address. Lets users change the MAC address of the network, both manually or automatically (random change). This is a great extra security option for networks under attack.
List of visitors (Records). Collects information about all "visits". It works even when NetCut is turned off but Defender is enabled. Thus, at the next launch one may see visitors. Data includes times, device name, brand, MAC address.
Simple interface. A big advantage, as well as overall simplicity with drag-n-drop workflow. For example, to block an IP address, you would just move it to the block list. On the other hand, a light-colored them alternative would be nice to have too.
Fast/slow scan mode. Fast for ultimate scan speed, or Slow for crowded networks with active data traffic.
How to use NetCut
Here's a brief tip on how to use Netcut step by step:
Launch the program
Enable Defender
Scan the network
Find a host with status "Attacker: Yes" / or the one you want to block
Move that host to the blacklist (left column)
Leave Defender active, close NetCut
NetCut for Android
NetCut Pro for Android devices , 4.1 to 8.1, is available to download from Arcai website. It incorporates speed control, user report, one-click "block all", IP search, slow and fast scan modes, random fake MAC address. Note: it requires Root Android to run on a phone/tablet/device.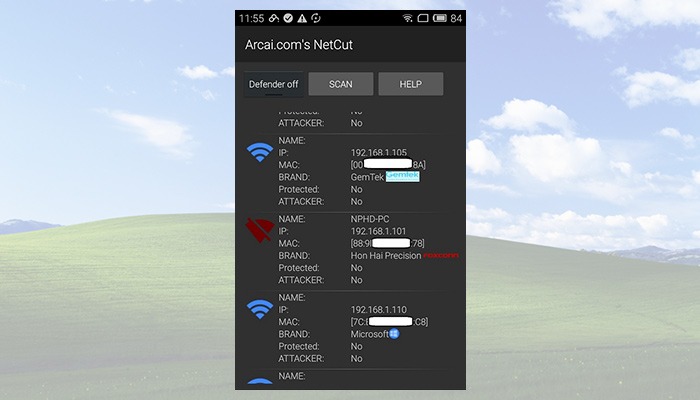 Netcut review: Pros / Cons
Pros: Easy to use, fast Low system requirements Fake MAC address 2 scan modes Visitor information
Cons: Interface is out of date Not changing IP when switching networks Account activation issues No auto scan in the users tab Ads in Free version
NetCut alternatives
If considering NetCut alternatives with similar purpose or in similar "network security" category, we recommend to check the following software:
ESET Smart Security
XArp
Arpwatch
ARP-Guard
ArpON
ARP Guard
Selfish Net
Outpost Firewall Pro
Nmap
FAQ
Q: What is NetCut?
A: NetCut is a program for monitoring computer networks and protecting them against ARP-spoofing attacks.
Q: What is Netcut Defender?
A: It is a protection program only. Basically, it is the same Netcut, except "cut off connection" feature.
Q: How to install Netcut?
A: Download and run the installation package, specify destination folder, install and reboot your PC.
Q: How to use NetCut?
A: Launch NetCut, click scan and wait for it to complete. Then select devices to block access, or the ones to restore access to the network.
Q: How to use fake MAC address?
A: Go to "Options" tab and enable the feature with a setting of your choice.
Q: How to add an item to whitelist?
A: Go to "Users" tab, scan the network, drag an item into the right column.
Q: How to turn on/off NetCute?
A: Navigate to "Users" tab, click the "Defender" button. If it is green then the app is active, and the opposite is red.
Q: Netcut is not working.
A: Check compatibility of NetCut with your Windows. If the OS is Windows 7, 8 or 10, then you need NetCut 3.5 version. Or try re-installing the app with admin rights.
Q: Is Netcut a virus?
A: Not that we are aware of.
Q: Is Netcut legal?
A: Yes, it is. Although, NetCut enables users to block other users, which could be used inappropriately, so legal issues might also be related to human actions.
Q: Can Netcut be traced?
A: No one will be able to trace it. There only could be suspicions and allegations.
Q: How to counter Netcut?
A: If someone uses with malicious intent, the same Netcut Defender could be your protection tool. Or any other similar software for ARP poison routing protection.
Q: Netcut for Android and iOS?
A: There are versions for Windows and Android only.
Q: How to protect PC from Netcut?
A: Look up "How to counter Netcut?" above
Everyone should have this tool.
In my opinion, NetCut is superb and everyone should have this tool. Everyone who uses a wireless network (wi-fi). It provides me the opportunity to kick sassy cunning users or dangerous hackers who can steal sensitive data such as passwords or other private information. I have no problems with NetCut yet, it works stable.
Pros:
Protects against hackers or users who want free access to the Internet.
Aman Agarwal,
2019-09-30 00:14:16
I useit in public networks.
That is an awesome program. I use it when connected to public wifi. As you know, there always are people who use free network for downloading. With this program you can say "Goodbye, annoying people". I often use it in coffee shops when I have the internet as a snail. As a result, I enjoy good connection speed and delicious coffee. I think that Chrome is better suited for use Netcut.
amrazi,
2019-08-15 21:02:43
It gives me the opportunity to play online games.
It`s a wonderful program! I like to play online games, but I cannot do this because there are many people who use (I would say that they steal) the internet! So, now I can kick them (my friends and my brother) from the internet and very comfortably play online games. And they do not even have any idea about the source of their problems with Internet access :).
Shaun Parmisano,
2019-08-14 00:28:57
NetCut allows you to keep unwanted users away from the network
If you have unwanted visitors in your network, especially in wireless, you have to use it. Someone can just use the Internet, but others may steal your personal information and it is very dangerous. NetCut allows you to keep them away from the network. I highly recommend using it.
alex gordon,
2019-07-21 17:43:31
He kicked the one who broke my network.
NetCut works very well. I used previously WiFi kill but it doesn`t work. There are some paid functions but free features enough for me. Today someone hacked my internet and joined. And this program lets me kick it. Perfect job. I recommend using.
Farrukh Azizov,
2019-05-18 03:58:23
Easy to use; Intuitive; May choose adapter I want to protect.
It is convenient to use. There is not any documentation that could help understand using it. I mean, that there no offline tutorial. But Netcut is easy (in my opinion) and intuitive. I use several network connections (have a few adapters) and that`s good that Netcut gives opportunity to select connection i want to protect.
MARK_HENDRY,
2019-04-04 02:51:59
In a few clicks to my internet bandwidth is empty.
This program really helps me. My family completely fill up the bandwidth of the Internet channel by watching online and streaming videos on Netflix and Facebook. Thus, it allows me to cut them off completely from the web. NetCut also has the ability to slow down the Internet, but it seems that you have to buy Pro version to make it.Or, maybe this feature is broken for me... There is one imperfection - you cannot see what Pro version provides... Maybe I would have bought it if I knew its preferences.
Pros:
Well does its job
Easy
Lightweight.
Cons:
Cannot limit the brandwidth
No list of available functions for Free and Pro versions.
KingPopinLockin,
2019-03-20 00:51:30
It`s very useful
I often use it as IT support but only on my work. It`s very useful. NetCut works perfectly on Windows 10 and Chrome Browser. But there is one imperfection: that`s inconvenient if all devices are placed in one column. I think it would be better if they have different icons and will be located in different columns. Either one of these two options.
Cons:
Window with list of the devises.
legendnoobz,
2019-02-27 04:24:54
This software is crap. I think that even a 7-year-old child can do better! It shows a lot of banners soon after installation. I speak about the free version. I wanted to uninstall it but I could not:when I launch the uninstaller (in the folder with the program) it does nothing because Netcut still works. I had to remove it from startup.
11STUPID11,
2019-01-31 08:09:35
Easy to use; Power tool; Free.
I use NetCut for Windows and for Android. Both programs with free licenses. I would like to try the Pro particular these two its function: the total lock and the speed search option. That`s why, perhaps, I`ll pay for a month to try because there is no trial period. I think everyone should try. NetCut offers the power of control and I really like it.
vasyabylba,
2019-01-15 07:05:22
NetCut was the first in the search results.
I use netcut for 2 years. Two years ago I typed in Google "How to disconnect users from Wi-Fi" and NetCut was the first in the search results. I needed such a tool because I liked (and still like) to play online games and often my family members were filling up all traffic. Bad that no version for iPhone, I would pay for it.
dvnnyy,
2019-01-11 03:28:09
I have only positive experience.
Hello everyone. I use NetCut on my laptop and have only positive impressions and experience. It works very well and is pretty helpful. I would try Netcut Pro to see how much it is better than free. But they don`t offer a trial period. I haven`t the opportunity pay for the month Pro because of the situation in my country.
Pros:
It works very well and is pretty helpful
lelouchism,
2018-10-27 05:19:45
It is a great tool if you live in a dormitory.
I live in a dormitory and there is a lot of guys who use my internet. It`s mostly not a problem, but sometimes I need all the bandwidth of the internet or need to disconnect those whom I do not know. Then I get help from NetCut, it allows me to kick them. Thus, it can be a great tool if you live in a dormitory.
Cr4T1v3,
2018-10-22 19:02:52