Do you also get bombarded by advertisement, news alerts, memes, notifications? Well, at least we can get rid of ads. An ad blocker is a software, typically a browser extension, capable of removing or preventing ads from displaying on content viewed by a user. It targets all kinds of distractions such as pop-ups, banner ads, YouTube ads and other forms of online ads so that users may enjoy surfing the Internet calmly.
This does not, however, mean 100% ad removal, as some websites manage to tweak the code to counteract ad blockers (Facebook for example), and some adblock software earn profits by whitelisting companies that pay them to be excluded.
Why use ad blockers? There are 3 justified reasons, basically. One, faster browsing – when a browser has to load less content, it becomes faster, and for mobile Internet this issue is crucial due do expensive bandwidth. Two, privacy protection, a.k.s. safe browsing. It is not news that ad servers track users, monitor their behavior, collect data about which sites they visit, search queries, etc. – adblock software can prevent this. Three, no "malvertising" – due to practices of embedding malware into ads placed on legitimate websites, and even if you never click on an ad, just visiting a site can cause harm.
Types of ad blockers: 
Browser built-in. For example, the latest version of

Opera has it, you just have to turn it on and then can also manage exclusion list. Google Chrome has also rolled out an ad blocker in February 2019 and announced it will go global in July. How will it treat ads owned or served by Google is unknown so far, but it should definitely stop pop-ups, autoplaying video ads with sound, ads with a countdown, sticky ads.

Browser extensions, or browser-based ad blockers.

The most popular type of adblock software. It is based on lists indexing the elements identified as ads, lists present detailed rules which are being called when a web page is loaded.  

Desktop programs.

Apps to

download and install, and they take care of all the browsers used on PC or Mac. Basically, they combine the technology of ad filters and DNS blocking requests. Often, the interface is more convenient too.

VPN with a built-in ad blocker. V

irtual private network (VPN) i

s an encrypted connection over the Internet. It alone won't stop ads but will prevent tracking activities. Many VPN vendors include content filtering and adblocker, such tools

can be downloaded as a separate app, or integrated into a browser.

Network ad blockers.

Ads can also be filtered at computer network level, using a proxy or by blocking specific domain names at DNS-resolution host file level. Such apps can customize HTTP proxy (or web proxy) to filter content. However, such solutions are less popular, probably because they require a certain level of tech skills. Examples are PrivateDNS by Epsilon Eight, AdGuard DNS, hardware devices such as AdTrap, eBlocker, Pi-Hole (for smartphones, smart TVs, third-party apps, streaming services).
10 best ad blockers: real test results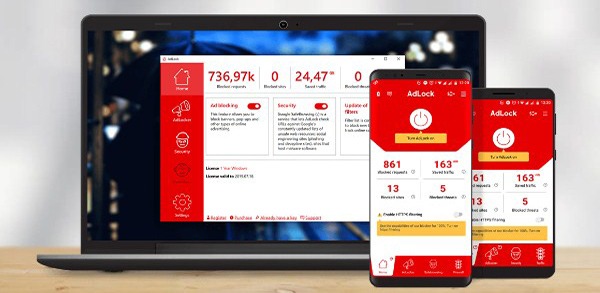 Version: 0.1.15. Size: ~372 Kb. Memory used ~135 Mb.
Comes in 3 forms: desktop version for Windows, browser extension for Chrome and mobile app for Android. AdLock costs $29 annually for Windows and $14 for Android devices, plus there's a 14- day free trial. The ad blocking feature is based on advertising filters (EasyList technology), so the set of rules helps to prevent ads from appearing on a given web page. To effectively do so, AdLock checks all requests sent from the website page to the server and applies filters. AdLock also adapts webpage layout for proper appearance, removing blank ad spaces as well. Users can exclude domains and apps from filtering. Regarding performance, it was the only adblock software to stop absolutely all ads on a test  websites from all products in the current category, including shareware of installed programs.
Pros:
Fast and powerful
Blocks all kinds of ads
All formats available
Cons:
Little functionality
May block Internet access altogether
Improper tech support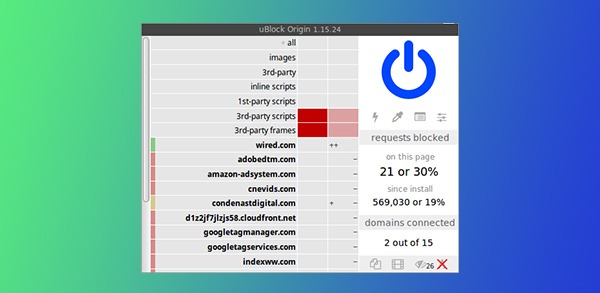 Version: 1.19.6. Size: 2.51 Mb. Memory used ~ 65 Mb.
One of the most popular adblockers as rated by real users, working on the following browsers: Chrome, Opera, FireFox, Microsoft Edge, Safari (macOS). Depending on the region, it installs necessary filters automatically and allows a user to create a personal filter. It contains a large database of filters, and offers numerous functions. It does not break the structure of a website after filtering and blocking. uBlock Origin extension is perfectly capable of removing contextual advertising (e.g. Google AdSense), banner advertising (picture, flash banner, animated GIF banner), analytics and metrics (e.g. Yandex metric, Google analytics). It also aids in web anonymity and prevention of local IP address leaks, disabling JavaScript.
Pros:
Low resource consumption
More features than similar products
WebRTC leak prevented
Cons:
May block additional content
No mobile app, no desktop app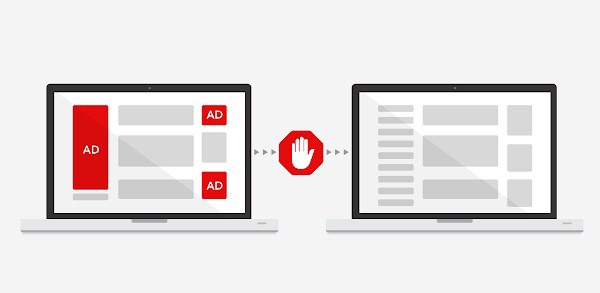 Version: 3.48.0. Size: 5.02 Mb. Memory used ~160 Mb.
AdBlock promises to remove YouTube video ads before you see them, though sometimes they slip through, especially in the middle of video playback. It is the only adblock software that allows whitelisting specific YouTube channels. And this extension gives more control. Left-click on the extension icon to pause it on a current site yor to select a specific ad to remove. We noticed that AdBlock completely removes ads from a page and changes the layout so you won't even see where ads would be. Unfortunately, with multiple tabs open, Adblock is working somewhat slower than other similar ad blockers. Also, it successfully blocked banners (pic, flash, gif) and Google AdSense.
Pros:
It has a very nice interface
Provides malware protection
Has cryptocurrency mining protection list
Cons:
WebRTC leak
No desktop app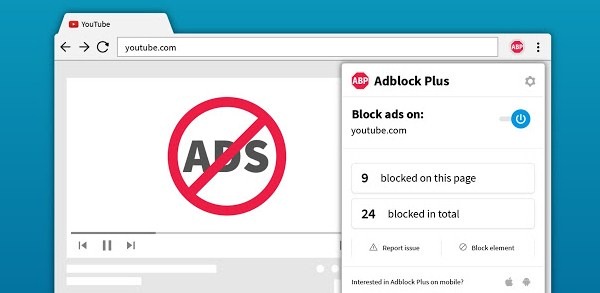 Version: 3.5.2. Size: 1.14 Mb. Memory used ~195 Mb.
This is the only ad blocker so far that allows whitelisting specific YouTube channels. And it offers even more flexibility in decisions left-click and pause it on a current web page, or select a specific ad to remove, pause it for all websites. AdBlock Plus really does help pages load faster without ads, although they still occupy a blank spot on a site. Note: it is impossible to add ABP Chrome extension if IP address is in the USA; for Android devices the choice is either ABP app working with Samsung Internet and Firefox mobile browsers or ABP browser. Also, in Firefox there is a "block an element" feature to manually block (missed) ads.
Pros:
Anti-circumvention filter list
Efficient work
Nice interface
Cons:
Limited manual block-by-element blocker
WebRTC leaking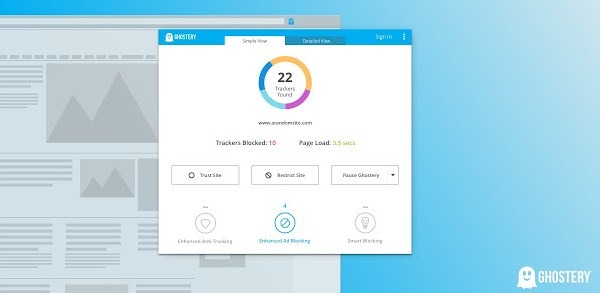 Version: 8.3.4. Size: 5.3 Mb. Memory used ~140 Mb.
Ghostery is the product worth highlighting. At installation, one has to specify settings according to own preferences, and then just enjoy smooth web surfing. Ghostery is an extension for Chrome, Opera, FireFox, Microsoft Edge, Safari, Cliqz, Internet Explorer. It consumes about 140 Mb of RAM when at work. It is free, but also has a premium subscription, costing $2 per month. "Cleaner, faster, safer" – is the motto, as Ghostery offers options for users: block all ads, block ads on certain sites, block advertising elements on each specific site, block/unblock trackers, use anti-tracking to protect privacy.
Pros:
Setup at installation
Modern interface
Tutorials and video guides
Cons:
No ability to apply own filters
Basic functionality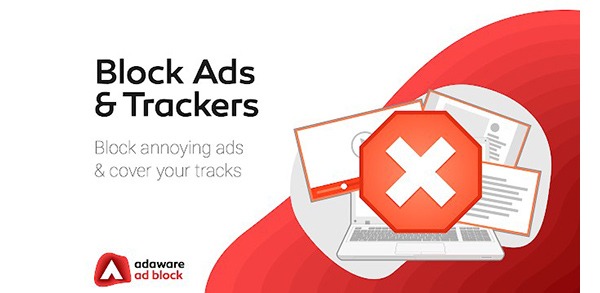 Version: 2.0.3.7. Size: 2.8 Mb. Memory used ~130 Mb.
Less known but decent ad blocker from Adaware, mostly famous for antivirus products. It has many filters and ability to add personal filters. It blocks website ads, popups and video ads. Available for Google Chrome, Mozilla, Mozilla for Android. It provides lots of control options for users: block ads and tracking software, accelerate browsing speed, whitelist web pages and/or YouTube channels, get antivirus-level protection, and disguise digital footprints at the same time. So basically, we have an adblocker and anti-malware/anti-spyware 2-in-1 tool. In result, smooth web surfing, uninterrupted videos, protection from dangerous content.
Pros:
Blocks all ads
Based on antivirus engine
Protects from malware
Cons:
High resource consumption
WebRTC leakage
No desktop version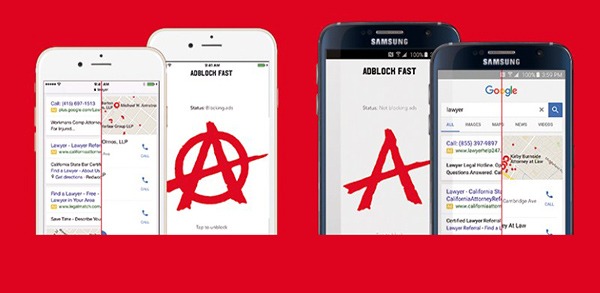 Version: 1.5.0. Size: ~256 Kb. Memory used ~45 Mb.
Chrome, Samsung browser (Android), Safari (iOS) or Opera extension + web acceleration make up Adblock Fast. It is free to download and install, and moreover the source code is available too for those who want to modify the product. Unlike other ad blockers, these guys went the other way, meaning not stuffing the app with thousands of filters (useless anyways, as they claim) and instead have just 7, to be able to speed up page loading and use less CPU. It seems like its developers have unfinished business with Fast because it misses out many ads still, and all functionality is enable/disable only.
Pros:
Free and open source
Fast work
Light on PC resources
Cons:
Poor ad blocking actually
No options, no settings
WebRTC data leak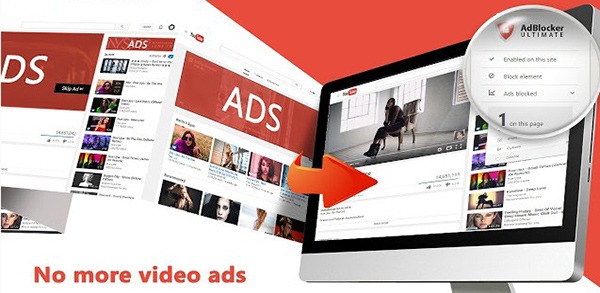 Version: 2.36. Size: 4 Mb. Memory used ~50 Mb.
An excellent product – a browser adblock extension for Chrome, Opera, Mozilla, Edge, Safari, Yandex, IE. With very similar set of features to the top-5 blockers, incl.AdBlock, ABP, AdLock, uBlock, it is also the one that consumes the least PC resources (50 Mb of memory, 4 Mb disk size, 0-12 CPU load). It is completely free, and unfortunately does not provide whitelisting options. Watching videos, playing games or simply getting work done without misleading, flashing and often intrusive ads is enjoyable with Adblocker Ultimate, which also takes care of user data tracking, malware, spyware, etc.
Pros:
Low resource consumption
Fast and efficient
Page elements block
Cons:
Limited functionality
WebRTC leak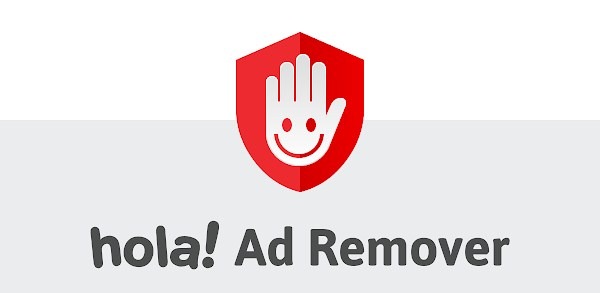 Version: 5.10.0. Size: 5.25 Mb. Memory used ~90 Mb.
Even the trial version, without configuration options, does a good job of keeping ads away. When you visit the official site to download, it automatically detects your browser and offers a proper extension (overall available for Chrome, Firefox, Microsoft Edge). No free version, only 7-day trial and then two options: pay $10 per month, or buy annual subscription for $40. When "Disable on this website" button is pressed a web page will reload with exception enacted. In the right top corner it also displays the number of ads blocked on a given site and a total number. 4.9 of 5 user reviews in Chrome Web Store.
Pros:
Blocks ads effectively
Anti-tracking included
Improves load speed
Cons:
No settings available for trial version
WebRTC leak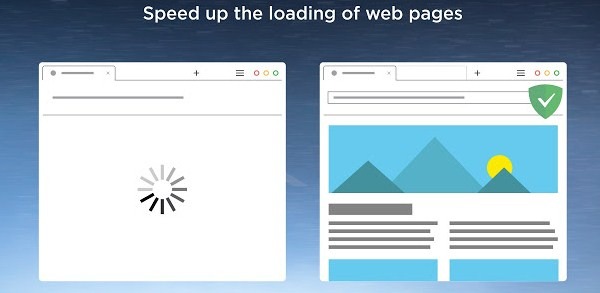 Version: 3.0.14. Size: 4.9 Mb. Memory used ~90  Mb.
AdGuard blocks all ads and adware, including video ads, pop-ups, rich media advertising, text ads. It also ensures user privacy by blocking third-party tracking systems and even spyware. AdGuard is available for many browsers (Chrome, Opera, FireFox, Microsoft Edge, Safari, Yandex Browser) and platforms – Windows, Mac, Android, iOS. It is really also appropriate when family members use several browsers, as all settings are centralised in a single interface. It can even hide ads in applications such as uTorrent and Skype. On the other hand, in many cases it seems to be impeding Internet connection noticeably, and productivity in terms of blocking ads varies (on Chrome and Firefox seems to be best).
Pros:
Phishing and malware protection
Stealth mode
Prevents WebRTC leaks
Cons:
Missed Yandex metric and Google Analytics scripts
Blocked the desired content on several sites

FAQ
Q: What is the best adblock for Chrome?
A: As of February 2018 Chrome started blocking pop-ups and ads itself in Europe and North America. At the same time, it applied changes that restrict ad blocking extensions to a certain extent, i.e. AdBlock and AdBlock Plus won't work. You can try external programs like AdLock.
Q: What is the best adblock for Safari?
A: Multiple tests confirm that AdBlock Plus (ABP) is the most effective adblock software for Safari.
Q: What is the best adblock for Opera?
A: Opera has an in-built ad blocking feature so, basically, there's no need for any extension, just switch it on in settings. But few ads will slip here and there, so if you really hate ads, we can recommend AdBlock.
Q: What is the best adblock for Firefox?
A: AdBlock Plus and AdBlock are best browser ad blocking extensions for Firefox, probably.
Q: What is the best adblock for adblock for IE?
A: AdBlock Plus and AdBlock will do.
Q: How to block ads on Youtube?
A: Install a browser extension or download a desktop app (check any of the abovementioned) and it will do the job. To remove Youtube ads on mobile devices, you have to visit Youtube via an ad-free browser.
Q: How to block ads on Facebook?
A: You can do it with AdBlock and with other extensions, e.g. Social Network Adblocker (currently, for Chrome only). Facebook is one of the companies known for successfully fighting back against ad blockers. As practice shows, after several rounds of modifying the code to hide ads on FB,  plug-ins are unable to identify and block ads without causing the design to crash or glitch.
Q: How to block ads on phone?
A: Use an ad blocking browser, for example, Opera or AdBlock browser. Also, for Android, you can install adblock software as .apk directly from vendor websites, e.g. AdLock, NordVpn.
Q: How to block ads in apps?
A: One way is to download AdBlock Plus, NordVpn or AdLock .apk for Android phones and install following the instructions. There is no way to block in-app ads on iPhone except using a network ad blocking device (see the "Types of ad blockers" section above).
Q: Is adblock software safe?
A: Yes, it is 100% safe.
Q: Are ad blockers legal?
A: You have the right to decide what content you want to see on your devices. Some companies tried to dispute the right of adblocking software producers to distribute it because of actual profit losses incurred, but in vain so far. For example, Adblock Plus won a trial case in German court and proved their service is legal.
Q: How to detect an adblocker?
A: JavaScript and certain widgets, WordPress plugins might be of use.
Q: How to get around adblock?
A: It is possible to "fool" browser extensions with rules to detect ads. For instance, banners of a slightly different size than usual, or titles that do not contain words "ad", "banner".