YouTube is known for notoriously persistent ads. From one short ad at the beginning of the video to sometimes two ads now, and one in the middle and one at the end, surely. If one does not click Skip, it would keep going for minutes. As MacOS users often cannot use certain software (only Windows versions), we'd like to highlight ways to block YouTube ads on a Mac. These include browser extensions (Safari, Chrome, Firefox, Opera) and desktop applications. We focus on 2 factors mainly: effectiveness and impact on page load speed.
Block YouTube ads in Opera
Option 1: Built-in adblock function. This is the easiest and fastest option in Opera. It does not require to find and install anything, and it's not hidden somewhere in the settings. The moment you enter Opera browser, it suggests to enable ad blocking option.

For options, click the blue icon on the right. If it's not there, click the Easy Setup icon and scroll down – find a slider under the Privacy & Security section. Hit it and the adblock icon will appear. But most of all, we have to check how does it block YouTube ads. Half an hour of listening to the latest hits goes by and not a single video ad or picture-in-picture ad has appeared. Test passed.
Opera website claims that the adblock is able to increase page speed up to 90%. During our use, we've registered a 50% increase, which is still a great result.
Option 2: Opera add-ons. AdBlocker for Youtube is one of those Opera extensions specifically tailored for YouTube. It does its job well, though one or two video ads still slipped, an in-picture banner surfaced as an empty frame. No page banners were seen. Minimal interface, just two sliders, a real gift for those who like to keep it simple. Regarding page load speed, in our case YouTube videos have been opening from 21% to 36% quicker without ads (29% on average).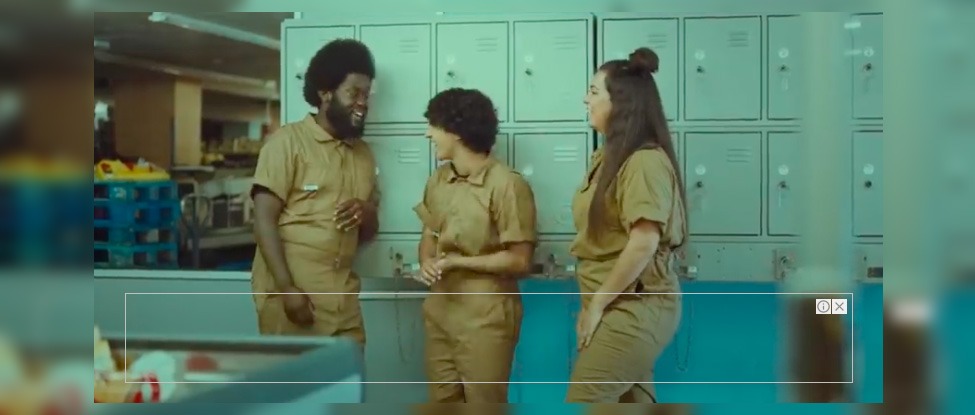 Read next: Adblocking Opera add-ons.

Stop YouTube ads in Chrome
AdBlock is among the most popular YouTube ad blocker extensions. It has a plain window with basic functions like disabling ad blocking on a current page. In settings it has more functions, including customizing filter lists, whitelisting, statistics, as well as contacting the support team.
One of the features is particularly useful for active YouTube viewers. In the General tab you can tick Allow whitelisting of specific channels. This way you can support favorite content producers (as they get money from advertisers) while still blocking ads elsewhere.

AdBlock is another free extension, although donations are welcome. There is also a Premium license, however its benefits are insignificant. Our little YouTube ads test: pass. Yet AdBlock appears to be slowing the pages instead of speeding up: +30% on average. In some cases videos were loading in 6-8 seconds. Also, we've noticed that this Chrome extension has been consuming 350-400Mb of RAM.
To make it three and show enough variety, there's also uBlock extension. In our experience, it was performing better than AdBlock. A few video ads have appeared for half a second, and were gone just before sound started. In some cases, a blocked banner caused some mess in the page layout. Picture-in-picture banners were blocked successfully.

All in all, we consider a test passed, with minor flaws. Regarding the load speed, uBlock has not been explicit. At times videos loaded 5% faster, other times it was 30% slower, and often it was the same. Generally, it took 2 to 3 seconds to start videos.
Read next: Adblocking Chrome extensions.

Firefox addons
Nothing different with Mozilla Firefox browser and tools to block YouTube ads in it. Let's drop two examples. AdBlocker for YouTube by German vendor shows positive results. It does not have any icon in the window, so to disable it, you need to go to Menu-Tools-Add-ons and find it. It has no option to whitelist YouTube channels.

One might find it disturbing that this add-on asks for permission to access user data on all websites and to all browser tabs. Why does an app designed to block YouTube ads only, require all that data? No idea and no explanation from the vendor. Yet it works well, blocks advertisement and causes clips to load ~30% faster.
Another example with a cute design is Ghostery. When you click on Ghostery icon you will see the amount of ads and trackers blocked and page load time (most ad blockers do not display such info). You can also mark a current website as Trusted or Restricted to manage tracking. Even though Ghostery is primarily an anti-tracking tool, it hides ads just as well, not a single ad has  appeared while testing. Load speed impact is minor, only getting around 5%.

Safari extensions blocking ads
Blocking ads on a Mac primarily involves the Safari browser. There's no shortage of tools for it either. Ad And Stuff Blocker is one, and it looks ascetic: just it on the extension tab of Safari, no icon in the browser. And 2 functions only: enable/disable and whitelist. In terms of performance, it halts  in-picture banners, but lets some side banners through. It blocks video ads yet in some cases it may result in a black screen instead of video. Also, the layout of the Up Next column may get affected, which is a minor flaw.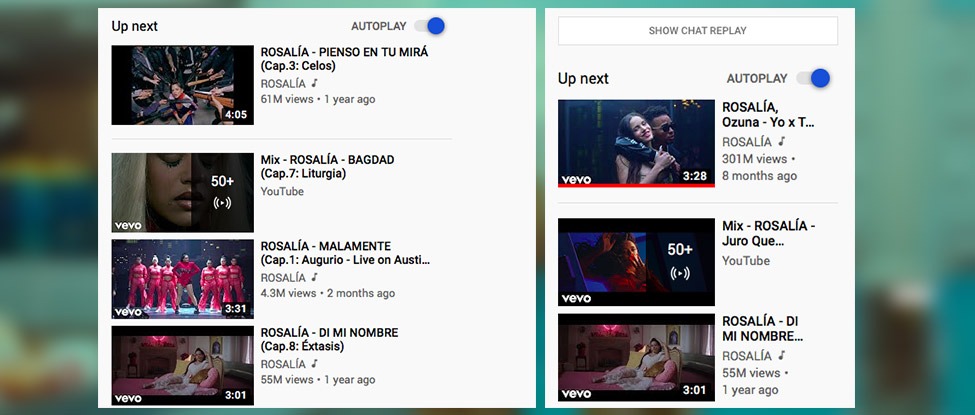 AdGuard for Safari is one of the most space-occupying YouTube ad blockers. Apart from being visible in the launchpad, in the dock, and in the browser, it also has 7 separate extensions in Safari Extensions manager page. A small window in the browser allows you to enable/disable AdGuard on a current page, report a page, or block an element. AdGuard performs great, we've detected no flaws during use. It has no option of whitelisting a particular YouTube channel, though advanced users may do this in the Rules.


Multi-browser ad blockers
If you are switching between different browsers, it might be inconvenient to use different ad blockers.  In this case, one might want to consider a regular desktop application that will cover all the browsers and even programs containing ads. These apps are naturally more expensive. We have tested two multi-browser ad blockers on four browsers that are popular among Mac users: Safari, Chrome, Firefox, and Opera.
AdGuard supports Safari, Chrome, Firefox, Edge, Opera, Yandex browsers. Previously, we've tried AdGuard for Safari. The AdGuard app that you install on a Mac, is working just as well. However, Chrome may not block all the ads without the extension. It is not free, but has a 14-days trial.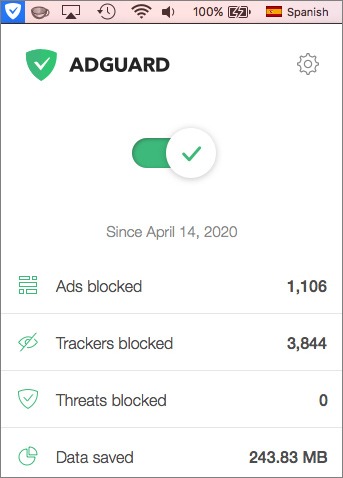 Ghostery Midnight works in Cliqz, Firefox, Chrome, Opera, Yandex, Safari, Edge, and Internet Explorer. It also contains such extra functions as VPN and anti-tracker. It is installed as a separate app and also has an extension for each browser. It works for YouTube ads greatly, it does not affect page load time much (not more than -5%). All in all, via a 7-days trial you can decide if it is worth it. Read more in Ghostery review.

Summary
As you see, there's no problem in finding suitable tools for MacOS when you want to block YouTube ads while surfing the web. Of all the examples of extensions and programs, we've made a brief summary table with key findings.
Ad blocker (browser)
YouTube ads blocked
Page load time impact (avg)
Pros
Cons
Opera adblock

100%

-40%

Built-in tool, effective and fast

Opera only

Adblock for Youtube

(Opera)

80%

-30%

Easy, fast, light on resources

Does not block 100% of ads

AdBlock

(Chrome)

100%

+30%

Whitelisting YouTube channels

Consumes a lot of RAM

uBlock Origin

(Chrome)

90%

0%

Customizing filters

Video ads blink before disappearing

AdBlocker for YouTube

(Firefox)

100%

-30%

Minimal and efficient

No button for quick disabling

Ghostery

(Firefox)

100%

+5%

User-friendly

Inside ads

Ad And Stuff Blocker

(Safari)

80%

0%

Minimalist, little impact on RAM

May shift of YouTube layout

AdGuard

(Safari)

100%

0%

Plenty of configuration options

Multiple extensions running

AdGuard (Multi-browser)
100%
0%

Filters

Requires Chrome extension
Ghostery Midnight

(Multi-browser)

100%

-5%

Extra features

High price
We've also tried out more ad blockers and found several that do not block ads on YouTube properly, and therefore we do not recommend it:
Firefox

: Clean YouTube.

Chrome

: AdBlock Plus, Enhancer for YouTube.

Safari

: AdBlock, Magic Lasso, uBlock.
Some extensions from the same vendor do not perform equally in different browsers. As our tests show, uBlock and AdBlock are good in Chrome, but not Safari. Remember, our list of examples is not exhaustive in any way, there are plenty of other tools. 
Read next: Top adblockers that actually work.

FAQ
Q: How to block YouTube ads?
A: Download an ad blocking extension for your browser. The recommended ones are AdBlock for YouTube, Ghostery, AdGuard.
Q: How to block YouTube ads in Safari?
A: Download an ad blocking extension, e.g. Ad And Stuff blocker, AdGuard.
Q: How to block YouTube ads in Chrome?
A: Download an ad blocker extension such as uBlock and AdBlock.
Q: How to block YouTube ads in Firefox?
A: Get an ad blocker, for example, AdBlocker for YouTube, Ghostery.
Q: How to block YouTube ads in Opera?
A: Opera has a built-in ad blocking function. To enable it, go to Preference > Privacy Protection > Block ads and surf the web faster.
Q: Is there an adblock that works in many browsers?
A: Yes. If you download a no-root ad blocker, such as AdGuard or Ghostery, it will block ads on all the browsers and apps.
Q: Does AdGuard support all browsers?
A: AdGuard works with the most popular browsers: Safari, Chrome, Firefox, Edge, Opera, Yandex.
Q: Does Ghostery work with all browsers?
A: Ghostery works with Cliqz, Firefox, Chrome, Opera, Yandex, Safari, Edge, and Internet Explorer.
Q: How can I disable ad blocking on a specific YouTube channel?
A: AdBlock extension has this function. To enable it, go to Extensions > AdBlock > General > Allow whitelisting of specific YouTube channels. If you use different ad blocker, you will have to disable ad blocking manually and refresh the page every time you watch videos where you want to see ads.
Q: AdBlock vs AdBlock Plus vs AdBlock Pro
A: These are different ad blockers from different developers that use similar names and similar logos. AdBlock seems to be the most original and better performing extension.
Q: Do ad blockers slow down YouTube?
A: It depends. In most cases, it does not slow down YouTube and in some cases it even increases the speed of page loading. Try disabling ad blocker and then enabling it again. If the change in page load time is noticeable, consider changing your ad blocker.
Q: Does an adblocker make YouTube load faster?
A: Yes, some ad blockers increase the speed of YouTube loading, since they omit downloading ads. Page load time may vary depending on the ad blocker, browser, the amount of tabs open, quality of the video, and other variables.
Q: Is ad blocking safe?
A: Ad blocking itself is safe, but some ad blockers may have malware/adware inside or make a profit from users personal data. Make sure to use products from reliable developers or use privacy and malware protection apps to stay safe.