Indie games, as alternative to games by big companies, are created by independent authors who, often, do not have support from publishers. Established gaming companies, as a rule, avoid taking risks to produce something unusual because of potential loss of profit.
Developers working on experimental projects independently often have ingenious ideas, and as result, indie games can be very surprising, have innovative gameplay or inspiring plot. Although if you are looking for rich graphics and detailed animations, you are still better off with high-profile games.
Anyhow, year by year the market share of indie games grows. Recent tech advances, like open source libraries and game engines, commercial middleware for free or at proper low cost, and (!) with all the helpful manuals, only facilitate indie game development. Surely, some products with small budgets end up openly trashy, while some of those indie games are really enthralling for hardcore gamers.
10 popular indie games for PC, PS, Xbox, Nintendo
There are all kinds and sorts of games, and before we indulge in sharing our gaming experiences (we can't wait already), we should mention several genres and sub-genres of indie games:
Platformer

(platform game) is a video game genre where the character will jump between various platforms (hence the name), overcome obstacles, collect items to get to a new level.

Metroidvania

(derived from Metroid + Castlevania) is a subgenre of action/adventure video games, which has a gameplay similar to

Metroid

and

Castlevania

series. Games in this genre represent huge  interconnected worlds for gamers to explore, with areas blocked by doors and to unlock them one has to discover certain tools or skills.

Roguelike

is a subgenre of RPG characterized by random, procedural level generation, turn-based gameplay, tile or

ASCII-graphics

and permanent death of the character in case of defeat. The name originates from the game called Rogue created in 1980, and considered the first of its kind.
So if you are in search of some popular indie games, here are our suggestions in alphabetical order.
Developer/Publisher: Matt Makes Games Inc.
Release date: 1/26/2018
Genre: platformer
Platforms: Steam, Itch.io, Nintendo Switch, PlayStation 4, Xbox One, macOS
Game engine: XNA
A single-player adventure with a touching and intriguing plot – reach the Celeste mountain as the main character, cute Madeline. On the way, you have to overcome both outside difficulties and her inner demons. Controls are simple, just jump, climb and air-dash.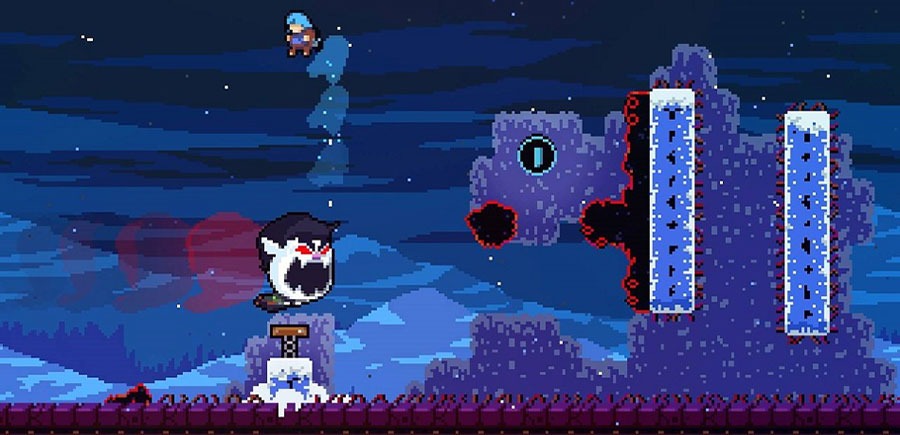 The gameplay is quite unusual and the nice pixel graphics make it very absorbing from the first level. There are a lot of special dynamics different from other platformers. A soundtrack with electronic beats and piano adds to the atmosphere. Celeste won Best Independent Game 2018, Games For Impact awards and is the nominee for many others.
Who will love it? Fans of Super Meat Boy and Slime-san, people who are interested in psychology and stories about self-actualization.
Gamer tips:
Take the slogan "Just breathe. You can do this" literally.

There is no time limit, so take your time when it seems hard.

Use the mid-air dash to full extent.

Feel free to leave those flying strawberries alone from time to time.

Celeste has got an innovative "assist mode" where you can adjust the game if you are a beginner at platformers. You can slow the action down, increase stamina, extend mid-air dash, etc.

Also, there is a Variants mode (kind of anti-Assist Mode) unlocked after a player completes all C-Sides. It presents options to make the game harder.
Minimum system requirements (PC): Windows 7/8/8.1/10, Intel i3 M380, 2GB RAM, 1.2GB disk space, video card Intel HD 4000, sound DirectX 10.0.
Pros:
700+ screens with secret traps
Perfect level design
B-side chapters which only the most tenacious gamers can unlock
Assist mode for beginners and Variants mode for champions
Cons:
Boss sequences can be hard
Graphics could be better, the combination of pixel art, slick portraits and text boxes seems strange
Pricing. Steam $10, Itch.io $19.99 USD, Nintendo Switch $19,99, PlayStation 4 $24, Xbox One $19.99, Widows $19.99 (both on Amazon and Microsoft.com).
Developer/Publisher: StudioMDHR Entertainment
Release date: 9/29/2017
Genre: run-and-gun, platformer
Platforms: Microsoft Windows, Xbox One, macOS
Game engine: Unity
This indie game is a high-quality, classic platformer. Cuphead has well-crafted visuals and audio. Especially, the old-school jazz soundtrack, which along with hand-drawn cartoons in 1930-ies style create a special atmosphere. The game won't bore you or let you relax, as the bosses and levels are very diverse. It is always played in one breath.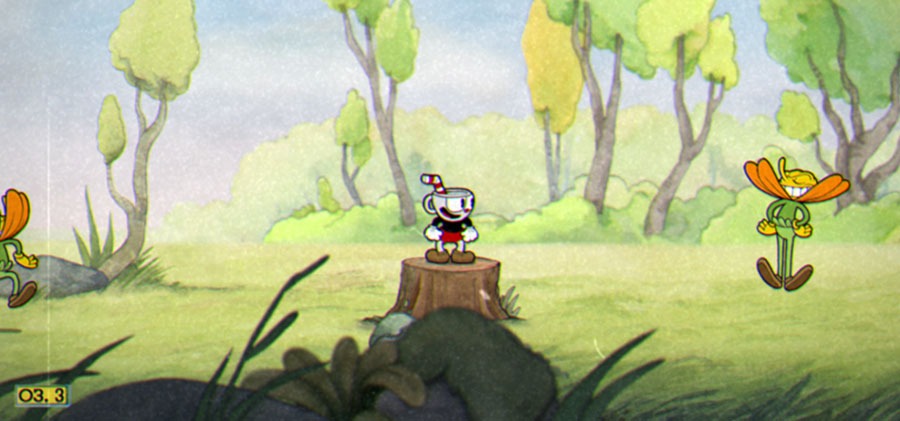 There are two types of levels: only bosses and run-n-gun. The number of bosses is about 30, each of them is unique and puts a gamer through different trials, with several phases. The game is hardcore (you're going to die many times), easy to control but difficult to win. There are several types of weapons and skills to choose from, a mini-lobby where one can study the map. There is just one unexplained issue…  what is actually poured in the heads of the main characters?
Will you love it? Well, if you like the challenge (gameplay is often described as "unforgiving") and simplicity (basically, just shoot enemies and avoid being shot), try it.
Gamer tips: With each effort to beat a boss, you derive battle patterns (e.g. to avoid some movements). Mind that even when ready for it, a mistake can prevent you from winning. Also, there are only 3 health points in Cuphead – so take time to practice. Do not stand still when playing, or you'll be caught and killed – it is a run-n-gun game, at last.
Minimum system requirements (PC): Windows 7/8/8.1/10, Intel i3 2100 or AMD Athlon II X4 640, 4GB RAM, 15GB disk space, video card nVidia GT240 or AMD 5570, sound DirectX 9.0.
Pros:
Incredible visuals and audio
Bosses created thoroughly and with imagination
Variety of levels
Cons:
Very difficult, not recommended to people prone to rage-quitting
Not replayable
Minor bugs in few places
Pricing. Steam $20 (depends on region), Xbox One $19.99, Windows $19.99, Mac $19.99. Amazon sells it for $19.88 (for Windows) and $19.99 (Xbox). Cheaper version for $12.59 at GOG.
Developer/Publisher: Motion Twin
Release date: 8/7/2018
Genre: roguelike, metroidvania
Platforms: Microsoft Windows, macOS, Linux, PlayStation 4, Xbox One, Nintendo Switch
Game engine: Unity
The Best Action Game 2018 Dead Cells combines the elements of a 2d platformer, Metroidvania and classic roguelike games. Like in all roguelike games, levels are generated randomly and after death, you have to start from the very beginning. It really captivates and you replay it again and again. Mind that the more you play, the more variants of walkthrough appear, you can unlock them with so called "special abilities".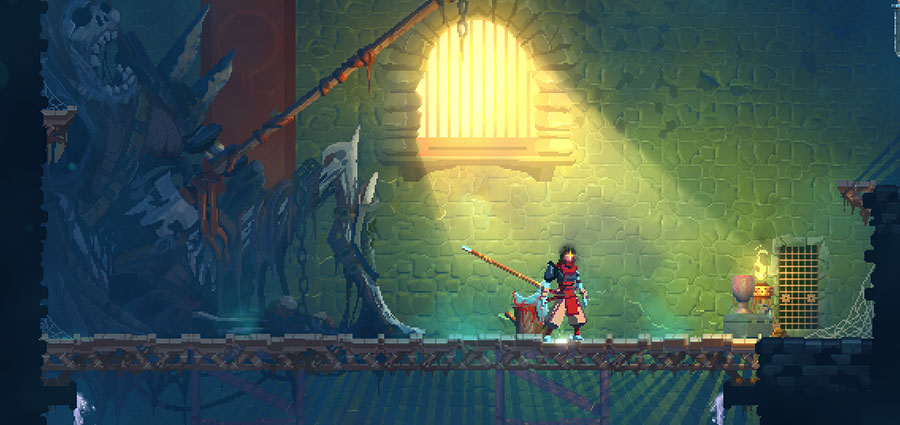 The game looks very pleasant graphically. There is no plot or story, and no need in it anyway. Each time absolutely new locations are generated, so you won't encounter two similar locations. Gamers should gain special skills that empower certain abilities, there is a variety of short-range and long-range weapons too. Each monster has its own abilities which means a diversity of tactics for fighting them. After each death, a player loses progress except permanent abilities that were unlocked.
Maybe, one of the secrets of Dead Cells success is that the creators really listened to audience. Sébastien Bénard, lead designer, admits that after early access, the team made many changes, and up to 50% came from player feedback.
Who will love it? Gamers who like it hardcore and have enough time to start from scratch again and again. Also, those for whom beautiful design matters.
Gamer tips: Regularly use grenades and traps, they aren't for special occasions. Freeze, stun and slow enemies as often as possible. Search for 3 upgrade runes, they will open up new paths. Look attentively on the walls and find bricks that grant additional money and health.
Minimum system requirements (PC): Windows 7/8/8.1/10, Intel Pentium+, 2GB RAM, 500 MB disk space, video card Nvidia 450 GTS / Radeon HD 5750, sound DirectX 9.0.
Pros:
Convenient character control
Curious levels generation system, secret rooms, hidden passages and paths
More than 50 weapons and spells
Cons:
Will be too hard for some people
No plot whatsoever, no variety of music
Pricing. Steam $12 (depends on region), Nintendo Switch $24.99, PlayStation4 $30, Xbox One $24.99, Widows $24.99 (both on Amazon and Microsoft.com). Or buy it on GOG for $12.49.
Developer/Publisher: Ninja Theory
Release date:  8/8/2017, 04/11/2018
Genre: action-adventure
Platforms: Microsoft Windows, PlayStation 4, Xbox One
Game engine: Unreal Engine 4
Hellblade won the Best Action and Adventure Game 2017 award, and still is relevant in 2019, yet very peculiar. The main character in this indie adventure game, Senua, is struggling with mental illness, hearing voices in her head and seeing hallucinations. Lots of blood and violence so it's no surprise that Hellblade has PEGI Rating 18+.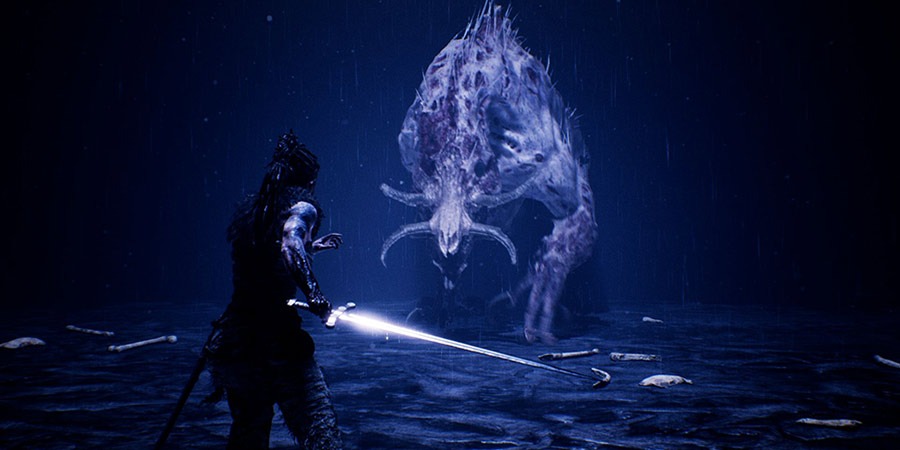 It is inspired by Celtic mythology and culture. High-quality beautiful graphics and sound paint a horrific world very vividly. The simplistic combat system has already became a classic in recent years, although some players complain about battles being a bit repetitive.
The plot of this puzzle-like walking simulator is amazing and full of sudden turns. Senua character looks gorgeous and has nice animation. Her inner world makes players empathize. By the way, it is only fair that Melina Juergens, the actress for Senua, received Bafta Games award. Yet, not everyone will find this journey into madness desirable.
There is no head-up display (HUD) in this indie slasher, but everything is conveyed with visual effects and sounds. For example, instead of health bar we see blood marks on the screen and sounds of Senua's heartbeat. So who will love this game? Probably, people who are fond of story-driven games.
Gamer tips: Develop strategies for fighting all types of enemies as they will show one by one, because as you proceed further they will attack in groups. To solve puzzles, study the environment carefully. Collect the lore stones to access additional stories.
Minimum system requirements (PC): Windows 7/8/10, Intel i5 3570K or AMD FX-8350, 8GB RAM, 30GB disk space, video card GTX 770 2GB / Radeon R9 280X 3GB, sound DirectX 11.0.
Pros:
Vivid atmosphere and a lively main character
Brutal melee combat
Hardcore: no tutorials, no HUD
Cons:
Battles are quite simple and repetitive
The puzzles are not very diverse (all perspective-based)
It is more of an interactive story than a video game
Pricing. Steam $14 (depends on region), Microsoft Windows $29.99, PlayStation 4 $29.99, Xbox One $29.99. Or buy it for $11.52 on GOG.
Developer/Publisher: Team Cherry
Release date: 02/24/2017, 06/12/2018
Genre: metroidvania, action-adventure
Platforms: Microsoft Windows, macOS, Linux, Nintendo Switch, Xbox One, PS4
Game engine: Unity
A nice game among best indie games with grim yet minimalist hand-drawn art style. This metroidvania with a platforming challenge is crafted in the best tradition of its genre. Lots of various levels and interconnected areas. As you enter a new area, you have to find a Cartographer and buy a map. You can see your position on the map only if you carry a specific Charm.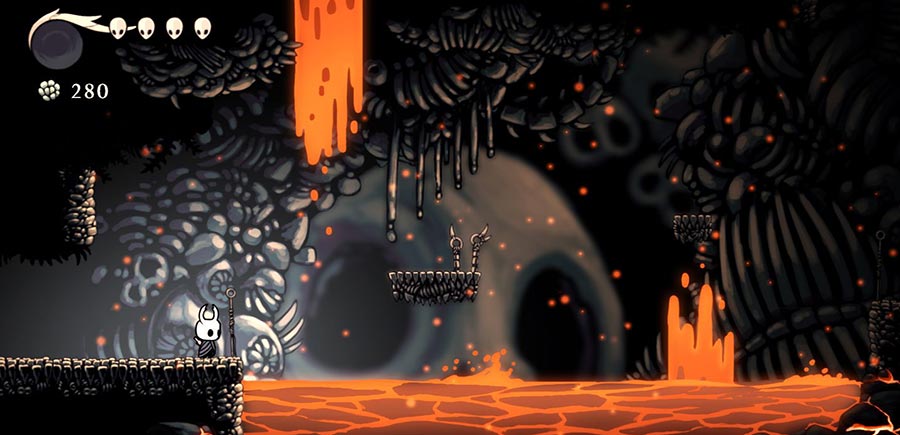 Diverse mechanics and several endings depending on your actions. A catching authentic soundtrack. There are more than 100 types of enemies, also there are friends and neutral entities, the bosses are diverse and difficult. Combats are very dynamic. When defeating the bosses a player gets new abilities. Same with acquiring new items – it grants you new movement abilities, e.g. Monarch Wings allows you mid-air jumping, and wearing Mothwing Cloak you can dash.
The plot is interesting and complex, though somewhat vague. The player controls a silent, nameless, insect-like knight with a nail – a.k.a. sword. It has four content updates: Hidden Dreams, The Grimm Troupe, Lifeblood, Godmaster which provide additional creatures, bosses, charms and even two new endings (Godmaster). A sequel to the game, Hollow Knight: Silksong, is currently in development.
Who will like it? Those who enjoyed Dark Souls, definitely will, and maybe others, who can tell.
Gamer tips: find a Cartographer as soon upon arriving at new location. Look for vendors and carefully select charms.
Minimum system requirements (PC): Windows 7/10, Intel Core 2 Duo E5200/Intel Core i5, 4GB RAM/8 GB RAM, 9GB disk space, video card GeForce 9800GTX (1GB) / GeForce GTX 560, sound DirectX 9.0.
Pros:
An unusual world, cool atmosphere
Elaborate NPC characters to meet
Tight controls
Cons:
Spaced out checkpoints
The plot is vague
The necessity to buy and elaborate on a map each time is more frustrating than fun
Pricing. Steam $14.99 (depends on region), Microsoft Windows $14.99, macOS, Linux, Nintendo Switch $14.99, Xbox One $11.99 (discount)/$14.99, PS4 $14.99. Or buy it for $5.22 on GOG.
Developer: Lazy Bear Games (Russia)
Publisher: tinyBuild
Release date: 8/15/2018
Genre: simulation, RPG
Platforms: Windows 7/8/10, Linux (Ubuntu 16.04/18.04), Mac OS X 10.11+, Xbox One
Game engine: Unity
A  medieval cemetery management simulation is just one of the aspects of this game. In fact, you build your own business here, with resources (guess what are they at a cemetery), trade, various quests from NPCs. The world inside is truly extensive and at full discretion with lots of options: organize witch-burning festivals, craft items, trade body parts, build your character as you wish. Enjoy the dark humor alongside.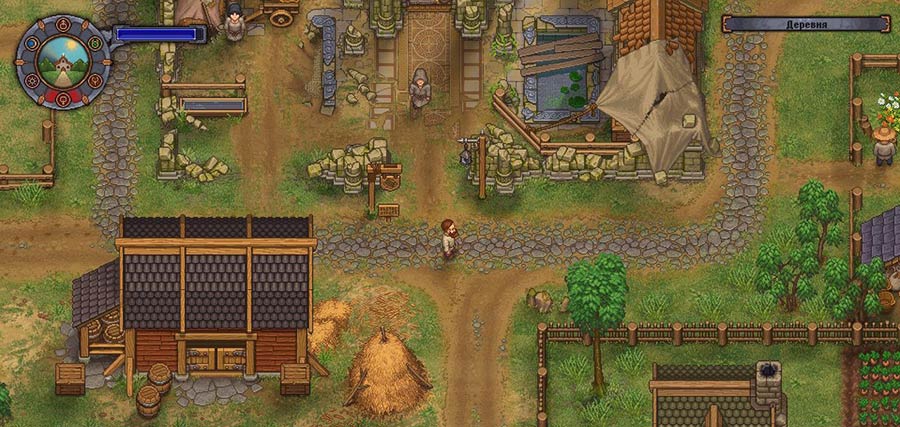 Graveyard Keeper is also a full-fledged RPG with quests, craft, management, construction and development. It comes with funny 2D graphics, nice audio design, and a quite simple (if any) plot. The combat system is included, NPCs are not static but very vivid, they travel around game world and are thoroughly developed (for example, check out the Astronomer in the Tavern if you meet him, he's there only on some days).
Recommended for: those who enjoy Stardew Valley and fancy farming.
Gamer tips: Pay attention where to put stuff, also pay attention to days/dates, for some of the characters appear only on certain days. Listen to NPCs talks. Spend green and red skulls (got for positive daily performance) to develop technologies. Also, monitor the condition of corpses – to gain more points.
Minimum system requirements (PC): Windows 7/8/8, Intel core i5, 1.5 GHz and up, 4GB RAM, 1GB disk space, 1GB dedicated video card, shader model 3.0+, sound DirectX 10.0.
Pros:
Lots of various gaming activities
Elaborate tech tree
Great quests
Cons:
Too much focus on farming system, and may seem dull as result
No inventory upgrades
Lack of direction and urgency
Pricing. Steam $$14.99 (depends on region), Xbox One $19.99, Windows $19.99, Mac $19.99. Amazon sells it for $19.88 (Windows) and $19.99 (Xbox). You can buy it for $10.49 on GOG.
Developer/Publisher: Subset Games
Release date: 2/27/2018
Genre: simulation, RPG, turn-based strategy
Platforms: macOS, Microsoft Windows, Linux, Nintendo Switch
Game engine: none, pure coding.
This game is definitely not for everyone. Yet, connoisseurs of the genre will like it as a breath of fresh air. It is  a turn-based strategy (players take turns) with variety of tactics, mechanics, and executed in skillful pixel art. Minimalist indie game yet with lots of tactic nuances. Each mission has specific objectives which could be different each time depending on the specifics.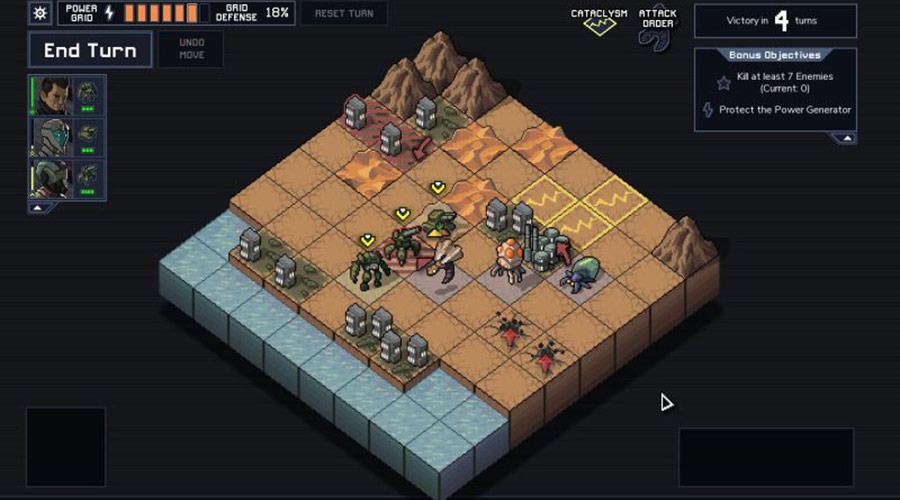 The plot is this: a group of last survivors on Earth fights against alien giant creatures. Players have access to maps, and often Into the Breach fans call it a "Battle Chess". Because, like in chess, there is no random factor during combat: an attack inflicts a fixed amount of damage, you understand enemy intents and decide how to react. Each map represents a 8×8 grid where every unit, building, and mountain occupies a single space.
Basically, what you have to do is to destroy or protect certain buildings and units. Landscape is important during the combats: on each new map random events may happen which will impact the fight. And the variety of enemies is stunning. Who will love this indie game? Strategy fans too tired with the same old games, but that's only our subjective guess.
Gamer tips: Evaluate enemy attacks and focus on those aiming at key objects. Get the special upgrade that makes troops cause no damage to civil buildings when smashing the enemies. Prioritize your buildings and allow the mechs to take hits – they will regenerate after the battle, unlike the power grid.
Minimum system requirements (PC): Windows 7/8/10/Vista, 1.7+ GHz, 1GB RAM, 200 MB disk space, OpenGL 2.1 or higher, Intel HD 3000 or better.
Pros:
Innovative turn-based strategy mechanics
Creating squads and unlocking new mechs is very enjoyable
Cons:
It won't make strategy-dedicated gamers happy
The plot is somewhat simple
Pricing. Steam $8.40 (depends on region), Windows $14.99, Mac $14.99, Nintendo Switch $14.99. A cheaper version at GOG for $5.22.
Developer/Publisher:  Lucas Pope
Release date: 10/18/2018
Genre: adventure, mystery, FPP
Platforms: Microsoft Windows, macOS
Game engine: Unity
The game is very unusual, both graphics and gameplay, deserving it a place among best indie games in 2019.  It is a thoroughly elaborated adventure, full of puzzles and unique mechanics. Though it might not be up to everyone's taste, it is quite an extraordinary detective story in 1-bit monochrome graphical style.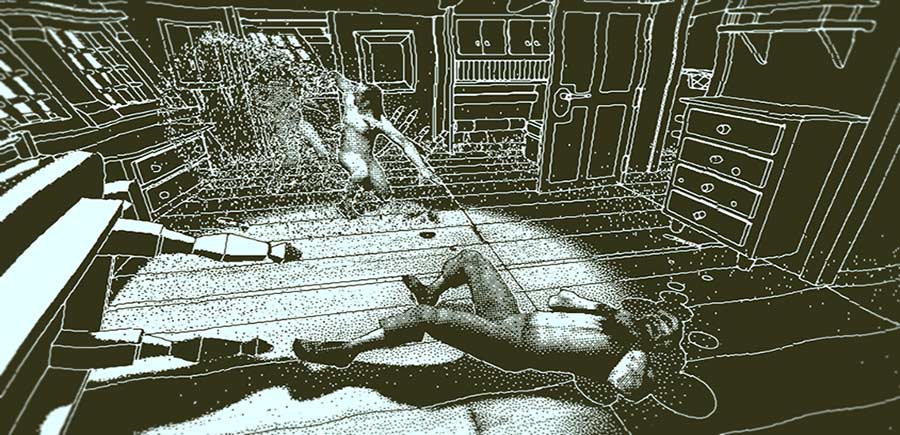 For few minutes, we were only gazing at breathtaking design of the ship, and here a story begins. It's about a non-existing ship called Obra Dinn that returned to seaport on itself. The task is to recreate events and recognize all members of the crew. Game developers were very attentive to all details, and these are important for successful walkthrough in the game. Even audio effects can have influence, for example, voices of the crew members can help determine person's identity.
Return of the Obra Dinn is intense and quite difficult, not for everyone. So for whom then? Mainly, for those of you who adore logic puzzles and unguided detective work.
Gamer tips: Take time to understand every individual character, to find out who killed him, how did it happen (scenarios tend to repeat). Explore dioramas carefully, find clues in audio. Even the accents can give out hints. The magic book could help as well.
Minimum system requirements (PC): Windows 7/8/10,2 GHz Intel i5, 4GB RAM, 2GB disk space, video card  Discrete GPU, sound DirectX 9.0.
Pros:
Great puzzles
Exclusive graphic design
Interesting innovative concept
Cons:
No ability to adjust controls
Using the magic book can be tricky to perform
Some players find it too challenging (hard)
Pricing. Steam $10.26, Windows $19.99, Mac $19.99. Or buy it for $10.49 on GOG.
Developer/Publisher: Unknown Worlds Entertainment
Release date: 01/23/2018
Genre: adventure, survival
Platforms: Windows, MacOS, Xbox One, PlayStation 4
Game engine: Unity
It is an open-world game where players explore a wonderful vast ocean on an imaginary planet called 4546B and collect resources. There are lots of unique mechanics different from other indie games, because  everything happens under water. Add a clear and convenient UI, enthralling gameplay, beautiful picture and music. Banger!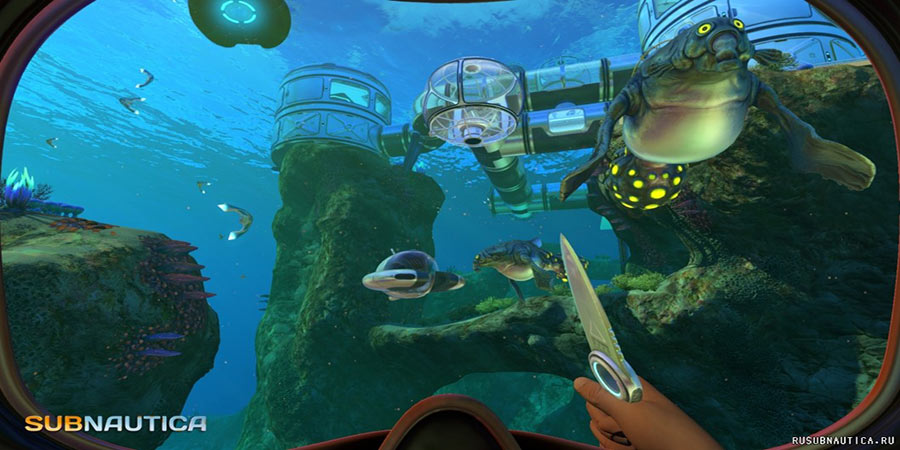 Subnautica is a powerful survival game with a system of hunger, thirst, and oxygen supply. The overall atmosphere is very life-like. Crafts system includes farming, fishing, building. There is no initial navigation except a compass that one also has to craft. Beacons can be left to mark important places.
Who is going to like Subnautica? Fans of Jacques-Yves Cousteau series, for sure. The game is not overloaded, it has a futuristic style, supports HTC Vive and Oculus Rift. Also, "Subnautica: Below Zero", an upcoming expansion to the game, has been announced recently.
Gamer tips: Choose the right mode: Survival, Hardcore, Freedom, Creative. Study the Fabricator, the recipes, and begin collecting items for crafting. Secure your inventory to keep it after death (enter a Seabase, a Lifepod 5, or a Cyclops). To swim faster, put equipment aside.  
Minimum system requirements (PC): Windows Vista SP2, Intel Haswell 2 cores/4 threads at 2.5Ghz, 4GB RAM, 4GB disk space, video card Intel HD 4600.
Pros:
Unbelievable gameplay, several modes
Pleasing soundscapes
Exotic locations and creatures
Cons:
Mechanics can be difficult to understand
Less precise navigation compared to top games
No elaborate plot
Pricing. Steam $12.10 (depends on region), Xbox One $24.99, Windows $24.99, Mac $24.99, PlayStation 4 – $29.99.
Developer: Giant Sparrow
Publisher: Annapurna Interactive
Release date: 4/25/2017
Genre: adventure
Platforms: Microsoft Windows, PlayStation 4, Xbox One
Game engine: Unreal Engine
Play as Edith Finch girl to find out why she is the only one left alive from her family. How's that for the start? Stroll around a huge mysterious Finch house, full of secret passages. When you find a room connected to a relative, experience the life of this family member (all of them are already dead at the moment).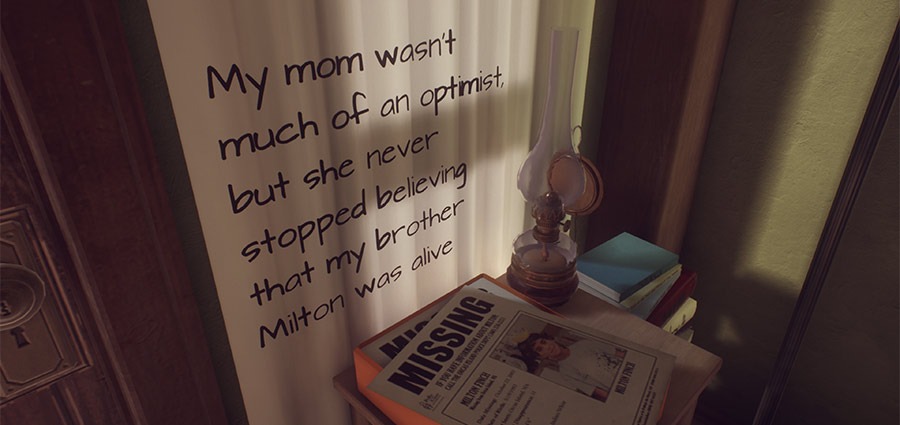 Each story has its own gameplay and a player experiences it as the first person. It might look odd but What Remains of Edith Finch is not a horror game eventually. Unusual and not for everyone, true, but curious and fun for some gamers. And numerous awards (the best narrative, best gameplay, BAFTA games award) only prove it. Rich plot and captivating storyline won't let you go. Recommended for visual novels fans, and those who value an experience conveyed through a game. For example, fans of Gone Home and Dear Esther.
Gamer tips: There is not much to recommend about it as there are no puzzles, no combats, no levels, etc. Just enjoy it.
Minimum system requirements (PC): Windows 64-bit Vista/7/8/10, Intel i3 2125, 3.30 GHz or later, 2GB RAM, 5GB disk space, video card GeForce GTX 750/AMD Radeon 7790 or newer.
Pros:
The house has thorough design, it's a pleasure to explore it
The story is captivating
Some stylistic solutions feel innovative
Cons:
Minimal gameplay (which is characteristic of the genre)
Short playtime
Pricing. Steam $10.26 (depends on region), Xbox One $19.99, Windows $19.99, Mac $19.99, PlayStation 4 $24,99. Amazon sells it for $19.88 (Windows) and $19.99 (Xbox), $12.59 on GOG.
All these indie games are very unlike each other, but each one has a huge fan following, and offers interesting experiences. Hopefully, our review can inspire readers enough to explore more indie games, because there are plenty.
P.S. You should also check out Best Augmented Reality games if you're seeking something totally new to explore.
Related topics:
15 free multiplayer browser games to relieve the pressure
10 all-time favorite strategy games