How about putting on the armor to become a soldier, a battle commander or a general, and conquer the enemy? Previously, we've explored post-apocalyptic games and tank games, now it's time to go beyond and back. 21 breathtaking war games for PC, Mac, iPhone and Android. Let's begin the countdown. Ready, set, go. 
Looking for F2P strategy game for Android, iOS, Windows or Mac? All the actions in War of Beach takes place online, where you face other players who defend their island from hostile attacks. The struggle for leadership in the best players ranking has been going on all the time too.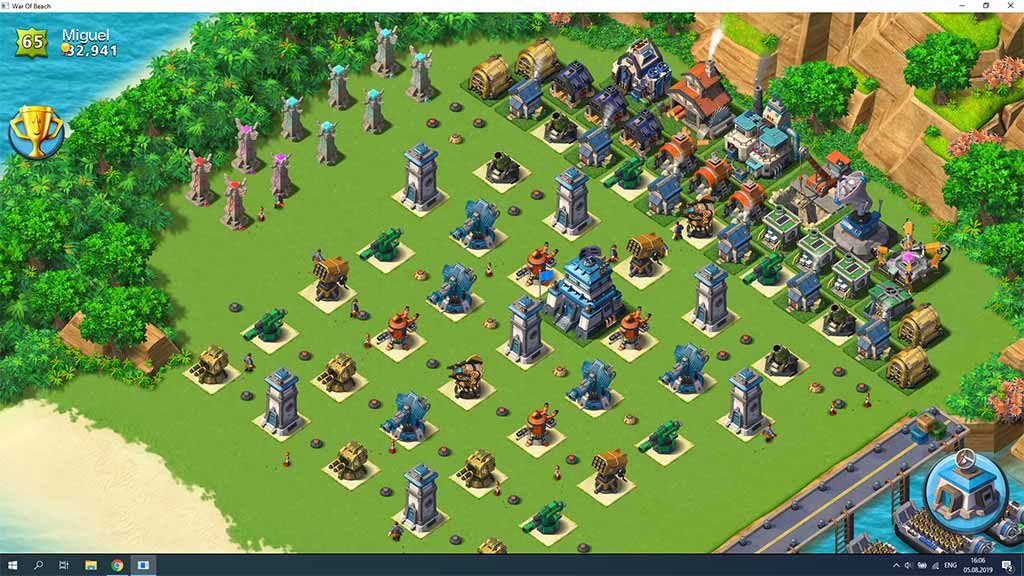 Gain resources to improve your own base and buy units for attack, reconnaissance of new sectors on the map. Perform tasks and get crystals to improve troops, reduce the time of construction and modernization of buildings at the base. Use battleship cannon to damage enemy buildings. 
Minimum system requirements (Windows): Intel Core 2 Duo, 2 GB RAM, GeForce 8400 (512 MB), 2 GB disk space, Internet.
In general, the game is perfect for lovers of online strategies and war games online, good for frequent and brief plays to take the workload off.
Perhaps many players do not like browser strategy games. Yet the perks and advantages are undeniable: any PC or smartphone will do, no client needed. "Throne: Kingdom at War" is a creation of Plarium for browsers and mobile platforms. The game takes place in the Middle Ages and such setting fits perfectly for a war game.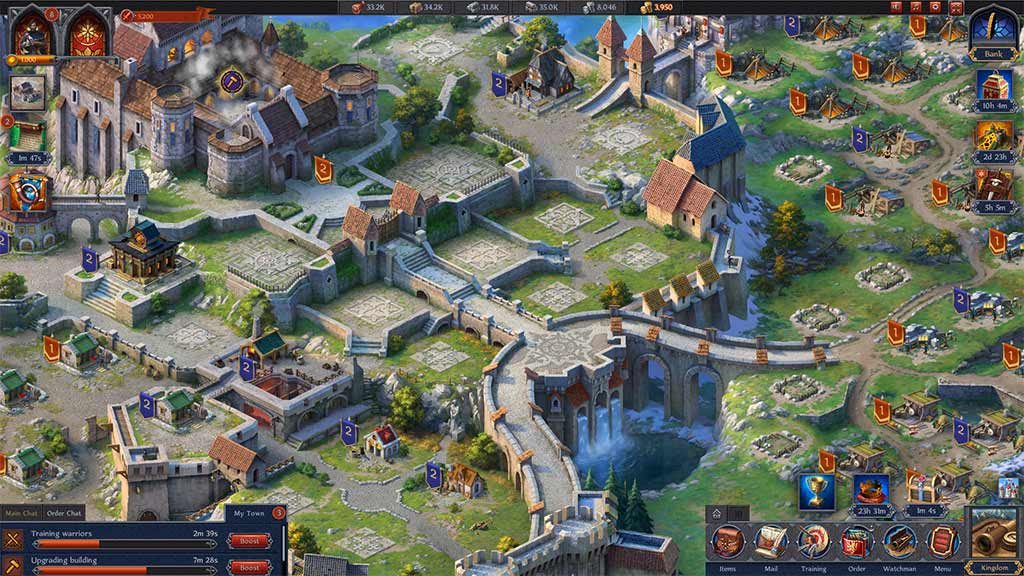 What distinguishes it from other similar games is graphics. Gameplay looks nice, does not have cartoon drawing, which is too common. With hero development, a range of tasks, raids and other actions, players equipping the army, etc. Kingdom of War became dynamic and interesting. After reaching a certain level it becomes tough, requiring tactic skills, cooperation with clans, joint raids.
Minimum system requirements: Latest versions of a browser, JavaScript support, Intel Core 2 Duo, 2 GB RAM, GeForce 8400 (512 MB), 2 GB disk space, Internet.
We also recommend VIKINGS from the same developer.
How about a real-time strategic MMORPG game? Set in the Middle Ages just like previous Throne, it was recently created by Booming Games in 2019. Players can choose character look and class, and then proceed to bloody battles. Conqueror's Blade has 4 types of battles, from 3v3 to 15v15, both against AI and against real players.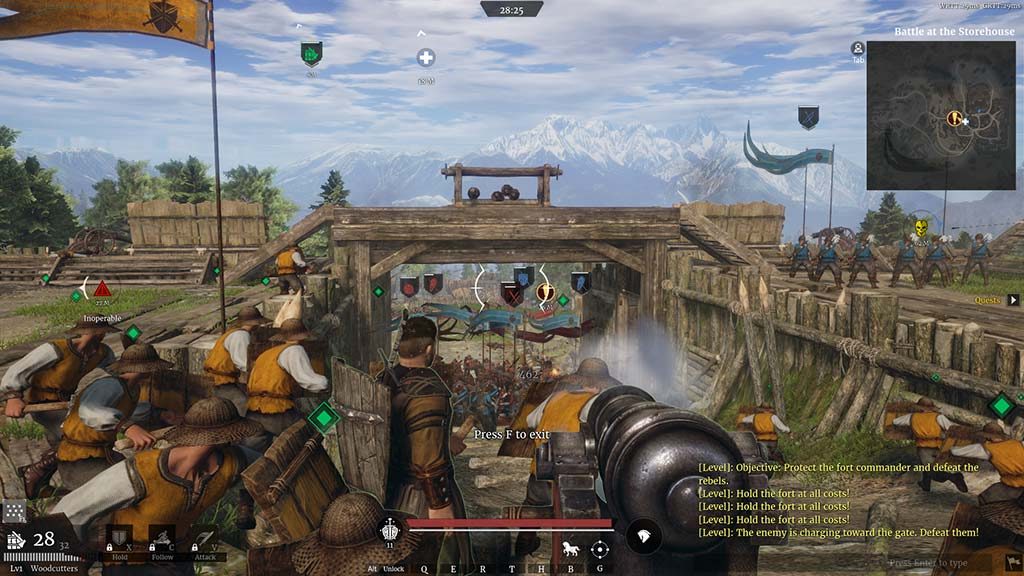 In the game you have to complete various quests to gain experience. That you subsequently need to gain learning and combat skills. Participate in fierce battles around the world while riding a horse, choose your battle style, recruit troops.
Minimum system requirements (Windows 64-bit): Intel Core i5 4-Core, 6 GB RAM, GeForce GTX 750, 25 GB disk space.
Now we'd like to share one of the war games you probably haven't heard of yet. Vanguard: Normandy 1944 is a MMO shooter set in World War 2 times. The game is in beta version for now, made by Pathfinder Games.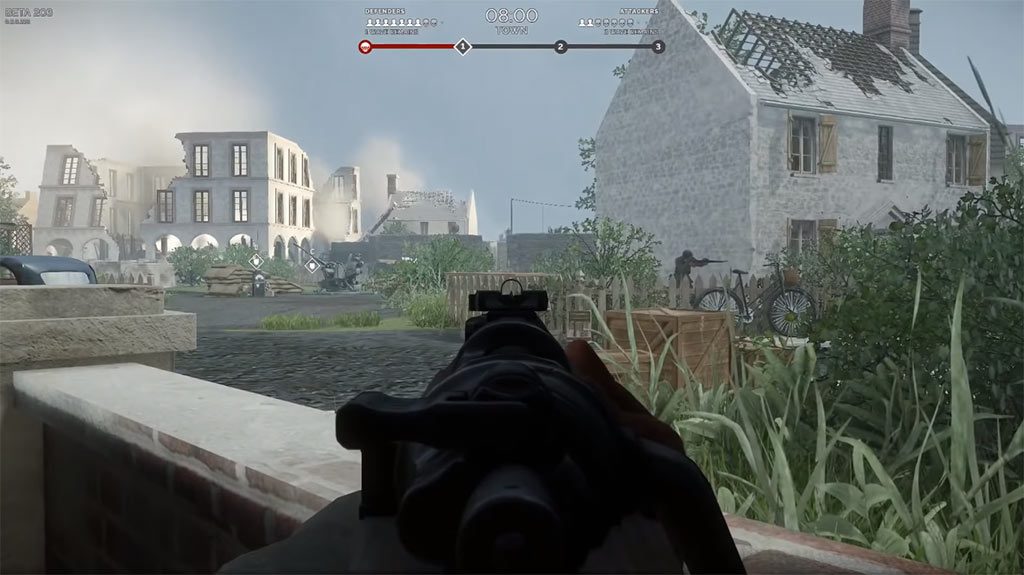 As of now, Vanguard has a single game mode – 12v12 battles between attackers and defenders. Also, a  player has a choice of 4 classes with own weapons, but there are no pistols currently. Locations (maps) are moderately large and quite realistic, both day and night maps by the way. In general, the game definitely invokes high expectations.
Minimum system requirements (Windows 64-bit): Intel Core i5 (6th Gen.), 6 GB RAM, GeForce GTX 660, 12 GB disk space, internet.
A war game sending you off to the American Civil War, the Maryland Campaign of September 1862 to be precise. Within such historic event, you have an opportunity to command regiments during the battles fought over the Potomac and Shenandoah rivers, the Antietam Creek. The game provides stunning visuals with the use of CryEngine V.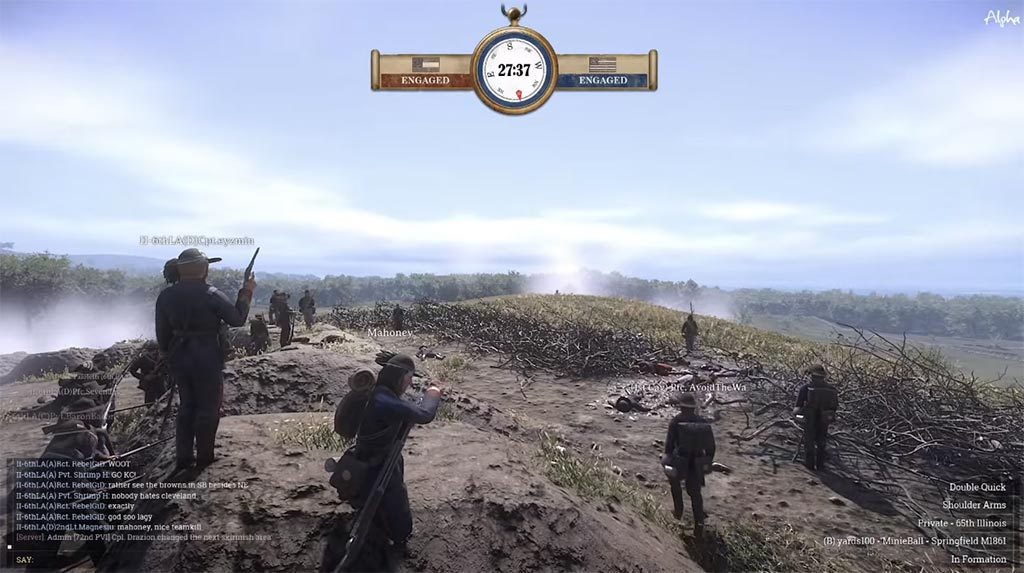 A player can be a general – collecting intel, making strategic decisions at the headquarters. Or be an ordinary soldier if you're a fan of real action on the front line. 60 different regiments to join. So the events of Civil War, on which the gameplay here is based on, make War of Rights one the most extraordinary war games for PC.
Minimum system requirements (Windows 64-bit): Intel Core i5 2500K, 8 GB RAM, GeForce GTX 670, 6 GB disk space, internet.
The greatness of war games is that one can easily switch from actions on terrain to air or marine battles, or vice versa. There's no shortage of combat games, fighting games, army games, shooters whatsoever. So how about a WW2 submarine simulator? With Uboat you can run a freaking submarine with the crew! And all of it in realistic graphics and animation.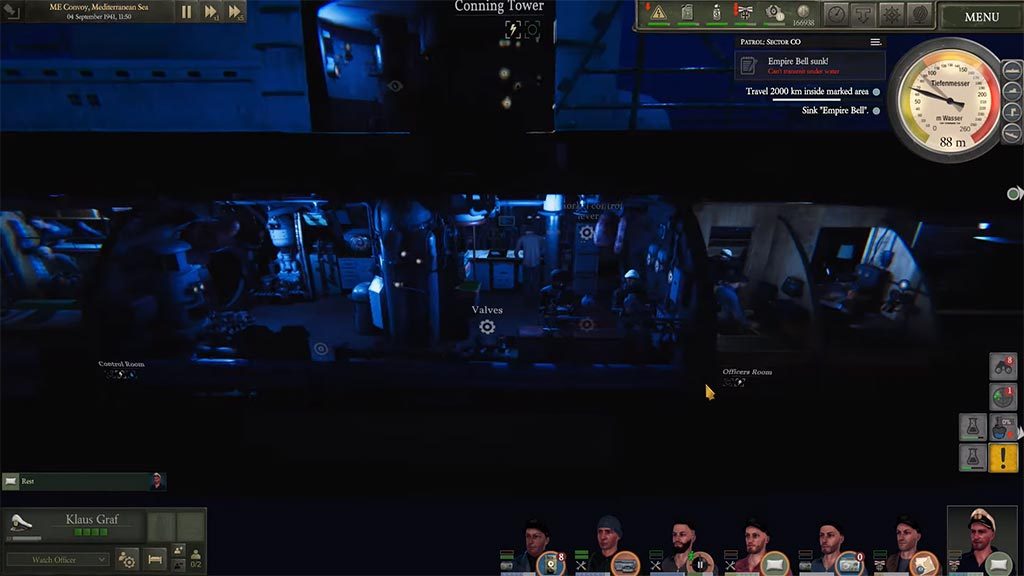 Of course, it is tough to play, as everyone around is trying to destroy your submarine, but that's the gist. You need to control all the mechanisms, upgrade/repair modules, hire specialists, carry out calculations  manually, give out orders. Very close to actual experience. 
Minimum system requirements (Windows 64-bit): AMD Phenom II X3, 6 GB RAM, GeForce GTX 560, 20 GB disk space.
Uboat offers plenty and plenty of content and action, we can write a whole separate article about it (and maybe we will). Highly recommended for those who want to try on the role of a submarine commander.
This one isn't just another arcade shooter, but a real war simulator. It requires arranging front line supplies by vehicles, fighting in teams of 50 soldiers. Hell Let Loose, with squishy swamp underfoot, dynamic sounds of gunfire, explosions causing hero concussion, death from shots, is as close to real war as it gets. To capture control points, ammunition and supplies, you have 2-hour sessions, with actual combats lasting about 40 minutes in practice.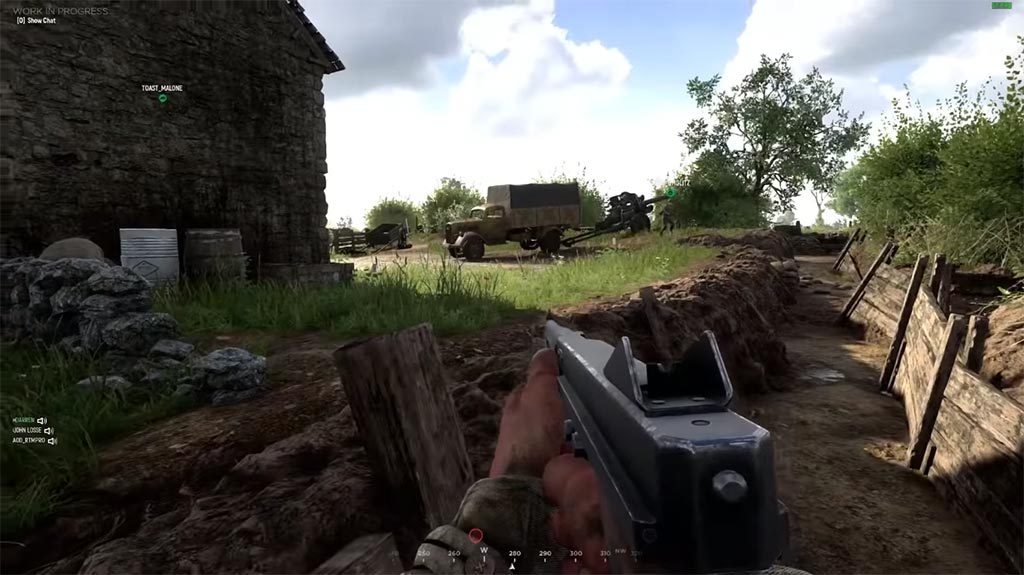 Minimum system requirements (Windows 64-bit): Intel Core i3 4130, 8 GB RAM, GeForce GTX 1050 TI, 20 GB disk space, internet.
Now we can switch to air battles with 303 Squadron: Battle of Britain. it is a WWII arcade flight combat game realistically portraying airplane squadrons. After personal customization at the base, you fly and fight. Then, after some time you'll be able to enhance the engine and weapons on your aircraft.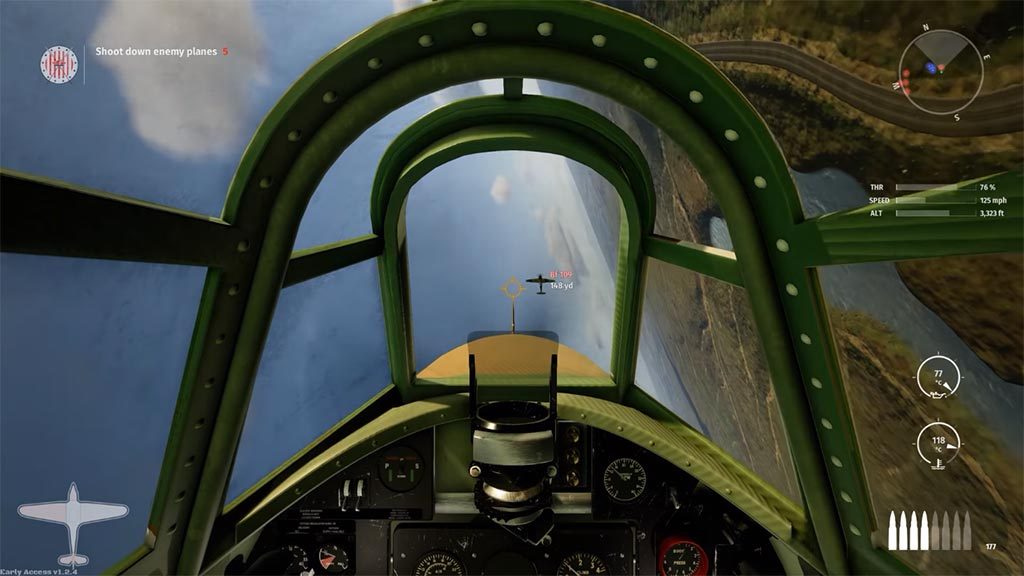 The game is not too diverse: 2 planes (Hurricane and Spitfire), 2 maps (city and field), but the battles are very intense. You get 5 to 7 fighter allies against up to 50 opponents. It's only because the enemies attack in packs, that a player is able to survive and continue, apparently.
Minimum system requirements (Windows): Intel Core i5 4690, 4 GB RAM, GeForce GTX 760, 10 GB disk space.
In the not so distant future, after the beginning of the Third World War on European continent, you can be a part of this global conflict in World War 3 game. Military operations take place in the cities of Moscow, Warsaw and Berlin. There are 2 conflicting sides NATO and CSTO (a post-Soviet union), and players fight in PvP format against one of them. Or in 2 extra modes – Warzone and Recon.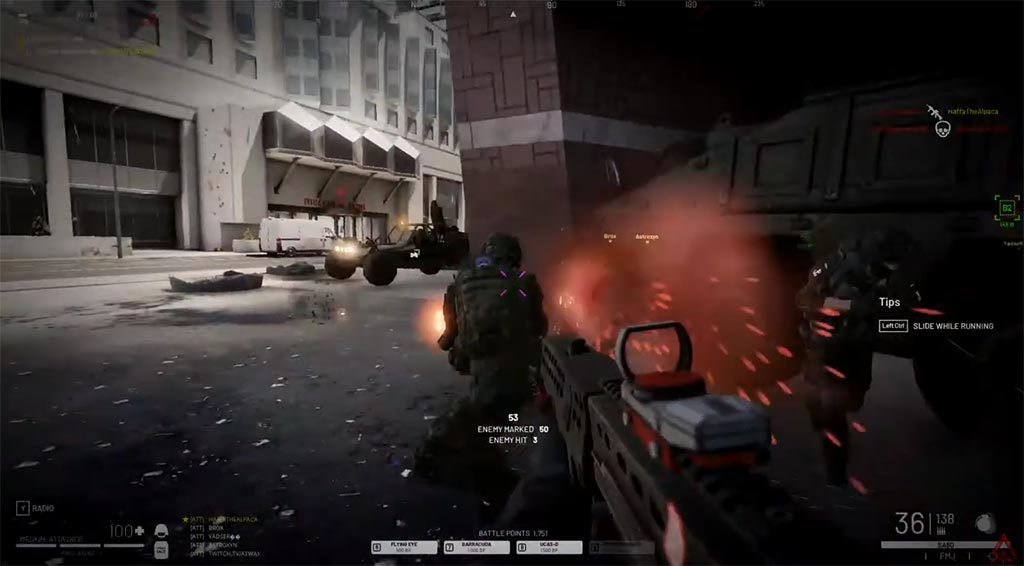 Minimum system requirements (Windows 64-bit): Intel Core i5 2500, 8 GB RAM, GeForce GTX 770, 35 GB disk space, internet.
Key points to mention: various body kits, multiple weapons to choose (weight impact movements), summon drone / armored vehicles / artillery strikes option.
Jumping through time again, if you wish to experience the ancient combat art through war games. Mordhau is a multi-player medieval video game developed by Slovenian studio Triternion for Windows OS. In it, a player is essentially a knight, going through 6 game modes: Frontlines, Battle Royale, Horde, Skirmish and Deathmatch. In one of those, up to 128 players participate simultaneously, but we'll let you explore it on your own.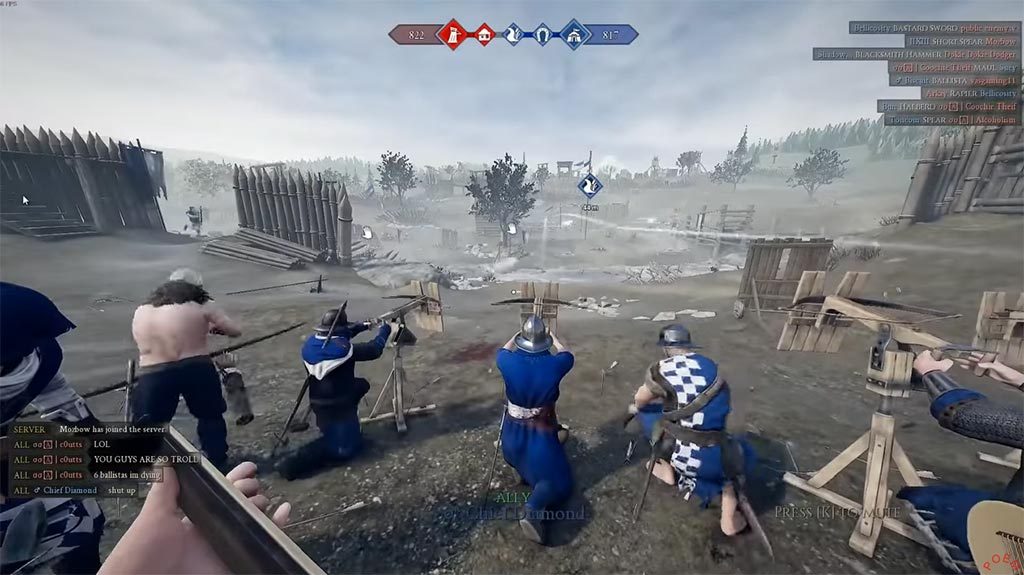 You can blow directional punches, strike with hands or legs, dodge, block attacks, as well as use weapon combos. All in all, it isn't a simplistic sword-fighting game, on the contrary.
Minimum system requirements (Windows 64-bit): Intel Core i5 4670, 8 GB RAM, GeForce GTX 680, 20 GB disk space, internet.
One more historical strategy game freshly released in 2019. It takes place in the X-century China, where different fractions oppose each other. Diplomacy is an important part of the gameplay, but not as significant  as war events, of course. Total War is rather a war strategy game, where one has to develop the army and the cities, control law enforcement, ensure profits, provide food, manage the population and public order.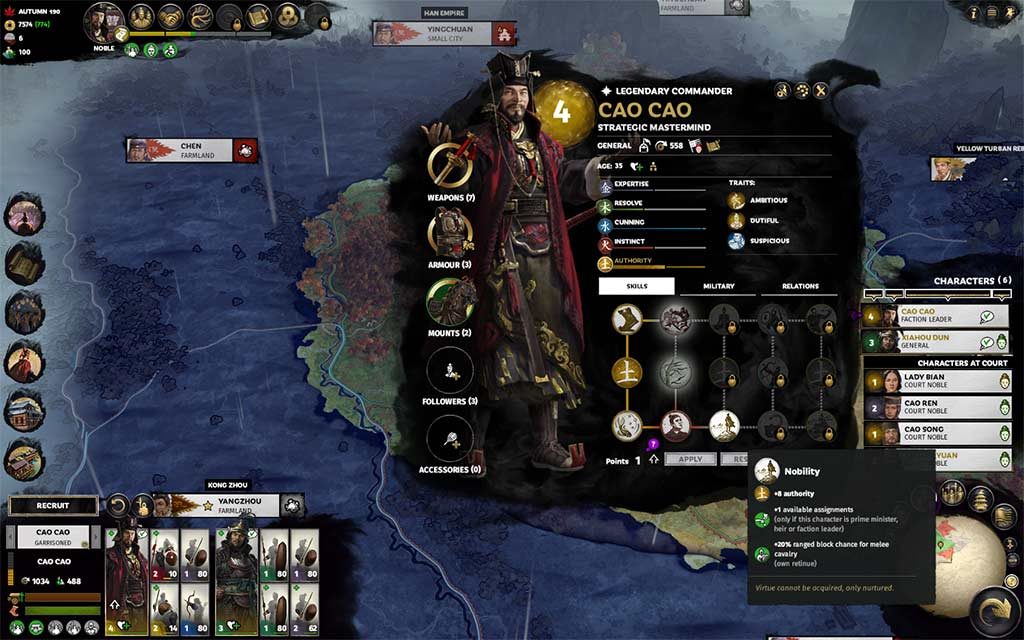 Minimum system requirements (Windows 64-bit): Intel Core 2 Duo, 4 GB RAM, GeForce GTX 650 Ti, 60 GB disk space.
Top-10 war games for PC list
It seems we haven't highlighted MOBA games, aka multiplayer online battle arena, or ARTS – action real-time strategy, yet. There are 8 game modes, from company to tournaments against other players. You have to complete daily tasks, gain bonuses, upgrade the equipment, use various weapons (rocket launchers, sniper guns, bombers, etc.). Internal game market is provided as well, so that players can trade among themselves.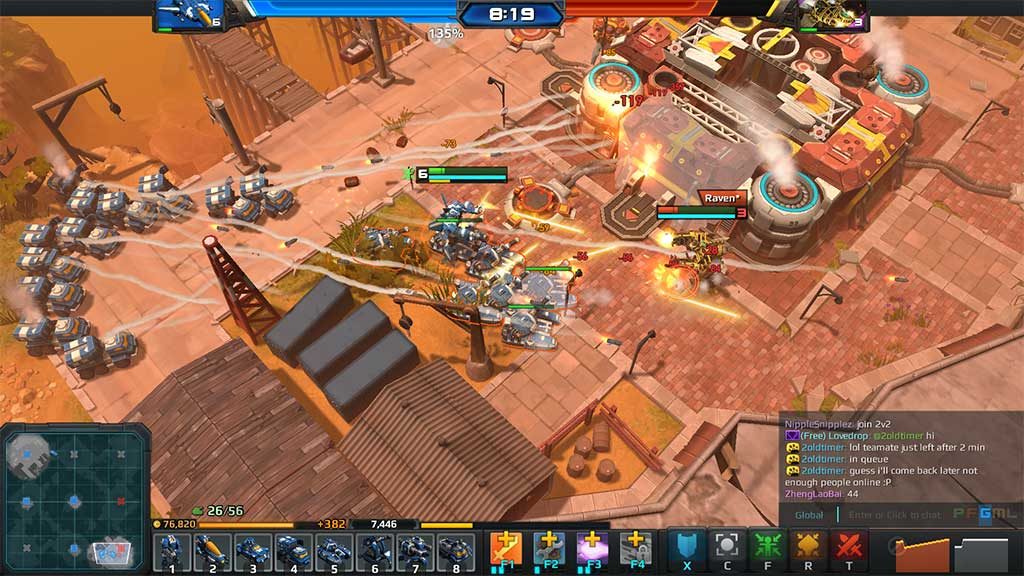 Minimum system requirements (Windows): Intel Core i3, 4 GB RAM, GeForce GTX 560, 2 GB disk space, internet.
AirMech Strike meets all the modern trends of multiplayer war games: upgrade system, unit management, inventory, shop/market, co-op gameplay, rank system, chat. Quite a lot to explore and have fun along the way, fans of massive battle games will like it for sure.
Insurgency: Sandstorm is a multiplayer tactical first-person shooter for Windows, Linux, Mac, PlayStation 4 and Xbox One. Before the fight, you choose the class depending on what weaponry you prefer. There's a special in-game currency to buy weapons too: machine guns, carabins, assault rifles, shotguns, sniper rifles, pistols, explosives, etc.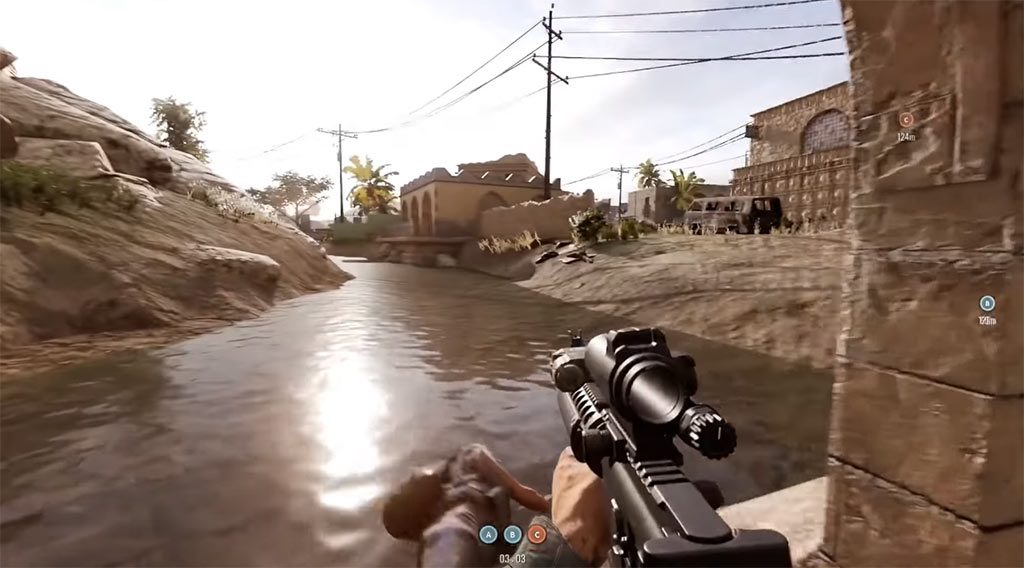 Minimum system requirements (Windows 64-bit): Intel Core i5 4440, 8 GB RAM, GeForce GTX 760, 40 GB disk space, internet.
By utilizing Unreal 4 engine developers managed to create high-quality graphics. So, we can recommend Insurgency for any tactical shooter fans.
A real-time strategy (RTS) amongst war games would not hurt as well. Steel Division is a WW2-time game by Eugen Systems, introduced in 2019. Game has a lot to offer: penetration, stealth, shooting, defense, ammunition, air combat, unit management, etc. It is quite complicated and therefore the gameplay is not for everyone.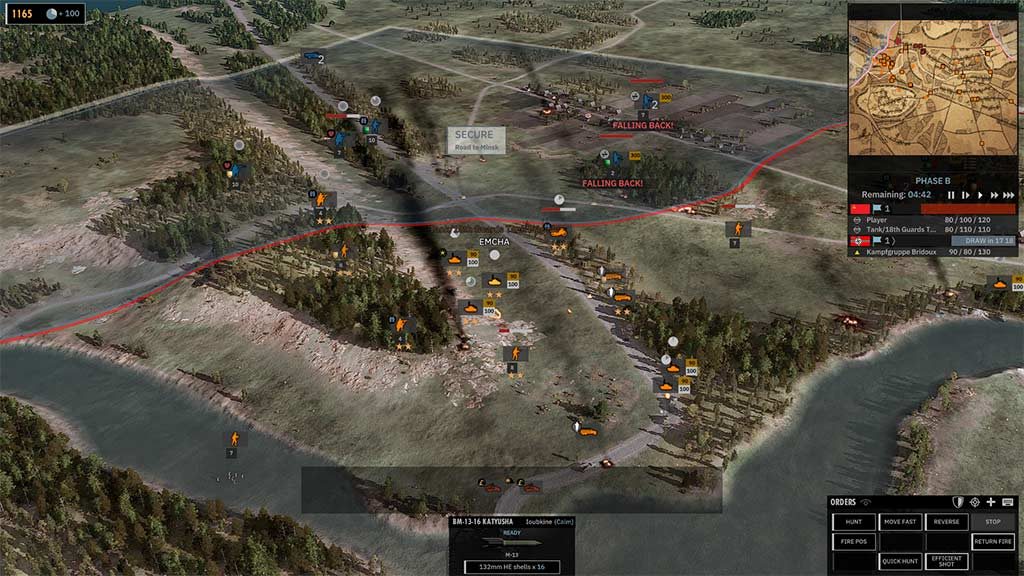 The task is to complete the mission using units and squads, forming battle groups from available units. It might be infantry, tank or motorized divisions. For example, if you create a tank division, you get plenty of options for tanks, but less infantry, support, air defense, reconnaissance.
Minimum system requirements (Windows): Intel Core i3 2100, 4 GB RAM, GeForce GTS 450, 50 GB disk space.
Overall, recommended for those seeking another kind of strategy, as well as previous Steel Division games enthusiasts.
WW1 on the Eastern front is where this P2P multiplayer shooter game brings us. This game is probably the most realistic one among similar WW-themed war games. Historically accurate guns, rifles, pistols, revolvers, grenades and melee weapons, and no medical kit or revive option. A shooting system with 150-meter scope, which means a hit enemy will die or be wounded depending on weaponry you use.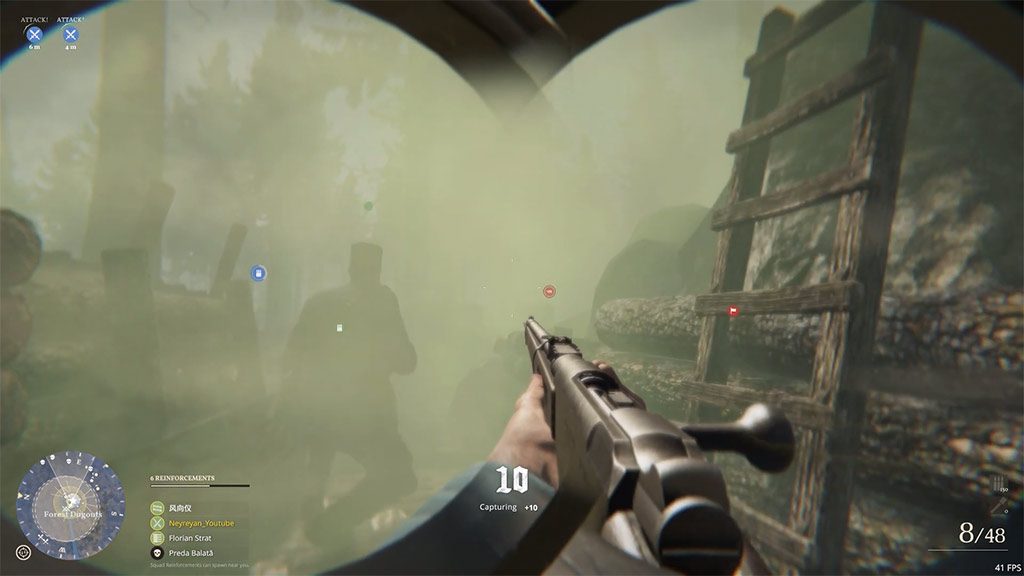 Characters have individual abilities, e..g. artillery support, reload weapons, activate other soldiers within a15 meter radius, reduce fire, etc. If you capture new sectors you can then improve aerial reconnaissance, accelerate artillery reload. The control over control points will deplete enemy resources and your team will win, similarly if you capture the enemy HQ.
Minimum system requirements: Windows 64-bit / Mac OS X / Linux Ubuntu 64-bit, Intel Core i5 2500K, 4 GB RAM, GeForce GTX 960M, 8 GB disk space, internet.
Warband is a medieval RPG where one can go a long way from a single hero to running the state and commanding the army. At the very beginning, as usual, you define a character: bio, skills, weapons, etc. Then you wander into a huge world of Calradia, free to do anything. Six states fight the war, different in  cavalry, crossbowmen, infantry.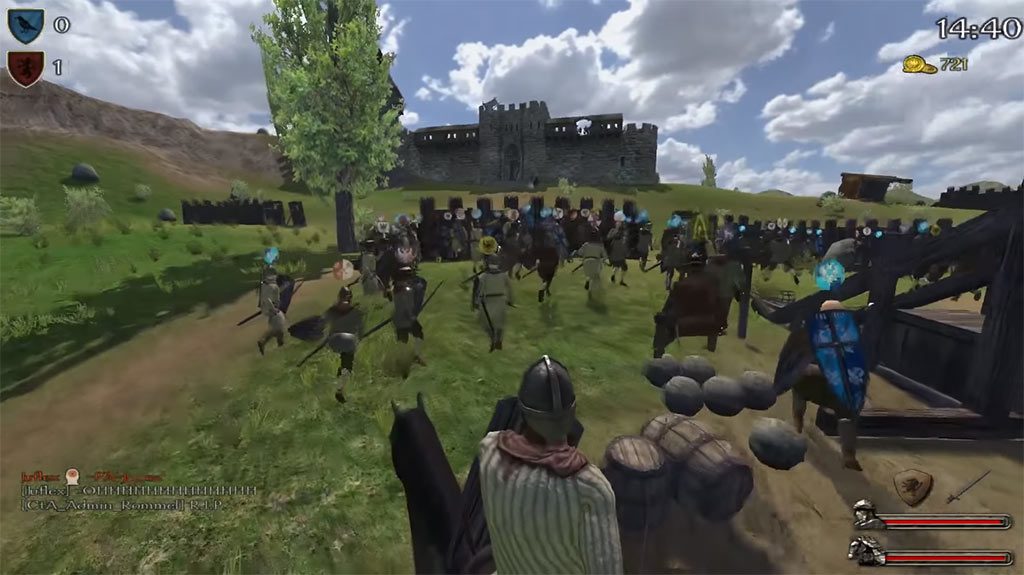 By killing enemies you obtain "experience" that you can attribute to horse riding, weapon mastery, defense,  bows and crossbows. Warband can host up to 200 users on the same map at the same time, it has 7 different modes, multiple maps to choose.
Minimum system requirements (Windows): Intel Pentium 4, 512 MB RAM, GeForce FX 5200, 700 MB disk space.
Gears of War is a series of computer games, 3rd person shooters, by Xbox Game Studios for game consoles and PCs on Windows. The first one ever was released in 2006, the 4th one in 2016. In GOW4 the story continues 25 years after the previous part, in a futuristic and apocalyptic setting.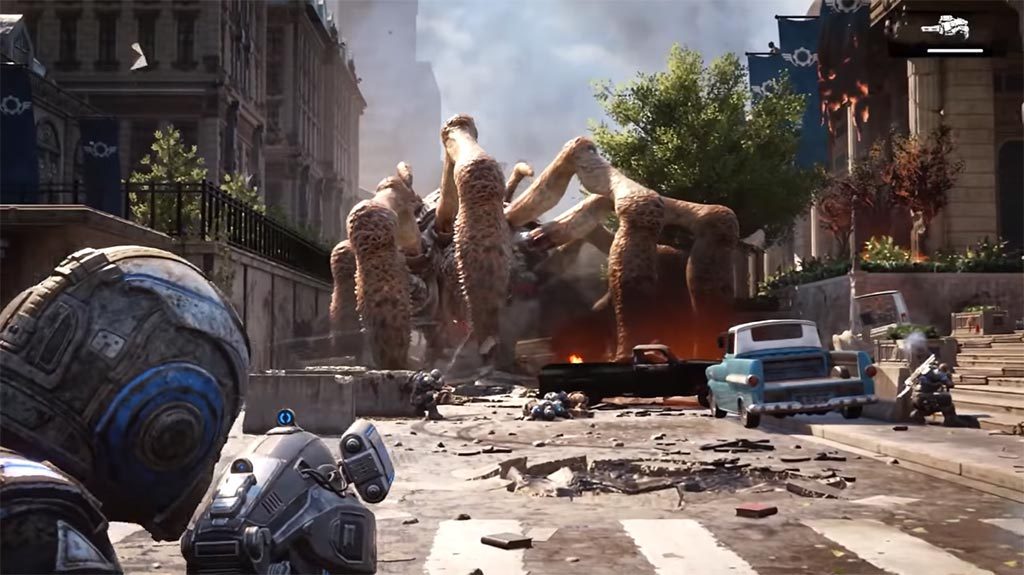 The game has a wide variety of weapons to pick, such as shockers, assault rifles, grenades. The game itself is a positional shooter, i.e. hide and shoot. The focus is rather on spectacular battles than on variety of action. There is a multiplayer mode too: against other players or AI. You can play as a human or a robot. You can team up and go on a raid to kill monsters, and if successful, you receive a certain amount of energy – good for weapons, repairs, etc.
Minimum system requirements (Windows 64-bit): Intel Core i5 3470, 8 GB RAM, GeForce GTX 750 Ti, 133 GB disk space.
Ace Combat 7 was released for several platforms at once: PlayStation 3, Xbox 360 and Windows. It's a sequel to the highly popular arcade flight simulators with long history. It's all about the rush of air battle. Game plot unfolds in an alternative universe, where you slice through thunderclouds, avoid missiles, discover enemy position, or hide in the clouds.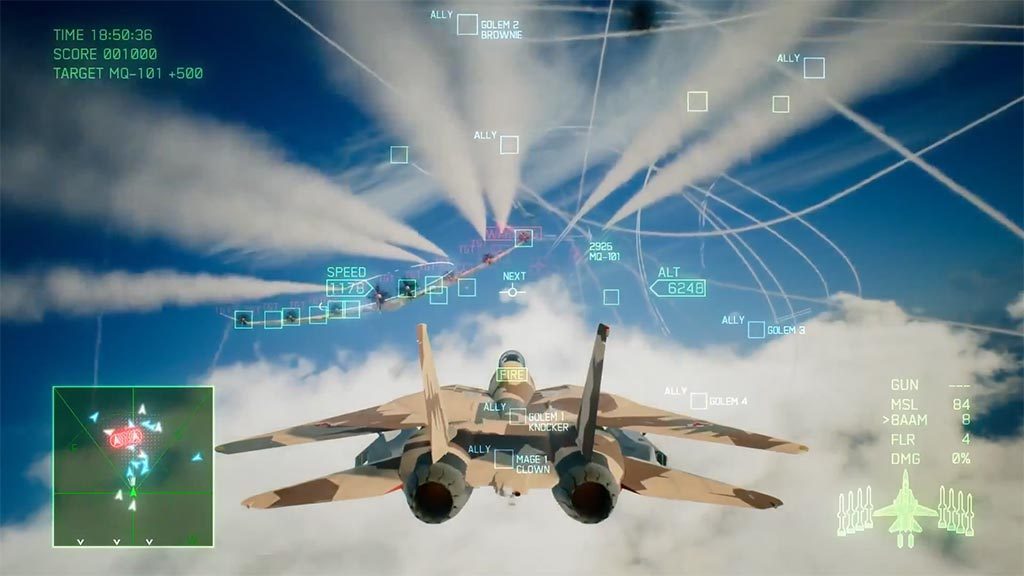 There are arms for every taste, from free fall bombs, railguns to semi-active missiles. Special installations can be mastered to simultaneously hit up to eight air targets. In some missions you'll be able to return to the base and load up a different type of missiles.
Minimum system requirements (Windows 64-bit): Intel Core i3 7100, 4 GB RAM, GeForce GTX 750 Ti, 50 GB disk space, internet.
An indie war game inspired by the 1983 cult classic Wargames. The game is compatible with Windows, MacOS and Linux. The underlying theme is the Cold War, so you'll play a general in an underground bunker. The goal is to inflict as much damage as possible while trying to keep losses minimal.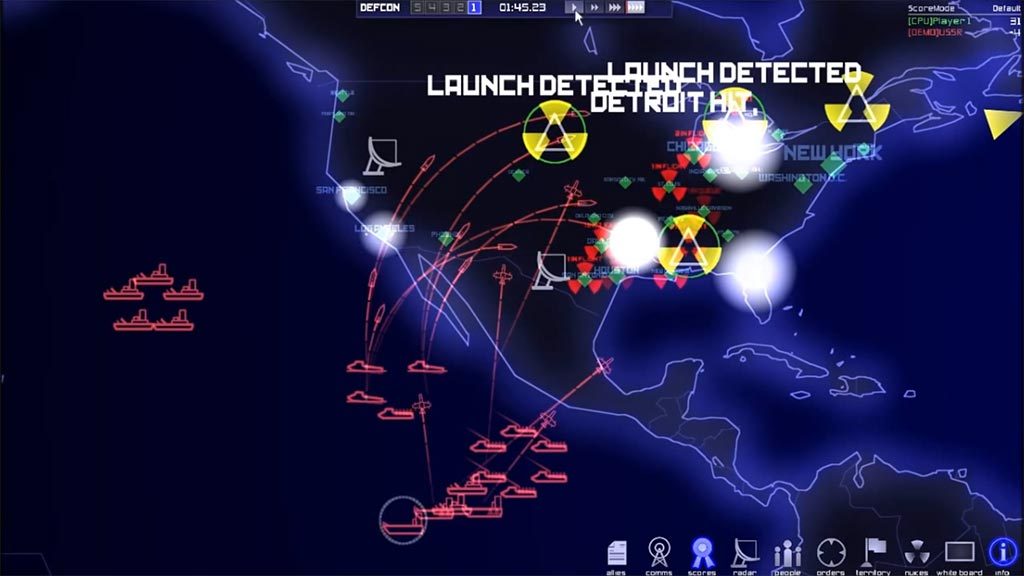 There's a multiplayer mode in Defcon, supporting up to 6 players at a time. The warfare could be initiated across both Americas, Europe, Russia, Africa or Asia. Battles last about 25 minutes, divided into stages, and as a rule, the first part is allocation of strategic objects.
Minimum system requirements (Windows / Mac OS X / Linux): Intel Core Duo, 1 GB RAM, GeForce FX 5200, 60 MB disk space.
An online war strategy game about the Second World War. Play on the side of Axis, Western Allies or USSR, and complete historical missions (over 60). Blitzkrieg offers a blend of player-vs-environment (PvE), player-vs-player (PvP) and player-vs-artificial-intelligence (PvAI) modes.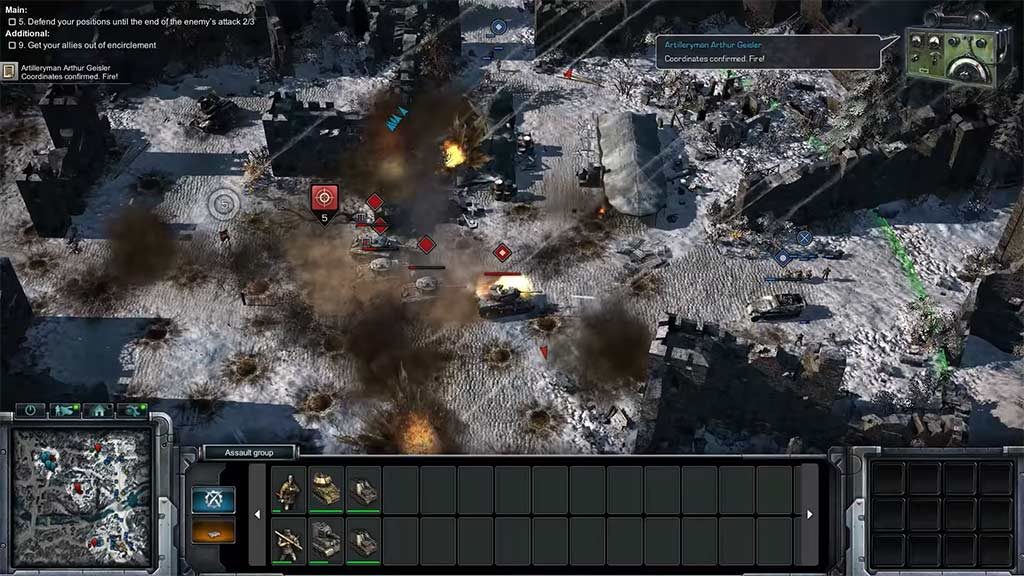 It is worth noting that "Boris" is the first AI opponent in this genre of war games, that has been implemented in the neural network. It analyzes a game session and predicts the opponent's behavior, comes up with a complex counter strategy.
The game has many interesting locations, as well as dynamic weather system for realistic impression. To complete tasks, players may use more than 200 authentic combat units, smoke screens, summon support. With diversity, historical events and tactics you have to think through each move. A great military simulator that many will (and already do) appreciate.
Minimum system requirements (Windows): Intel Core 2 Duo, 2 GB RAM, GeForce GT 240, 10 GB disk space, internet.
And finally we have arrived at #1, top of the charts, Battlefield. It was released in 2016 for PC, xBox One and PS4 / PS4 Pro. It brings us back to the heroic and tragic great war, which was World War I, and scores of panoramic locations. Machinery of all sorts, from boats and airplanes, to tanks, armored vehicles and even horses. Coupled with superb graphics and physics, eye-pleasing realistic sceneries and overall diversity and action, we reckon Battlefield deserves a top spot among the best war games.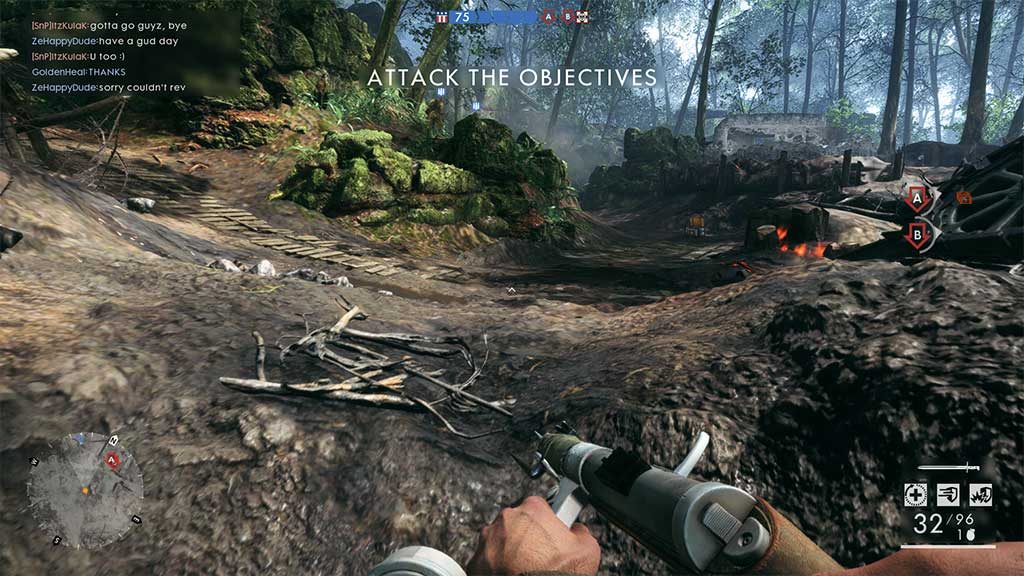 The game offers both a single company and a multiplayer mode. The latter is naturally popular, with a large number of formats, including Conquest (32 vs 32), Deathmatch (12 vs 12) and Rush. Many maps, though, will be unavailable due to lack of players online, which could be frustrating. 
Yet, when you play in a team against another team, there won't be a second to stall. In Conquest mode, for example, the task is to capture objects to win 1000 points. In Deathmatch mode a team that reaches 1000 kills first, wins. While a single player mode is rather a training stage before multiplayer, where you could fight as a pilot, a sniper, etc.    
Minimum system requirements PC (Windows 64-bit): Intel Core i5 6600K, 8 GB RAM, GeForce GTX 660, 50 GB disk space, internet.
P.S. Find out more: