Lineage II (or LA2, L2 and other names) has gained a cult status among gamers, especially in post-Soviet countries. It is also quite popular in Spain, Portugal, Asian countries, and the United States. It is played either on official or private servers. We've ventured to set aside several peculiar private Lineage 2 servers that have drastic differences with the official servers. 
After all, not all gamers want to play the latest chronicles with low rates, donates that are either inefficient or too expensive, etc. Due to lack of diversity private servers have become a proper alternative, offering a variety of deviations from the original game ideology of Lineage. Before we talk about it, we probably should enlist key definitions related to MMORPGs first.  
Lineage glossary
PvP

– an interactive conflict occurring in the game world between two or more characters.

PvE

– a term in online games referring to battles with computer-controlled enemies.

Event

– a game, organized according to certain rules within the game world. The difference between Lineage 2 events and ordinary game actions is in tasks that are key for an event, not the game.

Rates

– indicate the multiplier that characters will receive, in contrast to the original game.

Multiprof

– consists of words Multi and Prof (short for "profession"), that is, many professions. It means a player has the opportunity to study any skills of professions.

Buff

– a concept in computer games, denoting a temporary strengthening of a player, usually under the influence of a special spell.

Raid Bosses (RB)

– monsters that are supposed to be killed by a group of players. RB can be located both in temporary zones and in certain game spots.

Spawn

– a specific place in which any item or NPC (non-player character, a monster) appears. 

Donation

– a player purchases additional bonuses, unique items and other benefits that are not available otherwise.

Craft (Items)

– available to all characters, though a number of crafting recipes are available only to Dwarves. You study the recipe in your craft book, by double-clicking the recipe.

Wipe

– when all the characters and their history/contents are deleted and everyone starts from scratch.

Adena

– a valuable currency required to many aspects of character development.

PTS

– the official server part from

Lineage 2

game developers, which was previously put out publicly for free.

Java (L2J)

– Lineage 2 server emulator developed by several teams. Each of similar emulators generally offer different gameplay, game mechanics and balance from PTS.

Enchant

(from "enchantment") – a way to improve item characteristics.

Premium Account (PA)

– offers perks and/or assistance, that vary depending on a L2 server, e.g. EXP, SP, Spoil, etc. As a rule, it has to be purchased.

Farm zone

– a location in the game world where characters extract valuable resources.

HWID

– hardware identification.

Clanhall

– gamer's clan base, it is significant for clan development.

Chronicles

– series of events in a chronological order.

Spoil

– a special skill to extract certain items out from non-static (mobile) objects in L2.

GM-shop

– an NPC who can sell items and services that are otherwise unavailable in the game.

Buffer

– an NPC who can offer a range of buffs that are typically class features, some of it come at a cost. 

Class-master

– an NPC that can assist a player with a profession, without performing tasks, though at a cost.

SP

– collectable experience that can improve clan level, personal skills, etc. It grows by quests, winning over raid bosses, etc.
Selected Lineage 2 servers
Perhaps this is the most popular Lineage II server with a multiprof, although, unfortunately, the design and the speed could be better. L2 Multi is a set of servers that has been operating since 2013 and, like most Lineage 2 servers, it works without wipes. The key factor of L2 Multi strength is stability.

The server is mostly popular among players from the CIS countries, as opposed to EU players. It has a large number of additions, character and balance limitations, however also significant extras, e.g. the limit of buffs is 50+25 dances/songs, and 25 debuffs. Among the additions, the most interesting, in our opinion, are:
100 new Raid Bosses from other MMOs

New random spawn system (some RBs accidentally spawn at one point)

New Explorers Guild

Redesign of author's raincoats and amulets

Author's unique Lindvior and Fafurion armor system

The maximum weapons enchantment – 20, armor – 25, jewelry – 25. 
| | | | |
| --- | --- | --- | --- |
| Chronicles | GM-Shop | Buffer | Class-Master |
| Orfen | + | + | + |
With gold coins, basic services such as change of gender, nickname, etc. can be bought. 2 gold coins equal to ~1 Euro including commission.The cost of all simple services is approximately 7 gold coins, which is not cheap. Also, the store has a number of items for donations. Lineage displays character statistics, and typically the richest players own around 1.000-4.000 coins, while the rest may get from 20 to over 100.
Rates

XP

SP

Adena

Items

Spoil

Quest

Raid

5
5
1
2
3
5
1
Buff, shop, teleport and other additional functions are available in the Alt+B panel. In the game you need to be careful with the choice of skills, as further on you will have to pay for cancellation with Adena (10 million for active skills, 25 million for passive skills). Although one can create a new character instead, yet levelling a character up becomes difficult at level 90 and up.
We would also like to note periodic lags in the game on L2 Multi. During testing, the server completely crashed once, and we were able to login again only after 5 minutes.
Euro-PvP server (actually a set of multiple servers) is acknowledged as one of the most stable Lineage 2 servers to date. The project has been active since 2013. Especially popular is the x100 server (Craft-PvP), which has an excellent economy.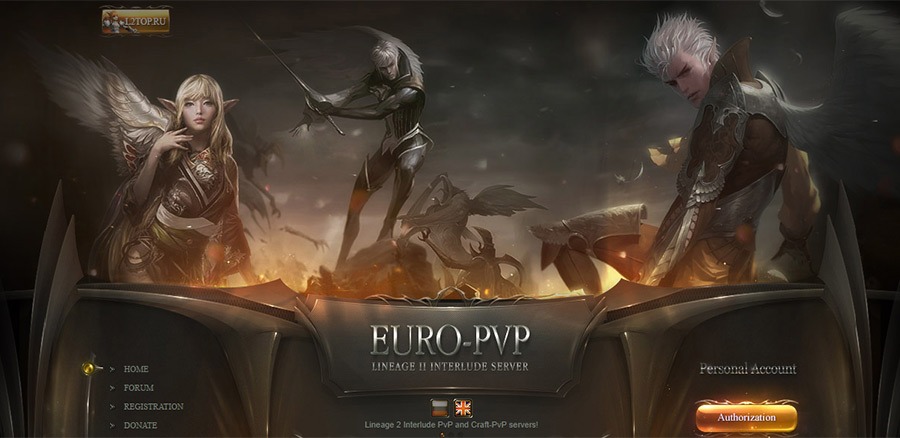 This L2 server has a number of additions, i.e. stylized weaponry, Agathions, accessories, costumes, PIN code to transfer items, more events (fight club, GvG 3×3/9×9, Team vs Team, DeathMatch, castle siege). When switching to a server, large clans (25+ people) are issued clan level 8 and clan skills (more).
| | | | |
| --- | --- | --- | --- |
| Chronicles | GM-Shop | Buffer | Class-Master |
| Interlude | until B-Grade | + | + |
Server ideology. Despite the good economy, it's difficult to keep the audience on a server with such rates on Interlude chronicles, especially single players, and it's almost impossible to attract a new audience to a server that is more than a month old, therefore Euro-PvP uses the "server pooling" scheme and launching a new server. This practice was performed 4 times in 2019, judging by the forum. Thus, the project states that their servers work "without wipes".
Rates

XP

SP

Adena

Items

Spoil

Quest

Raid

100
100
1
10
15
10
5
User experience. If you are an ardent fan of Interlude chronicles, and the Craft-PvP server rates satisfy you, we recommend joining the next Euro PvP server opening. At the start, you get a small amount of money in the initial location. The buffer has limitations, while a VIP buff costs 12 Coins of Luck ($2.5) for 7 days. Not all NPC buffs will be available, so you have to be content with what you have or level up additional classes on a second account.
At first, Adena will be sorely lacking, because almost all of it will go to acquire a profession. Though  availability of endless shots and arrows is very helpful. Mana banks are also available for magicians in the store, but at first they might seem quite expensive. If you know how to play Lineage 2 Interlude well, then you'll be able to level up to Noblesse in a couple of days and without investments. 
Reagents are available in the store, but it will be very difficult to kill the boss. Despite the resurrection of the boss every 3 hours, incredible clan battles take place here, with more than 300 characters at the same time. Only 7 people from the group that would have killed the boss, complete the task.
Read next: Free multiplayer browser games.
Those who have been playing Lineage 2 since the 2000s have probably heard of Shock World or have  played on it. It has been operating since 2004 and at the moment, 5 servers are available: X3 Shockofive, X3 Novus, X7 Inpulsa, X10 Unlimited and X100 Shockolude. All servers are based on the PTS assembly with improvements by the Shock team. We've added Shock World to our top Lineage 2 servers, as it is one of the oldest servers and is still constantly developing.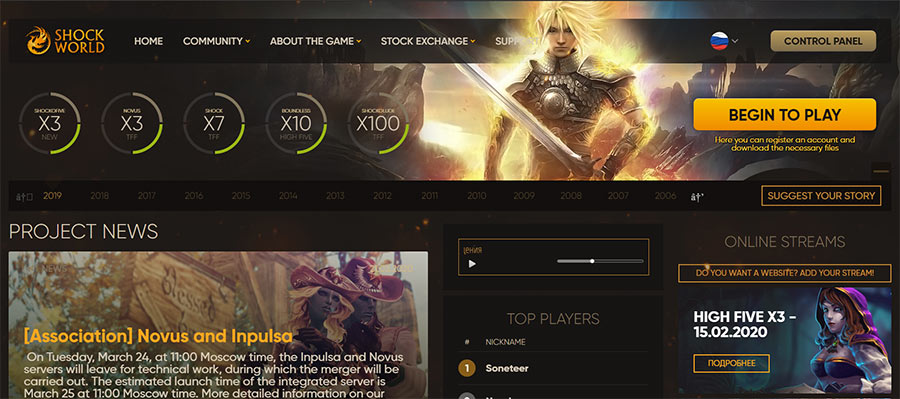 Here we have the High Five chronicle, though you've probably noticed the Final Frontier (or TFF short) – an alternative branch of LII game after Interlude, developed by the Shock team. With each update, staying faithful to the Interlude basis, game developers go further in unconventional directions. TFF is neither better nor worse, just different. Imagine a different way, where instead of The Kamael on the official servers, they would install End of Interlude, and then another new chronicle. This is a great offer for Lineage fans.
| | | | |
| --- | --- | --- | --- |
| Chronicles | GM-Shop | Buffer | Class-Master |
| High Five / TFF | – | + | + |
The "no wipe" principle is similar to many L2 projects. Indeed, with activity decrease on a server with rates over 10, Shock World merges with an older "unlimited" server. This happens approximately twice a year.
When playing on Shock World servers, even on x100, you have 2 ways to reach high results:
Invest real money to purchase CoL (Coins of Luck), which in turn will be needed to exchange for things in the store. CoL and Adena can also be purchased on third-party resources, but the  administration does not welcome it, and there is a chance to get nothing in return.

Spend a lot of time extracting resources, completing quests and using several spoilers, crafting resources, armor, weapons, jewelry and other things.
Rates

XP

SP

Adena

Items

Spoil

Quest

Raid

3
3

x5 – x1

3
3
2
3
The first and the second profession is acquired by Adena, yet the amount is quite high for novices, therefore we'd advise to purchase a PA. Later on you can recapture costs through active gaming. Everything else, e.g. quest for the 3rd profession, sub-class, nobility, takes place the same way as on the official Lineage 2 servers.
Scryde is a private Lineage server that has been working for more than 5 years on no-wipe approach (only merging). Currently, 4 servers are available: X15, X50 (the highest online), X1000 and X1200. This takes Scryde into top-3 Lineage 2 servers by the number of players – peak gaming has been reaching 8,000+ characters, according to the administration. And though there are many servers with lower rates, Scryde is on our list because of high online PvP popularity.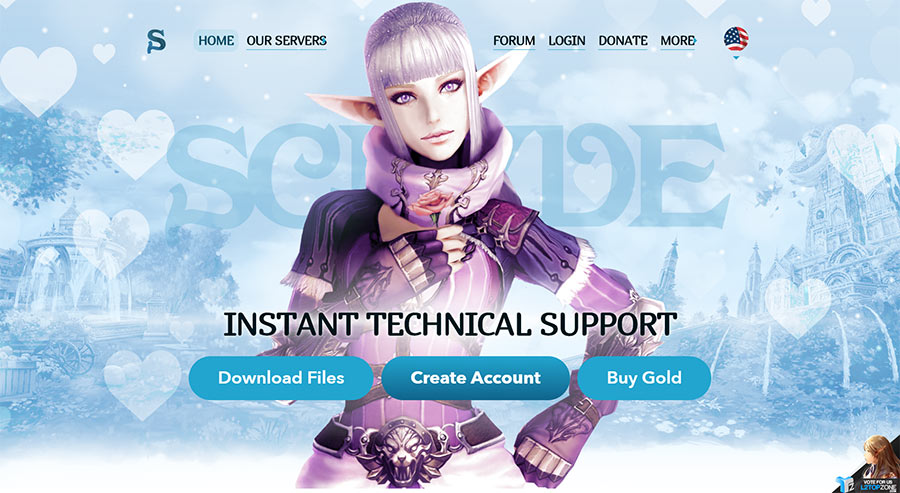 Servers, as well as the project website, support Russian, English and Korean languages. Accordingly, since the server is PvP, there is no craft system here. Everything is available in the store, up to and including S84, as well as enchanting and attributes for Adena. Skill enchantment books are bought for silver mined in farm zones. A full set of buffs for Adena and some enchanted buffs (for subscription) is also available. You can also purchase quest items for gold (donate currency: 1 Euro = 65 coins). It is worth noting that you can obtain coins in small quantities by gaming too. 
| | | | |
| --- | --- | --- | --- |
| Chronicles | GM-Shop | Buffer | Class-Master |
| High Five | + | + | + |
In fact, you can buy anything with donations, and it is not that costly. For example, the most expensive epic jewelry, a Valakas necklace, costs 849 coins (~13 Euro), an Immortality bracelet for 6 talismans cells costs 399 coins, transformation to Anakima 799, etc. Also, you can purchase 100% enchantment scrolls on this LII server for silver, though you need to save a lot of it.
Key features of Scryde server include:
Mana potions recover 1,500 of mana

Base buff limit: 28 (+4) / 14

Farm zones: Beehive, Cruma Tower, Execution Ground

Main towns: Dion (main) and Giran castle (trade)

At the start: everyone has access to free certificates for a premium buff for 3 hours, daily necessities and free S-grade equipment for +8 (for Beginner Coins), as well as special starter kits. 
Rates

XP

SP

Adena

Items

Spoil

Quest

Raid

1200
1200
1200
1
1
1
1
In the game, you appear at level 1 in Dion near the GG, near which you can see chickens for farming. Killing only 1 chicken, you become level 85, buy a starter kit and go to the farm location. You can perform additional quests, but there is no special meaning in them. In order for you to be able to prove yourself at least a little, you will have to farm or donate a lot.
After spending several hours in the game during peak times, we've got the impression that there is an artificial increase of players. It's not like there's no people at all, but this is far from 8,000 gamers. However, nowadays you can rarely see a real online indicator.
Read next: 10 all-time favorite strategy games.
The first server from the E-Global team in 2020 is the traditional Interlude Final, or rather Interlude Rework. The server works with wipes, i.e. there are no mergers of old and new environments. E-Global, though, is especially popular among players from EU countries.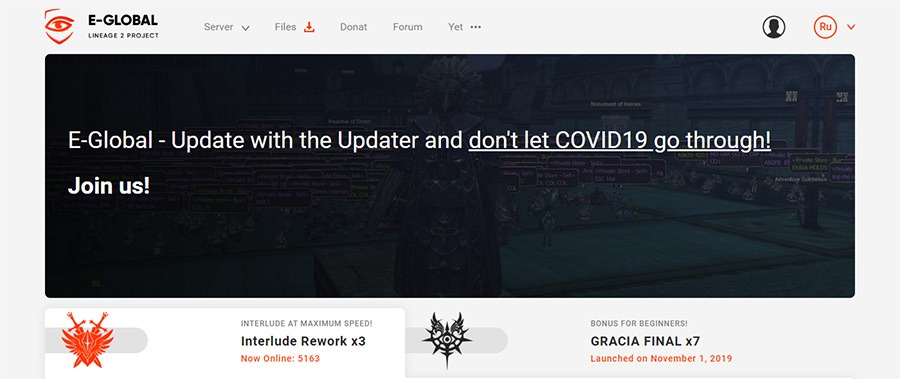 Despite the fact that rates are indicated as x1, the rate system has a dynamic structure here. Thus, even in terms of the 1st stage, players will play with x1 rates, yet not at all levels. They will have a higher value and decrease up to x1 as the character is levelled up. And when you reach the maximum level for Interlude chronicles, gaining an experience continues and the character level rises, but with x0.1 rates.
| | | | |
| --- | --- | --- | --- |
| Chronicles | GM-Shop | Buffer | Class-Master |
| Interlude / Gracia Final | – | – | + |
The project works on the Grand Crusade client (Classic 2.0) to improve optimization for multi-core devices. E-Global server also provides advantages such as flexible interface, auto clear cache, up to 5 quick access panels (set the buttons to play), radar, system messages window, in-game video recording with screen capture. There are also handy options for potions, Action targets, looped macros, consumables for Adena, etc.
As you already know, Interlude Rework is not a classic chronicle, so the E-Global team added/changed the following:
Changes to Raid Boss, Olympics, skills, equipment;

Battle Pass – character customization system;

Autoloot is available when obtaining Agathions;

Vitality system and Fame system adapted for Interlude; 

Simplified sub classes;

Pets can be improved.
We tried to highlight the most important E-Global features, but there are much more – you can find out about all on the forum.
Rates

XP

SP

Adena

Items

Spoil

Quest

Raid

1
1
1
1
1
1
1
Despite tough starting conditions, equipment, support magic from a manager, daily quests, achievement and vitality system, character customization are available to everyone. As your character grows, in the First Stage already you will discover lots of interesting things, e.g. Kamaloka (The Labyrinth of the Abyss), Pailaka, capture locations by clan, etc.
In regards to donations, the main currency is Family Coin. Its value is tied to Euro, so for example, for 5 Euros = 50 Family Coins you can buy a PA for 30 days. Eternal PA costs 130 Family Coins. Premium account gives access to Kamaloka Solo, as well as increases the rates of SP/Drop/Spoil, Fame, the Limit of windows, etc. Bonus applies to all characters within a game account (but not the master account).
Valhalla Age is a project that, like most Lineage 2 servers, builds its own L2 game version, in our case it is "Remastered". This is a combination of best aspects of Interlude, High Five and Classic chronicles, as well as a number of unique changes, which we will discuss below.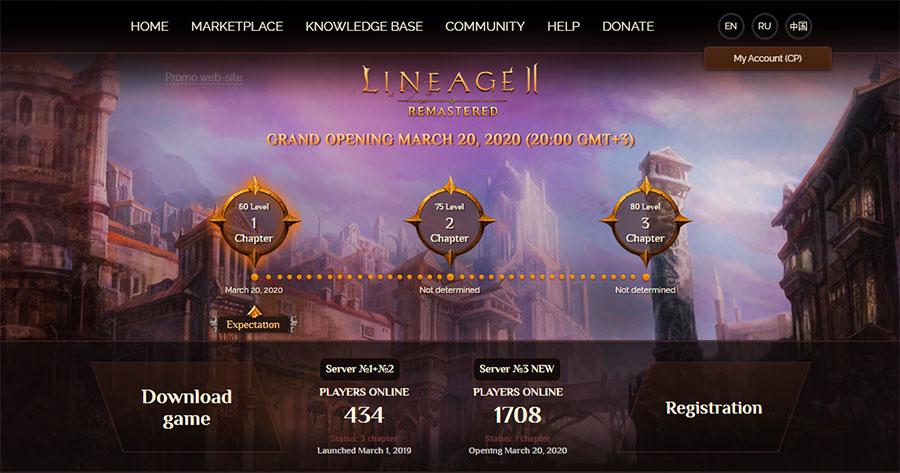 A feature of this server is the presence of players not only from the CIS and EU countries, but also this server is relevant among Chinese players. There are no Kamael and Ertheia races on the server. The server is developed according to the chapters that the server players open on their own, performing game tasks. From the start of the server there is a chapter limitation.
Prerequisites for completing a chapter:
Chapter 1:

Capture 1 of 3 current castles / Number of players with a second profession – 1000 / Number of level 60 players – 500 / Number of B grade weapons – 100 / Killing epic Zaken boss – 2 times.
Chapter 2:

Capture 1 of 3 new castles / Number of completed quests – 150 / Number of level 75 players – 300 / Number of A grade weapons – 150 / Killing epic Baium boss – 2 times.
Chapter 3:

It is possible to complete the task for additional skills when upgrading subclasses / There is a drop of elemental stones and their exchange / Best current gear rank: S / Low rank epic bosses level: 75 / 9 castles available to capture.
Integration with L2R server:

Full preservation of game values, no wipes / 24/7 gaming market with real money withdrawal option / All servers receive updates equally / Introduction of relevant thematic events.
Chapter features. In Chapter 1 it is possible to complete tasks to achieve the 2nd profession. The best current gear rank is B, low rank for epic bosses level is 60. No drop of elemental stones, and 3 castles available to capture. In Chapter 2 it is possible to complete tasks for subclasses, and tasks for obtaining the status of a Nobleman. The best current gear rank is A, low rank epic bosses level is 70. No drop of elemental stones, while 6 castles available to capture.
Also, Valhalla Age developers made a number of editions:
Class balance;

Amendments to the math of drops in dungeons;

Additional character customization;

Game interface improvements, farm redesign;

Additional content for group players and clans;

Redesign of Drop from Life Stone Boxes and Elemental Stone Drop for Chapter 3;

A number of corrections from economic failures.
You will find a more detailed list of changes on the project's Wiki page. A standout perk of Valhalla Agae server is the presence of players from all over the globe – EU, Russia, Ukraine, Belarus, China.
| | | | |
| --- | --- | --- | --- |
| Chronicles | GM-Shop | Buffer | Class-Master |
| Interlude (Remastered) | – | – | – |
Regarding donations, 10 Units = 1 Euro. The first thing the server offers you is to purchase a club card for 1 day (9 Units), 7 days (25 Units) or 90 days (90 Units). Membership in the club gives you an opportunity to quickly teleport, as well as a buff on your character and a pet. 
In addition to membership in the club, you can purchase a number of additional services. It can be a PA with 15-30 days bonus (45-65 units), starter kits worth 65/130/173 units, shot sets and other supplies, raincoats with various bonuses, pets and Agathions. You can also separately purchase runes for EX, SP, Drop, Adena, Spoil.
Rates

XP

SP

Adena

Items

Spoil

Quest

Raid

3
3
3
3
3
3
3
In general, the donation on Valhalla Age server does not go beyond what is permitted, yet at the same time it slightly violates the gameplay. Thus, given the cost, it is more profitable to buy supplies or shots than to get it through the gaming process. Server activity is in full swing, and online presence is really large.
Conclusion
We've selected a number of best Lineage 2 servers, as for our view. These are private servers with a variety of rates, chronicles and server ideology. But we assure you, this list is virtually endless, and there are a dozen rating sites with lists of private L2 servers for any taste.
Lineage 2 is a game played with other people: joining forces in packs, clans, alliances, for campaigns against Raid Bosses, siege of castles, collective development. Each player takes a number of commitments in order to be the best. Some private servers offer an alternative: invest a certain amount of real money and become the strongest character (which is impossible on the official Lineage 2 servers).
Please, feel free to share other fascinating L2 projects/servers in the comment section below.
Read next: 10 best tank games.
FAQ
Q: What are the requirements for Lineage II?
A: It depends on the chronicles, for example, for the most popular and one of the oldest Interlude the following setup will do: CPU Pentium 4 3.0 GHz, 1GB RAM, NVidia GeForce 6600, Internet connection.
Q: Where can I find alternative L2 servers?
A: There are dozens of sites on the net: Mmotop, L2top, Hopzone, Top100arena, and plenty of others that can be easily found using Google or other search engines.
Q: Where to find information on how to play Lineage?
A: Go to topical LII forums, or similar web pages. Detailed guides on the game for each chronicle and profession have been written long ago.
Q: What is the strongest race in Lineage 2?
A: The game maintains a balance of classes, so there are no strongest ones, it all depends on the server, chronicles, and what strength do you need (PvP or PvE).
Q: How to level up a character fast?
A: Read the guides about your character on thematic websites/forums and stick to them.
Q: How to get rich quickly in LII?
A: For each chronicle and server, in general, methods are different, it all depends on your character, race and profession. So, for example, you can upgrade the characters of buffs and sell your services, craft and sell items, complete quests and more. But one of the most reliable ways for most servers with low/average (x1-100) rates is to play a dwarf with the spoiler profession, extracting valuable resources, selling them for Adena, thereby increasing your wealth. Some servers have casinos and other add-ons in the game.
Q: What is the Olympics in Lineage?
A: At the World Olympics you can compete for the title of Hero or Legend, which will be valid for the next calendar month after the end of the cycle. Heroes and Legends have special weapons, skills and bonuses.
Q: Which is better, PTS or Java server?
A: Long ago the difference was significant and PTS servers were distinguished by stability, correct operation and reliability in general. Today there are a number of Java servers that are no worse than PTS. It is up to developers, a poor product can be both in Java and in PTS.
Q: What is required for a clan in LII game?
A: A clan is a type of community, a group of people playing a game as one team. In Lineage 2, as the clan develops and additional clan skills are studied, the entire clan receives an increase in character statistics, and the clan also gets the opportunity to conquer castles, purchase clan halls, and more.
Q: How to increase attack rate?
A: Learn the necessary skills for your character, use the maximum permissible weapons for your level and sharpen it, use additional buffs.
Q: How to increase protection rate?
A: To increase protection rate, armor (physical protection) and jewelry (magic protection) are used. This indicator can be increased by sharpening armor/jewelry, studying active/passive skills, applying buffs to your character, using additional tattoos/paints and more.
Q: Why is my character running slowly?
A: Perhaps you are using weapons/armor/jewelry with rank higher than the required level or there are too many items in your inventory.
Q: What privileges does the castle grant?
A: Any clan member can take advantage of a number of castle functions, for example: personal/clan storage, NPC buff, teleport to the clan leader, region tax income, the ability to use Wyvern (flying dragon), and a number of other advantages that also depend on server chronicles and implementation generally.
Q: How to save the game?
A: Lineage 2 is an online game that does not require saving, just leave the game and at the next start you will continue your progress.
Q: How to protect my account from hacking and theft?
A: If possible, use your mobile phone number to register. In the password, use complex combinations consisting of characters, numbers and uppercase/lowercase letters. If a L2 server supports it, use account binding by IP/HWID, as well as a pin code to transfer items.
Q: How to add a server to this list of best Lineage 2 servers?
A: Write us a message to info@thinkmobiles.com.