The army adopted Virtual Reality long time ago, much earlier than commercial markets. Who knows what the VR technology would be like nowadays if not billions of investments by the military from the very beginning. They had also financed the development of first effective headsets, a.k.a. HMDs. Today, the number of VR projects for the military is increasing, and by 2025 it is even expected to generate a significant $1.4 billion in revenues.
VR military applications
Currently, VR is used by the military in all three major fields – ground, air and navy forces for flight and battlefield simulations, medical training, vehicle simulation and virtual boot camps. While VR training remains the most effective and widely used option, the military has recently also adapted virtual reality for analyzing military manoeuvres and battlefield positions.
#1 VR Training
About 1-in-20 deaths of soldiers happen during the training. Due to ability to turn this negative statistics over and provide maximum safety, the implementation of Virtual Reality in military for training programs was enthusiastically welcomed.  
Unlike Augmented reality (AR), VR does not suit for use on frontlines. However, its training potential is higher, because it can totally simulate a situation, surroundings, and conditions for practical purposes. Especially useful to up soldiers' combat skills without any danger to their lives. And it is cheaper than any military real-life manoeuvres.
VR military training by types:
Immersive trainings

– help trainees walk through all stresses of a parachute jump, fighter jets, submarines and tanks (claustrophobia);

Situational awareness

– in extreme environments (jungle, arctic, desert missions) navigation and teamwork are crucial.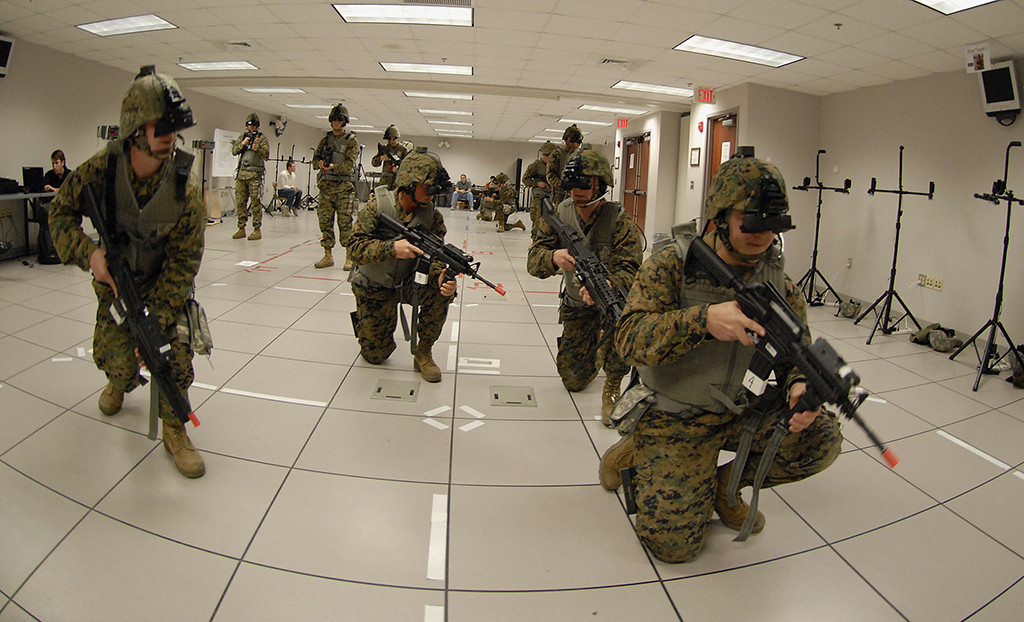 With the advent of wireless and mobile VR systems, the training became even more realistic with the ability of free motion. Such virtual bootcamps typically include:
[Locker] The locker [id=0] doesn't exist or the default lockers were deleted.
MVP of your VR app for 14 days!
Get a free estimate in 24h
Help with product management

From $25 hourly

100+ AR & VR developers
How do we work?
24

h

for estimate

7

d

for wireframes

2

w

for MVP
Read more about Virtual Reality