Updated: May 2018
The world yet perceives Virtual Reality like some sci-fi concept. However, it is already present on the market and numerous businesses have been working in this niche for years. There's definitely no shortage to compile the list of  top-rated VR companies, and that's what we aim to do here. We'll categorize top virtual reality companies of 2018 by their main specialty as follows:
Virtual Reality platforms

. These companies focus on the development and distribution of software, and include engines, tools, and SDKs to create virtual reality projects.

Custom VR development companies, 

working directly with clients and bringing their ideas to life (outsourcing) and 

VR app development companies, 

with main focus on designing and building their own Virtual Reality apps of various types, and games.

Industry-specific VR solutions

. Similar to custom development companies, but targeting one or two market niches: real-estate, sports events, education etc.
Want your company listed and get more qualified leads? Contact us via any of the following:
LinkedIn: @jane.todavchych
E-mail: jane.todavchych@thinkmobiles.com
Skype: live:234dd2d5aa141d28 
For the briefest glimpse into following content, and sort of TL;DR, we've got the next paragraph – six best VR development companies in random order.
Top Virtual Reality companies
VironIT
Next/Now
Groove Jones
HQSoftware
Corporation Pop
Master of Code Global
Program Ace
Now, let's take a closer look at all 25.
Groove Jones is an award-winning creative and technology studio, recognized for the work they are doing for world-class brands. They do everything you need related to Virtual Reality: 360-videos and post production, fully interactive VR  experiences, Augmented Reality development, 3D design/CGI/animations, sound design and production, on-site installations, as well as strategic consulting. Their work has appeared at large sale events like the Super Bowl, PGA Tournaments, NASCAR races, SXSW, CES and Comic-Con. Among their major clients are Amazon, AT&T, Comcast, IBM, Samsung, Mastercard, McDonald's, Nestle, Samsung, and Under Armour.
And beside being of the best VR development companies today, Groove Jones is also working in Augmented Reality development. Leveraging Apple ARKit, AR Object Toolkit, various AR headsets, they develop AR solutions, some of which they promise to be able to show soon.  Be sure to check out the video reel below for a sample of their work:
Website: https://www.groovejones.com/
Famous for their "digital experiences in physical places", i.e. producing animations for exhibitions, fairs, tradeshows, festivals, etc. This experimental marketing agency, founded in 2011, is known for high-quality work with touch surfaces, gesture and motion, VR and AR, projection mapping, etc. Their average charge per project is $25,000-$30,000.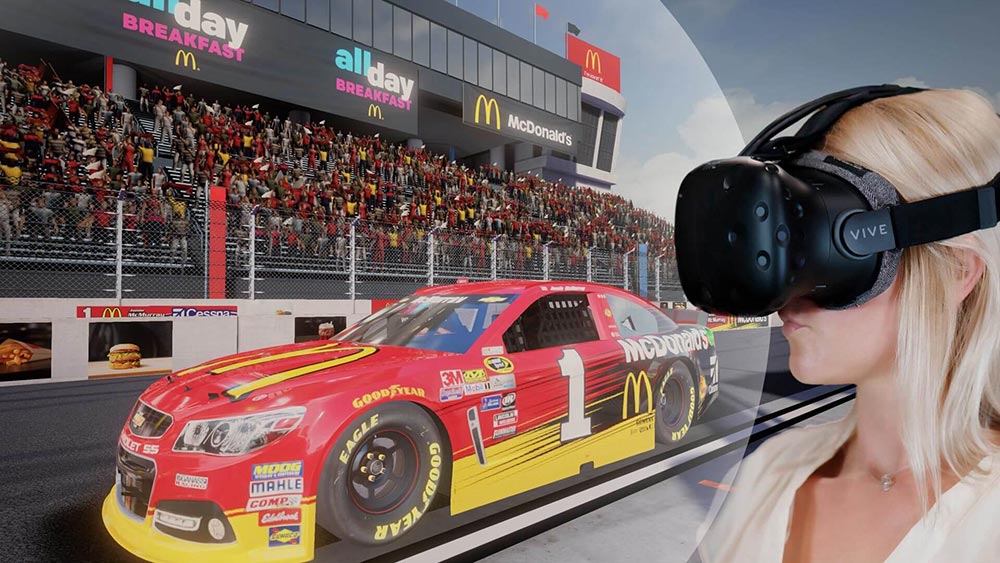 Nascar VR project. Image source: Next/NowTheir client list is pretty darn impressive, including brands like NEC, Intel, LG, American Girl, Audi, and even US Federal Reserve System (!). Next/Now team is based in Chicago, USA and comprises of designers, software engineers, VR storytellers, motion graphic artists and managers (24 total). Since 2011 the agency has build an extensive portfolio of fruitful VR projects, e.g. trade show, concert, sports, restaurant experiences.
Website: https://nextnowagency.com/
Merge is targeting mainly toys for children older than 10 years, and producing a unique VR goggles for gaming. But the company also is creating fun and entertaining virtual reality apps for exploratory and educational purposes. "Miniverse", a library in a form of a game for kids to learn about the universe, is one nice example. Or "Invasion" for Merge Cube. Overall, they offer VR apps, games, 360-videos, musical experiences, educational apps, and more.
Website: https://mergevr.com/
HQSoftware is a team of strong VR professionals who are eager to complement businesses with purpose-driven VR solutions. Such companies as HTC, Canon, Sega, Honda, BBC, Skoda have already partnered with the company to create apps for educational, marketing, production and other purposes. The company's specialists utilize Unity, GearVRf SDK, Oculus SDK, headsets such as Samsung Gear VR, Oculus Rift, HTC Vive, Google Cardboard and Daydream, PlayStation VR. See this VR application by HQSoftware created to show drivers how hard and dangerous drunk driving is. The application streams distorted visuals in real time.

Website: https://hqsoftwarelab.com/solutions/ar-vr-development
A mobile app development agency from Britain, that is very enthusiastic about VR. Under B2B model, they build ready-made mobile and VR applications, 3D environments for other companies, virtual conferences, shows and simulations. Those apps were for telecom, healthcare software, education, virtual graduation ceremonies, etc. For instance, at about $200,000 cost this team designed a VR project for global media company, which immerses a viewer into client's environment to give a close perspective. They also work with quite unique VR headsets such as Zeiss VR One, Pinc, Gear VR, and specific hardware like The Cyberith Virtualizer.
Website: https://corporationpop.co.uk/
A software agency which can boast of working for Mercedes-Benz and other top-league brands, specializes in VR/AR development, artificial intelligence and web development. Providing solutions for healthcare industry, medicine, education and e-commerce, they use tools like Unity, Unreal, Blender, Google VR SDK to create and design custom products.
120 engineers, 273 projects done, 94% positive client feedback.
The agency with offices in US and Canada also operates in web & mobile applications development, design, quality assurance and chat bot creation. They love Agile methodology for the working process, provide regular reports to customers, integrate testing at every stage of a project. Master of Code are also regular and active participants of all VR/AR related events, ensuring to work with relevant and latest technologies only. Let's look at one of their many projects in the portfolio.
Website: https://masterofcode.com/
This software company from Ukraine has been around for 25 years already and completed about 700 projects of various scope. Currently, their main focus lies in virtual reality development, augmented reality development, mobile app and cross-platform development, gaming, 3D modeling and animation. In terms of VR, they offer services in creating apps for virtual training/simulations, interactive 3D, virtual tours, mixed reality. Technical expertise includes Unity,  Xamarin, Unreal Engine, .NET, Java, JavaScript, Angular, React. Products showcases include Mirinda VR desktop app, Magrabi VR store, VR hotel.
Website: https://program-ace.com/
A company in VR gaming niche. First off, this team of designers and developers created their own unique VR gear called Virtuix Omniverse. Its the advanced stationary "treadmill" motion unit with moving gear, controllers and a headset to provide a rich and realistic action in a small space area. It is quite complex and looks like nothing else in the VR industry. They call it a "VR motion platform", and they have a suite of 15 VR games to play exclusively on it (even multiplayer games). With over 2,000 units sold, Virtuix has a good start.
Website: http://www.virtuix.com/
With passion for VR / AR / MR apps, this agency will provide service and expertise for various types of content. From virtual reality projects, AR/MR projects, computer vision algorithms (face and objects recognition) to 3D modeling and design. They produce iOS/Android apps for the following headsets – Vive, HoloLens, Oculus Rift, Gear VR, Google Cardboard and Google Daydream. AVRspot team also offers three-dimensional modeling services by skilled 3D artists. Their tech stack for VR consists of C#, C++, Unity, UE4, Vuforia, ARKit, ARCore, WebGL, OpenGL, OpenCV, VisionAPI, etc.
Website: http://www.avrspot.com/
Appentus Technologies is a leading mobile app and Web Development Company with branches in India, UK, USA and UAE. With a team of dedicated technology experts, creative designers and quality software developers, our company is renowned for meeting up with the needs of clients who desire top class products and services.
Website: https://www.appentus.com/
Xtrematic is Virtual Reality development company focuses on the manufacture of hardware (VR equipment) and software (VR games). VR development teams produce unique VR games using specific engines like Unreal Engine. More than 30 games. The mainly specialize in extreme sports and extreme adventures in virtual reality. Creating extreme virtual reality simulator Extreme-Machine with Oculus Rift, HTC Vive, and Samsung Gear VR, providing extreme sensations with no risk to life. Extreme-Machine is suitable for  disabled people. Company focus on custom solutions for a range of top Virtual Reality headsets and platforms, including Oculus and HTC Vive.  Xtrematic work with quite unique VR headsets such as Gear VR. The company has been working since 2015. The technical staff is located in Belarus. The chief office is situated in Minsk. Worldwide dealer offices in Chicago, Albuquerque, Barcelona, London, Eindhoven, Dubai, Melbourne, Montreal, Moscow.
Website: https://xtrematic.com/en/
A software from the United Kingdom develop and design primarily mobile apps and digital solutions for TV/kiosks/ad stands. Company facilitates businesses and brands with post-PC technologies, innovation, research and development, partnering with hardware vendors like Oculus, HTC Vive, Microsoft, Google and DAQRI. Over one hundred employees working at six locations, earning multiple IT awards (Clutch, Glassdoor, Northern Tech 100), these guys are innovative, ambitious, energetic and quickly growing.
Website: https://hedgehoglab.com/
TT PSC from Poland is present on software market since 1991, working in the field of 25 years software development and integration, IoT, Virtual Reality, Augmented Reality, Mixed Reality, product lifecycle management, etc. With over 200 experts under one roof (well, actually across several offices throughout Europe) the company provides a wide range of expertise. Platforms and tools to build interactive apps and products, like Vuforia, ThingWorx, Axeda, FlexPLM, Atlassian, ServiceDesk, Java, iOS, Android, Windows Phone, Amazon Web Services, Selenium, WebDriver, GIT/SVN, JavaScript, Angular, jQuery, Bootstrap, React. In terms of VR/AR, AR seems to be of more emphasis for PSC team.
Website: http://ttpsc.co/
Gramercy Tech is a custom software development agency, also delving into Virtual Reality experiences. They focus on VR content creation, design and development of immersive experiences, employing a team of numerous programmers, designers and inventors. Also, a long term partner for some of Fortune 500 companies, providing services in real estate software, gaming, AI, etc., and even interviewed by the Washington Post about multimedia and entertainment trends of today. One great VR project example could be virtual bike race designed for LINC exhibitions offering 2 minute race competition for attendees.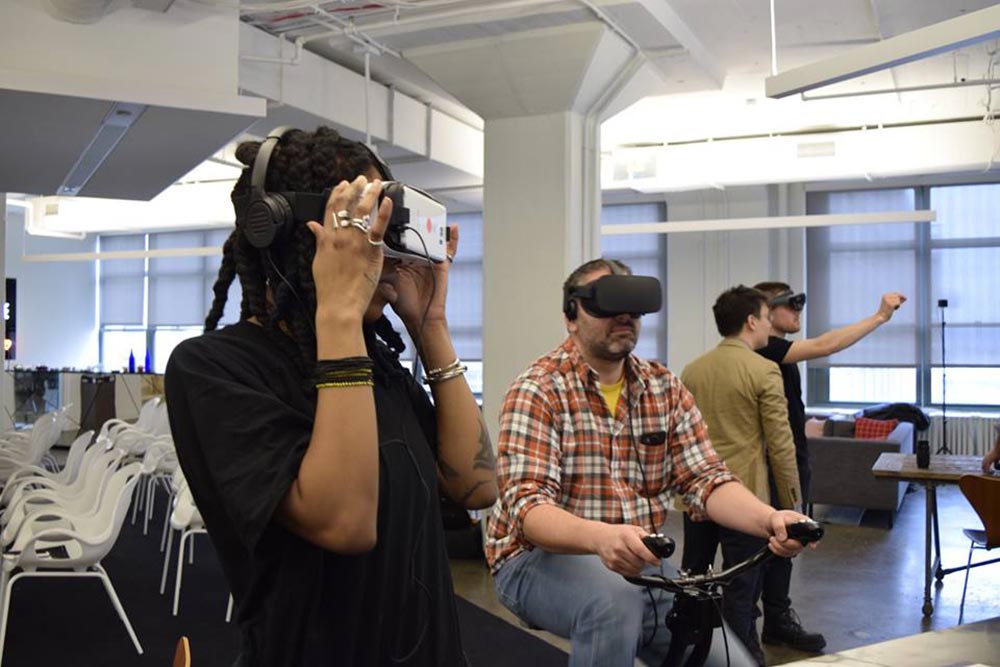 LINC virtual bike race. Image source: Gramercy Tech.Website: https://www.gramercytech.com/
Bringing custom apps for VR, AR, blockchain, AI, motion graphics, voice recognition, etc., Notion Theory from Washington, USA, works in development and design of VR products. Though, predominantly they work in mobile and web apps, for Virtual Reality this team focuses on two categories of products: stationary VR and walkable VR. The first one is really affordable solution working on Google Cardboard and average mobile phones. It mainly offers 360-videos that enable experiences similar to virtual. It is shareable through Facebook or YouTube, and thus quite popular among customers. For walkable VR, with additional sensors and connected to a PC/laptop, Notion Theory builds apps designed for HTC Vive and Oculus Rift. In addition, they utilize hand controllers, sensors and various portable elements to allow more user control within virtual environments.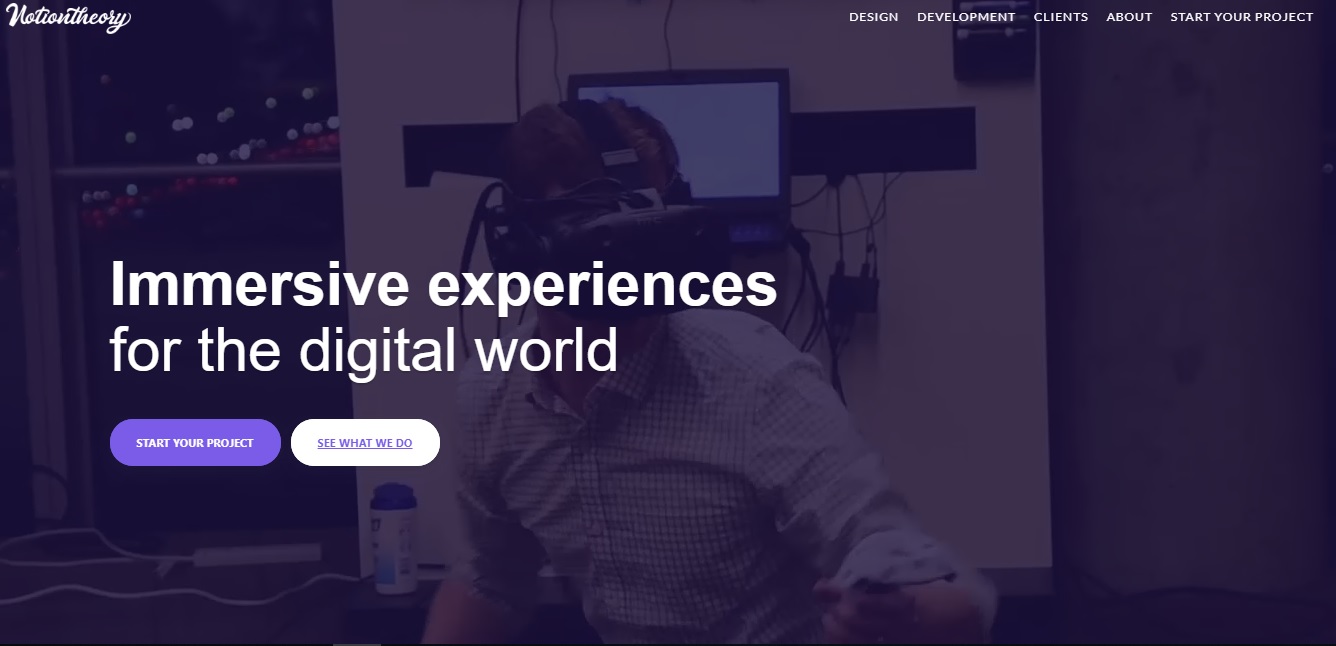 Website: https://notiontheory.com/
A B2B content distribution platform for virtual reality products. Supporting the wide range (VR experiences, apps, games, 360-videos) and removing the hassle of configuring a product for various user devices. It means once you upload your application or game, Littlstar makes it work on Oculus Rift, Vive, Daydream, GearVR, PlayStationVR and Windows MixedReality sets. "Immersive content, anywhere", truly a helpful service, and clients like CNN, World of Tanks, Disney, NBC are the proof.
Website: https://littlstar.com/
Survios is a small studio in the USA focusing on VR game development. With the principle of "gaming as an art form" they create stunning experience like Sprint Vector and Raw Data with a full-body play available on SteamVR. The team tries to make VR as human as possible, thus devising the "active VR" approach in their work. It implies six integral parts:
Immersion – realistic physics, graphics, lighting, movement, haptics;

Presence – wide field-of-view, high definition images, accurate tracking, etc. for non-virtual perception;

Embodiment – a virtual avatar of a user, that aligns with a real body and reacts like it;

Free movement – 360-degree mobility not bound by wires;

Shared space – a digital space where everyone can interact with each other;
Dynamic spectating – a possibility to view VR activities from outside, like in theater.
Website: https://survios.com/
A team of 50 software engineers, designers and VR enthusiasts from Ukraine who focus on interactive applications development, modeling, animation and 360 videos. From the very idea to post-launch support – they've got everything one requires in regards to virtual reality apps, AR/MR apps, UX, 3D graphics and modeling, game creation, video production and streaming, ecommerce software, etc. Moreover, their own R&D lab is constantly researching new VR tools and VR hardware, develops VR/AR prototypes, arranges workshops. Among top customers we can spot Samsung, Credit Agricole, Audi, Lexus, Philip Morris and more.  
Website: http://sensoramalab.com/
VironIT is a software development company that uses a well-balanced set of technology skills to build incredible Virtual Reality experiences. VironIT VR development teams focus on custom solutions for a range of top Virtual Reality headsets and platforms, including HTC Vive, Windows Mixed Reality, etc. It also offers state-of-the-art game development, using specific gaming engines like Unity and Unreal Engine. The company uses the wide experience to ensure that clients have the best technical solutions to solve their business challenges and deliver value for their organization. Check a VR app they developed in the video below.
Website: https://vironit.com/vr-ar-app-development/
US development agency To The Moon 3D Technologies makes it all – immersive events, installations, applications and VR games. Their areas of expertise range from Augmented Reality, Virtual Reality and traditional mobile app development, to 360-degree video production, projections, 3D mapping, VR content creation and "lenticular printing". These guys can build with tools like Unity engine and Unreal engine, resulting in 100% custom apps for Oculus Rift or Vive. One of many great examples is VR Dome – a huge installation to inspire the viewers at concerts, exhibitions or business presentations.
Website: http://tothemoon3d.com/
Based in Estonia and active since 2001, Mobi Lab is a design and development shop producing mobile, virtual reality and augmented reality solutions. With rates, competitive if compare to other companies in US or UK, their prime focus is on creative design and user experience. Working in areas like smart cities, IoT, financial tech, logistics, media, they've landed projects with brands such as Skype, Microsoft, Samsung, etc. Mobi Lab's key tool to build VR apps for HTC Vive, Hololens, Android and iOS is Unity3D engine.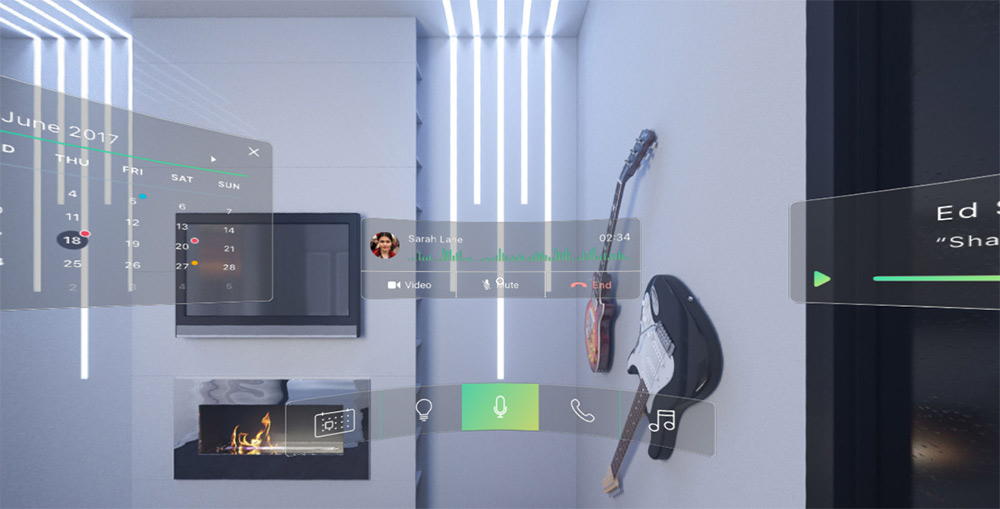 VR app demo for Cardboard. Image source: MobiLab.Website: https://lab.mobi/
A small but highly ambitious company from Croatia, founded in 2008. Its core specialties are iPhone/iPad, Android, HTML5, Unity, Augmented Reality, gaming, JavaScript, Swift, web design and web development, etc., though they are also working on Virtual Reality apps. For example,  DinoAR app for educational purposes, which is primarily an AR app, but also has a VR mode for Google Cardboard and other headsets. There are lots of other undisclosed projects as well, for big clients like Mitsubishi, Kawasaki, Chocolapps, AG Design, Dentsu, Bappz.
Website: http://clover.studio/
Industry-specific VR companies
One of best Virtual Reality companies providing immersive tours for the real-estate industry. A fine example of robust and niche application of VR technology on today's market. Transforming three-dimensional models and images into VR experiences, so that realtors and agencies can show their clients top-notch animated views of houses. One can view ready products on Oculus Rift and HTC Vive, with full navigation throughout properties, animated as 360-videos.
Website: http://www.bricksandgoggles.com/
Virtually Live works in the field of sports and sport events, creating virtual action for anyone to join. For better fan experience, the company offers people to live through real sports events in virtual reality. With Vive or Rift you can witness the action from various locations of your choice (like a director of TV broadcast). All fans of football games, motor races, baseball, et cetera can watch sports in new way.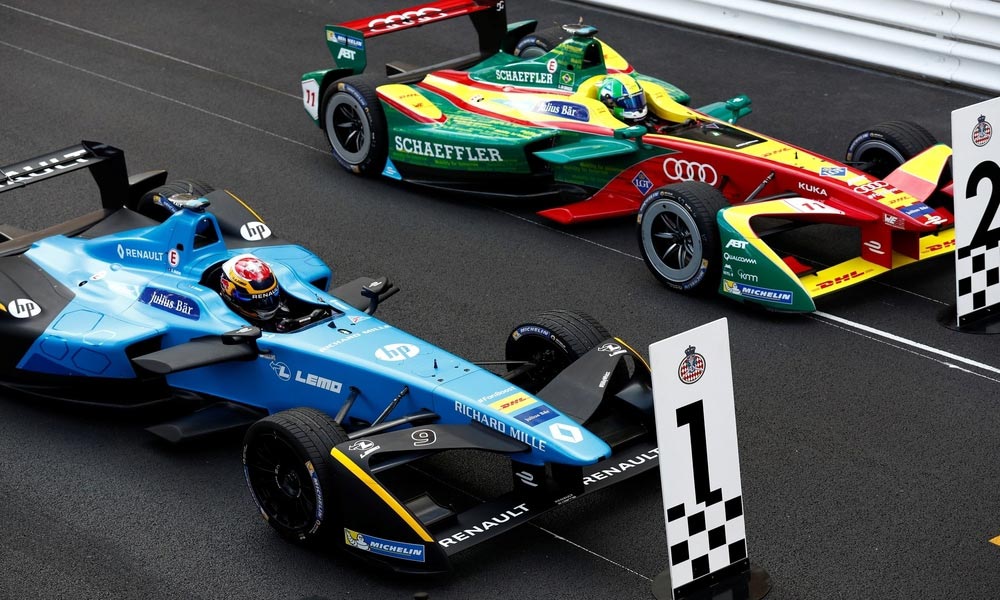 Formula E virtual experience. Image source: Virtually Live.Website: http://www2.virtuallylive.com/
As the final VR company in our short list, SpaceVR brings science and space closer through 2D cameras orbiting the Earth on satellites. That whole sentence really blows our minds! Think of it, 360-degree cameras actually mounted on satellites. Their team consists of actual astronauts and ex-NASA employees, creating beautiful educational VR videos of our planet and space around. With 1-year subscription ($35) or lifetime subscription of $99, you can enjoy 4K quality virtual reality content. Videos from the Overview 1 satellite, rocket launches, 360-timelapses, real-time feeds, while more interactive features are in the works.  
Final thoughts
As you see Virtual Reality has already the potential to penetrate almost every area of our lives. Moreover, it is going to strengthen its role in upcoming years, if the trend keeps relevant and more innovative products emerge. Tech giants like Apple, Facebook, Microsoft, Samsung are investing tons of money into VR research and development. And even smaller companies and startups sometimes invent products that have no less of an impact. So let's keep an eye on what's going to happen next.
P.S. Anything substantial we've missed? Keep us posted in comments section.
To list your company in this article, contact us via email: jane.todavchych@thinkmobiles.com .