Updated: April 2018
The world yet perceives Virtual Reality like some sci-fi concept. However, it is already present on the market and numerous businesses have been working in this niche for years. There's definitely no shortage to compile the list of  top-rated VR companies, and that's what we aim to do here. We'll categorize top virtual reality companies of 2018 by their main specialty as follows:
Virtual Reality platforms

. These companies focus on the development and distribution of software, and include engines, tools, and SDKs to create virtual reality projects.

Custom VR development companies, 

working directly with clients and bringing their ideas to life (outsourcing) and 

VR app development companies, 

with main focus on designing and building their own Virtual Reality apps of various types, and games.

Industry-specific VR solutions

. Similar to custom development companies, but targeting one or two market niches: real-estate, sports events, education etc.
One more hint: in 3rd section of this article you will find a surprise fun quiz to test your knowledge of VR and deduction skills.
Want your company listed and get more qualified leads? Contact us via any of the following:
Twitter: @Think_Mobiles
LinkedIn: @alexsokhanych
E-mail: info@thinkmobiles.com
Skype: yourtradingsystems
Virtual Reality platforms
Hyperverse is focusing on the development of out-of-the-box VR platform solutions. It provides options and tools for software engineers to build indoor virtual reality experiences. This platform is specifically great for location-based VR entertainment, due to their movement tracking system (pending patent). Tech setup that Hyperverse offers is a mix of VR devices and custom movement tracking. It allows content creators focus on visual side of things instead of technical VR hardware. And final cherry-on-top is the support of any size locations and the unlimited number of players/viewers. Check what you are capable of with this VR platform in video below.
Website: https://hyperverse.io/
Tetinad is an example of striving to push further the technology of immersive media by collecting and analyzing user data from VR/AR experiences. This is one of virtual reality companies that can be very useful when developing and/or testing new apps and games in VR. The focus, of course, is on conversion rates, better content and customer engagement. If you need info on how users behave with your VR product, compare the performance on different headsets, or even heatmaps of activities, this service is rad. 
Website: https://www.retinadvr.com/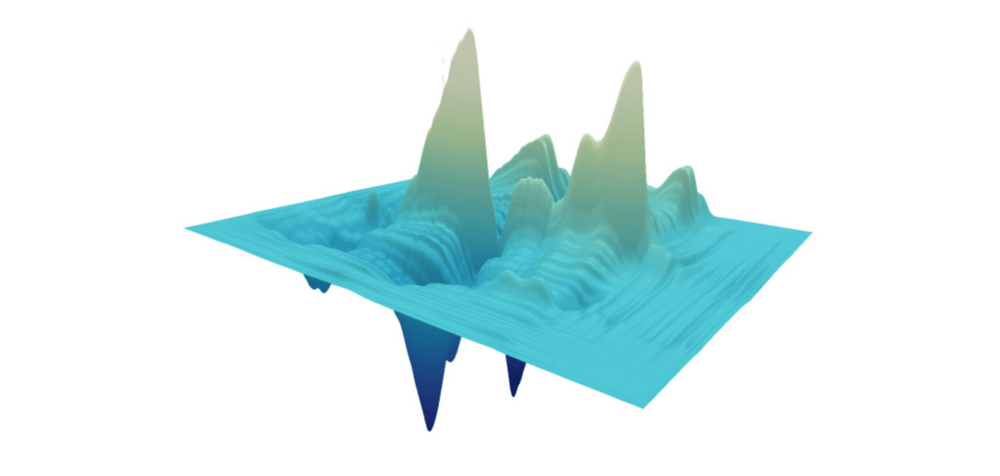 A B2B content distribution platform for virtual reality products. Supporting the wide range (VR experiences, apps, games, 360-videos) and removing the hassle of configuring a product for various user devices. It means once you upload your application or game, Littlstar makes it work on Oculus Rift, Vive, Daydream, GearVR, PlayStationVR and Windows MixedReality sets. "Immersive content, anywhere", truly a helpful service, and clients like CNN, World of Tanks, Disney, NBC are the proof.
Website: https://littlstar.com/
Quiz! Quiz! Its time for a quiz!
How about a change of pace? For this, we present you a fun test to relax your mind for few minutes. Fans of Buzzfeed, cats and quizes should enjoy!
VR custom development companies
Groove Jones is a VR content specializing studio from USA, making interactive applications for their clients. They do everything you need related to Virtual Reality: 360-videos and post production, interactive VR  experiences, Augmented Reality development, 3D design/CGI/animations, sound design and production, on-site installations, as well as strategic consulting. Among their major clients are Amazon, AT&T, Comcast, IBM, Samsung, etc.
And beside being of the best VR development companies today, Groove Jones is also working in Augmented Reality development. Leveraging Apple ARKit, AR Object Toolkit, various AR headsets, they develop AR solutions, some of which they promise to be able to show soon. Going back to the main specialty – virtual reality, check out of their projects, View Glass demo:
Website: https://www.groovejones.com/
This is another software developing agency specializing in VR/AR projects. And yes, that's us, oops. Want to know more about our skills and offers? Go to VR development page to see how we build interactive applications. Wish to see some examples of our work? Go to Portfolio page to learn more about some of our VR projects, such as DataSpring, for instance. In short, it is a VR presentation tool designed for HTC Vive to demonstrate and gather data.
In close partnerships with many globally renown brands and companies, many of whom we can't disclose, we work to develop custom VR apps, games and various multi-purpose solutions. Sometimes, even VR platforms for e-commerce. Since 2016, ThinkMobiles has been regularly listed among top-level agencies in VR/AR developers category on Clutch and similar resources.
Website: https://thinkmobiles.com/
Hire AR/VR dedicated team or dedicated developer for your project
Famous for their "digital experiences in physical places", i.e. producing animations for exhibitions, fairs, tradeshows, festivals, etc. This experimental marketing agency, founded in 2011, is known for high-quality work with touch surfaces, gesture and motion, VR and AR, projection mapping, etc. Their average charge per project is $25,000-$30,000.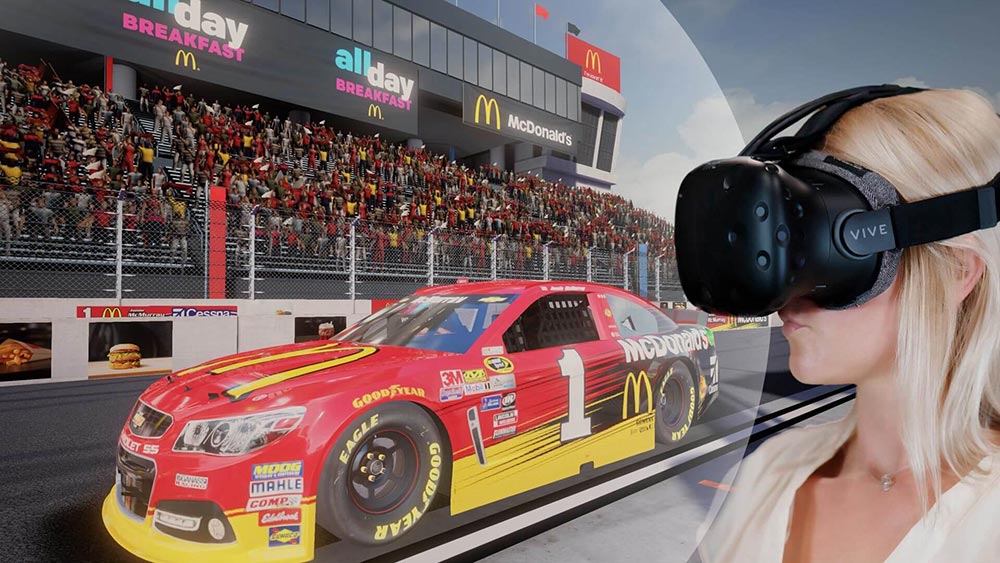 Nascar VR project. Image source: Next/NowTheir client list is pretty darn impressive, including brands like NEC, Intel, LG, American Girl, Audi, and even US Federal Reserve System (!). Next/Now team is based in Chicago, USA and comprises of designers, software engineers, VR storytellers, motion graphic artists and managers (24 total). Since 2011 the agency has build an extensive portfolio of fruitful VR projects, e.g. trade show, concert, sports, restaurant experiences.
Website: https://nextnowagency.com/
A software from the United Kingdom develop and design primarily mobile apps and digital solutions for TV/kiosks/ad stands. Company facilitates businesses and brands with post-PC technologies, innovation, research and development, partnering with hardware vendors like Oculus, HTC Vive, Microsoft, Google and DAQRI. Over one hundred employees working at six locations, earning multiple IT awards (Clutch, Glassdoor, Northern Tech 100), these guys are innovative, ambitious, energetic and quickly growing.
Website: https://hedgehoglab.com/
Gramercy Tech is a custom software development agency, also delving into Virtual Reality experiences. They focus on VR content creation, design and development of immersive experiences, employing a team of numerous programmers, designers and inventors. Also, a long term partner for some of Fortune 500 companies, providing services in real estate software, gaming, AI, etc., and even interviewed by the Washington Post about multimedia and entertainment trends of today. One great VR project example could be virtual bike race designed for LINC exhibitions offering 2 minute race competition for attendees.
Website: https://www.gramercytech.com/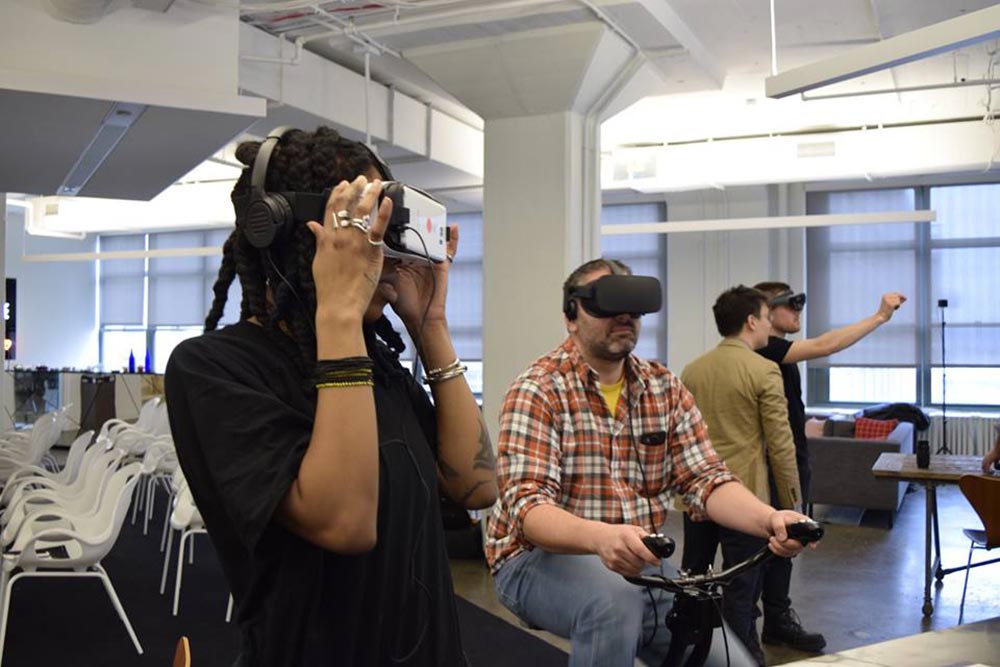 A software agency which can boast of working for Mercedes-Benz and other top-league brands, specializes in VR/AR development, artificial intelligence and web development. Providing solutions for healthcare industry, medicine, education and e-commerce, they use tools like Unity, Unreal, Blender, Google VR SDK to create and design custom products.
120 engineers, 273 projects done, 94% positive client feedback.
The agency with offices in US and Canada also operates in web & mobile applications development, design, quality assurance and chat bot creation. They love Agile methodology for the working process, provide regular reports to customers, integrate testing at every stage of a project. Master of Code are also regular and active participants of all VR/AR related events, ensuring to work with relevant and latest technologies only. Let's look at one of their many projects in the portfolio.
Website: https://masterofcode.com/
Survios is a small studio in the USA focusing on VR game development. With the principle of "gaming as an art form" they create stunning experience like Sprint Vector and Raw Data with a full-body play available on SteamVR. The team tries to make VR as human as possible, thus devising the "active VR" approach in their work. It implies six integral parts:
Immersion – realistic physics, graphics, lighting, movement, haptics;

Presence – wide field-of-view, high definition images, accurate tracking, etc. for non-virtual perception;

Embodiment – a virtual avatar of a user, that aligns with a real body and reacts like it;

Free movement – 360-degree mobility not bound by wires;

Shared space – a digital space where everyone can interact with each other;
Dynamic spectating – a possibility to view VR activities from outside, like in theater.
Website: https://survios.com/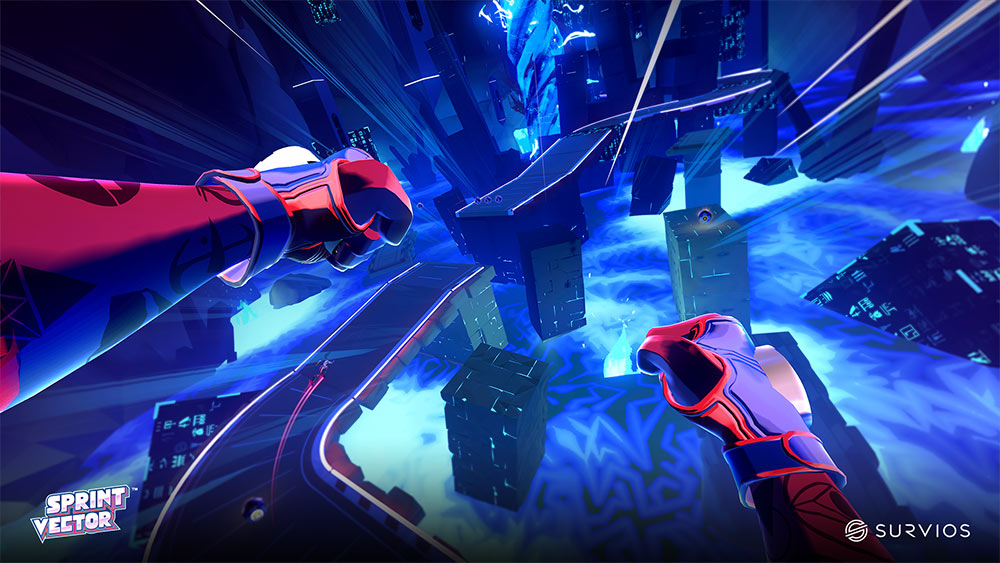 Merge is targeting mainly toys for children older than 10 years, and producing a unique VR goggles for gaming. But the company also is creating fun and entertaining virtual reality apps for exploratory and educational purposes. "Miniverse", a library in a form of a game for kids to learn about the universe, is one nice example. Or "Invasion" for Merge Cube. Overall, they offer VR apps, games, 360-videos, musical experiences, educational apps, and more.
Website: https://mergevr.com/
Based in Estonia and active since 2001, Mobi Lab is a design and development shop producing mobile, virtual reality and augmented reality solutions. With rates, competitive if compare to other companies in US or UK, their prime focus is on creative design and user experience. Working in areas like smart cities, IoT, financial tech, logistics, media, they've landed projects with brands such as Skype, Microsoft, Samsung, etc. Mobi Lab's key tool to build VR apps for HTC Vive, Hololens, Android and iOS is Unity3D engine.
Website: https://lab.mobi/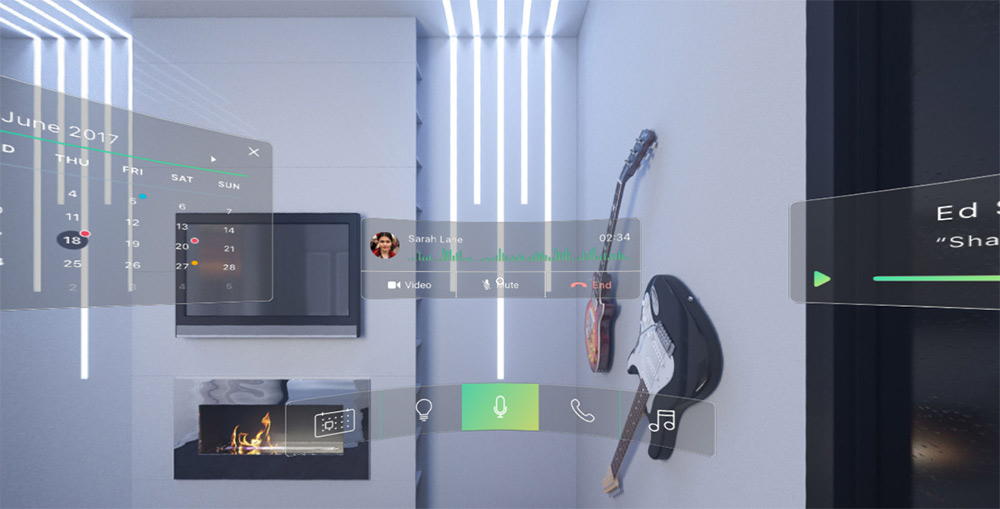 Industry-specific VR companies
One of best Virtual Reality companies providing immersive tours for the real-estate industry. A fine example of robust and niche application of VR technology on today's market. Transforming three-dimensional models and images into VR experiences, so that realtors and agencies can show their clients top-notch animated views of houses. One can view ready products on Oculus Rift and HTC Vive, with full navigation throughout properties, animated as 360-videos.
Website: http://www.bricksandgoggles.com/
Virtually Live works in the field of sports and sport events, creating virtual action for anyone to join. For better fan experience, the company offers people to live through real sports events in virtual reality. With Vive or Rift you can witness the action from various locations of your choice (like a director of TV broadcast). All fans of football games, motor races, baseball, et cetera can watch sports in new way. 
Website: http://www2.virtuallylive.com/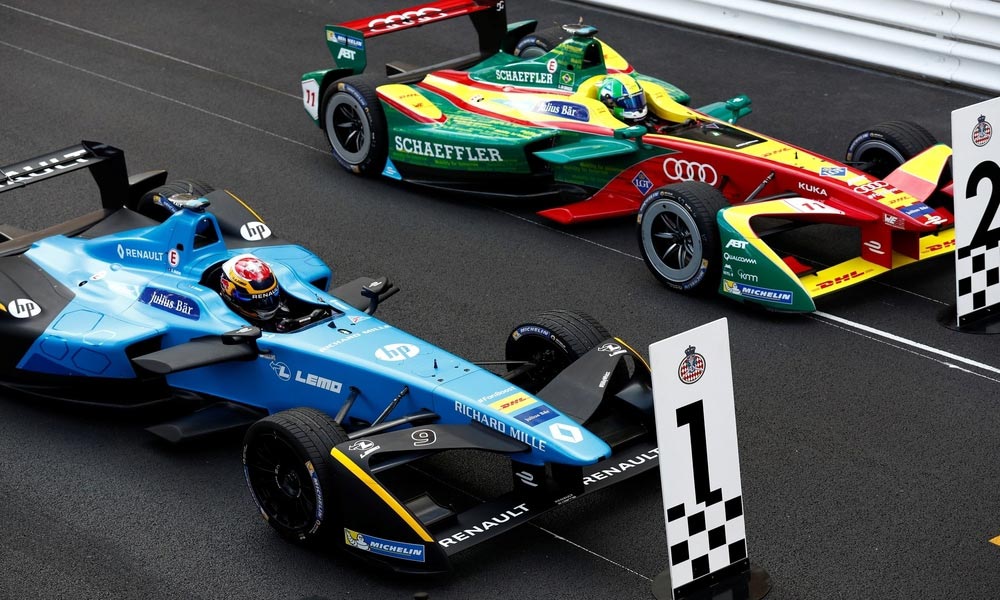 As the final VR company in our short list, SpaceVR brings science and space closer through 2D cameras orbiting the Earth on satellites. That whole sentence really blows our minds! Think of it, 360-degree cameras actually mounted on satellites. Their team consists of actual astronauts and ex-NASA employees, creating beautiful educational VR videos of our planet and space around. With 1-year subscription ($35) or lifetime subscription of $99, you can enjoy 4K quality virtual reality content. Videos from the Overview 1 satellite, rocket launches, 360-timelapses, real-time feeds, while more interactive features are in the works.  
Website: https://www.spacevr.co/
Final thoughts
As you see Virtual Reality has already the potential to penetrate almost every area of our lives. Moreover, it is going to strengthen its role in upcoming years, if the trend keeps relevant and more innovative products emerge. Tech giants like Apple, Facebook, Microsoft, Samsung are investing tons of money into VR research and development. And even smaller companies and startups sometimes invent products that have no less of an impact. So let's keep an eye on what's going to happen next.
P.S. Anything substantial we've missed? Keep us posted in comments section.
To list your company in this article, contact us via email: info@thinkmobiles.com. Learn more in the press-kit.
Read more about Virtual Reality