Virtual Reality technology is coming to gaming, movie theaters, shopping, education, and it also presents opportunities for retailers to attract customers. With big leap into buying things online people seek detailed product descriptions, video reviews, colorful images when making purchases. Rich and engaging content is what makes a crucial difference between winning and losing. So what news are there on the front of Virtual Reality in retail?
Overall, the industry of virtual reality is in the initial stage so far, with big players like Oculus, Samsung and HTC struggling to fire the customer interest up. On the other hand, VR and AR are trending like never before with thousands of headsets being sold, and the term V-commerce has been already coined for future endeavors. Companies like North face, Alibaba, Lowe's use VR to boost their brands. The final goal is to create virtual stores where a customer could choose and buy products.
Immediacy is why VR is better than traditional videos and photographs, you really get the feel of motion.
VR in retail is predicted to reduce marketing costs, reduce product returns and offer efficient analytics and data. Though, opinions are divided – some are enthusiastic and seeing VR as the future of retail, others think of it just as a trend that will pass away. Anyhow, retailers start looking into VR because of its sci-fi aspect that generates human interest.
MVP of your VR app for 14 days!
Get a free estimate in 24h
Help with product management

From $25 hourly

100+ AR & VR developers
How do we work?
24

h

for estimate

7

d

for wireframes

2

w

for MVP
Examples of Virtual Reality in retail
In words of Mycoskie, "there's so much e-commerce today, you have to come up with new reasons to go to stores". And Toms shoes company chain is one nice example of VR for retail. They put Samsung VR headsets into 100 of their stores with promotional video, and use it as a tool for new exciting experiences for customers. As part of company's campaign to donate a pair of shoes for every pair sold, the video shows a trip to Peru with panoramic views of schools and kids getting boxes of shoes.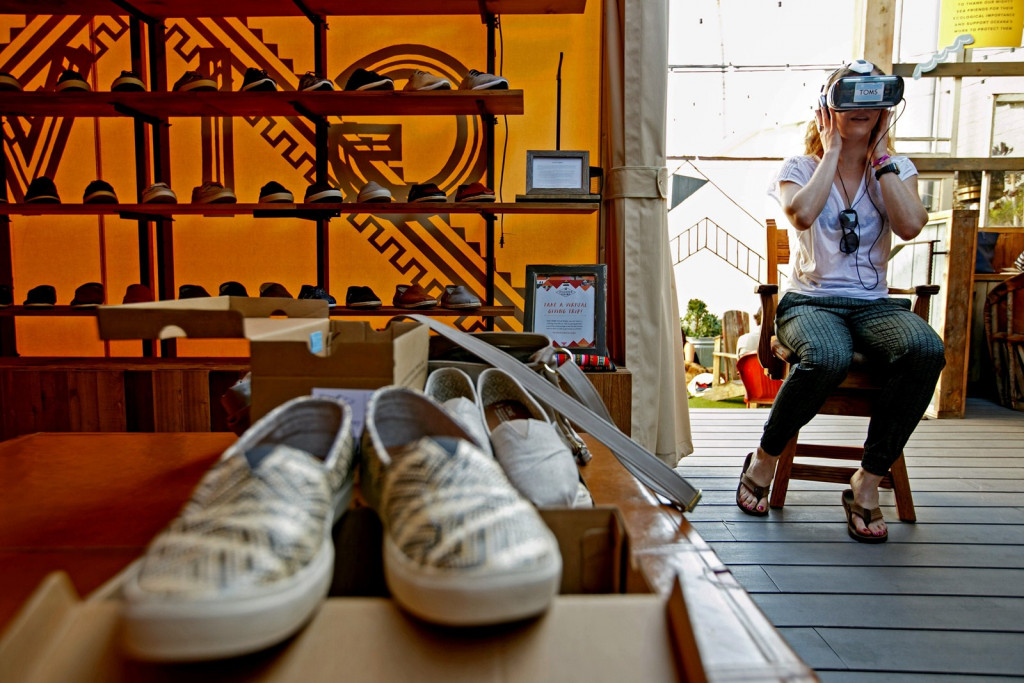 In 2017, online shopping giant Alibaba introduced their version of full VR shopping experience. While still being in works, the concept is a virtual reality device that allows to walk through a store and buy products. Their promo video teases digitally created store aisles, with all-angle product views, prices, purchase options, etc. Will it become real? We just have to wait and see. Along with Alibaba, few other retail companies like Tesco, Adidas, Ikea, Cisco, Coop have also delved into virtual reality tours for customers.
A vision of shopping without malls and shops was presented by eBay Australia in partnership with Myer stores. The goal is to create a personalized store based on what a customer likes and help him/her find products faster. Using Gear VR headsets and their own version similar to Google Cardboard, the store offers 3D models and virtual tours for every top-100 items in all categories.
[Locker] The locker [id=0] doesn't exist or the default lockers were deleted.
Read more about Virtual Reality