Virtual Reality technology is coming to gaming, movie theaters, shopping, education, and it also presents opportunities for retailers to attract customers. With a big leap into buying things, online people seek detailed product descriptions, video reviews, colorful images when making purchases. Rich and engaging content is what makes a crucial difference between winning and losing. So what news are there on the front of Virtual Reality in retail?
Overall, the industry of virtual reality is in the initial stage so far, with big players like Oculus, Samsung and HTC struggling to fire the customer interest up. On the other hand, VR and AR are trending like never before with thousands of headsets being sold, and the term V-commerce has been already coined for future endeavors. Companies like North face, Alibaba, Lowe's use VR to boost their brands. The final goal is to create virtual stores where a customer could choose and buy products.
VR in retail is predicted to reduce marketing costs, reduce product returns and offer efficient analytics and data. Though, opinions are divided – some are enthusiastic and seeing VR as the future of retail, others think of it just as a trend that will pass away. Anyhow, retailers start looking into VR because of its sci-fi aspect that generates human interest.
Let's Build Your VR app
Provide us with your contact details and we will contact you today
Examples of Virtual Reality in retail
In words of Mycoskie, "there's so much e-commerce today, you have to come up with new reasons to go to stores". And Toms shoes company chain is one nice example of VR for retail. They put Samsung VR headsets into 100 of their stores with a promotional video, and use it as a tool for new exciting experiences for customers. As part of the company's campaign to donate a pair of shoes for every pair sold, the video shows a trip to Peru with panoramic views of schools and kids getting boxes of shoes.
In 2017, online shopping giant Alibaba introduced their version of full VR shopping experience. While still being in works, the concept is a virtual reality device that allows to walk through a store and buy products. Their promo video teases digitally created store aisles, with all-angle product views, prices, purchase options, etc. Will it become real? We just have to wait and see. Along with Alibaba, few other retail companies like Tesco, Adidas, Ikea, Cisco, Coop have also delved into virtual reality tours for customers.
A vision of shopping without malls and shops was presented by eBay Australia in partnership with Myer stores. The goal is to create a personalized store based on what a customer likes and help him/her find products faster. Using Gear VR headsets and their own version similar to Google Cardboard, the store offers 3D models and virtual tours for every top-100 items in all categories.
The feature called "Sight search" allows customers to go to a product by staring at it for a few seconds. To complete a purchase, though, one has to take off the headset and go to eBay app. Check out what people that have tried it had to say in the video below.
Volvo Reality app is another great example to leverage VR for marketing and retail sales. Indeed, Volvo used Google Cardboard to present virtual reality test drive to customers through smartphones. The app takes you inside an SUV to have a feel as well as driving through various scenes. Other car-making companies like Lexus, Jaguar, Ford, apparently, have been utilizing VR headsets in similar ways.
The drive is cool, you can look around for full 360-degree view along the ride from the driver's point. Of course, this will not be a deal-breaker to convince you to make a purchase and is not as great as a real test drive, but definitely great as a marketing tool.
As of VR store simulators, ShelfZone by Italian startup inVRsion deserves attention. The app works with HTC Vive headset and is aimed for large-scale retail companies. It can recreate a store or a supermarket as virtual shopping options for people who want to do it remotely. It has cool features like voice recognition, realistic graphics and artificial intelligence (AI) to process customer requests. The only unanswered question remaining is how you would be able to purchase something via a headset.
Admirers of exquisite shopping and luxuries should check out a VR app brought by Mastercard and Swarovski jewelry. Designed to promote a collection of home accessories the app transfers consumers to a decorated home where they browse and can purchase the products with Mastercard's digital payment service.
Users have to log in, authenticate with bank account credentials, browse by moving the head left/right or up/down. Then they can select the piece, add it to cart and checkout with Masterpass button. Although the diamond-encrusted headset is a PR exaggeration, you can see this VR experience demonstration in the video below.
Benefits of business
Virtual Reality in retail has obvious upsides: removing the limitations of space and time, reducing marketing costs, etc. The downside is that it requires hardware and special headsets, which most of the people do not have and are unlikely to get because of high prices. But the industry is optimistic, customer interest is there, and many companies have already started VR projects as we've seen above.
So what about business opportunities? Here are few potential business benefits of VR in retail:
Distinct store design & layout
Right off the bat, it is cheaper to put together a virtual store than a real one. Design issues related to such VR stores are pretty similar to those in a real physical environment. Also, virtual reality tech is evolving and improving, so there could soon be options to visualize store designs, to do A/B tests of different layouts, to test consumer acceptance, etc. Shelf and assortment layout is one particular area that has already been given a go in many VR projects.
Store walks and performance
As with Alibaba special project, VR is entering a new area of business – applying analytics to help create contextual shopping. If efforts are successful, there could be possibilities to walk in a store virtually, see store analytics off the actual store layout, browse and find certain products or product categories. Store chains could benefit from such ability to check the performance of a store in the context of its layout.
VR analytics hopefully could bring you closer to understanding the consumer journey, finding downsides and best performing tactics, analyzing behavior patterns, etc. As product placement and store layout are always crucial, businesses may gather data on ways people shop and then adjust the layout.
Although VR is still in experimental stages and quality content is scarce, this is where brands can make a difference. People always want to try new things, so stuff like virtual shopping rooms, try ons, virtual real estate tours, virtual car test drives, showrooms or whatever comes next could set you aside from the competition. Businesses that are quicker, more creative and reactive to user feedback lead the way in our competitive age.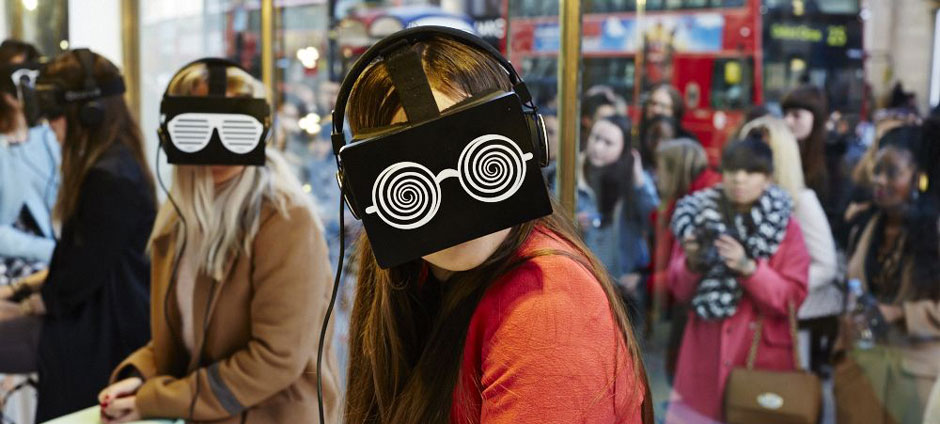 Potential retail categories and options for VR
To sum it up, retailers may introduce virtual tours, interactive product displays, fitting rooms, tailored shopping experiences, 360-degree videos, etc. And basically there are two approaches to Virtual Reality in retail:
360-videos.

Good for storytelling, tours, locations and quickly leading customers up to a marketing message. Requirements for such VR videos include basic video production, live action shooting, effects and post-production, and VR headsets with apps to deliver content. Costs range from $50,000 to $200,000.

Interactive VR experiences.

Like those of eBay, Volvo, Swarowski or others, virtual tours and/or apps allowing customers to interact with a product. You would need a team of software engineers, 3D artists and designers, sound engineers, copywriters and quality assurance experts. Costs start from $100,000.
V-commerce (virtual reality commerce/retail) is in early days, though it already made an effect. Regardless of whether VR will take off or not, companies should better be prepared to adopt v-commerce and give customers what they want. After all, 70% of them are interested to use VR when shopping for clothes and accessories.
The fact though is that VR for retail is not quite there yet. Projects like Alibaba's Buy+ is far from perfect and products are limited. However, technology moves very fast, and VR has to overcome user acceptance issues, and possibly bring tactile feedback to enhance the experience. Main challenges remain VR headsets being uncomfortable and requiring hardware, as well as high prices. A good sign is that Google, HTC, Samsung and Apple are working on affordable standalone headsets.
Let's Build Your VR app
Provide us with your contact details and we will contact you today