While it is a subject of discussion whether fitness and health apps can really impact your motivation and habits, these tools are indisputably at hand, which wasn't the case 10 or 20 years back. And as we have our smartphones by our side 24/7, why not also make use of it for personal health? One of options we'd like to highlight are calorie counting apps. 
We count steps, track blood sugar, chat with a doctor through mobile apps, and we can count calories intake on a daily basis as well. Calorie tracker apps rely on logging the food you eat during the day and then count the nutritional intake. Typically, a user enters physical parameters (gender, height, weight), lifestyle (active, not active) and a goal (maintain or lose weight), and then uses an app as a food tracker. Pretty good and simple. So we've decided to take a look at 10 top calorie counter apps. 
As one might care about app size, database of foods, or whether an app is going to work on his/her phone, we've summarized key aspects in the table below. 
| | | | | | | | | |
| --- | --- | --- | --- | --- | --- | --- | --- | --- |
| App | Version | Size (Android) | Size (iOS) | Installs | Languages | Food database | Requires | Price |
| MyFitnessPal | 20.3.0 | 190 Mb | 202 Mb | 50M+ | 21 | 6M | iOS 12 / Android | Free / Premium |
| Fitbit | 3.15.1 | 198 Mb | 273 Mb | 10M+ | 11 | 350K | iOS 11 / Android | Free / Premium |
| Lose It! | 12.1.600 | 145 Mb | 238 Mb | 10M+ | 30 | 27M | iOS 11 / Android | Free / Premium |
| FatSecret | 8.5.4 | 33 Mb | 82 Mb | 10M+ | 19 | N/A | iOS 9 / Android | Free / Premium |
| Lifesum | 10.2.0 | 55 Mb | 203 Mb | 10M+ | 11 | N/A | iOS 11 / Android | Premium |
| Yazio | 6.6.7 | 30 Mb | 58 Mb | 10M+ | 20 | 2M | iOS 12 / Android 6 | Free / Premium |
| MyNetDiary | 7.2.6 | 66 Mb | 249 Mb | 1M+ | 1 | N/A | iOS 11 / Android 6 | Free / Premium |
| MyPlate | 3.5.2(8) | 83 Mb | 131 Mb | 1M+ | 2 | 2M | iOS 11 / Android 4 | Free / Gold |
| EasyFit | 3.2.0 | 38 Mb | 30 Mb | 1M+ | 20 | N/A | iOS 11 / Android 4 | Free |
| Cronometer | 3.3.6 | 74 Mb | 51 Mb | 500K | 1 | 300K | iOS 11 / Android 5 | Free / Gold |
10 best calorie counting apps by popular demand      
The following selection is based on high number of downloads, user ratings, frequent developer updates, available free versions, reputable publishers, proper design and UX, set of functions, and other factors – all as part of overall positive experience. By no means we impose our choice, it's only for you to decide which app suits you best.  
1/10: MyFitnessPal (Free / $10 Premium)
MyFitnessPal, Inc. (USA) offers a neat little food tracking app for anyone to start for free. Log what you eat by selecting a meal and portion from a database or by scanning a barcode. Their database, by the way, is really vast, including regional cuisines like borsh, herring, croissants, or whatever. Set goals, log exercises, chart or share progress with friends – the app has it all. A Premium account comes with perks like food analysis, file export, macronutrients, etc.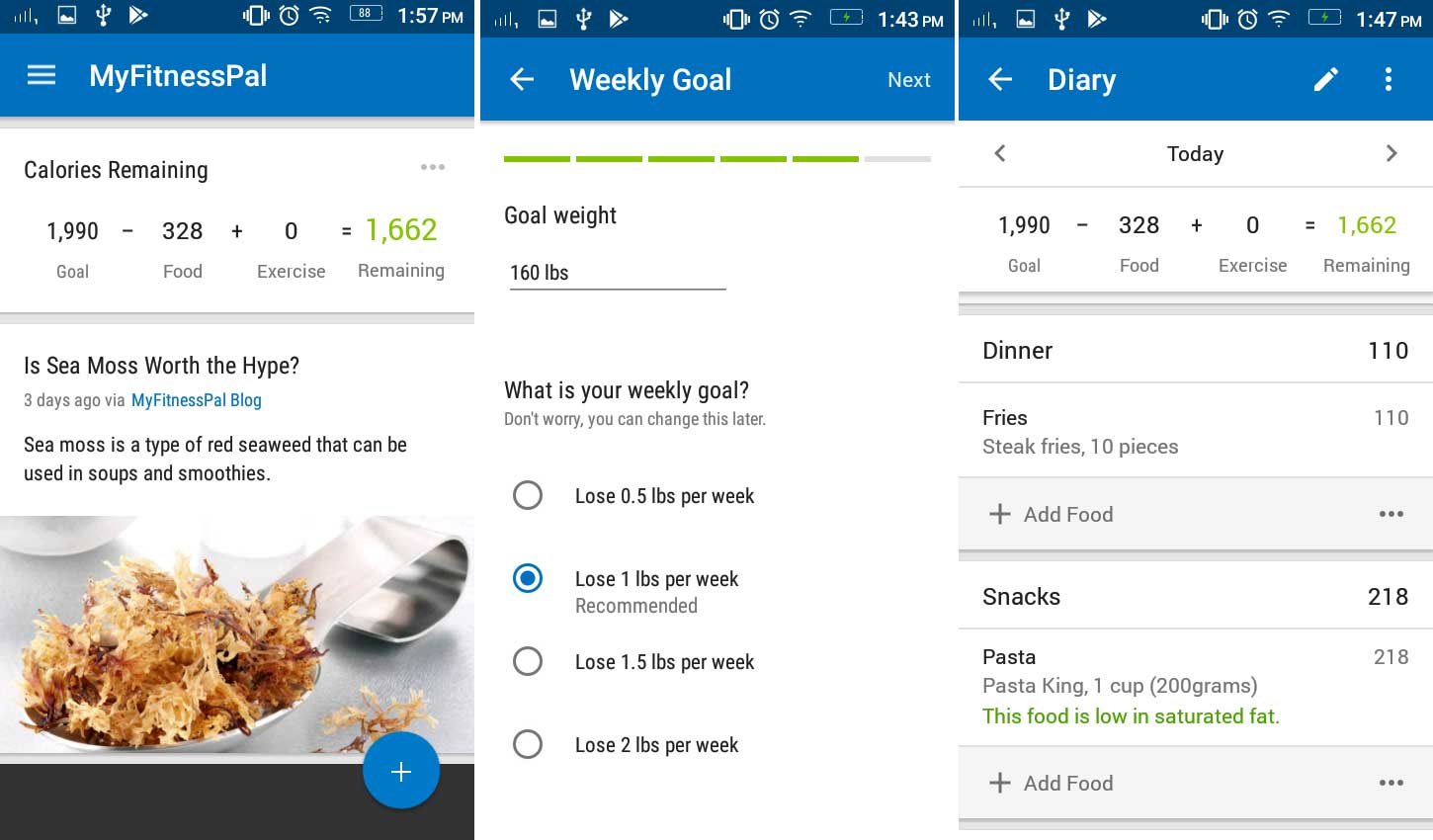 Pros
Large food database

Units in multiple formats

Individual calorie calculation
Cons
Sign up required (6 questions + email)

In-app ads and purchases

Many useful features in Premium
2/10: Fitbit (Free / $10 Premium)
Fitbit Inc. from the USA, founded in 2007, sells fitness wearable trackers, smart watches and scales, accessoires, all about human health. Along goes the Fitbit Health & Fitness mobile app for iPhones and Androids, a complex tool for many aspects. Besides step counter, heart rate, exercise tracker, etc. it is also a food calorie tracker app.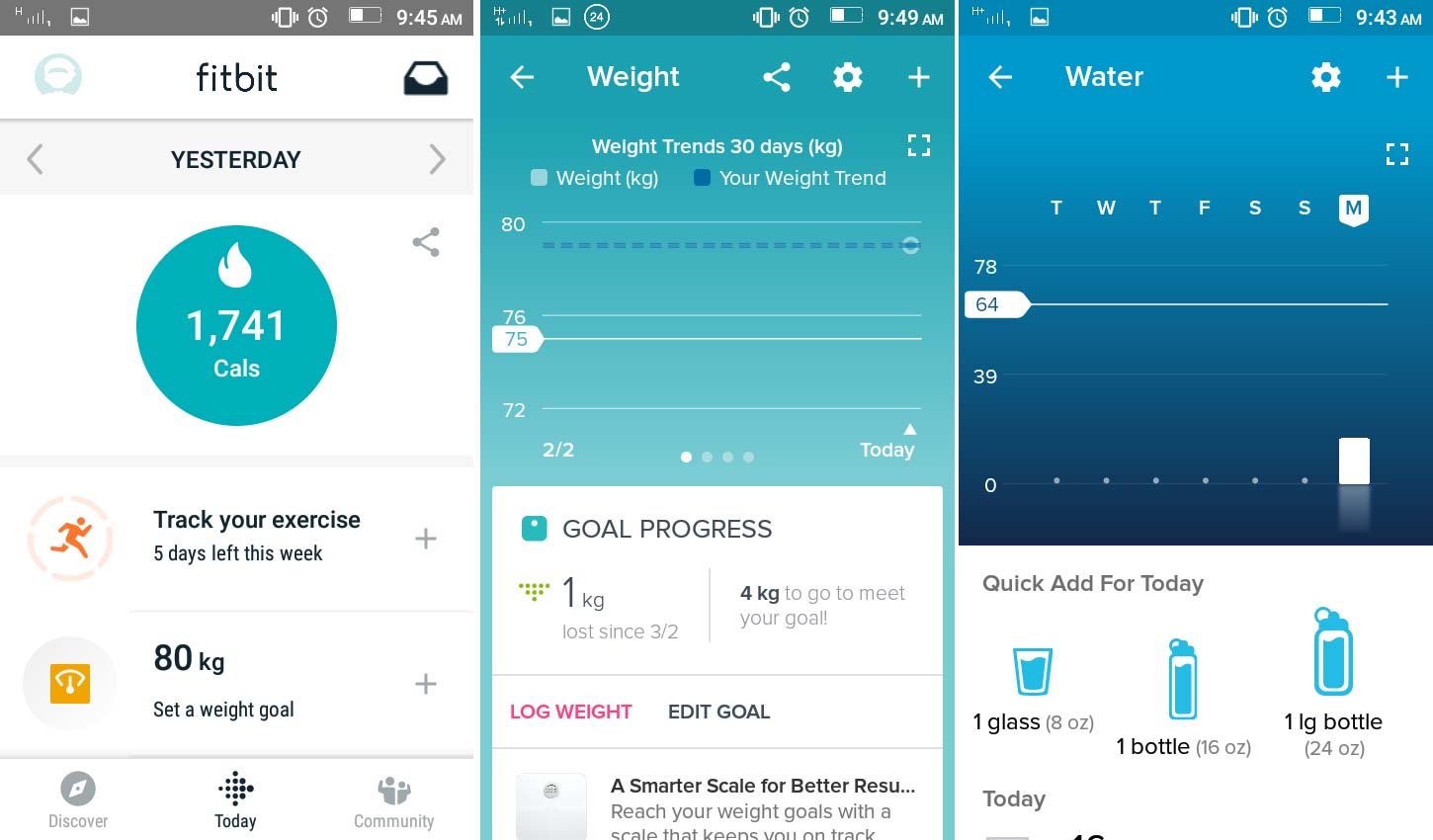 It relies on user logging (typing or barcode scanning) to keep track of daily intake and present  weekly/monthly progress. It can also sync with wear devices (Ace, Alta HR, Versa) to collect data more effectively. On a nutrition aspect, it has all basic features (counter, fat, water, multiple measurement types, sharing, etc.), although entering meals takes time and the food database is smaller than in other similar apps. Honestly, we wouldn't enlist Fitbit in top calorie counting apps if it were not for over 10 million installs and pairing with wearable devices. 
Pros
Complex health mobile app

Quick calorie add presets

Log exercises
Cons
No food matches in database (only custom food adding)

Asks for real name when signing up
3/10: Lose It! (Free / $10 Premium)
A neat health app with everything one might need to watch out for calories and set weight or nutrition goals. FitNow Inc. (Boston, USA) is the publisher, providing free basic versions for Android, iOS (iPhone, iPad, iPod Touch). We've noticed that Lose It! app sets a lower daily calorie limit than other calorie counting apps. So that's probably why they claim the first weight loss starts in 3 days.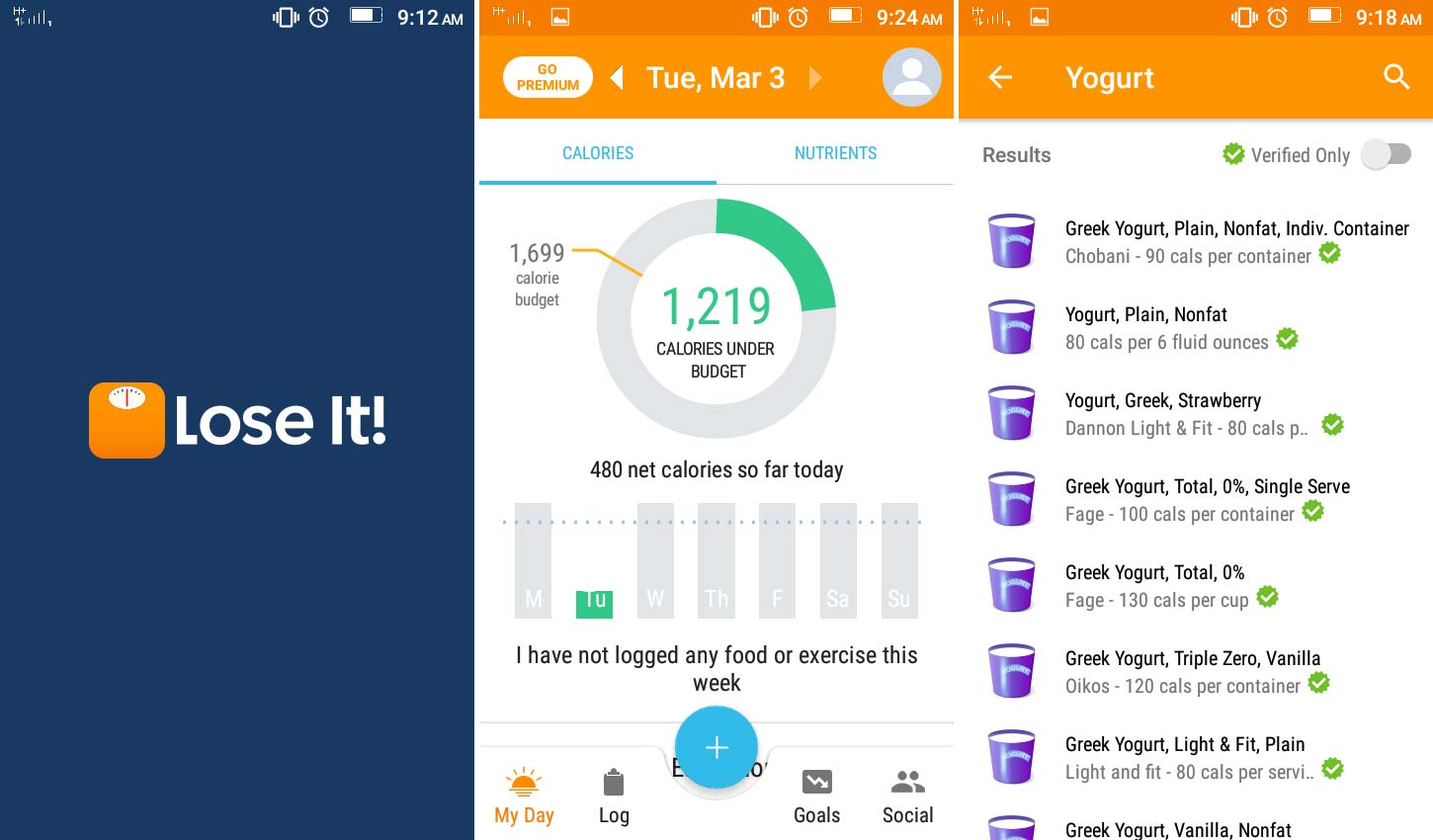 Features comprise a 20+ million meal database, nutrients, logging exercise, barcode scanner, syncing with fitness devices, and more. What we've really liked is the "Snap It" feature – take a photo and the app analyzes it and offers foods/meals to choose from, which is convenient. And also great design and UX, for real. 
Pros
Nice visualizations

Counter bar on top

"Calories available" by breakfast, lunch, dinner
Cons
Too many ads

Purchase Premium to unlock useful features
4/10: FatSecret (Free / $6.49 Premium)
Australian developers FatSecret offer a nice free calorie tracker app for iOS, Android, Microsoft and Blackberry phones. It is lighter (33 Mb Android) than other calorie counting apps on the list, and green is the predominant color throughout. Notice the camera icon in the top right corner to take a picture of a meal or food item for recognition. Quick Pick function is quite handy allowing picking from foods, restaurant menus, food brands, supermarkets, all of which are localized according to user region.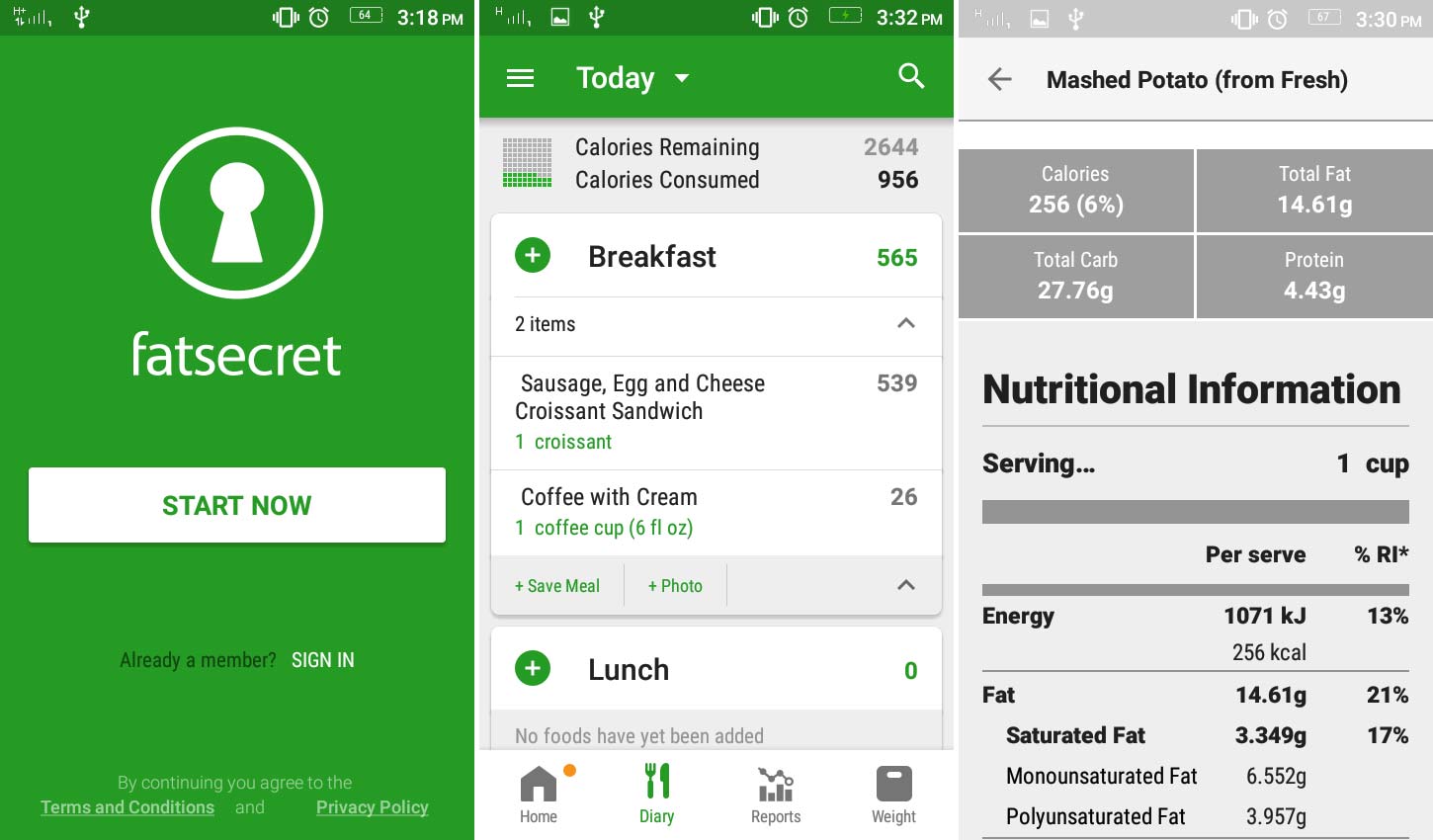 Pros
"Recently eaten" tab for quick selection

Export to PDF option

Detailed/List/Summary view to set
Cons
Account name is public

Water tracker in Premium only

Inconsistencies in phone language and regional cuisines
5/10: Lifesum ($4/month)
A meal plan, diet suggestion, weight tracking, recipes, barcode scanner, and nutrition tracker – all vital parts of this neat app by Swedish Lifesum AB company. They really did a great job saturating the database with official sources (US, UK, German, Swedish standard agencies), as well as all possible unity systems (EU metric, UK Imperial, US, AU).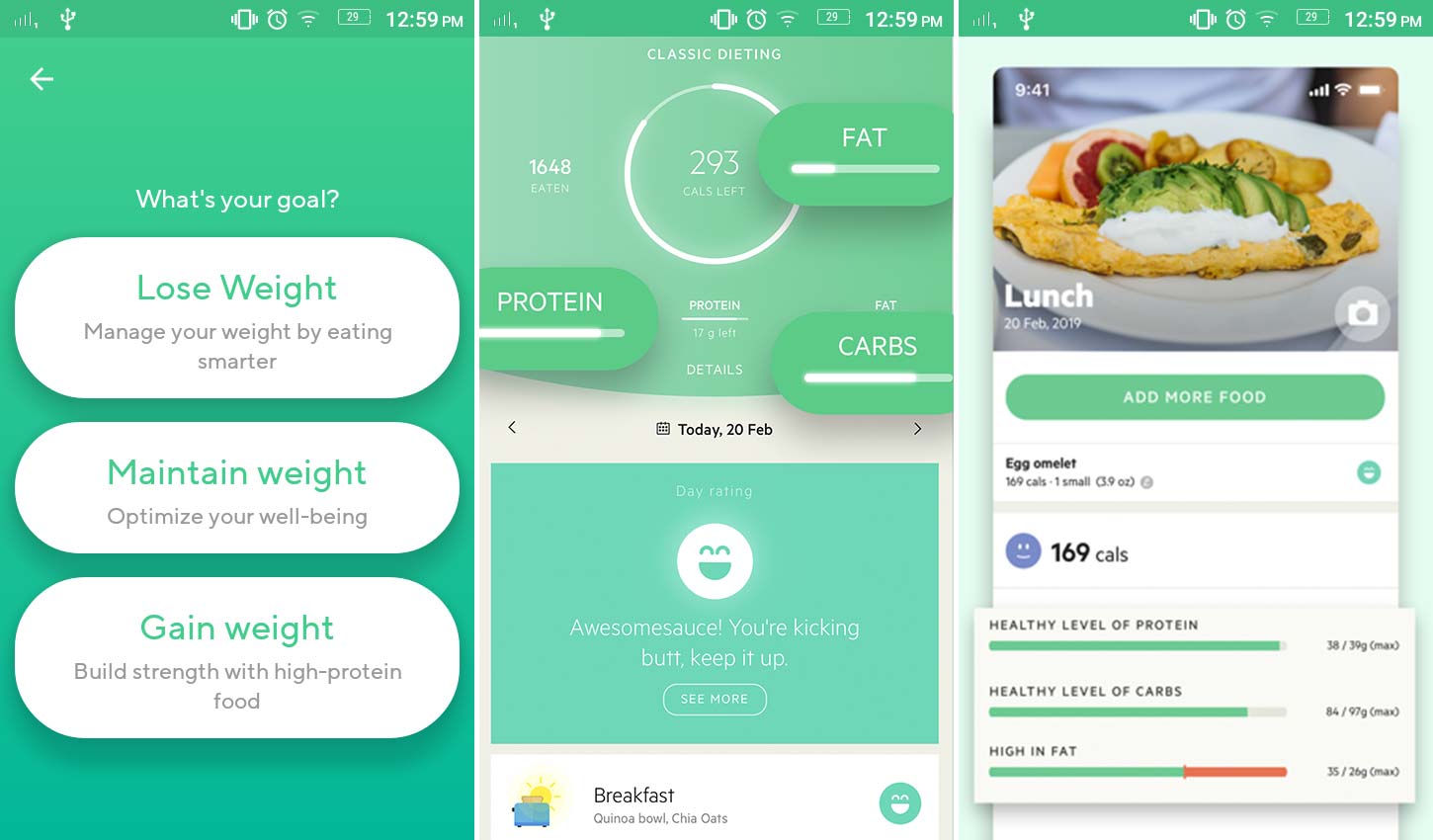 Besides calories, the app can track nutrients, e.g. protein, carbs, fiber, sugars,  fat, cholesterol etc. Also, if you have an iOS 13 device, you'll be able to switch to a dark theme. Lifesum is not a free calorie tracking app, the lowest price is a monthly subscription (1, 3, or 12 month plans), yet you may cancel anytime. 
Pros
All unit systems present

"Verified by Lifesum" category with calorie count

Nice UX, 11 languages
Cons
No free basic plan

Runs at startup
6/10: Yazio (Free / $7 Premium)
A German product, surely, has to be on the list of best calorie counting apps. Whether a user aims to lose or  maintain weight, logging foods and checking daily/weekly/monthly intake assists healthier habits. A table of 2 million meals, nutrition analysis (carbs, proteins, fats), favorite meals for quick entry, code scanner, exercise tracker, overall progress and more tiny bits make Yazio a fine helper. Pro version adds hundreds of healthy recipes, food rating, body statistics, nutrient tracking, etc.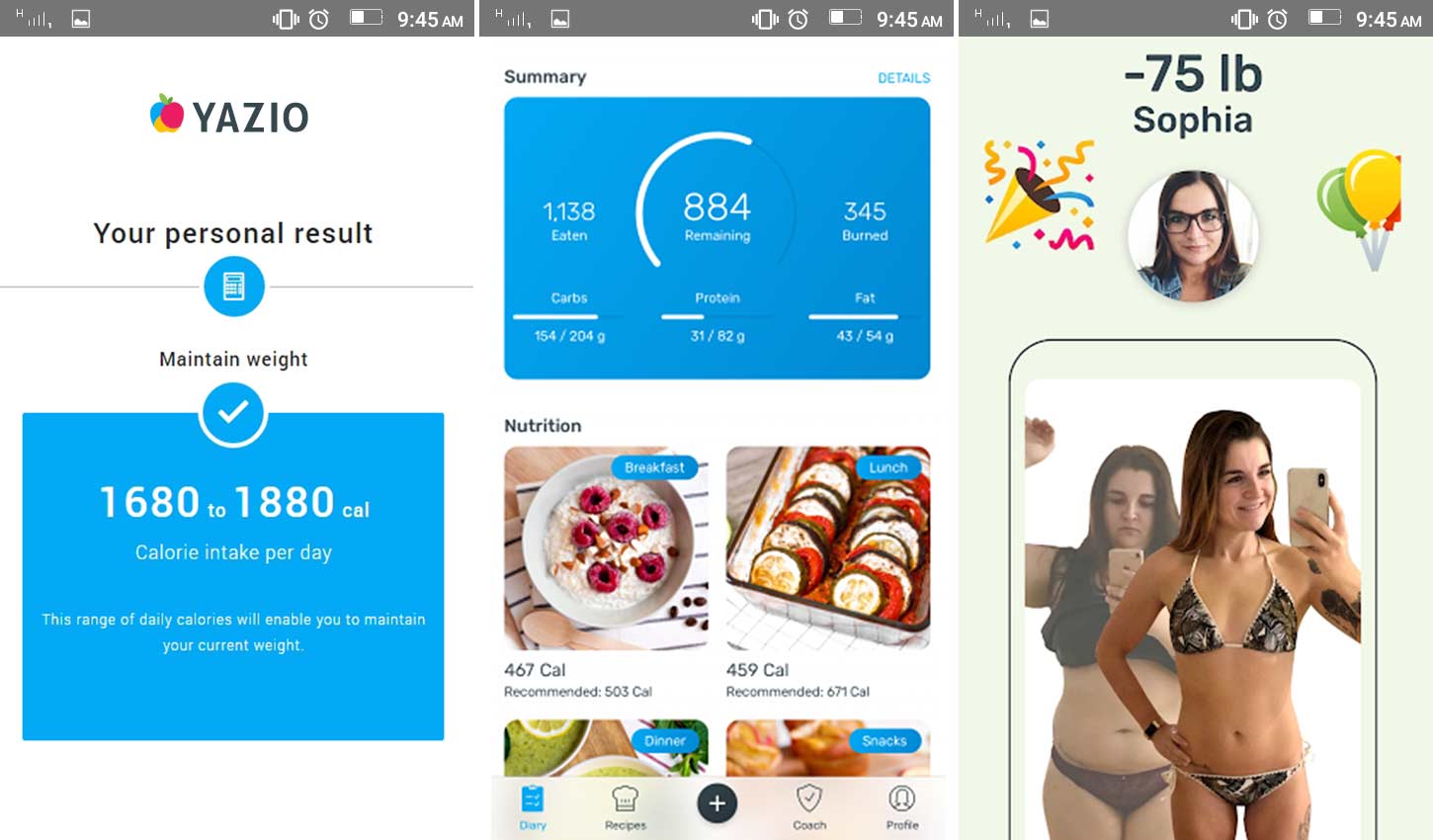 Pros
Nice design, easy to use

Burned calorie calculator

Step counter as bonus
Cons
Will not work on older smartphones

Any foods entered by users go into public database
7/10: MyNetDiary (Free / $9 Premium)
With over a million installs, MyNetDiary is definitely among top-3 most popular calorie counting apps on US market and by a US developer team. Firstly, it has all the basics: fast food logging, validated meal database,  nutrient tracking, water and exercise tracking, etc. Secondly, it stands out with extra features like ethic cuisines, keto and low carb diet planner, and outstanding design that makes you want to use the app. Thirdly, it offers unique things, e.g. Siri voice commands, GPS tracker for running/walking, integration with Fitbit and other fitness wearable devices.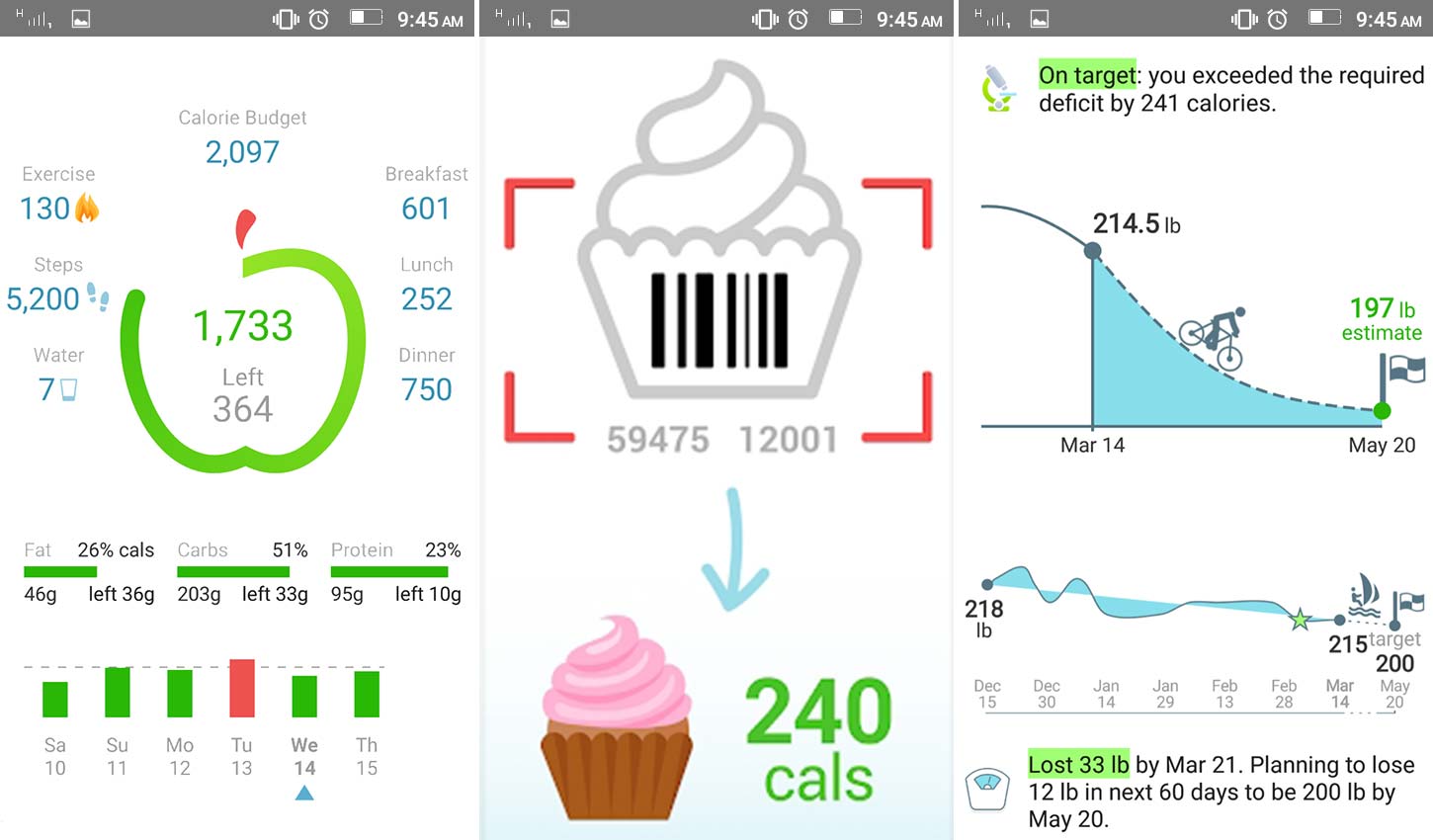 Pros
Body measurements

Charts with motivation

Social sharing
Cons
Only in English

No ability to change presets
8/10: MyPlate (Free / $10 Gold)
Another easy-to-use app by US vendor LiveStrong, with 2 million foods database and light-red/white nice color scheme. In the beginning, it offers several choices for calorie intake personal goal: Easy / Moderate / Challenging / Extreme / Custom. The motto of MyPlate seems to be simplicity, it won't overwhelm you with colors, alerts or too much data, it won't take much time to deal with. One exception could be ads here and there. Meals are instantly broken down by protein, fat and carbs. Progress is visible over time and by period of choice. Users can even set meal reminders for themselves.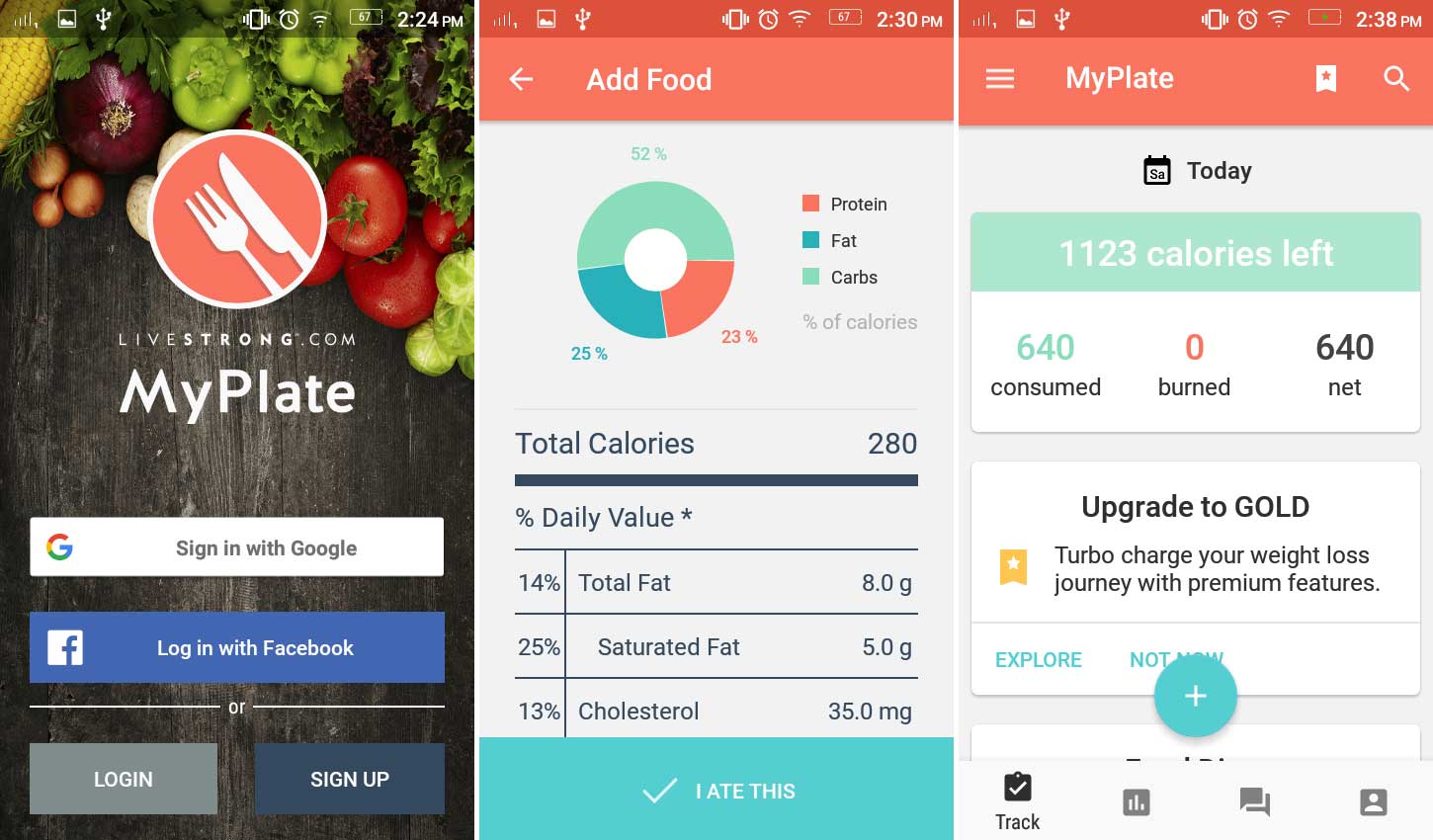 Pros
Verified foods

Create new food option

Community tab to share ideas
Cons
In-app advertisement

Burned calories in Gold version

No visualization and gamification
German approach to healthier lifestyle by Herzberg Development, which, of course, aims at effectiveness and precision. It is free with no tricks (only ads at the bottom), no login, no data collection (contacts, location). Straight to the point only, plus a very pleasant design and organized dashboard with everything in one place.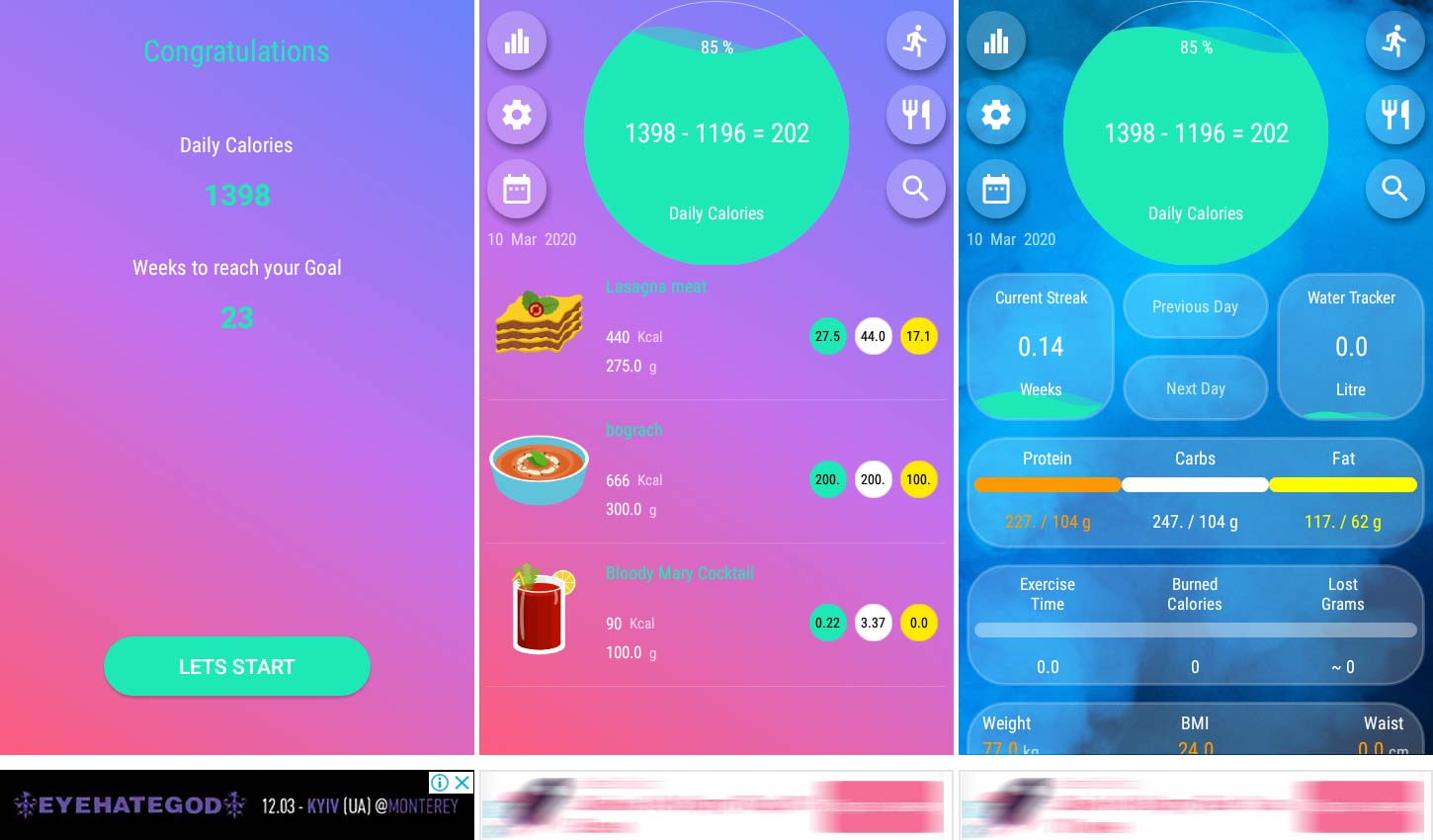 There are a few dozens of color schemes and several customization choices. Additionally, there's an option to select small / medium / large serving when logging meals, and therefore, a more accurate calorie calculation. EasyFit app surprised us, frankly, and in a good way.    
Pros
Totally free

30 interface themes

Precise body type/activity measurement
Cons
In-app ads

Manual portion entry (grams/ml)
10/10: Cronometer (Free / $6 Gold)  
We also have a Canadian representative in the game, an apple-shot featuring diet-tracking Cronometer app. It is a promising calories tracking app, as we've noticed plenty of room for improvement, and yet it is nice to use if one needs nothing fancy.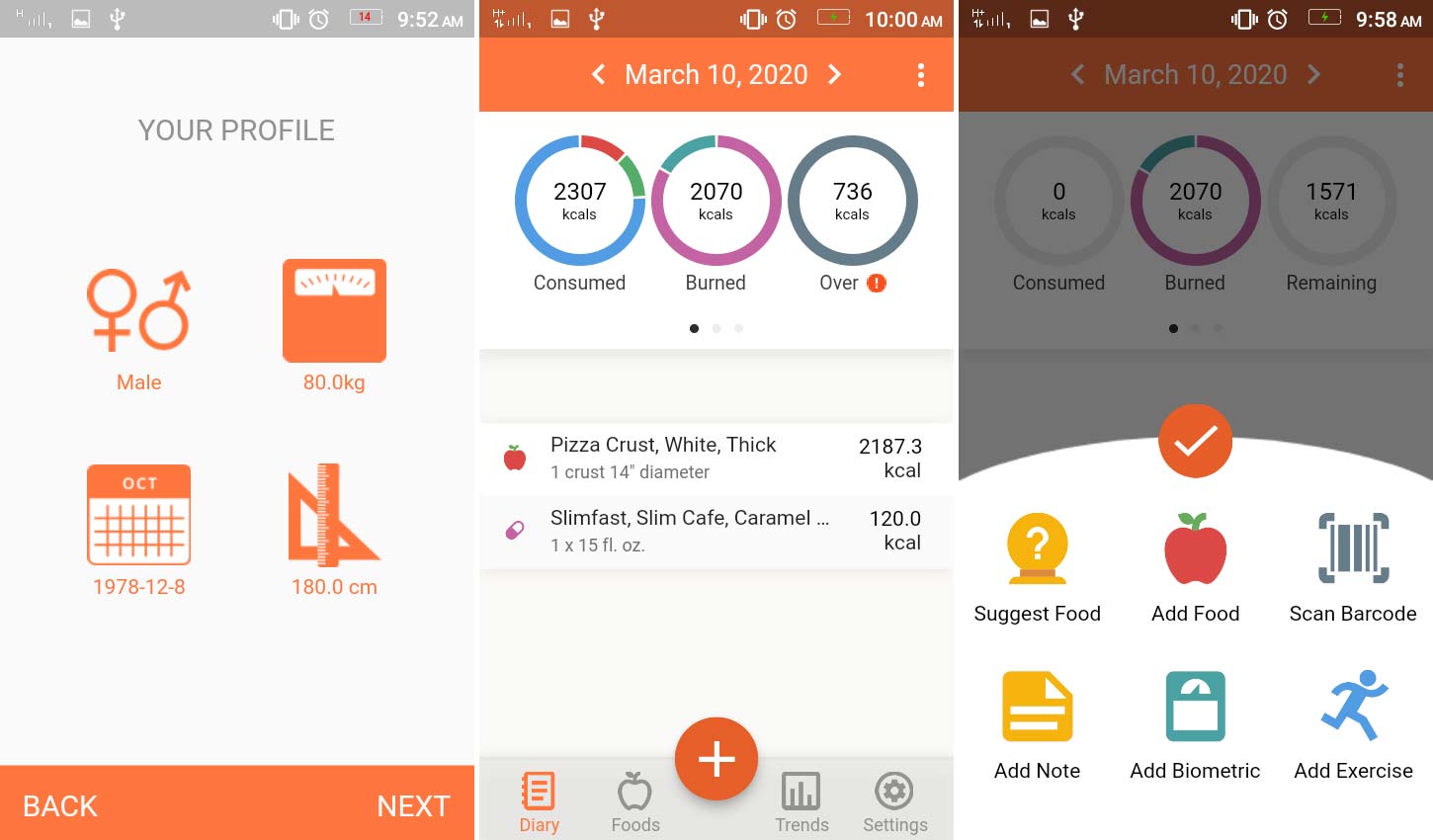 A free basic version is packed up, for example, over 80 micronutrients analysis for each food, water intake, scanning food labels, trends and reports. Also, a fasting timer feature is the one we've not seen in any similar health mobile app. For ad-free experience you'd have to purchase monthly subscription.   
Pros
Portion size selection

Calories summary breakdown for each meal

Create own food option
Cons
English interface only

Food submission by users

Sign up via email
P.S. More honorable mentions: Carb Manager (Keto diet tracker), Calorie, Carb & Fat Counter, Weight Loss Coach, BodyFast, SparkPeople, Fooducate.    
P.P.S. Find out more about Best reading apps and Task management tools.