Kitchen design software are a special kind of programs and apps helping to visualize ideas in 2D and 3D graphics. The most advanced ones can even let you experience the kitchen design in VR! The majority of these software solutions allow users to create designs based on templates, but there's always an option to do everything by yourself, from scratch. Most of them are in 3D, some of these kitchen design apps are web-based while others require an  installation process. And luckily, all of them are for free. 
Types of kitchen design software
All kitchen design apps can be categorized by many aspects, for example – installation type. Kitchen design apps can be online – ones that can be launched in a web browser, and offline  – ones that have to be downloaded and installed. Also, kitchen apps are can be categorized by the target area. Meaning that some apps are specially developed to create a kitchen design, and some are built to create a home design, bathroom design, etc.
The majority have similar features and the interfaces are very lookalike, but there are some nuances and unique features, we will describe them in this post. The workflow of kitchen design apps is also pretty much the same in all apps. First you create a plan or set initial kitchen dimensions, then you design the interior using various tools and templates. Then the app can create realistic images of your future kitchen.
Kitchen design apps and services usually propose the following features: 
Creating a room or a kitchen plan

Placing the windows and doors

Placing other 3d objects(furniture, electric appliances, plates, vases, etc)

Selecting the color and texture of the walls and other surfaces
Users should remember that all these features also have a lot of settings and options, such as height, width, length. Ssome apps even grant the ability to control the position and type of lights. All these parameters are really helping to create a realistic 2D image of the room or kitchen from aerial or isomorphic perspective. More advanced kitchen design apps even allow you to create a 3D model of your future kitchen, and as a result, it can be viewed in VR.
Pricing
This review is focused to describe the free kitchen design apps. Some of them propose users to buy a Premium version with advanced features of course. For example, this pricing model is present in Blophome, PlanoPlan, DreamPlan Home Designer. The premium version for these app costs between €5 and  €38. You can check all prices for kitchen design apps in the table below. 
Best free kitchen design apps
After the review, we found that we do have some favorites among them. So from our point of view, the best kitchen design apps are Sweet Home 3D and Roomeon. These are the most thought through, well designed, and the most feature-packed kitchen design apps in this list. Sweet Home 3D is the easiest app to use in this list of kitchen design apps. We can recommend this app for people who never used apps like this before. Roomeon is a kitchen design app that is more targeted to the enterprise market, there's a lot of cool features, but users will need to have some skills to work with it. The main advantage of this app is how it can work with light sources. 
If you are looking for an online kitchen design app, we can recommend the Kitchen Planner online. This is the only app from our list, that allows viewing your project in VR for free and without any limits. Also, this service is quite easy to figure out, the interface is intuitive and friendly. 
Sweet Home 3D is an open-source interior and architectural design app created by the eTeks company in 2007. You can download the app here. This app allows users to create a detailed blueprint of the house, apartment, room, bathroom, etc. Additionally, users can create and modify lighting sources.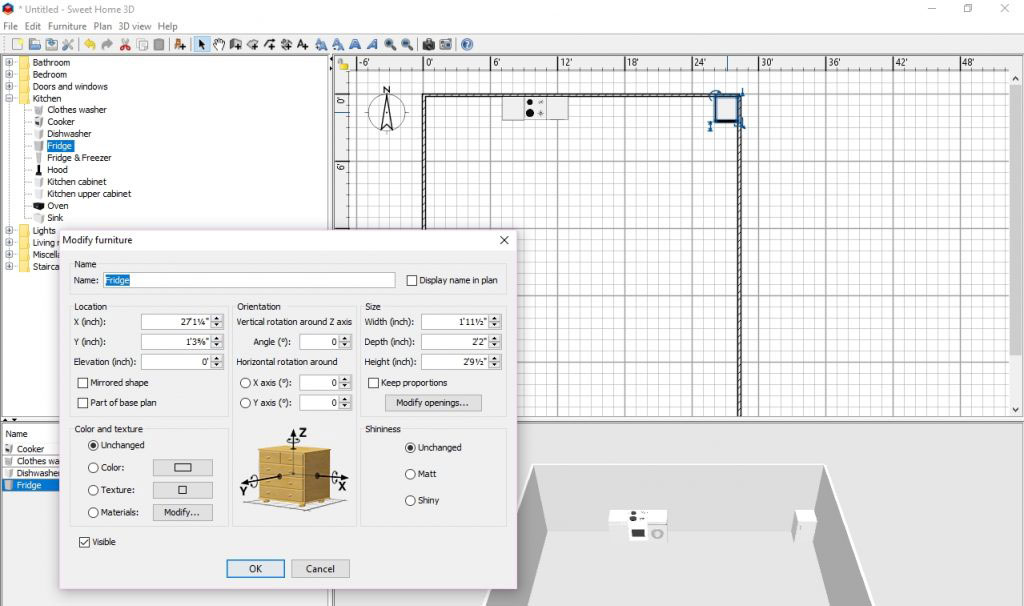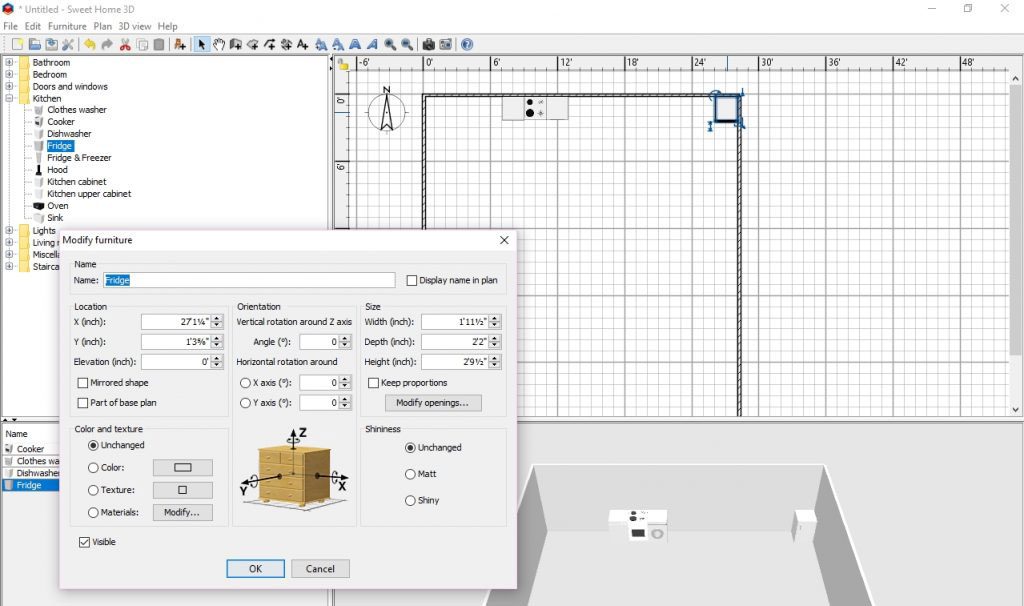 The interface of the app is intuitive, even a novice can quickly figure it out. It consists of 4 sections, each of them responsible for a certain type of operations. Virtual user feature allows you to view your design as if you were there, from the first-person viewpoint. Every interior element can be configured, changing the dimensions, orientation of doors, texture, and color.
Also, there is a big set of ready to use 3D models, but if you didn't find what you were looking for, there is an ability to upload a 3D model from other sources. The import feature is also present, allowing users to upload the blueprint of their house in several formats. A smart little feature is the ability to add comments to the 2D plan, this will be especially useful in a kitchen design project. Ability to create additional walls (starting, tilted, with precise dimensions) is a basic but must-have feature of all kitchen design apps. Next image is a great example, how users can set up proper lighting in order to showcase the design.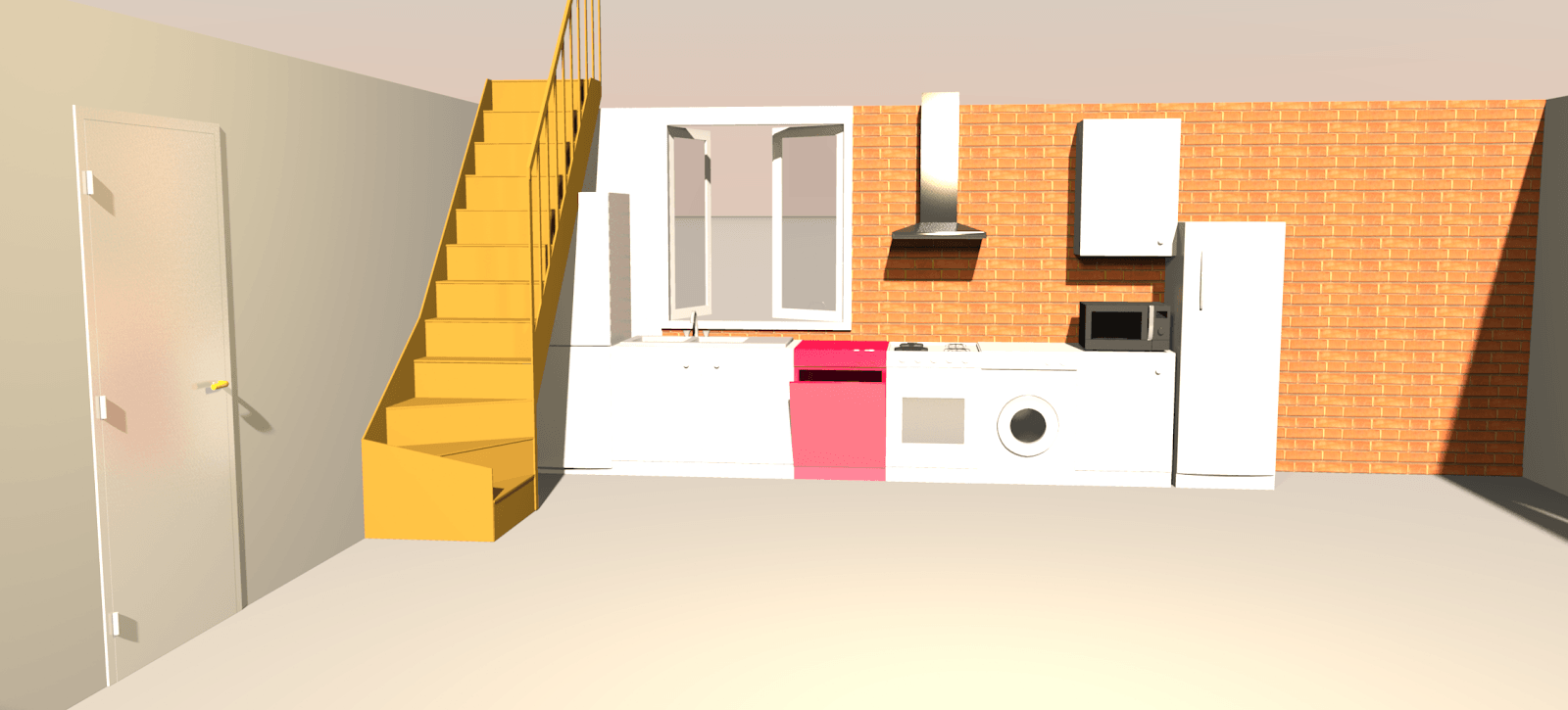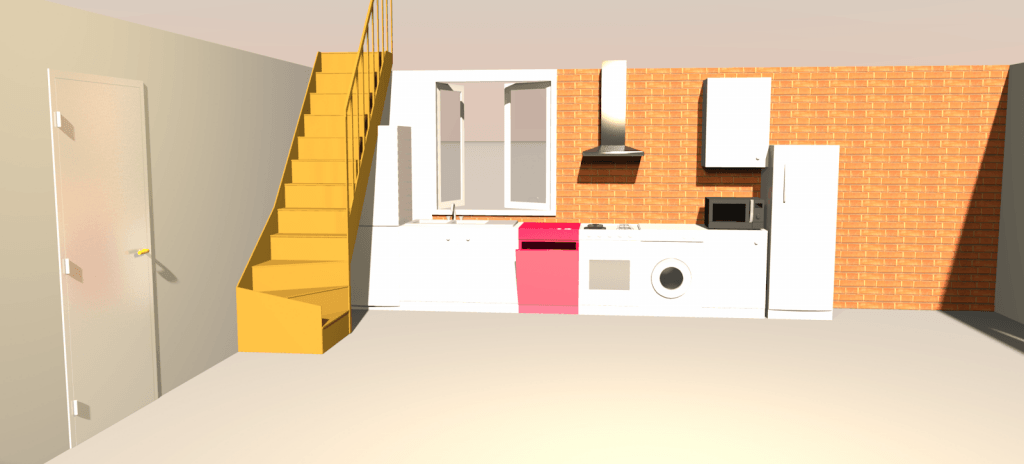 Our testers really liked this app. The graphics may be a bit simple, but there are plenty of features that allow Sweet Home 3D to compete against other apps in this list. During our tests we didn't encounter any troubles or significant bugs,  everything went smooth from the stage of creating a blueprint to the final renders. Sweet Home 3D doesn't propose a high definition rendering engine, so it is not suitable to create marketing images, but it is great for home use. 
Pros:
Multiple supported languages
Intuitive interface
Low system requirements
Cons:
Crude graphics
Low amount of objects and textures
Small interface icons
Blophome is a free kitchen design app created by Spanish company INDEX CONSULTING. This interior design app is best suited to create a unique and personal design, reorganize the position of the furniture and appliances, and gives you plenty of creative possibilities to fulfill your wildest interior dreams. You can get this awesome app here.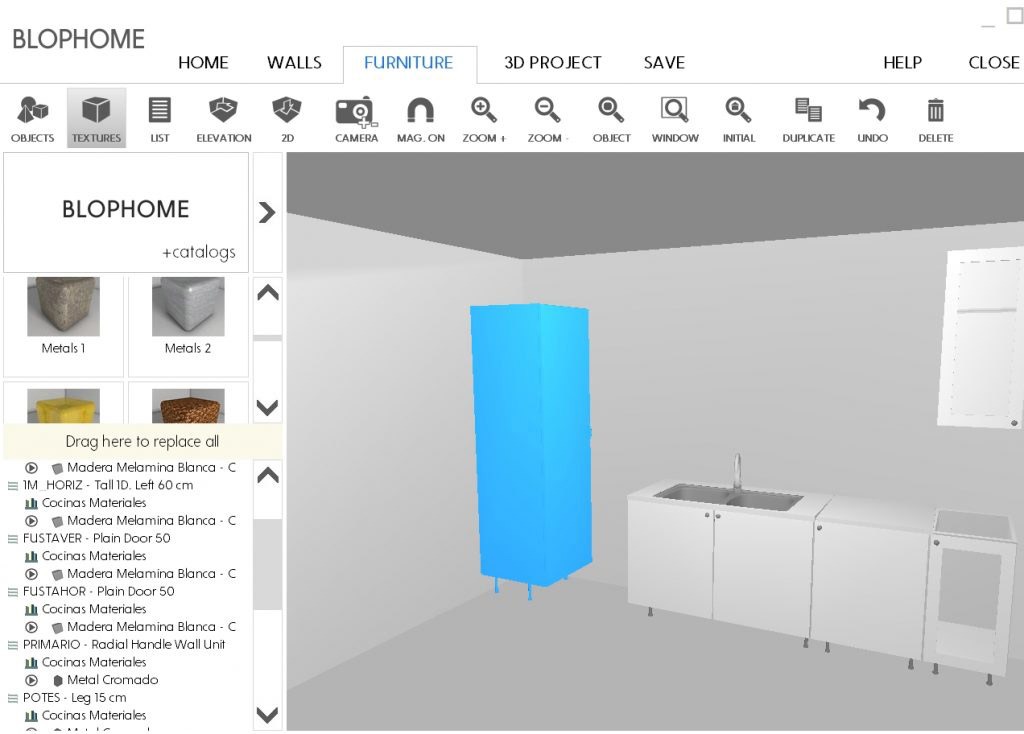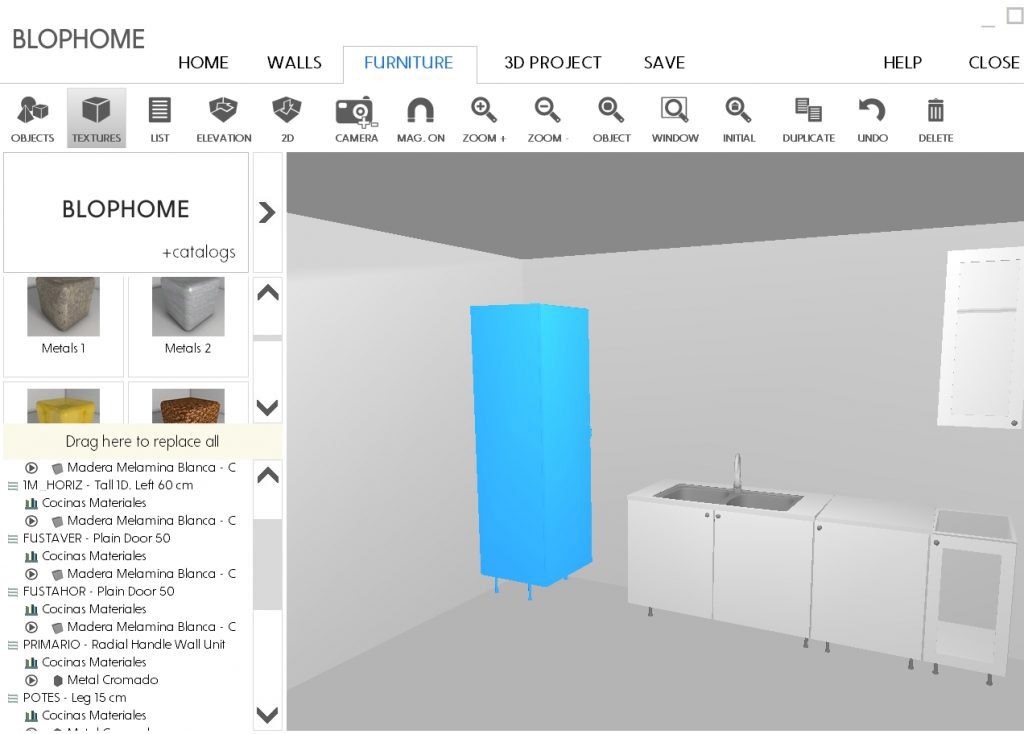 A curious little detail is that the Blophome is distributed as a portable version, this means that it doesn't require any installation. Users can launch the app right after the download. A wide range of available templates allow users to quickly start implementing their design ideas, also it is great that users can delete some items from the template if they wish to.
All available interior decor elements are neatly categorized in the corresponding menu, making it easy to find and use them. Additionally, there are built-in 3D models markets. However, we didn't find a big part of various interior elements in these categories, even some of the most common kitchen appliances were missing. Another little downside is that during our testing the app froze a couple of times. Also, we did have some trouble navigating the menu. 
We would like to point out a great feature – high quality render engine. Using it users can achieve a pretty realistic image with customizable background, daytime, light source, and position. Blophome is an interesting app with some unique ideas, but with some flaws in realization. There are other apps in this list that propose fewer features but that are much easier to use.  
Pros:
Autosafe feature
3D models market
Realistic 3D engine
Cons:
Unintuitive interface
Occurring freezes
Does not work without an internet
Planoplan is an interior design app that can also handle kitchen design. The app is distributed according to a freemium model. You can download the app here. The unique feature of this app is that after you have created your dream kitchen interior you can actually experience it from the first-person viewpoint in 3D and VR! Supported platforms of this type of viewing are Android iOS and Oculus Rift.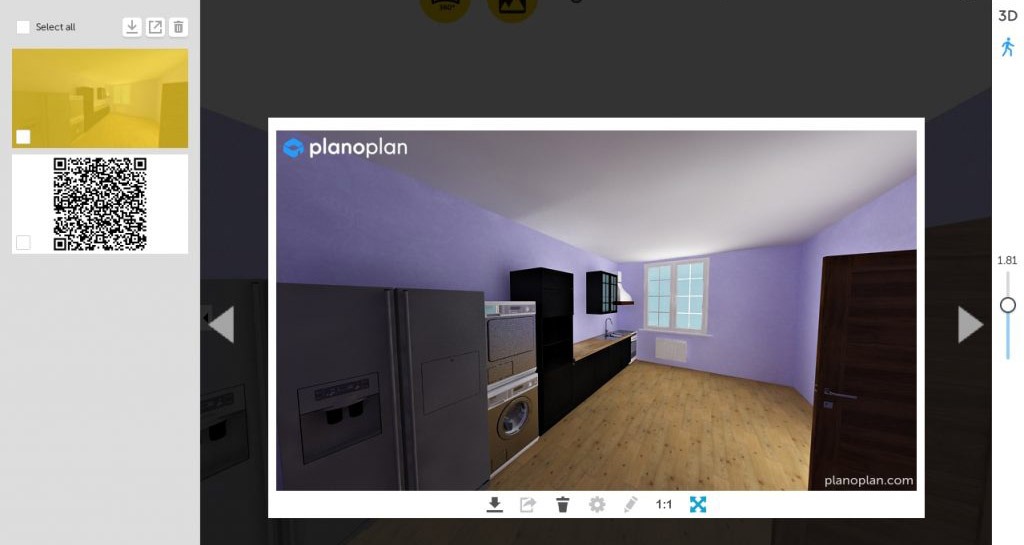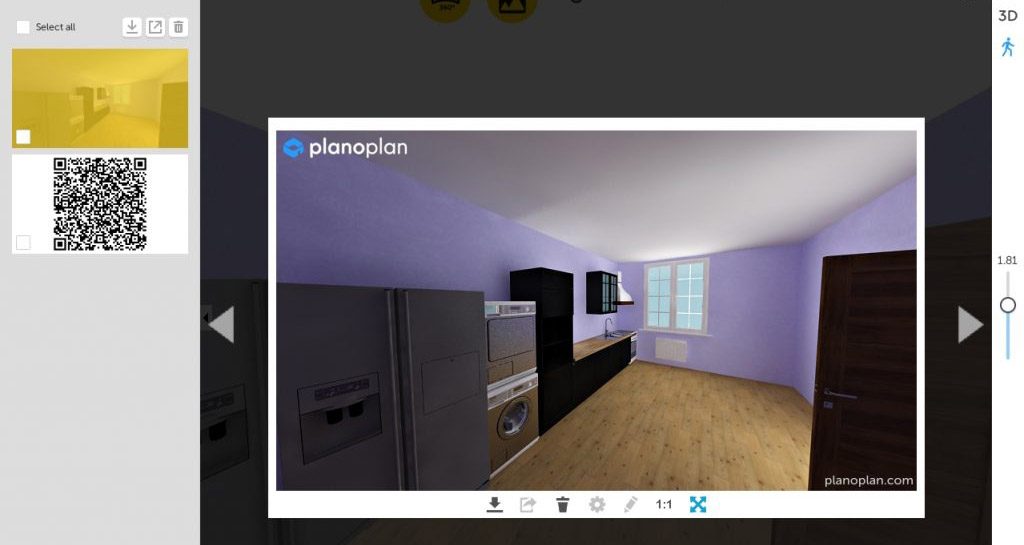 This app is created to create complex 3D models, intricate interior planning schemes, position furniture, change the configuration of the mentioned elements, pick the colors and textures that fit, and get a high definition, photorealistic pictures of your dream design in the result. As a bonus, there is a special feature that counts the number of used materials and furniture that you have used in your design. 
This app was created by Virtual Business Management Ltd. & Co KG. Quite interesting is that Planoplan was first created as a 2D room planner, the 3D and rendering features were added later on. Right after the installation, the Planoplan kitchen design app proposes to go through a brief tutorial. This little guide was very helpful, it really helped to figure out the basics of this app.
This was the first app that we have tested that proposed this kind of tutorial. Another interesting aspect of this app is that it requires an internet connection to work properly. All calculations and rendering are done on the server. This is a source of a few positive and negative points, on the good side is that the system requirements are pretty low, and even on a weak PC but with a decent internet connection render will be done quite fast, as a downside you do need a constant connection, and the app is near to useless when you are offline.
Another great thing about Planoplan room and kitchen design app is that it does come with a huge library of 3D objects. Additionally there interface is intuitive, the basic functions are easy to find, but users will need to use the app for a bit before they can fully use all of the features that are present in the free version. The proposition to purchase a Pro version was a bit annoying but that's what you get in a free version, the Pro version costs $17.5 per month. 
In this kitchen design app users are also able to create a virtual tour of their design. Off course at first you should create the room or a kitchen, place all of the furniture and appliances, set the light source position. After all of this is done, just press the camera button, then select the resolution of the render, it can be anything between 800 x 450 and 4K.
The VR ready render will be saved on the Planoplan server, users can get access to it using a special Planoplan GO! App (available on iOS and Android). Users simply scan a QR code that was sent in the private message and then can fully experience in VR. Sadly user can only create one VR tour in the free version, in order to create more you would have to purchase a Pro version. 
Pros:
Tutorial
Ability to create VR tours
High quality renders
Cons:
Plenty of advertisement
Constant internet connection is required
The catalog of 3D objects is sometimes hard to navigate
IKEA Home Kitchen Planner is a free kitchen design app from a famous Swedign furniture corporation. You can download the app here. This app is very easy to use, it is the easiest interface to master that we have reviewed, we are sure that anyone can figure it out. However, the list of features is rather short. When you start to use the app you need to set up the dimensions of the kitchen (sadly, you are able to set only rectangular shape), place the doors, windows, heaters, light switch, input communication valves.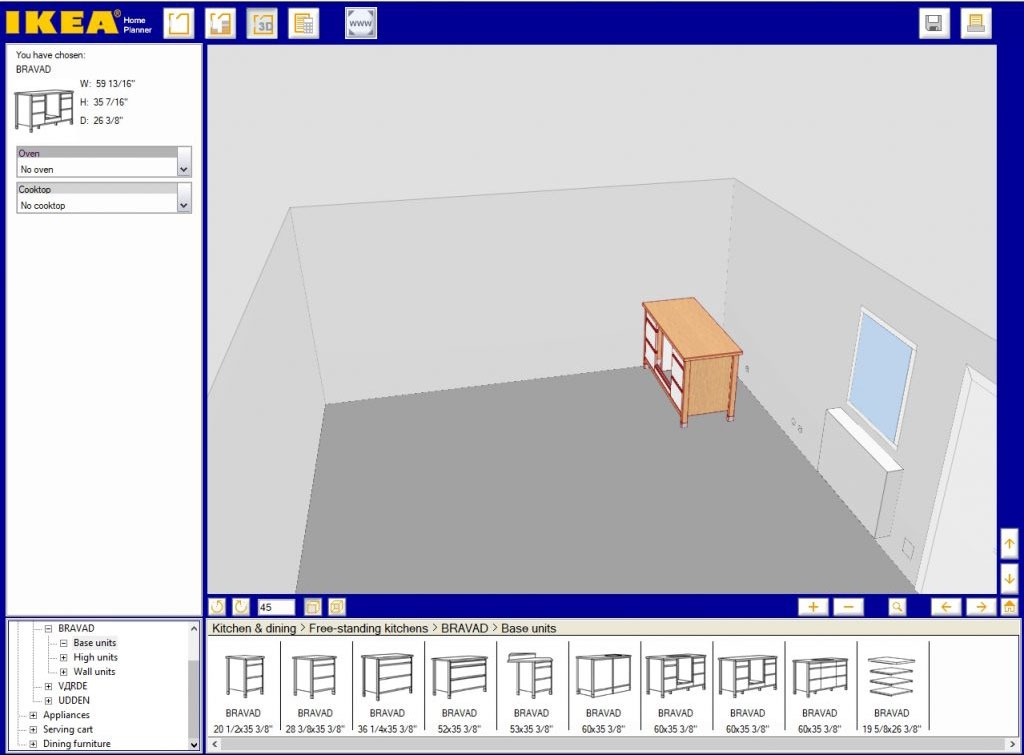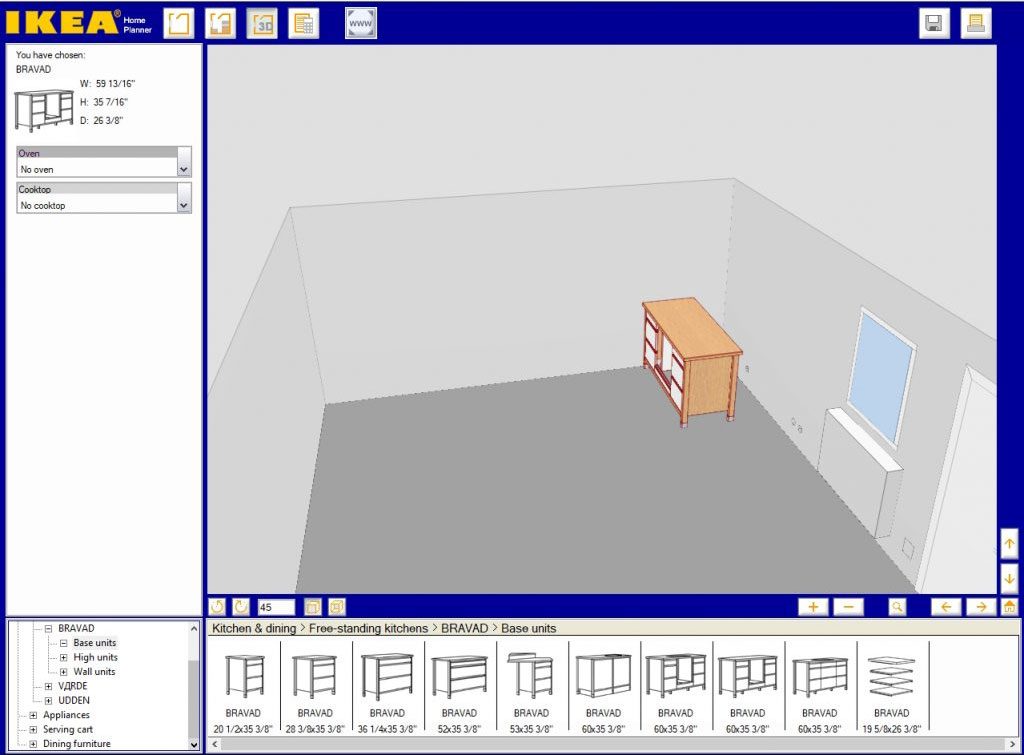 Next step is to select and place the furniture and kitchen appliances that you want. The catalog of 3D objects is very rich and neatly structured. Our reviewers have encountered a minor problem on this stage, it is rather hard to place the furniture when you want it to be, even putting it right against the wall is a challenge. Also, we had some troubles placing the different elements of furniture together. One of our reviewers placed a stove together with an oven and after this action, the stove could not be moved separately from the oven.
From what we could understand the issue was that it counts as a single object. Also, the app constantly froze and some actions did happen after a noticeable delay. Our conclusion is not that positive in this kitchen design app. Despite having a great brand name this app cannot propose enough features to be more appealing than other kitchen design apps in this list. And some minor but annoying bugs make the overall experience even grimmer.
Pros:
Intuitive interface
No internet connection is required
Cons:
Limited features
Placing 3D objects is challenging
No 3D or photorealistic rendering
GKC Web Kitchen Planner is a dedicated kitchen design app created by the 3DVIA Home company. You can get this app here. This app really surprised us with a respectable amount of design capabilities, also the 3D objects library is rich and diverse. All of this is combined with an intuitive, simple but nice looking design. The workflow is pretty much standard. First, you have to set up the room parameters, then place the interior objects.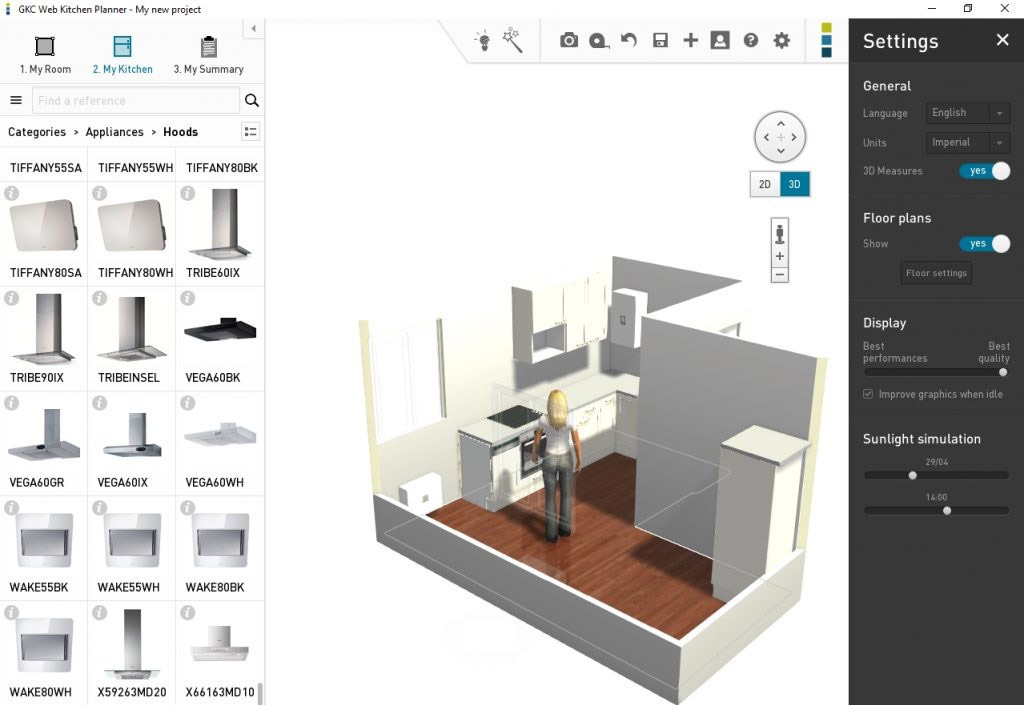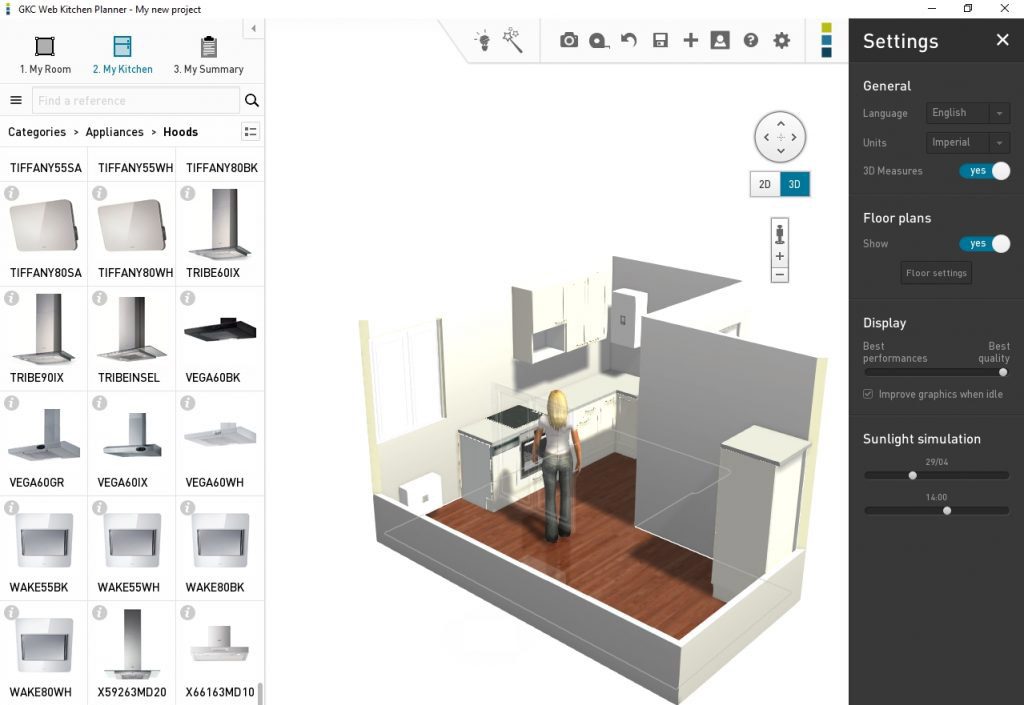 Nice little detail is that the GKC Web Kitchen planner allows to create rooms of different shapes, not only rectangular ones, it even allows to add columns and other separators in the middle of the room. The second stage is when you add different interior elements, household appliances, and simple furniture.
We were amazed by how smart and efficient it is done in this kitchen design app, the interior elements are automatically adjusted to match each other.  For example, if the width of the counter surface is smaller than the width of the cooking stove or oven the app will automatically make the surface larger. Small details like this improve the user experience of this kitchen design app.
Another neat little feature that is present in GKC Web Kitchen Planner is the ability, to sum up, the design. This feature is available right after you login in the app. This feature will provide you with a list of used objects in your design. One small downside of this feature is that all objects are available for sale only in the US. So it is not much of a benefit for users from other countries.
And we did find one bug or a minor flaw. We were not able to set the kitchen hood above the stove. On the bright side, the interface and user experience is great. Even when we had trouble figuring something out, the popup tips were right there to help. 
Pros:
Helpful popup tips
Intuitive design
Rich library of 3D objects
Cons:
Needs constant internet connection
Some elements are impossible to place correctly
In order to save the project user must log in
DreamPlan Home designer is a design app created by NCH Software. Using this app you can create a design of the house, your yard, and interior, it also can be used as a kitchen design app.  Using this home design app you can create everything from scratch, starting from the base of the house, create several rooms and levels, then add furniture and kitchen appliances, add light sources, set the colors of the walls and floors, and place much more interior items, such as mirrors, fireplaces, stairways, etc. All design process can be overlooked in 3D and 2D modes.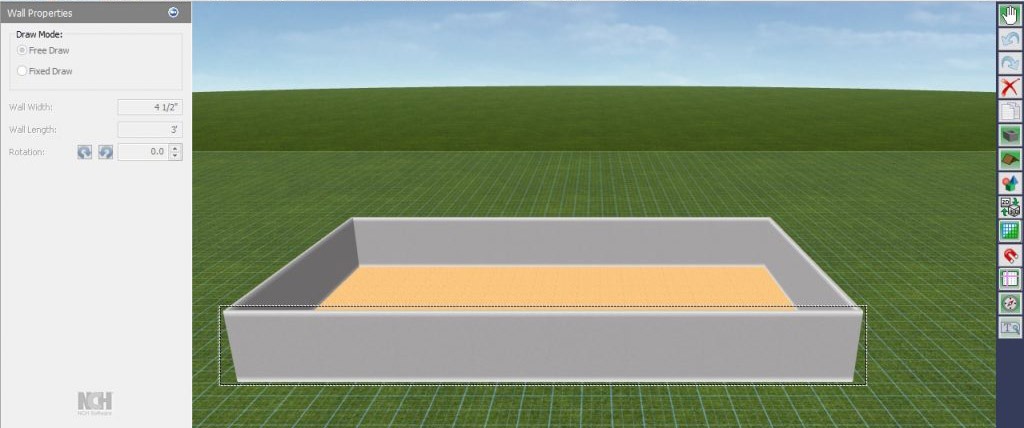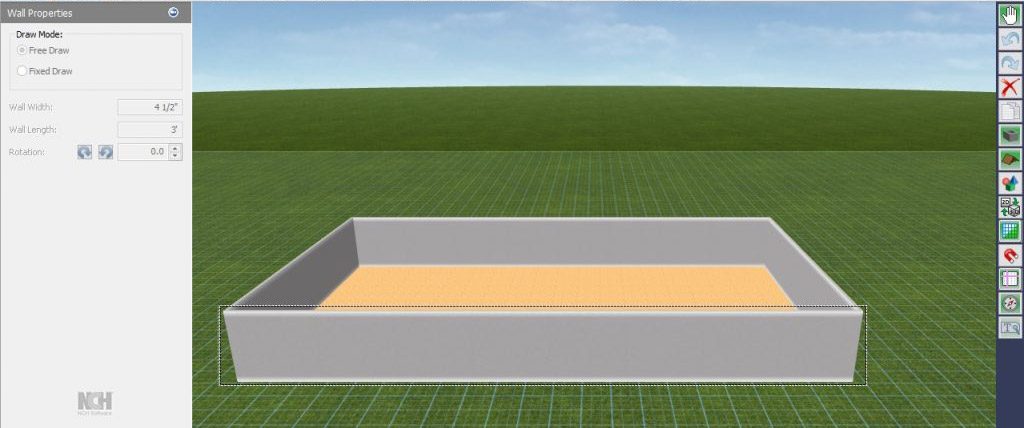 The DreamPlan Home designer is easy to use a design app, it is easy to master, the controls are intuitive and easily accessible. The factor that it is easy to master maybe is the best feature. Users don't need to read boring manuals or watch long tutorial videos, all that is needed is a broad understanding of how kitchen design apps work. We must mention that the DreamPlan Home designer is not created for professional use, so if you will compare it with other interior design apps you will notice that this app cannot produce high definition interior design pictures.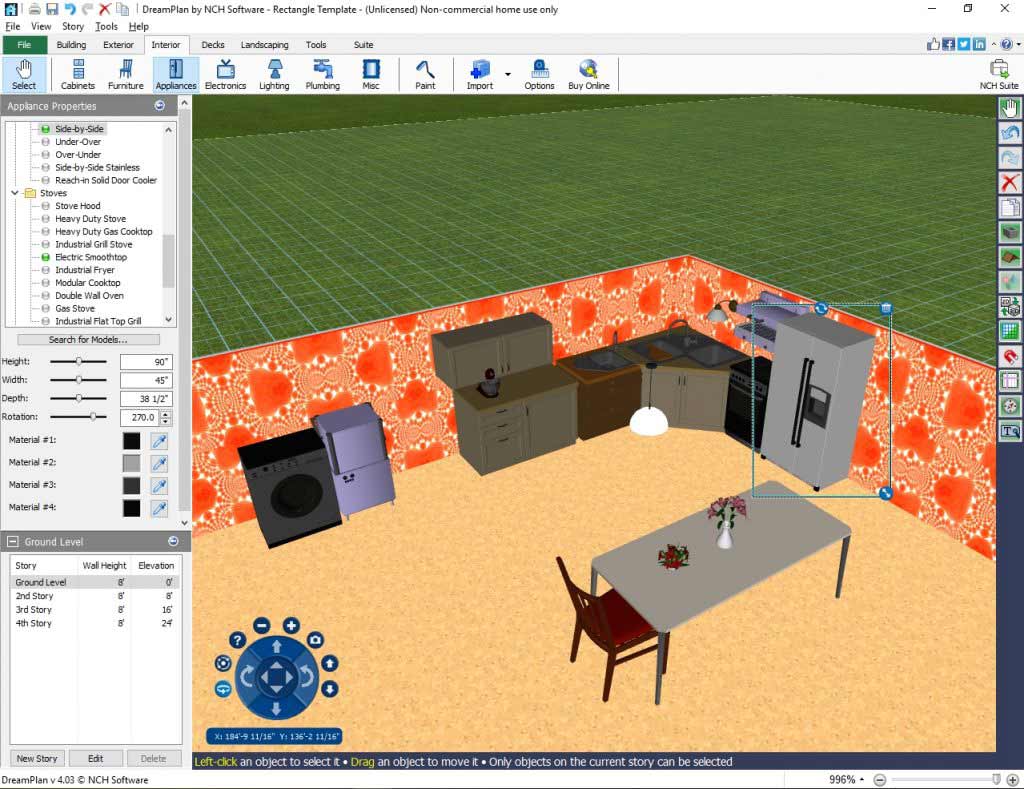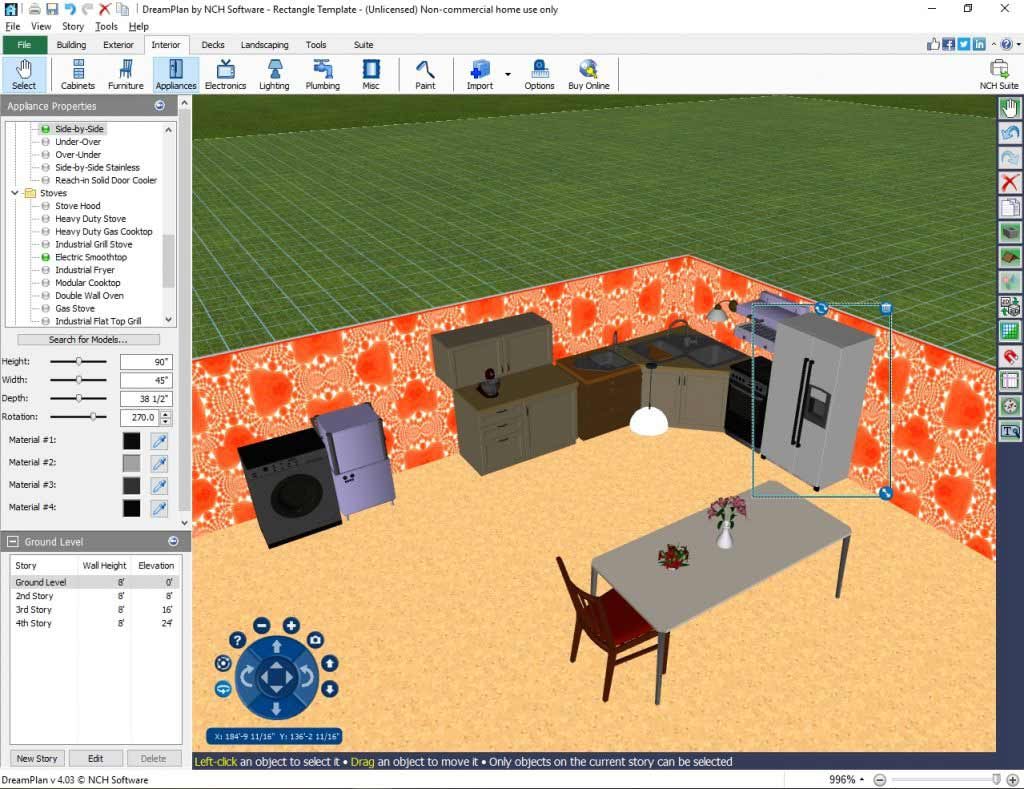 Another small but noticeable drawback of this interior design app is that the 3D library is a bit small, the variety of available 3D models could be bigger. Also, this app does not allow the import of the 3D elements from other apps. There is a set of plugins that can solve the problem available at the official website of DreamPlan Home Designer. 
While you are there you might watch some video tutorials, that can give you some tips and insides on best practices of using this app. In conclusion, we can say that the DreamPlan Home Designer is great for initial planning for a home design project. However, the lack of ability to create high definition pictures does not allow us to recommend this app to everyone. 
Pros:
Intuitive and easy to master interface
Ability to set the dimension of all objects
Ability to create a detailed plan of the whole building
Cons:
The movement in the 3D view is complicated
3D objects can be placed into each other by mistake
Limited library of 3D objects
Roomstyler 3D Home Planner is an online house or room design app, it can also be used as a kitchen design app. In order to start designing your dream kitchen follow this link. Right after you view this link you can start creating. No registration or logging in is necessary. Like in any other app, at first you should create the room or a kitchen plan, a little downside that we noticed on this stage is that you cannot create a rounded corner.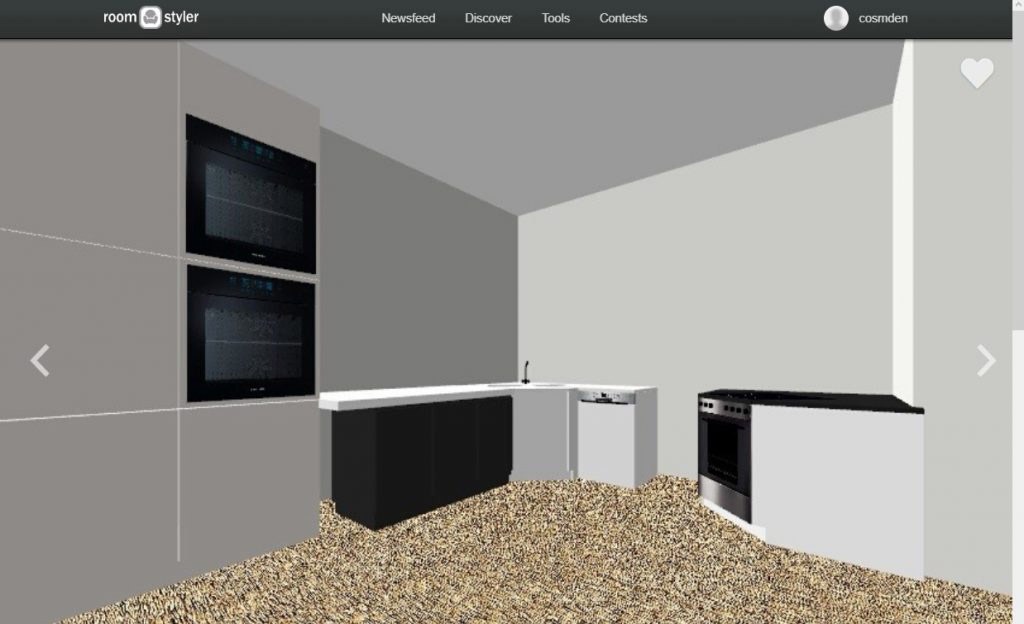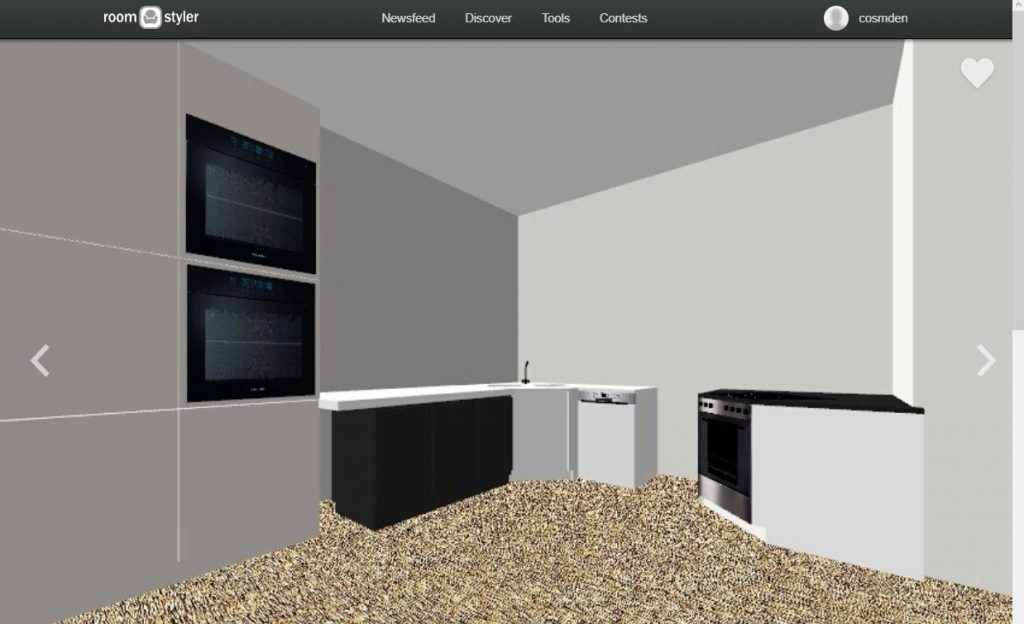 Next, you should place windows and doors. Next step is, using the extensive library of 3D objects, select and place furniture and kitchen appliances. In order to save your project, you should sign up and log in. Another huge benefit of Roomstyler 3D Home Planner as a kitchen design tool is that it doesn't freeze or slow down, the performance is great. The only occasions when users have to wait a bit is when the high definition image is rendering. 
Sadly there is one more downside that we have experienced. The ability to automatically attach, align and pivot objects to another is missing. If we could manage the design process without the autotuning feature, the lack of auto-attach feature made it very difficult to place the furniture where you really want it. On the bright side, users can create a high definition 3D image of the designed room just by pressing the corresponding button in the upper right corner. 
Another downside is that there is no 3D view mode in this kitchen design app. The only way how a user can get a decent presentation of the room is to create a render from every corner of the room. This does take some significant time and doesn't improve the user experience.
Pros:
Intuitive interface
Rich 3D library
No installation required
Cons:
No preview in 3D mode
No automatic attachment feature for furniture
Kitchen PLanner online – as you can guess from the name this is an online tool that allows you to create a design of your dream kitchen. In order to do your first steps in kitchen design all you need to do is follow this link. First steps are similar to the previous apps. You create the configuration of your kitchen, place doors, windows, heating elements, set the height of the kitchen. And, again as in other apps of this type, the user is not able to create rounded corners.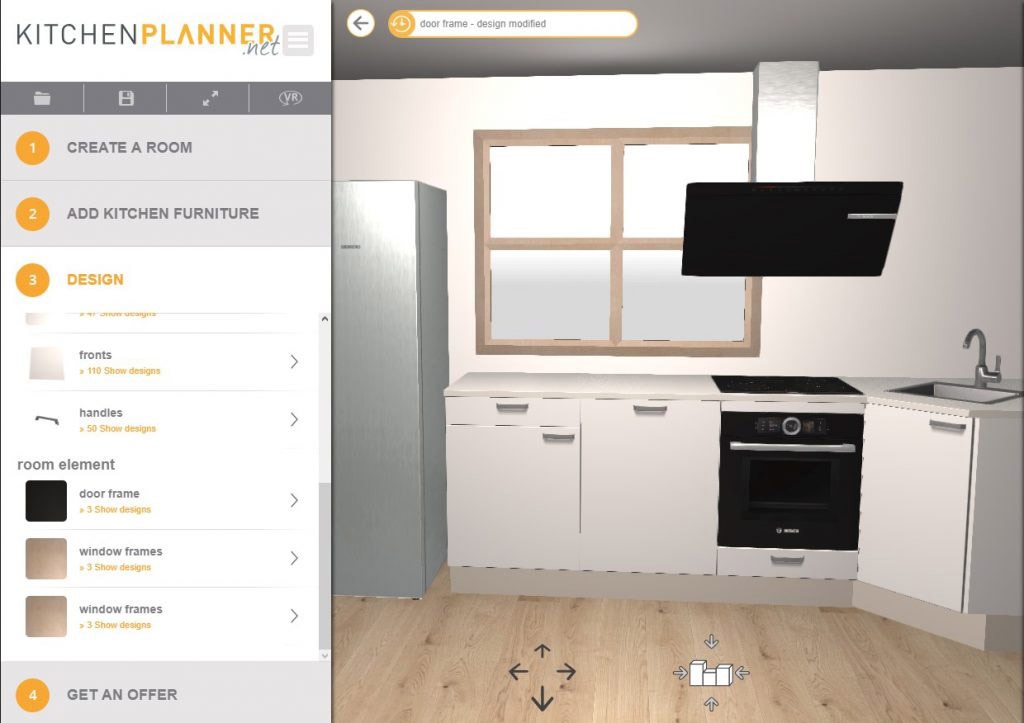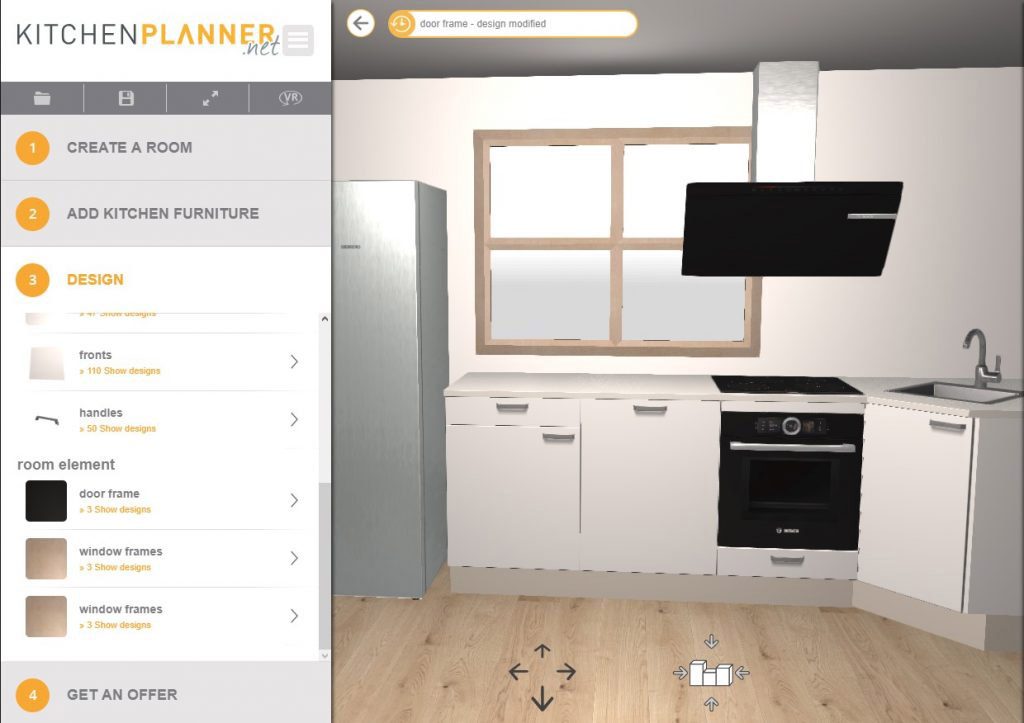 Next step is to place furniture and kitchen appliances, selecting them from the 3D objects library. The selection is not the largest, but all most used elements are present. A good additional feature is that every 3D object can be adjusted, the user is able to change the dimensions and position of every 3D object. After all key elements are on their rightful places the user can start decorating. User is able to select the color and textures of the walls, floor, corners, working areas, set the colors of furniture, even select the shape and color of different handles.
After the user is happy with the result, all elements are set up and configured, the user can view his design in 2D and 3D modes. One of the major advantages of the Kitchen Planner Online is the ability to experience your design in VR. If you remember, some other apps in this list had this feature. But in all of them, this feature was limited or not working at all. If you press a dedicated VR button you will see a QR code. Next, you should scan this QR code with your smartphone and you will be able to view it using a special headset. 
Pros:
Intuitive user interface
Lots of languages supported
Ability to view the design in VR
Cons:
3D objects library is rather poor
Can't create rounded corners
The picture is far from photorealistic
Homestyler is an online room modeling and design service, it also can take care of kitchen design. In order to start working with it, you just need to follow this link. In order to properly use this app, you will probably need to have some experience in similar apps or read through a quick tutorial. Also, you will need a decent level of English language because all documentation and menus are available only in English.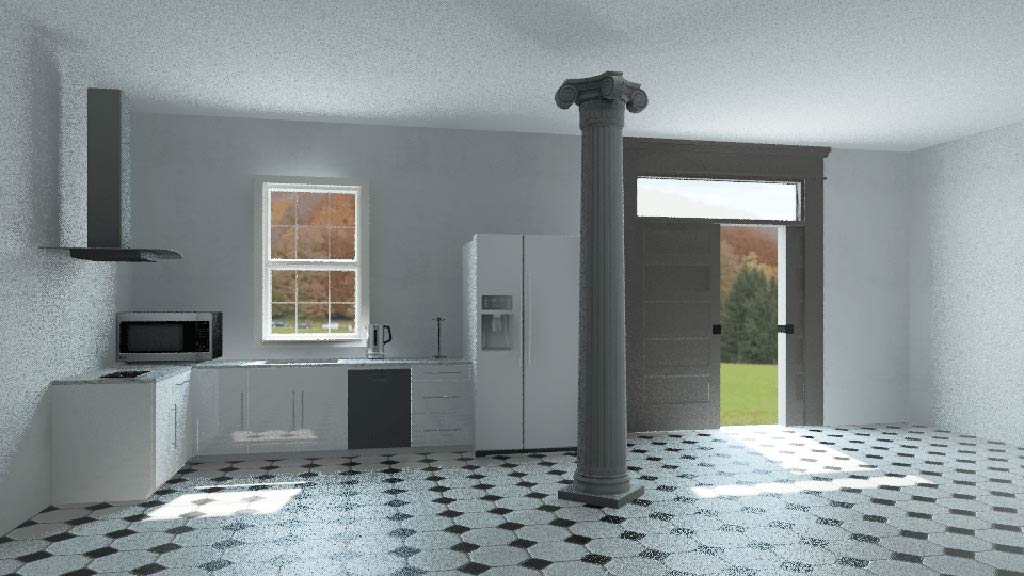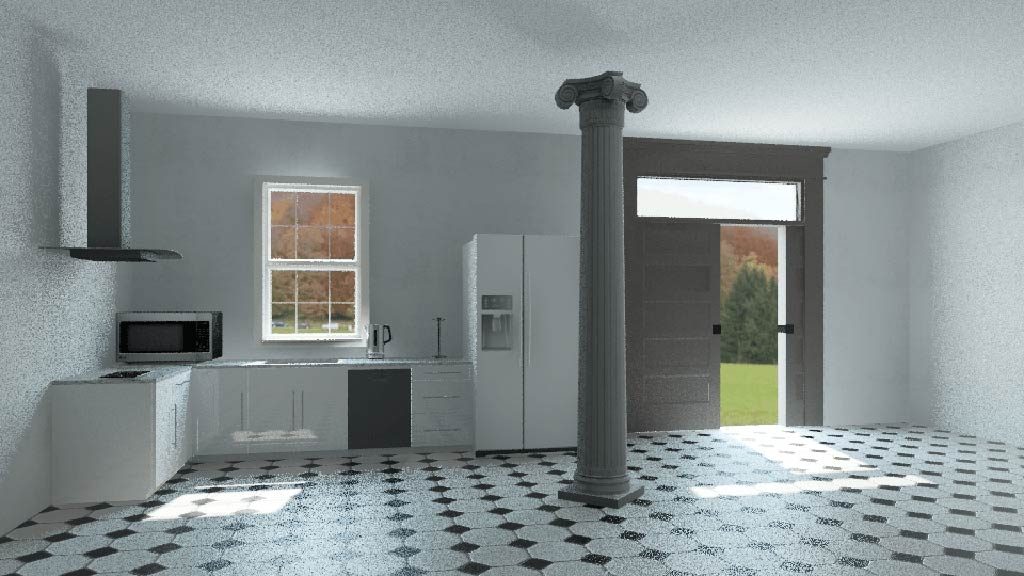 The process of creating a dream kitchen design in Homestyler has the same stages as the most apps in this list. First, create a room geometry, place windows doors or even columns, select and place the furniture and kitchen appliances, then stylize everything with colors and textures of your taste. 
During the tests, we have encountered some user experience flaws. such as autorotation of furniture sometimes didn't work. For example, the fridge was placed with doors against the wall, the stove height must be set manually, in some other apps it automatically was placed above the oven on a corresponding height. Also, we felt a lack of tips and helpful popups.
There is a feeling that Homestyler is not created for an average user that just wants to create an ideal kitchen design. We think that this app is created for a more advanced user or even a professional user. For example, we doubt that the average user would figure out that you need to manually set the height of the stove because it disappears in the oven or working surface. On the bright side, the 3D render feature is great.
Images are very detailed, crisp, and near to photorealistic. However, render does take a significant amount of time. The VR capabilities are present, users can view their future kitchen design in a VR, however, there were some issues with it because after we made some changes to the design and render everything again the VR tour didn't change. 
Pros:
Realistic 3D render
Great 3D models library
Ability to export in DWG format
Cons:
The interface is sometimes hard to navigate
No help tips or an initial quick tutorial
Registration is mandatory
Conclusion
All those free kitchen design apps have a set of pros and cons. Some of them handle 3D rendering better, some have intuitive yet very powerful design capabilities. There are plenty of unique features, that can be very helpful in a certain situation. Every user should be able to the one relevant for his/her situation. Room or house design apps can also be used, though 3D libraries of kitchen objects may be not that sophisticated. 
From those mentioned, Sweet Home 3D amazes with great interface design, it is really intuitive. We can confirm that this app doesn't require any training in order to create a kitchen design. Everyone can just pick up this app and figure everything out along the way. This app was created to allow users with weak PCs to create a dream kitchen design. 
Blophome kitchen design app may crash and freezes, however the autosave feature is best. Romeon would benefit from entry tutorial, or something that would showcase the capabilities of the app. Then, we didn't expect a lot from the Planoplan free kitchen design app, because it has a premium version. So there are lots of ads popping out too frequently.  
GKC is a great web kitchen planner, although the minor glitches when placing objects and auto-rotate feature happened. Frankyl, Kitchen Planner Online is the best kitchen design app on list, per our point of view. Intuitive interface, great set of features, VR mode.
Overall, a proper home design software should possess the following features: 
Autosave

3D objects library

Easy movement controls in edit view

Automatic object attachment

Automatic orientation

Switch between 2D, 3D, and VR

Multiple languages

Photorealistic 3D rendering

Complex geometry and several levels of design
How to select a kitchen design app
During this review of best free kitchen design app, we have reviewed of 15 of them. Some were better than the other, some were online, some apps required an installation. After the testing, we can make a conclusion that they are not so different. The main features work properly in the majority of the reviewed free kitchen design apps.
Online apps would be a great solution to users that don't have a powerful PC or cannot install the app on the hard drive for some reason. The only real requirement here is to have a good internet connection. Kitchen apps that require installation will be best for users that want to have the ability to adjust the design on the go using a laptop, or for users that really want to benefit from their powerful hardware. 
FAQ
How to place the cooking stove on the cabinet or on the working surface?
In some kitchen design app, this process is done automatically. But, in the apps that don't have this feature, you will have to do this manually. You will need to select the cooking stove and change the vertical position of it to match or to be a bit above the cabinet or the working surface.
How to change the view mode from 2D to 3D or VR?
In order to change the view mode in your kitchen design app, you will need to locate the corresponding button. The position of this app can vary from one app to another if you having trouble locating the button try to look up some information in the tutorial or documentation. Also, you can just switch from the room creation view to decorating view. Some kitchen design apps change the view mode in this case automatically.
How to change the dimensions of the 3D objects? 
In the majority of the kitchen design apps in order to change the dimensions of a certain object, you need to turn on the object placing mode, select the object you want to adjust. After this action the control panel should open, there you should be able to find the dimensions parameters and change them.
How to zoom in or zoom out on the object? 
Most of the kitchen design apps allow this action to be done using the mouse scroll. If this approach doesn't work in the kitchen design app of your choice try looking for dedicated buttons on the control bar or user plus and minus buttons on the keyboard.
How to change the width of the wall? 
Simply go to the planning mode of your kitchen design app, select the wall you want to adjust once or with a double click, then using the control panel change the width of the wall.
How to place objects close to each other?
Some kitchen design apps have the feature of automatic object attachment, that places the furniture very close to each other. If this feature is not present in your kitchen design app then the best way would be to position the camera so the view of the objects is comfortable for you. Then position them manually using the mouse or arrows on the keyboard. 
P.S. You might also want to check the following articles: