Mobile website and mobile app. At first glance, it may seem there isn't a big difference between those two, but let's dive a little deeper into the topic. Because actually, we are talking about two very important, connected and still a bit different things.
In this article, we are not going to tell you which one works better. After all, it isn't even a question. Instead, you'll understand the main difference between mobile app and responsive website. With this knowledge, you'll be able to choose what is more preferable to you or which one is more appropriate for your business.
But to tell truth you should hold in mind obtaining both responsive website and mobile app, as they serve slightly different purposes.
Features of responsive websites
First of all, we'll talk about websites because they appeared earlier. Also, it's still kinda strange to talk about developing a mobile app while not having at least simple Internet page.
So in theory responsive or mobile website is just like any other – it uses HTML pages that can be accessed with any browser. However, while a usual website is built for viewing on a desktop, first of all, a mobile site is specially designed to appear on smaller screens like mobile phones and tablets.
A responsive site has a special design based on CSS media queries. It allows website's content to fit into any type of screen both 17' laptop or 3' phone. Those queries nonetheless have few imperfections: not only they require more developer's work and attention but also such website most probably would download slower.
By the way, you shouldn't muddle up responsive and adaptive websites. The last one also works well on smaller screens but they are not versatile. Actually, adaptive websites work with certain screen parameters. It is hard to predict all the possible combinations so the responsive website can be a better decision.
One more popular question: why do you need that responsive website at all? Well, did you know that quantity of mobile phone users is going to increase worldwide from 4.01 in 2013 to 5.07 billion in 2019? (see picture below). In 2016 almost 63% of the Earth' population already owned a mobile phone. During next years this amount will grow in particular thanks to China and India.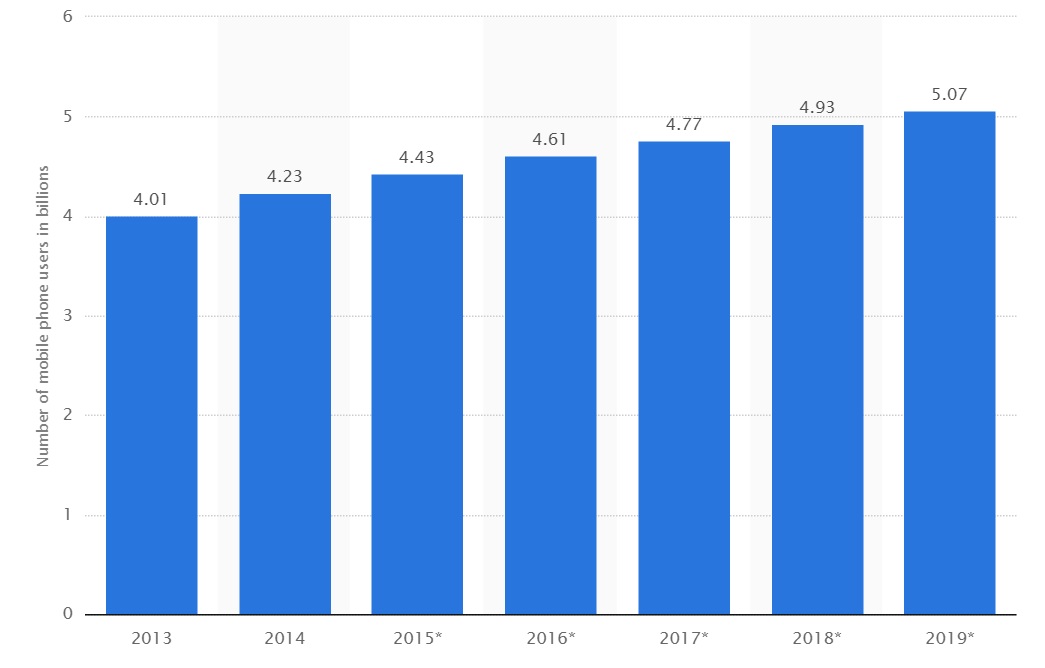 Many companies today have responsive websites in order to make their information, goods or services available on various platforms and devices. This is especially crucial if you are looking for new customers.

Get free estimation for your web app
Post your project or request a dedicated team - we'll quickly match you with the right experts.
Post project
When people look for information, they don't go to the app stores at once. It is more likely that they will start with web browsers. And the results will probably consist mostly of web pages and just a few apps. And if one is surfing an app store itself…well, you can imagine how hard it to break through those thousands of apps.
Besides Google likes mobile/friendly websites and gives them better SERP ranking as a reward.
To sum up, let's highlight a few main features of responsive websites:
A mobile website is available for all users. It doesn't require downloading or installation. In addition, most of the sites are free. Regardless of operating system, you can easily use a responsive website on your smartphone. But don't forget one important detail – internet connection. Most websites can't work without it.
The site is easy for updating, supporting and bug fixing. On opposite to mobile apps, a user doesn't have to install the new version to see the enhancements on the website. For the most part, users don't even notice the process of updating. They can simply enjoy the renewed product. At the same time, it is easier and cheaper for an owner to update one website.
The mobile website is less expensive. You don't have to create native apps for each type of mobile phones and tablets when you have one responsive website. It also makes maintenance cost lower and working with gets SEO easier. However responsive website can't satisfy all the needs and you still have to pay for domain and hosting.
So that responsive website works well if you want to find a new client or generally represent your business in the web. Read more about website development cost here.
Why choose mobile app
From the last section, you could think that responsive website is a good solution to all problems. Well, it is not. One, especially businessman, should always look into the future and the future is in mobile technologies and their development.
Due to Business Insider in 2014 mobile users already spent over 86% of their in native apps. And the latter research doesn't show that desktops get back their positions.
So, what is a mobile app? It is a software product that can be installed on one's smartphone or tablet. Apps are developed for different operating systems, the most popular of which are iOS, Android, and Windows Phone. In this article, we're mainly talking about native apps. However, you can learn more about popular types of apps from this blog.
Mobile apps work differently than responsive websites. They don't run on all devices and need to be installed separately but what they give is unique user experience. While your website is aimed at attracting new or occasional clients your mobile app works with regular clients.
A mobile app is notably good when a person needs to complete some goal. The well-designed app must give your client all opportunities to perform it just in few taps or scrolls.
So don't make a common mistake and don't turn your app into the clone of your website. Instead, you should pick up features and functions that reflect the main idea of your business, develop them, make the usage as simple and straightforward as possible and bring that all to your customer.
Oh, and you can include push notifications!
However you must remember that in this case, expenses are much higher as far as you need to create separate apps for different operating systems. Primarily you must think about iOS and Android. The first one brings better revenue while the second one shows better results in a total number of downloads. So you should hire reliable developer company for it.
You can read more about an application development cost in our article.
Just like responsive websites, all mobile apps have some special characteristics too. Let's sum them up:
Focusing on special features and functions. Mobile application doesn't have to fully duplicate features of the responsive site. Some app functions are not always applied on the website (even due to technical reasons) and vice versa. For example, Instagram users can watch photos on the website but still, they can't upload them without application.
Mobile apps work differently. Apps require downloading from specific popular types of apps (Google Play Market, App Store, Windows Market and third-party stores) and installation, as well as they can require access to your personal information or third party services. At the same time apps can guarantee bigger safety than browsers.
Apps can work offline. Depending on app's functions, you can download information or content and use it even without Internet access. For instance, most features continue working offline in applications like BBC news or Spotify.
Special user-friendly design. When it comes to design displaying — mobile app tends to be more resistant to the variety of screen sizes that might appear on the various phones and tablets. Also, design for a mobile app is typically more holistic and user-friendly as it is done for a specific platform. Pictures usually upload faster and the app itself uses less mobile data.
Using of mobile phone components. Mobile app works better with hardware sensors like microphone, camera, GPS, etc., that improves acting with a device and makes user's life easier. So that you can get access to different phone options like calls or geolocation just with a few taps.
So if we are talking about particular service, for sure it's more convenient to use a mobile app rather than enter URL or randomly surf web.
Comparison summary
We've made this spreadsheet to summarize information above for easier comparison. With its help, you can make the best choice for your business: mobile app, responsive website or maybe both.
| | | |
| --- | --- | --- |
| | Responsive website | Mobile app |
| Compatibility | Mobile version of the site is equally displayed in all browsers, despite the device model. | Requires development of several applications for various platforms. |
| Audience | All devices that have access to the Internet. | Only smartphones and tablets. |
| Cost of entering the market | Payments for domain and hosting. | Developer licenses in the app stores. |
| Ease of use | Doesn't require download and installation. | Requires downloading and installation. |
| Working offline | Not all devices support. | Possible. |
| Support, updates and bug fixing | Easy to update, maintain and fix bugs. | Difficult to update and monitor the application after it's downloaded. Bugs will be fixed only in the next version. |
| Convenience of regular using | Average. | Good for regular using. |
| Personalization | Average. Mobile site is more focused on the service. | Good. App is more aimed at the individual user. |
Conclusion
Thus, both alternatives have their advantages and disadvantages. A mobile app is not always better than the mobile version of the site and vice versa. To choose one of them you must understand the purpose of the product: who will use it and how often.
Also one should know, what is more important: higher performance and functionality or the product development price. From the point of view of money saving, web development is a better option. In this case, the content is more important than the visual expression of the app. The mobile app is likely more preferable to a responsive mobile website if your plans require high performance.
In addition, the offline/online availability is an essential issue. Mobile applications do not depend on the Internet access as responsive websites so that many operations can be performed in the offline mode.
Of course, there is no clear answer to what business needs: a mobile site or a mobile application. The main thing is to think about your clients as users of mobile devices and make their life as comfortable as possible.
And after all, who said, you have to choose only one option? There are plenty of people who decided not to limit their business to only one form of representation! You can become one of them.[/sociallocker]

Get free estimation for your web app
Post your project or request a dedicated team - we'll quickly match you with the right experts.
Post project