Augmented reality in education will soon affect the conventional learning process. AR has the potential to change the location and timing of studying, to introduce new and additional ways and methods. Capabilities of Augmented Reality technology may make classes more engaging and information more apprehendable.   
Educators know that the learning process should be all about creativity and interaction. While teachers do not necessarily need to recruit all students into science, their goal is to get them interested in a subject. That's where AR could come in handy.
Augmented Reality in education
Nowadays 80% of young people own smartphones. Most of them are active smartphone users that use these gadgets to access social platforms, play games and to be in connection with friends and relatives. In the meantime, much lesser part of young adults uses phones for studying purposes, to do the homework, dig information about a subject, etc.
Let's Build Your AR app
Provide us with your contact details and we will contact you today
The potential of combining smartphones and Augmented Reality for education is big, though it still has to be fully discovered. AR, in various ways, could grant students extra digital information about any subject, and make complex information easier to understand.
Nowadays we may find some excellent examples of augmented reality in education worldwide. Ability to connect reality and digital content has been steadily improving, opening more options for teachers and students.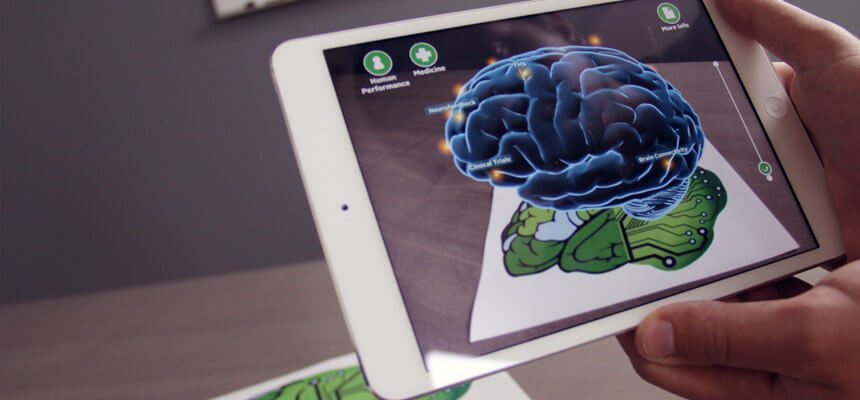 #1 Augmented Reality classroom
Augmented reality animated content in classroom lessons could catch students' attention in our dynamic day and age, as well as motivate them to study.  Adding extra data, e.g. a short bio of a person, fun facts, historical data about sites or events, visual 3D models, would give students a wider understanding of topics.
While doing homework, students may scan certain elements of a book and receive text, audio or video tips from teachers. Or they may find useful information about the course, a teacher or other students which could lead to better communication.  
#2 Explain abstract and difficult concepts
AR technology has an ability to render objects that are hard to imagine and turn them into 3D models, thus making it easier to grasp the abstract and difficult content. This is especially good for visual learners and practically anyone to translate theoretical material into a real concept. For example, Polytechnic Institute of Leiria in Portugal integrates AR into math lessons and students report it as helpful, easy and interesting.
#3 Engagement and interaction
By incorporating Augmented Reality into lessons teachers are able to involve students into the process with 3-dimensional models. It may be just a part of the lesson, like a teaser, or the support of the main topic with extra info from a different perspective. Like this case, when a Canadian tech company CASE transformed the wall of the school gym into a ball game by adding Augmented Reality layer to it. Kids through balls onto a wall to hit floating shapes and so have fun physical exercises.
#4 Discover and learn
Visitors of museums could access AR via smartphones and discover historical content related to objects. Additional information about what they see, though due to space or budget limitations, not all museums and landmarks can afford this. Once AR becomes more available, there will be new great opportunities for museums. The upside is that Augmented reality is already accessible to visitors through mobile devices.
#5 Objects modeling
Manual training, hand exercises, quiz solving etc. help earn a better knowledge of any lesson. AR apps for medical students may be one of the ways to learn human anatomy, explore more deeply. Augmented Reality basically means interaction with 3D models. And you can set the rotation, transparency, color scheme, styles etc. Finally, there could be more advanced animations via special gadgets like holographic lenses, instead of smartphones.
#6 Training
In many cases, theoretical knowledge is not enough to obtain proper skills in professional areas. Students shouldn't be mere listeners and passive observers. Students of technical faculties especially need practice and hands-on experience in their areas. Through interaction, unlike VR, AR features could help perform a virtual practice – with augmented tutorials, digital modeling, and simulations, and acquire some experience in the end. It is not a secret that motivated and engaged students will understand a subject better and learn faster. 
Augmented Reality Education Apps
Within augmented reality, in education, we can divide it into 3 categories of apps: the ones specialized for students, the ones for kids, and apps for self-education. Let's start off with a few examples of AR apps for students.
Augmented reality apps for students
Elements 4D (Android / iOS) by DAQRI studio, an app for studying chemistry. It allows combining different elements as the simulation, to see how they would react in reality. To start it special triggers on printed cards are used. On their website, you can find lessons plans suitable for high school, secondary and elementary school programs. Take a look:
Anatomy 4D (iOS / Android) is best suitable for medical students. By scanning printed targets the application shows 3D models of a human body and allows to interact with it. Users may change and adjust any part of the human body, learn more about parts, joints, functions etc.  
Corinth Micro Anatomy, available for Windows Mobile, is another human anatomy application that may be interesting for medical staff. Or Human Heart 3D app with less content, but more specific – to explore human heart in details. 3D model of a heart completed with various animations and textual tips about it.
AugThat (Android / iOS), designed by a former teacher, is the application that brings AR in a classroom. AugThat mainly targets students who lack motivation with help of 360-degree virtual photos and multiple 3D experiences.

Augmented Reality apps for kids
Math alive, developed for kids in up to 3rd grades, connect a computer, a camera, and specially printed cards. Pupils under a teacher supervision place cards in front of a camera, practicing basic counting skills. Animal Alphabet AR Flashcards is a similar AR app but for learning letters, the application brings cards "into life" by showing live animals when the answer is correct.
ZooKazam or Bugs 3D. ZooKazam (Android / iOS) in order to teach about animal species offers animated 3D models and various info-graphics about mammals, insects, fish, birds, and reptiles. Bugs 3D (Android) helps kids to know more about insects, placing quests and questions about them and showing descriptions and images to play with.
For fun activities, art and drawing there are Quiver and Chromville. To learn about plants and flora there is Arloon Plants (Android / iOS.). For the smallest kids check out Pete the Cat: School Jam app – it serves "pre-education" goals, like to teach empathy for live beings, as well as creativity.
AR learning & self-education apps
Google Translate (Android / iOS) is just great for studying foreign languages without a dictionary. By using Google Translate special "AR mode" you may instantly check up unknown words. Works well both for students and tourists, to navigate in cities abroad. 
Amazing Space Journey, SkyORB 3D, and Star Walk. All of them have one purpose which is to study the skies with all its secrets. Learn more about stars, constellations, planets of the Solar System, galaxies, etc. 
Tools/Platforms to create AR content
There is a category of AR apps that isn't for educational purposes primarily, but they may serve as a tool to create augmented reality content for various subjects. Check out some of the following (the list is not exhaustive). 
Augment (

Android

and

iOS

) with packages suitable for educational purposes in schools and universities. The platform provides options to create 3D models, as well as multiple other useful features.
ZVR, a powerful tool by Zspace that comes with an extensive toolkit to create educational materials. Students equipped with special glasses could interact with AR objects, while there may also be used by engineers and designers.
Daqri Studio, the application to make AR projects and experiences, with examples of education apps like  Anatomy 4D, Elements 4D.
Blippar (Android / iOS) an AR creation tool already used for many educational projects and partnered with different media outlets. It visualizes topics and objects from print material turning it into 3D interactive models.
Conclusion
Despite the rising use of Augmented Reality in many areas of the modern era, augmented reality in education is still new and unsettled. Though possibilities of AR in teaching/studying are great, providing new ways of learning. Teachers get to catch the attention of students and motivate them better, while students get new tools to visualize their subjects and complex concepts, as well as obtain practical skills. Moreover, even parents can benefit – by engaging their children to study with playful apps.
Let's Build Your AR app
Provide us with your contact details and we will contact you today