Augmented reality is gaining traction in almost every industry and real estate doesn't seem to be an exception. Some agencies have already made use of this modern technology in several ways, from refreshing their print catalogs to interactive demonstrations at installation and on a mobile screen. Even though AR is just at the start of its path, augmented reality in real estate is already providing serious business opportunities.
It has the value similar to a marketing method, as well as a tool to encourage clients into a conversation and purchases. More importantly, AR usage presents benefits as to customers so to real estate agencies/agents:
Clients get more informative and visual proposals

Agencies deal with clients that have a more clear vision on a possible deal
How does augmented reality aid real estate business?
Almost every agency struggles when it comes to visualization of their catalog. The setbacks with all the tools in use are common:
Print text descriptions of apartments 

say nothing (or very little) to buyers

Photo

ads are better, but still, you cannot show the whole realistic picture

3D models

 on mobile or desktop applications are interactive, and yet lack in full presentation

Visiting

each site along with customers is too time-consuming
Augmented reality tools and AR mobile apps in particular help tackle those issues nicely. With a single touch of the button, clients are able to all-angle AR models of any apartment of their interest. Without leaving the office or home, they may browse, compare and analyze flats/houses/offices in great detail. Moreover, they can also interact with it experiencing an 'almost-present' feeling.
Benefits of augmented reality in real estate
People adore everything new, sci-fi and entertaining. And clearly, you can fully use their interest for your own profit with this innovative tools to advertise and distribute your products:
Print catalogs and big boards with AR to be more interactive;
Geo-tags to help locate your items on sale in the real world, so customers can discover for themselves;
New advertising possibilities;
Animated 'Contact us' and other call-to-action buttons;
Wide coverage with apps on Google Play and App Store.
#2 Clearer understanding of products
Augmented reality visualization works much better than both photos and videos with a text description. And the more complex an object is the better assistance AR presentation offers. In this regard, you can:
Accurately visualize large buildings through augmented 3D models

With AR app features show apartments to clients, adjusting the style, furniture, surroundings, etc. along the way
According to various field studies, augmented reality in real estate gets customers more interested and involved. Same as the AR technology in general, as it is quite entertaining and fascinating. And it is not a secret, that one has a better chance, when dealing with engaged potential customers, to turn them into real customers buying products and services.
#4 Save time and resources
Obviously, most of the real estate clients want to visit apartments by themselves, before making the final decision about the purchase. While it hardly can be changed, Augmented Reality in real estate may significantly lower the numbers of exploratory visits, that people need to form an initial opinion.
Exploring the AR catalog via a mobile app, clients

may choose the site of interest even before going to the agency

Realistically looking AR models allow clients to decide which real estate sites they do like and which they don't.
Real Estate AR apps
Augmented reality applications for real estate basically fall into 3 categories regarding the complexity of development. While basic apps offer simple 3D objects appearing on your phone, more advanced apps may feature markers/QR codes to initiate AR, HQ interactive animations, etc.
| | | |
| --- | --- | --- |
| Simple AR app | Advanced AR app | Enterprise AR app |
| Basic environment | Basic environment | High-quality environment |
| Simple object models | High-quality models | Detailed textures and lightning |
| Basic textures | High-quality textures | Object animations |
| Basic lightning | High-quality lightning | Realistic textures and objects |
| App Store adaptation | Sharing options | Interaction and sharing |
| Google Play adaptation | App Store adaptation | Database integration |
| | Google Play adaptation | App Store adaptation |
| | QR code for products | Google Play adaptation |
| | | Custom landing page |
| | | QR code for products |
To illustrate what we are talking about, here are some AR apps in real estate already active on the market.
This app for iPhone/iPad devices is designed as a tool to create amazing and impressive presentations in AR format. Three-dimensional models are fully controlled and can be easily manipulated to show all benefits to the customers. Therefore, architects, construction companies and real estate agencies can make a great use of it. You are able to present an overall look of the estate or a view of the particular floor/room to customers with a smartphone.
ARHouse features:
Visualizing projects wherever you need

View an Augmented reality 3D model or blueprint without any additional tools

Sharing models with customers, so they may check and revisit at any time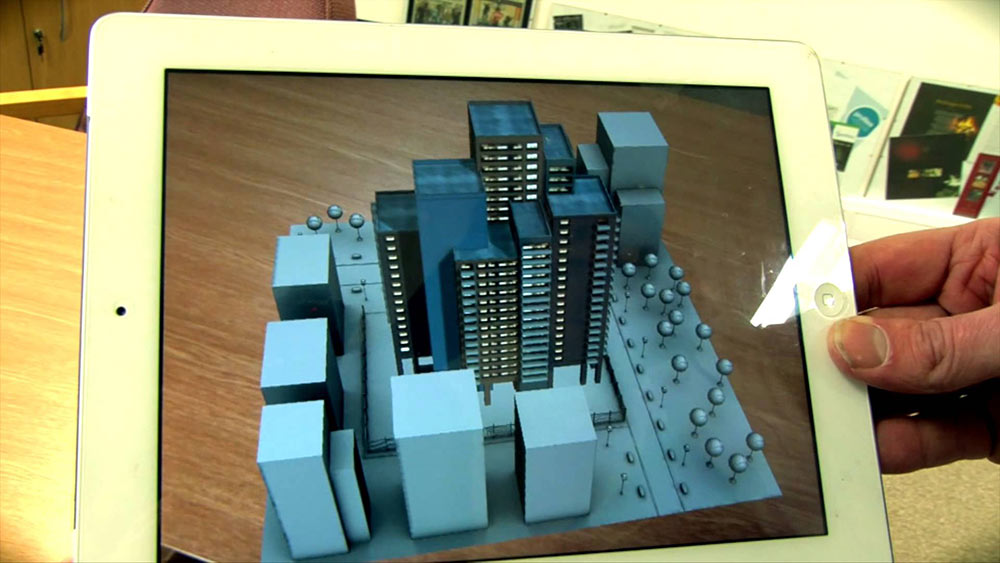 A real estate app for Android devices primarily, also available for iOS has several AR features introduced and pending the patenting. The app is based around the image recognition feature that offers provides listing details and photos from a simple picture. Those 2 AR features, namely Street Peek and Sign Snap, allow people with smartphones point at a house or building and receive info from Realtor database. 
Visually pleasing and full of extensive data: you see the price, the address, number of beds and baths, square footage, as well as real estate agent contacts. Just walking around neighborhoods and holding a phone you can find what houses are on sale.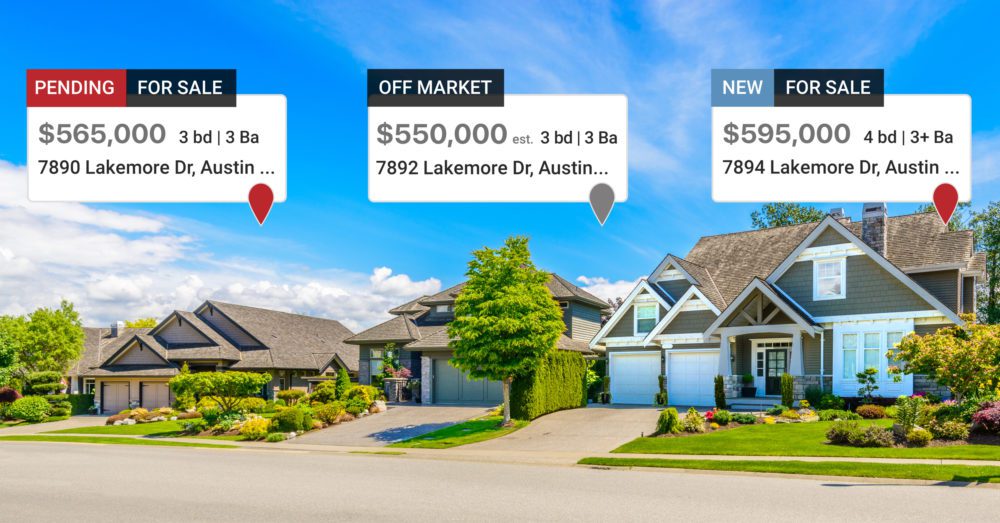 To summarize
Augmented reality basks in a great interest among smartphone owners and an optimistic business forecast for the future. As you see, some real estate agencies have already incorporated AR features into their mobile apps and reaping the benefits. If you're a realtor or work for an agency, you should probably too. To get more insights on how we can help, check out how to make an AR app with Vuforia and Unity, and how to create virtual reality tours for real estate.
Let's Build Your AR app
Provide us with your contact details and we will contact you today