Forge is an addition to Minecraft that allows you to use mods in the game. For example, if you are tired of the standard lanes and want to diversify it, you can use Forge and download different mods. Or you want to play on a new server and try to connect, but you are not allowed on the server, because you do not have the suitable mods. Here you can't do without Forge too.
But from time to time any user does not need a software anymore and Forge is not an exception. In this article we will provide you with an instruction on how to uninstall Forge. All you need is to follow the steps below. You can properly uninstall Forge through System Restore.
It is a specific Microsoft Windows tool, created for computer software protection and repairment. The tool takes a so-called print of some system files along with Windows registry and then saves them as restore points. The aim of such work is to return the system to working condition via repairing the Windows environment without reinstalling the entire operating system. 
Additionally, you may not worry about your personal data, because it does not affect it at all. The program constantly monitors the system and creates restore points in case of any suspicious activity. Now that you understand what tool we will use, let's proceed to uninstalling Forge.
Double-click on the Computer folder on your desktop.

The next window will appear, where you need to click Next. Then click on Choose a different restore point and click Next again.

Click Finish in Confirm your restore point window and in the next window click OK.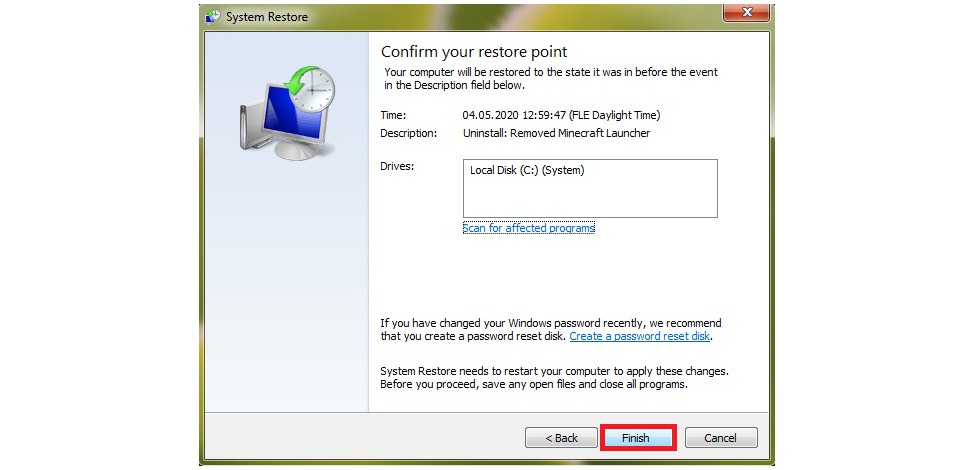 Read next: 7 best uninstallers / How to uninstall Minecraft.