ThinkMobiles is one of most trusted companies conducting IT & software reviews since 2011. Our mission is to provide best reviews, analysis, user feedback and vendor profiles. Learn more about our methodology and review process.
How to uninstall Microsoft Edge
Disclosure:
We may receive compensation when you click on links. Neither our writers nor our editors get paid to publish content, and are fully committed to editorial standards.
Microsoft Edge is a browser that was launched simultaneously with the first version of Windows 10 in 2015. It is built into the operational system, so we can not remove it in standard ways, which include also using any of best uninstallers. Fortunately or not, there is a big number of Windows 10 users interested in how to uninstall Microsoft Edge. The reason being mostly that its performance is not fast and stable enough. Below, you'll find brief step-by-step instructions for uninstalling Edge browser using PowerShell utility, third-party tools, and one more method. 
How to uninstall Microsoft Edge using PowerShell
Step 1. Enter PowerShell in the taskbar search box and select the appropriate item from the list of results. Then right-click the PowerShell icon and hit "Run as Administrator", or same on the right side.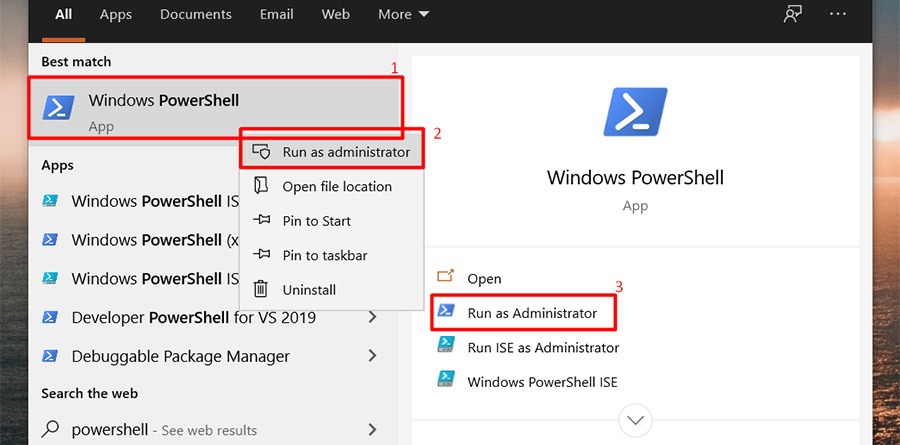 Step 2. Use the Get-AppxPackage command in order to view all installed apps. For easier list reading, you could divide strings of information by Name and PackageFullName parameters. To do so, put in the command (Get-AppxPackage | Select Name, PackageFullName) and press Enter.
Step 3. Find PackageFullName value that contains "Microsoft.MicrosoftEdge" text. Then copy the full value (it will look like Microsoft.MicrosoftEdge_20.10240.17317_neutral) and run the following command:
Get-AppxPackage PackageFullName | Remove-AppxPackage
where replace PackageFullName with the copied information. If you want to uninstall Microsoft Edge browser for all PC users then add -allusers parameter: 
Get-AppxPackage -allusers PackageFullName | Remove-AppxPackage

Read next: How to uninstall Chromium.
How to uninstall Windows browser from its folder
Step 1. Go to File Explorer then to the drive (C/D/E) hosting Windows 10. There, find the Windows folder and then the SystemApps folder. The path should look like: disk C:\Windows\SystemsApps. Find the Microsoft.MicrosoftEdge_(browser version) folder.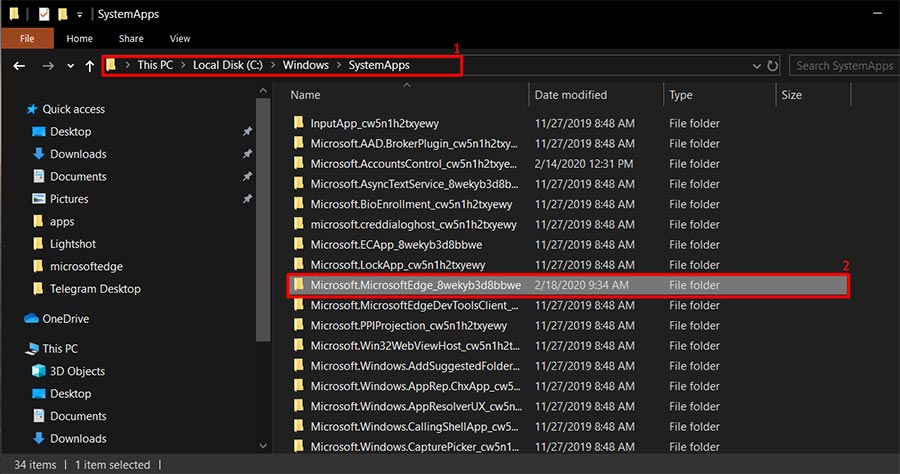 Step 2. Right-click that folder and choose Properties option. In the pop-up window set Attributes to Read-Only value.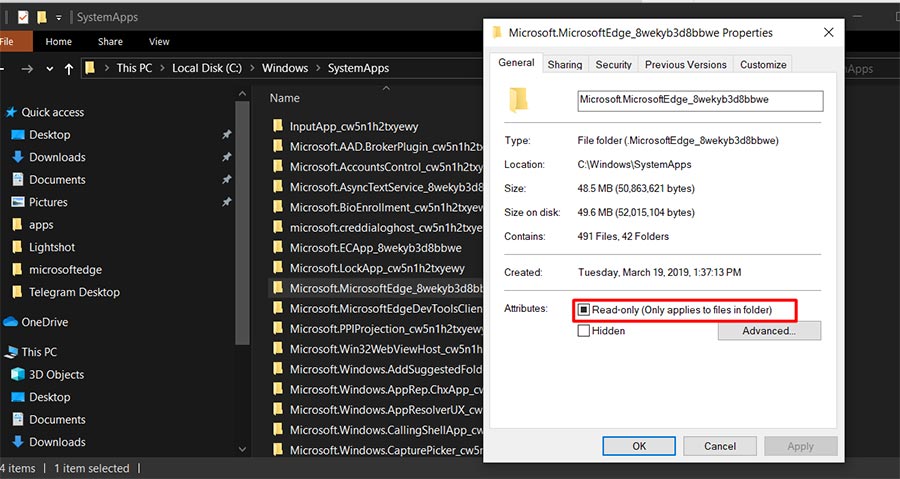 Step 3. Go back to folder and rename or delete .exe files (MicrosoftEdge.exe, MicrosoftEdgeCP.exe, or MicrosoftPdfReader). When renaming .exe files, other Windows applications will not be able to access the browser, which means the number of launches will be zero.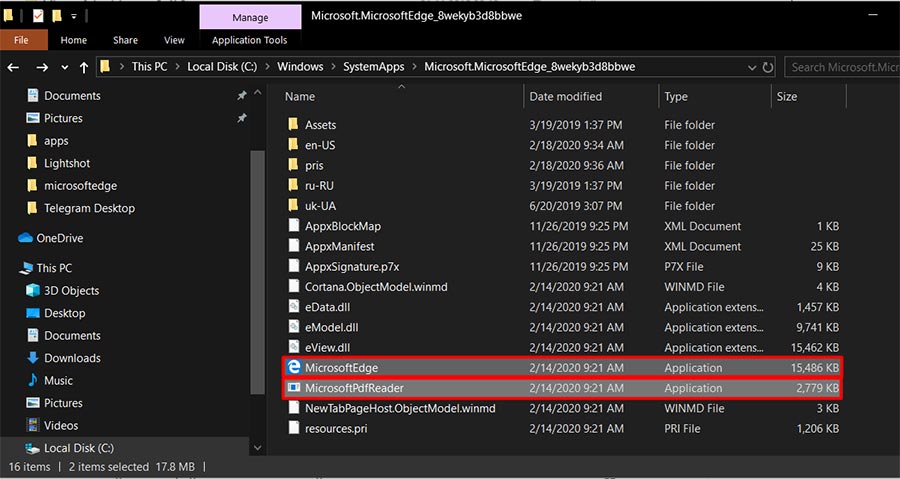 How to uninstall Edge using external software
Various third-party tools such as Geek, IObit, Revo, Bulk, and other uninstallers are able to remove Microsoft Edge for you without any dangerous impact on PC performance. In order to save your time, we've compiled the list of 7 best uninstallers for Windows based on real tests, link to which you'll find after this chapter. Special 3rd-party software makes uninstallation effective, quick and easy. Let's highlight 2 examples to help uninstall Microsoft Edge: Geek and IObit.
Geek Uninstaller. Select all Microsoft Edge apps (by holding the Shift button) in the list of programs in Geek. Right-click on the selected area (or hit the Action tab in the top menu), then click Uninstall option in the pop-up window. Confirm the action to complete.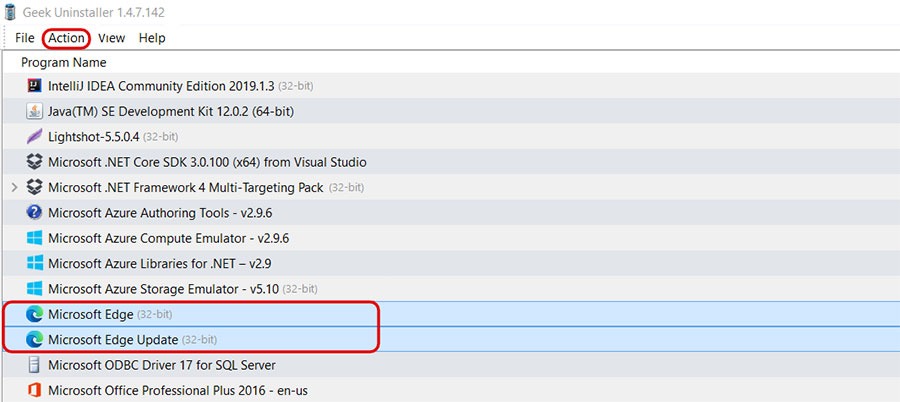 IObit Uninstaller. Select the Microsoft Edge app (check box), click the Uninstall button in the top menu, or via the trash icon on the right side. Confirm uninstalling in the pop-up window. Note, you could set to create a restore point or remove residual files options beforehand.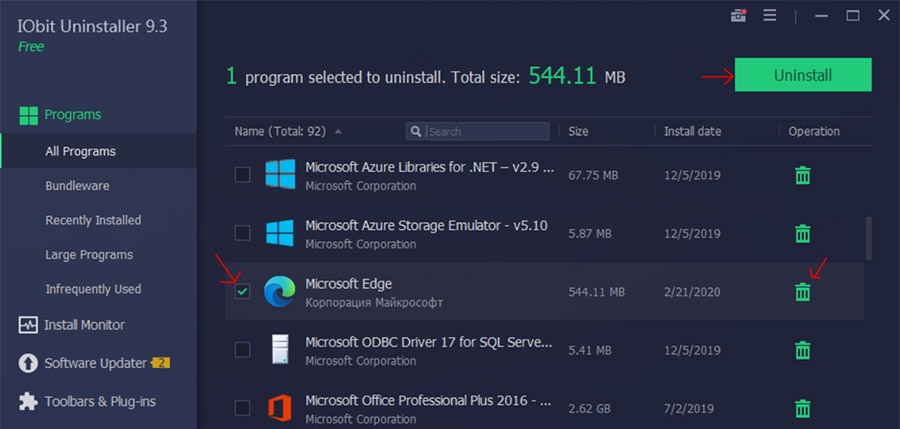 As we can see, it is actually possible to delete Microsoft Edge. Although there is no usual way to do this (Control Panel – Uninstall programs), we can remove this browser using PowerShell utility or a third-party tool, as well as renaming/deleting Edge files. With these steps you'll be able to stop unwanted browser launches. 
Read next: 7 best uninstaller apps.
Did you like the article?
1
Comment