Why develop and how to make a healthcare app? Mobile medical applications, healthcare apps and health-related patient apps are now conquering the market rapidly. Mobile health, or so called mHealth solutions grow along with global increase of smartphones usage. Moreover, the focus of health care system is shifting to patient-centric more and more.
There is already a large variety of medical apps for doctors (HCP – health care professionals) and for patients. Keeping track of personal health, recovery, medication dosing, monitoring, as well as doctor consultation become more convenient with mobile apps.
Medical app market has already reached $20 billion. And as each patient prefers personal treatment over general 'one size fits all', the demand is growing. To make a healthcare app you have to have a valid concept and programming skills. Numerous mobile app outsourcing companies make it even easier.
Types of healthcare/medical apps
2 main categories of healthcare apps are doctor apps and patient apps. First ones are for medical institutions, doctors, nurses and other healthcare professionals. Such apps give access to health records, help in diagnosis, pill prescriptions etc. Second type, health apps for patients, assist people in health management and monitoring, doctor appointment and so on.
At ThinkMobiles, we can help you create these healthcare app types:
Apps to monitor chronic conditions (diabetes, blood pressure, cancer…)
General health test, fitness, wellness apps, cardio apps (healthy lifestyle app)
Women's health apps (for pregnancy, calendar, feeding…)
Weight loss apps, diet apps (trackers, exercises, etc.)
Mental health apps (for disorders, stress relief)
Sleep apps (relaxing music and sounds)
Nursing apps (scheduling, tracking, medical records)
Doctor on demand apps (doctor appointment, online consulting, doctor booking)
Patient medical education apps
Diagnosis apps for preventive purposes
Medical record apps (EMR).
Let's Build Your Healthcare App
Provide us with your contact details and we will contact you today
Health App Features
Having analyzed dozens of healthcare apps, we've defined several essential health app features. Whether a wellness app or a doctor appointment app, this functionality is at the very core of your own medical application.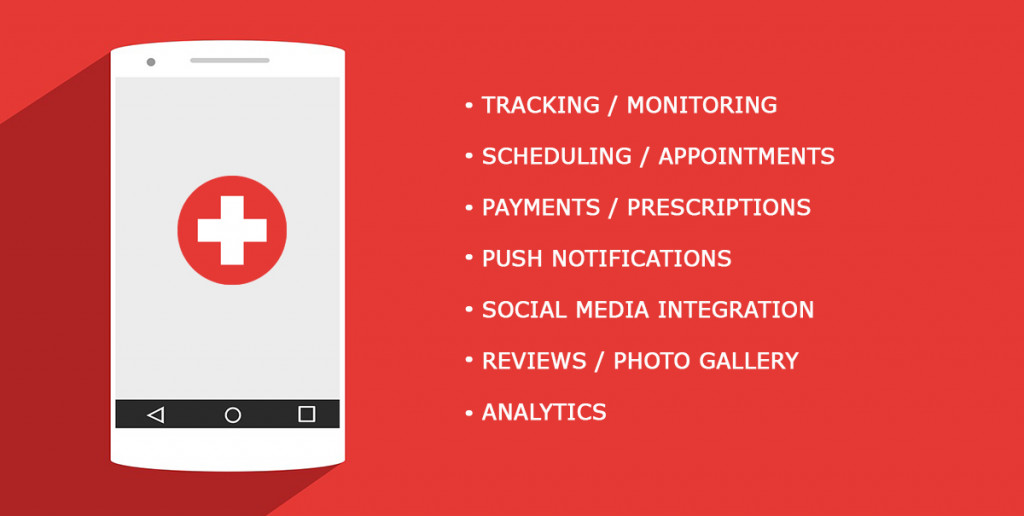 Tracking feature is probably the most significant one to any mobile healthcare application. Patients want to monitor glucose levels, heart rate, blood pressure, pulse, calories, etc. Doctors are able to keep track of patients' rehabilitation progress remotely.
A lot of healthcare apps are related to doctor appointments, so scheduling feature is of utmost importance, too. Similarly, apps for doctors enable them to work with calendar, manage appointments or schedule medicine intake. Scheduling could also apply to sleep apps or personal organizer kind of mobile apps.
Payment system should also be a part of most health apps. As patients have to pay for medical services or insurance in many instances. General hospital admissions, emergency rooms, visits to a doctor, etc. are followed with medical bills. And for nice user experience it would be great to add the ability to pay online.
Other healthcare app features include:
Push notifications
Appointments
Access to EHR/EMR
Prescriptions
Analytics
Reviews
Photo gallery
Social integration
Doctor on Demand Apps
Mobile apps for online doctor appointment and/or advice are a substantial piece in mHealth industry nowadays. Many patients have conditions that require constant monitoring and alert. That is why push notifications and messaging are also vital to a healthcare app.
High mobility and good Internet connection made doctor search and appointments available in few clicks. People now want to perform any daily task tapping a smartphone screen. Even the most intimate and personal tasks. Doctors and hospitals who want to beat competition on the market have to stay as close to patients as possible.
Examples of doctor apps for Android: HealthTap, MyMedical, Doctor On Demand, Appointuit, Doctor Bulao.
Examples of iPhone apps for doctors: ZocDoc, Practo, MomsApp, Medical ID, Dr.Appt.
Popular healthcare apps
Healthcare app market is rich in any possible kind and type of apps out there. Though there is always room for new and better experiences both for doctors and patients. And also, not all of the medical applications are successful, not all countries/regions are served.
As an example of what you can achieve, here are few of the top healthcare apps for iOS:
Lifesum – the app for healthy lifestyle. It features a health test, personal workout plan, various meal recipes, corporal monitoring, meals tracker. In addition, it synchronizes with other Apple products like Apple Watch and Apple Health, as well as to various fitness apps. Good UX with help of social login.
Lose It! – a personal program for weight loss. It is a calorie counter and exercise tracker in one app. This health app features list of exercise to do and a tracker to check the progress. Healthy food list and recipes, sets of motivation and calories tracker throughout the day. Result sharing via Facebook or Viber is also great
BabyCenter – the tracker for pregnancy. A nice iPhone medical app to maintain pregnancy progression. It features baby calendar, contraction timer, due date calculator, and even images of a fetus. To keep up good spirits future moms can play around with name finder, feeding guides and care advises.
Android healthcare apps
Doctor On Demand – the app for mobile doctor appointments. Widely used thanks to great user interface and direct messaging to doctors registered in the system. This appointment app has extensive functionality, from chats, YouTube player, schedule to payments and QR-code scanning.
Zocdoc – doctor search app. Allows users to find doctors in their vicinity, contact and book a healthcare professional. Messaging for online doctor advice is also a great feature. Add to that push notifications, booking history, user reviews and rating system.
Medscape – as the resource for medical workers and students to get news, scientific materials. This free medical app for Android features news feed, drug information, educational courses, etc. A standout feature is medical calculator, most of all. It comes with over 100 medical formulas, scales and classifications.
Business models
Healthcare marketplace offers plenty of business opportunities. Even a free healthcare app can bring some profit with advertisements, paid 'pro' accounts, crowdfunding, etc. Personal medical apps for iPhone or Android are usually monetized, while apps for medical institutions mostly aren't.
Here are additional ways healthcare apps can earn money with on-demand and/or marketplace business models.
| | | |
| --- | --- | --- |
| Business model | Type | Description |
| Personal health services | On demand | Prescriptions, health history, doctor consultations |
| Advice on request | On demand | Consultations, video, doctor visits, drug prescription |
| On demand on site | On demand | Medicine delivery, in-house doctor visits upon call, ambulance dispatch, payment |
| Patient experience | On demand | Pricing, ratings, reviews, skills, hospital locations |
| Doctors/hospitals net | Marketplace | Doctors database, hiring, bio/skills, pricing, locations |
| Medical devices | Marketplace | Equipment for hospitals, asset mobilization, purchases, scheduling |
| Safety net | Crowdfunding | Social networking, community help, emergency calls |
As you can see, there are plenty of options. Though two main ways to monetize a healthcare app remain the same: a) advertising, b) paid accounts.
How to make a healthcare app
So how to create a health app, eventually? How much does it cost to develop a health app? What properties should mobile apps for healthcare have? First and foremost, any health care app should focus on the end-user. A good medical app should:
Be easy to use and navigate (UX)
Have nice interface
Be easy to install and work properly
Sync the data across various devices
Be safe and preserve sensitive information
Healthcare application development contains business analysis, UI/UX design, backend, app development, quality assurance. Additionally, further maintenance and integration with EMR systems optional or depending on app business concept.
In conclusion: ThinkMobiles offers a directory of all kinds of software engineers around the world, including mobile app developers. Browse and find a  developer or a team to make a health app for iPhone, a medical app for Android, an app like WebMD, any health app, fitness app, wellness app or lifestyle app.
Let's Build Your Healthcare App
Provide us with your contact details and we will contact you today