VR development is supposed to be the future of tech. The market is just about to explode. With long expected Oculus Rift, HTC Vive and Gear VR finally shipping as well as the markets old-timer Google Cardboard the year 2019 is going to be critical.

VR technology is being successfully applied in healthcare, education, military, architecture, it's a great way for business owners to acquaint customers with their goods and services. Nevertheless, the market of VR app development is continuing to grow. It is waiting for a killer app and this is a great opportunity for startupers and running businesses to find their niche and to become the Uber of Virtual Reality.
App cost calculator
We give you the opportunity for your accurate app cost estimation, below you may find an interactive calculator tool. There you can indicate the specifications of your project, software or an app you have in mind, and send data to our app development experts. Our team will contact you shortly after with an exact price quote.
6. Scene
Simple
Roler Coster
Interactive room
Complex game
7. 3d model quantity (approximately)
11. Backend
None
Basic
Advanced
Complex
This article contains our expert analysis for Virtual Reality development cost and various factors impacting it. It should take about 15 minutes to read, though we have an alternative. You can leave your phone number and one of our managers will contact you in a matter of a minute to provide your project estimation and answer questions.
You now may be wondering how much will it cost to build a VR application? This overview will show you the main stages of product estimation and help you with calculating the approximate costs of your Virtual Reality application development.
Pre-requirements for VR app development
Every development process should start with a detailed project documentation – this is the guarantee that the VR application will exactly meet the needs of the customers. It should include all the important information about the project. Start with functional specifications – the main idea of the VR app development, its key features. If you can include some photos, screenshots or hand sketches to illustrate the characteristics of the app – do it!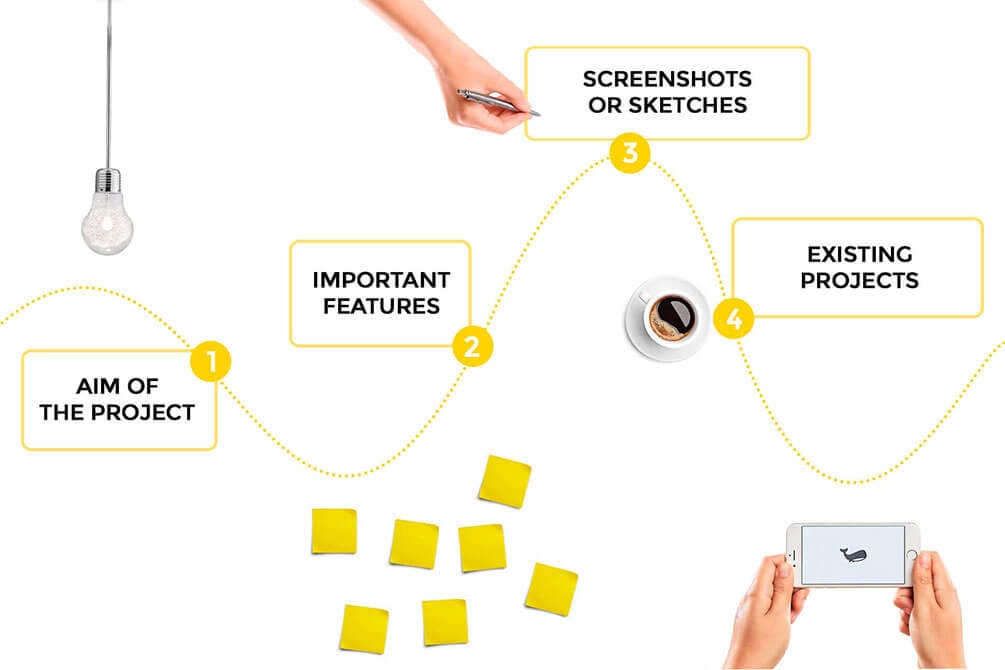 With precise documentation, the Virtual or Augmented Reality app developers team will be able to offer the best solution according to the needs of the customer. Don't forget the user story, specify which problems your potential user has and how your VR application is going to solve them.
Describe the journey through the VR app development, where does the user start, which actions does he take, how much time does he spend with your Virtual Reality mobile app and in which way will your project make his life better.
It is very important to make VR content for successful development. Knowing the user and his problems the developer will be able to find the best technical solution to make the application usage smooth and seamless. The project documentation must be a clear guide for the developers about the ideas and expectations of the customer.
Let's Build Your VR app
Provide us with your contact details and we will contact you today
Sometimes some better solutions can be found – the development company will then adjust the documentation after the discussion with the customer. The project documentation can be written by the Virtual Reality companies. In the case when the customer decides to order such a service it takes 3 to 10 days and is paid according to the rates of the VR company.
Project documentation for VR app development: $700-$3,400, 3-10 days.
VR applications are built for different devices and these are required for a proper development. Our Unity3D developers have the most popular VR and AR headsets which are now available on the market at their disposal including:
Oculus Rift DK1 and DK2
Samsung Gear VR
HTC Vive
Microsoft HoloLens
VR development estimation
Depending on the complexity of the app the development time can vary from 1 month up to several years. This chart will give you a brief overview of the development time of VR/AR products starting with the simplest and up to the most complicated ones.
Imagine a simple VR game, where the protagonist is falling (running, flying etc.) towards the finish line and has to avoid some barriers like stones, meteors or other players. The protagonist will see the changing landscapes, the coming barriers and hear the strong wind, just like he is moving indeed. This kind of games is considered to be one of the simplest Virtual Reality apps for iOS or Android and can be created by one developer in just one month.
A great application every business can take advantage of is an online-shop in 3D. Let's assume, a company is selling watches and wants to increase the customer engagement. In a VR or AR online shop the customer can look around the watch he liked or even try it on! Such a service will definitely improve company sales. 3D models design for an online shop in VR or AR will last 1 month, the app development will take around 2-3 months for 2 coders, including the backend development.
Horror games in VR as realistic as they are with the latest Virtual Reality technology are the true sensation among gamers. The development of such a game will last 3-6 months and more with 3 developers involved in the process.
Creating 3D models for Virtual Reality applications is normal, but what about creating them In Virtual Rreality? Some VR apps make it possible. To develop a prototype of such an app will take 3-6 months.
One of the most complex applications that can be built with VR/AR technology is the MMORPG. The multiplayer role-playing games in Virtual Reality are the absolute bomb. A VR MMORPG development can last 6-12 months and involve 10+ developers.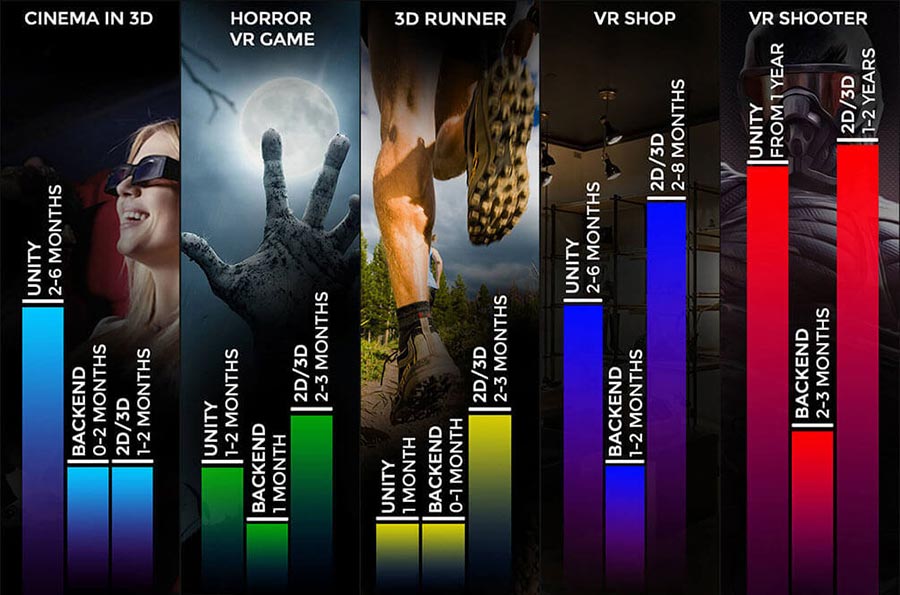 Want to know how much does a VR app cost?
Virtual reality applications are developed for several platforms like Gear VR, Google Cardboard, HTC Vive, and Oculus Rift. This slightly affects the development time – VR applications are built with Unity3D – a cross-platform engine that allows adjusting any app for any platform in just some hours.
THINKMOBILES assigns a PM to every project it is working on. This person is making the estimation of time and resources required to successfully achieve the goal of the project. So how much is a Virtual Reality project to estimate?
VR development estimation: $0; 2-16 hours.

Find VR/AR developers
Post your project or request a dedicated team - we'll quickly match you with the right experts
Virtual Reality development rates
The development agency will probably let you choose between two pricing methods: fixed price and time and material. Both of them have advantages and disadvantages, so make sure you choose the one that suits your particular case most.
Fixed price is preferred when you have a limited budget and strict deadlines. For a successful VR app development with fixed price, you have to provide a detailed project documentation.
If you put the flexibility in the first place it is better to choose the Time and Material pricing method. The customer will then be able to modify the project on the go, add some new features or change the existing ones. That is why the communication between the customer and the developer agency is essential to make such a product successful, especially if you are developing Virtual Reality applications. Time and material pricing method allows achieving the highest quality of the app
Every change during the development process might result in some additional hours or even days of coding, that will be paid according to the current rates of the company.
Rates for VR development by country
Rates for VR app development differ according to the residence of the agency you are working with. In US and Canada, you will be charged $40-$240 per hour, in Western Europe $40-$180. In Eastern Europe $25-$70, in India – $5-$70. Eastern European companies offer the best price-quality ration, apparently.
If you decide to outsource your project to the Ukrainian developers, their services will cost you around $25-$50 per hour. Returning back how much are VR apps, the approximate costs for Virtual Reality development will be as follows:
Simplest game for VR/AR – $5 000 – $8 000;
Online shop in Virtual or Augmented Reality – $15 000 – $25 000;
Horror game – $20 000 – $80 000;
3Ds Max in VR – $50 000 – $200 000;
MMORPG – from $100 000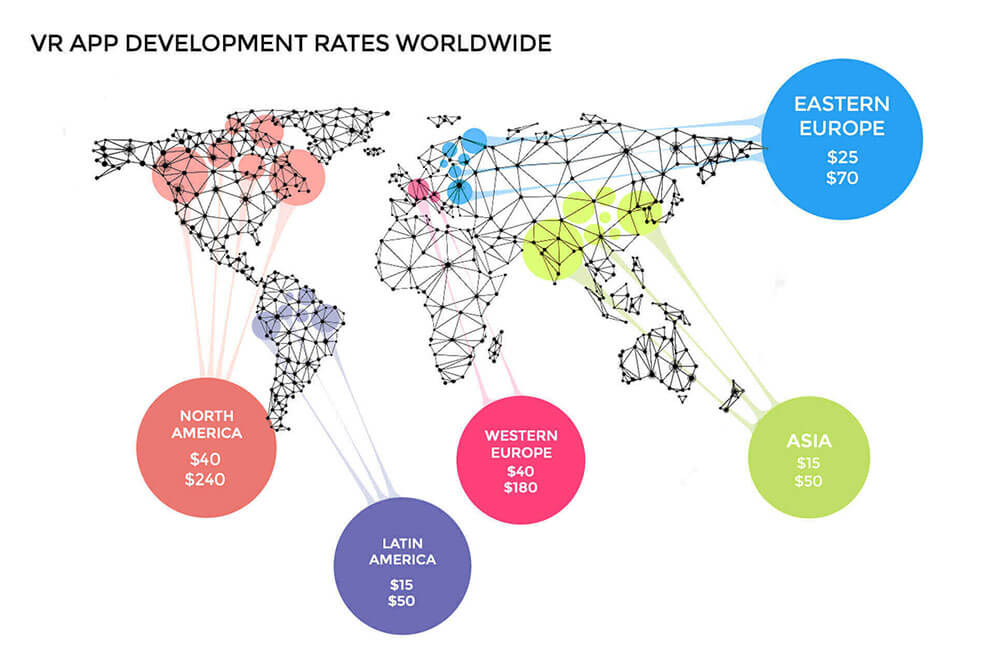 Keep in mind that this numbers are approximate and vary according to the features of the app. By the way, you are welcome to see what our VR devs are capable of in the following promo-teaser of VR quest room for HTC Vive equipment.
Resources allocation
Estimation of the Virtual and Augmented Reality application development, as well as all the management, are the responsibility of the PM. The tasks of the project manager can be divided into 5 groups: planning, organizing, leading, controlling and workshop planning. If done well, these five components are the guaranty of a successful project.
Planning is the essential duty of every PM. On this stage, he makes a clear estimation of the project, decides what needs to be done, divides the project into separate sprints and develops the project schedule.
Organizing stage includes work with human resources. The PM has to find executants for each single task, build the development team and identify the roles and positions. Some services may be provided by external specialists – to take control over them is the responsibility of the project manager as well.
Leading is mostly about soft skills of the PM. Communication, team motivation, and conflict resolution are his main duties, that influence the development process and the final result a lot.
Controlling means tracking project progress – measuring, evaluating, correcting. Conducting regular meetings will help the project manager be up to date and never lose control of the process.
Workshop planning is an optional service and can involve the PM or the developers, who visit the customer in his office. Workshops can be dedicated to project launch or further cooperation discussion. Such events are conducted on customers demand when some questions need to be discussed directly.
The project plan is never constant and should be revised and corrected on regular basis. Not less important are weekly meetings or calls with the customer not to let him forget about his own project. A project manager reports about the current status of the project, plans for the next week, discusses with the customer all the issues or new ideas.
The success of the running project depends a lot on the professionalism of the PM, his experience and the ability to manage and motivate the team. On the organizing stage, the PM has to find executants for every single task and build a strong team. The team for VR application development mostly includes 1 designer, 1 or 2 QA engineers, and several developers, depending on the size of the project.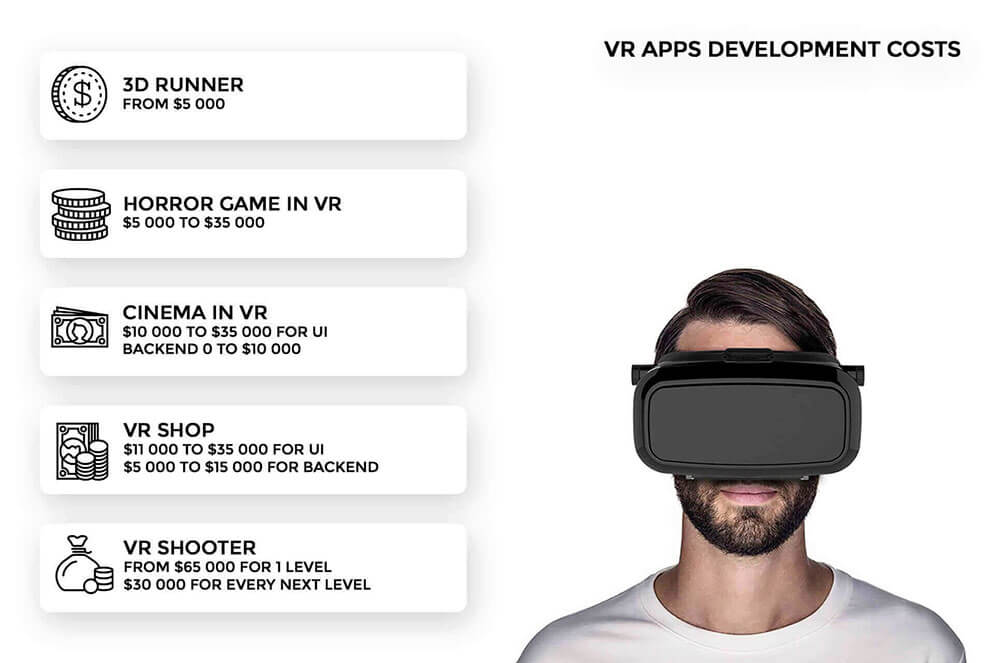 Some VR development companies and AR development companies offer designer services as well, but at this point, the customer should be careful. Creating design for VR applications is quite different than that for mobile or web, certain knowledge and experience is mandatory. If there is a 3D designer that is working with Unity3D team on regular basis he should do this work properly.
If the company assigns a mobile UX/UI designer to work on your project – watch out. Sometimes it is a better decision to assign an external designer with experience. It is also a good practice for customers to deliver ready 3d-models for development or at least 2d-models that can be refined and adapted for VR and AR.
Testing and bug fixing phase is essential for every project. No single product can be developed without any bugs, that need to be revealed and fixed on time. Around 20 to 30 % of VR application development process is dedicated to testing so that the customer will receive a superior app.
THINKMOBILES also offers automated testing services for iOS and Android applications. Virtual Reality development can take several months and involve 3-15 specialists to develop a perfectly functioning high-end VR/AR app.
VR application development: $5 000 – $300 000, 3 to 24 months or more.
Post-production
Post production can include maintenance of the application or further development like adding new features to the existing application. Post production maintenance of the app, as the part of Virtual Reality costs, depend a lot on the company you are working with.
If a customer decides to add a new feature to his VR application or to change the existing one it is considered as a new task and the estimation process is started again. Such assignments are paid according to the hourly rate of the development agency.
Post production maintenance: $0 during the warranty period, $25-50 per hour after the warranty period.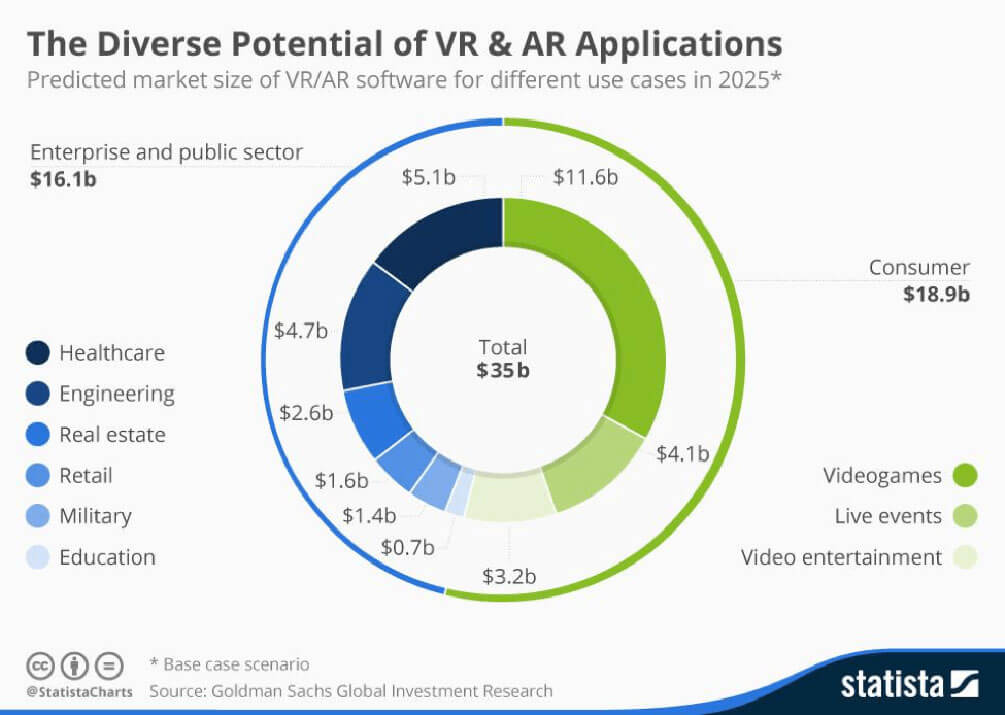 Let's Build Your VR app
Provide us with your contact details and we will contact you today