Tinder, the most popular dating app of our era all due to the iconic swipe. Since its launch in 2012 over one billion matches have been made by real users, mostly in the age between 18 and 34. So it has soon become clear that dating market would try to emulate such success. It means more and more businesses are inquiring how much does it cost to make an app like Tinder.
App cost calculator
Before to start, we give you the opportunity for your accurate app cost estimation, below you may find an interactive calculator tool. There you can indicate the specifications of your project or an app you have in mind, and send data to our app development experts. Our team will contact you shortly after with an exact price quote.
1. In how many countries you want your app will be used?
2. Design
Tempalte
Individual
Premium
10. Mobile payments
11. Admin, Feedback & Analytics
How does Tinder work
Tinder is a free dating app available for Android and iOS devices. Unlike traditional old-school apps, Tinder relies on geographical proximity as main feature, making it easy and quick to hook up with people, either for long or short-term relations. Just looking at the potential match and swiping it left (No) or right (Like) makes the trick.
Using Facebook accounts, the app analyzes user data and offers matches based on geographical location, common interests or mutual friends. Mutual swipes result in a match. Users specify the age range and gender of those whom they seek, and Tinder alerts if such people are in their area.
The truth behind app's fame is in simplicity and visuals. Registration process is essentially absent – you just login with Facebook and the app pulls information from there. You can also add/edit all details, add a personal description. Make yourself look nice and engage!
Let's Build Your App
Provide us with your contact details and we will contact you today
Tinder features
The cost to create an app like Tinder directly depends on the type of dating app and features it possesses. Tinder is a type of dating app using geolocation for matching. Other types are apps with traditional personal information, apps based on user surveys, and niche dating apps for selected groups of people.
Let's review basic features of Tinder.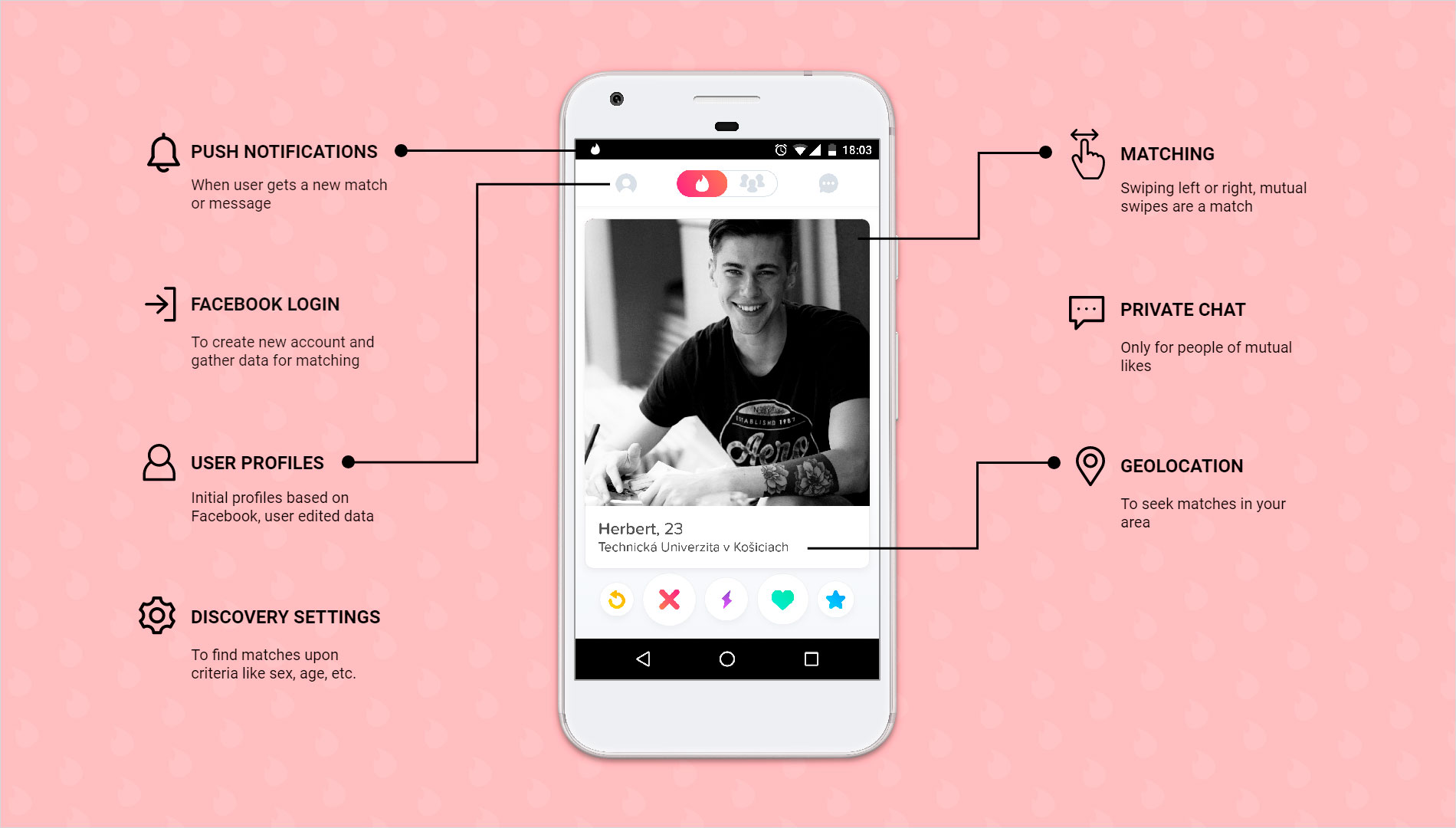 Registration and login are as easy as it gets, logging into the app with Facebook accounts. Personal profiles are then used to build up an initial Tinder profile and collect info for matching. Users set filters (discovery settings) to search people within certain area, of certain sex and age. The app offers matches leaving a user with Yes or No decision.
As we've mentioned already, geolocation is key to the whole Tinder system, or, in that matter, to any dating app of Tinder-like kind. When users get a match (both swept right), a private chat is opened to them to communicate freely and safely. Push notifications act to alert a user about likes, matches and messages.
Few extra features include: Super-likes, rewind button, location change, unlimited right swipes – all within premium Tinder Plus; swiping between groups of people (Tinder Social). If you want more than just a Tinder clone, few more features might be worth considering for a dating app:
In-app purchases (for extra options, ratings, etc.)
Advanced matching algorithms
Social media integrations
Protection from uncensored content and abuse
User anonymity
User engaging features, like Tinder Moments
Match suggestions
Technology behind Tinder
Those user features are just a visible part of cost to create an app like Tinder. It is a result of many hours of development and many tools applied. Technology stack for Tinder includes: JavaScript, Python, HTML5 as programming languages, and AWS Mobile platform to build and test apps.
To identify user location Tinder utilizes smartphone's GPS or data from the wi-fi network connection. Mongo DB and Redis are in use as scalable database environments from the very first day of app existence. With Mapbox, the open source platform, they design custom maps. For data and transactions safety – GoDaddy SSL certificates.
Cost to create an app like Tinder
If you want to make your own dating app and are inquiring how much does it cost to make an app like Tinder, be ready for a heavy budget. Tinder-like app functionality requires quite complex architecture and lengthy development. Even a simple version for one platform may consume over 1000 hours.
The biggest cost components to making an app like Tinder:
App development for single platform – nearly 1000 hours,
Backend – 200+ hours,
Design – near 100 hours,
PM / QA – up to 100 hours.
The next big factor to be able to calculate how much does it cost to make an app like Tinder is hourly rate by the development team you'd hire. As we've mentioned in previous posts about Uber app cost and Whatsapp app cost, rates may vary from $25 to $150. Assuming, we go somewhere in between, like $50 per hour for the purpose of our estimation, basic 1400 hours would equal to $70.000. Though, if you hire our app developers at ThinkMobiles at $30 rate, you can save more money.
If you go with mobile development agency to speed things up, a standard team for an app like Tinder project would consist of:
2 backend developers
1 designer
2 Android developers
2 iOS developers
1 project manager
1-2 testers
Backend
To create a Tinder-like app for dating you would need three key elements: design, app itself (iOS, Android, or both) and API. A RESTful API serves as a bridge connecting any web-based client app to a server. This could be a great option along with certain real-time API to provide fast data transfer.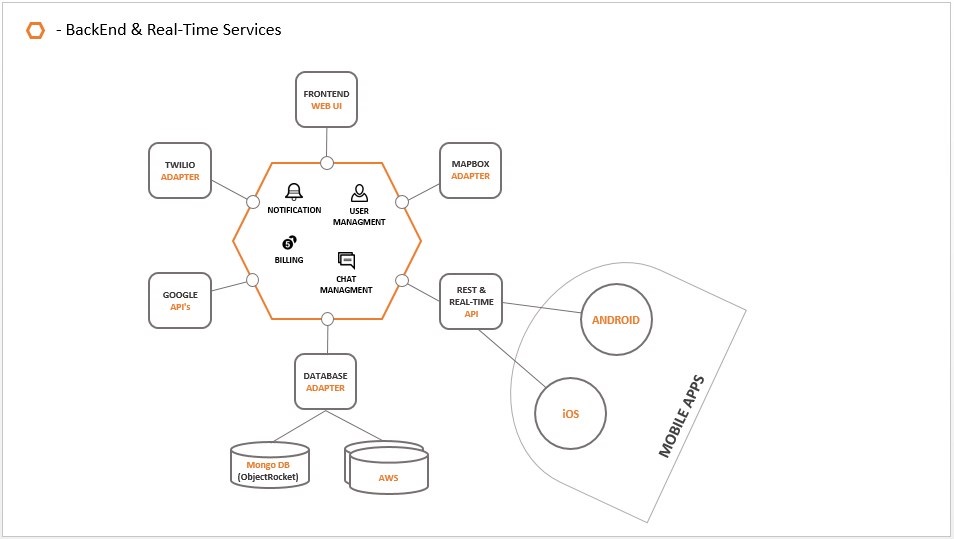 The core of a dating app like Tinder consists of user management, chatting and notifications. This suggests implication of database frameworks (like Mongo DB), SMS notifications services like Twilio, mapping tools like Mapbox, and other elements. See our assumptive Tinder architecture chart in the image above, and bear in mind that for your dating app you may use any other solutions.
Note, if you plan your dating app to be in use by thousands or millions of people, building a scalable backend would take much more time.
Taxi ordering app development from A to Z...
Native development
This is a stage of actual construction of a dating app, using Swift, Object C or Java programming languages. Tinder established a high bar to user navigation and swipes, so when  trying to add a unique touch to it, remember it should be nice and working.
For Android, iOS or any other platform of your choice there are mandatory app features to implement. Sign up, user profiles, matching mechanism, messaging and geolocation, to be precise. Those features may be of different complexity, and you may want some extra features for your dating app to stand out.
It all impacts app development cost and timeline. To create a basic app like Tinder may take about 1000 hours (circa 5 months), while an advanced version – up to 2000 hours of development or more.
Conclusion
Let's remind a reader that for our approximate calculation of the cost to create an app like Tinder we use median $50 rate per hour. If you hire a developer or agency for $100 rate, your cost would double, naturally. Or it could lower if you find a cheaper deal, though be aware of risks therein. Also, consider that at ThinkMobiles we offer $30 hourly rate for mobile app development.
iOS application
Android application
App for both platforms
Backend

$10.000

$10.000
Development
$47.000
$50.000
$97.000
Design
$5.000
$6.000
$11.000
QA / PM
$3.000
$4.000
$7.000
Total cost (approx.)
$65.000
$70.000
$135.000
To outline most time-consuming parts to develop a dating app, it would be native development (iOS, Android, BlackBerry, etc.) and back-end. About 80% of timeline for both. Add to that design (10%), quality assurance and supervision (10%).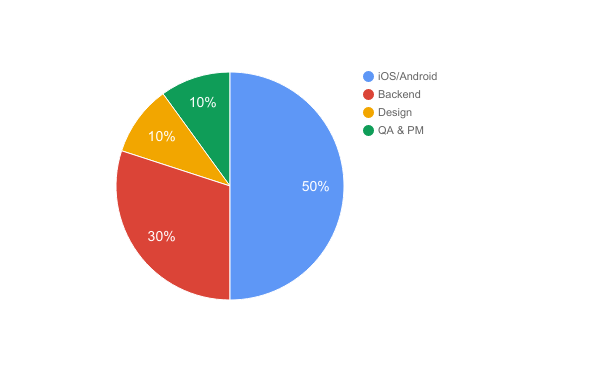 Thus, we've come to the main point of our inquiry into the question of how much does it cost to create an app like Tinder. To summarize all aspects and estimating roughly, a dating app like Tinder can cost you:
$50.000 at minimum – for basic app with limited features;
$65.000 – 70.000 – for single-platform app with Tinder-like features
$135.000 or more – for multi-platform app with all and premium features.
Let's Build Your App
Provide us with your contact details and we will contact you today