The newest IKEA augmented reality app is an awesome example of how retail industry can spearhead technological advancements. After a stunning success of Pokemon Go, IKEA Catalog and IKEA Place are one of the leading mobile apps to bring commercial benefits.
AR in mobile also opens new marketing horizons, as Augmented Reality is firmly becoming a real thing. So, naturally investors are looking into how to make an AR app like IKEA of their own. We, as app development agency, are curious too, so we've decided to take a closer look.
How does IKEA app work?
IKEA AR app is free to download at the App Store and Google Play. A highly popular app and one of the finest examples of augmented reality features complementing conventional augmented reality in furniture. Essentially, the application offers a virtual trial of furniture objects from the catalog, so users can place them in their real environment. This helps fit and choose the right measurements and play around with designs.
Browse through the catalog, select the item (sofa, chair, lamp, table, etc.), enable AR mode and see it appear on the device's screen. Such items are to some extent responsive to surroundings:
AR objects can sense horizontal surfaces, so they don't just fly around

Wide angle views, though not 360
And while the Catalog app comes with an AR feature, the new IKEA Place, rolled out few months ago, is primarily an augmented reality app. It was built with Apple's ARKit technology, os again, IKEA has been leading the way of progress. iPhone and iPad owners (on iOS 11) can place all of the furnishings in their space in 3D and true to-scale.
98% accuracy of product scaling based on a room dimensions.
IKEA app features
To develop an AR app like IKEA, we should determine what features define it, then decide which one are required for our own app and which aren't. Let's see what makes up the IKEA's mobile app.
We should also note that this AR app is a projection-based type app, meaning the app projects virtual models onto real physical objects. In other words, you'll see furniture of your choice in your living room. The app itself has 2 modes: AR mode and Catalogue mode.
Catalog mode. IKEA app is a kind of virtual catalogue in the first place. The focus should be on positive user experience, comfortable user interface and generally anything that might improve user engagement. Outstanding features of IKEA catalog are:
A high number of represented items

Careful descriptions to each item

High-class design with items in interactive entourage

Good navigation between product categories

Search and Favorites options

References to each product page

Available in different languages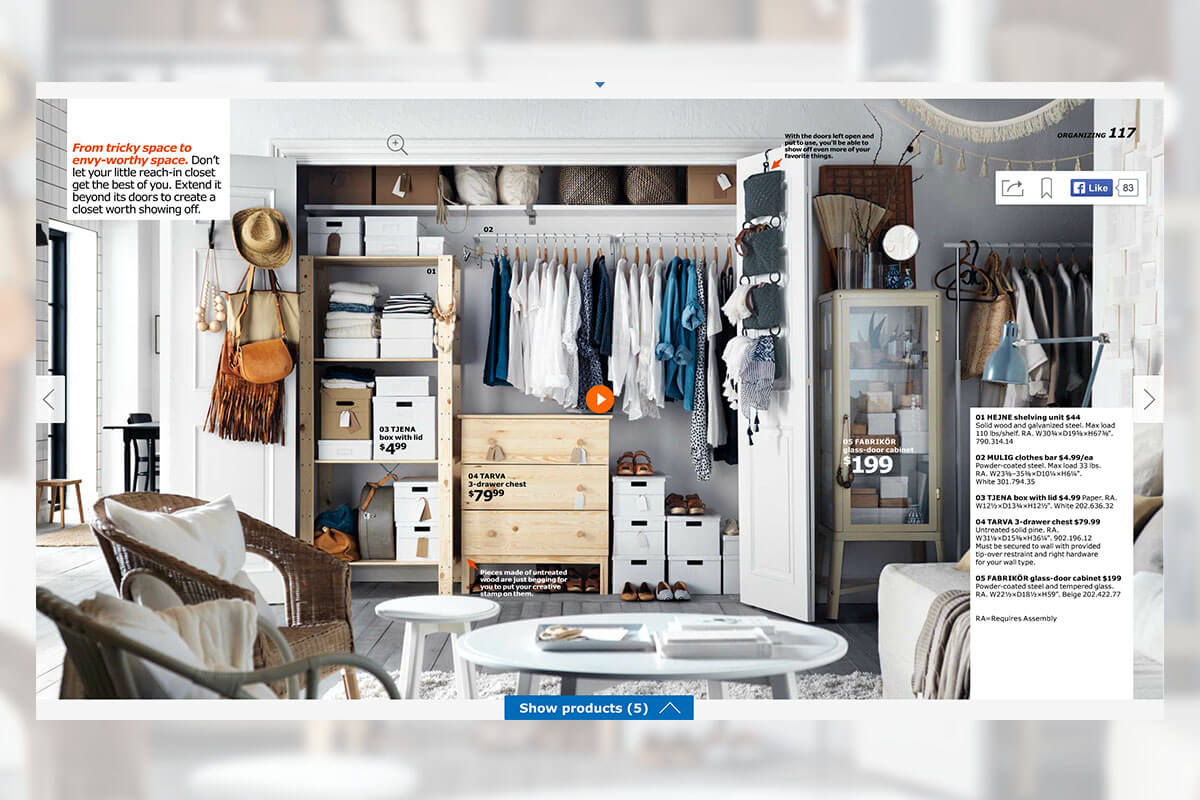 AR mode. It's that exact feature that people want when they wonder how would certain furniture look in their room. With augmented reality we can play around with color and size accurate virtual items. The app lays models over real-time video of the interior. We look at a smartphone/tablet screen and see the result. Other characteristics include:
3D models of products in HD

Manipulation: move, rotate, scale

Room dimensions scanning

Special AR models enacted with a printed catalog

More accurate positioning in iOS app due to ARKit use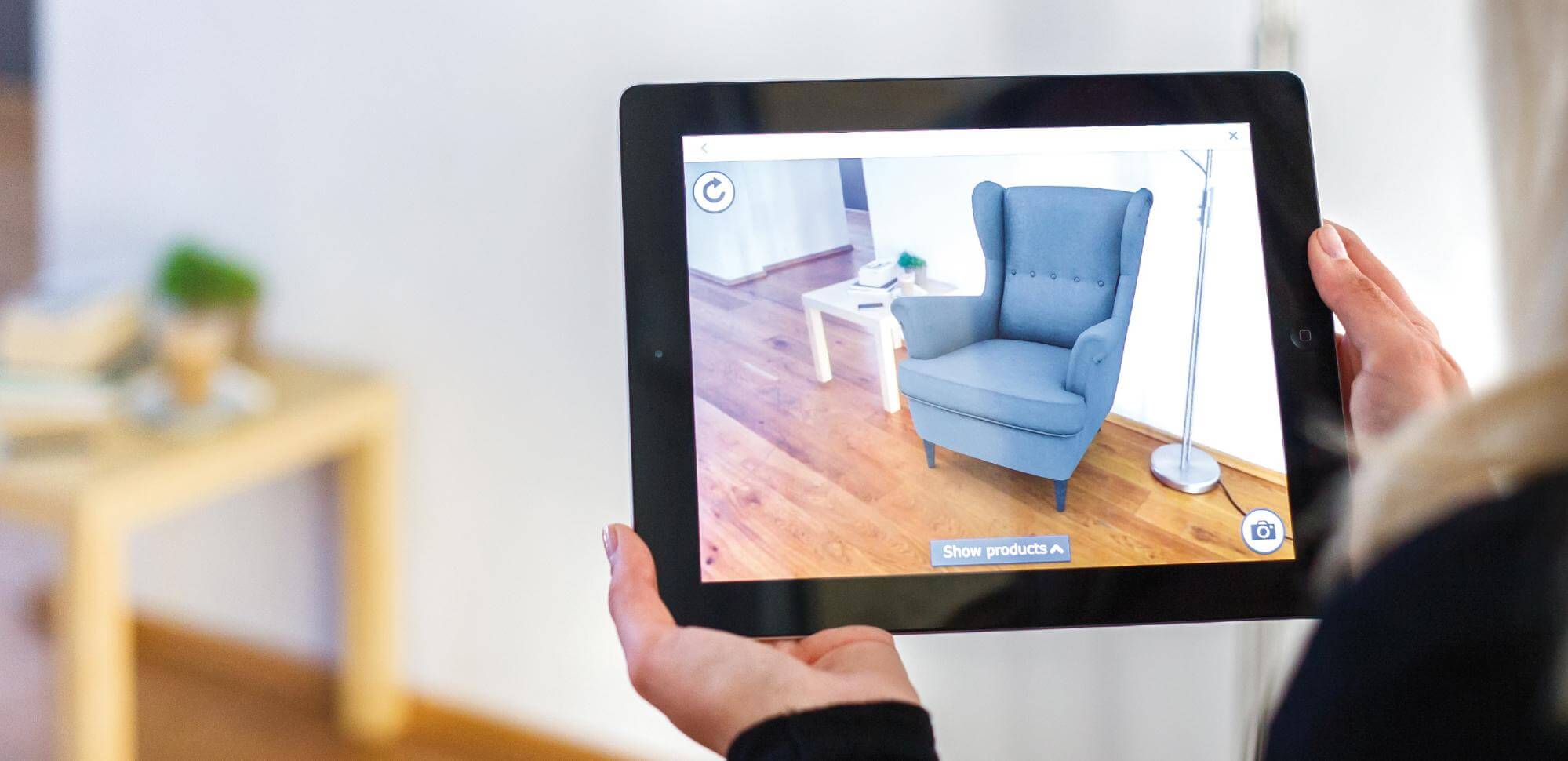 Engagement features. In addition to main functionality, IKEA app has all the modern attributes to stay relevant among users. Such user engagement features are welcome in any other app, either AR app or any other type of app:
Social sharing of mock-up designs

Reviews and comments section

Push notifications for discounts, special deals, etc..
Technology to build an AR app
What technology and which tools IKEA uses to develop their innovative solutions, is of course, a commercial secret. According to some sources, Ikea technology stack contains ASP.Net, HTML5, Java, List.js, jQuery, Hotjar and things like that. But those are general use developer tools to build both mobile apps and websites. What about their AR app?
Well, we can name two tools with confidence: Unity engine and ARKit.  
Unity3D is an advanced virtual gaming engine supporting 2D/3D graphics. With its convenient drag-and-drop interface and lots of features it is perfect to build augmented reality products.

Open source ARKit by Apple made AR more available, as IKEA acknowledges. Together with

iOS 11 SDK and Xcode 9 it allows creating AR apps like IKEA in particular. It implies visual inertial odometry (VIO) and Core Motion – for tracking and camera data, as 2 main inputs. Also, now iPhones and iPads are able to analyze scenes and detect horizontal planes.
As a little side note here, we'd like to point out that Unity is one of top specialties at our AR development services at ThinkMobiles. As well as other AR tools like Vuforia, Wikitude SDK, Unreal engine, etc.  
Creating an app like IKEA: components & costs
To put together all the features we've described, create the back-end infrastructure and nice design, you would need to develop a custom app. App development is an ambiguous and time-consuming process, and we recommend to learn what goes into it first. For instance, in our How to make an app post.
2 major components to an AR app for retail are product catalog and AR mode for products. To develop such app for a particular platform (Android/iOS/Windows Phone) or multiple platforms and estimate the IKEA app cost, you need skilled app programmers and 3D designers. They charge differently, so you won't find a single answer if you're researching for price of augmented reality app.
That said, and based on our experience, your development process will include:
Back-end

, to set up all the connections between servers, databases, a website, an app and third-party services/tools. Average estimate – 300 hours.   

UI/UX design

, to create custom user interfaces, navigation, and especially AR models and all the animations. For basic app design we estimate 150 hours, while 3D models require much more intricate work. According to our AR department, to make 1 fine looking model, you'd need 24 hours, i.e. 3 working days.  
Actual app development

for a mobile platform of choice. With all key features of an AR app like IKEA, we estimate 500+ hours of development.

QA/PM

, depending on your strategy and budget. Though any mobile product requires quality assurance to ensure a proper result, that's a proven practice. Expect 80 to 100 hours for it.
Now, you can see an average estimate by necessary features, with sub-total price range for development.
| | |
| --- | --- |
| Feature | Hours, avg |
| 3D models | 24 per model |
| UI/UX | 80 |
| AR mode | 60 |
| Catalog mode | 60 |
| Social sharing | 12 |
| Menu | 40 |
| Go to the site by reference | 4 |
| Multiple languages | 40 |
| iOS & Android versions | 40 |
| Total time (one 3D model) | 360 |
| Total time (10 3D models) | 576 |
| Cost subtotal, $ (10 models) | $30,000 to $50,000 |
Development team
The cost of your project mainly depends on a team you'd hire, both in terms of skills and time frame. If you want an app to emerge soon enough, you would need more than one person. Freelancers or special developer agencies, it's up to you to decide. To cover all aspects of an AR app, we recommend:
2 designers

3 Unity developers

2 iOS and/or 2 Android developers

1 QA engineer

1 project manager
As augmented reality apps mostly involve 3D images and animations, main focus should be on producing high-quality images. AR elements should look as natural and realistic for users as possible. This means, your priority is to rather find good designers and 3D artists with image processing skills.
Summary
Bottom line: if you want a serious app for business, not for fun, you need a custom mobile  app with augmented reality. It means free templates and build-in-one-hour solutions are not enough, and you'd get into a lengthy development process we've only revealed in few words above.
Custom made AR apps aren't cheap, though you get a 'one of a kind' product. The cost mainly depends on app features, and typically starts from $50,000. This is because you'll need skilled app developers, 3D artists and designers, as well as time.
Summing up our own calculations, an app like IKEA would cost around $57,500, plus ~$1,200 per each 3D model. This is based on median $50 rate per hour. Pricing could be less, if you go with 1-2 features and like just one AR object. Let's break it down to each development stage.
| | |
| --- | --- |
| *$50 rate | Cost, $ |
| Development | 30,000 |
| Design, 3D animations | 7,500 |
| Back-end | 15,000 |
| QA / PM | 5,000 |
| Total | $57,500 |
Now, don't forget to double that price if you hire an agency with $100 hourly rate. The cost of mobile app development depends on many factors, such as your business goals, team/rate, complexity of an app, etc. Also, apps for Android and iOS devices differ slightly in price, due to platform peculiarities.
If you have an AR app idea in mind and need a price quote, don't hesitate to contact us. 
P.S. Our own product – an AR furniture app MyAR
In relation to the topic of augmented reality apps and furniture apps, we'd like to point to one of our own developed products, an app like IKEA too, called MyAR. The main function of the app is to display virtual objects in real environment here and now – the same concept applied. The goal was merely to show what our team of AR/VR developers and 3D designers is capable of. MyAR app is based on markerless AR method, and is a result of 3-weeks intense work of 5 experts.