How much does augmented reality app cost? That question is becoming pretty frequent as more and more researches and surveys show positive trends of AR. We will answer that question and provide as many details as possible. Furthermore, we also talk about what you need in order to create an augmented reality app for Android and iOS.
A software development kit (also known as devkit) is nothing else than a package of software development tools. AR developers need it to make applications by using completed solutions. SDK helps and simplifies the coding phase, especially with AR development, to avoid writing steps from scratch. Popular SDKs to develop augmented reality mobile apps are the following.

It seems like Vuforia is the most popular SDK around the globe. It provides AR developers with powerful and comfortable tools. By using Computer Vision tech it provides the possibility to recognize and track target images. As a result, the app may project 3D objects or Media in real-time.
Moreover, Vuforia has one of the best characteristics for the minimal angles of the marker recognition algorithm. It also has the minimal requirements for tracker visibility of overlapped targets. Besides, the stability of immovable and movable markers is the best among other SDKs.
Supported platforms: Android, iOS, UWP and Unity Editor.
You can get source code of Vuforia SDK.

This SDK is created for mobile platforms originally to work with Wikitude AR Browser. It is also the first SDK that provides a JavaScript API to enhance AR experience. In addition, it supports Native API for iOS and Android. Wikitude gives a wide range of functions, including SLAM technology and geo-location. Unfortunately, while other parameters of this SDK are higher than average, they are still not the best.
Supported platforms: Android, iOS, Smart Glasses.
You can get source code of Wikitude SDK.

Kudan is faster than most frameworks. It also provides an unlimited number of recognized images. Furthermore, Kudan requires less memory storage for its libraries. This SDK could become a good analog of Vuforia and Wikitude. However, developers should know that in some parameters, it is inferior to Vuforia. Kudan also doesn't have some functions that Wikitude has. For example, it does not support geolocation and cloud recognition.
Supported platforms: Android, iOS.
You can get source code of Kudan SDK.
Want to know more about AR SDK? Check out our best augmented reality SDK for AR development review !
Requirements for AR app development
Documentation
A mobile application draft is nothing else than the basis of a future product. It outlines the business logic and list of technical specifications. Documentation guides the development team from rough concepts to final scripts.
It's always better to have it finished and ready before contacting anyone for app development. Drafts help to build any app you desire from the start. Managers can help clients without experiences in creating a detailed project draft.
Worldwide augmented reality development rates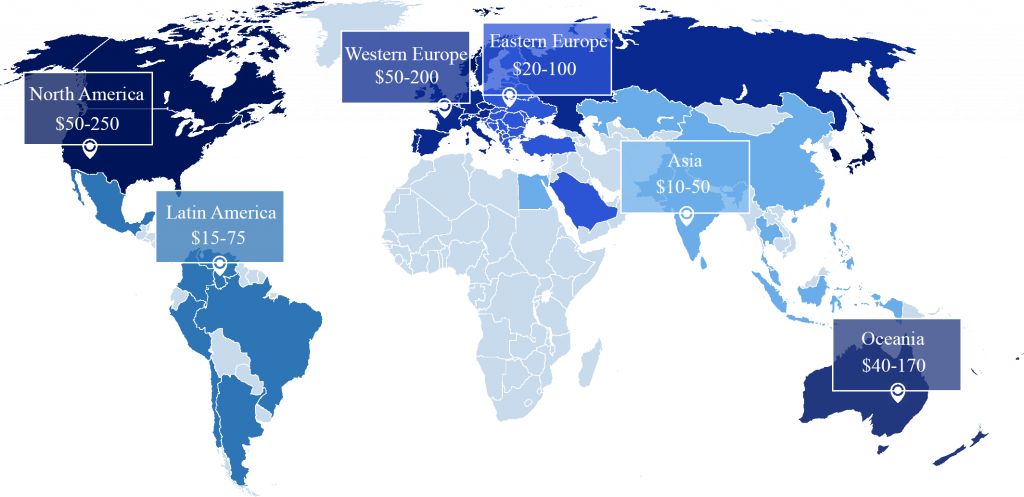 Northern America – from $50 to $250 per hour.
Western Europe – from $50 to $200 per hour.
Australia – from $40 to $170 per hour.
Eastern Europe – from $20 to $100 per hour.
Southern America – from $15 to $75 per hour.
Asia – from $10 to $50 per hour.
There are many augmented reality SDKs available around the market and there are some appmakers like Zapwork. AR technology is pretty new and it is still in developmental fields, so DIYs and freelancers can't do much. To be sure, it's better to partner with development companies.
Project documentation cost for AR app development: $500-$1,000, and it takes 3-10 days.
Documentation should include as many details as possible. Try to provide developers with details about your product vision, its features, APIs and technical details, dependencies and others. It's also great if a client can provide some photos, sketches or wireframes to illustrate his or her own requirements.
Note: If you don't have an AR project draft ready it's hard to be more specific. Also, it's almost impossible to make accurate estimation of the cost to develop the augmented reality app.
Planning
This step engages communication between a project manager and a client. They solve the main question and discuss every important detail. This phase also includes:
creating development team and allocating roles and the task of each person
setting timelines, deadlines and milestones
making detailed clear estimations
AR development project estimate cost: completely free, but may take 2-5 days. The length of this phase depends on project size and complexity. Obviously, large and complex projects take more time to estimate, so it is likely to cost more. On the other hand, the cost to estimate a project similar to existing applications is cheaper.
Estimation of augmented reality app cost
This phase includes writing the main code architecture and creating application design. Both processes are closely related and interdependent issues. So the main parts of each them are:

Infrastructure:
The 3-rd party APIs integration.
Access to enterprise data.
Setup and basic controls.
Data storage.
Encryption.
Scalability.
An average time is 250-600 hours.
Design:
Wireframe creation.
3D graphic models.
UI/UX design.
Visual design.
Animation.
An average time is 150-500 hours.

Of course, all cost are averaged and the duration of the development listed are only approximations. The length of each part is highly depended on each and every individual augmented reality application.  It may cost less than average, or go far beyond.
Create your own AR app with ThinkMobiles
There is a great option to build AR apps in a faster and cheaper way. Our developers have constructed a ready-made application for augmented reality, called MyAR, that we can then adjust and make a new one on it's basis. A project to create an AR app will consist of the following steps:
1. Customize MyAr app
The primary feature of My AR app is to visualize objects/products in augmented reality on any mobile device. So we can amend the way we render items into 3D models for you, create presets, change user interface, make corrections to design, etc.
2. Customize MyAr CMS
For high performance of the app we have also developed a custom content management system (CMS) for it. And we can customize it as well for your AR project! You get the full control in a way you like it, and without any other external services.
3. Create 3D models and upload to your CMS
Do not have virtual models of your products? No problem. Our team of dedicated developers and designers is always ready to help to create professional 3-dimensional models in a matter of hours.
4. Release iOS and Android apps to stores
In such short way we can build your AR app together, and now you can login to your app and demonstrate products in AR. If you want to make a public release, our managers and marketers can help you submit the app to the App Store and/or Google Play.
The cost of such augmented reality app, using MyAR, will be just $3,000.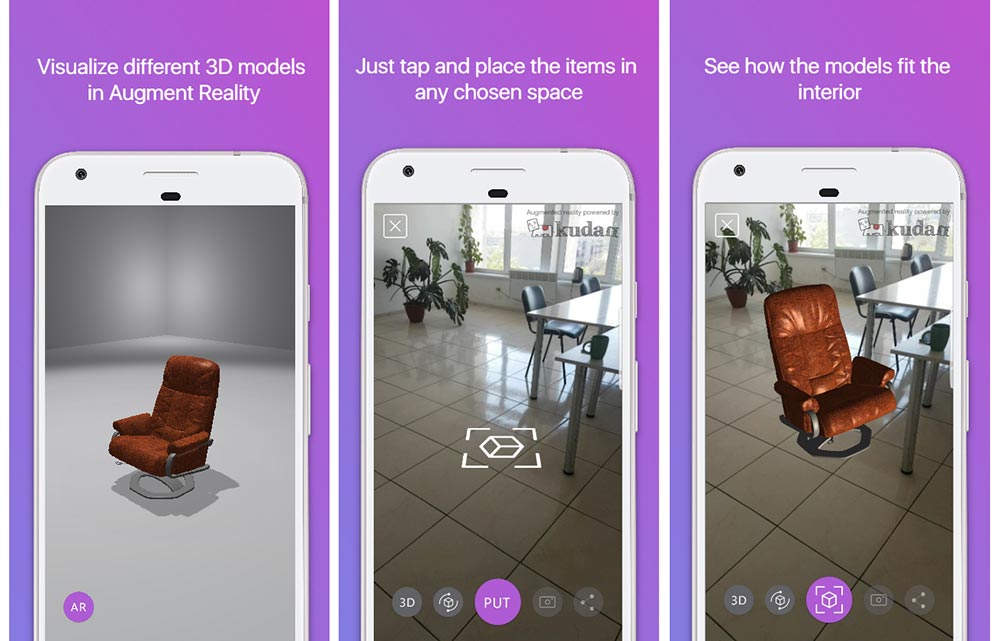 AR features
There are many common features that may be added to the application. The most important feature of AR applications is the augmented reality itself. How augmented reality apps work may be experienced in 4 different ways. We will also show examples of some of the top augmented reality apps.
Gyroscope-based AR
The simplest way to make AR application is the use of device's gyroscope. According to the information from the gyroscope, applications can place virtual models around the user.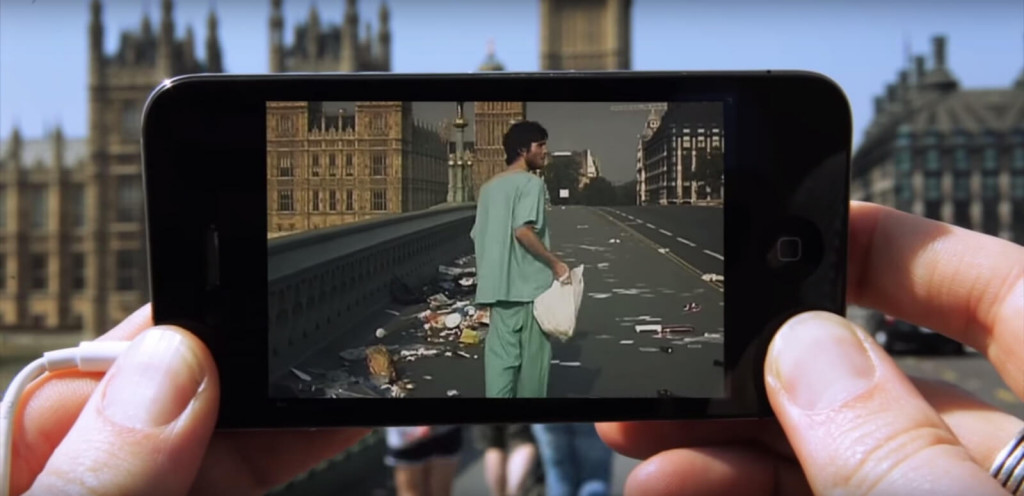 No SDK is required to do such simple features.
Vortex Planetarium – Astronomy. The app uses the gyroscope to place planets, costelstellars, stars and others around a user.
Average time required is 150-250 hours.
Marker-based AR
Another way to initiate augmented reality in application is to use trigger-markers in the real world. Markers may be anything from simple QR-codes, icons, cards, images, or even movie posters. Device's camera captures such kind of triggers. Then application then projects a specific AR model or media onto it.
Marker-based technologies are pretty easy to develop and integrate. However, most of the time is spent setting triggers. Each trigger image should be designed, specialized, scanned and integrated into the app individually.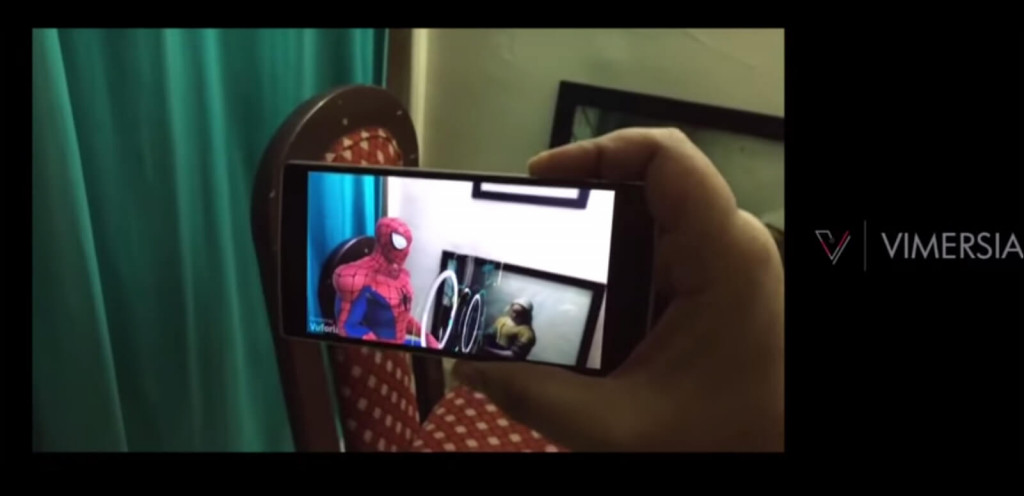 Vuforia, Wikitude, Kudan and Maxst SDKs allow to create such features.
Inkhunter uses simple markers to project AR tattoos.
Quiver uses printed images as markers to project 3D AR models.
Layar allows to scan printed media pictures and movie posters to project 3D AR models, or video.
Average time required is around 200-400 hours.
SLAM (Simultaneous localization and mapping)
The concept of SLAM was born in the 80s but only modern devices have enough resources to support it. SLAM technology is used by self-driving vehicles, drones and robotic industry. Complex algorithms integrate data from multiple sensors, calculates precisely the user's position and creates a map of the unknown environment.
Applications use this feature to place different 3D objects in the real surroundings. Advantages of this technology is that it doesn't require any trigger-markers. Additionally, virtual objects can react with different objects in the real world that appears on the scene. You also may use SLAM to build 3D model of random real objects by simply moving camera around it.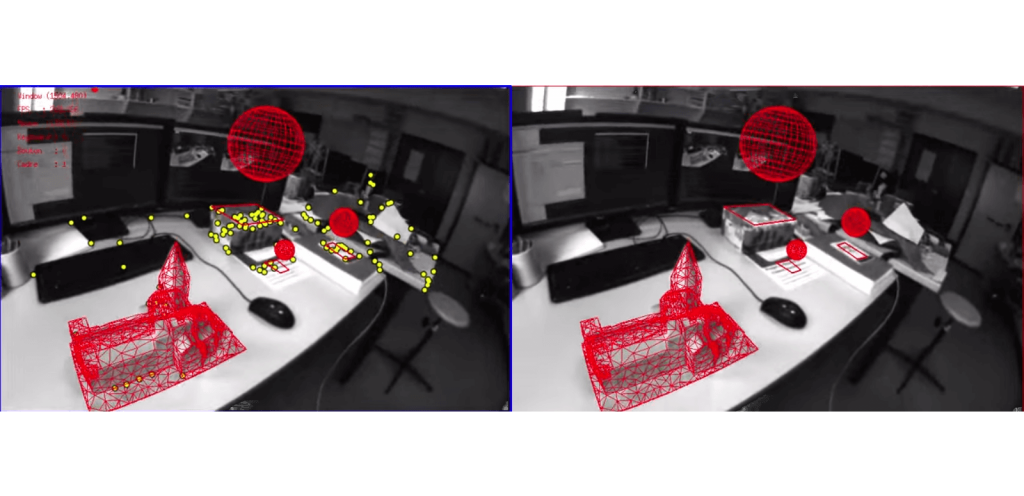 Wikitude, Kudan and Maxst SDKs allow developers to create such kind of feature.
IKEA augmented reality app, Like some other furniture apps use SLAM technology to allow a user place 3D models of furniture in real environment.
Average time required is around 250-500 hours.
Location-based AR
Feature uses the device's data from GPS, compass and Wi-Fi to augment reality around a user by placing virtual models, media, text info or link in the real world. The user should be in right location with good internet connection to get the best AR experience.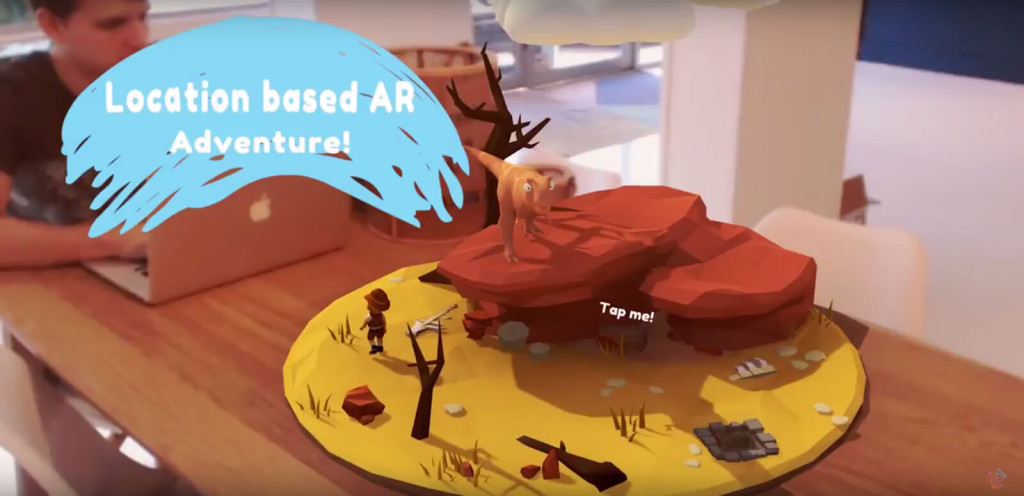 Wikitude SDK allows developers to create this feature.
Pokemon GO. The app places different Pokemons around the world to engage players to catch them.
Flightradar24. Uses the user's GPS, gyroscope and astronomic data to allow a user to identify planes that may be seen from the device's camera.
Average time required is around 400-800 hours;
Common features
There are many features that may also be added into AR application if necessary. They can certainly enhance user experience. Additional features can make apps more flexible, personalized, secured or customized. Each feature will take time to integrate and result in increased budget cost.
Here is a list of features with their average time required for development:
Native device features (such as the address book, access to photo gallery etc.) – 80 hours.
User engagement feature (such as social sharing, push notification etc.) – 32 hours.
Log-in (email verification, password restoration, social media log-in etc.) – 32 hours.
Payment gateway integration (one or more) – 40 hours.
Multi-language support – 40 hours.
Device hardware usage – 16 hours.
Sync across device -32 hours.
Chat and forums – 50 hours.
Analytics tools – 32 hours.
CMS tools – 48 hours.
Testing and deployment
This is the final phase of development process. It includes internal, user and deployment testing as well as bug fixing. Games and apps that need a high level of security require additional attention. Deployment phase is about accounting application and submitting it to the app store.
Post release expenses
Releasing an application is just the start of a big journey. Be prepared to meet new challenges and pitfalls here. Depending on application size and complexity, post release expenses may be different. It varies from 10% to 40% of its total cost per year. Maintenance may include the app's update, security patches, adding new features, third party fees and other.
AR turns the world around the user into a digital interface. It enhances surroundings with different virtual objects to provide the best user experience. AR may be provided through a wide range of experiences. We can divide all apps that use augmented reality into 3 main categories.
Augmented Reality 3D viewers
These AR apps allow a user to place and see 3D models of different objects through their device's camera. Real world environment may expand with virtual objects, with or without the usage of trigger markers.
Furniture AR app enables customers to try furniture stuff directly at home in its actual size. After the release of the app IKEA reported increase in customer's interest and the sales rate of their products. Application also significantly decreased return rate.
Printed and colored images spring up to life by using AR's capabilities. 3D models will be the same color as it was colored before by the user. Afterwards it will become interactive with some sound effects and can be saved for later use.
This AR app uses simple real world markers that are drawn directly onto the user's skin to project augmented reality tattoo on it. A user can check different tattoo images in real-time and capture what he likes best.
How much does AR Viewer development cost?
Augmented reality 3D viewer is all about showing virtual 3D models in the real environment. The complexity of these apps hardly depends on the type of AR feature that a client needs. It may be the simplest gyroscope based on AR or an advanced one by using SLAM technology.
3D models and simple user interfaces are also necessary. Both the 3D modeler and UX/UI designer should be engaged in the development process. The part of their work highly depends on how many models the app would include, and how many screens it would lie on. Other common features may also be added to improve user experience.
Augmented Reality Browsers
Augmented reality browsers try to be competitive to common browsers such as Chrome, Firefox, Opera. Yet, for almost 10 years they still have fewer users than common ones. Mobile devices become more and more advanced day by day. The internet becomes increasingly available outdoors. It is not surprising that various researches predict that there will be near 1 billion AR users by 2020.
AR browsers are mobile apps that display different contextual information and show media through the mobile device's camera. Virtual content may be triggered by marker devices that exist in the real world. Or by location-based markers depending on geolocation.
Wikitude is a really a powerful tool which enhances surroundings around a user. It allows a user to check information about various products powered by Wikitude, watch media, see location events and others.
This is the top rated AR browser that has partnership with various printed media, brands and companies and enhances their products with AR. The main part of Layar content is generated by users and anyone can join it.
How much does AR Browser development cost?
To work, augmented reality browsers use location-based and market-based AR features. They also require stable internet connection to work properly, as well as GPS, compass, gyroscope and the device's APIs. While the core of an app is ready, it may still be customized by adding some other features to advance its usability. For example, AR browser owner may cooperate with print media to add augmented reality content to its pages. Such products also may be purchasable directly from the browser. It would require additional payment gateway integration, security measures and 3D models of a product.
Augmented Reality Games Apps
The last category where AR may be experienced is games. Such kind of augmented reality app uses the real environment to enhance the player's gaming experiences. Such AR applications add virtual objects, items and characters in the real world around a player.
This is probably the best augmented reality game that blew up the market on release. It uses geolocation data to spawn pokemons and engages a player to catch them in the the real world. Afterwards a player may train captured pets and challenge other players to fight them.
Two factions of players are involved in the conflict for world domination. They hunt for "exotic matter", that flies through energy spots (portals) in the real world. Such spots are mostly interconnected real places of cultural significance. Factions try to overpower each other, and capture portals.
How much does AR game development cost?
Games do not have any standards, so it is hard to say how much it would cost without documentation. Obviously, a large amount of content and in-game mechanic would drive app development time and cost. Popularity of Pokemon Go did not depend on just its brand name and people's nostalgia. Pokemon franchise releases new games regularly every year.
Like Ingress, Pokemon Go offers players a new and original format to catch Pokemons. It is highly important to make the world around a player interactive in order to build AR bestseller app. Additionally, to give a user better a playing experience, there can be some additional in-game features. While it may increase the time and cost of development, it might also make game apps more interesting, and enjoyable. The following list includes popular game features:
Advanced storytelling with intros and in-game video – 100 hours.
Player rating and leagues – 32 hours.
Music and sound effects – 80 hours.
Real-time multiplayer – 250 hours.
Achievements – 56 hours.
Mobile device's capabilities are becoming more and more advanced each year. It's just a matter of time when people would start to use AR for everyday activities. Therefore, it's better to already be established when there is an explosive interest in AR would on the market.
Read more about Augmented Reality