Mobile apps used to be a fancy thing by Amazon or Instagram as recently as 3-4 years back. Not anymore. The cost of making apps has dropped down and now there are literally thousands of mobile services of any kind. Including business apps, ecommerce apps, retail apps, etc. Markets and digital world of today are very dynamic, shopping with a smartphone is a real thing now in many countries. And it is all about user convenience. Mobile commerce is the next generation of e-commerce, that's why we are going to highlight major m-commerce benefits.
E-commerce businesses (i.e. online retailers) – small or large, find mobile apps to be a useful tool to market their brand and to acquire new customers. Though that's not all when it comes to the mobile world. We can start off with a fact that 66% of all population globally have mobile devices as of January'17. And 90% of time people use phones they spend on apps, only 10% on Internet. Naturally, this is a goldmine opportunity for merchants. So, let's take a closer look at ecommerce apps advantages.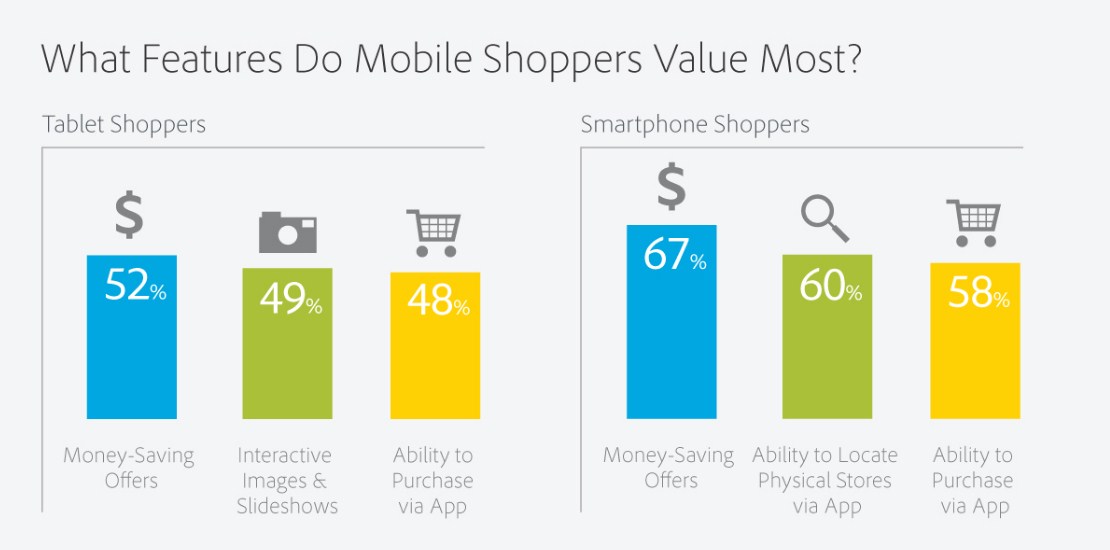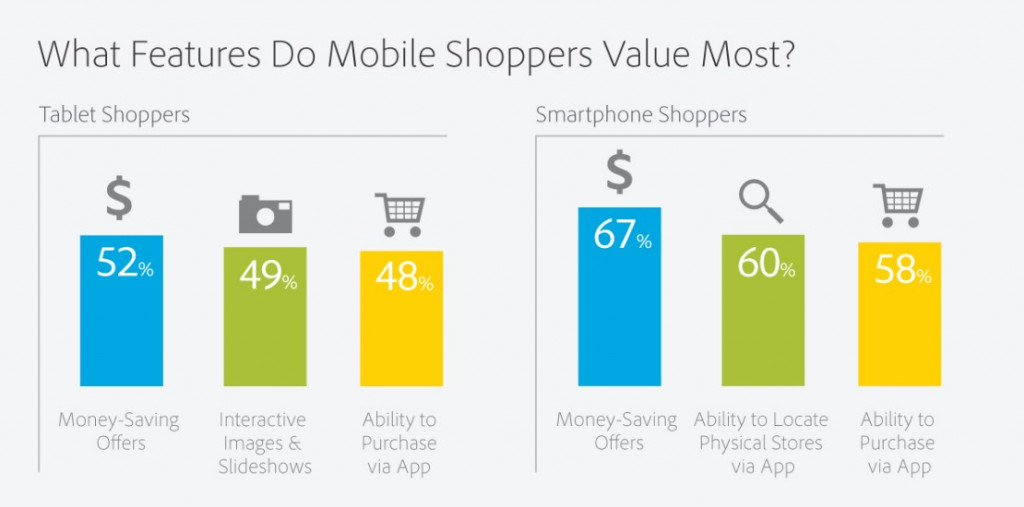 With ecommerce mobile apps like Walmart, Groupon or Wish, customers can browse and view  products, compare prices, buy products, share purchases or favorite items with friends. Various loyalty and reward programs are permanently in action by brands and retailers to attract people. Users love coupons, rewards and discounts! And of course, increasing sales as result.
Let's Build Your App
Provide us with your contact details and we will contact you today
M-Commerce benefits for business
Surely, running a mobile app for ecommerce can't be the sole guarantee of profit. This is a great additional value tool to engage customers and offer experiences. Any amount of investment to make an app, if done wisely, will be justified by loyal customers. Also, check your competition – if they have app, you should probably too.
Now we are going to name main advantages of m-commerce, with few practical examples.
#1 Faster purchases
Yes, many sites have mobile versions, though apps are generally 1.5 times faster when loading data and search results on mobile devices. Moreover, there is no need to pull data from a server and so customers can browse and purchase products faster. As mobile ecommerce apps offer same functionality as desktop apps, people may purchase items directly within an app.
M-commerce revenue has been rising at 30-40% rate annually since 2014, and by the end of 2017 is expected to reach $150b total. The biggest retail app Amazon increased number of customers from 43 million in 2015 to 67 million in 2016. The reason for such achievements is intuitive mobile browsing, which in turn drives sales up.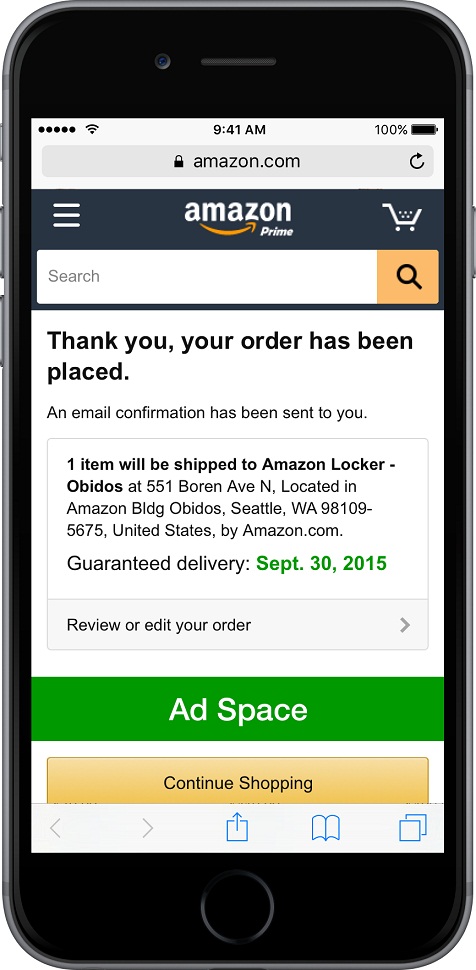 The effect: positive customer experience, easy and repeat purchases, increased sales.
#2 Better customer experience
Because it matters. People are well familiar with how smartphones and tablets work, so they already know how to navigate to desired products in few clicks. In addition to purchases, customers can share their joy of bought goods with friends, or ask for advice from community of shopaholics. Smooth customer experience equals better conversion rates and revenue.
To reach these goals, your online shopping app should be:
Fast
Convenient
Interactive
Exclusive
From a customer standpoint, the biggest benefit is simplicity and speed. The easier overall  buying process on the app is, the more sales it brings. Add to that exclusive features (notifications, discounts, etc.), payments and other branded elements and you'll have happy customers. By the way, 83% of customers used smartphones inside real stores to shop, according to MarketingLand.
The effect: convenient shopping, interactivity and ease, improved customer retention.
#3 Direct connection to customers (push notifications)
This is something that is impossible with a website. Of course, one may send email messages about new products or seasonal sales, but that channel loses badly to direct customer notifications via mobile app. Push notifications are both instant and unobtrusive at the same time, that's a truly nice option for businesses. And one of the major reasons to have a brand ecommerce app.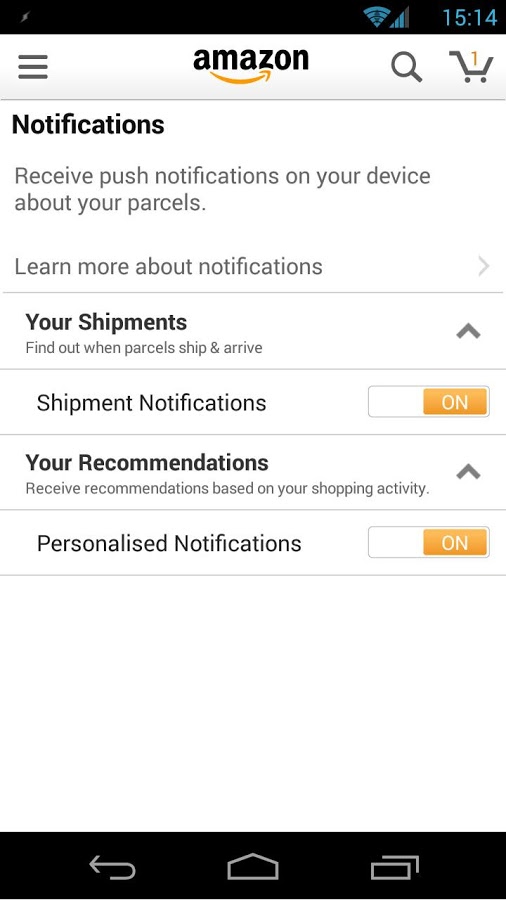 Shoppers get such alerts when they open a mobile app, and may get them even without activating an app. 50% of users like notifications, and 80% of users say offers and rewards make them more loyal to a brand. This is personal communication, if you look at it from another angle, store to customer directly. Most of people perceive informing about news or discounts as care, and they want exclusive stuff.
The effect: direct alerts about new products, updates, discounts and promotions. Personal engagement.
#4 Tailored content
Based purely on individual preferences and shopping patterns with a mobile app you can deliver personalized content to customers. And they love it (if you don't overdo it, surely). User location, interests, social media profiles, items viewed, etc. all can be utilized to bring people what they need.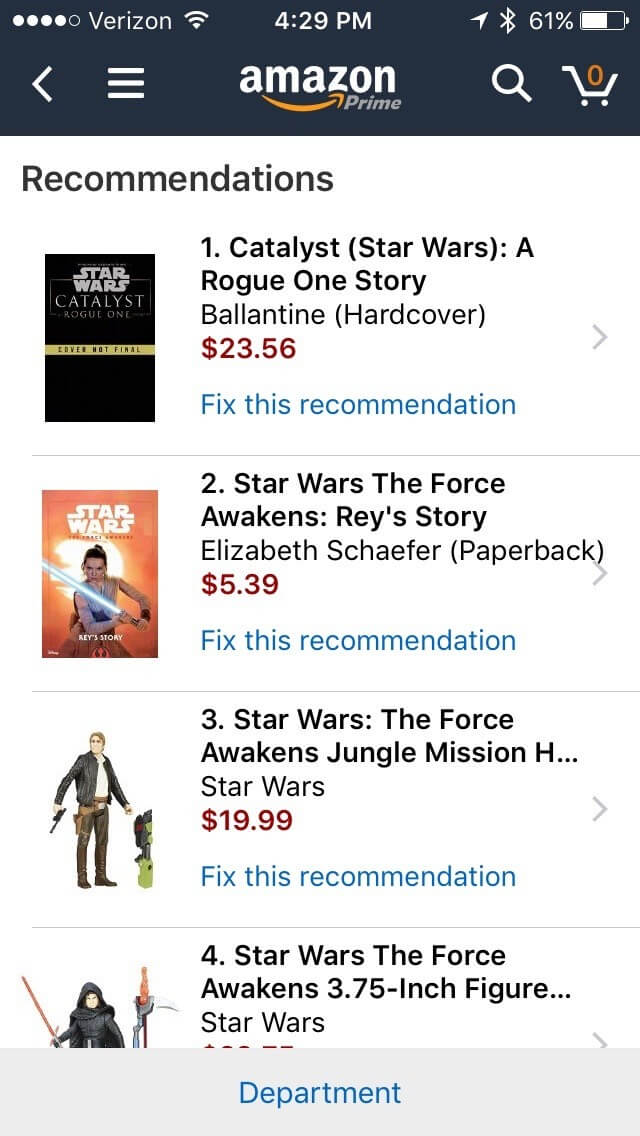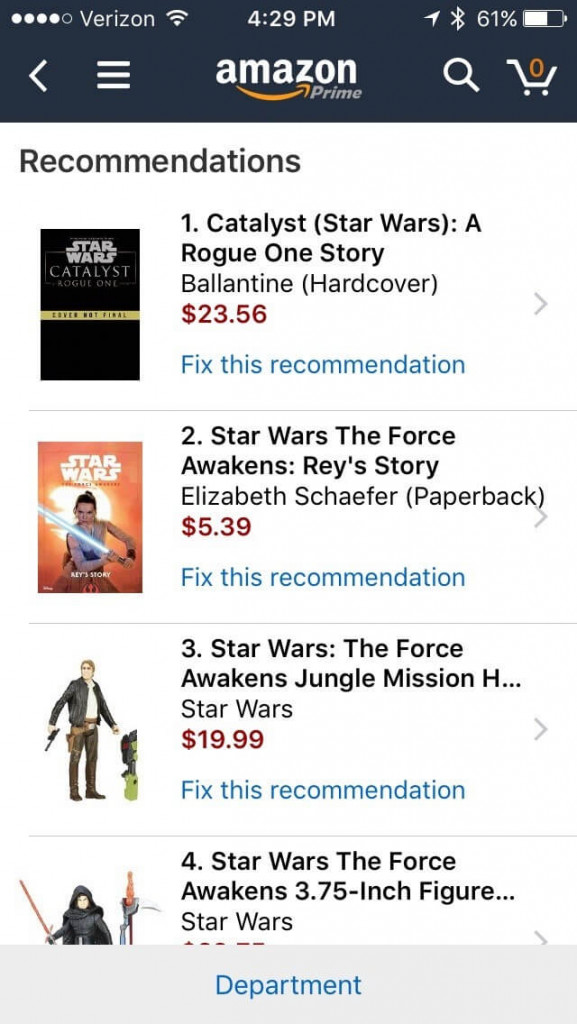 With a mobile app you can set such preferences based on gathered customer data. An app then tracks users' behavior and offers recommended items in real-time. In most cases, it translates into higher customer loyalty and outreach. The more specific and personal, the better. A good example here is The Amazon app. In first 2 years since launch, Amazon mobile app has served 1,000,000 customers.
The effect: better engagement, expanded reach, customer loyalty.
#5 Deeper analytics
Knowing your customers equals prosperity in business these days. Knowing customers demands data, at least very basic information like age, sex, location, shopping history. Within your mobile app you may build and set user analytics of various levels of sophistication. It depends on your business strategy and a budget available to make an app.
With such data you will understand your target audience much better, and will be able to increase sales. Names, phone numbers, emails, buying patterns and lots of other things in store. For instance, Walmart app that 22 million customers use every month, uses mobile data, online data and sales data combined to deliver better customer experience. It is a whole and enormous infrastructure.
The effect: rich customer data, shopping patterns and behavior, trends and better forecast options.
#6 Cost reduction and productivity
By reaching your audience faster with a mobile app you obviously cut down marketing campaign costs. If an app has social media integration, users will do their part too in spreading the word. You can even earn from placing ads within your app later on.
Besides, app development, maintenance and support are cheaper compared to a web store or other selling points. For instance, average app maintenance cost is 20% of initial development price. So, for an app that has costed you $50,000 you would have to spend just $10,000 annually for support. And with all customer data collected, you can boost your business up to 40%.
The effect: reducing costs, marketing campaigns more effective, overall business productivity.
#7 Store navigation/geolocation
Mobile apps have a much better competitive (technical) in regard to marketing opportunities. Front and back camera, scanning codes, positioning system for location, compass, accelerometer, gyroscope and other build-in features can be used for commercial purposes. One of the top benefits of m-commerce solutions is navigating users to nearest stores in their vicinity via GPS.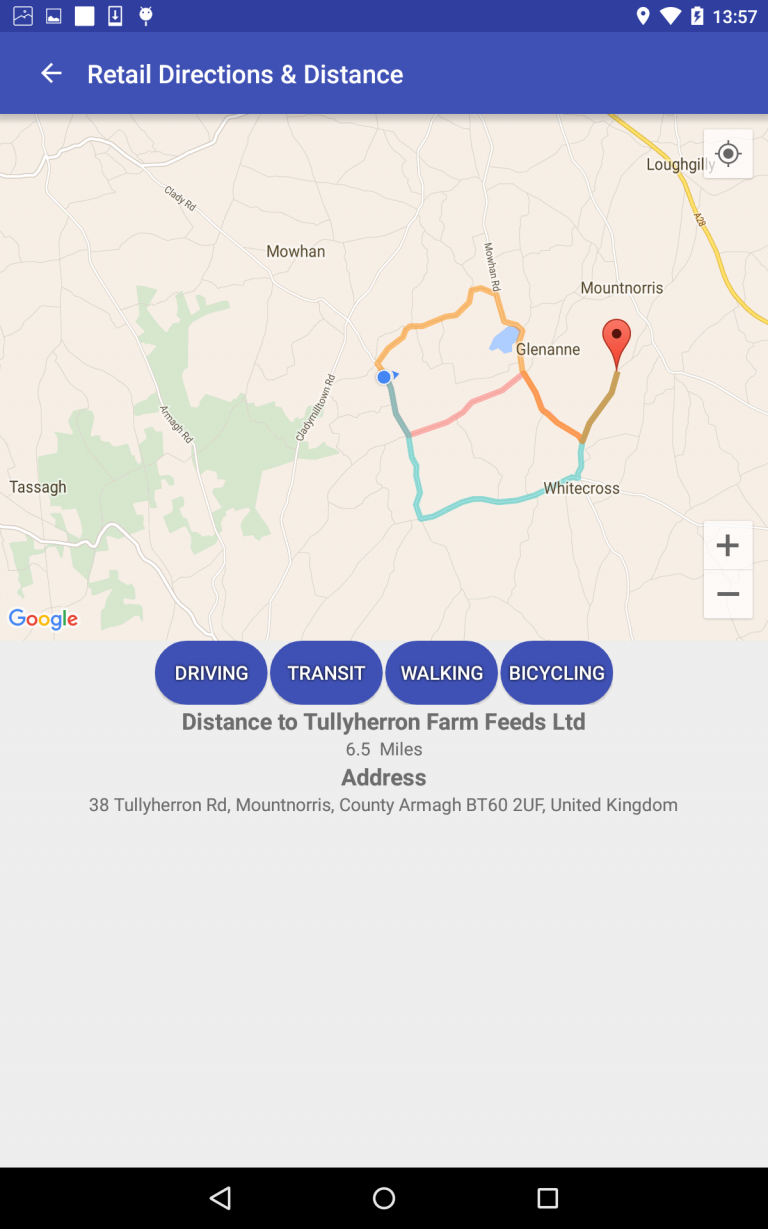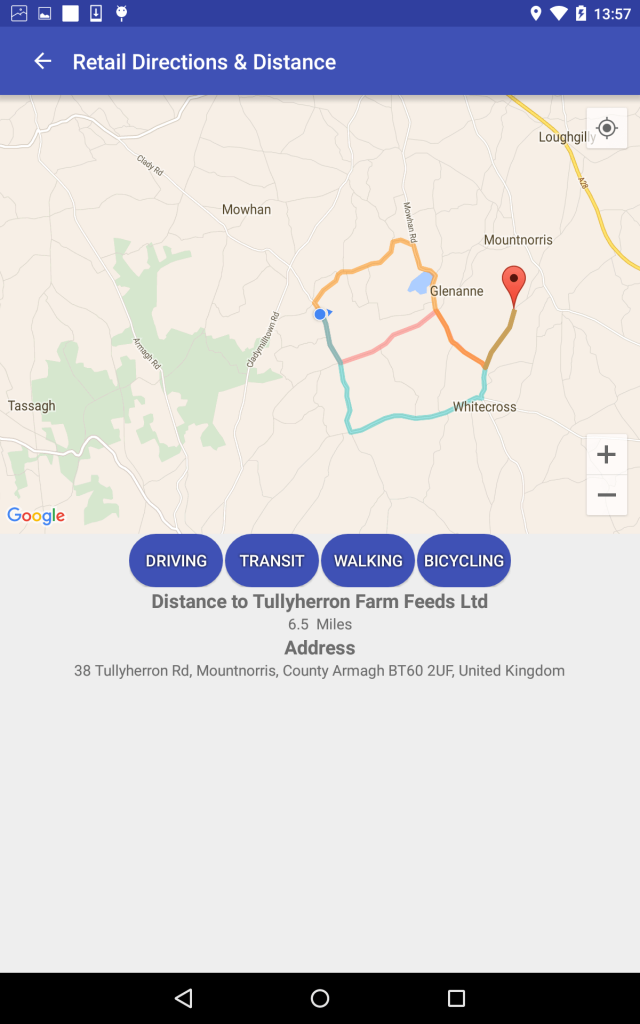 This shortens the time for customers to find your store and make a purchase. When a user is on vacation in Sweden let's say, and he/she wants to visit one of the stores of famous IKEA, he can open their app and walk after route pointers. There's even an indoor navigation in newest apps. Home Depot app (iOS/Android) has recently added store maps and aisle (!) maps, with approximately 40,000 items in each of their stores.
The effect: increased store visiting, more branding options, fun experiences for users.
How users benefit from shopping apps
The beauty of online shopping apps is convenience. We can shop when we want, at home, on the go or in the store. This is a whole different buyer-seller dynamic than it used to be few years back. This also gave birth to customer empowerment – we need pleasant shopping via mobile devices whenever (and wherever) we choose. In brief, customers benefit from mobile commerce in such ways:
Smart and trendy shopping models
Faster buying process
The power of social media
Tracking shipments
By smart shopping we mean brands and retailers providing relevant content to users based on their shopping preferences. Customers love getting special deals, coupons and promotions through mobile apps. With push notifications they get information in real-time, for example alerts about products in wait become available. Apps also can assist in making purchases at physical stores (product preview, prices, mobile payments).
Instead of getting to a store and stand in line, with a mobile app we can buy faster and easier. Plus, various studies indicate that today's shoppers like to browse products online prior to going to the store. A website is good, for sure, but mobile apps are better tailored for mobile devices. Besides, apps can be updated anytime. All this means that shopping ecommerce apps are comfy.
Apps also encourage sharing on social media, and people love sharing new amazing purchases with the world. Ecommerce apps integrate social media like Facebook, Twitter, Instagram, Pinterest to offer such option. Moreover, Facebook and Twitter have already added Buy buttons within posts and pages. SM marketing strategies always have something new and exciting to put forward.
And one final thing to top it all off is nearest store location. With this feature leveraging GPS technology and installed in a shopping app customers can find and navigate to any store.
Must-have features of retail apps
Taking a closer look at best ecommerce apps like Amazon, Amazon Shopping, Wish, eBay, Walmart, Groupon, OfferUp, Wanelo etc., we can see which features are essential. For business it is not enough just to have an ecommerce mobile app, it has to be up-to-date with the market and user expectations.
These are key features for any shopping app.
| | |
| --- | --- |
| Feature | Description |
| Notifications | To send instant alerts about news, sales, promotions, events directly to app users in real-time. |
| Purchase options | Checkout carts, buy buttons, add-to-cart buttons, credit card/mobile payment gateways integration, validation/security  tools. |
| Product availability | Accurate synchronization between an app and inventory, out-of-stock and back-in-stock alerts, quantities in stock, etc. |
| Personalization | Product suggestions based on individual preferences, buying habits, purchase history. Customer data collection on the back-end. |
| Social media | For easy registration/login, sharing and commenting options, check-ins at stores, discovering news and special sales. |
| Analytics | Data on customer behavior and buying patterns, conversion rates, cart abandonment rates, returning customers, session duration, cost per conversion, etc. |
In addition, a simple interface and navigation throughout the app. Intuitive and uncluttered flow starting from authorization to checkout gives your ecommerce mobile app a clear competitive edge.
Latest trends in mobile commerce also suggest the following:
A chat
Voice search
VR and AR elements
Bots / digital assistants
Integrated payments
Predictive search
Conclusion
Mobile application and m-commerce continue to expand. Over 1 billion people use smartphones to go online every day, and mobile shopping is trending as never before. ⅓ of e-commerce total is mobile-driven. One-effing-third! Analysts also observe that tablets, in particular, are driving sales conversions the most.
E-commerce apps, retail apps, shopping apps… call it whatever you like are growing and so does their profit. Making it ever easier for customers to make purchases is still a business quest for many. Tapping a button on a phone is evidently one of the tactics.
Mobile apps provide shopping experiences for people while gathering their buying habits. Apps also provide new appeals and marketing options to raise sales. So if you run a company/a business/a shop, consider investing in an app before you're late to the party.
Let's Build Your App
Provide us with your contact details and we will contact you today