Marriott International, Inc. is a leading global lodging company. It owns more than 6 thousand hotels and resorts in over 120 countries. The company reported revenues of more than $17 billion in the fiscal year 2016. But what is more important for us, guest loyalty program Marriott Rewards includes nearly 55 million members.
All of them can use various Marriott mobile apps but in this article, we will talk about one of them – Marriott International. It has more than 1 million downloads on Google Play and is also available for iOS and Windows Phone.
Why is it so interesting? Marriott International is a good example of popular hotel app with both classic and innovative functions. In 2015 it was honored with the International Data Group's 2015 CIO 100 award. So in this example, we want to show you how much does it cost to make an app like Marriott.
In 2016, $1.7 billion of Marriott's $13.4 billion online bookings came from the mobile app.
How does Marriott app work?
Marriott mobile app allows users to book hotels and make travel accommodations in advance using various mobile devices. It gives access to over 4 thousand hotels and resorts in over 80 countries, belonging to any of Marriott's hotel brands.
Let's Build Your App like Marriott
Provide us with your contact details and we will contact you today
Marriott app includes mobile check-in and check-out features, useful tips for travelers, mobile key etc. It also works with Marriott Rewards program and has good reminders. All of this in details you'll read in the next chapter.
It will be good to remind that hotel apps like Marriott International are different from booking apps, e.g. Trivago or Expedia. The main aim here is not only to plan your travel or make a booking. In addition, you'll get a specific service as a client of a certain hotel brand.
The main principles of Marriott mobile app are Find&book – Reservation – Active stay – Loyalty.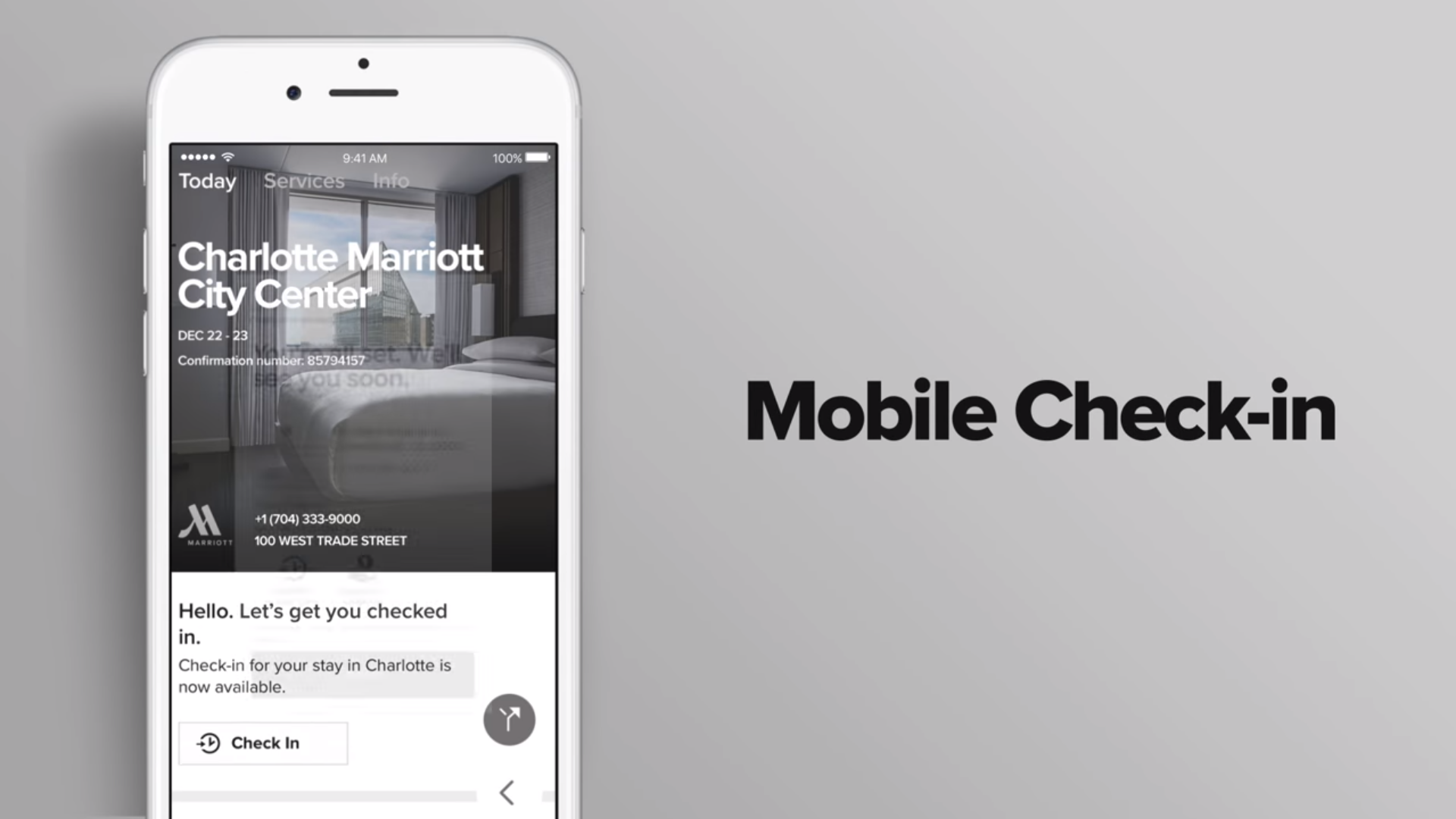 Basic features of Marriott International
Like all mobile applications, Marriott app has its own specific purpose and methods to achieve it. The app gives travelers possibility to make their trips easier and more convenient using mobile phones and tablets.
So here are main features of Marriott International:
User profiles and authorization

: forms for users to register and log in, using the email address or rewards number. Besides

TouchID

works on iOS devices for faster sign-in. The profile itself helps users to save their preferences and personal information.

Booking via mobile

: one can choose a necessary hotel and even apartment using search by city, GPS location, specific address or landmark. A person can review future reservations, add them to the calendar or cancel later. 

Mobile Requests

: since 2015 Marriott customers can chat directly with hotel

workers

or they can order needed things from a list on their mobile phone.

Check-in and check-out via mobile

: guests can make check-in

on their way to the hotel to move in faster, request room upgrades in a

dvance or request a late checkout.

Mobile Key

: after Marriott upgraded their app in 2017 this feature works in more than 500 brand's hotels. Combining it with other features guests can completely skip registration process at the check-in desk.

Special content

: travelers get access to hotel services and photos, city guides, local maps etc. Original content is

created

by Marriott's online journal Traveler.  

Marriott Rewards

: all app users can get rewards for being members of Marriot's loyalty program. The app helps them get lower prices and also earn member points

for future.

Push notifications

: to send reminders about mobile check-in, mobile check-out, room ready notifications or mobile surveys.
The app supports English, Spanish, French, German and Chinese languages.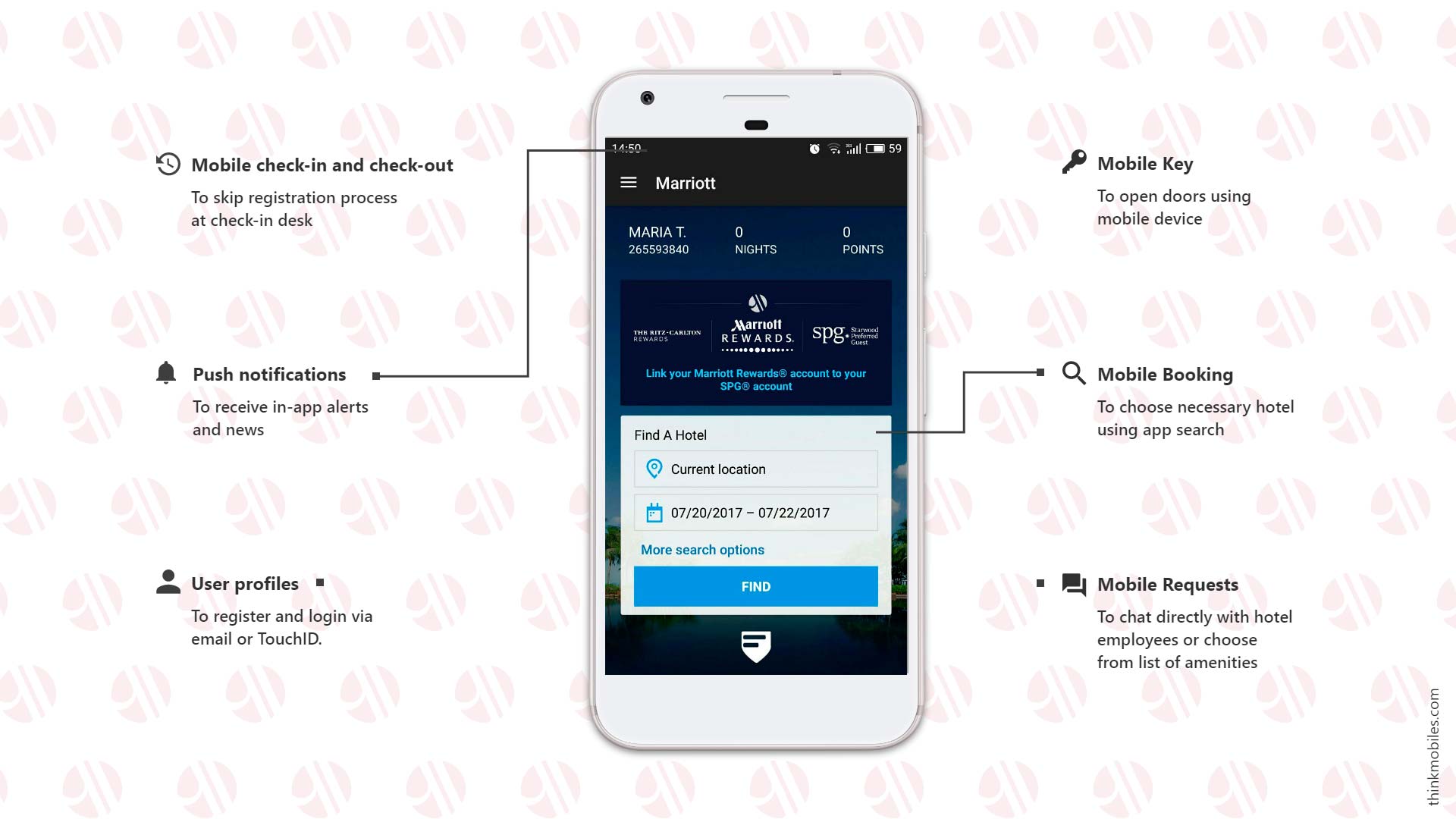 By the way, at the beginning of this year, Marriott upgraded their app. So now travelers can perform most of the needed actions holding a phone in one hand using just one finger. This 'one-button' design was inspired by many modern travelers. Also with new app users can check their reservations and loyalty info offline.
Backend development cost
The Marriott brand is recognized worldwide for delivering excellent service for almost a century. And now in the era of digital economy and IT leadership the company needs to give its guest as good service as possible.
Thomas Vidnovic, the solutions architect at Marriott International, Inc. explained, how the core technology decisions were made. Those include using open source like Couchbase services, NoSQL etc. You can see it in the video below.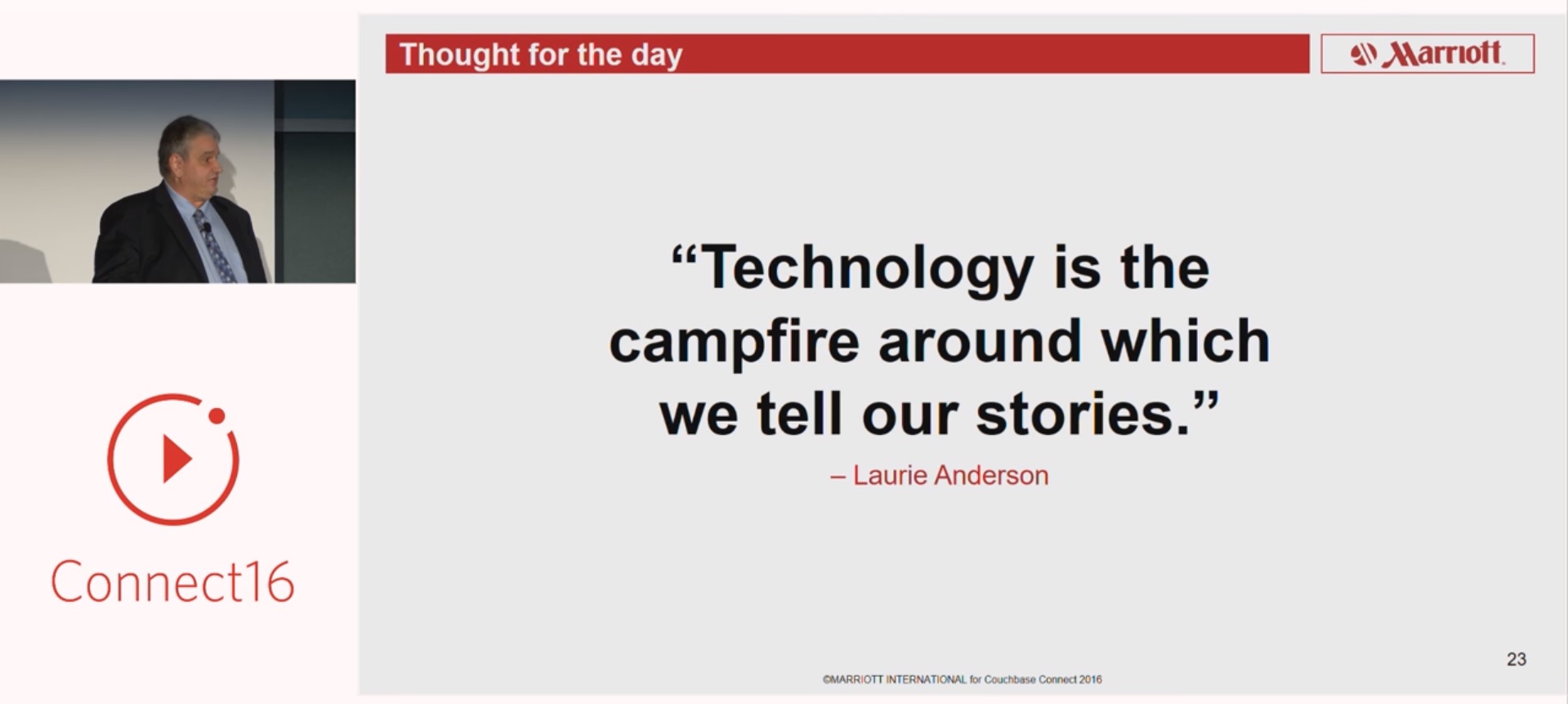 By the way, you should remember that Marriott app is just a piece of the big hotel system. For instance, Marriott hotels use MARSHA – unique and quite old reservation system. So that all reservations made with mobile phones are also processed by this technology.
The architecture (backend) of Marriott application might seem easy at the beginning. But actually it consists of many important elements and all of them must work perfectly.
To create a Marriott-like an app you'll need to develop main components like user and location management, notifications, payments system, chat&story management.
Due to Thomas Vidnovic, Marriot app developers use N1QL to work with NoSQL database and Couchbase services for reservations, revenue management and caching clusters. Google services enable search by map and work for push notifications. In addition, Marriott uses Sendgrid for delivering transactional and marketing emails.
As for cloud services Marriott owns а complex hybrid system, involving VMware virtual machines running on the IBM Cloud.
And after all the RealTime&REST API connects user interface with app backend.
We've also made chart illustrating approximate Marriott app's architecture.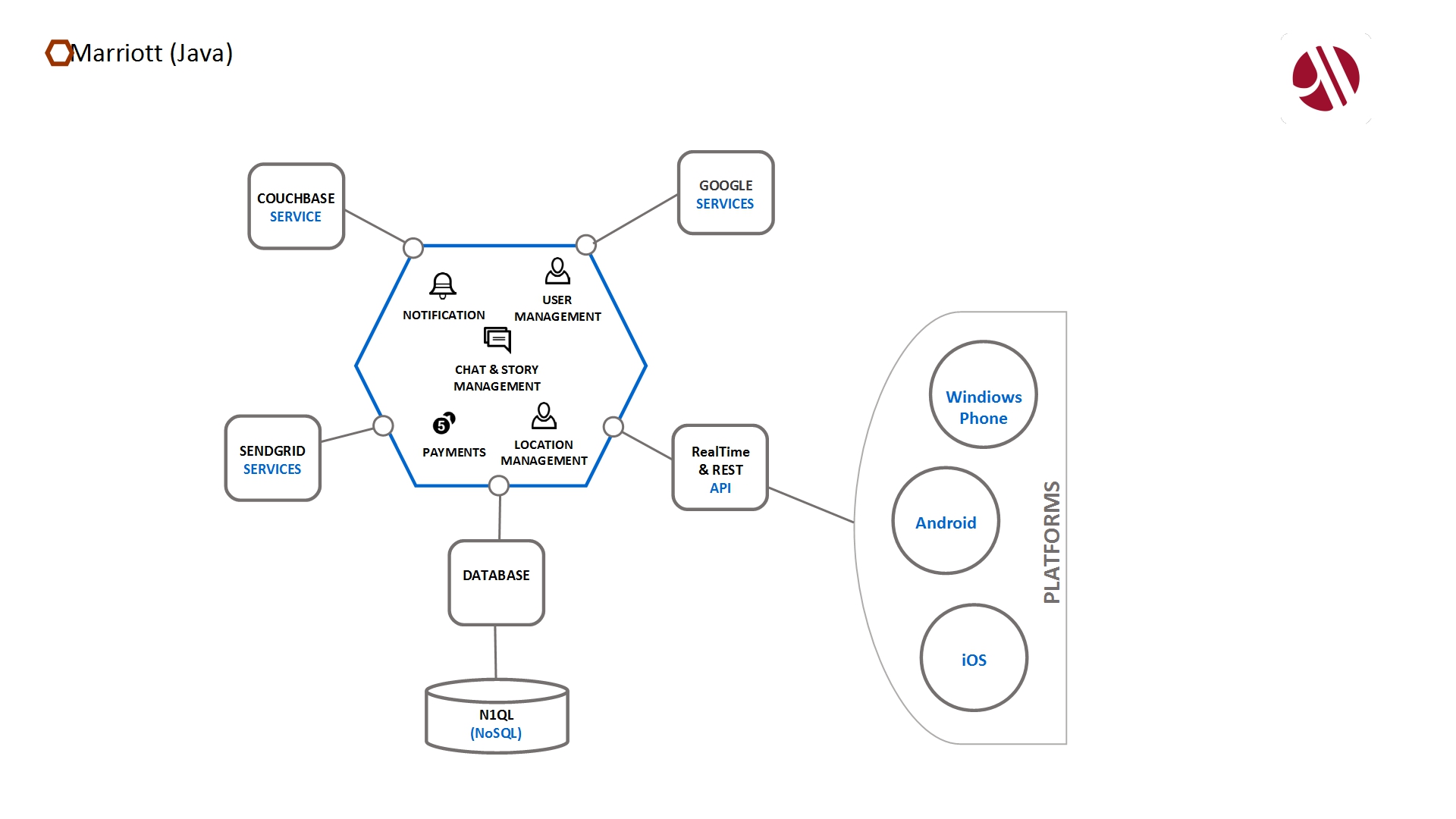 Estimated minimal backend development time for such project is 400 hours.  
Native platforms development
We already mentioned that Marriott International works both on Android and iOS. And what is more interesting you can even use it on your Apple Watch. Also, Marriott has a separate app for iPads. Of course, all these apps mean engaging more developers, more time and, obviously, more money.
Nearly 980 hours are needed to recreate app like Marriott for Android due to our ThinkMobiles dev team.
User and hotel management development will require 500 hours, 250 per each. Then it will take 120 hours to develop booking system and 80 hours to work on maps and locations. Chats (RTC) require nearly 100 hours, while payments system needs even more – 120 hours. At last developers need 60 hours for push notifications.
If you also want to make a similar app for iOS add 900+ hours to this.
With an app you are competing with the daily habits of customers and for space on their phone. It's all about keeping it simple. 
Summary: the cost
Now let's count the total price for making an app like Marriott. You'll need to work on the backend, develop native apps or even make a web application. Obviously, the design is needed and also don't forget about testing. This is very important stage because people don't like applications with bugs.
You may choose various ways to achieve these goals, either do it yourself or hire a freelancer. Read more about pros and cons of different developers in our article. Of course, your choice will impact the final expenses on the app. However, in this case, we would recommend hiring a developer team. 
Nowadays developer companies can work both for $25 and $125 dollars. So in our estimates, we used an average price – $50 per hour.
| | | |
| --- | --- | --- |
| Task | Hours | Cost |
| Backend | 400 | $20,000 |
| Development | 980 | $49,000 |
| Design | 100 | $5,000 |
| QA / PM | 80 | $4,000 |
| Total cost (approx.) | 1560 | $78,000 |
As a result, it takes more than 1500 hours and almost 80 thousand dollars to create an app like Marriott for one platform. But remember that our estimates can give you only approximate image. The final result depends on much more options you can choose in process of creating your own app.
But don't think too long! For instance, right now Marriott devs are working on machine learning and AI (artificial intelligence) for their app. They aim to get better results from processing data about their customers. Basing on it Marriot wants to make more attuned suggestions for hotel guests.
So if you have your own great idea contact us now and let's bring it to life together. 
Let's Build Your App
Provide us with your contact details and we will contact you today