Many driver updates come automatically in default OS updates, say Windows update, yet it is still an issue for many PC users. But let's take a few steps back. A driver is a tiny program, helping a device communicate with an operating system. Like a translator for keyboard, mouse, printer, router, software, etc. without which a device won't work correctly.
Taking Windows OS as example, it installs its default driver packs as well as downloads new versions of drivers in a Windows Update. Of course, Windows 10 does these tasks better than the older versions. Thus, in many cases we end up with improper drivers and have to find and install them on our own. So we decided to collect tips on how to update drivers for all most frequently sought after occasions.
In most cases, we just have to determine the device name/model and find a driver for it. Often though, this proves to be problematic and you need to research ways to do it. Let's look at a few general ways to update drivers first, and then review specific types, such as video drivers, USB drivers, Realtek drivers, and more.  
How to update drivers: Common methods
So, the first step is to find out the type and ID of device. In Windows, we need to navigate to Device Manager for this. There are several ways to open it in Windows 7, 8, 8.1 and 10:
via Run command – press Win+R keyboard combination simultaneously, in the Open field enter the following command: devmgmt.msc, click OK. 

via command line – Start button and enter CMD, or Win+S keys and Enter.

via PowerShell – enter the command: devmgmt.msc, and press Enter.

via My Computer/This Computer icon right-click – Management – Computer Management tab – System Tools – Device Manager.

via Control Panel – Device Manager.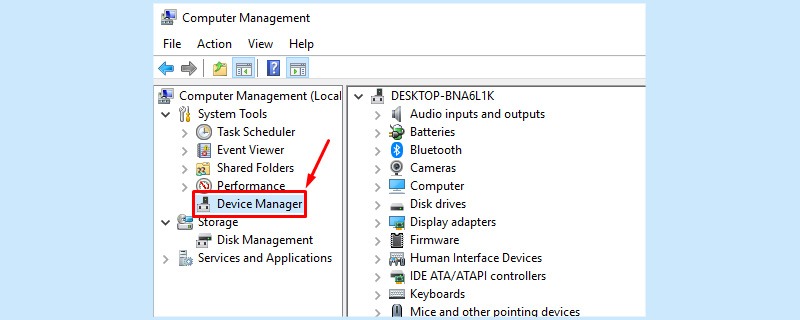 Having found out the device name and model/series, the best option is to look up a driver on the manufacturer's official website (.zip or .exe). Some of them will not be available, or it might be the case that Device Manager only gives a general type of device, e.g. VGA adapter. For such instances, we need device ID. 
To do so, select the device from the list in Device Manager, right-click to go to Properties. There navigate to the Details tab and select Hardware Ids in Property. You may copy the value field to  clipboard and search the driver that way.

Ok, now let's talk about 4 common methods to find, install and update drivers.  
Method 1. Manufacturer website.
As an example, let's assume we are dealing with Nvidia GeForce 900M video card. We go to Nvidia website (https://www.nvidia.com), navigate to Drivers -> GeForce drivers section, specify the product/series/OS/language and press Search.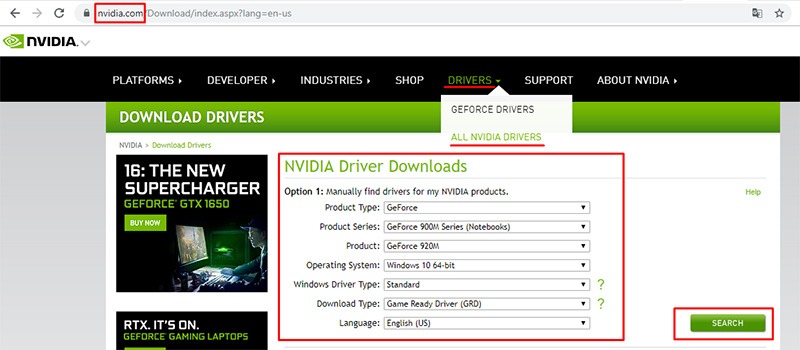 Find the necessary driver, download and install it. As you unpack the archive, installation process will start automatically. Select "NVIDIA Graphics Driver" option, click Agree and Continue. Choose Express or Custom mode, according to your preference. While you wait, screen flickering may occur, but do not panic, it's a common thing.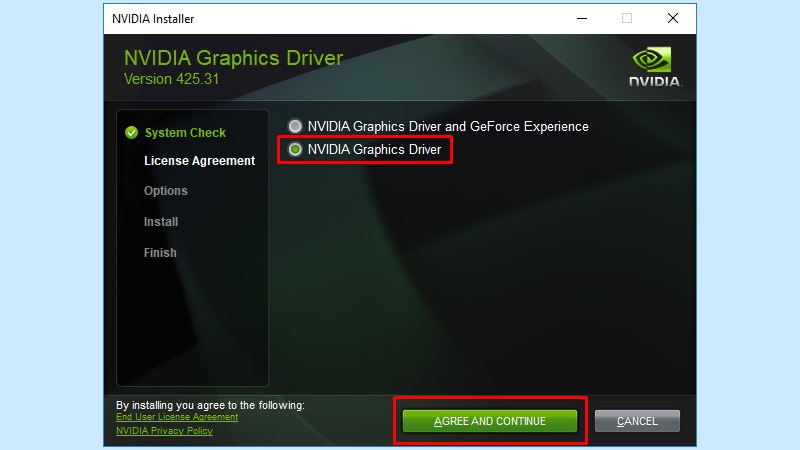 For "tough" cases, a similar alternative might be websites solely dedicated to collections of drivers. Some of those even have scanning capability to detect connected devices and offer compatible drivers. Few examples to drop: Driverscollection, Driver Support, DriverZone, Driversbay. 
Method 2. Manual driver installation
This way is relevant in regards to no-name devices, copies of devices or other devices that have to work with the OS. For example, we want to update/install a Bluetooth driver. So, we use the Device Manager, as mentioned above, select our Bluetooth device and copy its ID.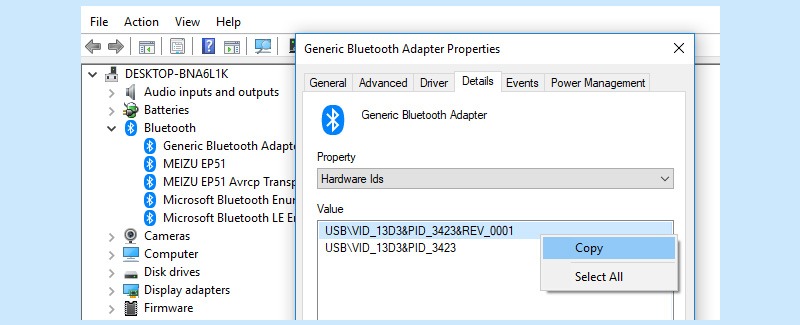 We search online and download the appropriate driver. For example, use DriverPack website, enter the device ID, examine offered options, make sure it is compatible with OS (64/32-bit, version) and download the file.  
To install it, open the device manager – select the device – right-click Update driver. In the window that appears, select "Browse my computer", show the folder (location) and click Next. Driver installation process should start and shortly you should get a notification about completion. 

Method 3. Windows Update
This works well particularly on Windows 10 systems. If you have it On, it searches drivers among updates and installs them, as well as searches possible updates to working drivers. Most software vendors issue new versions with improvements or bug fixes, so generally this is useful. 
To check if this option for driver updates is switched on, press Win+R keys combination and go to Devices – Devices and Printers. Then right-click on PC icon and select Device installation setting, see if it is checked as Yes (recommended). If not, just select it and Save.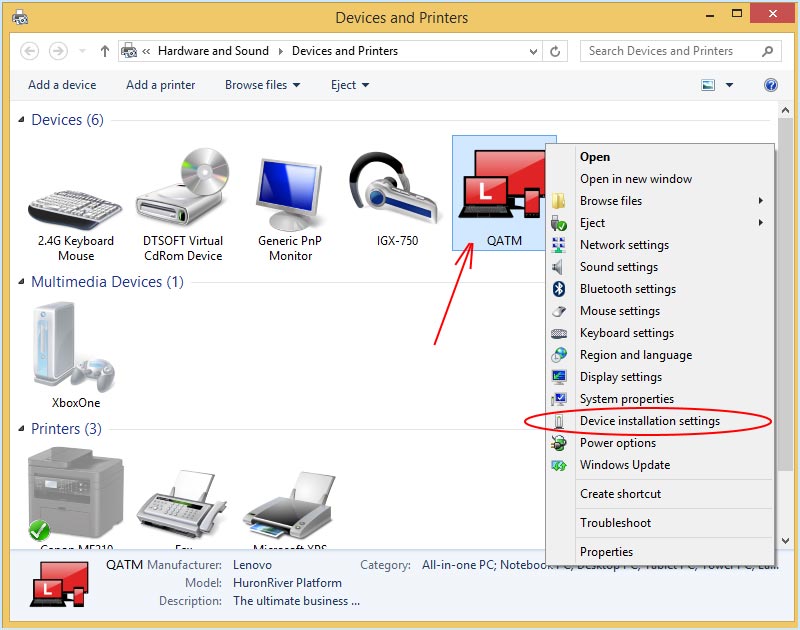 Another way to check is to right-click PC icon and select Properties, and there find "Computer name, domain and workgroup setting" tab. Click Change setting – System properties – Hardware – Device installation setting. Note, that when some drivers are being installed, it takes time, yet it is happening in the background.  
Method 4. Driver updater software
There is a variety of special driver updater software out there, designed to do the job for a user saving him time and effort. Let's take DriverPack as example. As you run it for the first time, the program scans your hardware for a couple of minutes, and offers to install or update specific drivers it deems necessary. Typically, we have a choice whether to install all or just the ones we want.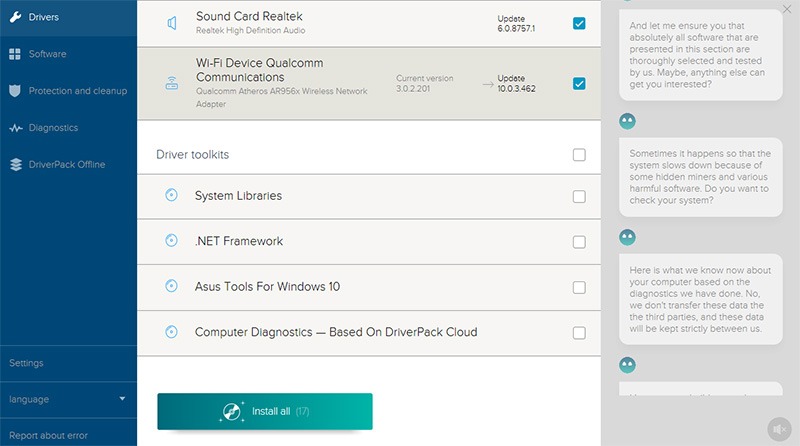 This method is the easiest, fastest, and delivers the result in most cases. Surely, it also may happen that you get an unstable or outdated driver. Then the only way is manual installation, so let's highlight several widespread scenarios in the upcoming chapters.
How to update video drivers
A video card is responsible for processing and presenting images/media, and can also transmit sound via HDMI. For casual use it won't actually matter what driver version is there, but for 3D designers, gamers, video production engineers productivity is vital.
First, find out the video card of which manufacturer is on your computer and if there's not only one card. It can be either integrated into processor chip or discrete (a separate chip). Nowadays, 99% of devices come with video cards made by 1 of 3 corporations: Intel (integrated only), Nvidia (discrete only) and AMD (both types). 
To learn video card brand/model/series/ID, use the device manager, as described earlier. Go to  manufacturer website, AMD.com, Nvidia.com, or Intel.com, find the driver, install it, reboot the computer. 
Updating Intel video drivers
Visit Intel's website, navigate to Support – Downloads & Drivers. Choose Automatically Find Drivers & Software, Browse for Drivers, or Graphics Drivers. Search by filters (generation of processor, drivers, OS) and click on the desired driver from the list. 
Another way is to use automatic scanning from driver updating software. Those are particularly good in detecting video drivers that require an update and finding relevant versions. Reboot afterwards.  
You must have an Nvidia account on their official website. Navigate to Drivers – All Drivers, then click Search. Enter your video driver parameters, find it and click Download. As it unpacks and installation begins, select NVIDIA Graphics Driver and then Agree button. Choose Express installation to save time, or Custom mode (with a choice of components), click Next.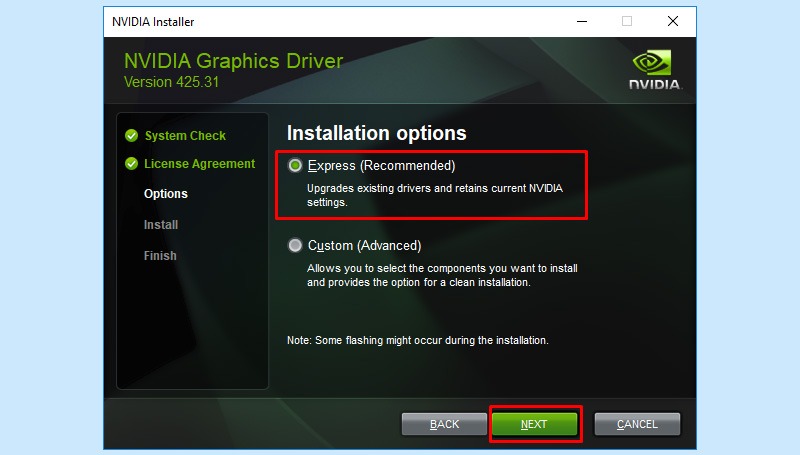 Similarly, visit AMD website, go to Drivers & Support. Find drivers manually (type, model, series – submit) or download a program for automatic detection. When found, hit Install and reboot afterwards. Also, you can check for available updates for AMD software: click on Settings – Updates – Check for updates.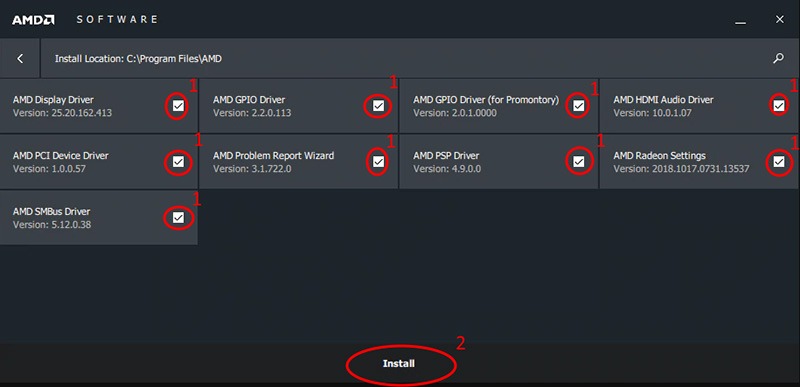 As a follow up to the previous chapter, here is how to update Radeon graphics drivers. Radeon is a trademark of AMD, producing GPU, RAM and SSD items. For Radeon GPU, or graphics processor unit, which is a technical term for a video card, we go through a similar routine. Go to https://www.amd.com/en/support, select your card, click Submit. Then specify your OS version and download a driver.


How to update audio drivers
The lack of proper audio device driver often equals to a malfunctioning audio. A sound card is a universal audio device, with various connection interfaces: USB, PCI, PCI Express. Audio devices may include a microphone, an external sound card, music instruments, speakers, DAWs, etc. As a rule, drivers are automatically installed upon the first connection, although issues with frequency, sound distortion, latency and so on may occur. 
Basically, the options are the same as described in general methods: use driver updater software (Driver Booster for example), use drivers from a CD that comes with a device/software, download a driver from the website of manufacturer. 
How to update motherboard drivers
Motherboard drivers are probably the most crucial to a PC, because literally everything is linked to the motherboard. It affects audio, wi-fi, bluetooth, USB and the overall performance. If you've got a new motherboard, most likely Windows 10 is installed on your computer, and the issue of drivers is taken care of without your involvement. Still, Windows driver library might not provide all the latest driver versions.
Unfortunately, often the Device Manager isn't able to determine the brand/series of a motherboard. The model is always indicated on a motherboard itself. Yet if you still have no access to it for some reason, or if you use a laptop – special applications such as CPU-Z, AIDA64 are there to help.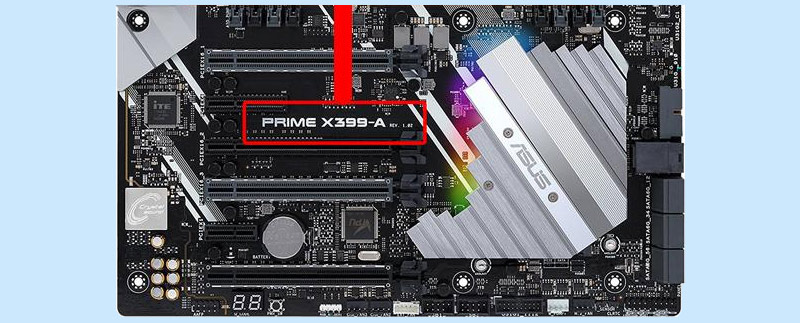 From the moment you find out the manufacturer, look up drivers on their website. Suppose we have  Gigabyte GA-970A-DS3P Rev.1.0 motherboard. We go to www.gigabyte.com/us, go to Service/Support and type the motherboard model number. View available software for that device – utilities, manuals, BIOS, etc., choose Drivers and your OS, see the list of drivers. Select and install/update.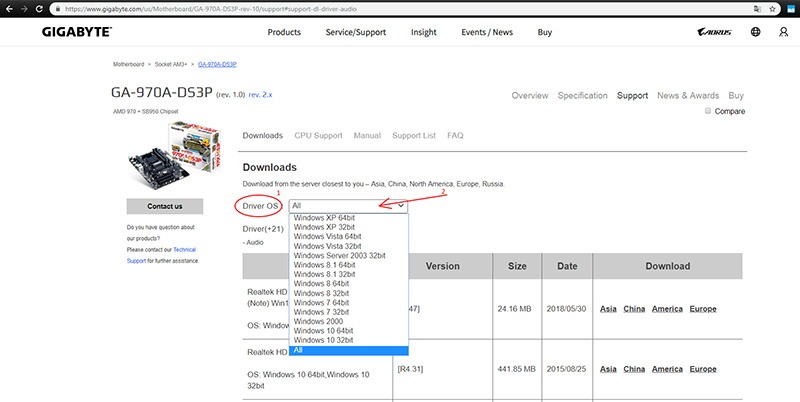 How to update USB drivers
USB drivers act as instructions for a computer to interact with USB ports. To date, Windows is compatible with almost all USB 2.0 drivers, while for Windows 7 one might have to get USB 3.0 or  higher. If a USB driver is missing, the system will display "Unknown device" alert. 
USB drivers often come with chipset drivers for the motherboard. Consequently, when searching on the manufacturer's website, you may not find the USB driver. In such case, the easiest option is to apply a driver updater program, or download the chipset driver. One more tip is visiting usb.org, where huge amount of information is stored.
How to update Realtek drivers
Quick reminder: Realtek Corporation develops circuits, including audio, network, webcam, card reader, USB hubs. As we've mentioned, finding out the exact device model and/or ID is the first step. Then go to Realtek.com, find the Downloads section, select the category, find a driver by model and install it.
Note: when using 3-rd party software to find drivers for a network device, it has to be a version working offline, as your Internet connection is interrupted or not working, seemingly.
How to update network drivers
Network drivers aren't in any way less essential than other types. Without those, a user cannot connect to the Internet or to a local network, and Bluetooth and Wi-Fi also won't work. So first, check the network adapter in Device Manager. 
Of course, going online to find a driver won't be possible, as you've got no connection to the web in the first place. Then a CD or a flash drive that comes with hardware suddenly becomes relevant again. But jokes aside, you'll have to find another device to go online and find the latest version of a network driver. Install it and reboot. 
How to update drivers on Windows 10
On Windows 10, if connected to the Internet and Windows Update is activated, the OS automatically  installs/updates the necessary drivers. To check whether the service is active, press Win+R and type "services.msc", press OK. Find the Windows Update in the list and make sure it is running.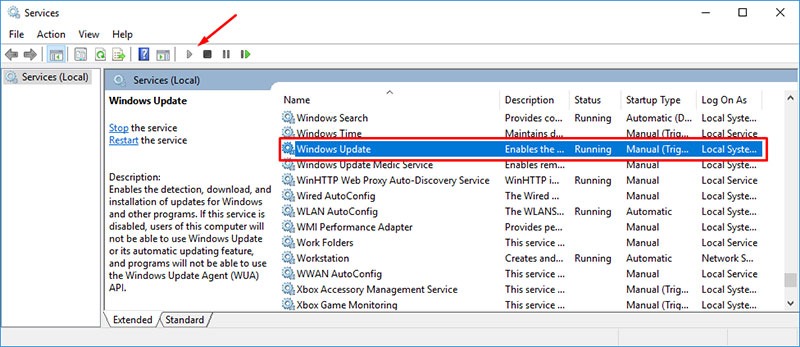 On rare occasions, when you have to update a device manually, let's consider 2 ways to update Windows 10 drivers. 
via Windows Update

– go to Settings – Update & Security – Windows Update, then click Check for Updates. If there are drivers to refresh or install, the update center will detect that, download and install what's required.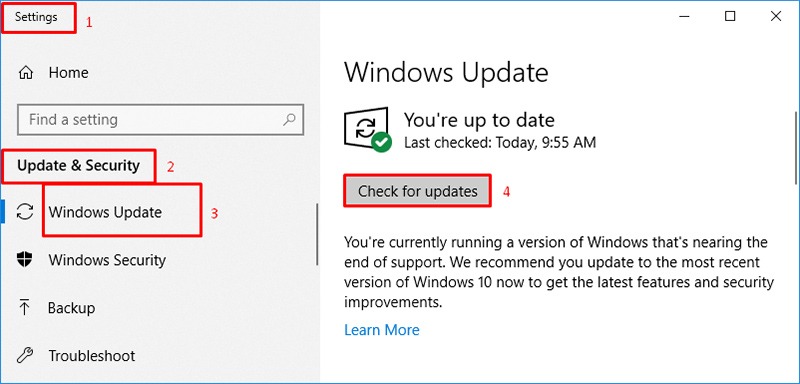 via Device Manager

– open it, find the device, right-click it and select Update Driver. In the following window select "Search automatically for updated driver software".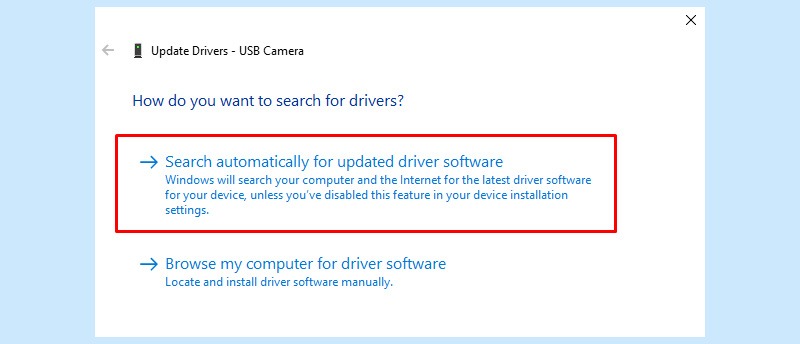 P.S. Let us know in the comments what other driver issues you face, or how you deal with it all.