People often ask the same question in a variety of ways: how to copy a hard drive, how to clone one  hard drive to another, how to clone a hard drive to SSD, how to clone disk in Windows 7 / 10, etc. As you've noticed, copying the contents of a computer drive is referred to as "cloning". That's just the way it is, and there's no need to dig into the semantics of it.
Basically, hard disk cloning is a sector-by-sector transfer of data from one medium to another. The result is an exact copy of the original disk. To do this, there are dozens of paid and free programs, aka disk cloning software, aka clone hard drive software. These include both universal (any HDD, SSD)  and specific, for example for certain brand drives, say Samsung or Western Digital. The latter ones also may be OS-specific, file system-specific, the ones to instal or portable.
When is disk cloning necessary? For instance, one has to install the OS and lots of software of the same configuration to multiple PCs, or provide further maintenance of such setup. Then, drive cloning is a powerful means in the hands of an administrator. Another case might be replacing an old or  damaged drive.
Doing it manually, i.e. reinstalling the system and programs, copying user files, is going to consume many hours. It is much more convenient to apply automation – via special disk cloning software for Windows and Mac. Below, we'll guide you through all key tasks, like how to clone a drive, how to create a disk image, how to use Windows system backup tool. 
How to clone a hard drive
Before starting the process, it is always advisable to perform the following two steps. First, try to detect  bad sectors on a drive, for example, using a HDD diagnostic tool (e.g. HDDScan, DiskCheckup, SeaTools). Check both a source disk and a target disk, and fix errors if any.
Second, it would be helpful to defragment a hard disk as well, via standard Windows tools or  special software. This way, file fragments are collected and transmitted more closely, and all data is moved to the beginning of a disk (to speed up access). These steps are optional, of course, but appropriate.
A must-have piece for drive cloning is presence of a second drive of the same or bigger size. The drive must be connected and initialized by a user's computer. To clone a hard drive, you'll use a tool like Acronis True Image or similar. In our case, we'll go with Acronis, just to describe the process.
Step 1.

Go to the Tools tab and select Clone Disk. A second disk should be connected, and Clone Disk Wizard window should appear next. If it isn't, there will be an error alert.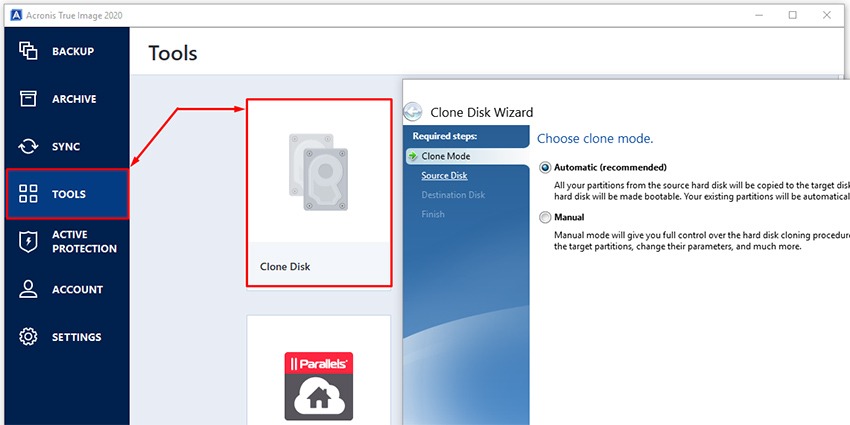 Step 2.

Select Automatic or Manual mode. In manual mode, a user configures exclusions, disk layout and other parameters.

Step 3.

Select the drive to copy from (source disk) and the drive to copy to (destination disk).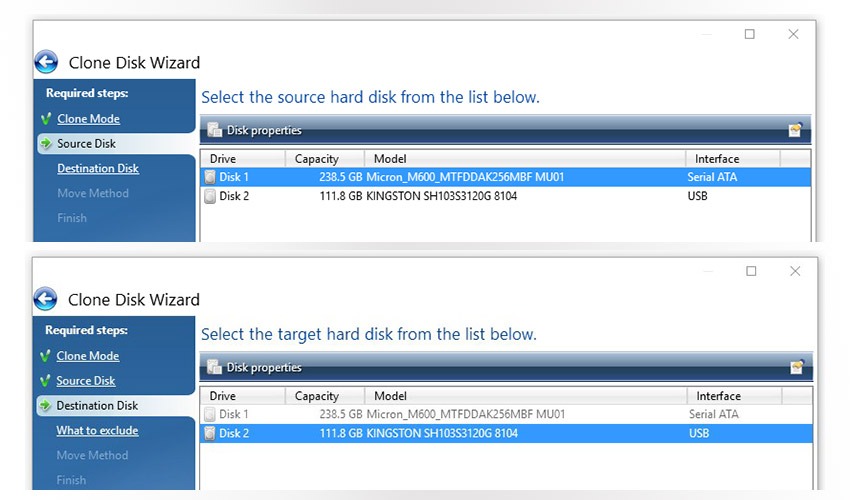 Step 4.

Select file folders to exclude from copying, if there's a need.

Step 5.

Disk layout, which means define partitions for a destination drive.

Step 6.

Preview and finish. Program starts cloning and reboots a PC afterwards.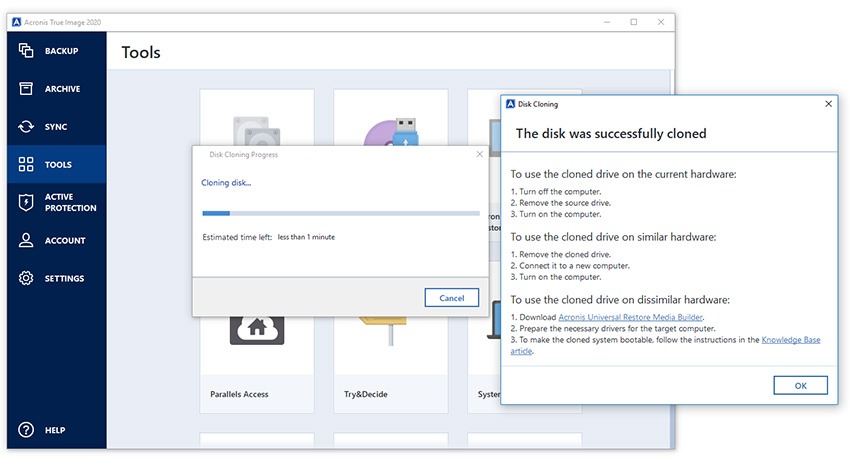 For Automatic mode there's no Step 4 and 5, meaning all files and disk partitions will be copied to a new drive as is.
In our case, we cloned from a 256GB capacity drive (External SATA) drive to a 120GB drive (USB) in Automatic mode. The total amount of data transferred made about 100GB, which were correspondingly divided into target partitions: from C and D source disks to G and H destination disks.

Keep in mind that after a successful disk cloning, your OS will conflict with two active boot disks, unless you remove one of them. Also, there's an alternative to disk cloning – just keep reading.   
How to create a disk image in Windows 10
A backup of the entire OS is a relevant alternative to disk cloning when you aim to protect data from  hardware failure, ransomware, etc. It is also referred to as "disk imaging" and it can be conducted via third-party tools or standard Windows tool called System Image Backup. Let's start with the first option, using the same Acronis True Image 2020.
1. Creating a disk image with Acronis.
In the Backup tab, select the source and backup destination. A source (what one creates a backup of) could be:
Entire PC – a copy of operating system, applications, data

Disk and partitions

Files and folders

Mobile device – media, contacts, etc.

Cloud service – e.g. copy data from Microsoft Outlook to Acronis Cloud
A destination could be:
Acronis Cloud

External drive

Browse – specific location on PC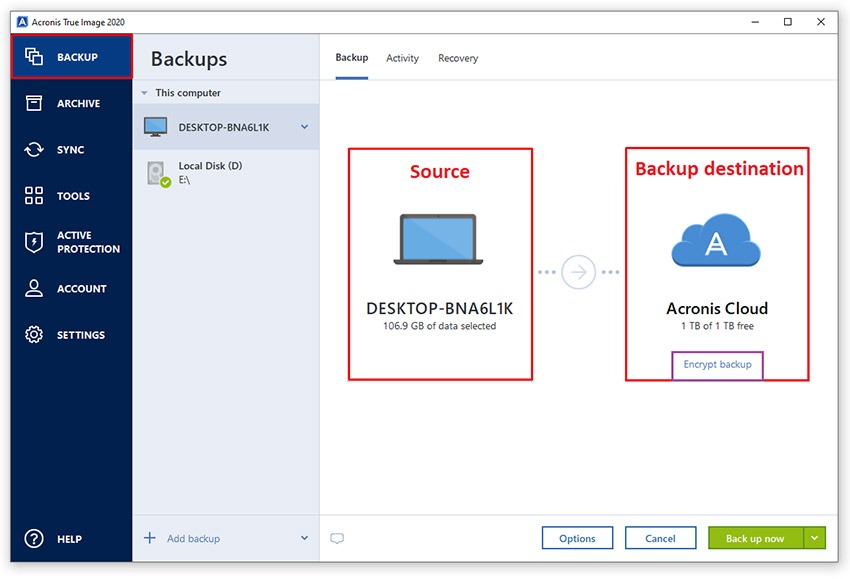 Acronis also makes it possible to schedule disk cloning, excluding files, choosing a server, limiting the speed, protecting backups with a password. The "image" (backup file) is saved with the *TIBX  extension and has a certain level of data compression.
In addition, when sending a backup to the cloud storage, the speed varies between 25-35 Mbit per second, and disconnections do not cause backup failures, which is efficient. Acronis Cloud is powerful and nice looking, allows to download (and/or share) backup directories and files.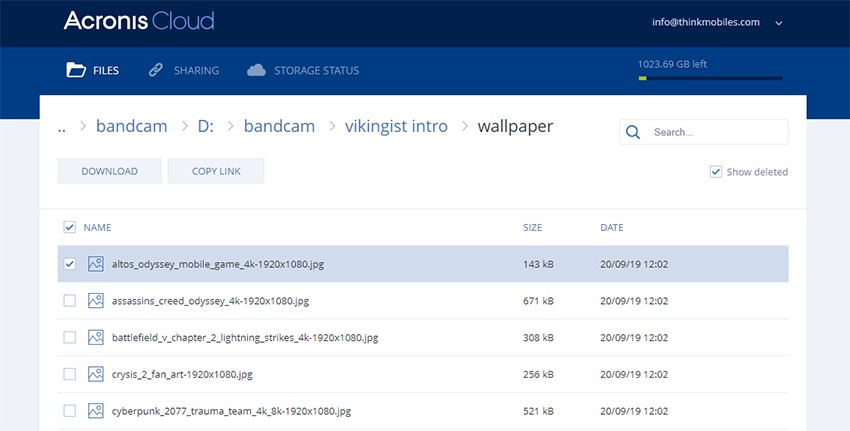 To recover files in the event of a hardware failure or other reason, read this documentation. As we see, Acronis True Image, with backup/recovery features and cloud storage options could be a handy tool both for data security and management.
2. Creating a disk image in Windows
There's also a free option present in Windows OS version 7, 8/8.1, 10 which does not require additional components or programs. You can make a backup on a network drive or a local drive, however the best way would be a removable external drive.
To create a full system backup, follow these steps:
Open Control Panel.

Go to System and Security, then go to Backup and Restore.


In the left pane, click Create a system image.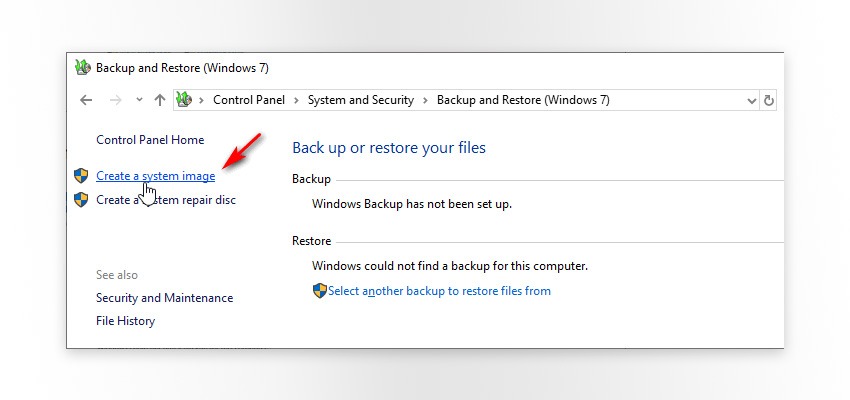 Select a storage option (we recommend "On a hard disk").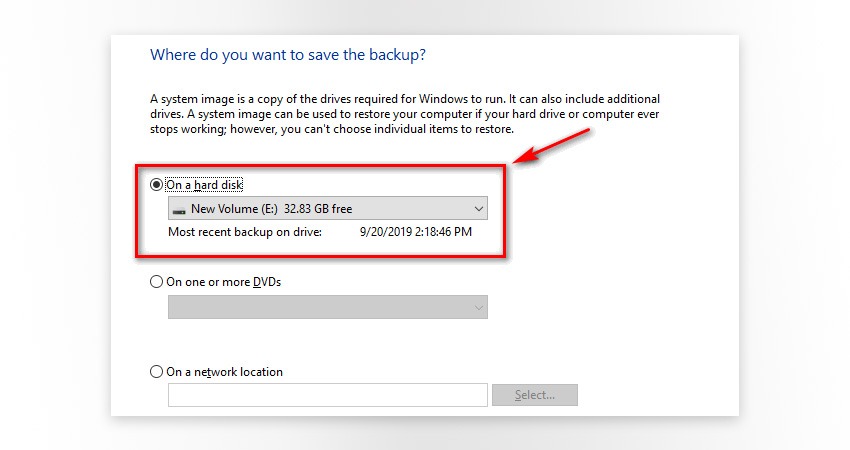 Select the drives you want to backup.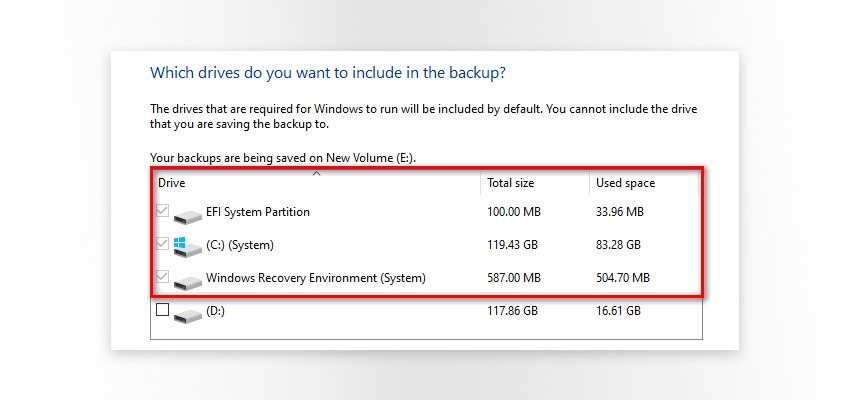 Confirm and wait until a backup image is created.

When done, the system will prompt to create a system recovery disk (optional).
3. How to restore a system backup (Windows 10)
Consequently, now we have to look at how to restore the system from a backup if need be. For this, you'll need a disk or flash drive with a bootable OS and the actual backup image created earlier. In our case, it was a bootable USB drive with Windows 10 build 1903. Please note, that system recovery must be loaded with the same firmware in which it worked previously – UEFI or BIOS, otherwise recovery won't be possible.
To restore the system backup:
Connect the backup drive to PC.

Connect the installation disk / USB stick with Windows 10.

Reboot PC to launch from disk / stick. Use BIOS settings (Esc/Delete) or one of the keys: F1, F2, F3, F10, F12.

On Windows Setup page, click Next.

In the lower left corner, click Repair your computer.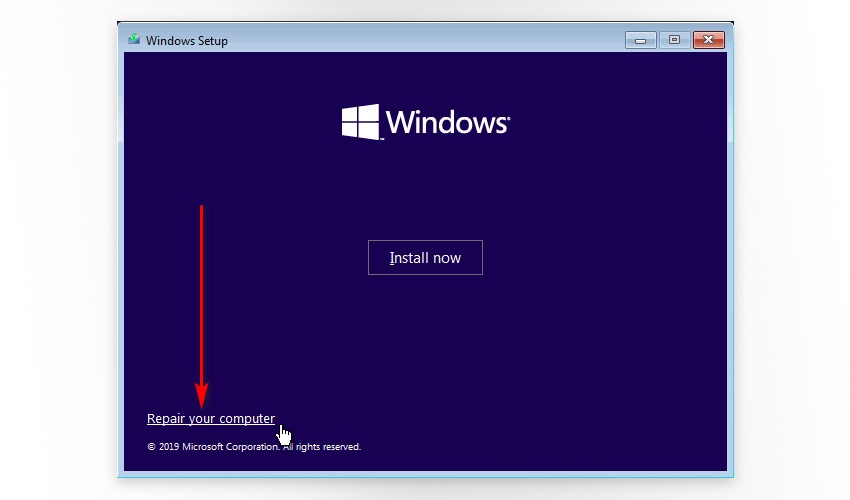 In the next screen, click Troubleshoot and then System Image Recovery.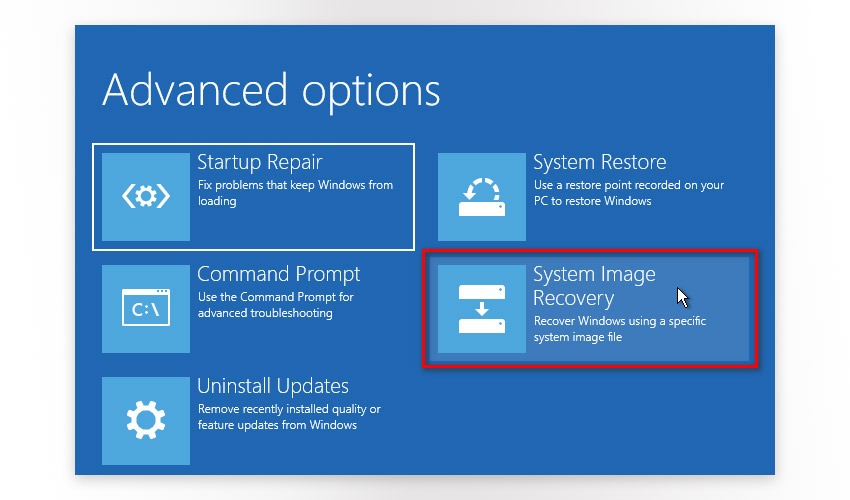 In the Re-image Computer page, select the option called "Use the latest available system image", or Select an image – if you, say, have several backup images. Click Next.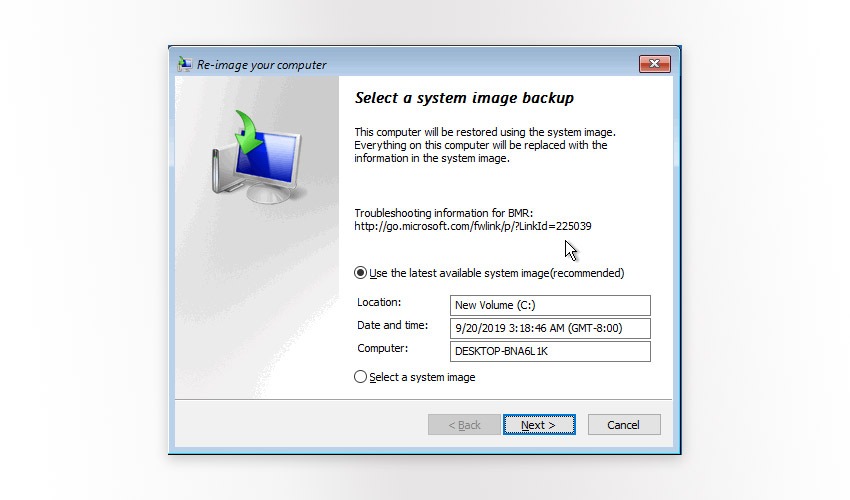 Tick the box next to Format and Repartition Disks, click Next. In an alert popup window, click Finish and Yes to continue.
After these steps, the recovery process will begin. During it, it is desirable to ensure uninterrupted and stable power supply.
How to clone a hard drive on Mac
Mac devices also have a similar built-in utility for backups – it is called Disk Utility (User -> Applications -> Utilities -> Disk Utility.app). To clone a hard drive follow these steps:
Boot into Recovery Mode (hold Command Key + R while rebooting).

Select the language and click Go to continue.

When the menu appears, select Disk Utility from the Utilities menu.

In Disk Utility, select the destination disk to create a backup. To restore a backup, click Restore and select the source drive.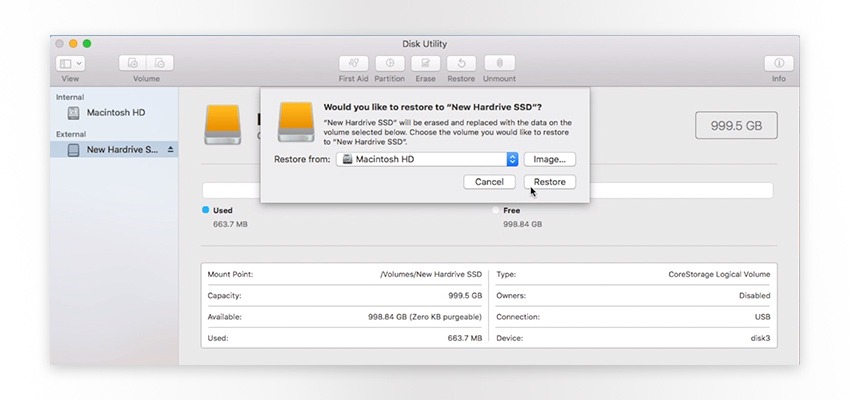 The cloning process will begin, at the end confirm by clicking Done. You can also use third-party software to clone Mac drives, for instance Carbon Copy Cloner or SuperDuper.
P.S. Find out more on related topics: How to update drivers, 10 best disk imaging tools, How to make a mobile app.  
FAQ
Q: How long does it take to clone a hard drive?
A: This is influenced by lots of factors, starting with the speed of drives, computer configuration, up to the amount of data that is being copied.
Q: How to clone a laptop hard drive?
A: To clone a disk, use an external drive and follow the same basic steps, described in the article above. 
Q: How to clone a failing hard drive in Windows 10?
A: First you need to diagnose the disk using special software. If the condition is acceptable for cloning, use Acronis in bootable mode and follow the instructions.
Q: How to clone a drive to USB?
A: When selecting a drive to transfer data to, make it your USB drive.
Q: How to transfer my OS to a hard drive?
A: Depending on OS version, different cloning methods may work. Read our article and choose the most suitable method for your situation.
Q: What's the difference between disk cloning and disk imaging?
A: When "cloning", you get an identical drive with all the same data. When creating a disk image you need to deploy this image again (unzip it with software used to create the image) if necessary.
Q: Is there free disk cloning software?
A: There are a number of different programs for disk cloning, most of them have a trial version or a free version that allow to do the job.
Q: What's the best disk cloning software?
A: We recommend using Acronis True Image which comes with personal cloud storage.
Q: Can you clone a larger hard drive to a smaller SSD?
A: It is possible to clone if the volume of the cloned data does not exceed the volume of a target drive, but not every program can do this.
Q: Can data be recovered from a damaged hard drive?
A: Diagnose a drive and assess the amount of damage, first. Then use data recovery software, for example, R-Studio Network or Recuva.
Q: Can I clone an encrypted hard drive?
A: Yes, although it will be cloned in the same encrypted form.
Q: Can I clone a drive from Windows to Mac and vice versa?
A: It is possible, yet difficult. You will have to use additional paid software, do a lot of manipulations, endure slow-speed data transfer.
Q: How to recover a backup created in Acronis?
A: Connect the backup drive. In the BIOS settings or in the boot menu, select Boot from device (USB, CD or DVD) on which the Acronis Survival Kit is recorded. Wait for Acronis True Image to load and in the main window click Recover – My Disks, then select your backup and follow the steps.
Q: How to create bootable media in Acronis?
A: Launch Acronis, go to Tools and click Rescue Media Builder. Select creation method (we recommend Simple), then select the media (source) and click Continue. If the summary information is correct, you can click Proceed.
Q: Should I use Acronis Survival Kit when configuring backup to external drive?
A: If you already have a bootable media, then Acronis Survival Kit is not necessary. The kit is, basically, the same bootable media and storage for backups. If you do not have a bootable media, then the answer is yes, click Create Acronis Survival Kit.
Q: Acronis True Image 2020: how to start trial?
A: Download the installation file, launch and install Acronis True Image, click Start trial.
Q: How to clone a disk on Mac with Acronis?
A: Before cloning, make sure to disable Parallel Desktop virtual machines, then connect source and target disks. Start Acronis True Image, click Clone Disk in the sidebar, select the source and destination, click Clone.
Q: How to activate Acronis license?
A: Product activation can be done both offline and online. If you activate online, just log into your account, enter the serial number. If offline, click on the Account tab in the program, then a small arrow icon next to "Resolve activation problem", select Activate offline and follow the steps.