Grindr, one of first ever dating apps to appear on the market (launched in 2009). And one of the controversial ones, as it is for homosexual and bisexual men. Grindr app is a gay social networking app and actually is in use for hookups and casual sex. Judgement aside, 5 million monthly users in 196 countries indicate a great business potential. That's why we are going to find out how much does it cost to make an app like Grindr.
Also, we'll show what is Grindr, how to make a dating app for Android and for iPhone, what is the cost to create a Grindr clone app. This app like Tinder just for gays, as controversial as it is, is notable for being at the forefront of mobile technology. Grindr was kind of first dating app to utilize geolocation capabilities of smartphones. With that it created a whole category of mobile apps – geosocial networking apps. Since its release Grindr app has been the leader of gay mobile community.
But firstly, what is Grindr and how Grindr works. After that, we'll examine app features, tech stack to build a dating app, and how much does it cost to make an app like Grindr.
85.000.000 chat messages per day in GRINDR
How does Grindr work
Like Tinder, Grindr app uses geolocation feature on modern smartphones to locate other app users in proximity. Though unlike Tinder, it shows people not one at a time, but as a list of many. Grindr shows you a grid of people based on geographical proximity – the closest ones will be in top. Depending on region, country or city distances may vary from miles to feet.
Tap an individual user image and see person's information. From there on users can exchange messages and images, share locations and meet. Chat, meet and date (Grindr hookup) – these simple things make life easier for gays. The app has free and paid (Grindr Xtra) subscription options.
History and monetization
Technically, 2 features made Grindr successful since 2009: geolocation and chatting. But strategically and in essence it was the removed obstacle of fear and disguise that lifted this dating app to the top. In other words, Grindr made it clear who is gay and who is not.
This logic, strangely or not, translates for other businesses as well. You have to know who your customers are. In 2012 Grindr app was awarded the best dating app, and by 2014 it reached 10 million downloads.
Grindr monetization model is a classic subscription type. There is a free version with advertisement. And there is Grindr Xtra, a paid subscription with additional features, no ads, swiping between profiles. It costs from $12 to 60 depending on period plans.
Grindr sold its 60% stake for $93 Billion in 2016   
Now, what makes up Grindr app and how to build a dating app? We get a step further to estimate how much does it cost to make an app like Grindr.
Let's Build Your App like Grindr
Provide us with your contact details and we will contact you today
Grindr app features
A gay social network app, alternative or similar to Grindr should have basic features of a dating app. To examine our case, Grindr app features are: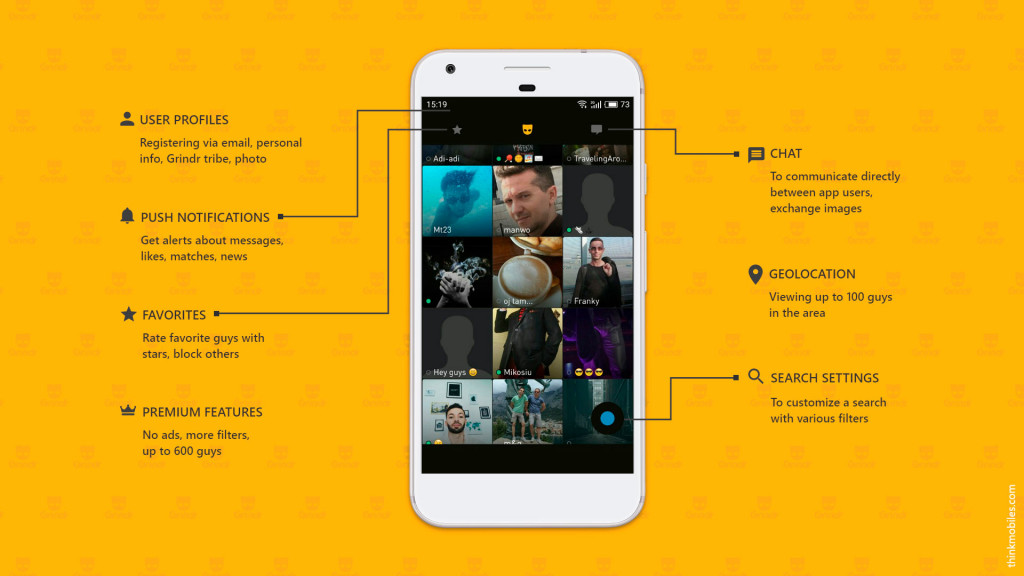 Registering/login with email, user accounts
Profile editing options – to select Grindr tribe, photo, etc.
Geolocation – to view other people in the area (up to 100 in free version)
Search, favorite users and other settings
Messaging between users
Blocking unwanted persons
Push notifications to get in-app alerts
The paid Grindr version offers free of ads user experience, more search filters and ability to view 6 times more guys. Though, to build a Grindr clone you should see a bigger picture of business strategy. Your target audience could not only be sexual minorities, and monetization depends on what customers would be ready to pay for.
Related topic: How to make an app in 10 steps
Technology behind Grindr app
Grind app works on iPhones, iPads, iOS, Android and BlackBerry OS devices. To cope with huge load of traffic and data (900 million API calls daily) Grind relies heavily on Amazon Web Services. Particularly, they use Amazon EC2 virtual servers due to scalability, control of geographical location and high redundancy. Also, as a part of Grindr AWS partnership Route 53 domain system is used.
As programming languages of general purpose, Grindr goes with HTML5 and Python. Due to map data and geolocation being essential to Grindr app, the company relies on Google Maps and Mapbox. To make a dating app one could also use these or similar tools like:
Mapquest
Navmii
Sygic Maps
Here Maps
Maptitude
OSPInSight, etc.
You would also need some HTTP server and proxy like Nginx to make a web application of Grindr for PC. Additionally, Grindr uses GeoTrust SSL certificates to provide online safety. Of course, such Grindr technology stack of various services on business scale costs money. To know how much does it cost to make an app like Grindr, you'd have to examine tools at hand and what you could afford.
Cost of Grindr development
Developing location-based dating apps like Grindr or Tinder isn't cheap. And falling for lowest rates per hour ($25-40) wouldn't necessarily pay itself off nicely. On the other hand, 99% of businesses or startups always try to save on investments. Thus, we assume you would not hire a mobile app development agency with $150 rates either. For our estimation we consider $50 rate, which is market median. At ThinkMobiles we have skilled app engineers for hire at $30 hourly rate.
The cost to make an app like Grindr is composed of tasks like backend, the app, design, desktop app and quality assurance. Clearly, the biggest part is developing the app itself (Grindr for iPhone or Android). This would take up to 600 hours, as our dev team estimates. Add to that all other cost components, and we get $50.000 as the cost to make an app like Grindr.
Grindr backend
Since popular dating apps have to cope with large data amounts, we need to connect the app to servers with RESTful API. The core Grindr-like app infrastructure would consist of: a) user management, b) GPS, c) messaging, d) notifications. The backend for such dating app is represented in the chart below.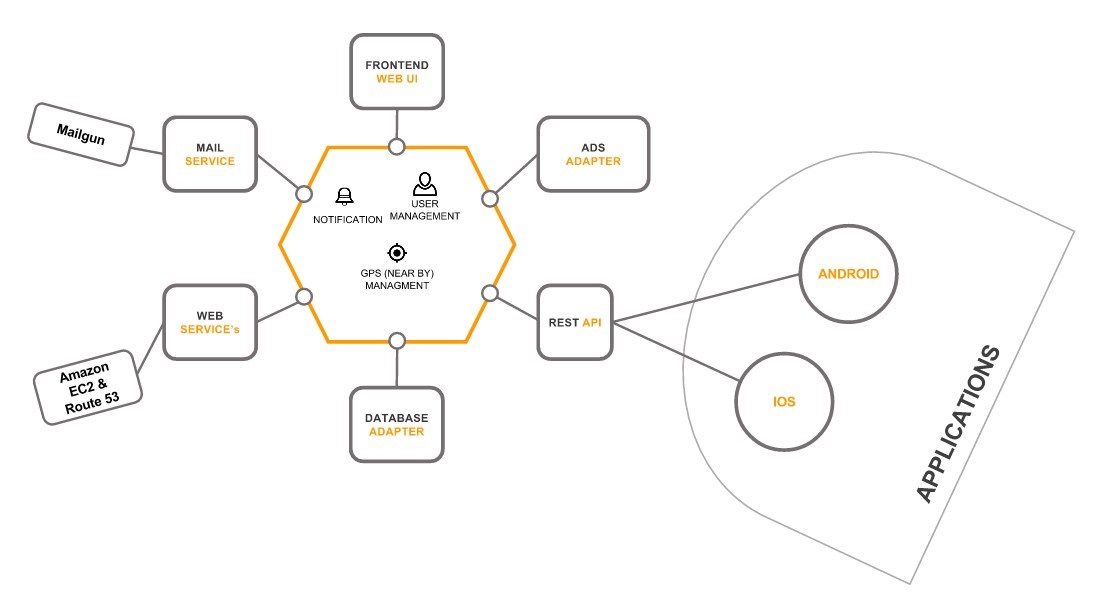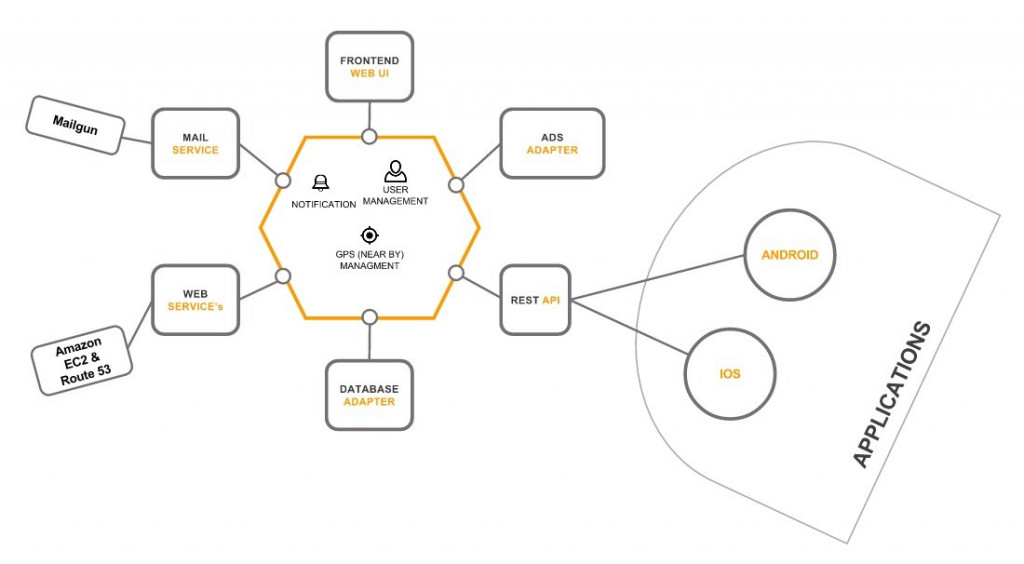 Building a backend structure for mobile application means connecting dots into one system, basically. Grindr gay app, Her lesbian app or any other dating/networking app works naturally for users. While there is an invisible mechanism behind it, the app skeleton, so to say.
Backend development estimate: 200 hours.
Native platforms
If you're a startup with a modest budget you could only make a dating app for iPhone, for starters. This would save your cost to develop an app like Grindr nearly by double. Of course, Android gay app is recommended as well – to expand the outreach. Great news in that regard is that Grindr APK is publicly available.
Let's give you a rough estimate of must features for Grindr clone app:
Login/registering: 60 hours
Users: 40 hours
Profile: 60 hours
Chats: 200 hours
Settings: 40 hours
Payments (Grindr Xtra): 30 hours
Web screens: 60 hours
Additional logic: 100 hours
App development estimate: 600 hours.
Conclusion
Thus, the cost to create an app like Grindr, based on $50 per hour rate, is about $25.000 – 30.000. But that is not all. Add to that 200 hours for backend, same 200 hours for design and UIs, about 100 hours for testing. Then it is a figure, closer to accuracy. See the cost breakdown by mobile platforms below.
iOS app
Android app
App for multiple platforms
Backend
$10.000
$10.000
Development
$27.000
$30.000
$57.000
Design
$8.000
$10.000
$18.000
QA / PM
$5.000
$5.000
$10.000
Total cost (approx.)
$50.000
$55.000
$95.000
And here is our final resolve on how much does it cost to make an app like Grindr:
~$50.000 for Grindr iOS app
~$55.000 for Grindr Android app
$95.000+ for gay dating app on multiple platforms
Grindr's controversial sexual content shouldn't scare you off, if you wish to examine dating market business potential. Look the other way, like this revealing statistic: 85 million chat messages are happening in Grindr app on daily basis. There is your riddle to convert it into profit.
Let's Build Your App like Grindr
Provide us with your contact details and we will contact you today