8.2 seconds were enough to fall in love. But you have only 3 seconds to show the visitors that your website is exactly what they were looking for. Otherwise, they will have gone and never come back…unless only your site is in Google's top favorites.
Today's consumers are already used to interesting design and couple-two popular features. They want to interact with a website at all possible levels. That is why web development still continues to grow and increase, bringing new and new solutions. And many are wondering – what are the best web development companies around? 
And don't forget, website building is just a top of the "web development" iceberg. Web applications, web engineering, web design, enterprise web platforms for intranet are just another few options for web production. Scrolling the list of companies given below, you will find the top web developer companies, which can provide the aforementioned  web services, as well as other innovative and sometimes even unexpected.
INT is one of the leading web development companies in India. They provide a full range of services, from concept ideas to long-term support. They develop stylish and high-speed content management systems for WordPress, Joomla, Drupal, and MS SharePoint. The list of services also includes e-commerce websites based on Magento, Shopify, and other platforms. In regards to CMS development, the company provides database management, cross-platform cloud services, etc.
The list of services also includes e-commerce websites based on Magento, Shopify, and other platforms. In regards to CMS development, the company provides database management, cross-platform cloud services, etc.
Specialities: Node.js, Ruby on Rails, Vue.js, React, AngularJS, QA, Backend and Frontend.
HQ: Kolkata, India / Founded: 1997 / Employees: 750+ / Contact: info@indusnet.co.in
Website: https://www.indusnet.co.in/
While more than a half of company's resources focused on web development, the other fields of interest are web design and theming, web management, progressive web apps, mobile development, eCommerce, digital strategy, and web hosting. In 2014 they launched the Woosting services – the combination of web development and web hosting to maintain the best web presence for their clients. 
Unleashed Technologies builds on Drupal, WordPress, Magento, Symfony and provides help in content strategy, website audits, third-party integrations, application development, custom workflow implementation, CMS migration, module customization, performance optimization, support and maintenance.
They actively use the Drupal platform for systems integration the websites with such services as CRMs (Sugar, Salesforce.com, Raiser's Edge), CRMs, Enterprise Resource Planning systems (Microsoft Dynamics), AMS (iMIS, IMPak), email marketing applications (MailChimp, Constant Contact, Vertical Response), Donor management systems, and more.
HQ: Columbia, USA / Founded: 2007 / Employees: 35 / Contact: +14108648980
Website https://www.unleashed-technologies.com/
A web development company that provides services in website deployment, AI, cloud solutions, staff augmentation. Web Peppers was founded in 2013 in Kyiv, Ukraine and has an extra office in Göd, Hungary. The company cooperates with clients of any size, and has already implemented over 20 projects in 2019 alone.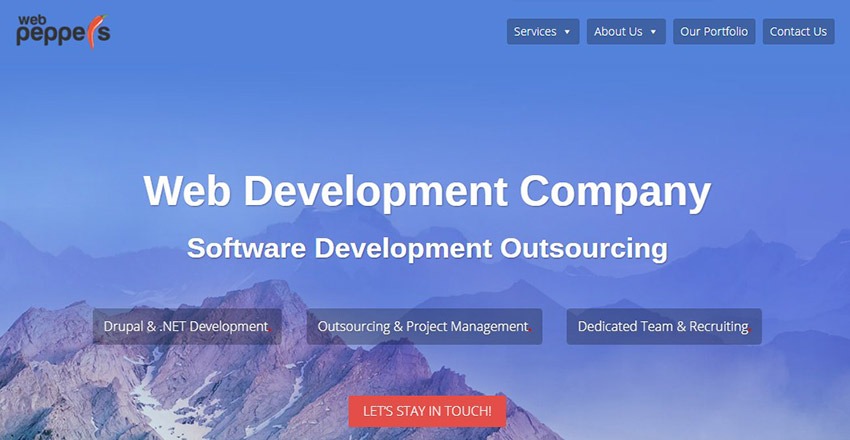 The company is mainly specializing in Drupal and Symfony development. Considering Drupal, their team provides such services as Drupal migration, Drupal optimization, Drupal module development, e-commerce development. Also, Web Peppers team possesses expertise in such programming languages as C#, PHP, Python, and such frameworks as Node.js, React,js, Angular.js.
HQ: Kyiv, Ukraine / Founded: 2013 / Employees: 50+ / Contact: +38 066 555 4048
Website: https://web-peppers.com/
A team of 85 hard-working software engineers from Estonia's capital, Tallinn, that continues the expance from web and mobile development into AR/VR, Internet of Things, artificial intelligence, and more. They promise to produce a draft/prototype of client project in 5 days. Top-tier clients like BBC, UN, Skoda, Canon, HTC, Honda, etc. point towards a real talent.  

In terms of web development, HQSoftware prefers builidng custom web pages and/or elements, such as user interfaces, dashboards, prototypes, responsive pages, web apps, booking systems, etc. All solutions are cross-browser, mobile-friendly, fast, intuitive and secure. Expertise covers such technologies as PHP, .NET, Python, JavaScript, Java, React and more. 
HQ: Tallinn, Estonia / Founded: 2001 / Employees: 85 / Contact: +3727120022
Website: https://hqsoftwarelab.com/
A full-stack team of 150+ professionals building complex software products for clients worldwide. Founded in 1999, the company has a collaboration history with big global companies such as Toshiba, Volkswagen, GS1, The Independent, and HSBC as well as successfully scaled startups like Sendinblue, Burrow and Moneyfarm, a Y Combinator investment.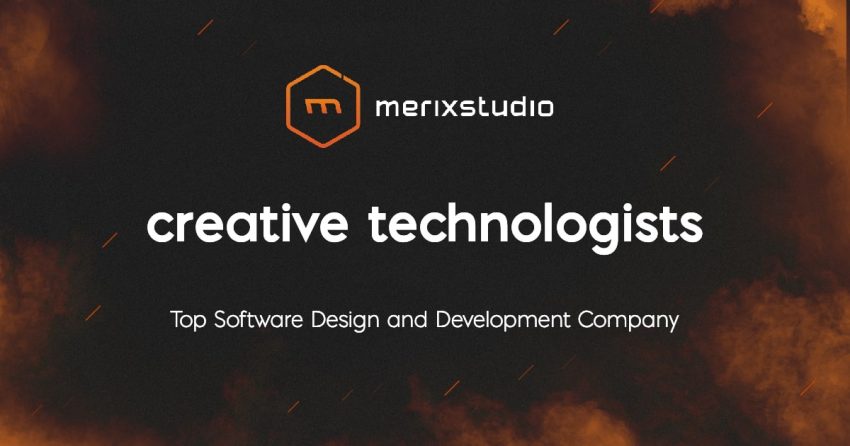 By applying the latest design principles, Merixstudio creates bespoke web applications and cross-platform mobile applications. To guarantee the best performance and scalability of their software solutions, they harness the battle-tested technologies like JavaScript ( React, React Native, Angular, Node.js), PHP (Laravel, Symfony), Python (Django, Flask), Golang and Flutter.
HQ: Poznań, Poland / Founded: 1999 / Employees: 150 / Contact: +48570001928
Website https://www.merixstudio.com/
Digital Echidna is mainly engaged in web development with focus on content marketing, sales support and content management. Working with non-profit and government organizations, they also provide web solutions for healthcare, marketing and small business market niche. "COPE – Create Once, Publish Everywhere" – is a company's philosophy, which means their client will get fully responsive web product with the widest-audience possible due to Echidna online accessibility services.
Open-source content management system Drupal is the main technology used by Digital Echidna's developer's, with which they can create websites with extensive accessibility integration, faster performance, a mobile-first focus, multilingual capabilities, third-party integration.
HQ: Ontario, Canada / Founded: 2002 / Employees: 61 / Contact: +15198589604
Website https://www.echidna.ca/
Another company that rightfully ranks on our list is Altoros. Being an experienced IT services provider, the company founded 19 years ago to help businesses to increase operational efficiency. Altoros's portfolio includes more than 1420 successfully implemented projects. The company is Microsoft, IBM Cloud, and AWS Partner.
Combining passion and years of experience, Altoros focuses on providing methodology, training, end-to-end development, as well as technology building blocks services. 400+ full-stack software engineers and consultants, 91.5% of which are senior- and mid-level engineers, focuses on custom software and product development, web development, technology consulting, maintenance and support, cloud-native development, AI and ML, and robotic process automation. The company's client base consists of 700+ clients, including 50+ Global 2000 organizations. 
The team actively used .NET, C#, MS SQL databases to build warehouse workload monitoring application for logistics suppliers. As a result, the customer got a warehousing application with client-server administration, a web portal for remote agents, and a mobile client for real-time workload monitoring with better productivity and almost 100 % balance accuracy.
HQ: Sunnyvale, USA/ Founded: 2001 / Employees: 400+ / Contact: +16502652266
Website https://www.altoroslabs.com/
Raizlabs, a Rightpoint company, besides offering the services of web development also works on mobile app development, Amazon Echo app development, iOS app and API development, product strategy, responsive web design, Google design sprints, AR and VR solutions.
The company is specialized in front-end development, building backend infrastructure, API design and development, and strategy consulting. Web solutions are build by using such technologies as Ruby on Rails, Node.js, React, Ember.js, AWS, PostgreSQL/ MySQL, MongoDB and Firebase. Their web products are scalable, contain SEO tools, push notification servers, and employee-facing administration panels.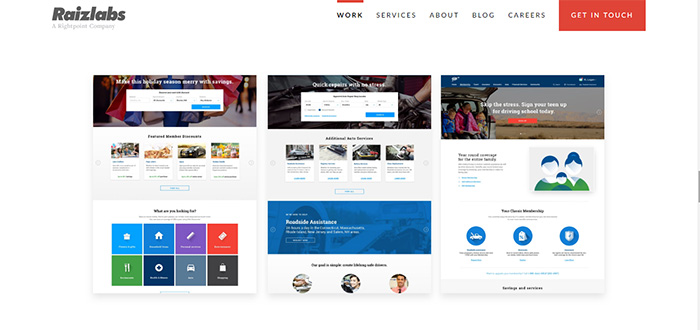 HQ: Boston, USA / Founded: 2003 / Employees: 76 / Contact: +16173839007
Website http://www.raizlabs.com
With the reputation of one of the global leading software companies, Itransition provides services in custom software development, software product prototyping and development, enterprise application integration, IT strategy and consulting, application security, software testing & QA, maintenance and support, DevOps.
Companies as big as Xerox, Toyota, eBay, PayPal, Adidas, Shell, IBM, Citibank, Telekom Austria Group, Kaspersky Lab, United Nations, receive solutions for digital enterprise (data management, business process management, Big Data & analytics, infrastructure management, business intelligence) and digital engagement (social technology, customer experience and engagement, productivity, digital content, omnichannel commerce).
Itransition uses such technologies as Drupal, WordPress, Joomla, .NET, Microsoft SharePoint, Java, Python, Magneto, Shopify, PHP, C++, Zencart, VirueMart and more to build feature-rich responsive web products, both custom and platform-based. The range of possible digital solutions is quite wide starting from simple websites to complex enterprise platforms, e-learning applications, domain-specific solutions integrated with the existing assets or third-party web services.
HQ: Lakewood, Colorado, USA/ Founded: 1998 / Employees: 1005 / Contact: +17202072820
Website https://www.itransition.com/
Web development enthusiasts, Intuz is specialized in providing "next-generation" digital services, especially for the big enterprises. The company's web solutions help to increase productivity by improving and digital transforming the whole business experience. They deploy web products for ERP, CRM, Booking Management, Stock Management, Location Tracking, Bug Tracking, Marketing & Promotion, HRMS, Accounts Management, and other needs and goals.
Intuz web solutions help to reach the new level of process automation and workflow management, expand online audience by implementation of eCommerce tools, increase sales by better interaction with clients, improve the mobility, agility by evolving Amazon cloud platform. The clients also get ability of re-engineering, integration and migration of already existing web applications, solutions, software, products.
HQ: Sunnyvale, USA / Founded: 2008 / Employees: 83 / Contact:  +16504511499
Website https://www.intuz.com/
Mainly occupied in web development, iTechArt doesn't neglect other IT spheres like mobile development, Big Data, QA & Testing, and DevOps.Their web products are marked with robust backends and catching UIs. The company can build powerful complex websites and internal portals, single page applications or feature-rich SaaS solutions.
The developers use Angular, React.JS, Ember.JS, Bootstrap and Backbone to provide easy-to-use, fast, secure, dynamic and personalized frontend. Building on Python (Django, Flask, Pyramid, Zope), Node.js (Express, Meteor, Koa and Sails frameworks), Ruby on Rails, PHP (Larvel, Symfony, CakePHP), Java and .NET makes it possible to create high-performance, full-packed website.
HQ: New York, USA / Founded: 2002 / Employees: 672 / Contact: +17183745043
Website https://www.itechart.com/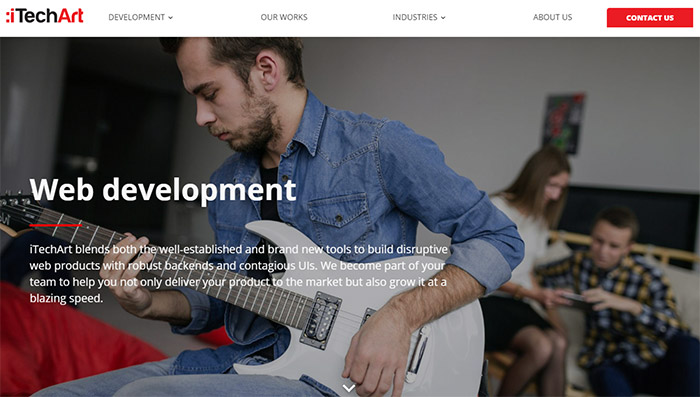 It should be said that besides web development, Appster claims to be experts in such services as Blockchain, AI and machine learning, AR and VR, wearable devices, UI/UX design, IoT app development Smart TV, enterprise mobile apps. In their work the company pays special attention to build fast, optimised and responsive websites.
Since Appster is mainly oriented on enterprise websites, the conversion rates, brand positioning and traffic are some of the key factors in web development. The company creates websites, which can track various statistics metrics, ensure high speed of performance, have a range of marketing tools to increase sales, provide cross-platform accessibility, with flexible and manageable content due to the CMS.
HQ: San Francisco, USA / Founded:2011 / Employees: 432 / Contact: +1844 277 7837
Website https://www.appsterhq.com/
Bamboo Agile is a full-cycle software development company with over 16 years of experience. Regardless of the client's desired final solution, Bamboo guys provide flawless performance and seamless user experience. At first, glance providing a classic set of web development services, the Bamboo guys go beyond standard approaches, focusing on strong visual UX/UI components, and come up with non-standard web development decisions. Bamboo Agile's arsenal includes such frameworks as Angular, Vue.js, React.js, Bootstrap, Material, as well as Javascript and Typescript programming languages.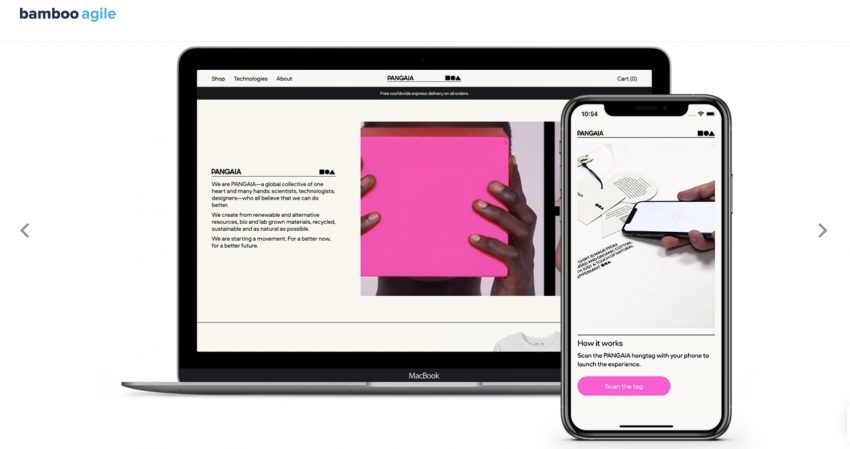 Since Bamboo Agile experts are focusing on innovative solutions, they have easily created an online store for Pangaia. As well as a mobile app with an NFC scanning function. The guys found a solution in the Shopify GraphQL API that allowed them to implement the most unique design, and more importantly, functionality. Bamboo took into account that each brand product was equipped with an NFC chip, which made the task more difficult as well as exciting. To implement the project, it took 7 Bamboo specialists and only 4 months.
HQ: Tallinn, Estonia / Founded: 2011 / Employees: 30+ / Contact: +3726346294
Website: https://www.bambooagile.eu/
WDI is an award-winning, ISO certified expert Web Development company in India with years of experience of delivering 1000's of websites for businesses globally. They have a 360-degree approach for your project that starts by understanding your requirements, your audience and your business objectives/goals.
They identify the right development tools and technologies, create a project plan, make a schedule and deliver on time. They transform and innovate using today's powerful technologies. They thrive on processes and passion to be rated as one of the best web development companies.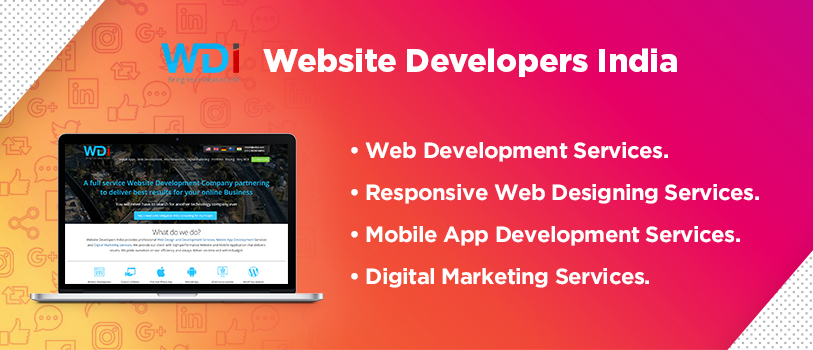 Their Websites are fast, robust, secure and scalable. They have acquired clients across the globe because of their reputation. This reputation is reflected in the development of a wide range of quality and reliable websites and apps.
HQ: Mumbai, India / Founded: 2001 / Employees: 49 / Contact:  +19703725959
Website: https://www.wdipl.com/
Working only with one platform, Jordan Crown became one of the best a high-end WordPress design and development company. Due to WordPress, their clients get powerful, search engine-friendly, robust, easy manageable website.
Alongside these, the company provides its clients with responsive web design (wireframes & mockups/ improved search rankings/ efficient designs/simple navigation/ custom layouts and features/ infographics) and digital strategy services (user engagement/ conversion tracking/ landing page architecture/ content audit/etc).
Jordan Crown custom websites have transparent site administration, plugins to integrate with analytics and social services, responsive templates, personalized features, e-Commerce solutions (simple payment systems,easy-to-manage inventory, improved order processing) and SEO tools.
HQ: Everett, USA / Founded:2006 / Employees:9 / Contact: +14252682718
Website https://www.jordancrown.com/
Starting as a classical web development company, now 10Clouds offers its services in app development (iOS, Android, React Native), product design (UI/UX, web & mobile interface design, Google design sprint, motion design), blockchain, machine learning (deep neural networks, natural language processing), IoT solutions (Apple: Watch, Pay and HealthKit, Android Things, Android Wear, Arduino, Raspberry Pi, Beacons).
Both back-end and front-end development provide 10Clouds web products with user-friendly, intuitive interfaces, responsive web design, customized features, high-speed performance. Python, JavaScript Development, Django, Angular, React, Node.js HTML, CSS are the main technologies, used by the company's experts to deliver high quality, wide functional and scalable web project. Productivity tools like Amazon Web Services, Stripe, Auth0, Contentful, Customer.io also help to cut the launching time of your MVP.
HQ: Warsaw, Poland / Founded: 2009/ Employees:112 / Contact: +48575909903
Website https://10clouds.com/
Urban Insight, web development focused company, is specialized in delivering simple, flexible and well design web solutions. Using only two content management systems (Drupal and WordPress), the company is able to work on custom web development. Though adding mobile app development, WCAG planning, support subscriptions, hosting, editorial support. Responsive design, interactive and intuitive interfaces, usability are the key elements of web development by Urban Insight.
HQ: Los Angeles, USA / Founded: 1997 / Employees: 14 / Contact: +12137922000
Website https://www.urbaninsight.com/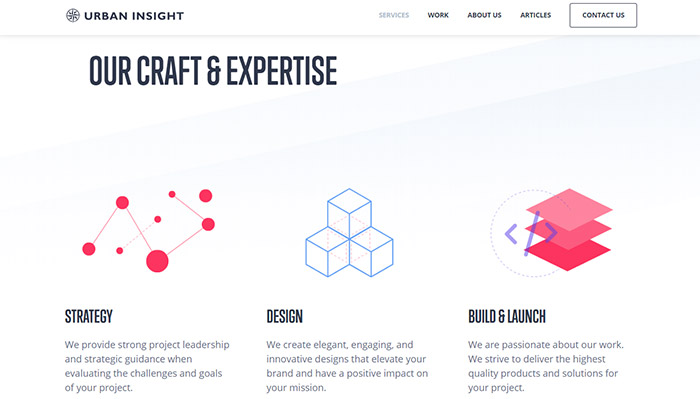 Orientated on the e-learning, marketing automation, eCommerce, real estate, finance, etc. SumatoSoft is developing web, mobile and IoT solutions. Depending on the size of business or clients needs, the company can build enterprise web application (ERP, CRM, HRM, automated billing, payment systems), startup or B2B/B2C solutions. SumatoSoft makes customized, fully controllable web products, with cloud-based architecture. Ruby on Rails, HTML5, Angular.JS, React, MySQL, MongoDB, Bootstrap, Amazon Web Services are technologies they use.
HQ: Minsk, Belarus / Founded: 2012 / Employees: 53 / Contact: +375296255178
Website https://sumatosoft.com/
As a full-service development company, Mobikasa offers services of production scalable websites, target on increasing traffic and profitability. Their specialists also work on creating innovative apps and eCommerce platforms, using Magento, Shopify, Bigcommerce, Prestashop. 
As for web development technologies, Mobikasa experts prefer to build on PHP, WordPress, Drupal, Ruby on Rails, .Net, SiteCore and Java. All these help to create responsive, scalable web products with custom CMS, payments, etc. With the focus on brand recognition, the company produces custom wireframes, original logos, interactive UIs.  
HQ: New York, USA / Founded: 2010 / Employees: 157 / Contact: +16468804504
Website https://www.mobikasa.com/
Somewhat unconventional web development company, primarily offering their own product – Weblium, a free DIY  website builder. Yet, not everyone is going to be capable of doing it or have enough time, so Weblium team also provides custom website launch services at a fraction of cost. You can count on web expertise, guides, templates and support.
Harnessing 15 years of experience and leading technologies used by Facebook, Instagram, Airbnb, Netflix, Weblium engineers guide clients from initial idea, to ready website and revisions. They assign a personal manager for each project, and are ready to deliver website prototypes, cooding, custom design, SEO and analytics. As for website builder, it utilizes AI, it is cross-platform and friendly to search engines.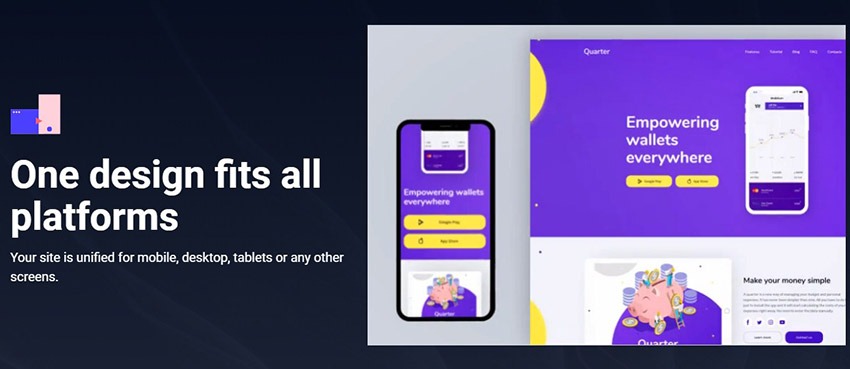 HQ: Fort Lauderdale, USA / Founded: 2016 / Employees: 50 / Contact: +14154498696
Website: https://weblium.com/
The company is focused on premium web and mobile app development. They show a big interest in financial software and offer services like online trading and exchange platforms, wealth management, etc. Besides Ruby on Rails and JavaScript as the core technologies, Railsware uses HaProxy, Nginx, PostgreSQL, Redis, AWS and many others.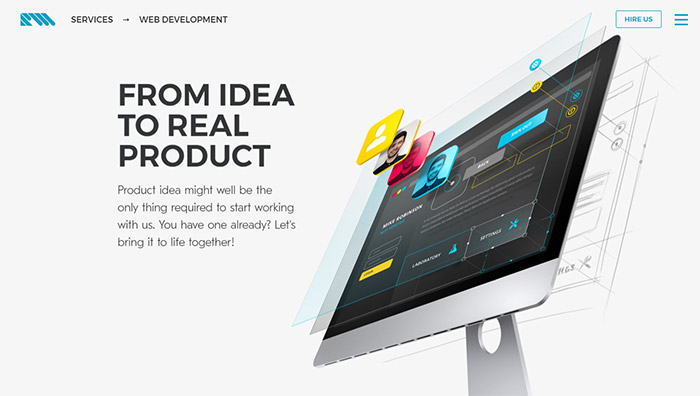 As for third-party integration, clients can choose between already existing 3rd party APIs. For social media: Facebook, Twitter, and for payment options – Paypal, Stripe, Braintree. For geo services – Foursquare, Google Maps/Places, Yahoo Local, Yelp, as business tools – Zendesk, Pivotal Tracker, etc.
HQ: Krakow, Poland / Founded: 2006 / Employees: 47 / Contact: +16463974918
Website https://railsware.com
STX Next is a Polish end-to-end web and mobile development company that aims at delivering full-stack projects by uses knowledge and experience of over 300 talented engineers, developers and other team members. Also the team offers product design as a UI/UX and software testing. For their projects the STX Next team uses, such commonly technologies as Python, Java Script, Django, Angular and also: Flask, wisted, Jenkins.
Over the past 14 years, they have completed more than 200 projects of various sizes for over 100 customers globally. The team works with startups as with fully established businesses. They are developing both, from scratch or support the finished products.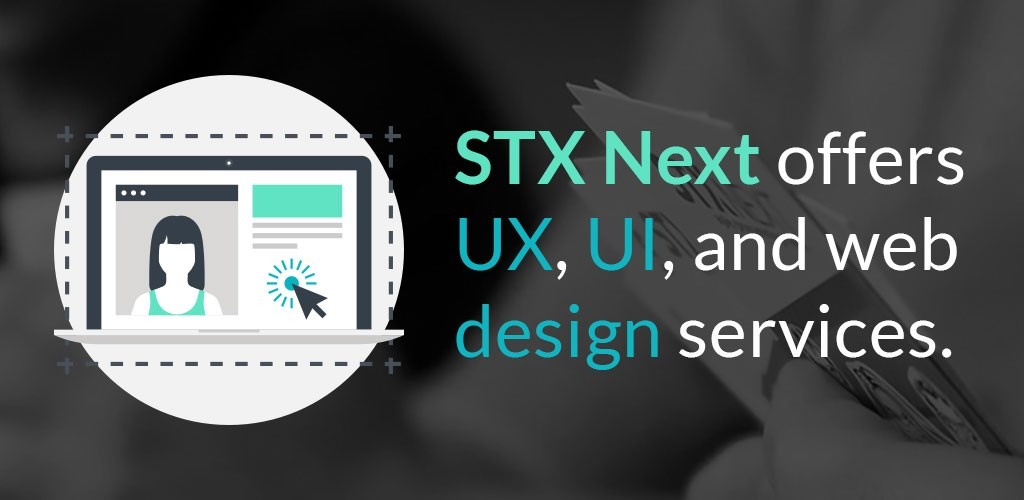 HQ: Poznan, Poland / Founded: 2005 / Employees: 250 – 999 / Contact: +48 512 914 236
Website www.stxnext.com
Cleveroad is a Ukrainian web and mobile app development company that specializes in delivering custom web application development services. The team consists of 140+ experts that already delivered more than 170 successful projects for the clients all over the world.
Cleveroad provides full-service web development as well as mobile development, UI/UX design and maintenance. The company works across wide varied industries and offers such services for web app as media and e-commerce expertise, big data solutions, blockchain and AWS development expertise.
The team uses the most effective web development technologies such as:
Front-end: Angular JS, HTML5, JavaScript, CSS, React, LESS, Sass;
Back-end: PHP, C+, Node JS;
Frameworks: Express.js, Laravel, YII2, Symphony, ASP.net MVC;
Database: MySQL, PostgreSQL, MongoDB, Elasticsearch, Redis;
CSM: OpenCart, Joomla, WorkPress.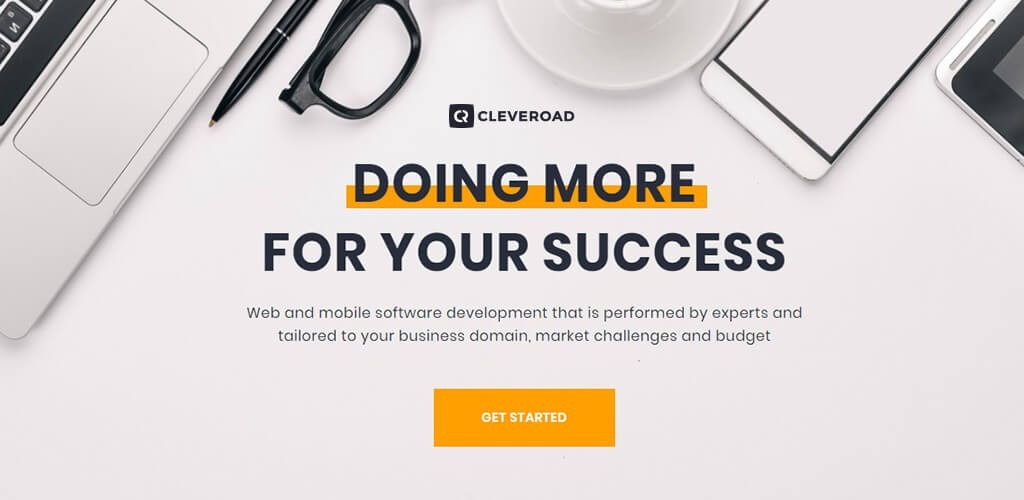 HQ: Dnipro, Ukraine / Founded: 2014 / Employees: 50 – 299 / Contact: +380 66 489 6889
Website cleveroad.com
Brainvire started its way in 2000 as a software development company. Brainvire headquartered in the USA, but the company also has several representative offices in the UK, UAE, Canada, Australia, France and more. Today the company has already done over 1500 web projects both for Fortune 500 companies and startups.
Brainvire offers a really wide range of web development services that include:
PHP/Laravel/Symfony/Plackon/Wordpress app development
Full-stack & MEAN stack web development
Node.js development
eCommerce development
Furthermore, Brainvire also specializes in such modern technologies as AI, ML, IoT, Cloud Computing, and Blockchain. As well the company cooperates with the clients from different fields such as Retail, Healthcare, Finance, Education, Logistics, Advertising and more.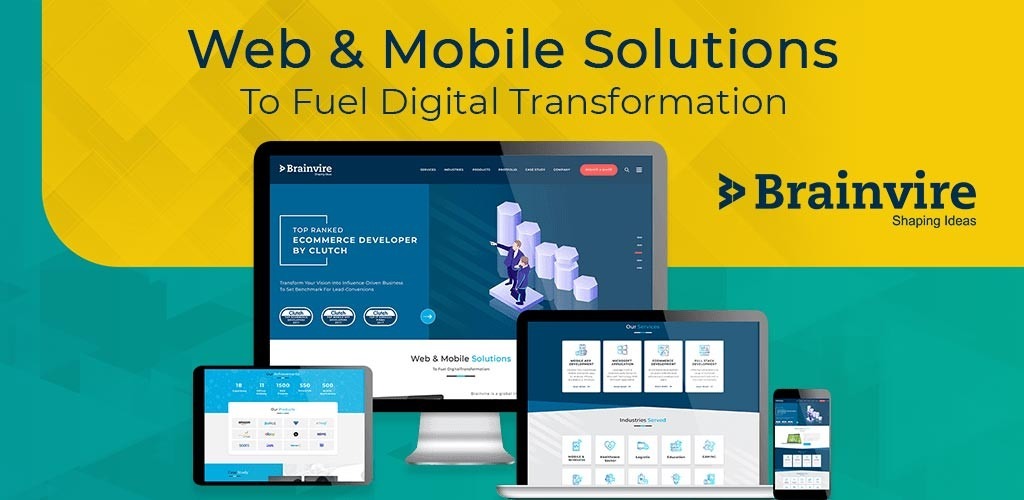 HQ: Plano, US / Founded: 2000 / Employees: 250 – 999 / Contact: +1 631 897 7276
Website www.brainvire.com
Unified Infotech is a NY based company which recognized as one of the fastest-growing tech company in 2018. The company with ten years of experience specializes in providing web solutions, mobile app development, and consulting services. As a web solutions team offers web and web app development, web design, e-commerce and custom CRM solutions.
To deliver high-quality web development products team uses, such technologies as Java, AngularJS, Node.JS, MongoDB, Laravel. Over the years, the Unified Infotech team delivered more than 1500 successfully finished projects which were created by over 200 professional web and digital developers. The company also helped clients to raise their profits on $30 million.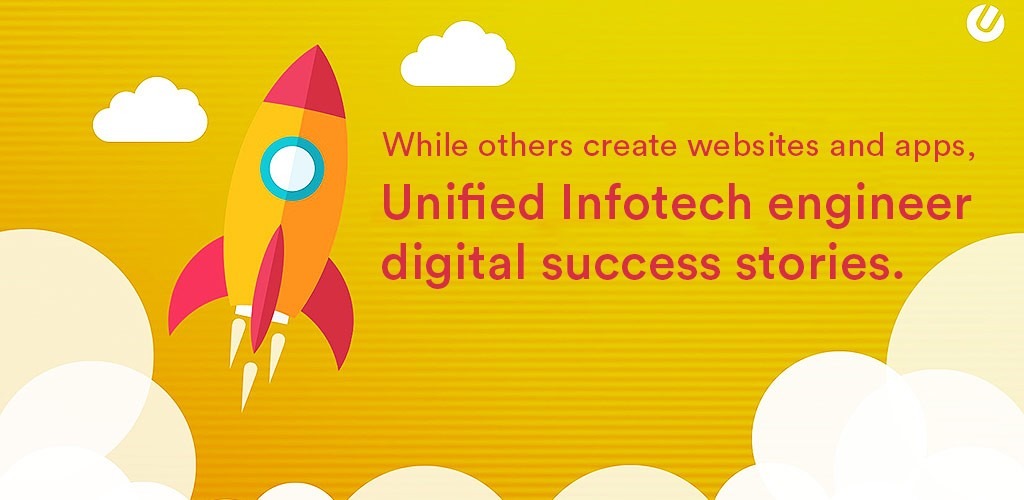 HQ: New York, US / Founded: 2000 / Employees: 50 – 249 / Contact: +1 800 820 9286
Website: www.unifiedinfotech.net
Absolute Web Services is a web development company established in 1999 and headquartered in Miami, USA. The company's team counts more than 60 employees that are certificated. Besides web services, the company offers marketing, branding, UI/UX design and mobile app development services. For the notice, Absolute Web Services was featured as America's fastest-growing private companies by Inc 500.
But as for web development, the company is capable to provide any client with front-end, back-end development, web app re-platforming, optimization and performance increase. Absolute Web Services offers web development with different frameworks such as Laravel, Node.js, Symfony, Yii2, Keystone and older frameworks such as CodeIgniter, CakePHP and so on. It's also able to build as well as to integrate APIs of analytics, advertising, booking, weather, maps, payment processing and more.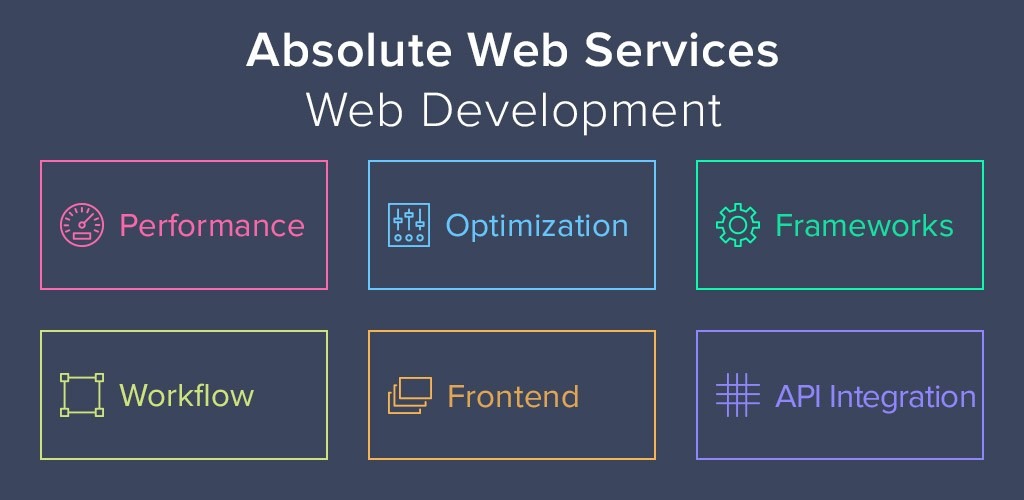 HQ: Miami, USA / Founded: 1999 / Employees: 50 – 249 / Contact: +1 305 937 2526
Website: www.absolutewebservices.com
FAQ