8.2 seconds were enough to fall in love. But you have only 3 seconds to show the visitors that your website is exactly what they were looking for. Otherwise, they will have gone and never come back…unless only your site is in Google's top favorites. Today's consumers are already used to interesting design and couple-two popular features. They want to interact with a website at all possible levels. That is why web development still continues to grow and increase, bringing new and new solutions. And many are wondering – what are the best web development companies around? 
And don't forget, website building is just a top of the "web development" iceberg. Web applications, web engineering, web design, enterprise web platforms for intranet are just another few options for web production. Scrolling the list of companies given below, you will find the top web developer companies, which can provide the aforementioned  web services, as well as other innovative and sometimes even unexpected.
Miss your company? Contact us:
LinkedIn: @janetodavchych
E-mail: jane.todavchych@thinkmobiles.com
Skype: live:234dd2d5aa141d28
Redwerk is a custom software development company which provides an experienced Ukraine-based team for the implementation of software projects of different levels of complexity.  Their clients are startups and large enterprises predominantly located in the USA, Canada, and Europe, like Justin Alexander, WorldNow, Quandoo, and Universal Music Group. Being in the outsourcing software development market and working with projects from various industries for over 13 years, the company expanded expertise using all possible programming languages and technologies like Java, C#, C++, Python, PHP, HTML5/CSS3, JavaScript, Node.JS, Laravel and other.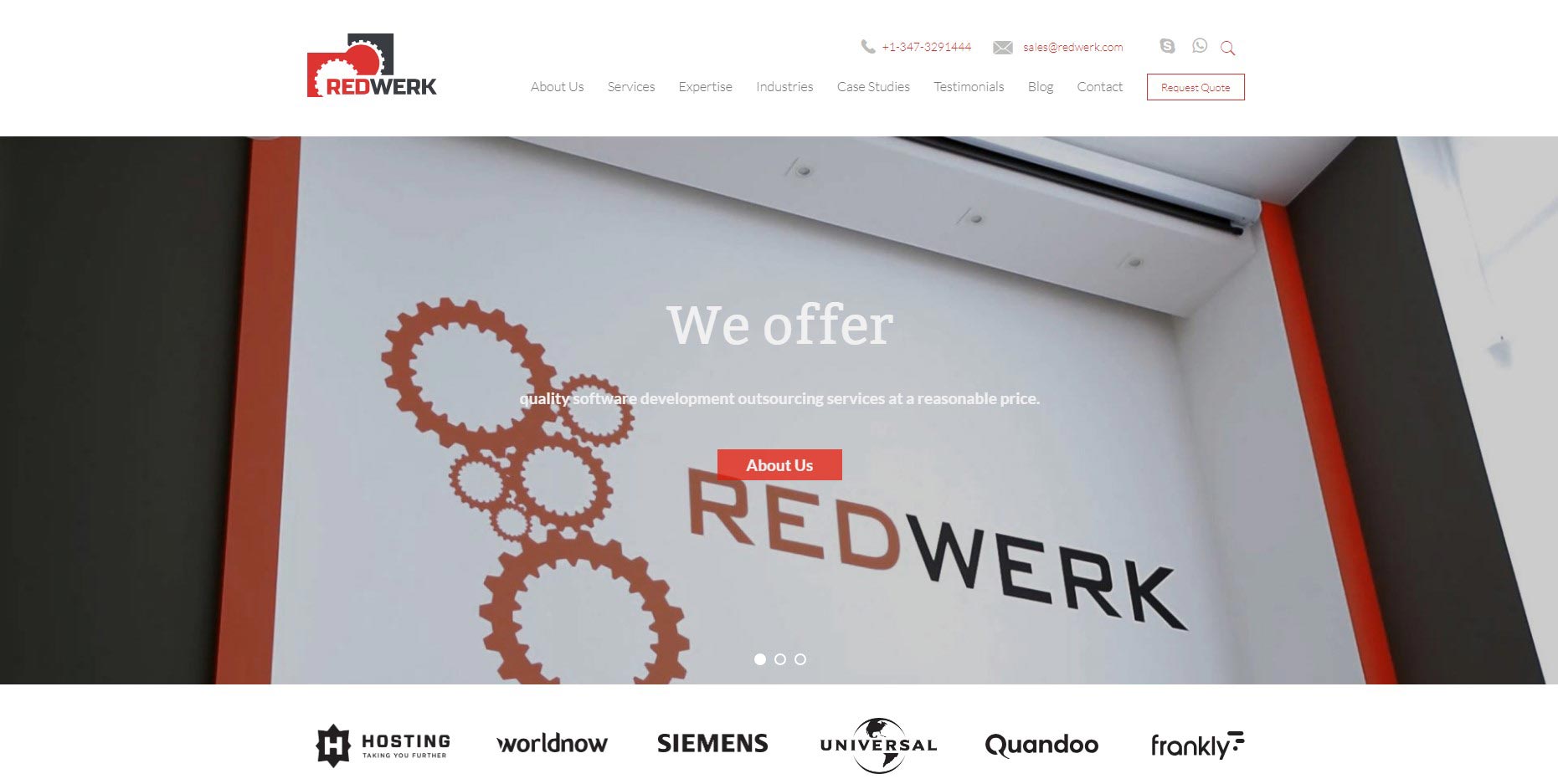 Headquarters: Kyiv, Ukraine. / Founded: 2005 / Employees: 60 / Contact: +380734036422 
Website: https://redwerk.com
2. openGeeksLab
openGeeksLab is not afraid to accept complex challenges and knows how to boost product success and make it profitable. theCHIVE app created by geeks has 5+ million installs in total and 700+ million content views per month. Other top apps the company is proud of are theHub, Magra, SuperCarers, and Nimbla. The team provides unique solutions and features for startups, small businesses, midmarkets, and enterprises. The creators have implemented dozens of mobile apps for their partners from the USA, Germany, the UK, etc. The company has proven expertise in such areas as healthcare, sport, fintech, entertainment, e-commerce, enterprise management, and many others. openGeeksLab is focused on full-stack mobile and web app development and deployment, Blockchain solutions, cross-platform apps (for iOS & Android using React Native), MEAN stack development, UX/UI design, QA engineering, Top 20% JavaScript and Top 1% NodeJS on UpWork
Headquarters: Zaporizhzhia, Ukraine / Founded: 2015 / Employees: 50 / Contact:  +380633621804, +380931030142
Website https://opengeekslab.com
3. Unleashed Technologies
While the more than a half of company's resources focused on web development, the other fields of interest are web design and theming, web management, progressive web apps, mobile development, eCommerce, digital strategy, and web hosting. In 2014 they launched the Woosting services – the combination of web development and web hosting to maintain the best web presence for their clients.  
Unleashed Technologies builds on Drupal, WordPress, Magento, Symfony and provides help in content strategy, website audits, third-party integrations, application development, custom workflow implementation, CMS migration, module customization, performance optimization, support and maintenance. They actively use the Drupal platform for systems integration the websites with such services as CRMs (Sugar, Salesforce.com, Raiser's Edge), CRMs, Enterprise Resource Planning systems (Microsoft Dynamics), AMS (iMIS, IMPak), email marketing applications (MailChimp, Constant Contact, Vertical Response), Donor management systems, and more.
Headquarters: Columbia, MD, U.S. / Founded: 2007 / Employees: 35 / Contact: +14108648980
Website https://www.unleashed-technologies.com/
4. ImageX
Specialized on Drupal open source CMS, the experts from ImageX provide the whole package of web development including UI testing, UX, web design. Recently, they launched the educational platform, OpenEDU, which allows building customize the website according to the company's needs.  
Working with ImageX you can expect the web development will include technical architecture review, functional specifications, third-party integrations, content migration, social media integration, custom Drupal and WordPress development, and more. The company also works on website strategy, responsive web design, app development, online marketing and content strategy, and provides all range of Drupal services.
Headquarters: Vancouver, Canada / Founded: 2001 / Employees: 35 / Contact: +11536 265335   
Website http://imagexmedia.com/
5. Merixstudio
A full-stack web development team work on deploying websites, web applications and HTML5 games and other digital products. Founded in 1999, the company has the collaboration history with startups and such giants like Toshiba, HSBC, The Independent, KLM, Virgin, M&S, Volkswagen.
Merixstudio web development cycle will consist of such elements like prototyping and wireframing, web design, branding and illustrations, information architecture, testing and optimization, support and maintenance. Their experts are competent in Django (Python, Javascript (React, Angular, Node.js), HTML5/CSS3, PHP, Symfony2, Drupal, Magento, Amazon Web Services, Web Sockets,  WebGL, jQuery, MySQL, WordPress.
Headquarters:Poznań, Poland / Founded: 1999 / Employees: 62 / Contact: +48570001928
Website https://www.merixstudio.com/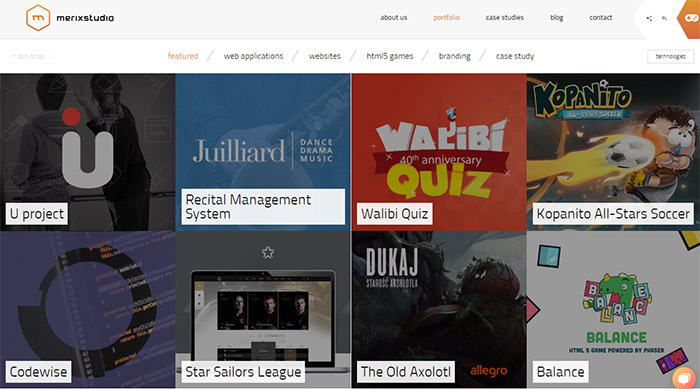 6. Itransition
With the reputation of one of the global leading software companies, Itransition provides services in custom software development, software product prototyping and development, enterprise application integration, IT strategy and consulting, application security, software testing & QA, maintenance and support, DevOps. The companies as big as Xerox, Toyota, eBay, PayPal, Adidas, Shell, IBM, Citibank, Telekom Austria Group, Kaspersky Lab, United Nations, receive solutions for digital enterprise (data management, business process management, Big Data & analytics, infrastructure management, business intelligence) and digital engagement (social technology, customer experience and engagement, productivity, digital content, omnichannel commerce).
Itransition uses such technologies as Drupal, WordPress, Joomla, .NET, Microsoft SharePoint, Java, Python, Magneto, Shopify, PHP, C++, Zencart, VirueMart and more to build feature-rich responsive web products, both custom and platform-based. The range of possible digital solutions is quite wide starting from simple websites to complex enterprise platforms, e-learning applications, domain-specific solutions integrated with the existing assets or third-party web services.
Headquarters: Lakewood, Colorado, U.S./ Founded: 1998 / Employees: 1005 / Contact: +17202072820
Website https://www.itransition.com/
7. Fingent Corp
Focusing on cooperation with big enterprise and middle-market size businesses, Fingent Corp provides services in enterprise software development, web and mobile application development, digital transformation, analytics and visualization, IT consulting, product development, IoT, IT infrastructure services. The web development will encompass such services as website designing, custom website design, e-commerce online solutions, internet marketing, SEO tools, and so on. Fingent Corp builds its high-levelled customized web product by using such technologies as PHP/MySQL, WordPress, Magento, Joomla, HTML5, Drupal, Java (Angular.JS, Node.JS), Woocommerce, and others.
Headquarters: New York, U.S. / Founded: 2003 / Employees: 271 / Contact: +19146159170
Website https://www.fingent.com/
8. Digital Echidna
Digital Echidna is mainly engaged in web development with focus on content marketing, sales support and content management. Working with non-profit and government organizations, they also provide web solutions for healthcare, marketing and small business market niche. "COPE – Create Once, Publish Everywhere" – is a company's philosophy, which means their client will get fully responsive web product with the widest-audience possible due to Echidna online accessibility services.
Open-source content management system Drupal is the main technology used by Digital Echidna's developer's, with which they can create websites with extensive accessibility integration, faster performance, a mobile-first focus, multilingual capabilities, third-party integration.
Headquarters: Ontario, Canada/ Founded: 2002 / Employees: 61 / Contact: +15198589604
Website https://www.echidna.ca/
9. Raizlabs
Raizlabs, a Rightpoint company, besides offering the services of web development also works on mobile app development, Amazon Echo app development, iOS app and API development, product strategy, responsive web design, Google design sprints, AR and VR solutions. The company is specialized in front-end development, building backend infrastructure, API design and development, and strategy consulting. Web solutions are build by using such technologies as Ruby on Rails, Node.js, React, Ember.js, AWS, PostgreSQL/ MySQL, MongoDB and Firebase. Their web products are scalable, contain SEO tools, push notification servers, and employee-facing administration panels.
Headquarters: Boston, MA, U.S. / Founded: 2003 / Employees: 76 / Contact: +16173839007
Website http://www.raizlabs.com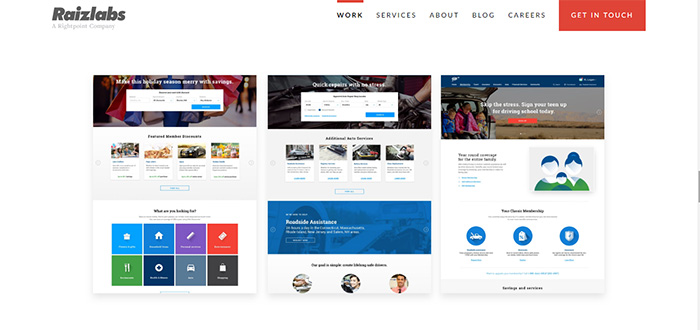 10. Intuz
Web development enthusiasts, Intuz is specialized in providing "next-generation" digital services, especially for the big enterprises. The company's web solutions help to increase productivity by improving and digital transforming the whole business experience. They deploy web products for ERP, CRM, Booking Management, Stock Management, Location Tracking, Bug Tracking, Marketing & Promotion, HRMS, Accounts Management, and other needs and goals.
Intuz web solutions help to reach the new level of process automation and workflow management, expand online audience by implementation of eCommerce tools, increase sales by better interaction with clients, improve the mobility, agility by evolving Amazon cloud platform. The clients also get ability of re-engineering, integration and migration of already existing web applications, solutions, software, products.
Headquarters: Sunnyvale, CA, U.S./ Founded: 2008 / Employees: 83 / Contact:  +16504511499
Website https://www.intuz.com/
11. iTechArt
Mainly occupied in web development, iTechArt doesn't neglect other IT spheres like mobile development, Big Data, QA & Testing, and DevOps.Their web products are marked with robust backends and catching UIs. The company can build powerful complex websites and internal portals, single page applications or feature-rich SaaS solutions.
The developers use Angular, React.JS, Ember.JS, Bootstrap and Backbone to provide easy-to-use, fast, secure, dynamic and personalized frontend. Building on Python (Django, Flask, Pyramid, Zope), Node.js (Express, Meteor, Koa and Sails frameworks), Ruby on Rails, PHP (Larvel, Symfony, CakePHP), Java and .NET makes it possible to create high-performance, full-packed website.
Headquarters:New York, U.S. / Founded: 2002 / Employees: 672 / Contact: +17183745043
Website https://www.itechart.com/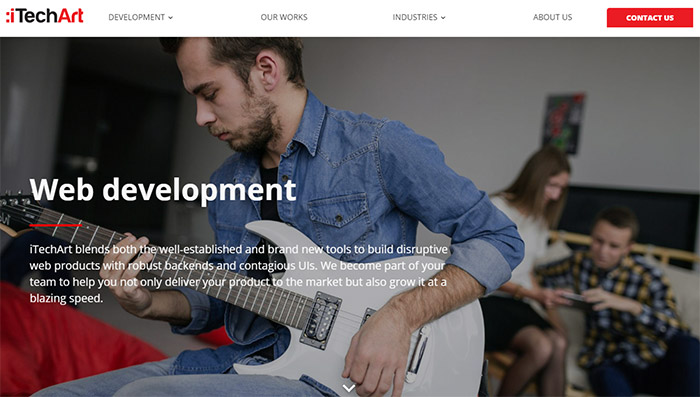 12.  Appster
It should be said that besides web development, Appster claims to be experts in such services as Blockchain, AI and machine learning, AR and VR, wearable devices, UI/UX design, IoT app development Smart TV, enterprise mobile apps. In their work the company pays special attention to build fast, optimised and responsive websites.
Since Appster is mainly oriented on enterprise websites, the conversion rates, brand positioning and traffic are some of the key factors in web development. The company creates websites, which can track various statistics metrics, ensure high speed of performance, have a range of marketing tools to increase sales, provide cross-platform accessibility, with flexible and manageable content due to the CMS.
Headquarters: San Francisco, CA, U.S. / Founded:2011 / Employees: 432 / Contact: +1844 277 7837
Website https://www.appsterhq.com/
13. Radixweb
After almost two decades on the market, Radixweb has expand from basic websites building to providing such services as custom software development, software product development, web and desktop application development, cloud consulting and computing, application modernization, enterprise mobility and embedded software development.
Radixweb web development process consists of technology consulting, prototype development, custom development (creating user-friendly interface), services integration (MS CRM, SalesForce, QuickBooks etc.), testing and QA (Smoke Testing, Functional Testing, Integration Testing, End-to-End Testing, GUI Testing, Regression Testing), support and maintenance. PHP, .NEt, Java, WordPress, Joomla, Drupal, Magento, HTML5, Angular.JS, Code Igniter are the main technologies used by company in web development.
Headquarters: Ahmedabad, India / Founded: 2000 / Employees: 349 / Contact: +16468016885
Website: https://simplified-it-outsourcing.com/
14. MLSDev
Working on the "all-in-one solutions" principle, MLSDev provides services in web and mobile development, business analysis, mobile and web design, MVP development, ongoing development, IoT hardware prototyping and software development. ESPN, McDonald's, GoPuff, Danone, Panasonic, Alpine, Comfy, ArtStation, LevelUp, Chored, Yummi, EdgeRift – the company works both with small startups and big entrepreneurs.
For front-end development the main technologies are Bower, Webpack, JavaScript, HTML5, CSS 3, Node.JS, and the back-end is based on Amazon's web services, Ruby on Rails, PHP, Elastic, Nginx. The company builds websites able to integrate with the wide range of third-party services: social networks (Facebook, Twitter, YouTube, SinaWeibo, Instagram), analytics (Flurry, Crashlytics, Fabric, Google Analytics, Mixpanel), AR (Vuforia, ArToolkit, BeyondAr), mobile push notification services (GCM, APN, Firebase), payments systems (Braintree, PayPal), eCommerce platforms (Plexure, Adobe Marketing) and more.
Headquarters: Kyiv, Ukraine / Founded: 2010/ Employees: 63 / Contact: +19518884481
Website https://mlsdev.com/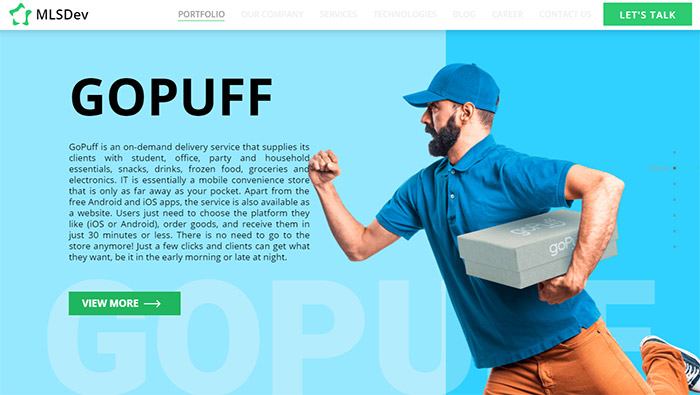 15. Website Developers India
WDI is an award-winning, ISO certified expert Web Development company in India with years of experience of delivering 1000's of websites for businesses globally. They have a 360-degree approach for your project that starts by understanding your requirements, your audience and your business objectives/goals. They identify the right development tools and technologies, create a project plan, make a schedule and deliver on time. They transform and innovate using today's powerful technologies. They thrive on processes and passion to be rated as one of the best web development companies. Their Websites are fast, robust, secure and scalable. They have acquired clients across the globe because of their reputation. This reputation is reflected in the development of a wide range of quality and reliable websites and apps.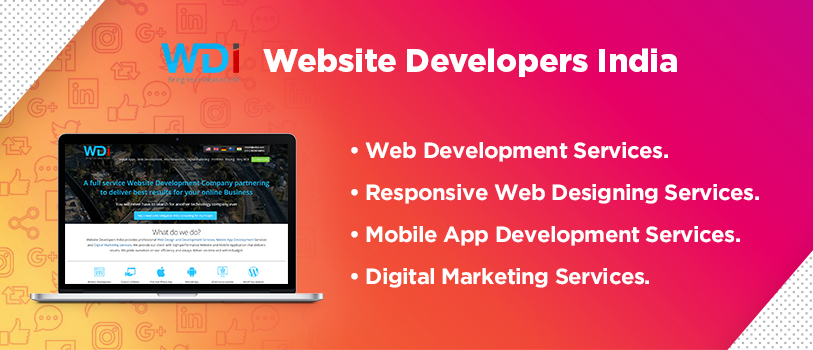 Headquarters: Mumbai, India. / Founded: 2001 / Employees: 49 / Contact:  +19703725959
Website: https://www.wdipl.com/
16. Cleveroad
Relatively young web and development company, Cleveroad provides full-cycle servicing in end-to-end mobile and web development, UI/UX design, cloud-based solutions, AR, VR, AI, Big Data and IoT solutions, eCommerce and CMS, iBeacon software and wearable technologies. With the accent on the brand recognition, the company successfully deploys responsive, recognizable, usable and profitable web product. If you own a small business, Cleveroad will use Joomla!, WordPress, Drupal and CMS  to build the website with manageable content. In a case with the big enterprises, you are going to get the eCommerce platform with SEO optimisation tools, using technologies like HTML5, PHP, CSS, Bootstrap, JavaScript and Angular.JS.
Headquarters: Dnipro, Ukraine / Founded: 2014 / Employees: 151 / Contact: +380664896889
Website https://www.cleveroad.com/
17. Jordan Crown
Working only with one platform, Jordan Crown became one of the best a high-end WordPress design and development company. Due to WordPress, their clients get powerful, search engine-friendly, robust, easy manageable website. Alongside these, the company provides its clients with responsive web design (wireframes & mockups/ improved search rankings/ efficient designs/simple navigation/ custom layouts and features/ infographics) and digital strategy services (user engagement/ conversion tracking/ landing page architecture/ content audit/etc).
Jordan Crown custom websites have transparent site administration, plugins to integrate with analytics and social services, responsive templates, personalized features, e-Commerce solutions (simple payment systems,easy-to-manage inventory, improved order processing) and SEO tools.
Headquarters: Everett, WA, U.S. / Founded:2006 / Employees:9 / Contact: +14252682718
Website https://www.jordancrown.com/
18. 10Clouds
Starting as a classical web development company, now 10Clouds offers its services in app development (iOS, Android, React Native), product design (UI/UX, web & mobile interface design, Google design sprint, motion design), blockchain, machine learning (deep neural networks, natural language processing), IoT solutions (Apple: Watch, Pay and HealthKit, Android Things, Android Wear, Arduino, Raspberry Pi, Beacons).
Both back-end and front-end development provide 10Clouds web products with user-friendly, intuitive interfaces, responsive web design, customized features, high-speed performance. Python, JavaScript Development, Django, Angular, React, Node.js HTML, CSS are the main technologies, used by the company's experts to deliver high quality, wide functional and scalable web project. Productivity tools like Amazon Web Services, Stripe, Auth0, Contentful, Customer.io also help to cut the launching time of your MVP.
Headquarters: Warsaw, Poland / Founded: 2009/ Employees:112 / Contact: +48575909903
Website https://10clouds.com/
19. Urban Insight
Urban Insight, web development focused company, is specialized in delivering simple, flexible and well design web solutions. Using only two content management systems (Drupal and WordPress), the company is able to work on custom web development. Though adding mobile app development, WCAG planning, support subscriptions, hosting, editorial support. Responsive design, interactive and intuitive interfaces, usability are the key elements of web development by Urban Insight.
Headquarters: Los Angeles, U.S.  / Founded: 1997 / Employees: 14 / Contact: +12137922000
Website https://www.urbaninsight.com/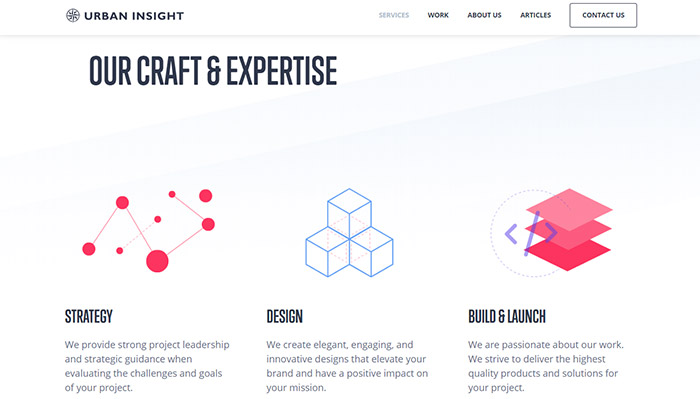 20. IT CRAFT
Taking its roots from web development, now IT Craft also has achievements in mobile development, DevOps,  iBeacon services, etc. Magento, WordPress, LAMP, Asp.net, Angular.js, Node.JS are tech fundamentals of every company's web project. Magento web development gives wide options for eCommerce, LAMP solution stack (Linux, Apache, Mysql, Php) provides dynamic, feature-rich websites. The team uses Asp.net to integrate with third-party platforms and services (shared server, Azure cloud, Private cloud, Hybrid cloud). Working with WordPress, IT Craft can create maximum customized website with Woocommerce integration and custom plugin development.
Headquarters: Kharkiv, Ukraine/ Founded: 2001/ Employees: 146 / Contact: +380681957340
Website https://itechcraft.com/
21. SumatoSoft
Orientated on the e-learning, marketing automation, eCommerce, real estate, finance, etc. SumatoSoft is developing web, mobile and IoT solutions. Depending on the size of business or clients needs, the company can build enterprise web application (ERP, CRM, HRM, automated billing, payment systems), startup or B2B/B2C solutions. SumatoSoft makes customized, fully controllable web products, with cloud-based architecture. Ruby on Rails, HTML5, Angular.JS, React, MySQL, MongoDB, Bootstrap, Amazon Web Services are technologies they use.
Headquarters: Minsk, Belarus / Founded: 2012 / Employees: 53 / Contact: +375296255178
Website https://sumatosoft.com/
22. MOBIKASA
As a full-service development company, Mobikasa offers services of production scalable websites, target on increasing traffic and profitability. Their specialists also work on creating innovative apps and eCommerce platforms, using Magento, Shopify, Bigcommerce, Prestashop. As for web development technologies, Mobikasa experts prefer to build on PHP, WordPress, Drupal, Ruby on Rails, .Net, SiteCore and Java. All these help to create responsive, scalable web products with custom CMS, payments, etc. With the focus on brand recognition, the company produces custom wireframes, original logos, interactive UIs.  
Headquarters: New York, U.S.  / Founded: 2010 / Employees: 157 / Contact: +16468804504
Website https://www.mobikasa.com/
23. SteelKiwi
Besides bespoke web development, the company is offering business analysis, UI/UX design, mobile app development for small/medium businesses and startups. SteelKiwi is a team of experts in medical software, booking and scheduling solutions, recruitment software, and business automation.
SEO-friendly and optimized for any platform websites are possible due to front-end tools React.JS, Angular.JS and Vue.js. Back-end based on Python/Django, Node.js, GO lang. SteelKive provides 3th-party integration services: accounting (Intuit, QuickBooks, Zoho,  Xero), email and marketing automation (Mandrill, Mailgun, SendGrid). The list goes on with Spotify, SoundCloud, YouTube, Twillio, Nexmo, Plivo, Instagram, Pinterest and more. Their web products are also equipped with storage engines (PostgreSQL, MongoDB, Redis) and search engines (Elasticsearch, Apache Solr).
Headquarters: Odessa, Ukraine / Founded: 2011 / Employees: 78 / Contact: +14154498696
Website https://steelkiwi.com/
24. CodigoDelSur
Creating websites was the start for this company, but now they are experts in mobile development, games , design. Practicing both client-side scripting and server-side coding, CodigoDelSur they also create websites on CMS, which helps to customize web content easier than ever before. The experts team in their development work use programming languages like ASP.NET, HTML, Ruby, PHP, Flex, Java, Angular.js, Node.js, JavaScript, jQuery, CSS and frameworks as Ruby on Rails, Joomla, WordPress, etc.
Headquarters: Montevideo, Uruguay / Founded: 2008 / Employees: 69/ Contact: +59823378873
Website http://codigodelsur.com/
25. Railsware
The company is focused on premium web and mobile app development. They show a big interest in financial software and offer services like online trading and exchange platforms, wealth management, etc. Besides Ruby on Rails and JavaScript as the core technologies, Railsware uses HaProxy, Nginx, PostgreSQL, Redis, AWS and many others.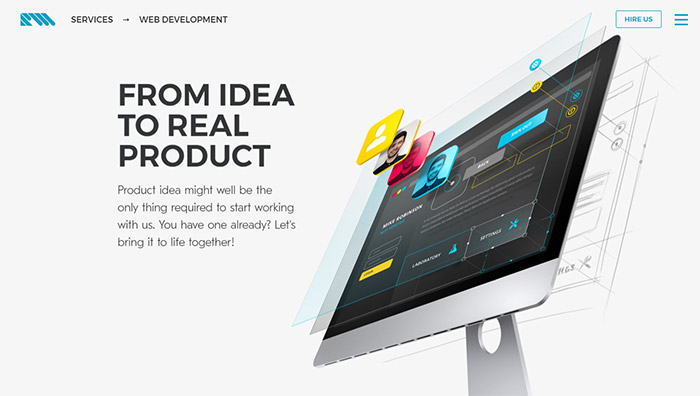 As for third-party integration, clients can choose between already existing 3rd party APIs. For social media: Facebook, Twitter, and for payment options – Paypal, Stripe, Braintree. For geo services – Foursquare, Google Maps/Places, Yahoo Local, Yelp, as business tools – Zendesk, Pivotal Tracker, etc.
Headquarters: Krakow, Poland / Founded: 2006 / Employees: 47 / Contact: +16463974918
Website https://railsware.com
Feel free to contact us via jane.todavchych@thinkmobiles.com if you want to place your company here.