Microsoft Planner, a new project management tool that helps teams track and collaborate on projects, has been recently launched for the Office 365 suite. The new app has been in the works since the last fall and is now available to all Office subscribers.
The sweetener here is that Microsoft Planner is integrated with other '365 products, which makes it a perfect option for users and businesses who are already deep in the Microsoft ecosystem. The application uses Cards and Boards to organize the working process; and each of the card/board can be color-coded, carry attachments (.doc, .xls, .jpeg, etc.), and contain the separate conversation and comments for every single task.
Planner lets professionals organize the process, share files, and chat with other team members — all within the Office pack. As shown in the video below, the app has set its sights on, and borrowed functionality and features, mainly from tools like Asana and Trello.
In short, Microsoft 365 Planner is an app that is aimed for project managers to get the work done more effectively and collaboratively, in a colorful, fun and more interactive way. The user can set due dates, manage visual dashboards and receive email notifications to stay in the loop. It is all about structuring the teamwork.
The great thing about Microsoft Planner is how smoothly it integrates with the rest of the Office 365 toolkit. Dissimilar to other project management tools, like Trello and Asana, where you manually connect users, profiles, etc., the Planner works with Office 365 out of the box. Planner allows you to attach files and tasks, work together on those files, and have conversations around tasks without switching between apps.
Every new plan that is created in the app automatically forms a new Office group that lets individuals quickly create public and private groups. This makes Planner a good tool for teams to create new plans, organize and assign tasks, communicate about what they are working on, and get updates on progress.
Microsoft Planner Software Review
For those of you who work in massive groups across multiple projects, the project management tools like Planner is indeed a worthy thing. This lightweight tool, that complements the Microsoft Office 365 suite, enables teams to quickly organize, efficiently build strategies, share files and communicate on what members are working on.
Besides that, Planner is suitable for administering marketing event, conjuring up brand-new product ideas, and organize your team in a highly effective manner.
One of the main Microsoft Planner benefits is to let teams organize working process visually, and easily lay out plans for projects.
Same like in Trello, each project comes with a unique Board, and each task is represented by a card. You can track your own work, get notifications via email and filter down to take a look at what needs to be done on every running plan.
The Target Market
Initially, the Planner tool is made for big teams working on multiple projects. This means, professionals who want to efficiently collaborate around tasks with their team members is the main target audience.
If you need help to eliminate the chaos from your teamwork and keep a close track on projects without missing a detail, Office 365 Planner is what you may need. The good thing is that it's easy to use: create a team (assign members), build a new plan, update tasks and communicate.
The Pricing
Office 365 Planner comes with flexible pricing. As it's designed for businesses of all sizes, users have a possibility to choose the most appropriate one for their needs.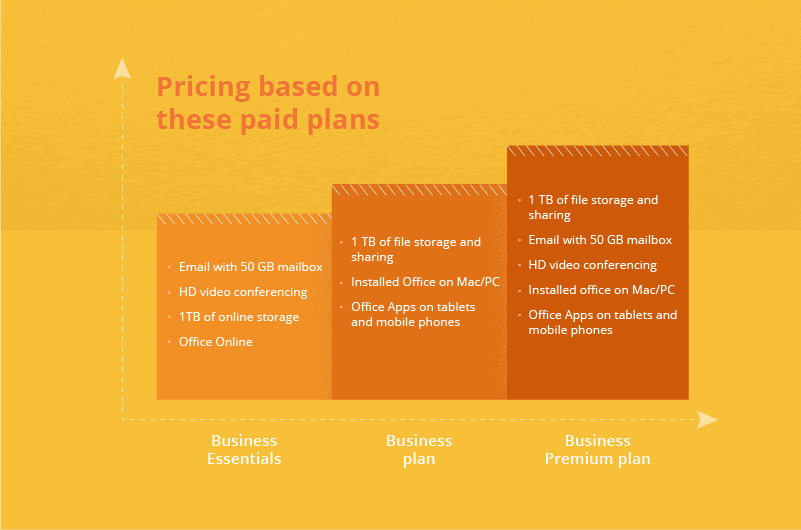 The basic version called Business Essentials is available at $5 per month per one user. It includes:
Email with 50 GB mailbox

HD video conferencing

1TB of online storage

Office Online
The Office 365 Business plan is there for $8.25 per one user per month. It includes:
1 TB of file storage and sharing

Installed Office on Mac/PC

Office Apps on tablets and mobile phones
The Office 365 Business Premium plan will cost you $12.50 per one user per month. It includes:
1 TB of file storage and sharing

email with 50 GB mailbox

HD video conferencing

Installed office on Mac/PC

Office Apps on tablets and mobile phones
As you can see, it is a much more an ad hoc tool for planning. That doesn't mean Planner won't get more powerful tools down the line. This Microsoft service is currently more convenient and structured for team collaboration than Outlook tasks, for example. Being another addition to Office 365 suite it can become a common task system for loads of their services throughout Microsoft ecosystem.
The Structure of Microsoft Planner Tool
Microsoft Planner is about easy collaboration while keeping teamwork organized. The components of Planner include groups, plans, boards, and colorful cards, due to which documents, tasks, conversations and all the other information is kept in order.
Let's unveil the basic structure of this project collaboration app by Microsoft:
Groups and OneNote Notebooks
Every project – a created plan in the app – is a part of an Office 365 group. When a user creates a plan, he(she) automatically creates a group. And every actual group gets a plan at launch, in which all existing members are the members of the group and the plan at once.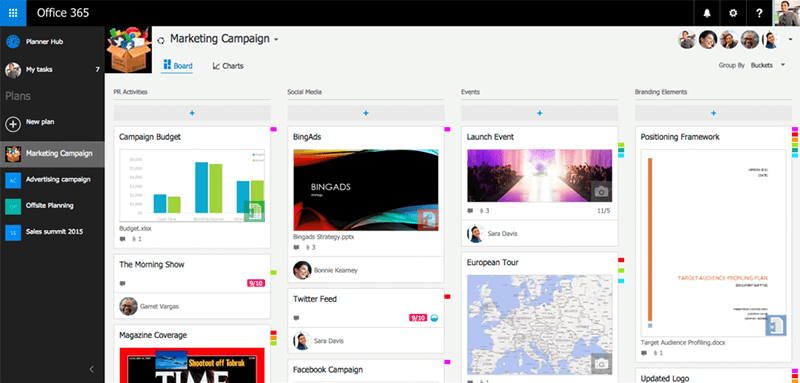 The Groups a user is in, automatically appear in OneNote, and notifications arrive as email, whether that's from a group chat or the tasks in a plan. Each plan is associated with a OneNote notebook. Having a separate OneNote notebook for every project maybe is a slow cultural shift but is indeed very helpful and perspective.
Boards

In the meantime, each plan has a board – the top-level component of the project. It is also attached to the members of the plan. The project is represented by the plan, and the initial "container" of the plan's activity is its board. The board view gives you an overview of all your tasks.
Cards
Every board features cards that represent work items and tasks. The card tracks conversations and comments around it and can contain attachments, categories, and due dates. Cards can also have checklists, comments, attachments, and links, as well as start and end dates, and you can assign them to specific people.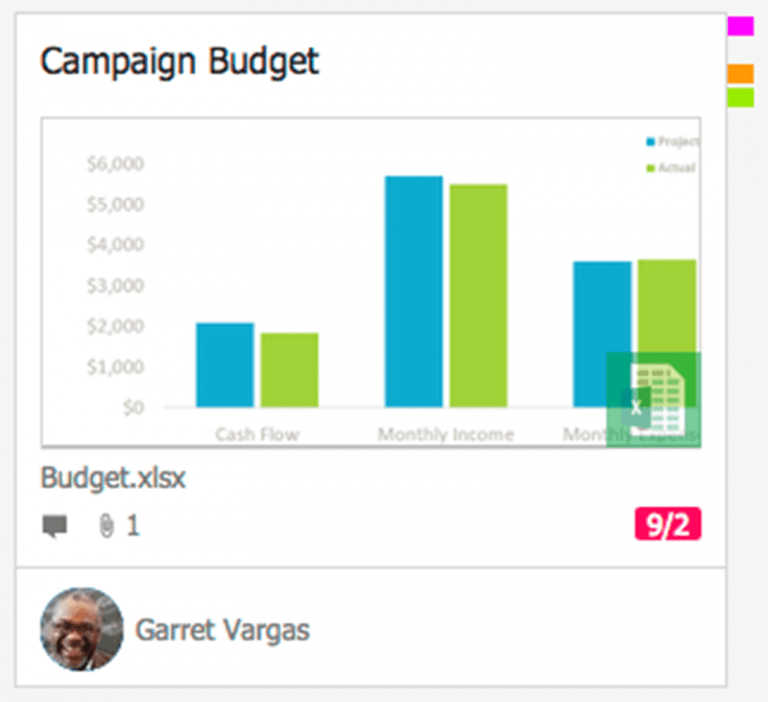 Notifications
Cards do provide notifications that appear in the new notifications panel in Office 365's suite bar. A user receives a notification when assigned to a new card or added to a conversation.
Conversations
Every card supports a conversation which is available in Microsoft Outlook 2016. The conversation on a card creates a new conversation in the Office 365 group and features a direct integration with Groups and Outlook Online.
The project members that are attached to a conversation can easily communicate on a card. The Planner conversation is built the way that when a new member appears, he gets access to the chat history, so can get easily acquainted with the information discussed before he joined the conversation.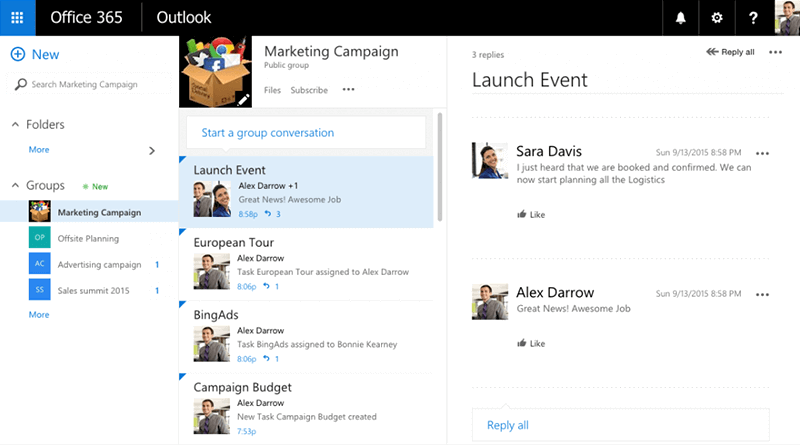 Using Planner lets you subscribe to conversations. This feature can keep you updated through your email. Moreover, you can freely reply directly from the email, as it will be displayed right in the group and/or the card. Good for those of you who's used to "emailing" and don't want to change old habits right away.
At ThinkMobiles, we use Trello and Asana now. And the thing we are sure about is that it's incredibly helpful to move conversations out of the inbox and into the context of the task. This is how it becomes much easier to be aware of the ongoing status of the task.
Documents
While using an app you can attach Office documents and edit them from within the context of the card. The great thing about Microsoft Planner is that office docs, pictures and other files that you attach to a card automatically generate a visual preview. The cards become perceptibly compelling and understood better from the first sight.
These files are stored in a OneDrive that provides off-line access for users with the updated service for Business synchronized clients, which makes the docs a part of Office 365 and OneDrive.
The Hub
Microsoft Planner also has a main "Hub" where a user can see an overview of the project (of the "plan" in app's terminology), and track its general progress. From there, it is easy to see who is meeting the assigned deadlines and open other tasks. The Hub view lets teams track the number of tasks assigned and how much progress they've made.
Views
You are able to choose one of 3 views of your tasks and "plans":
The Hub View

The My Tasks View

The Charts View
The Hub view is an overview of plans that help easily track the progress of the project; the My Tasks will take you to the tasks you are assigned to; and the Charts view will provide interactive charts for checking progress in terms of deadlines, showing what's in progress, late, completed, or not yet started. Note, that the chart view is used only for each individual plan.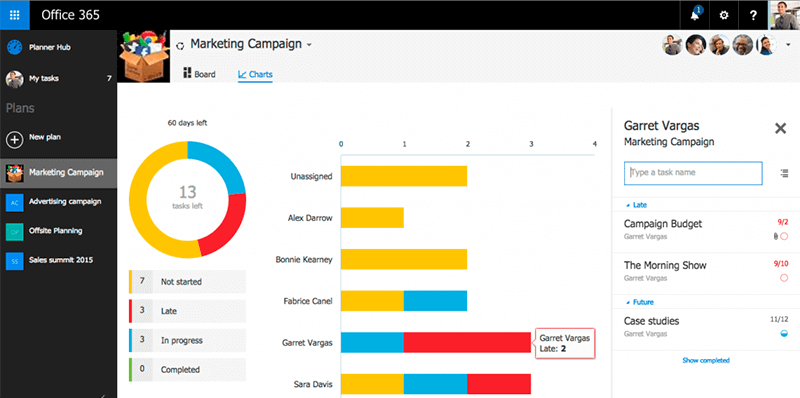 In addition, Microsoft Planer is integrated with other services of Office 365 suite, which includes SharePoint, Exchange, Groups and more. Considering that this app is a first-class citizen of Office 365, it is covered by all of the security and compliance features like virtually instantaneous recovery, multiple redundant backups, etc.
Microsoft Planner versus Trello versus Asana
The lately launched Microsoft Planner is the most recent project collaboration solution. Planner complements the Office 365 suite the way it can eventually catch up with growing digital trends. This project management tool is based on the kanban style and has a lot of similarities with well-known tools like Trello and Asana.

It appears that Office 365 Planner was developed as a tool for those who find Microsoft Project to be too complex, and Microsoft Excel not composite enough. But how does Microsoft Planner shape up against such powerful apps like Asana and Trello?
Let's have a look at Microsoft Planner versus Trello versus Asana to see how they work and compare the key similarities and differences. We will compare some core features and functionality of these three visually-appealing online project management apps.
Signing up – how easy it is and how much it costs
Trello is a free app that does not require users to pay for a subscription. You can simply sign up for a free account via email. You can add members to the board (they get an invitation), even if they do not have a Trello account. Nevertheless, free accounts are good for small businesses, meanwhile for the bigger corporations they offer paid plans.
So you can choose one of two paid pricing plans: "Business Class" $8.33 per one user/month (up to 100 users), and "Enterprise" $20.83 per one user/month (for over 100 users). The paid plans have their own advantages, as they include more integrations, extended file attachments, security and privacy controls, etc.
Signing up to Asana is same as to Trello. This app also has a limited free plan for groups of people up to 15 professionals. If there are more than 15 members, it will cost you $8,33 per one person per month and include advantageous features.
Asana offers unlimited dashboards and admin controls, as well as a helpful pricing calculator which tells a user the exact price of upgrading the team. There are a lot of handy integrations for both free applications, and both of them have public APIs to help you being integrated into your software stack.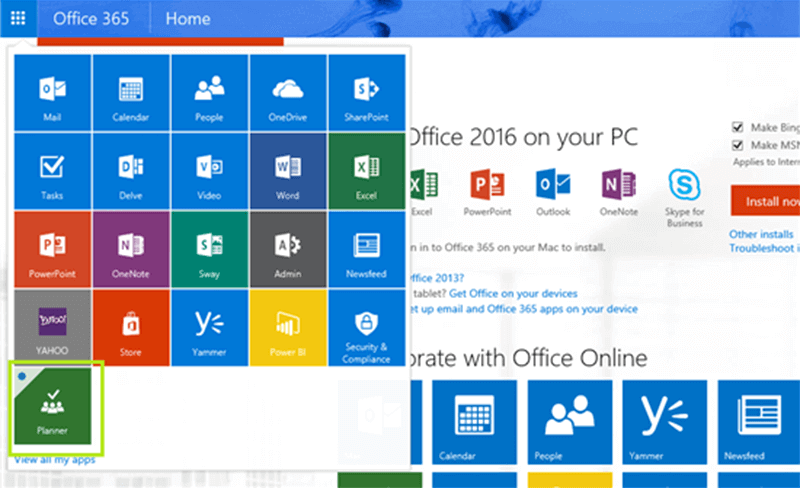 Microsoft Planner does not feature its native integrations, but you can use the Office API to synchronize it with the other apps you and your team uses.
If you are lucky to have an Office 365 account (Enterprise Educational Institution one), you should already have Microsoft Planner installed. And there is no need to sign up to start using it, just go through the applications screen and then press the Microsoft Planner logo.
It has a free integration with the Office 365 suite, so if you have an account – you can use it straight ahead. The main drawback is that it is sharpened for Microsoft ecosystem. So it's better to take care of all team members to have a Microsoft Office 365 subscription.
Dashboards – how do they look like and how do they function?
The Trello dashboard shows the user basic overview of the favorite boards, ranging the most popular to the top. The drawback is that you won't get a task overview unless you purchase a paid account.


Asana's dashboard gives the user a quick overview of all the projects, tasks, and their statuses. But, unless you get a paid price plan, you are limited to see only three projects at a time.
Similar to Asana, the Microsoft Planner dashboard is created in minimalist design that can easily fit any business and team. It is perfect for those who does appreciate apps for their functionality rather than bizarre design. It gives a user an overview of all the favorite plans and tasks.
Task – and task management look
First of all, all of these apps let a user become granular with the projects. Within all of the tools – Microsoft Planner, Trello, and Asana – it is possible to add notes, links, attachments, add labels and move tasks to different lists.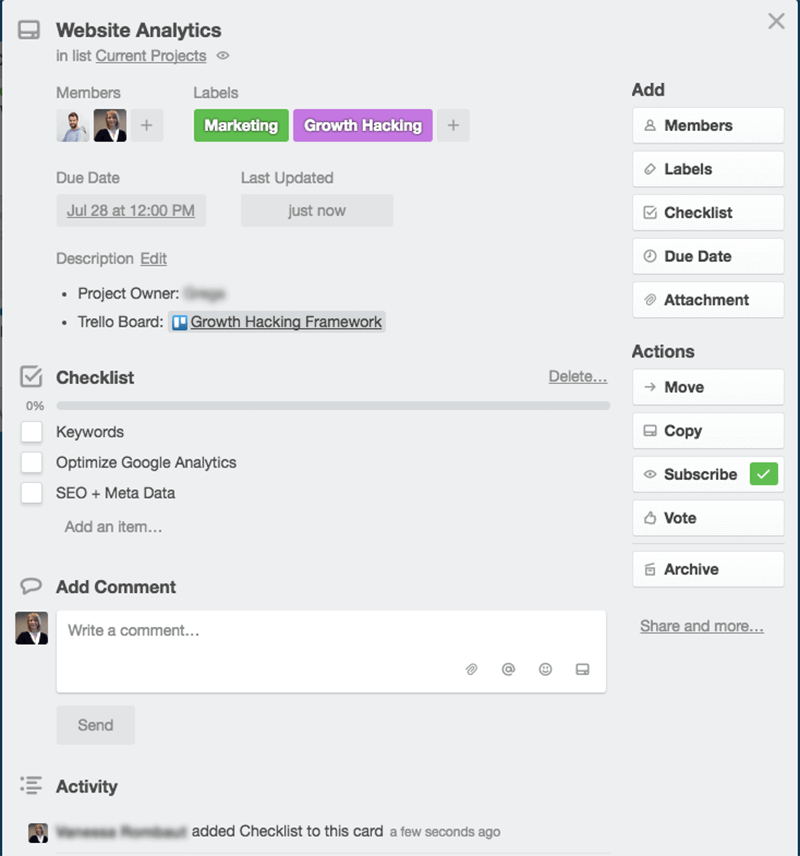 When you've created a task, you can assign people to it through "cards" in Trello. This project management tool works with "cards", with the help of which you can nominate a project leader and add people to the project. Trello has a definite advantage that differs from other tools – you copy to-do lists to another card, which is really awesome for repetitive tasks.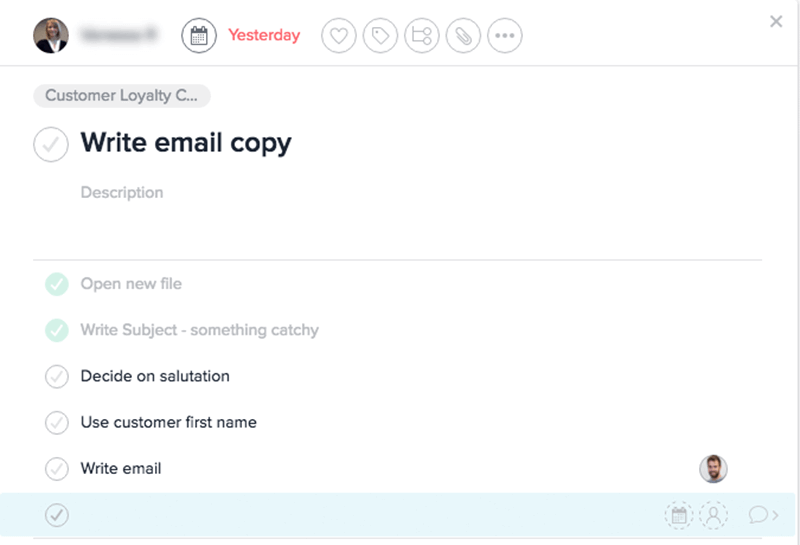 In the meantime, Asana's tasks have other nice features. Not only you are allowed to assign tasks to other people or to yourself, Asana also lets you use tags to group tasks and mark them complete or incomplete. It is possible to assign a task to one team member and then add a checklist, or create subtasks and assign them to multiple team members.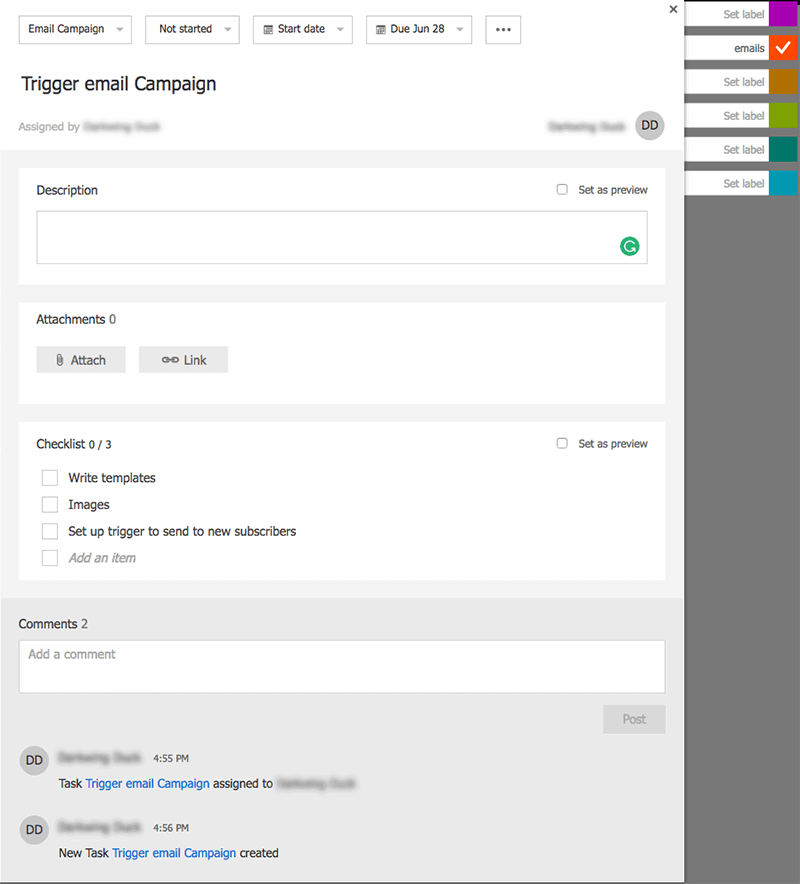 Microsoft Planner allows you to create tasks to pin to the so-called buckets and assign the team member who is responsible for completing the task. The difference is that here, at Microsoft Planner, you can only assign one person. It also allows you to check the status of the assigned task – "completed", "late", or "in progress". The good thing about Office 365 Planner is, again, that you can assign other members of the group to the task by dragging and dropping the needed icons.
Setting up your projects: how can it be?
It's quite an easy deal to set the boards and plans up in Trello. After you create a new project or board you can add team members by sending them an email through the app. There is no option for adding a description or creating an email address for the board like it is in Microsoft Planner (later about it).

It's more than easy to create a "project" in Asana. Find the '+' which is next to 'Projects' in the menu and click it – here you go, a project is created. Add team members by sending them an email, set the preferences (public or private) and start the collaboration.

If you want to create a new plan (project) in Microsoft Planner, all you need to do is to click on create a "plan" and give it a project title. After that, you can set its preferences (public or private), add a description, assign people to it and create a separate plan email box that links to conversation threads in Outlook.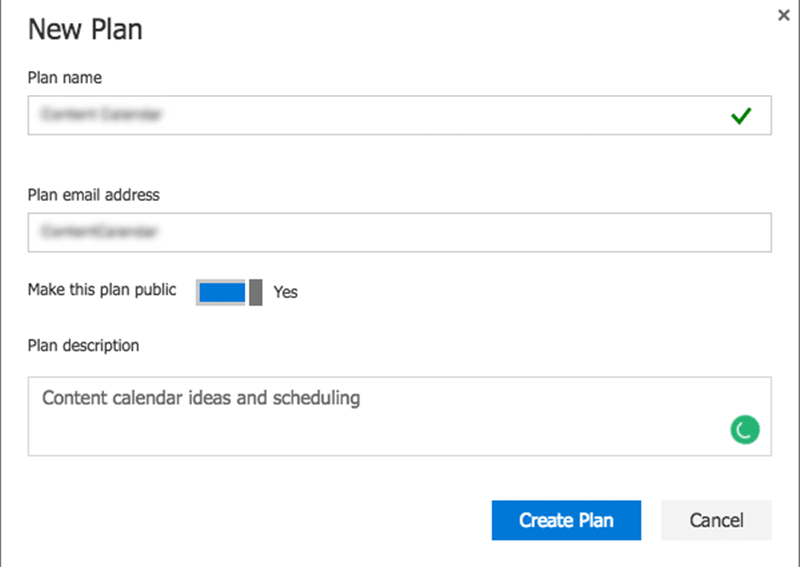 When you start using Microsoft Planner, you will immediately notice that it works with "boards" pretty much the same like the Trello. Navigation is easy – you can simply drag and drop icons of other team members to add them to the plan. Those "plans" basically represent the wider project a user is working on.
Collaboration – the available features
Trello allows you to comment on cards and have conversations around tasks. In addition, it tracks all changes to the cards, including new comments. In two of these tools – Asana and Trello – email notifications are possible only if you use integrations.
Asana has integrations with Box and Google Drive, while Trello with Dropbox and Google Drive, which makes it easy and comfortable to store and share files. Asana does have the conversations feature similar to Office 365 Planner.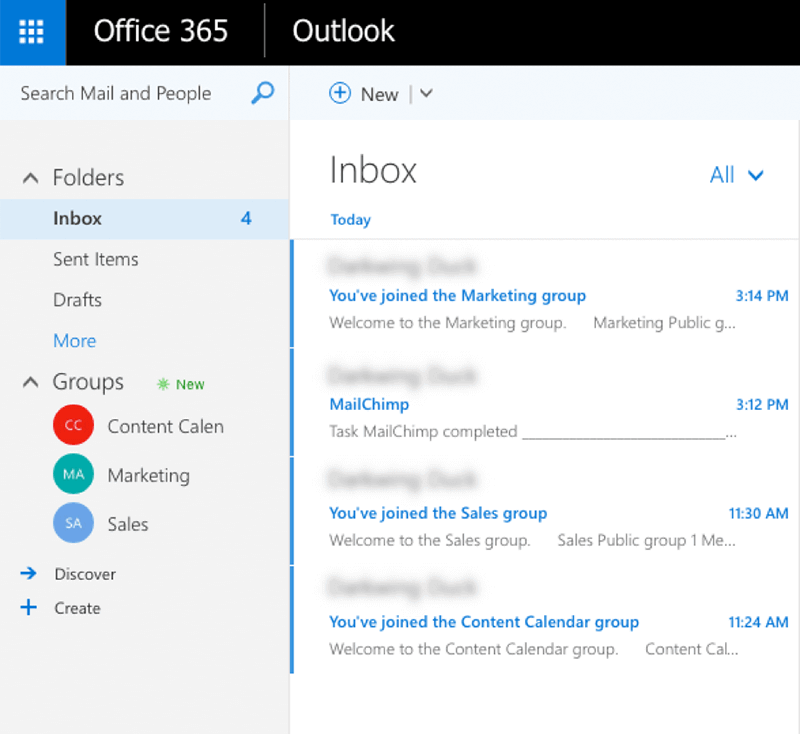 In the meantime, Microsoft Planner has a handy drop-down menu notifying users of all the changes made in their plans. In addition, this tool has native integrations back to the Office 365 suite, so users automatically get notified about their plans via Outlook email. As mentioned before, users can even participate in conversations (add links, files and other attachments, and comment on tasks) about plans they are assigned through their Microsoft Office email.
Due dates – how to set deadlines and track projects?
All of these tools allow to set a due date, while only two of them (Microsoft Planner and Asana) give the option to mark it as complete. As soon as it is "completed" it gets archived and, accordingly, hidden. But if you need to bring it back, just check a box and send it to the dashboard.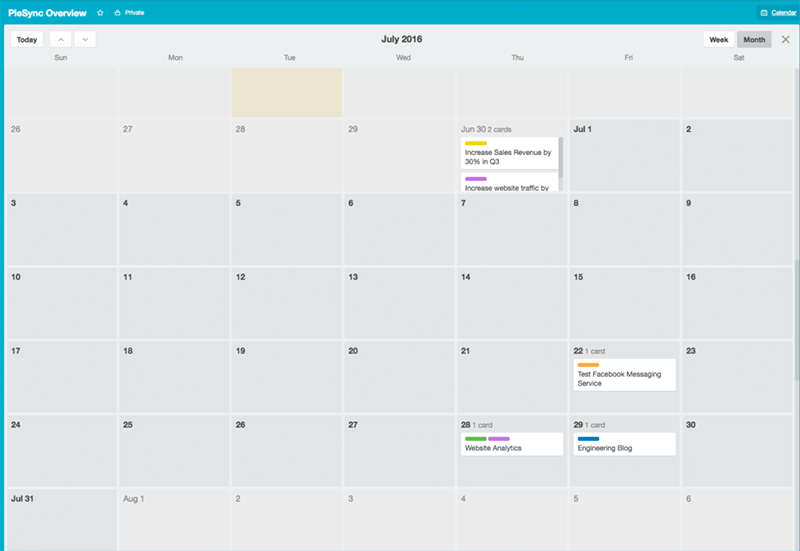 Trello lets you use "age" the cards that past their due date. This project management tool does also have a Calendar "Power-up" that shows you an overview of all tasks that need to be completed. A user can either remove or edit the due date if needed as well as archive tasks that are already completed.

Asana lets you see the due dates on the project board and on task card itself, and features a calendar for deadline overviews. While Office Planner and Trello show the number of tasks that have been completed on the card cover, Asana does not have this feature.

Office 365 Planner is a bit more advanced than Trello, as it allows task previews on the task cover. You can see tasks without opening a task card due to the feature "Set as preview". Check this box on the checklist and the Microsoft Planner will display you the checklist on the task cover.
The progress overview – how to view project progress?
Those of you who already use Trello know, that there is no option to get an overview of all projects that are on the go without being subscribed to one of the paid plans. As soon as you get a paid price plan you need to enable special power-ups. In case you are using a free plan, you can only view the projects individually.
One of the Asana advantages is that it allows users to promptly get an overview on task progress for all projects on the dashboard. It is also possible to set an update status as well as a reminder to update the status and notify other team members.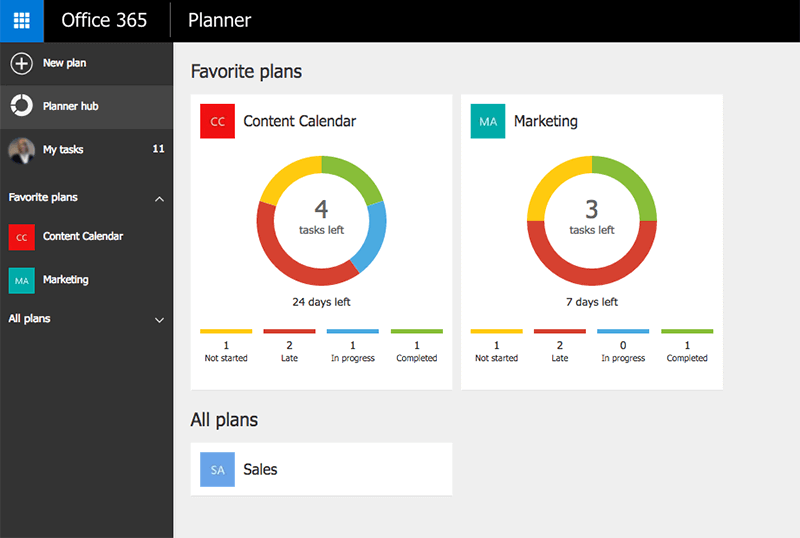 Microsoft offers its Office 365 Planner users two options of a progress overview. One of them is the general Hub view of all the plans, with colorful cards and color-coded donuts: yellow, red, blue and green. The green for completed ones, yellow is for not yet started tasks, blue for those in progress, and red is for the late ones. The other option gives you an overview of all the tasks per plan.
The good thing about Microsoft Planner is that it shows you the progress that's been made on tasks and which tasks are completed in time and which are overdue. In case the same tasks keep being overdue you can assign them to other team members or try another approach to their implementation.
All of the applications listed above – Microsoft Planner, Trello, and Asana – have an intuitive design, which means if web apps are common to a user, it will take some few minutes to get used to these project management tools.
First Microsoft Planner Usage Experiences and Feedbacks
Since Microsoft had launched the Planner tool, a number of Office 365 customers have already experienced the project management tool in work. One of them is the local government of Cacais city in Portugal, that had been convinced by the tech giant to fully transition its workflow to Planner.
"With Planner, we improved collaboration by about 20 percent. We're completing group initiatives approximately seven percent faster, and everyone stays aligned easily due to the added level of transparency," states Miguel Pinto Luz, deputy mayor of Câmara Municipal de Cascais.
As stated at the company's customers official web page, there are nearly 2,000 Cascais employees using Microsoft Office 365. "With the increased mobility and 1,000 employees using Microsoft Planner to expedite work on approximately 1,750 initiatives, productivity is up 20 percent. Team members now have the visibility they need, because they all can see every initiative at a glance on the Planner dashboard, including who is responsible for each task," Luz says.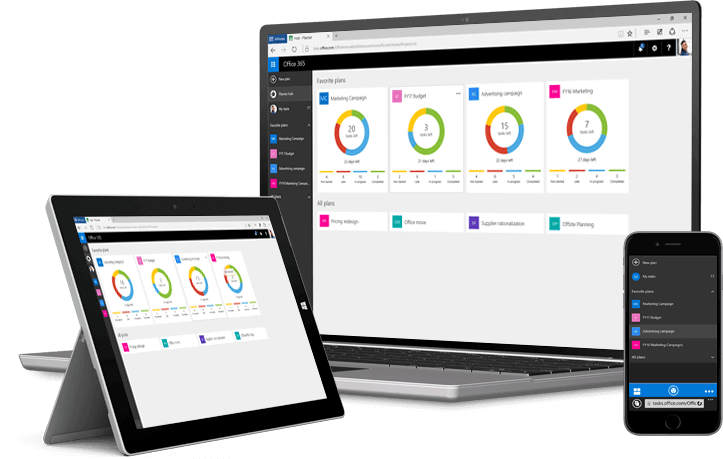 Hancock Askew & Co. is another firm that has recently adopted Planner. The director of IT Assurance Services, Greg B. Ameden says it helps team members in multiple offices manage, making the collaboration more organized and efficient.
"We have consistently received the Sloan Award for Business Excellence in Workplace Flexibility, and Office 365 has been a great resource for us in maintaining that award even through rapid growth. By using Planner, we add to that flexibility, giving team members transparency into what's getting done, no matter where or what time of the day it is," he adds.
Although the company has got quite a lot of positive feedbacks, the Planner Team claims it is willing to read each new piece of feedback they receive. And, moreover, then turn it into the action to continue improving the app. Going ahead, Microsoft is asking for feedback from all Planner users over on its UserVoice service.
So if you are a Planner user and you want to share your feedback drop them a line on the special Planner service and share your thoughts in the com ments down below!