15 best website builders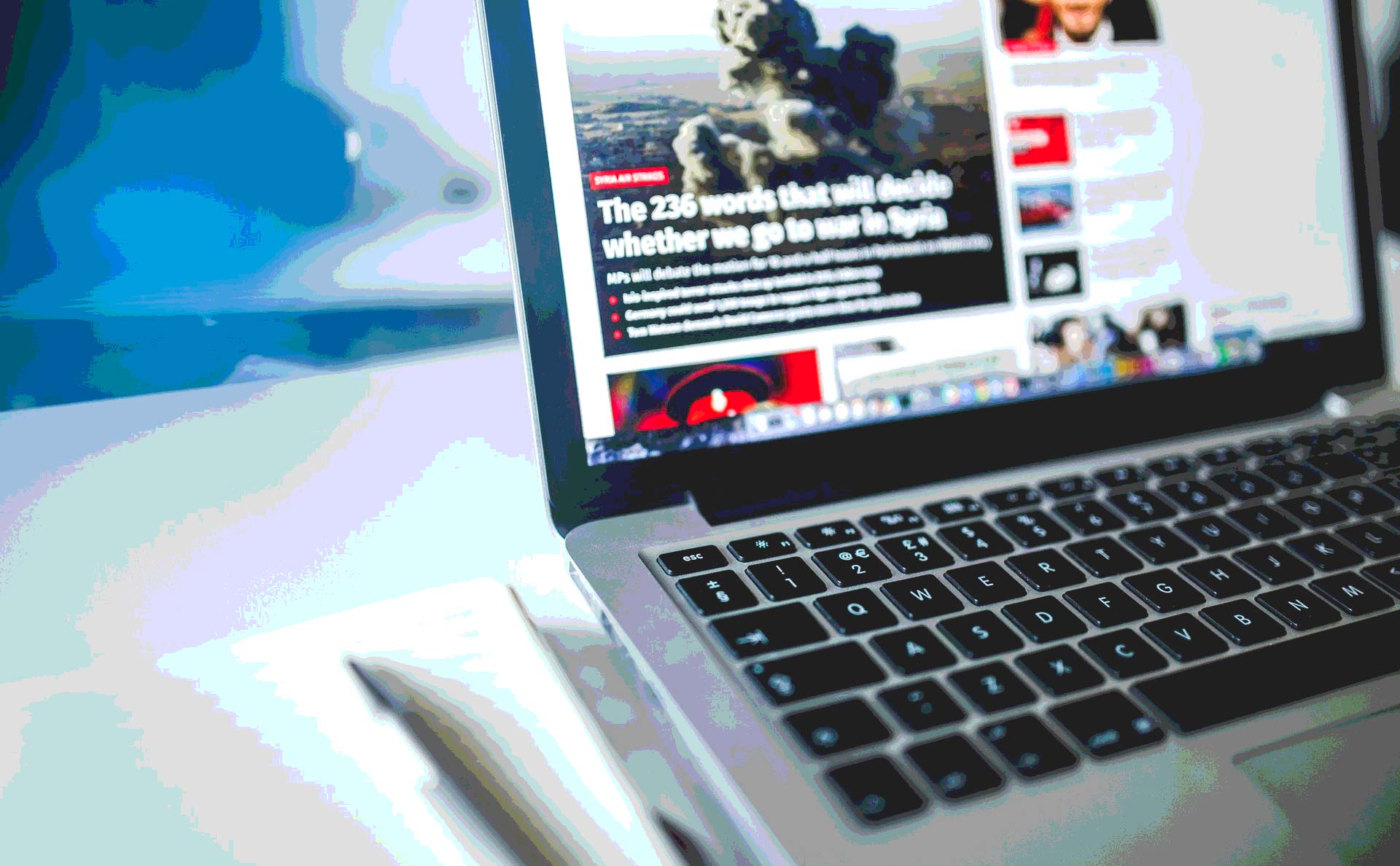 You know the saying – "No need to reinvent the wheel when you can ride the bike". The same goes for website building platforms. The presence of your company on the web market, regardless of its size, is the number one rule of good marketing. And with today's services, you don't even need to waste a lot of time and money to get a nice  personalized website. Though there are quite a lot of website builders to choose from, it can be a bit tricky. You have to choose whether to work with an offline or an online platform, a free limited version or a paid one. So our idea was to make this choice easier for you by listing the current best website builders as well as showing what can do with them.  
A DIY web builder Simbla gives the opportunity to create responsive, SEO friendly websites without any coding knowledge, but with poor abilities for mobile editing, e-commerce projects, or blogging. The website constructor works with drag-and-drop editor (WYSIWYG), 50 bootstrap responsive website templates, flexible to the structure and design changes.

Simbla, focused to simplify the building process, makes it easy to establish and manage each web page, provides full control over display on the site. The interaction with the editor is quite understandable, the users can operate the page and website settings, menu, style, preview numerous versions, use the WebMaster Tools. Ready to use, page blocks like Intro, Header, Content, Multimedia, Contact, Footer are can be comfortably dragged, placed and styled. For those with some coding experience, there is an option to create directly with JavaScript and CSS.
Pricing:
Free – 300 MB Storage;

Starter 6$ /mo;

Basic 12$ /mo;

Advanced 24$ /mo;

Pro 48$ /mo
Headquarters: Tel Aviv, Israel / Founded: 2013 / Employees: 5 / Contact: [email protected]
Website: https://www.simbla.com/
Yola website builder, oriented on SMBs, helps to integrate into the web spaces simple and just in a few minutes. Drag-and-drop functionality allows using editor without any background knowledge or for advanced users there is possibility to edit in HTML, JavaScript and CSS. SEO-friendly and ad-free website can be augmented with password protection, social network integrations, custom domain name, personalized emailing, online store features (PayPal, inventory management, order tracks, real-time shipping), business tools (site statistics, customer mailing list).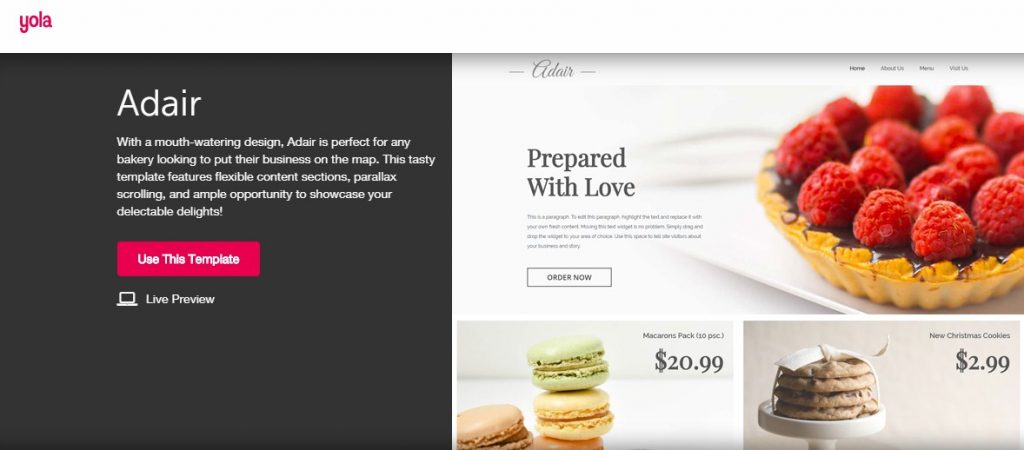 Yola is offering a wide range of templates, but, in case, you prefer something different, you are free to start from the blank page. The website editor has an easy-going interface, where you can replace and styled any pre-built page elements, add text information, images, columns, buttons, etc. The style editors helps to change colours, fonts, headings, banners, and background. In case while editing site you want to change the template, there is no need to back to the start, just switch to the other page pattern. With upgrading pricing plan, the user gets even more options to customize the website.
Pricing:
Free;

Bronze annually $4,95/mo or month to month $6,95/mo;

Silver annually $9,95/mo or month to month $14,95/mo;

Gold annually $19,95/mo or month to month $29,95/mo;
Headquarters: San Francisco, U.S. / Founded: 2007 / Employees: 73 / Contact: +14152270250
Website https://www.yola.com/
Wix is one of the most popular and cheapest website builders, which even gained the popularity among the celebrities like Macklemore and Ryan Lewis, Heidi Klum, Sergio Aguero, Karlie Kloss and others. The platform counts 500 designer-made templates (blank and pre-built), flexible to customize, millions of free high-resolution photos divided by 40 unique themes and which can be used for online store, small business, portfolio, events. The Wix editor seems to have unlimited options to edit the web page. You are able to change the site sections (rename, hide, duplicate, subpage, add, delete), style background with adding images and video, add a whole bunch of stuff like text, image, button, strip, vector art, contact, social links, list, members, menu and more.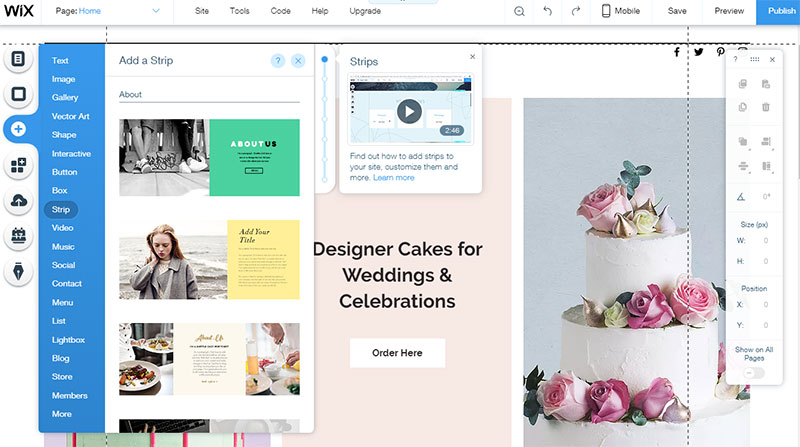 Among the other features, Wix provides SEO tools and analytics, social media integration, store manager, worldwide shipping and tax, multiple payment methods and coupons, Pop-Up tool, custom domain name, contact management and CRM, app market, Strips and many others. Depending on the specific of your website the system offer the most efficient range of the basic features.
Pricing:
Free – Drag 'n Drop editor, unlimited pages, 500 MB storage, secure hosting and a mobile site;

Connect Domain $5/mo;

Combo

$10/mo;

Unlimited $14/mo;

E-commerce $17/mo;

VIP $25/mo.
Headquarters: Tel Aviv, Israel / Founded: 2006 / Employees: 2384 / Contact: +972 415 517 6539
Website: https://www.wix.com/
Squarespace has built millions of websites, making emphasis on impactful, chic, and easy-to-manage online presence. The platform provides 20 free mobile-friendly themes, which can be edit with the numerous styling tools: make your own design of logo and title, layout, add images, video, inset buttons, links and announcements bar and other.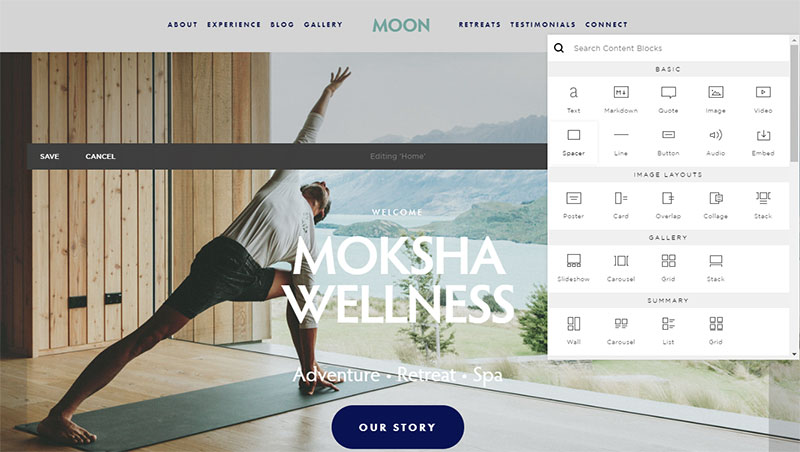 Squarespace has variety marketing tools like social media integration, blogging, email managing, customer activities analysis (traffic, popular content, geography), creating event list and RSVP mailing. For online stores it is possible to use some of the in-built functions: abandoned checkout recovery, drag-and-drop sorting products tool, ordering and shipping management, commerce analytics, customer management, payment options (PayPal, Apple Pay), safe transactions (free 2048-bit SSL certificates to each website).
Pricing:
14-day free trial;

Personal Website annually $12/mo or month to month $16/mo;

Business Website annually $18/mo or month to month $26/mo;

Basic Online Store annually $26/mo or monthly $30/mo;

Advanced Online Store annually $40/mo or monthly $46/mo.
Headquarters: San Francisco, U.S. / Founded: 2007 / Employees: 801 / Contact: +1 646 580 3456
Website: https://www.squarespace.com/
Weebly remains one of the most flexible and easy to use website builders on the market. With this software, the consumers can build maximum customize website (adaptive HTML, CSS and JavaScript) or eCommerce. The drag-n-drop editor helps to create unique fonts, supply video backgrounds, use animation effects, edit image and integrated analytics.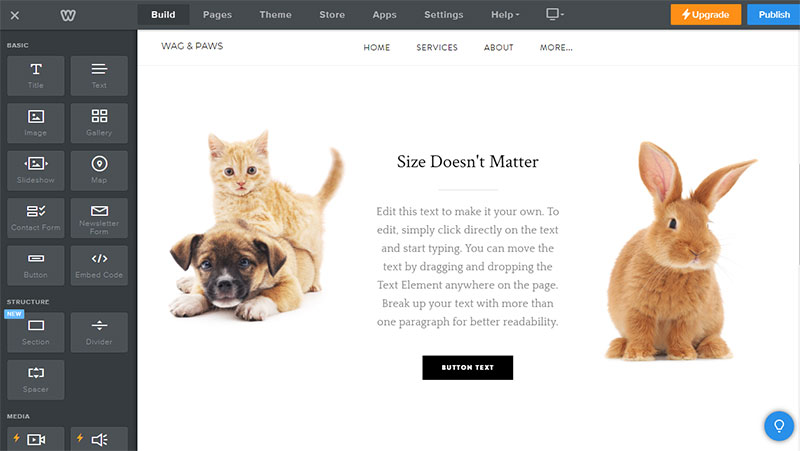 You can manage the page by adding new sections, insert different widgets (map, contact and newsletter forms, sideshow), create buttons, embed links, insert audio, player, search box and more. Online stores will be equipped with marketing tools (Facebook Ads, customizable email templates, SEO), shipping tool, providing coupons and gift cards, payment options (Square, Stripe, PayPal) and custom actions analysis.
Pricing:
Free (only for websites);

Starter

$8/mo + 3% transaction fee;

Pro $12/mo + 3% transaction fee;

Business $25/mo;

Performance $38/mo (only for online stores).
Headquarters: New York, U.S. / Founded: 2003 / Employees: 426 / Contact:+1 844 493 3259
Website: www.weebly.com
Strikingly builder is definitely for those without any experience or knowledge in coding and needs one-page scrolling website. The platform provides 30 mobile friendly themes, and unlike other services, it gives the ability to switch from one to another template during the customizing process. The free domain .strikingly.com can be changed to more professional by moving to a paid account.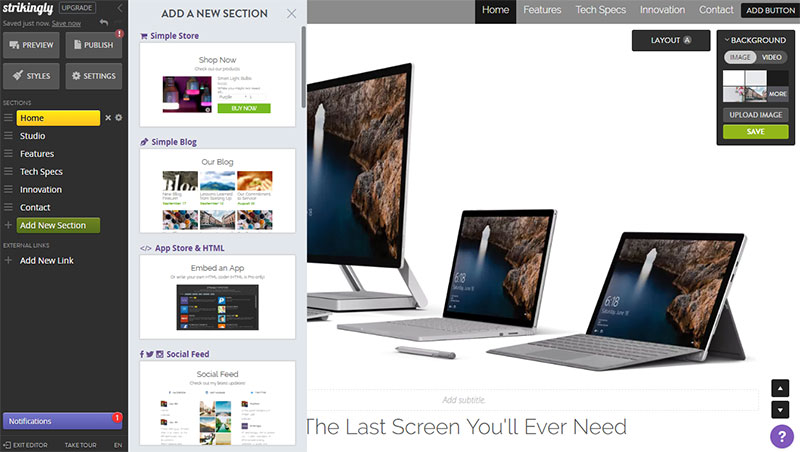 The editor has intuitive interface and even if there is no a drop-n-drag functionality, you will find many useful features. In Strikingly editor you can add and change the text, buttons, fonts, background, images, add sections, columns, headings, videos, gallery, input animations, sign up and contact forms, integrate with social media. If you want to sell something, Simple Store is simple and manageable eCommerce solution, supported with SEO tools (adding keywords and meta tags) and built-in analytics.  
Pricing:
Free;

Limited $12/mo or $8/mo (annually);

Pro $20/mo or $16/mo (annually).
Headquarters: Sunnyvale, CA, U.S. / Founded: 2012 / Employees: 110 / Contact: support
Website: https://www.strikingly.com/
Jimdo will be most efficient to create the websites for the small businesses. Unlike the other websites builder software, this platform provides two different regimes: Dolphin and Creator. Jimdo Dolphin gives you the opportunity to create the customized website based on your answers to some questions and your social media profiles. As a result, the client gets ready-to-use website within 3 minutes.  
With Jimdo Creator you create the webpages by your own: simple log-in, choose template,  add and modify text, images, and more, create a navigation menu (basic pages are Home, About, and Contact), use Style Editor to change fonts (more than 600 variants), colors and other customization options, preview and save all additions, connect your own or create new domain. After this your website is ready for use.
Pricing:
Free (2GB bandwidth, 500MB storage, all basic features)

Pro $7.50/mo;

Business $20/mo;

Platinum  $30/mo.
Headquarters: Hamburg, Germany / Founded: 2007 / Employees: 171 / Contact: +49 40 8 22 44 997
Website: https://www.jimdo.com/
Best for blogging, personal sites, business and eCommerce websites, WordPress.com offers more than 350 weekly updated themes, a bigger part of which is free to use. The WYSIWYG editor provides the rich abilities to customize web content (text, images, embed audio and video) and page design (pre-set color schemes, background designs, font styles). The user can create a new domain (.com, .net, .org, or .me) or connect the existing one.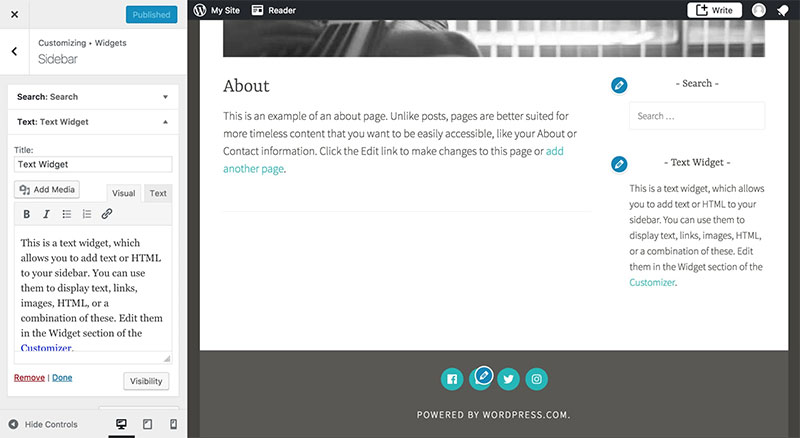 Working on this platform you get the mobile-friendly website or blog, suitable for iOS, Android, Mac, Windows, and Linux systems. WordPress builder also allows to install lots of plugins into the page like WooCommerce or Jetpack (SEO, spam protection, social sharing, site stats, etc) and to monetize the site (WordAds).
Pricing:
Free (3GB storage);

Personal $4.00/mo;

Premium $8.00/mo;

Business $25.00/mo.
Headquarters: San Francisco, U.S. / Founded: 2005 / Employees (Corp): 3109 / Contact: Support
Website: https://wordpress.com/
The latest updates of GoDaddy website builder are directed to cut the time and technical savvy required to create the website. As they claim, now it will take you less than an hour to make your own site. But by simplification, the procedure, didn't they lost the range of customization features? Let's see close. By answering the question about the main subject of your future site and its name, the GoDaddy gives you opportunity to choose among 8 themes with the features recommendations according to your answers and chosen pricing plan. As for domain, you can use your own, free NAME.godaddysites.com paid one (.net/$13.99 or .com/$12.45).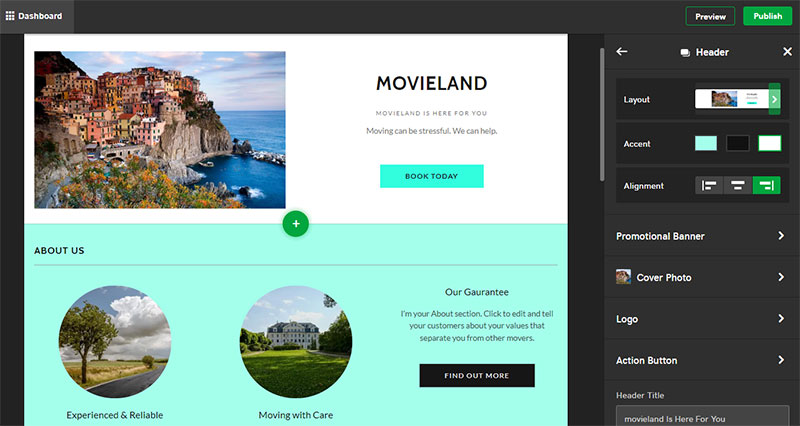 During creating the page you can change the size, style and colour of the fonts, upload your own pictures or use the stock images and modify their size, choose different layouts, add/delete/duplicate/edit page sections (menu/price list, subscription, blog, about, calendar, contact us, content, PayPal button, files, photo gallery, etc). With GoDaddy you are enabled to work with such site setting and additions as integration with social accounts (Facebook, Twitter, Instagram, Pinterest, LinkedIn, YouTube, Google+, Yelp), Google Analytics, Google Translate, cookies and tracking and site history. To make your website look more professional, you can use favicon –  unique icon in the browser tab for your website.
Pricing:
1-month free trial;

Personal $8.99/mo;

Business $14.99/mo;

Business plus $21.99/mo;

Online Store $43.99/mo.  
Headquarters: Scottsdale, Arizona, U.S./ Founded: 1997 / Employees: 5659 / Contact: +1 480 505 8877
Website: https://www.godaddy.com/websites/website-builder
QuickSilk is the website builder for those who are SEO-focused users looking to build an online presence, simply and safely, without requiring the code, mainly for SMBs, government agencies, and non-profit organizations. While the biggest con of this platform remains pricing politics, the free trial gives the glance of the wide range customize abilities. The platform provides over 100 free categorised themes with fully-responsive layouts, which already contain multiple sections and give the ability to create the front page and manage the admin part. Even if each theme is pre-built and ready to embed the users content, the QuickSilk editor also gives the ability to edit HTML, CSS and CSS files, template colour tints, module GUIs, and resource files.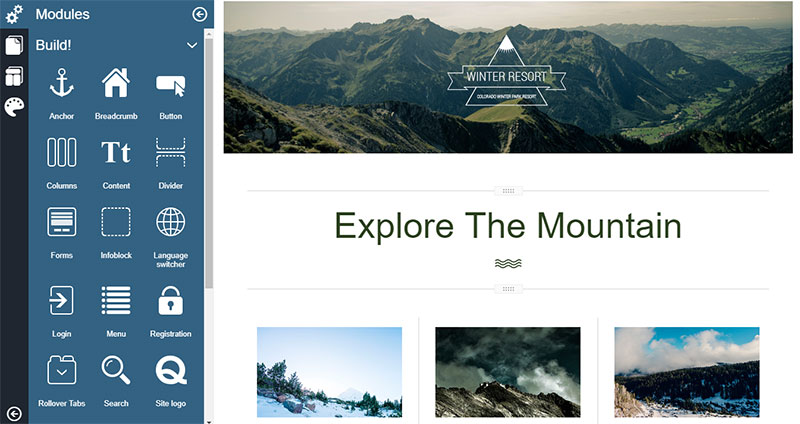 So what exactly you can do with the builder. Firstly, in-build great features like anchors, breadcrumbs, buttons, columns, site logo, divider, forms, info blocks, language switcher, menu, registration, rollover tabs, working area and other, choose from existing or create your own, edit their look, choose the type of objects visibility (user-based visibility, device-based visibility, mouse-based). Secondly, work in communicative module – add features as blog (+calendar, archive, categories, widget, etc), D3 module, events, FAQ manager, Google Maps, image gallery, portfolio, links manager, RSS, social sharing, comment, rank and other. QuickSilk also works with Google Analytics, Google AdSense, content delivery network (CDN).
Pricing:
14-day free trial;

Small Biz  $200/mo;

Marketing $300/mo;

Web Portal $500/mo.
Headquarters: Ottawa, Canada / Founded: 2010 / Employees: 3 / Contact: +1 613 270 1478
Website: https://www.quicksilk.com/
Unlike other website builders, besides creating the responsive website, Duda also offers to create a website only for mobile and website personalisation tools. The software gives the opportunity easily to switch between the desktop, tablet and mobile phone versions for preview the changes and adding the features. Other benefits are Drag & Drop editor, business-driving widgets (Click-to-Call, Maps features and Online Scheduling), integrations with OpenTable, Yelp Reviews, PayPal, Disqus Comments and more, SEO, analytics, hosting on  Amazon Web Services.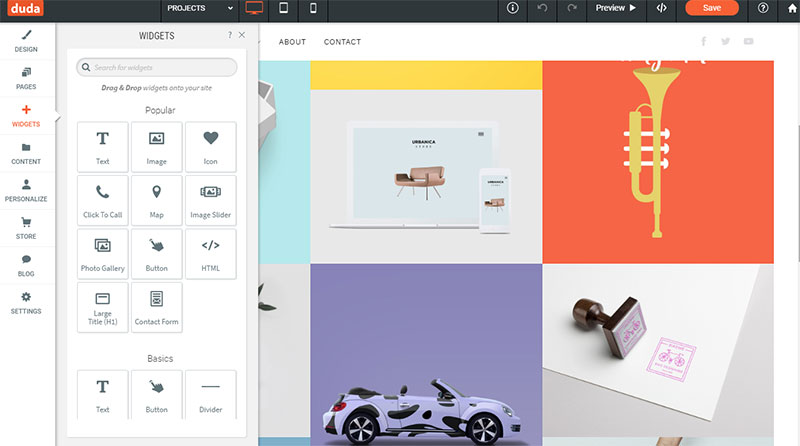 Creating with Duda you get more than 100 free themes and thousands of stock photos. The webeditor gives you control under design (text, buttons, images, rows, backgrounds, layouts, favicon), make it possible to create popups, animations, to add widgets (icon, buttons, map, image slider, contact form, columns, etc), import content (images, files, info, business profile), install store (free up to 10 product), integrate with social media (sharing, Twitter feed, Facebook Like, comments, social icons, RSS feed). And if you have coding background you can switch to developer mode, which gives you access to HTML and CSS to build the really unique website.
Pricing:
Free

Business + annually $14.25/mo or month to month $19/mo;

Business + eCommerce annually $22.50/mo or month to month $29/mo;

Premium (for mobile-only websites)  annually $7.20/mo or month to month $9.99/mo.
Headquarters: Palo Alto, CA, U.S. / Founded: 2009 / Employees: 157 / Contact: +1 480 505 8877
Website: https://www.duda.co/  
Zoho platform differs by its simplicity, easy-to-handle drag-and-drop builder and intuitive user interface and will be more suitable for small and mid-sized retail businesses. It helps to build SEO optimized and secure site, automatically formatted to work on mobile devices. There are more than 20 themes to use and a range of elements and pre-built sections to build a really customized product. Those, who have some experience with coding, can use HTML and CSS editors to control the page in full volume, to apply customized effect and even create own scratch.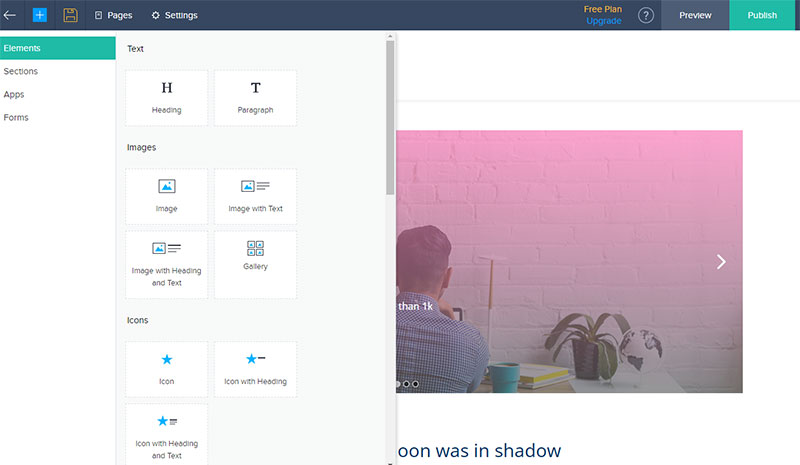 Zoho builder allows to add and edit such elements like text, images (with text, with heading and text, gallery), icons, buttons, content (carousel, tabs, accordion), containers ( box, row), dividers; sections, apps and forms, to embed audio, video, code snippets, and more. Zoho can offer even more: product portfolios, PayPal integration, eCommerce toolkit, SEO optimization, users analysis, domain registration.
Pricing:
15 day free trial;

Essential $7/mo or $5/mo (annually);

Professional $15/moor $12/mo (annually);

Advanced $25/mo or $20/mo (annually);
Headquarters: Pleasanton, California, U.S./ Founded: 2012 / Employees (Corp.): 5677 / Contact: +1 877 834 4428
Website: https://www.zoho.com/sites/website-builder.html
WebStarts builder will be the most suitable for the small business owners, who are in the chase for the online presence and to want to reach wide customers audience. DIY website builder, with its understandable interface and easy site navigation, offers to choose among more than 100 themes (pre-built or blank canvas), create the domain and start to build your own customized web page (available only on PC). If you know a little HTML or CSS, you are free to make some coding by yourself.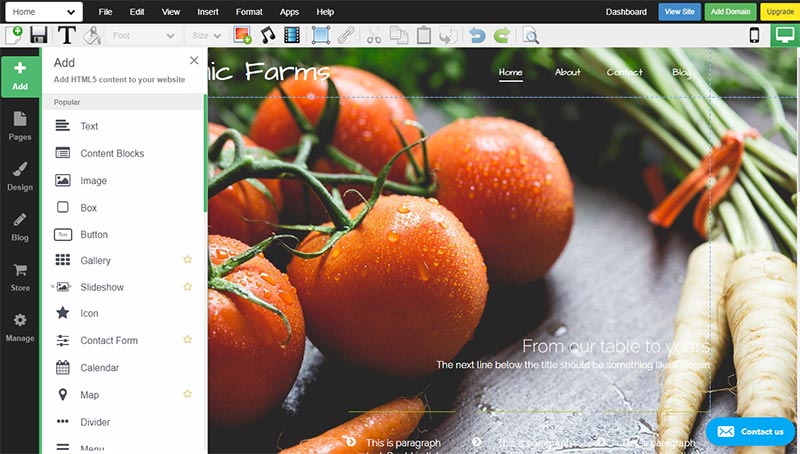 WebStarts' drag-n-drop editor with WYSIWYG functionality gives various options to style the web page: choose and edit one of 700 fonts, edit background, images, colours, style the content, you are able to insert pictures and photo (crop, resize, apply effects) and videos (free video hosting). Icon library, favicon support, social sharing buttons, widgets and apps (Instagram, Pinterest, Facebook, Google Maps, YouTube, WordPress, Gallery, etc), blog and more are available to add to your webpage. As a result, you get the SEO friendly website with Google Analytics support and cloud storage form 1 to 40GB.
Pricing:
Free;

Prol $4.89/mo;

Pro Plus $7.16/mo;

Business $19.99/mo;
Headquarters: Washington, U.S./ Founded: 2007 / Employees: 10 / Contact: +1 800 805 0920
Website: https://www.webstarts.com/
Getsosio is specialized in building online store platforms, totally ready-made and self-hosted.  The full control over the web builder gives the opportunity to customize the site according to the needs and trends. Getsocio counts such features as deals managing, free coupons download, ability of group buying, QR code generator, users rewarding program, affiliate program, email managing, MailChimp synchronization, social integration, Google Analytics and Maps, user account, support of multiple languages, integration with mobile apps.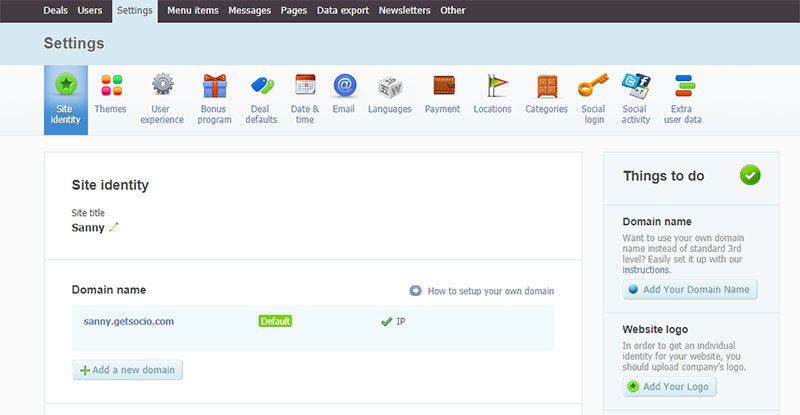 Pricing
14 days free trial;

Starter $15/mo + 5% transaction fee;

Lite $200/mo + 4% transaction fee;

Basic $500/mo + 3% transaction fee;

Pro $1000/mo + 2% transaction fee;

Business $2000/mo + 1% transaction fee.
Headquarters: South Lanarkshire, United Kingdom / Founded: 2010 / Employees: 10 / Contact: +1 323 250 0563
Website: https://getsocio.com/
The builder Voog will the best decision for the multi-language websites. At users disposal, there are 15 free, responsive themes, which can be previewed on a desktop and mobile monitors. You can choose the free voog.com or upgrade it to .com for an extra fee. The drag-n-drop editor unusually is a horizontal toolbar at the bottom of the page, gives the various options to edit the themes, add and customize text, gallery, video, map widget, forms, social sharing buttons, blog, ability to manage the site structure.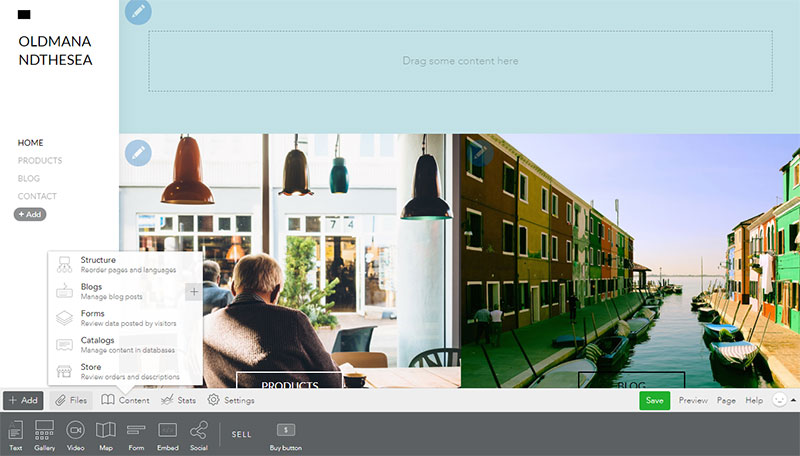 One of the key features of Voog is the inbuilt statistics for both desktop and mobile version about the visitors (in 30 days, today, right now), browsers, countries, top post, pages and searches. For small online stores it is very simple to manage eCommerce – just add the Buy button, which contains all needed information like name, price, product code, stock status, The full absence of SEO tools remains the biggest con of Voog builder.
Pricing:
30-day free trial;

Standard €8/mo or €6/mo (annually);

Plus €14/mo or €10/mo (annually);

Premium €50/mo or €39/mo (annually);
Headquarters: Tartu, Estonia / Founded: 2007 (under the name Edicy till 2014) / Employees: 10 / Contact: +372 712 1490
Website: https://www.voog.com/  
Read more about Best software