Nowadays online security is a very important question, sometimes even more important than home security. The best way to ensure your online security is to use difficult, secure passwords. And preferably a unique password for each website as well. But this creates another problem: how to remember multiple different and complex passwords? Here's where passwords managers come into play. We have tested more than 50 password manager apps and created a list of ten best password managers that deserve your attention. 
Kaspersky Password Manager is a feature-rich app from a well known Russian antivirus company. Good news for everyone on a tight budget, they can use this app for free and save up to 15 passwords. Benefits include 19 available languages, unique and interesting feature, called encrypted storage, saved address feature, ability to clear the clipboard, password checker, password generator. As a bonus, there is a free browser extension available for Chrome, Firefox, Internet Explorer, Edge, Yandex Browser. On the negative side, during our testing, there were some issues with the Kaspersky Password Manager synchronization feature. 
Pros:
Rich Import and export features
Clear clipboard feature
Encrypted storage feature
Cons:
Export available only in text format
Some data synchronization errors
Browser extensions have trouble synchronizing passwords between each other
LastPass is one of the most well known and advertised password manager software solutions.  LastPass is available in 57 languages and has a free 30 day trial period and an extension for every browser out there. This password manager has a lot of great features but it is not entirely free of some issues. LastPass provides its users an ability to assign several trusted devices, autofill of passwords, password monitor, Never URLs feature, Equivavelt URLs feature, password generator. A great thing about LastPass password manager software solution is that it can save a lot of additional data, such as credit card information, bank accounts, driver's license, passport, social security number, notifications, wifi passwords, emails, ssh keys, license keys and much more. One issue that we can name is that everything is saved in the cloud, so if you are offline you have no access to your saved data.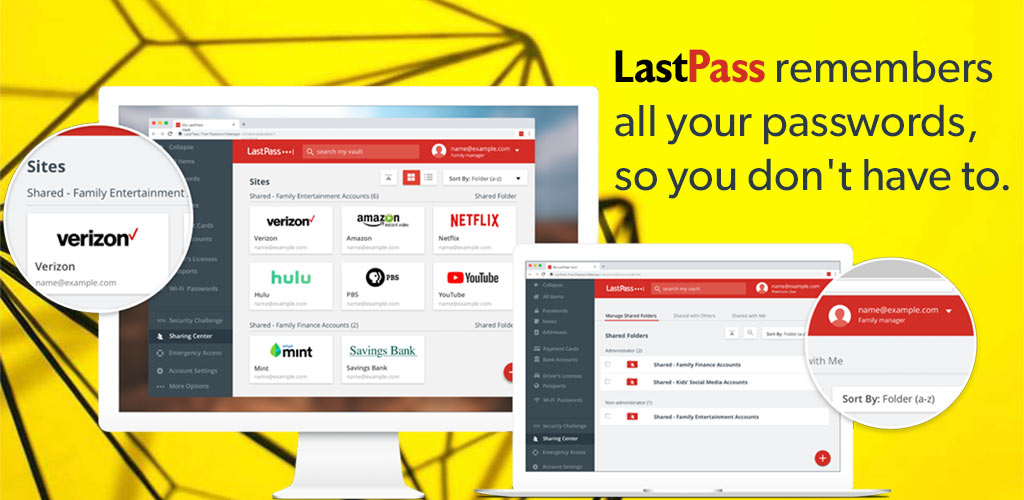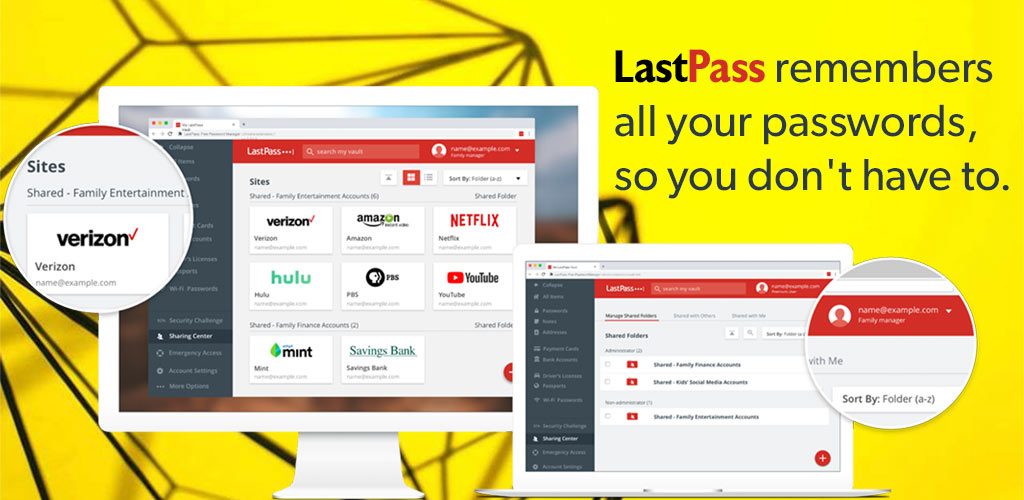 Pros:
Multiple user profile defense levels
Ability to add a domain to an existing account
A lot of additional objects
Cons:
Can't access the information without an internet connection
An empty category is displayed by default
Settings window cannot be maximized
1Password is a quite popular password manager software that has a lot of features, it is available in 11 languages for a free 30 days trial. Included features are: Reused Passwords – scans your passwords to ensure that you are using unique ones, Compromised Logins – triggers an alarm if one of your accounts was compromised, Trash can – basic trash can, allows to restore some elements after an initial delete operation, Expiring – checks the due date on your documents and passwords. In addition, 1Password allows you to save a digital copy of your documents, such as a driver's license,  passport, credit cards. Issues that we faced during our tests is that the installation process is quite long and hard, requires a lot of actions and in order to close the app users have to close the app and extension separately. 
Pros:
App and active tab is automatically blocked after a set time period
Lots of security check features
Ability to create several profiles
Cons:
Hard to find browser extensions
Can't export all passwords at once
In order to close the app users have to close the app and extension separately
Sticky Password is an interesting password manager app that lacks attention. It has some unique and useful tools, but it is not free from some flaws. Stick Password is available for 30 days in 12 languages as a limited free version. Password import is done automatically. Autofill and autosave of the fields are also present. As a bonus, there is a virtual keyboard feature, for secure password input. Additionally, the app scans your passwords and if there's an old or a compromised password user will be notified. The feature that makes Sticky Password stand out is the ability to save credentials for several profiles simultaneously, it can remember several different sets of passwords for different websites. Sadly the password generator is not included. Also, this password manager software will constantly scan your passwords, and if there is a weak one or an old or restored password you will be notified to change it.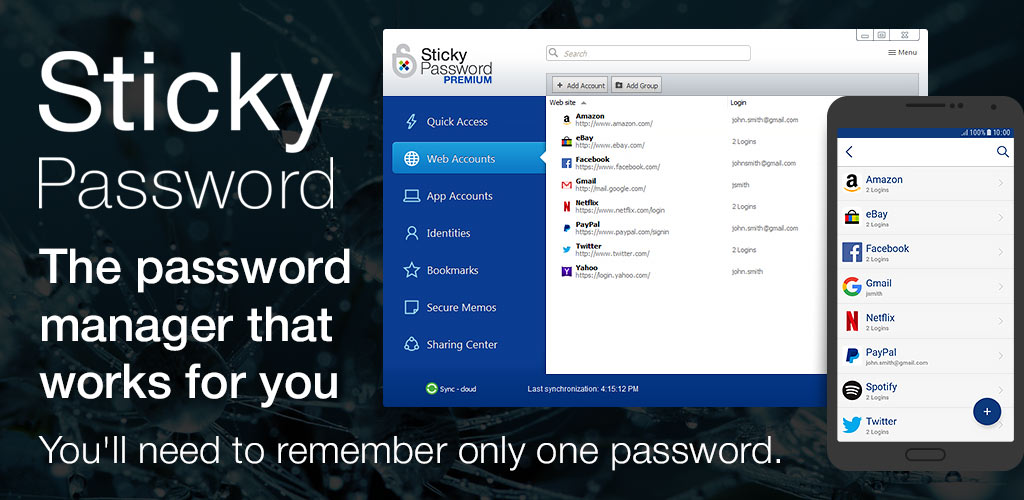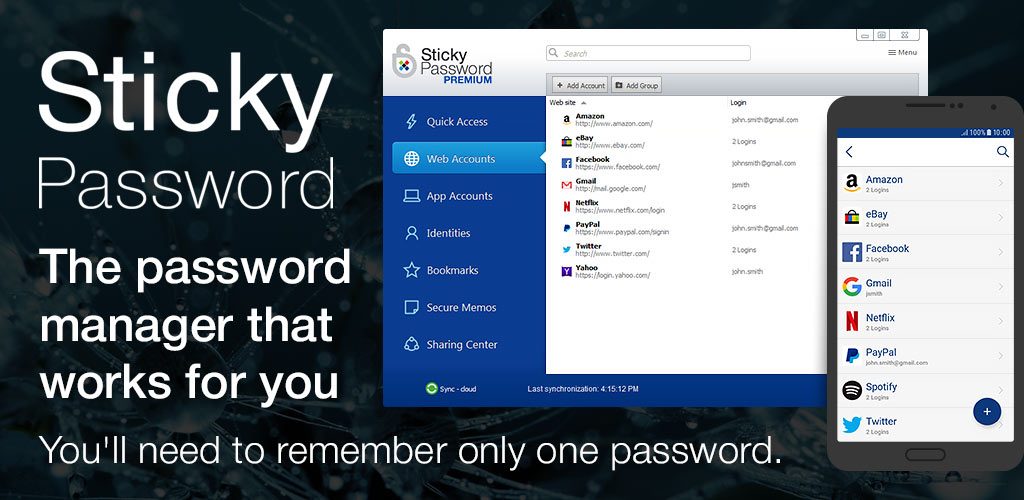 Pros:
Automatic login
Backup available
Virtual keyboard
Cons:
The app does not restore after unlocking it with password
Extension passwords feature doesn't work in the trial version
No additional data objects can be saved
EnPass is a password manager software app that is available in 33 languages and distributed as a free version. This app is quite versatile compared to other apps, especially if you are looking at free versions. EnPass allows saving a wide range of information, such as various settings, flight information, hotel rooms reservations, license key and etc. A good tutorial like feature is "sample items", it allows users to get familiar with the app quickly, providing an example of all objects that can be saved in this password manager software. A good to have additional feature is automatic clipboard cleaner. A major let down is that EnPass doesn't do an automatic password import from browsers.
Pros:
A lot of additional information can be saved
Computer tab
Passwords are checked with the haveibeenpwned.com database
Cons:
No tips while filling out the fields
Import from browsers is not automatic
Extensions for all browsers except Edge have to be downloaded manually
Zoho Vault is a password manager software from a software development company mostly known for their CRM. ZohoVault is a great tool to help users remember all passwords, also it can save other kinds of information. The app is available in 6 languages for a free trial period of 15 days and for 5 users. These users can share their password library. Additional features include: 
two factor authentication, secret question, Zoho Vault, custom objects (driver's license number, social security number, license keys, and add any other set of fields and values), users can add files to the object, and not only from their local storage, users can add files from OneDrive, Box, Jira, ZenDesk, Google Drive, OKTA, Office 365 and others.  
Pros:
Groups tool allows users to communicate and share files
Integration with cloud services
Multiple features that protect the account from various threats
Cons:
No automatic synchronization between app and website
Automatic password save feature is missing in the app
New vault entries are using the HTTP protocol by default
RoboForm is a useful password manager app created to help users save passwords and browser bookmarks. There are a lot of useful features including automatic password saving, export, and import of account data, the ability to use the same set of accounts on different devices. 
RoboForm is available in 35 languages. A unique aspect of RoboForm is that it consists of a set of apps, that include RoboForm Editor, RoboForm Search, Password Generator, New Version Check. These apps can take care of editing and saving account information, checking your PC for saved passwords, generating new passwords, and export all of the passwords, supported formats are HTML and CSV. Additionally, using RoboForm users can save personal information, such as name, phone number, address, etc. One flaw that we can name is the multi-app structure. 
Pros:
Ability to structure information in the RoboForm editor
Sharing feature
Ability to save bookmarks
Cons:
Can't create several different vaults
Issues with synchronization between app and extension
Application Logins feature doesn't work
RoboForm is installed as a set of apps, not a single app
Password Bos has a great set of features that can rival any password manager software, in addition, it packs some unique features. All that is available in 16 languages and users can try it out for free during a 30 days trial period. Standard features include saving, sorting, and sharing of certain password objects. Additionally Password Boss allows users to use a secure browser, Emergency access feature (quickly get access to data from another device), share the protected credentials to other users, automatic password import. A simple but very useful feature is the initial tips, they are a great help during the first few minutes of the app use. This is crucial because the menu design is very original, it can be a flaw to some users. Additional features include secure notes, digital wallet, security dashboard, dark web password scan, dark web email scan.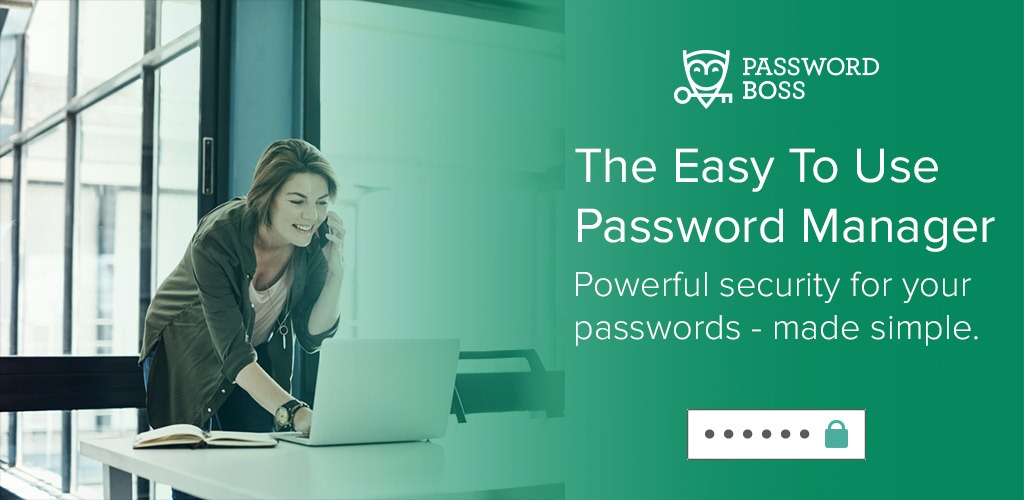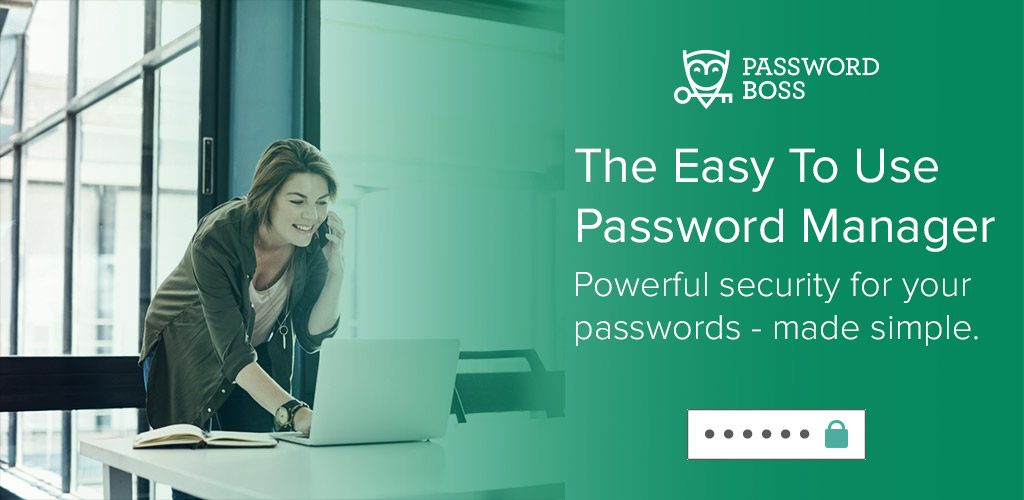 Pros:
Secure browser included
Digital wallet feature
Dark Web Password Scan
Dark Web Email Scan
Cons:
Unusual tabs in the Secure notes
The free version is very limited
Unintuitive display of password folders
Secure notes can hold other objects
Password Depot is a password manager app that has a great unique feature – it can be used remotely. Also, there is a portable version of Password Depot. This app is available in 10 languages and for free during a 30 day trial period. Additional features of this password manager app include favorites menu, virtual keyboard, automatic password import, export, encrypted files, save information about remote connection, license keys, driver's license, insurance numbers, etc. One flaw that we noticed during our testing is that passwords that don't follow the rules of Password Depot password manager will not be saved.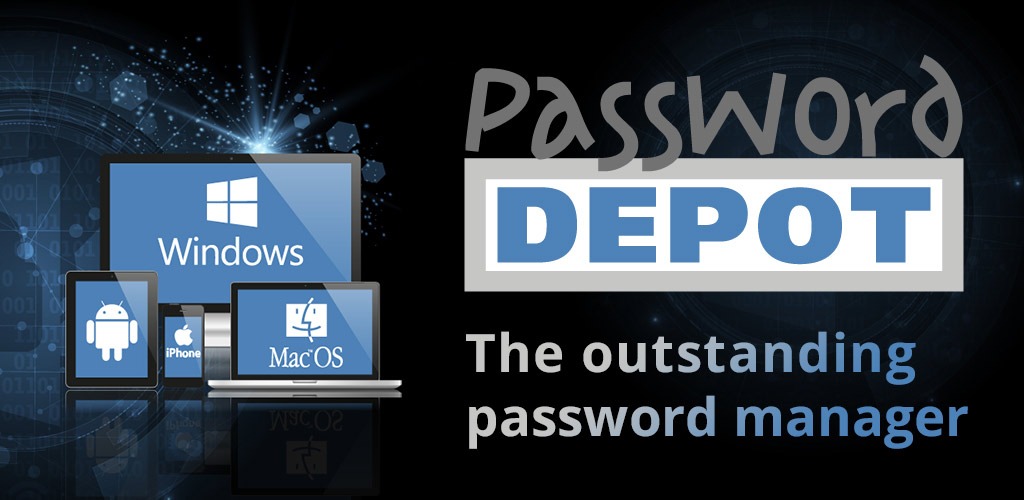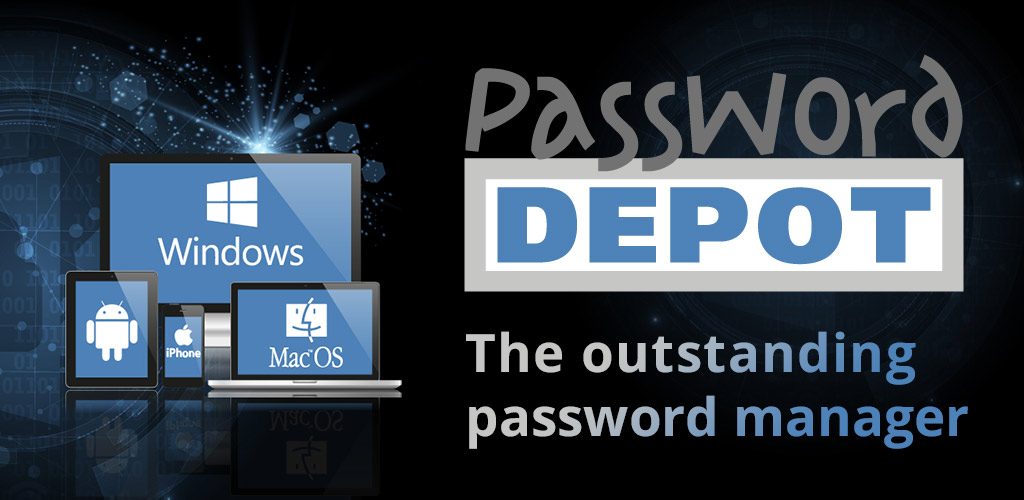 Pros:
Installation and update features in the portable version
Virtual keyboard with face cursors
Ability to save encrypted files
Cons:
Passwords that don't follow the rules will not be saved
Can't enlarge the virtual keyboard
Unintuitive interface
Keeper Security Password manager is a SaaS service that is created in order to solve all your password management problems. Keeper Security Password manager is available as a free 30-day trial version with some limited features, for example, users can only save 5 passwords. Standard password management features are present such as import and export, ability to add passwords manually from a file, ability to save personal information such as usernames, phone numbers, addresses, payment cards info. Unique features include the ability to change interface themes, BreatchWatch(alarms users if their password is in hacker's database), Security Audit. Also, users are able to use one set of passwords on several devices.
Pros:
The browser extension for passwords import
Safe-destruct feature
Trusted users feature
Cons:
A limited number of additional objects
Bugs in the desktop app
The app doesn't perform auto-login without user permission