Are you considering making your own mobile app, but have limited budget? Contracting a development company requires big money, and there are literally thousands of them, so how do you choose? Luckily, creating an app now does not necessarily require huge investments, months of work, or even coding experience! We are talking about special app development software – mobile platforms to create apps on your own.
You may find them under various names: app builders, app creators, app makers, app building platforms, app builder software, mobile development software, etc. Basically, these platforms are there to allow anyone assemble various features, elements, design into one mobile app. And indeed, most of these online app makers create 2 types of apps: a) mobile app versions of a website, and b) native apps (fully functional standard mobile apps, published at Apple App Store and Google Play Store).  If you want to know more details about this kind of software, check our guide at the end of article.
Although Appy Pie, a company from India, is an app development software that allows to build mobile-friendly versions of websites for free. That's why it is quite popular, and pro-plans for native apps start at just $15 per month. They offer a plenty of industry-specific ready templates, for example, dating apps, church apps, restaurant apps, SMB apps. And they made the process clear and understandable for everyone: choose design, add features, publish. Really user-friendly! Check out a step-by-step guide on how to build an app in Appy Pie.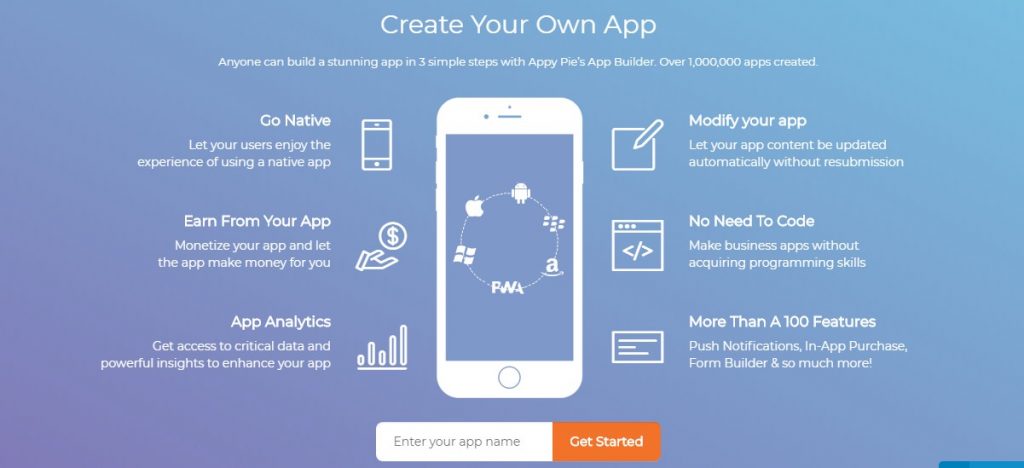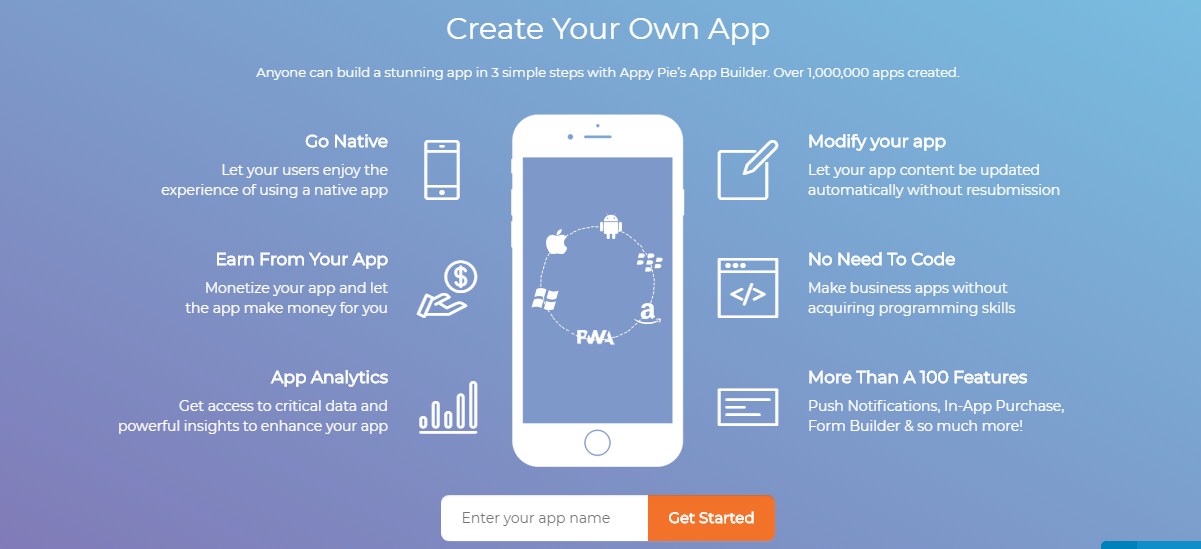 Pricing: Basic for $15/month, Gold for $30/month, Platinum for $50/month.
Website: https://www.appypie.com/
A mobile app maker capable of producing native apps (Android, iOS, Windows Phone), responsive web apps and hybrid apps (across all devices). Good news is that you don't have to install anything, and you can start right away using a visual editor. Drag-n-drop options all way through, which is especially nice for non-coders and non-designers. Simply choose the components, or available app templates, and assemble your user interface.
Many additional functions for advanced development are also at hand. From back-end services like cloud database, push notifications, REST APIs, etc., multiple plugins for media, mailing, socials, to latest iOS11 support and technologies like jQuery, Angular.js, Bootstrap integrated. Free trial active for 14 days.
Pricing: Pro for $90 monthly for up to 3 apps, Team for $200 monthly for up to 7 apps, plus custom pricing.
Website: https://appery.io
Here is a platform features overview in detail:
Swing2App is a cloud-based platform for developing mobile applications where a user can check the application's UI and functioning in real-time on a virtual machine. It supports both Android and iOS operating systems. Users can use it anytime from anywhere irrespective of the device being used. Its services are available 24 hours a day and 365 days a year. It provides admin and management tools to manage the smooth functioning of the application.
The main attraction of this platform is zero coding experience required and it takes only 15 mins to get an application ready to be used. It comes with a lot of features one of them is unlimited push notifications for your user engagement. Swing2App provides many pre-defined templates to be used for designing the application as per the user's requirement.
For an e-commerce industry, it provides a dashboard to manage the user's e-commerce application. Once the application production is complete, users can directly upload their applications on the Play Store and App Store through Swing2App itself
Pricing: $33 per month, $290 annually, $840 (annually) for full features pack.
Website: https://www.swing2app.com/
A bit more advanced platform compared to other app builders aimed at small and mid-market level companies. This could be a good choice for marketing agencies, restaurants, beauty salons, real estate agents, etc. Among popular features are things like coupons, scheduling, geographic directions, service reviews and loyalty programs.
It has a lot to offer: neat visual editor, multiple integrations (including 3rd party services), m-commerce features, music and video players, GPS-based directions and notifications, shopping cart, etc. Bizness Apps also claim life-long support, though we can't neither confirm or deny that, for obvious reasons.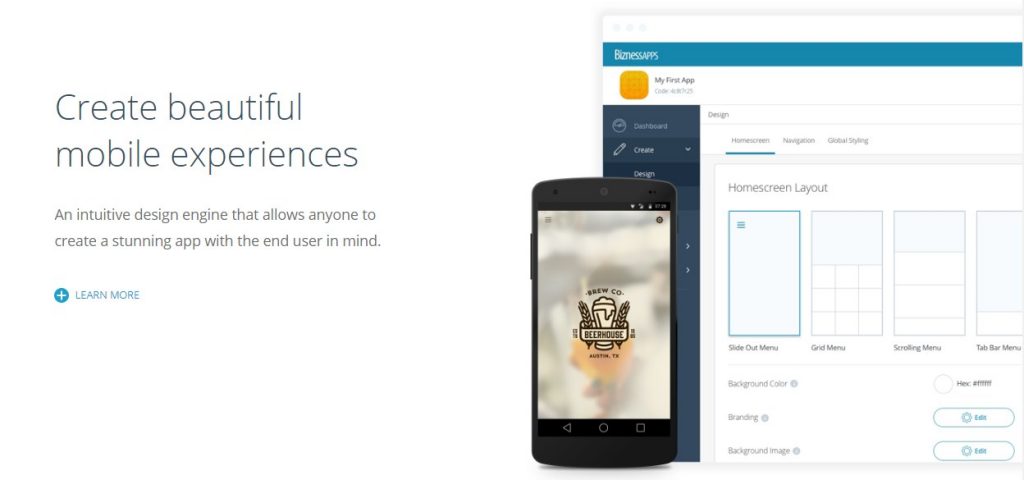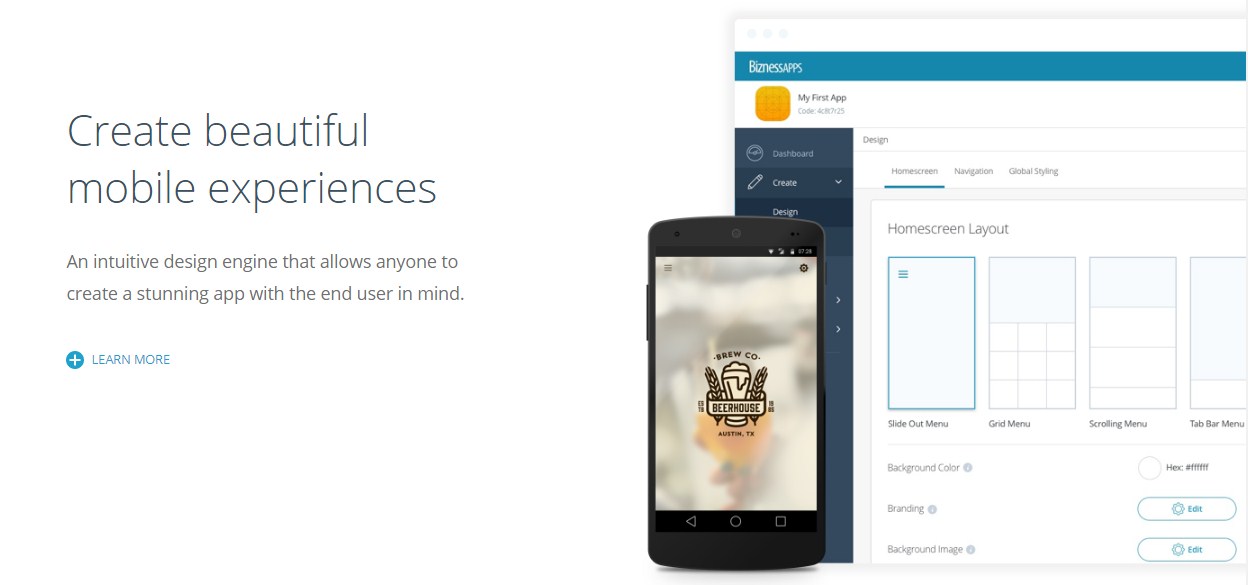 Pricing: $250 per month (paid annually), $299 per month (paid monthly), plus a single app plan for $99 per month.
Website: https://www.biznessapps.com/
Verivo AppStudio, who also joined forces with a bigger Appery app builder platform, deserves a place in our list because it offered one of the best tools to build apps faster. It includes UI configuration tool, a server for apps, security tools, and various reporting options. It has code-free visual studio, incorporating JavaScript and HTML5 to build any kind of apps. Automation for user authentication, data synchronization, integrations and deployment. And joining another platform – Appery, customers get a real solid service.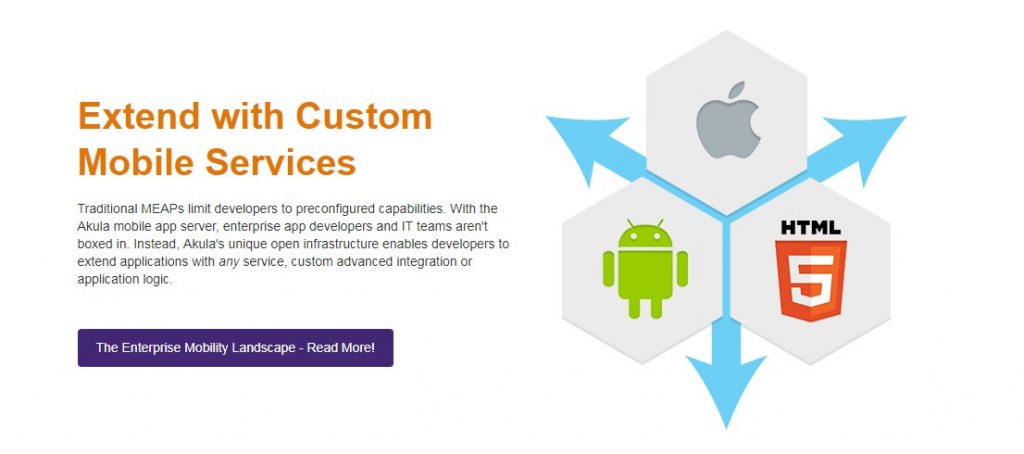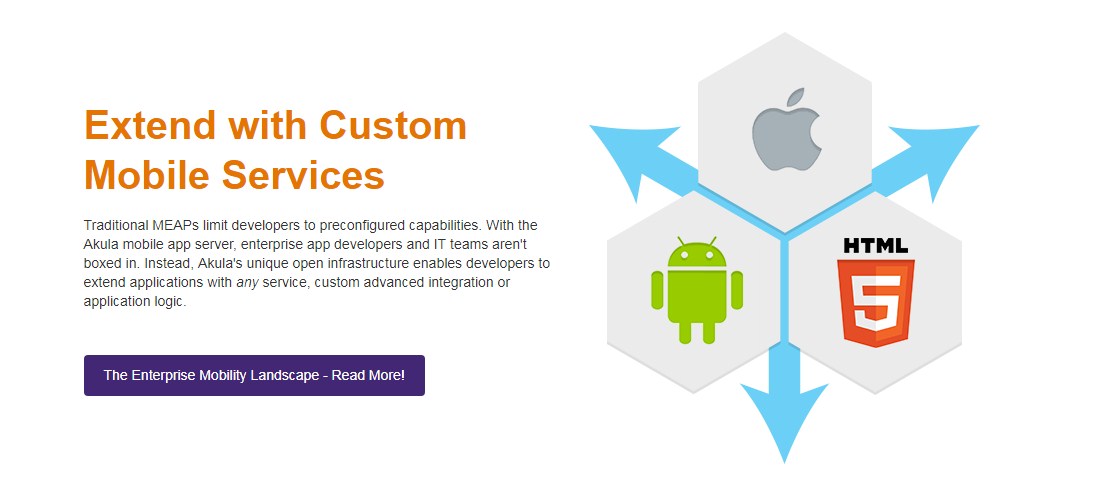 Pricing: Refer to Appery.io.
Website: http://www.verivo.com/
Felgo is a cross-platform framework which supports iOS, Android, desktop (Windows and Linux) and counting. Its main feature is the ability to use the same code for different target platforms. It was achieved through a vast library of APIs that could reduce the total code size by 60%. The framework can be used to develop business apps, and 3D objects support makes it valid for game development. Native IDE is based on QT and allows to work with JS and C ++. Migrating to Felgo is made simple thanks to detailed documentation and a large library of free project samples.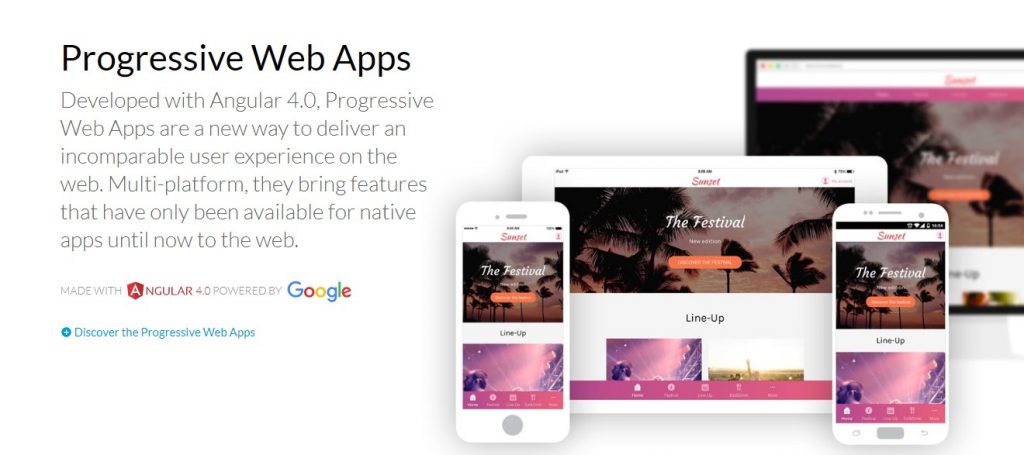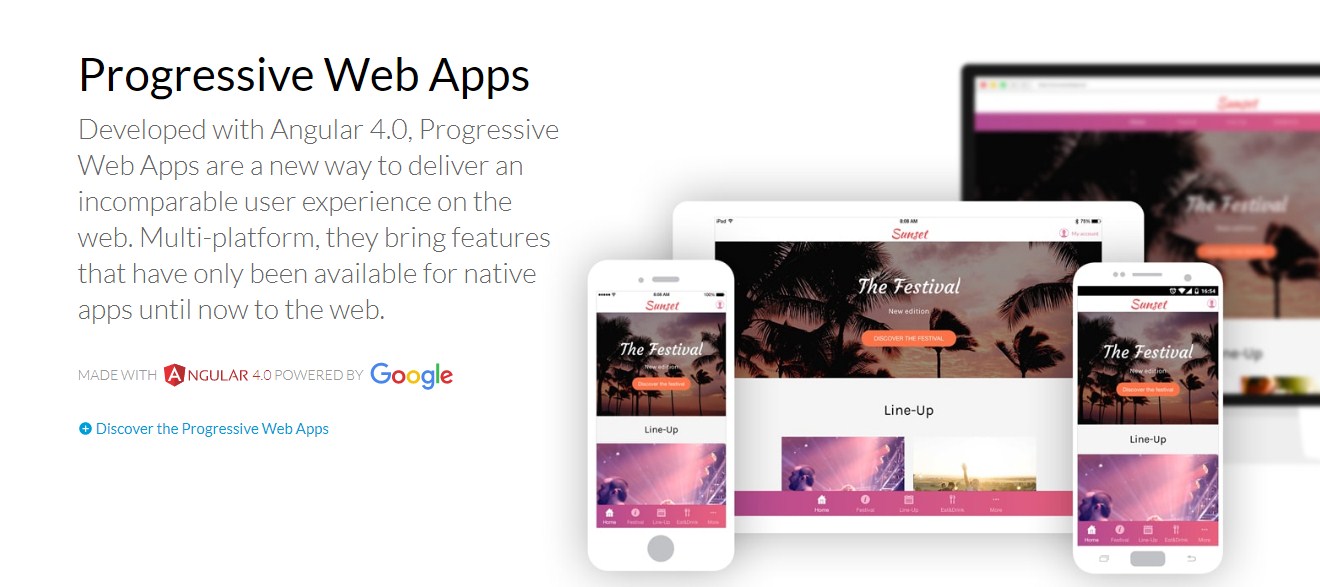 Pricing: Free and $79.00 per developer / per month if annual turnover more than $50,000
Website: https://www.felgo.com/
This app development software platform works for native (iOS/Android) apps, HTML5, but the prime focus remains on progressive web apps (PWA). A French company offering services for mid-size and smaller companies who not only want a mobile app but also the access to its source code. Lots of nice themes available, advanced features – like social networking, chat, geofencing, customization possibilities, push notifications, many plugins. Plus plenty of app management options, for example a CMS, audio/podcast features, event listings, user profiling, sharing/comments section, mCommerce integrations, etc.  
Pricing: Free 30-day trial, Android app for 32/48 Euro per month, iOS app for 96 Euro per month, Unlimited native apps for 200 Euro per month.
Website: https://www.goodbarber.com/
A do-it-yourself mobile development platform with multiple templates to choose from and create Android, iOS or HTML5 apps. There are plenty of such design presets for healthcare/medicine, food and restaurants, education, nightclubs, hotels, charities, government agencies, etc. The platform provides integrations with social media, payment gateways such as PayPal and ePay, advertisement options via Google AdSense. And they do all the work to submit apps to app stores, which also helps a lot. 14-day trial available.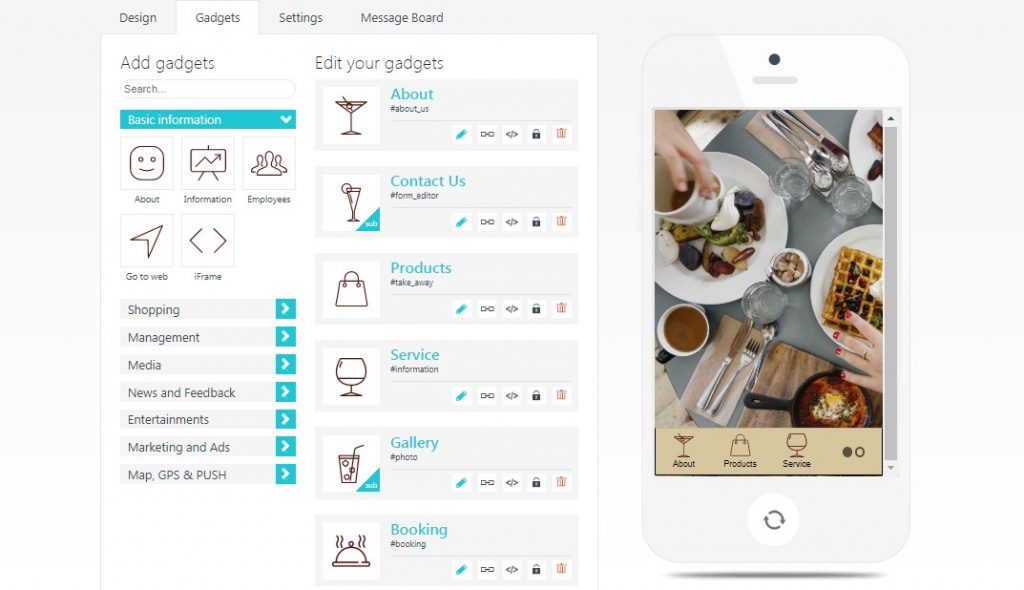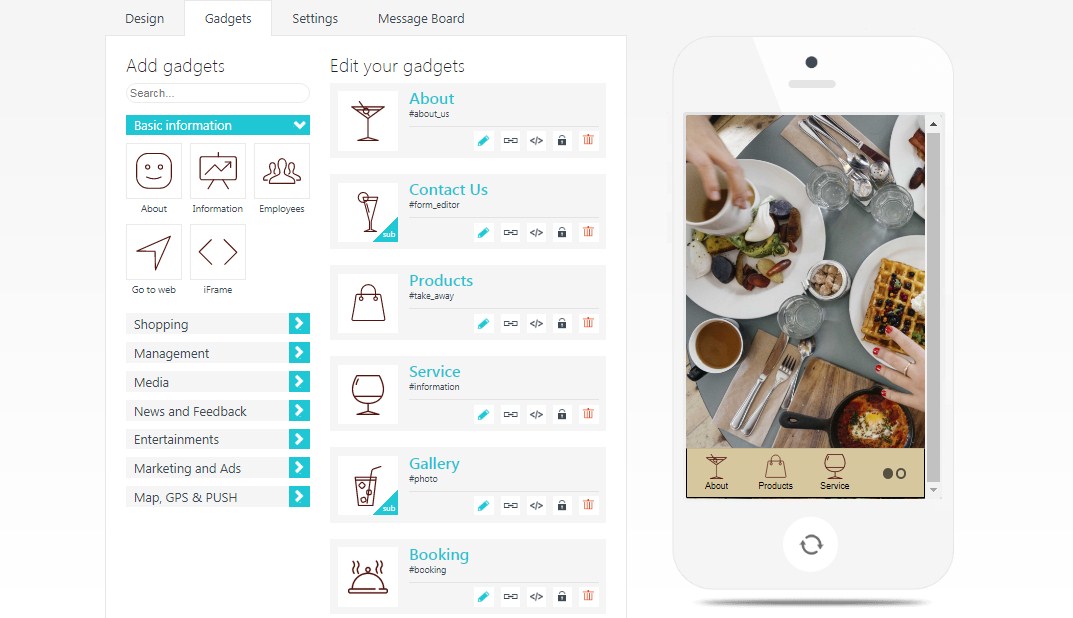 Pricing: DIY for $29.50 per month, Reseller for $99 per month, plus $870 to get an app built for you.
Website: https://appsmakerstore.com/
Nice and down to very basics of mobile app development, Mobincube offers straight up what you're looking for in online app building platforms. There's all you need: visual development interface, drag and drop, templates and customization, source code and Google Analytics, notifications. A quite unique feature that separates this platform from others is monetization capability through Admob service. It means the apps you create will comprise ads and banners, and every time a user clicks on it, you'll get your share of income. What is lacking overall in Mobincube is user-friendliness in terms of design and sequence of actions.
Pricing: from free and basic version for 3 Euro/month, to 10/20/50/100 Euro per month plans.
Website: https://www.mobincube.com/
Check out what is Mobincube and how it essentially works:
Shoutem allows to build cross-platform apps using React Native, and comes with really great design, UX and templates. Its UI toolkit offers a lot – over 40 screen types, over 200 layouts and over 40 extensions/features ready to go. Plus all the "heart and engine" for any mobile app: a content management system, user authentication, APIs, analytics, 3rd party integrations, etc. Truly no coding knowledge needed, drag-n-drop interface, native app preview, local testing, all building blocks as an open source. And all in JavaScript, nothing else. Shoutem deserves a five star rating.
Pricing: basic for $20/month, Advanced for $50/month, Unlimited for $120/month, plus custom  enterprise tier.
Website: http://www.shoutem.com/
Watch the introduction to a new version of Shoutem here:
One of the more expensive app platforms, Mobile Roadie with offices in the USA, UK and Norway, has its eye on large businesses and enterprises. Among their top clients are Disney, TED, Universal, which is impressive, for sure. Along with nice useful design features and  templates, there are enough possibilities to tweak and adjust all you need, chats, music player and fan wall particularly hefty for artists. Plus serious stuff like content geo-targeting, digital commerce, analytics and app submission. The only drawback for most potential clients would be the price, probably.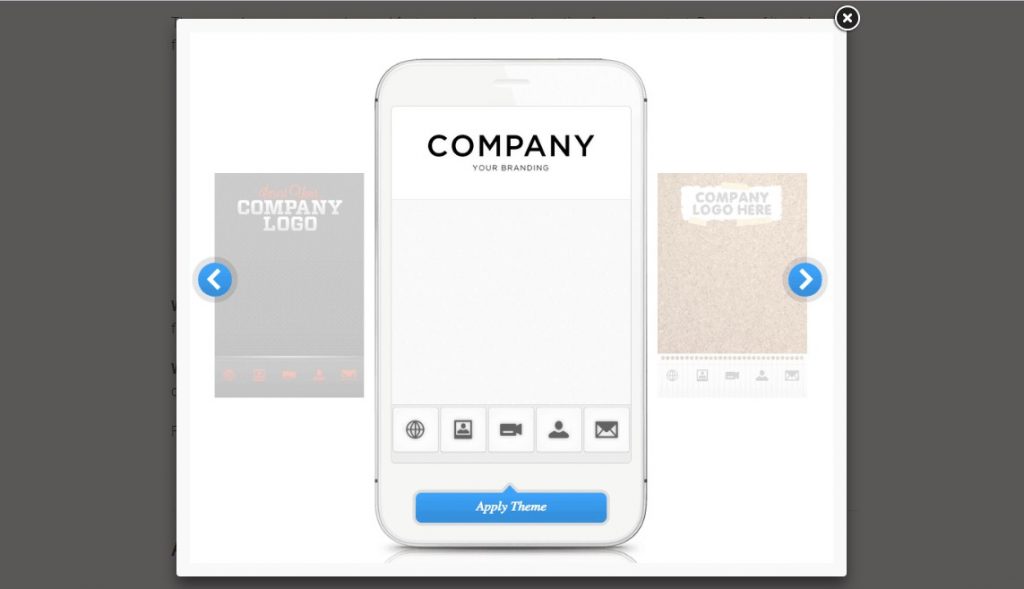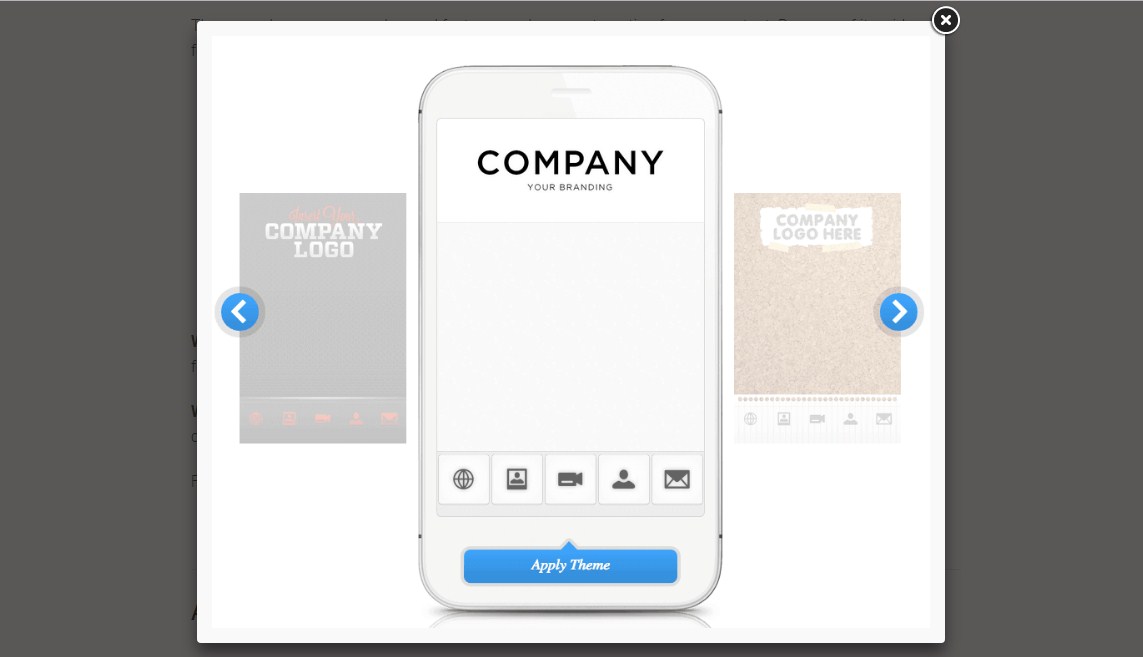 Pricing: contact for price quote.
Website: https://mobileroadie.com/
AppsBuilder is a do it yourself platform for mobile applications development. No coding skills are needed! Trough a single building process users can create an app for iOS (iPad, iPhone), Android (Tablets & Phones). Last but not least, your app will be available for the Chrome Web Store and with a Mobile Site Html5 version.
Pricing: Trial 14 days; Bronze (only webapp) 14 € per month; Silver (basic native app) 29 € per month; Gold (full native app) 49 € per month; Reseller White Label from 59 € per month for 1 app.
Website: https://www.apps-builder.com
Now, if you ever wanted to develop a more complex mobile app, say a game, this could be your entry point. With simple visual interface, where you can import graphics and assign scenarios for it, the platform's role is to let people with no or little coding skills build mobile and web gaming applications. GameSalad lets you make games for iOS and Android devices, has lots of templates and demos for basic games. Those familiar with game programming can also perform multiple tasks with variables, loops, database structures, just like in any programming language. It is complex and simple at the same time.
Pricing: Basic for $19 a month, Pro for $29 a month.
Website: https://gamesalad.com/
Watch a tutorial on basics of game building in GameSalad:
Swiftic app maker offer 30-day money-back guarantee and works best for small and middle level companies who want to boost brand engagement and build an app with back-end database. In-app coupons, scratch cards, loyalty cards, deliveries and notifications, scheduling, customer reviews… you should catch the idea, right? There are about 7 different templates and UX/navigation styles, along with any colors, background pictures, building blocks to choose from.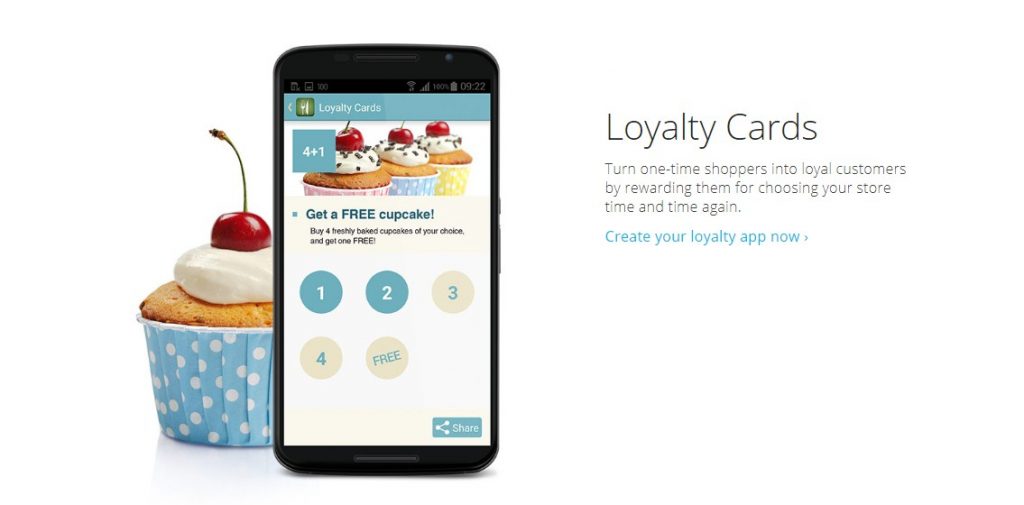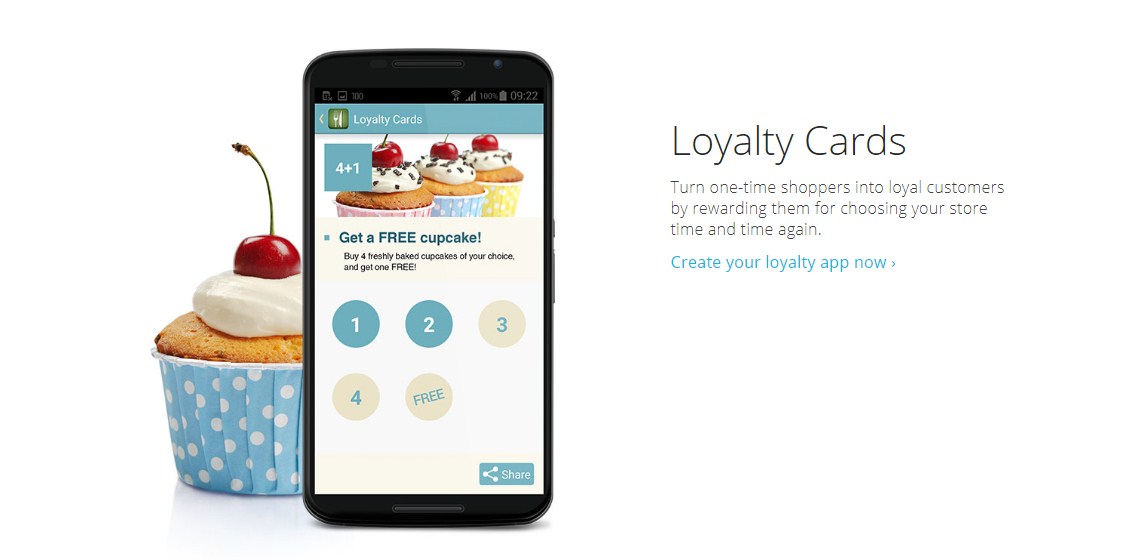 Pricing: $48/month if paid yearly, $57 if paid every month.
Website: http://www.swiftic.com/
Here's a different kind of mobile app builder software by US company that offers a really simple way to make an app – use Google Docs and Google Forms. Just that, plus if you know Microsoft Excel and spreadsheet basics. To briefly describe how it works, you need Google docs/spreadsheet service or an Excel file, then you load it to Google Drive, Dropbox, or other cloud storage, and open it via AppSheet. The platform recognizes a file and allows you to turn it into an app in its visual app editor. This is of course, just for basic business apps, not a brand custom native apps with back-end. But overall, for just a few bucks you can have an app in few hours!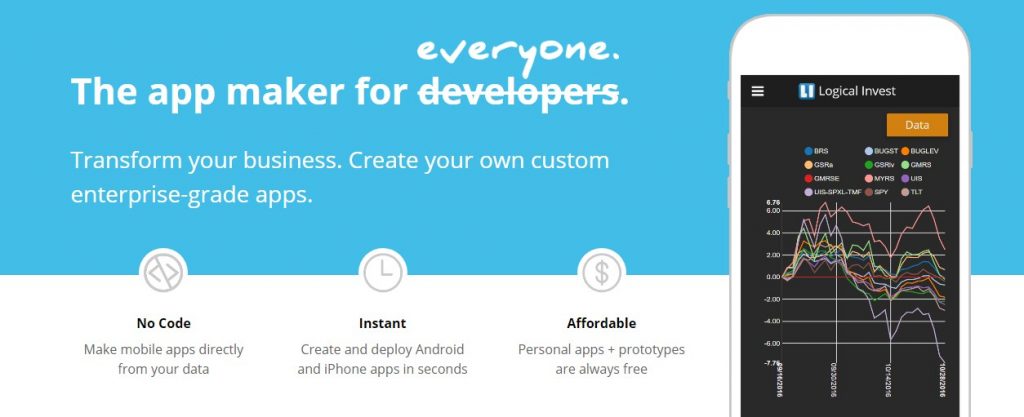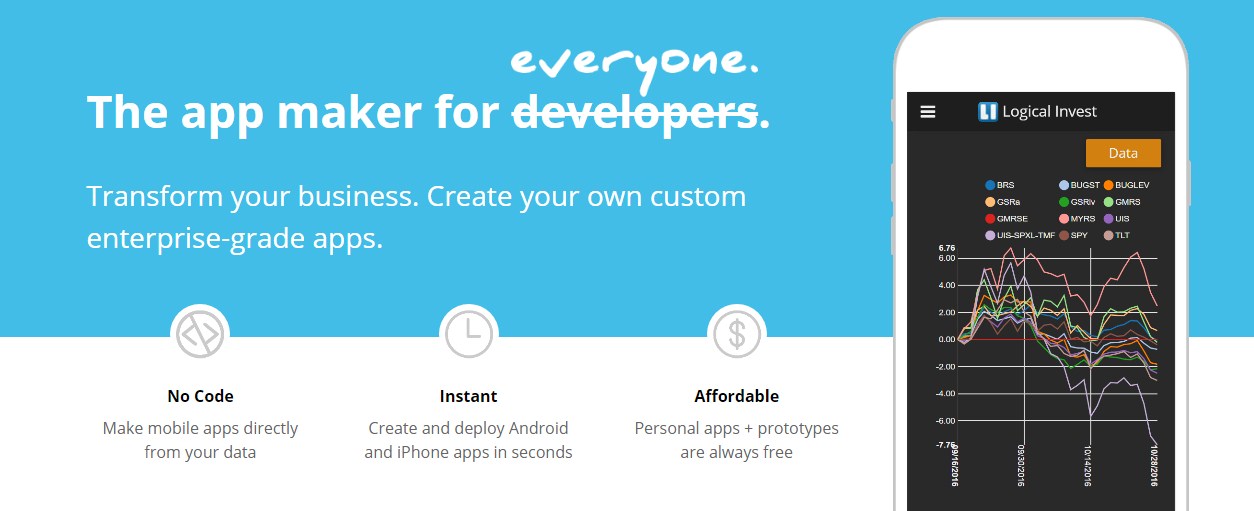 Pricing: Free prototype, Standard – $1/month per active user, Premium – $5/month, Pro – $10/month.
Website: https://www.appsheet.com/
Another app creator with focus on business apps for tablets, involving lots of data. Good examples of their field apps include timesheet managers, construction/building log apps, travel and expense reports, inspection apps, fleet management/logistics apps, work order assignments, warehouse management, etc. For businessmen who seek speed and efficiency, Snappii offers a nice solution, with intuitive visual studio and over 200 ready templates they can build an app without trouble. All the basic app management features are there, from image galleries, audio/video, blog to events, catalogs, task management. Plus many helpful vertical features for specific business areas, like scheduling tools, food ordering, retail coupons, real estate listings, geolocations, charts.
Pricing: $15 per month per 1 active user.
Website: https://www.snappii.com/
See a short guide on how to create a database for an app in Snappii:
Want to create and publish a mobile app simply and affordably? Need an app for social events, business meetings, conventions, trade shows, etc.? Yapp platform offers anyone with no coding skills and using just online editor (with templates and drag-and-drop) to build their own apps working on every device – iPhone, Android, tablets. A great feature is the upload option, where you can do a bulk import of .csv files with your business data right into an app. This tool is especially good for organizing events, as it has features like one-track/multi-track scheduling, lists, invitations, pdfs/docs upload, social feed, ticketing, polls, galleries, etc. One bitter fact, though, it is not quite as affordable as advertised.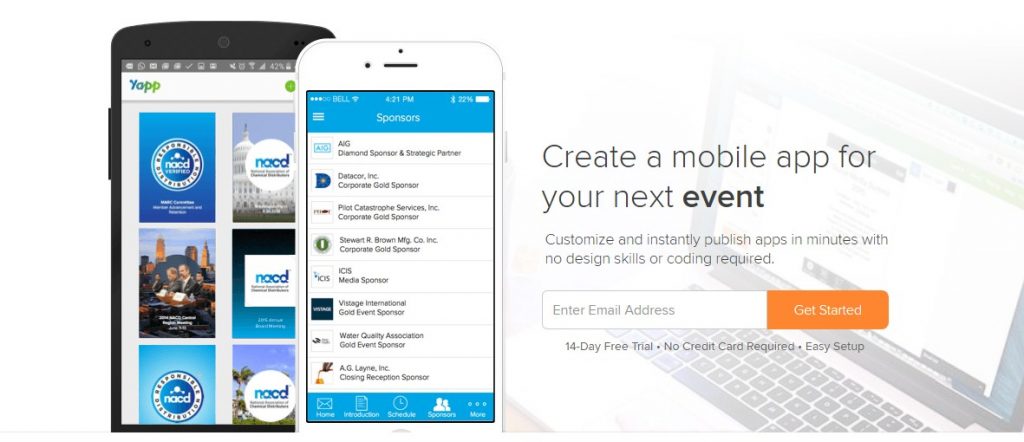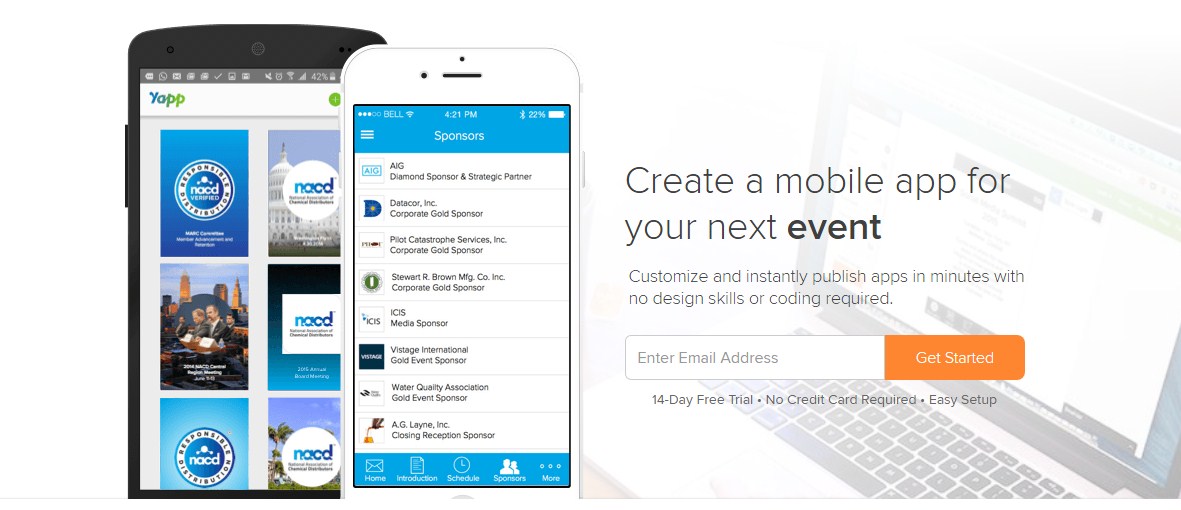 Pricing: Basic for 1 app – $400 per year, Core – $500, Team – $600, Volume – $1167 for multiple apps.
Website: https://www.yapp.us/
For people looking for a cross-platform app development software good both for mobile apps and games, Appsmoment has a lot to offer. Visually pleasing templates for specific fields like sports, restaurants, business, events, music, games, etc., to create powerful PWAs, native apps for Windows, Kindle, Android and iOS. In addition, there are over 100 special game templates. In-app HTML code is available to edit, so if you have a developer team, you can then customize your preset app however you like, or copy the code to your site to make it more mobile-friendly.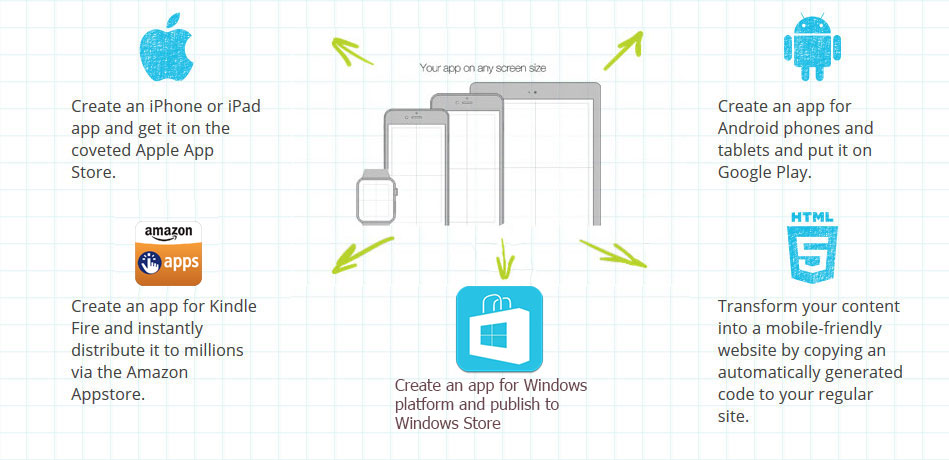 Pricing: Publisher for $29 monthly, Starter for $49 yearly, Publisher+ for $197 years, custom pricing.
Website: https://appsmoment.co/
For those who have a website and want to turn it into a nice mobile app version, this app maker is the way to go. The golden principle of AppMachine is automation. It will automate as many  processes as possible, you mention website's URL and it will scan it, and import all that is relevant for a mobile app – from Facebook accounts to videos and images. Then a user simply selects a design and a skin, then content building blocks, play around with developer tools – if skilled enough, and then publish an app. All the changes a user makes are visible in real-time on the screen on the right within a browser. All neat and functional, a decent mobile app creator we can recommend.
Pricing: $49/69 per app per month, $99 for Reseller for 3 apps, $300 for Bundle for 30 apps.
Website: http://www.appmachine.com/
Check out how to create an app in AppMachine:
Kalipso Studio is a mobile application generator that enables users to program their own apps without having to deal with complex coding. The platform has a special focus on creating apps designed for mobile activity. It can be deployed to five main operative systems: Windows Mobile, Windows CE, Windows 10, Android, and iOS. The V4.1 of Kalipso now allows iOS deployment too.
Kalipso Studio enables users to design and create professional apps for the major operating systems and devices without having to purchase extra software or licenses. With it, creating apps becomes easier and faster, which means deployment and implementation is immediate. No coding required, which equates to faster development and increased ROI.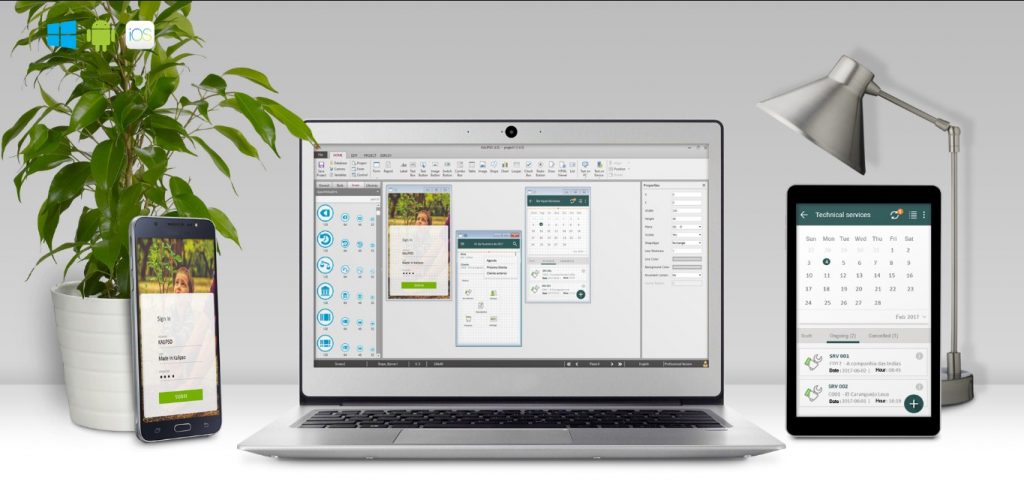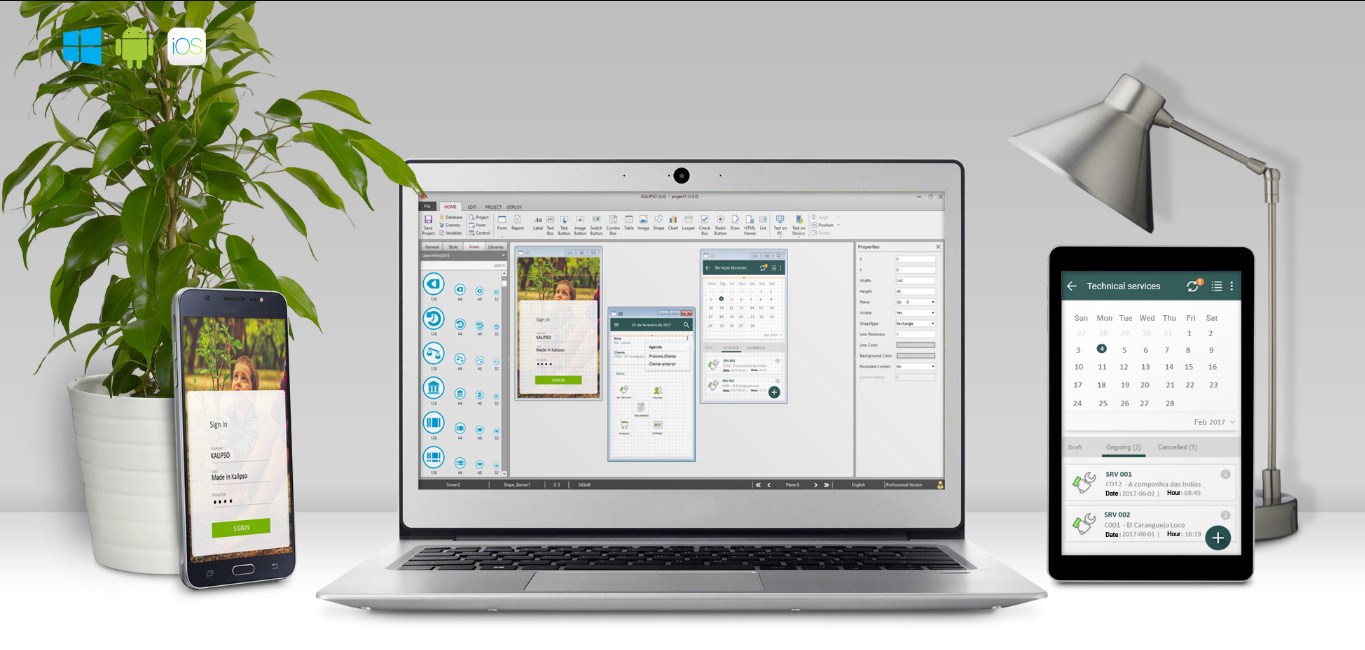 Pricing: upon request, plus free trial.
Website: https://www.sysdevkalipso.com/
With motto "Never code what you can automate", Nevercode is a bit more advanced platform for skilled teams working with numerous projects and need to optimize. This service does automate processes like app configuration and setup, deployment, testing, code analysis, publishing to multiple app stores. Basically, it helps speed up the process of app development. It comes with automatic setups for iOS, Android, Cordova, Ionic and React Native projects. Development tools at play are Python, Angular, Celery, Bootstrap, Android SDK and iOS SDK, plus multiple 3rd party integration possibilities. There's also a 14-day trial to check things out, and three-tier pricing plans for different needs.
Pricing: Startup for $99/month, Superstar for $299/month, and Unicorn for $699/month.
Website: https://nevercode.io/
Their delicious promo about coffee and app creation at the same time:
Since 2011, AppYourself has been offering a useful tools to build native and pure HTML5 apps. But what makes it stand out among others, is their feature to also go backwards – from an app to creating a responsive website, synchronized to app's content. What? Well, this feature appeared to be tested some time ago but didn't actually materialize. Instead, with same visual IDE you can create a desktop website, as well as a mobile app or a web app. Basic paid plan includes e-commerce, booking, customer loyalty, image, streaming features. The interface is easy and nicely structured. There are 5 app layouts with various designs, with all elements adjustable.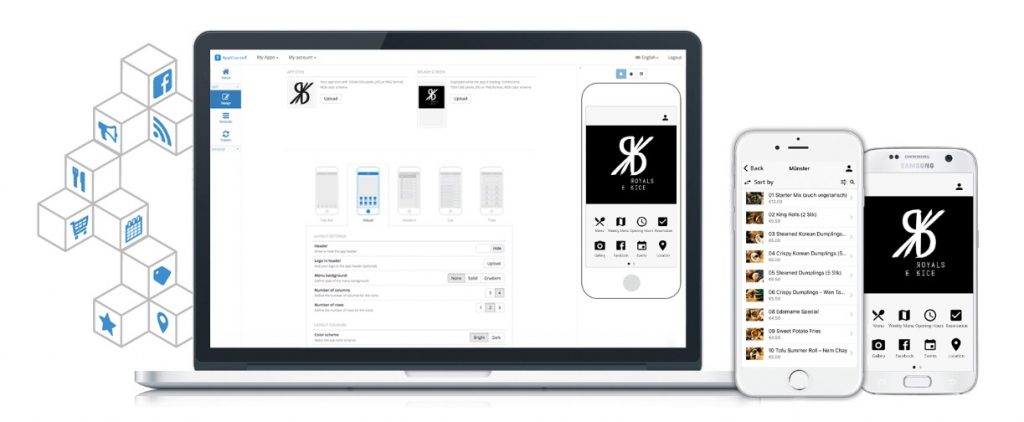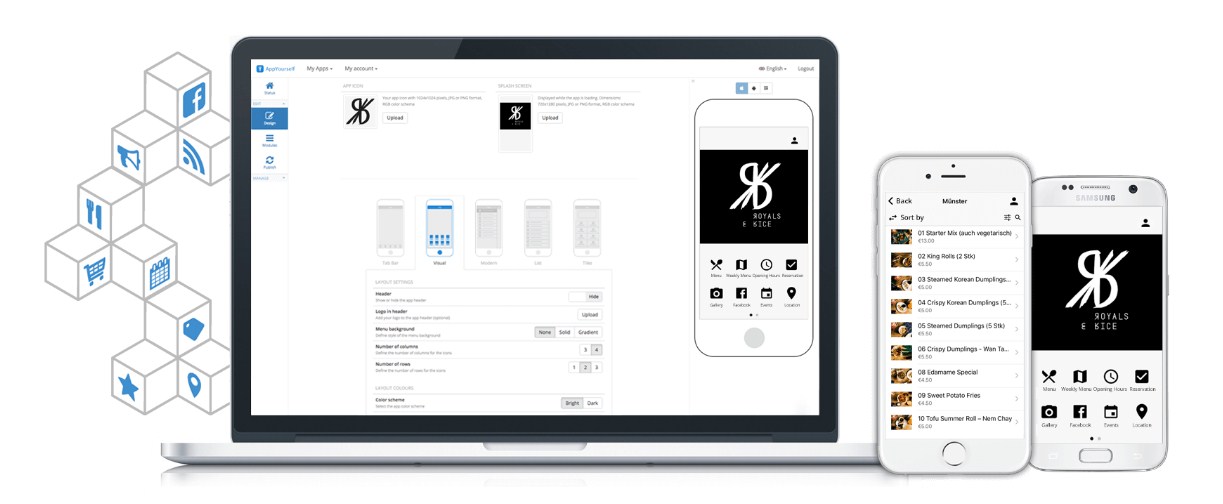 Pricing: Starter for 20 Euro/month, Business for 40 Euro/month, Enterprise for 80 Euro/month.
Website: https://appyourself.net/
What is app development software
FAQ
Q: Why use app development software?
A: It saves time, makes application development process accessible to people with no coding skills.
Q: How many apps can I create with an app builder?
A: Usually, there's no limit on the number of mobile apps to create.
Q: What kind of apps can I build?
A: Any kind - iOS, Android, cross-platform or web apps, and of any category - from educational apps, business apps to mobile games or entertainment and social apps.
Q: Do I need to install additional software?
A: Normally, yes. In order to compile the source code, you will need Xcode, iOS SDK or Eclipse (Apple), Android SDK - these are free downloads. For more, check tech requirements and setups of a particular app maker.
Q: What are key features of app makers?
A: Generally, there are design features and templates, drag-n-drop editing, visual IDE, modules, app blocks and elements, back-end functionality, management features, integrations and plugins, publishing tools.
Q: What is the difference between a mobile app and a mobile website?
A: A mobile app is installed on smartphones and is a standalone product. Mobile website, or PWA, is a mobile-friendly version of a website. Both are developed in a different manner.
Q: How to choose a mobile app builder software?
A: Consider the potential, capabilities, available platforms, trial and pricing. For more, check the chapter above.
Q: How long does it take to develop a standard app?
A: Usually, it takes 4-6 weeks for a basic small app with help of an app builder software.
Q: Who uploads an app to App Store or Play Market?
A: If an app builder doesn't take care of publishing, you'll have to do it yourself or hire an expert app developer. In any case, it will require a developer account in app stores, e.g. Apple developer account ($99 per year), or Google Play developer account ($25 one-time payment).
Q: Do app builders provide access to code?
A: Unfortunately, most of these platforms do not provide free access to app code.
Q: What's the best app builder?
A: There are plenty of mobile app building platforms with positive ratings and user reviews. Examine products listed above in our category, study functionality and choose the one that will be best for your particular project.
Q: Free app maker software for Windows
A: Apps Bar, Appy Pie, Game Salad, AppMakr, MobiRoller are free. All other programs also have free trial periods to dabble in app making.