As a follow-up to Mac video downloaders, we'd like to go after video converters for Mac. It's simple – you get a clip in WMV and you need it in AVI, so what to do? Different devices and services require a particular file format for better playback quality. Out of many apps for video conversion we'll review a few particularly for the macOS platform, also omitting the mainstream apps and select the ones with minimal trial version restrictions. 
We'll test each application with 2 files of different size. The first is MP4 in 1920×1080 resolution, 60 fps, 230 Mb; and the second is 3 GB. The main goal is to check how converters behave, see available output formats, measure RAM load during processing, etc. We have selected 8 apps.
These video converters with macOS versions were selected as alternatives to the ones adamantly promoted everywhere online. We wanted to check the best free options, with variable features and capabilities. All programs here allow you to perform conversion without buying the full version. To summarize, here's one final extract of data to ease user decision.
| | | | | | | |
| --- | --- | --- | --- | --- | --- | --- |
| | Output formats | Presets | 4K support | Watermark | License | RAM, Mb |
| HandBrake | 3 | 80+ | ✓ | ✓ | Free | 700-800 |
| Adapter | 10 | 60+ | ✓ | ✓ | Free | 200-300 |
| 1-Click | 13 | 200+ | Pro | Pro | Free / Pro | 100-150 |
| Avidemux | 10 | – | – | ✓ | Free | 700-750 |
| iQuick Lite | 16 | 9 | – | – | Free / Pro | 200-250 |
| Thunder  | 9 | 6 | ✓ | – | Free / Pro | 50 |
| Flv Crunch | 13 | 5 | ✓ | – | Free | 50 |
| Kigo | 10 | 80+ | ✓ | ✓ | Free | 150 |
Top video converters for Mac
Type: data conversion | Platform: macOS
Source: App Store, Internet | License: free, paid
Free | macOS: 10.11 or later | Size: 70 MB | Download
Sometimes we face problems with uploading or emailing videos due file size and connection speed restrictions. For example, a video with a 4K resolution can be 10 GB. HandBrake, a professional open-source tool, comes with the ability to compress video without loss of quality. On the other hand, it is one of the video converters for Mac with limited output formats: MP4, MKV, WebM.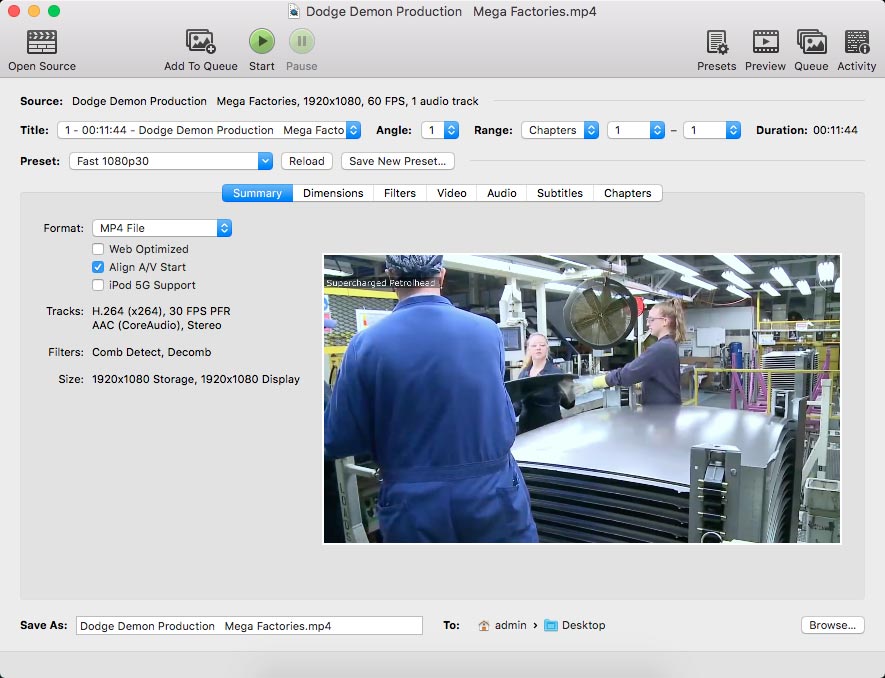 For conversion, one has to import a file, select a preset (80 are available). HandBrake automatically analyzes the file, detects black bars and cuts it off, thus reducing file size. We recommend to turn this feature off (Dimensions – Cropping – Custom, all values at 0) and make sure the output resolution is equal to the original. Next, select a path and press the Start button. For several files, use the Add to Queue button. Different settings for each are possible too, by the way. While converting, the application icon informs about progress.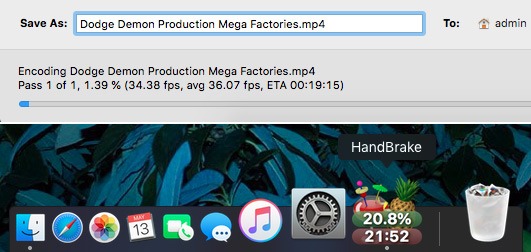 The processing speed depends on the characteristics of the Mac, file parameters and preset. The conversion of test file #1 (230 Mb) took about 30 minutes, with a constant RAM load of 700-800 Mb. The CPU temperature was near maximum, 90-96 degrees, therefore HandBrake is heavy on resources. Test file #2 (3 GB) took about 2 hours, and the size went down to 1.7 GB.
Pros
Rich functionality

Size reduction ability

80+ presets

Free and no limits
Free | macOS: 10.7 or later | Size: 72 MB | Download
Adapter is a free application for converting video, photo and audio files. At first glance, it may seem simplistic, yet it contains 37 presets, file size estimation, side-by-side comparison of files – all go before converting. Also, for audio and photo processing it has 60 presets. Users can change conversion options in custom mode.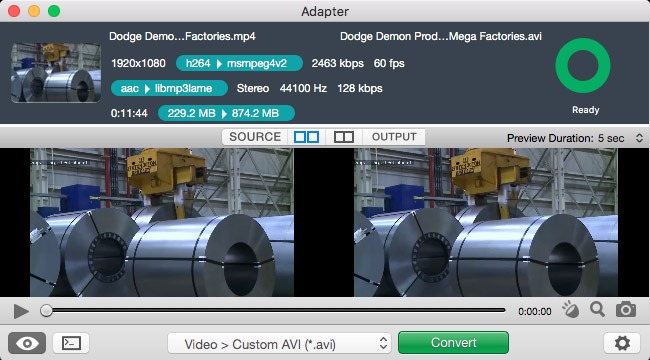 To activate a side-by-side comparison, click the button in the bottom left corner. In this mode, one can watch pre-rendered video slices up to 60 seconds long. It will also help to adjust logo position, for example. Multimedia playback is powered by VLC Player.
7 separate tabs are responsible for different settings. Directory, Video, Resolution, Audio speak for themselves. Layers tab is for additions to the output file: watermark, audio, image overlay, subtitles. A logo can be placed anywhere, with transparency and size configured – just double-click a logo. The Trimming tab can help to select a specific section for conversion. Progress is visible in the icon on the application panel.

Pros
Free and easy to master

37 video presets, 60 multimedia presets

Multiple extra features

No limitations on converting
Free & Paid | macOS: 10.7 or later | Size: 100 MB | Download
One of the video converters for Mac with high speed processing. A large number of input formats (MKV, AVI, MOV, WMV, FLV, MP3, FLAC, WMA, MP4, etc.) though the number outgoing formats is not specified. Free version has limitations, still basic converter needs are possible. Maximum resolution is 720p there, to access full functionality get $14,99 ready.
Restrictions are implemented in a particular manner – users can only pay for functions he needs. For example, a set of watermark, rotation/crop options, color adjustment, shake reduction, 3D, costs $9.99. Or screen capture feature for the same price tag. Thanks to the user-friendly interface, the program is easy to grasp.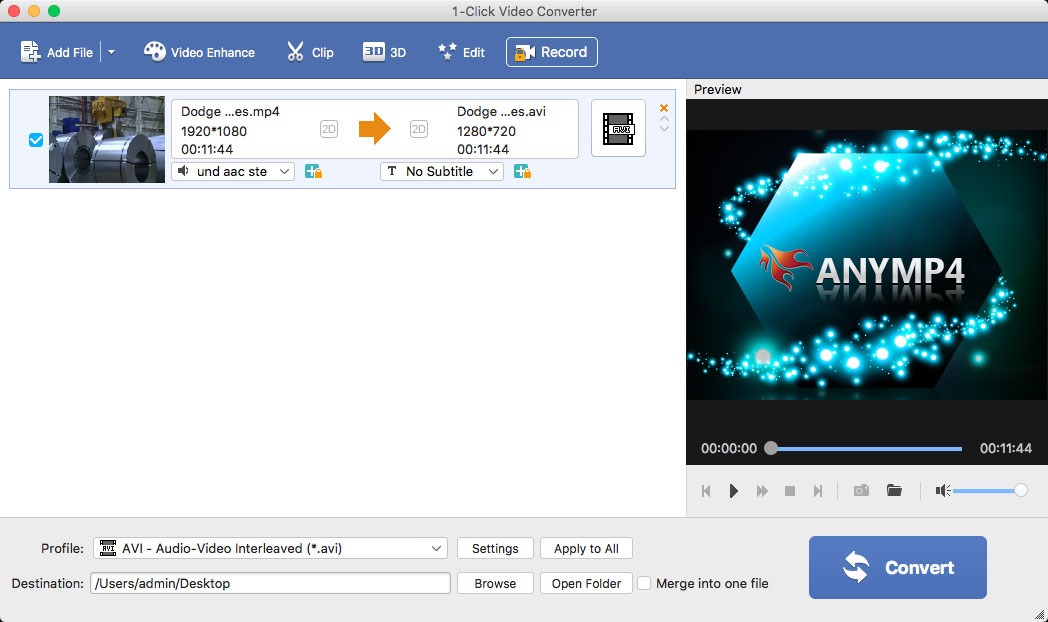 The app can convert several files at the same time, with different settings for each file. Users can merge all files into one. Over 200 presets available for proper playback on various devices. Also, we've noticed that each media format and each parameter contains tips. This will help a lot, especially to those who do such tasks only occasionally.
Pros
Fast conversion

200+ presets

All basic features in free version
Cons
720p max resolution in free version

Extra features have to be purchased
Free | macOS: 10.14 or later | Size: 88 MB | Download
Avidemux is a free video converter with a rather modest feature set. The program supports 10 output formats: MP4, MKV, MPEG, AVI, FLV, etc. Trim tool and sound level adjustment are available in the main application screen. The remaining features are placed in the codec settings. You have to select the output format, the codec, then go through 2 menus (optionally) – Configure and Filters.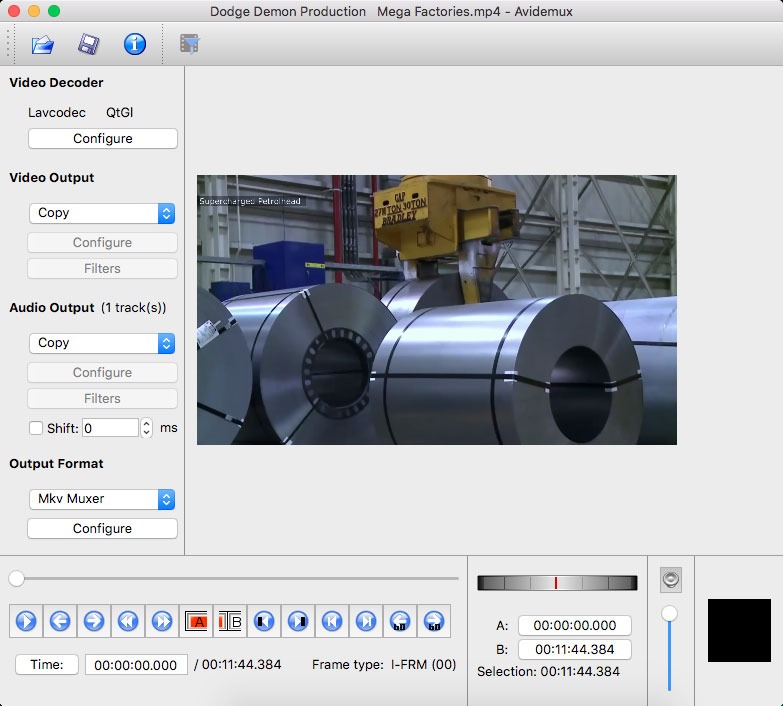 Most of the interesting editing features are in the Filters menu. Color adjustment, adding a logo, borders along the edges, adding captions, etc., all can be set before conversion, or should we say, processing. Note that when applying filters and additions, conversion time will increase several times.
Pros
Multiple editing options

Fast conversion

Instant preview while editing
Cons
Crashing while configuring OpenGl settings

Slower conversion with filters
5. iQuick Converter Lite
Free | macOS: 10.7 or later | Size: 45 MB | Download
The name speaks for itself – this converter is designed to perform fast manipulations with  video files. There are only two adjustable parameters: save folder and output format. Safe to say, iQuick is one of the minimalist and basics-only video converters for Mac. It supports 13 output formats, including AVI, MOV, FLV, MPG, MKV. Users can select it based on playback source, e.g. iPad, iPhone, Apple TV.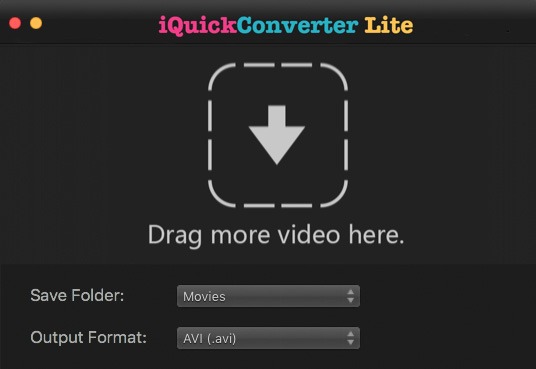 As one selects the path and the format, drops a file into the main area, conversion will start automatically. iQuick is perfect for small videos, like those to send via Skype or email. 
Pros
Fast conversion

Easy and minimalist
Cons
No extra options, just basics

Unclear vendor information
6. Thunder Video Converter
Free & Paid | macOS: 10.12 or later | Size: 102 MB | Download
Thunder Video Converter by Dummy Apps is a simple program, with only difference between free and premium versions being the limited number of files for simultaneous processing. In other words, in the free version only one file at a time. All other features are available. There are 9 output formats, 6 default presets that, basically, correspond to various Apple mobile devices. Settings include processing speed, quality, bitrate, preset, trimming.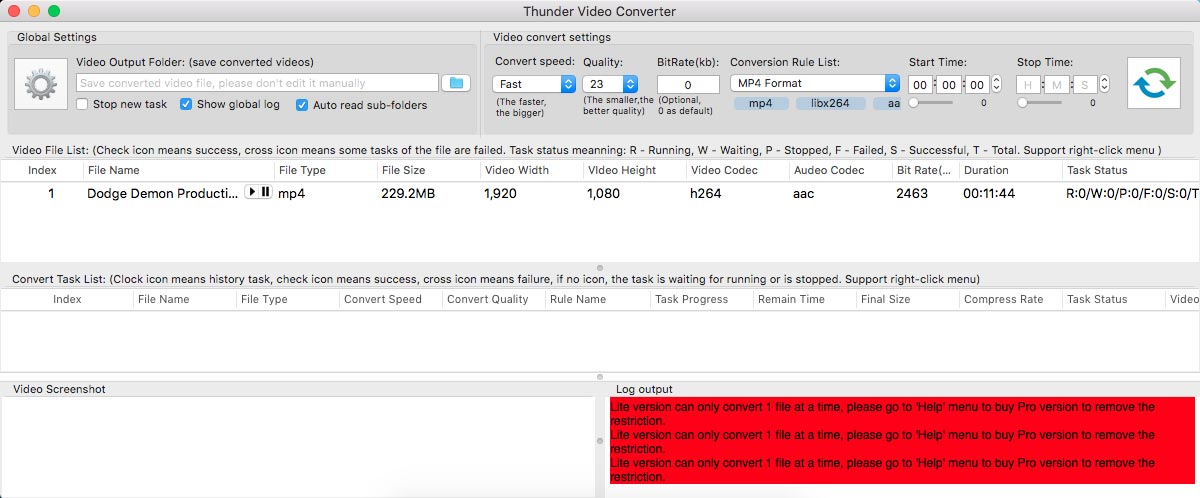 In version 3.8, the developers made an update for MP4 conversion – to reduce the consumption of Mac resources and boost processing speed. According to the vendor, Thunder can process an hour-long video in 6 minutes and reduce it from 1 GB to 100 Mb without quality loss. As a test, we've converted a 1.7 GB file: it lasted 19 minutes, and its final size was 654 Mb.
Pros
Reducing file size

Shareware model

Regular updates
Cons
1 file at a time in free version
Free | macOS: 10.1 or later | Size: 19 MB | Download
We were amazed by the capabilities of such a small application. In addition to saving the quality, regardless of output format, Flv Crunch works quickly and practically does not affect RAM and CPU. There is nothing superfluous in the program, only basic converter tools, like 13 formats and video resolution presets. Here's what you can do: set the resolution manually, set FPS, set bitrate, perform batch conversion.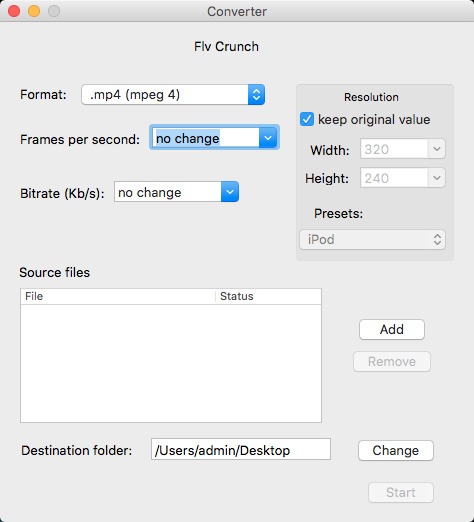 Pros
Easiest video conversion app

File size reduction

Works with large files well
Free | macOS: 10.7 or later | Size: 102 MB | Download
A free program that combines a media download (Dailymotion, Facebook, Vevo, YouTube) and conversion options. By using the available tools, one can perform certain manipulations with video clips: add image/text/watermark, crop (mirror, flip, zoom), trim, tweak color (brightness, contrast, saturation).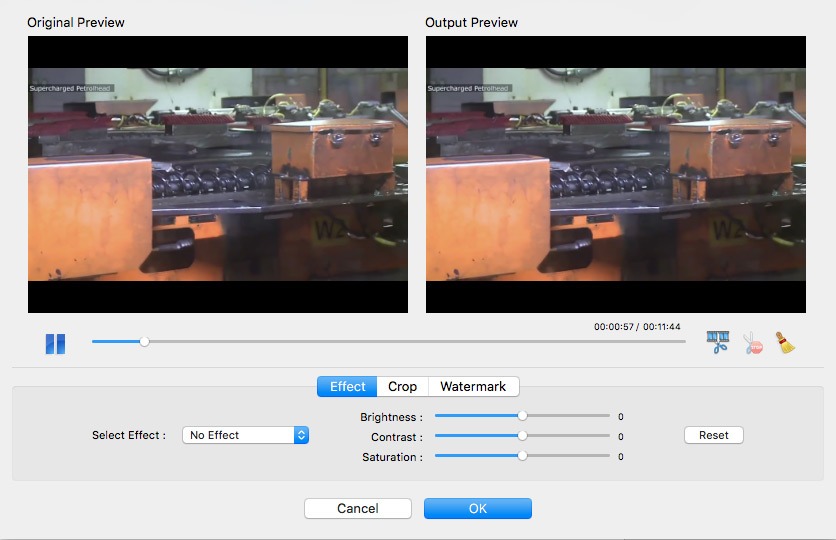 Individual settings can be saved as a template. In general settings we did not find anything remarkable except for the 2-pass-encoding function, which supposedly improves quality. Overall, most video converters for Mac do not provide such stability and quality as Kigo does, although it is free.
Pros
Transparently free

Video editing tools

Built-in downloader