Thanks to popular science fiction, almost any person on Earth has some knowledge of AI. For business purposes and utilizing advanced technologies there are deeper reasons to look into Artificial Intelligence. Saving time and money, increasing productivity and revenues, avoiding human factor errors is what you get from AI right off the top of a hat. Hundreds of artificial intelligence companies are already conquering markets. 
The main purpose of our article is not reviewing pros and cons, rather offering AI development companies which can assist your business strategy for consideration. On one hand, our list does not include big-guns like Amazon, Alexa or Apple, and on the other, we also discarded plenty of startups with questionable reputation. We handpicked only those tech companies who, in our opinion, are able to cope with the most challenging AI projects and have positive customer feedback.
15 Top Artificial Intelligence Companies
Below we bestow best AI development companies from the USA, UK, Scotland, Poland, Israel, Serbia, Ukraine and India. This is neither the ultimate nor favorable selection, if you disagree or have better suggestions, feel free to comment.
1. Master of Code Global
Being in business for almost fifteen years, the company has launched more than 270 projects, including AI chatbot solutions. Oriented on customers and agile development, this IT agency provides services in chatbot development, web and mobile development. If talking about the technical side, developers from Master of Code Global use Microsoft LUIS, Api.ai, Amazon Lex, IBM Watson, Microsoft Bot Framework and Dialogflow to develop chatbots, which can be easily integrated with Salesforce, Zendesk and other platforms. Thanks to close cooperation with Chatfuel, the company has already delivered a number of chatbots for eCommerce, hospitality, healthcare, customer service, entertainment and finance industries. T-mobile, WSL and Cancer Fighters Support Charbot are just a few of the latest company's projects.
Hourly rate: $50 – $99 / Headquarters: Redwood City, US / Founded: 2004 / Employees: 149 / Contact: +18887060528
Website: https://masterofcode.com/
2. BotsCrew
Taking its roots from Ukraine, this pretty young team of professionals already opened offices in United Kingdom and Australia. Specialized in AI chatbot development, the company provides a full-package service: UX design, chatbots analytics, admin panels, integrations, a post-release chatbot training and maintenance. Working with both start-ups and enterprises, they develop for law, healthcare, eCommerce, customer service, real estate and travel industries. BotsCrew is also involved into IoT chatbots and Voice Assistant development. Their statement is short and bald, as you may see below: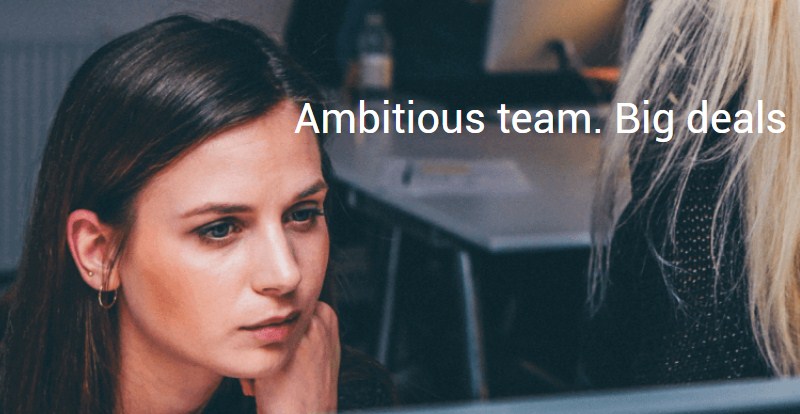 Hourly rate: $25 – $49  / Headquarters: Lviv, UA / Founded: 2016 / Employees: 34 / Contact: +442032877595
Website: https://botscrew.com/
3. Sigmoidal
Sigmoidal has quite a noble goal – to advance and automate (where possible) the inside and outside processes of  medium-sized companies. Using sixty years of research in AI sphere, the company is able to deliver solutions for NLP (Text Processing) to understand a human-language text, computer vision to detect and classify image and video, and predictive analytics to forecast the market, product sales, etc. Being in business as a AI development company only for two years, Sigmoidal already has achieved significant goals in finance, trading and pharma industries. Their AI algorithms can be used to collect data, produce insights and find correlations in data, create human-sounding, readable reports.
Hourly rate: $50 – $99 / Headquarters: New York, US / Founded: 2016/ Employees: 17/ Contact: +13477792050
Website: https://sigmoidal.io/
4. MicroscopeIT
Back in 2012, a group of talented and ambitious students formed a company, main mission of which was creating AI tools for medical diagnosis and research. And, well, they pretty succeed in it. Now, MicroscopeIT delivers custom products and software of computer vision, machine learning, image processing and analysis. Even though their main focus is AI related to microscopic and bio-medical images, the company is also specializing in cloud optimization and infrastructure.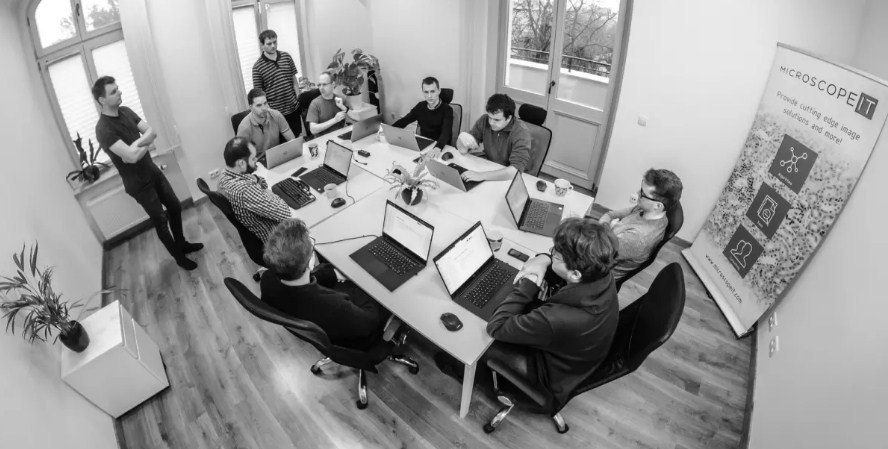 Hourly rate: $50 – $99 / Headquarters: Wrocław, Poland / Founded: 2012 / Employees: 14 / Contact: +48538212600
Website: http://www.microscopeit.com/
5. Unicsoft
Having predicted the rise of blockchain and AI, Unicsoft from early start has focused on these two technologies. With thirteen years behind, the company has successfully completed over 120 projects aiding in accelerating businesses. Initially from Ukraine, their HQ has moved to Scotland, working with clients from United States, United Kingdom, Germany and Israel. With competitive price rates and quality services, the team keeps going in the direction of AI development. Unicsoft has proven its experience in automotive, financial, advertising/marketing, healthcare, media and retail industries.
Hourly rate: $50 – $99 / Headquarters: Edinburgh, Scotland / Founded: 2005/ Employees: 54/ Contact: +16505153699
Website: http://unicsoft.net
6. Neoteric
AI, blockchain and custom software development are 3 key strongholds of Neoteric. This agency, that also positions itself as the AI company, makes everything to reach a leading spot. In this pursuit, Neoteric follows three major principles: quality, communication, and transparency. Skoda, LunchBadger, Client.io, Jeppesen, IT Trans, SkillHunt, SchematicLab, and other top names in IT and telecom can attest to the quality. Artificial intelligence development, software engineering, full project life-cycle, business intelligence is what they offer and stand for. Oh, and meet their team.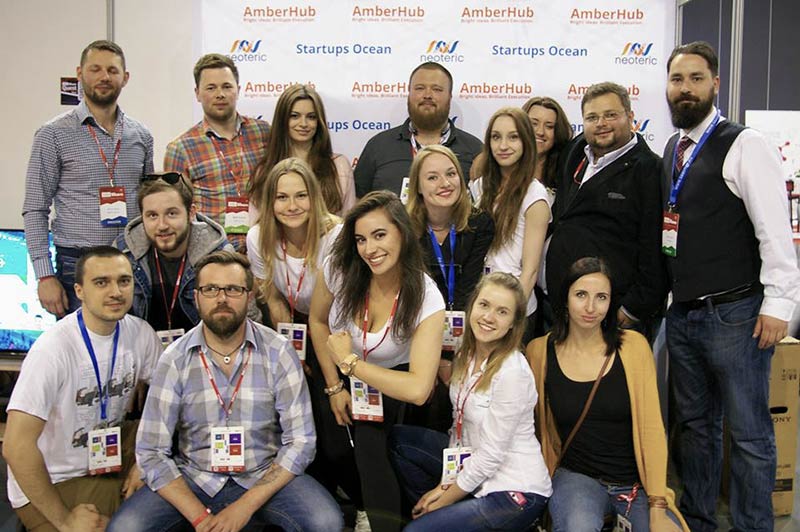 Hourly rate: $50 – $99 / Headquarters: Gdańsk, Poland / Founded:2005 / Employees: 73/ Contact: +9571072374
Website: http://www.neoteric.eu
7. Chatbots.Studio
Straight from the name, you can guess that their area of focus in AI development are chatbots. In their arsenal there are AI algorithms to increase work efficiency, predict customers' actions, make product recommendations. For each industry, the company has been working for, Chatbots.Studio created a set of bots. For example, AI bots in banking system will have access to account details, payments, produce-service wizard, ATM locator, investment assistant, notifications, etc. In retail chatbots will manage product sales, product discounts, order trackers, returns, etc. 
Hourly rate: $25 – $49 / Headquarters: Dnipro, Ukraine / Founded: 2016 / Employees: 12
Website: https://chatbots.studio/
8. SmartCat
SmartCat is a company, which due to its experience in smart solutions, has earned its place in the list of top artificial intelligence companies. After a short period the company was formed, it easily became a recognized name among AI, big data and cloud systems developers. The team of data engineering, DevOps and data science specialists is working on machine learning, chatbots and natural language processing. SmartCat helps to build scalable and fast-performing platforms, with predictive analytics algorithms and recommendation engines, fraud detection, BI tools and other data-driven insights.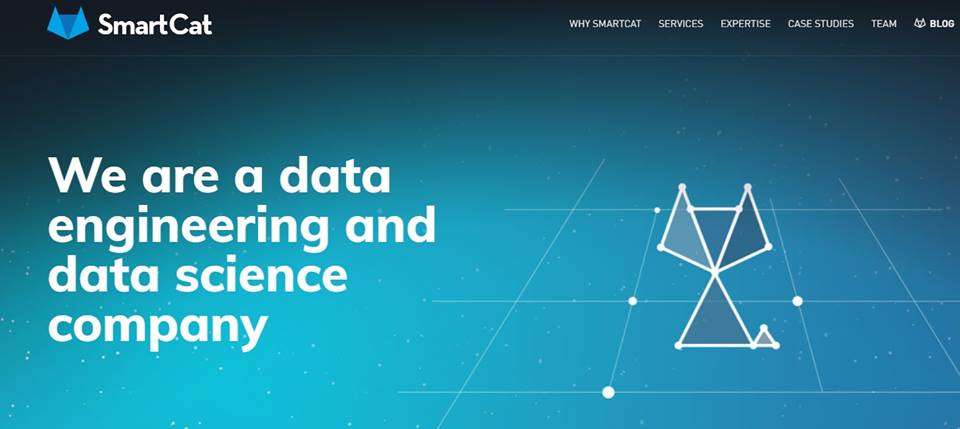 Hourly rate: $50 – $99 / Headquarters: Novi Sad, Serbia / Founded: 2015 / Employees:16/ Contact: +3810695404007
Website: https://www.smartcat.io/
9. Accubits Technologies Inc.
Being among pioneers of global blockchain developers community, Accubits also make significant steps in AI development. Focusing on upgrading CRM and customer care, company has delivered more than 600 projects for over 200 clients including Fortune 500 companies. Accubits is specializing in machine learning, deep learning (multi-layered artificial neural networks), chatbots, classification tools (by sentiments, language, gender, age, etc.),  predictive analytics. As for technology stack, Accubits utilizes CNTK, Spacy, TensorFlow, IBM Watson, Amazon Lex and Sky Learn.
Hourly rate: < $25 / Headquarters: Trivandrum, India/ Founded: 2012 / Employees: 78/ Contact: +918089000630
Website: https://www.accubits.com
10. Beyond Analysis
Wimbledon is not only place for Grand Slam, it is also a home for one of the best artificial intelligence companies. Starting from 2007, Beyond Analysis is an award-winning IT agency, a trustful partner of providing AI soultions for Visa, DFS, Travelport, Superdry, Flight Centre and others. Being experienced in implementation of AI tools, the company strongly believes it helps to improve work efficiency, stimulate growth, and increase profits. They are a bit philosophical too.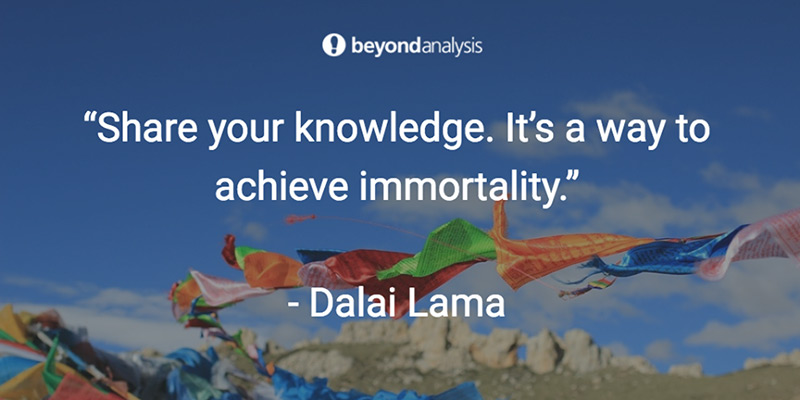 Hourly rate: $100 – $149 / Headquarters:Wimbledon, UK / Founded: 2007 / Employees: 21 / Contact: +4402034324323
Website: https://www.beyondanalysis.co.uk/
11. DataRoot Labs
Reaching far beyond the domestic market, DataRoot Labs became a part of an international community of top AI developers. A full-cycle data science and artificial intelligence company, DataRoot has successfully launched over 50 projects for clients from North America, UK, Netherlands, Israel. With expertise in deep learning, computer vision, NLU, the company is able to build and deploy AI-enabled solutions for education, financial services, gambling, healthcare and transportation industries.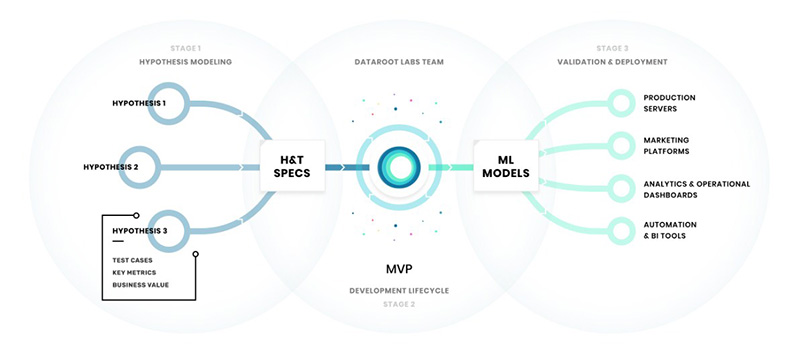 Hourly rate: $50 – $99  / Headquarters: Kyiv, Ukraine/ Founded: 2016 / Employees: 17/ Contact: +3800211235
Website: https://datarootlabs.com/
12. CloudMinds Technology Inc.
CloudMinds has a clear vision of the future. By 2025, they are sure, "helpful humanoid robots will be affordable for the average household". With such approach, no wonder, that the company is focusing all knowledge and experience in development of an AI and Human-in-the-loop platform, which helps to operate and deliver cloud robotic services and Human Augmented Robot Intelligence (HARI) solutions. Natural Language Processing, Smart vision, Smart Speech Recognition, Robot Control Unit (RCU), XaaS Cloud Managed Services are CloudMinds' main expertises.
Hourly rate: $50 – $99 / Headquarters:Santa Clara, US / Founded: 2015/ Employees: 98 / Contact: +16692303069
Website:  http://www.cloudminds.com/
13. SparkBeyond
Delivering high-tech products to enterprises, SparkBeyond is quite familiar with technologies and tools, able to boost work efficiency. They are fully engaged in AI services, having developed its own AI-powered research engine, which can be applied in finances, manufacturing, energy, eCommerce. For research and problem solving, company has also launched SparkBeyond Discovery Platform, which helps to analyze billions of possible hypotheses and scan huge amounts of data.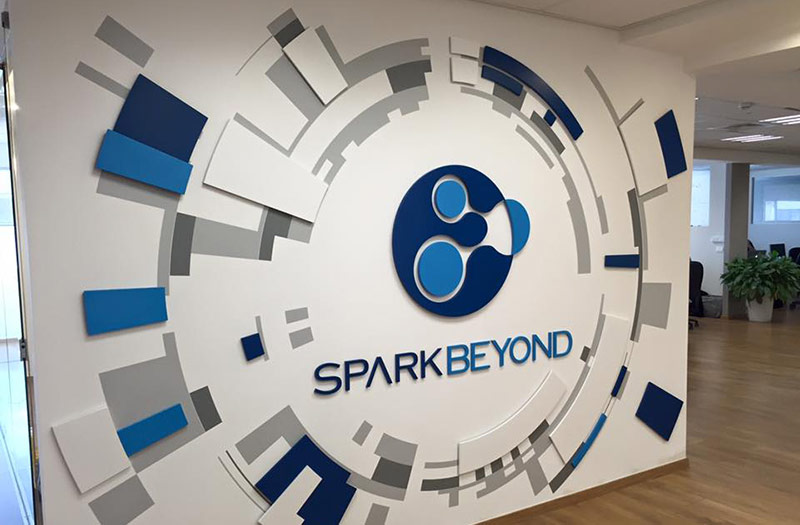 Hourly rate: $100 – $149/ Headquarters: Netanya, Israel/ Founded: 2013/ Employees: 86/ Contact: info@sparkbeyond.com
Website: http://www.sparkbeyond.com
14. Dayhuff Group
With 20 years of experience in content management, business intelligence and AI technologies (also partnering with IBM), Dayhuff Group isn't boasting when they call themselves one of the leading AI development agencies. With 200 projects behind, this AI company from the USA offers machine learning solutions tailored for insurance, finances, retail, manufacturing, distribution, etc. The firm is oriented toward solving the problems of collecting, managing and converting data, thus makes it possible to boost the workflows efficiency.
Hourly rate: $150 – $199 / Headquarters: Worthington, US / Founded: 1997/ Employees: 29/ Contact: +16148549999
Website: http://www.dayhuffgroup.com
15. Wildebeest
A small but talented group of engineers aiming to make a revolution in its market niche. Going little by little, Wildebeest is equally engaged in AI, web development, custom software development, mobile app development and UI/UX design. Working mainly with the startups, the company has also delivered for tech giants like Google, Microsoft, Disney, Netflix, Foursquare and Hulu. An excellent example of their work can be an educational app, ordered by Google and built using Google App Engine.
Hourly rate: $150 – $199 / Headquarters: Marina del Rey, US / Founded: 2014 / Employees: 5 / Contact: +14246457552
Website: http://wildebee.st
Know a great AI development company? Feel free to send your suggestions and share the article.