As of 15 years of existence, Shopify has become very popular and one of the biggest eCommerce platforms. It is chosen by enterprises not only for the simplicity of its setting but also for capabilities variety and cheaper cost. Shopify provides a range of marketing and content tools, payment gateways, support, etc. The large community of Shopify developers is there, and we would like to make it even easier by making a shortlist of top Shopify development companies.
20+ best Shopify development companies
The list was formed by scrutinizing Shopify expert companies, that counted over a 100. The analysis was based on companies' history, portfolio and its quality feedbacks, pricing policy through general and Shopify points. We'll also add one representative project from portfolios, where obviously one may find dozens more to explore. 
From: USA | Founded: 2007 | Hourly rate: $199
Optimum7 is a US-based company with 15+ years experience in digital marketing and custom software development. They offer comprehensive services from creating a marketing strategy and SEO optimization, to developing a new e-commerce product or helping to migrate the existing ones. Their portfolio includes dozens of successful projects based on platforms such as BigCommerce, OpenCart, Oracle, WooCommerce, and Shopify / Shopify Plus. For online stores based on Shopify they propose: custom development, SEO and content optimization, design improvement and creating extensions.
Specialist ID has been an Optimum7 customer since 2011. This year they asked for marketing consultation for the first time. Optimum7 specialists have helped increase sales on Amazon by optimizing SEO and analyzing requests from potential customers. In 2019 Optimum7 have helped Specialists ID migrate from legacy Volusion to Shopify. Thanks to correctly carried out migration, maintaining connections with old clients and attracting new ones became possible. A 65% increase in organic traffic generated an 85% increase in sales.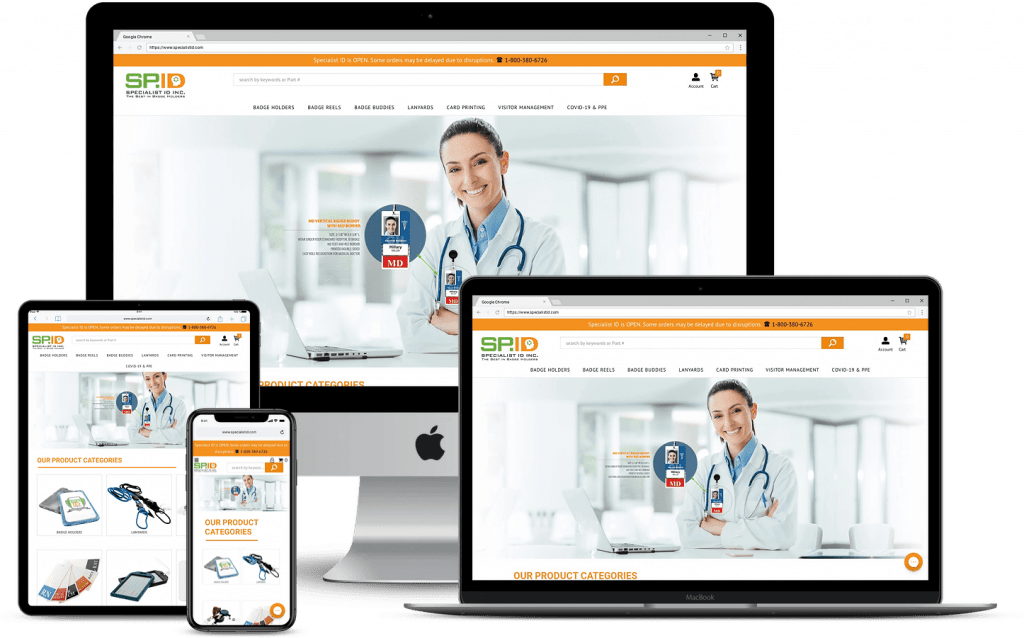 From: USA | Founded: 2002 | Hourly rate: $199
This company devotes itself mainly to e-commerce, i.e. Shopify Plus, ReCharge, Klaviyo, Optimizely. eHouseStudio are experts in Shopify store development, Shopify +, UI/UX, ecommerce content strategy,  email marketing, SEO. 
Among dozens and dozens of productive cases, eHouse Studio collaborated with Zero Halliburton that provides luggage and travel cases. Two big tasks were migration to Shopify Plus and redesign/rebranding. Thanks to the effort, conversion rate rose by 86%, and email campaign effect improved seven-fold.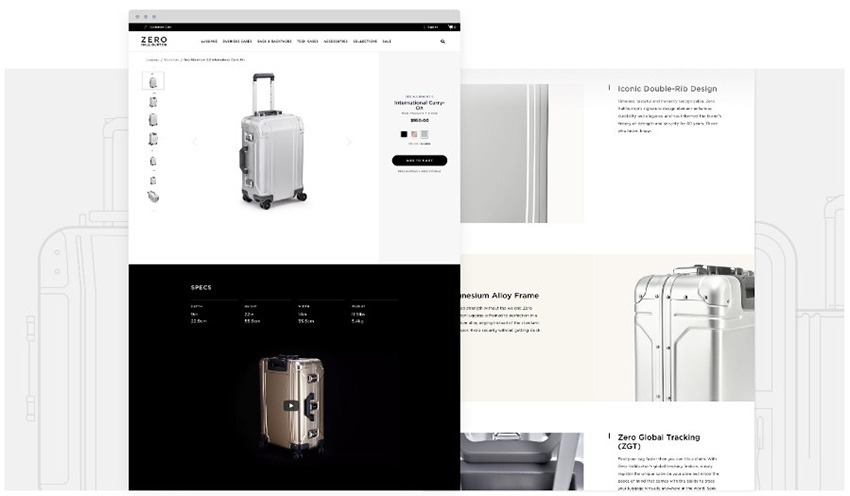 From: USA | Founded: 2012 | Hourly rate: $199
The company is focused on web development and design for eCommerce, digital marketing. Shopify, WordPress, WooCommerce, ShipStation are their main platforms, as well as integrations with Amazon, Walmart, eBay etc. Except for Shopify development, re-platforming, data migration, these US Shopify developers offer webstore maintenance and support. 
BTownWeb created an online store for Deep Sentinel. A Shopify e-commerce website for home security products, involving Artificial Intelligence and cameras. So the team delivered a modern subscription-based online store on Shopify, with a custom design, easy navigation.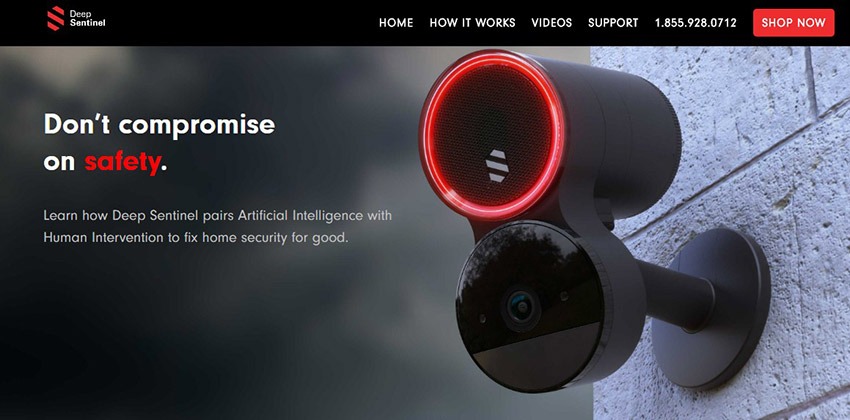 From: USA | Founded: 2007 | Hourly rate: $199
Gauge offers eCommerce design and development for Shopify/Shopify Plus and Magento platforms. It keeps the standard way of Shopify project development: discovery, design, development, launch, post-launch support. Development stage includes: responsive front-end design, data migration, integrations, custom app and script development.  
Online Science Mall project has been selling science products, toys, and gifts for more than 30 years. The company turned to Gauge for the store migration from Magento Enterprise to Shopify Plus. The company improved UX and additionally created a design for a mobile version.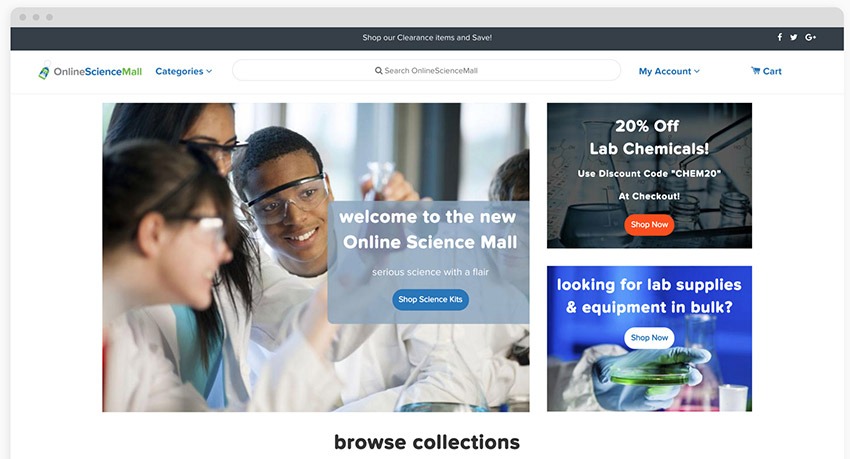 From: USA | Founded: 2013 | Hourly rate: $60/h
Buildateam is an outsourcing company, specializing in building MVPs, web & mobile app development, and eCommerce development (using Magento 2 & Shopify). With headquarters in Silicon Valley and remote teams from Eastern Europe, this software development company offers the best of the 2 Worlds. Latest technology from the center of innovation and the best available talent at an affordable cost. Among the company's clients, one can find Ferrari USA, Gorgias Helpdesk, Maker & Son Luxury Furniture and other modern brands, which had already appreciated their agile, cost-effective, and reliable approach. 
Now let's pay our attention to one of the most prominent projects from Buildateam's portfolio. H2O Plus offers Japan-designed, clean skincare products that will immerse your skin in hydration. Clinically-proven hydrating skin care backed by 30 years of experience. Buildateam helped H2O+ to enter the U.S market by creating a highly custom e-commerce website on Shopify Plus platform.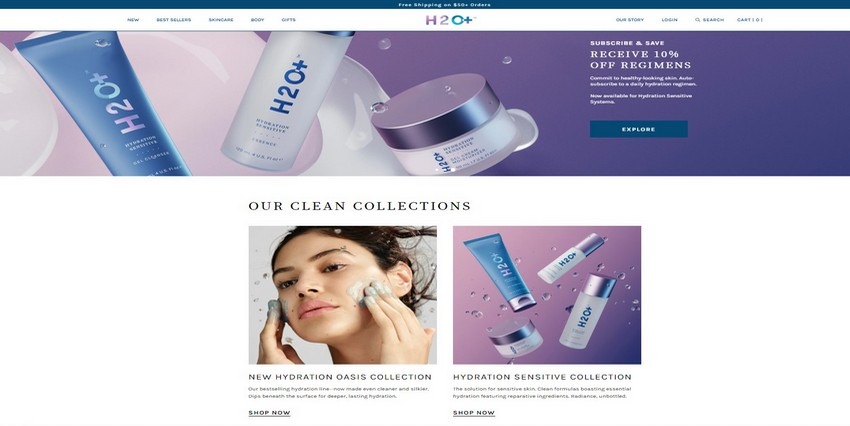 From: USA | Founded: 2014 | Hourly rate: $149
Implementing B2B quoting systems and ERP systems, Pivofy executes e-commerce projects analysis to determine the proper platform. For Shopify development they offer digital strategy, mobile and web Shopify design, integrations (Amazon, eBay, Google Shopping, Walmart), shopping carts. 
Consider cooperation with Vosges Haut-Chocolat, an online store of chocolate products. The client  wanted to improve the existing website, increase sales and raise brand popularity. Pivofy team rearranged the store to Shopify, and created training materials for the staff.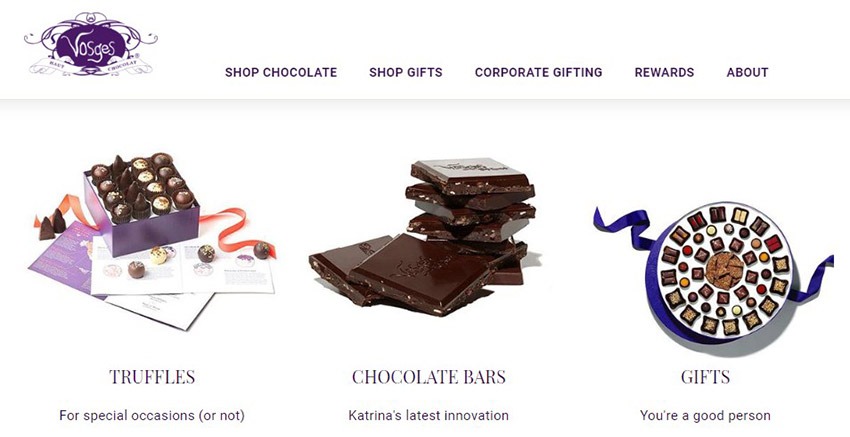 From: UK | Founded: 2006 | Hourly rate: $49
A UK web, mobile and game development company, capable to merge up to 10 technologies in a single project. Over 750 projects involving Shopify, Magento, WooCommerce, BigCommerce, Etsy, Amazon, Google Merchant Center in their CV.
They've developed an eCommerce application for Shopify store, as ordered by All Over Print. The main idea was customizing products with various prints. The platform allows store owners to upload images in different formats and try it out on products – flip-flops, shirts, tank tops, etc. Along with Shopify,  technologies like PHP, Apache, MySQL, Ajax were applied too.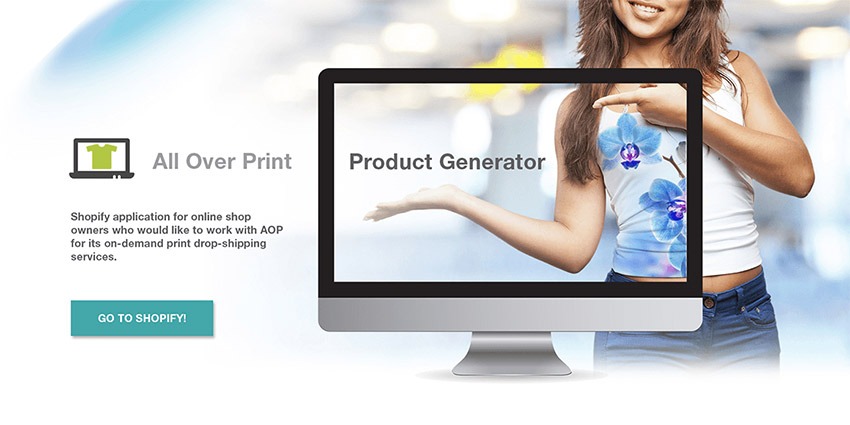 From: USA | Founded: 2007 | Hourly rate: $149
Comrade Agency is a US-based digital marketing agency, whose core mission is to create websites, provide digital marketing services, and help its clients to achieve their business objectives. Comrade Agency has expertise in such services as web design, web development, and digital marketing. In order to build modern and interactive websites the agency actively uses Shopify, WooCommerce, and Magento platforms.
The best way to make the final decision concerning a company's work is to take a look at its portfolio. The company's client SNAC wanted to build trust among its consumers. Comrade Agency suggested to redesign its website and deploy a highly targeted digital marketing campaign. The results were impressive: 47% increase in sales, 162% increase in organic search traffic, 319% increase in overall transactions due to organic traffic.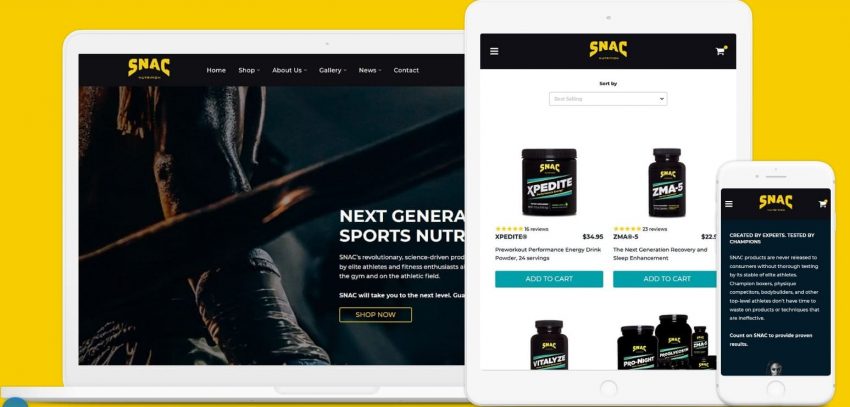 From: Bulgaria | Founded: 2014 | Hourly rate: Undisclosed
Sherpas Design is a team of skilled Shopify experts that have already been providing ultimate eCommerce solutions for over 6 years. The company offers a full pack of Shopify services that includes Shopify theme design, app development, migration, integrations, and store redesign. Additionally, the company's clients have an opportunity to make their software really successful, since Sherpas Design delivers SEO & PPC marketing services as well. 
In order to build an elegant Shopify store for Zapanda, the company involved the best designers and developers. Sherpas Design's Shopify experts managed to create a custom eCommerce platform for selling luxury Swiss-made watches. The client was satisfied not only with the final software but also with the great support that the company provided them.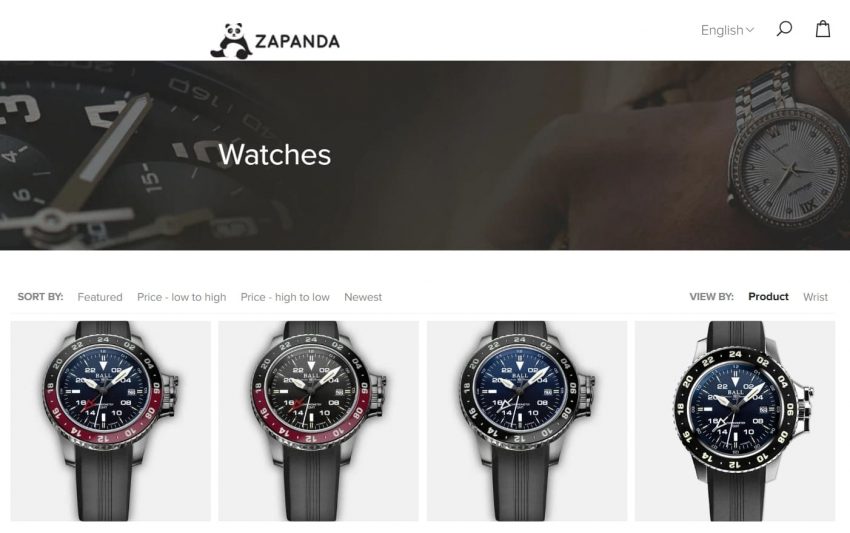 From: USA | Founded: 2015 | Hourly rate: $199
Starting as a small agency of two enthusiasts, Helium launched its first Shopify project in 2015, which was based on 3 elements for creating any company project: exploration, reliability, and care. Helium is a company that develops both online stores and 5-star apps, so it offers a great pool of services, including Shopify theme development, Shopify store setup, and consultation.
Daedalus Motors needed a Shopify partner both for the initial launch of the site and for further cooperation for its development. Given the unique inquiries, Helium provided unique solutions, such as a product page with custom options their website.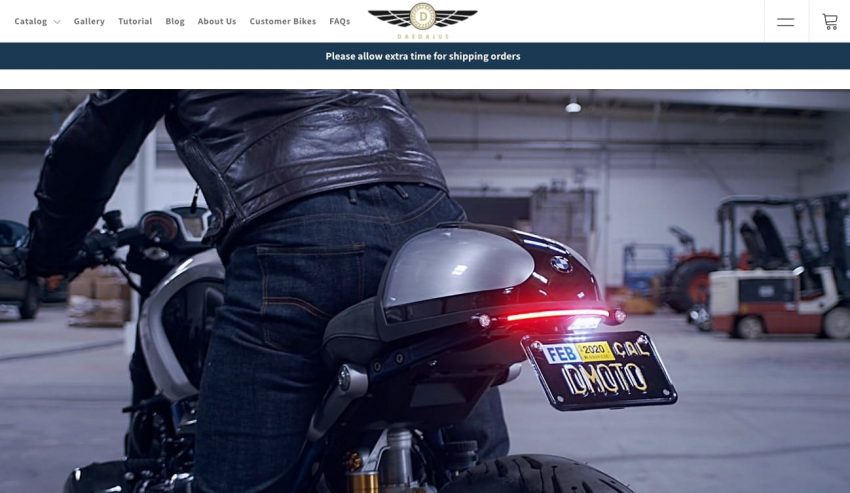 From: Estonia | Founded: 2016 | Hourly rate: $50
VT Labs is an eCommerce development company that provides individual Shopify solutions, React.js, and Ruby on Rails development services. Being the Shopify Partner, the company is able to develop modern and cross-device optimized Shopify themes from scratch for large as well as non-standard websites. VT Labs also offers installation & customization of Shopify products, Shopify app development, brand & design services.
As an example of successful VT Labs' Shopify project is the development of an eCommerce website with additional functionality for premium leather goods seller. The company not only implemented a new Shopify theme but also added KYC functionality by integration with third-party apps. Also, VT Labs improved the website's support functionality by setting the Zendesk app and adding extra features for a customer contact form.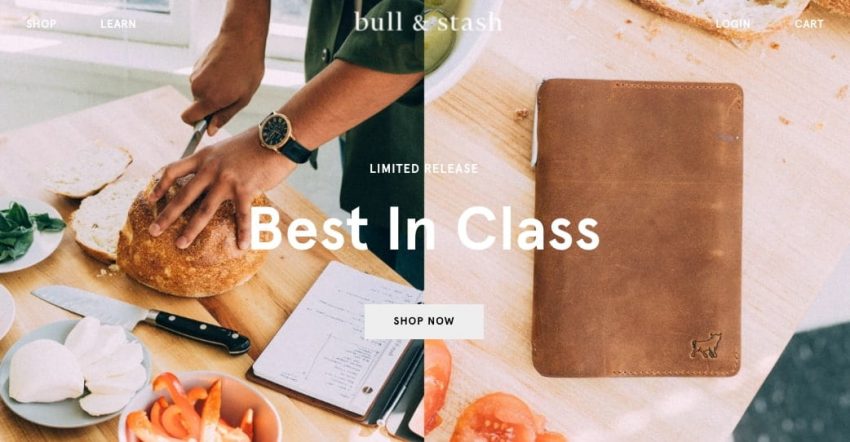 From: USA | Founded: 2012 | Hourly rate: $100
Makkpress Technologies is an eCommerce development company with more than 8 years of working experience with Shopify. It specializes in Shopify apps, API, and plugins development. Also, the company offers migration services, Shopify SEO, and Shopify web design. Being a partner of several eCommerce platforms including Shopify, Makkpress Technologies has successfully done over 1100 projects for the clients of 30+ industries.
The company's client Mister SFC, an accessories brand, wanted to extend its business and grow the revenue. Makkpress Technologies created a new user- and SEO-friendly design and developed a row of custom advanced features for the client's Shopify website. Renewed functionality even included AR implementation for products and the feature that allows users to create custom accessories to buy.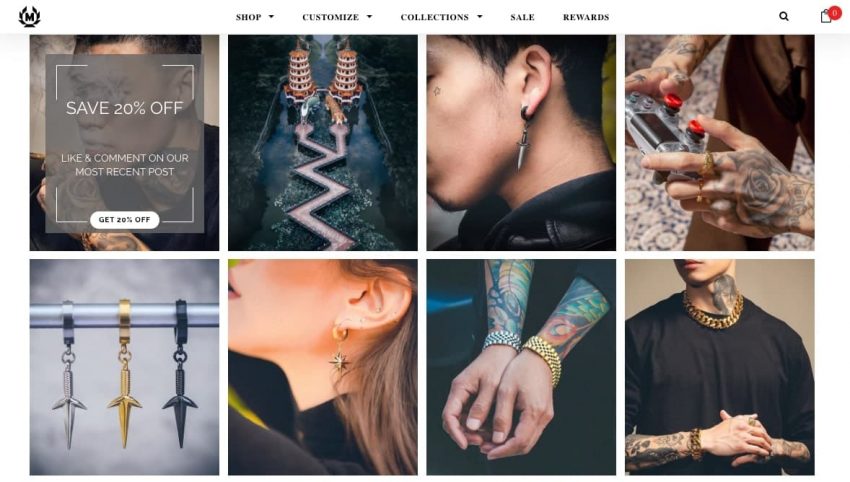 From: Australia | Founded: 2009 | Hourly rate: $135
Experienced web designers and developers specializing in the creation of scalable, sales-driven Shopify eCommerce websites for local, national, and global businesses. As a Shopify partner with expert-level accreditation, the Alinga team believes in creating beautiful, high converting Shopify eCommerce experiences and have delivered multiple B2B, B2C, omnichannel, multi-region stores on the Shopify Plus platform. To create the most relevant solutions, Alinga experts also specialize in Magento eCommerce, as well as in eCommerce email marketing.
The team created a Shopify eCommerce website for a beauty product company – tbh skincare. As a Shopify multi-service company, Alinga has provided Shopify eCommerce, custom theme development, responsive web design, as well as mobile-optimized design.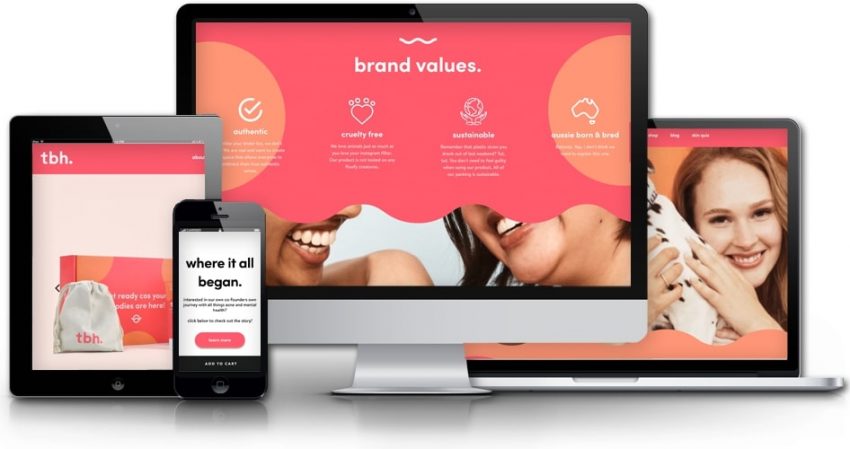 From: USA | Founded: 2008 | Hourly rate: $149
Digital Operative is a full-service marketing agency that perfectly complements the list, focusing on creating eCommerce websites, developing customer acquisition and retention strategies. Specializing in providing solutions based on Shopify Plus technology, a proficient design team takes responsibility for both planning and implementing stages of project components. Experienced with both B2C and B2B target audiences, the company creates user-friendly Shopify solutions, as well as integrating SEO, analytics, customer profiling, and content marketing.
The experience of the team allows the company to achieve excellent results, as in the case with the Baby Tula project. Additionally to Shopify development support, the Digital Operative team provided conversion rate optimization to improve customer experience by driving the client's strategy and results. Thanks to the user-friendly website interface, combined with the right tactics of attracting customers, the client managed to achieve + 68% revenue per visitor, + 10% average order value, and + 31% conversion rate.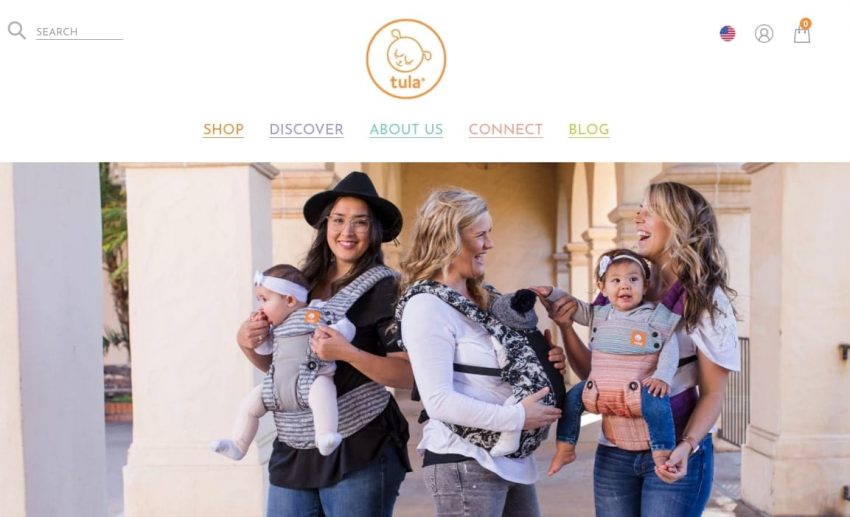 From: USA | Founded: 2009 | Hourly rate: Undisclosed
With 11 years of experience and a high passion for eCommerce creating, Sellry is a great partner to unlock the brand's true potential. Experience with Shopify Plus, Magento, and WooCommerce platforms allows the team to create next-generation solutions that will vastly enhance the customer's competitive capabilities. The company offers such eCommerce services as store launch, theme design, and optimization, migration from any platform, app integration, and development, growth optimization, as well as consulting and training.
Ascent Protein turned to the Sellry guys to modernize their outworn, inconvenient website and make it more user-friendly. It was decided to support existing functions, such as a protein calculator, but at the same time focus on UX and the user interface. In addition to Shopify's facilities, the team also used ReCharge – a purchasing solution for subscription products. As a result, they managed to achieve a rise in overall revenue of 65.2% and eCommerce revenue by 16.8%.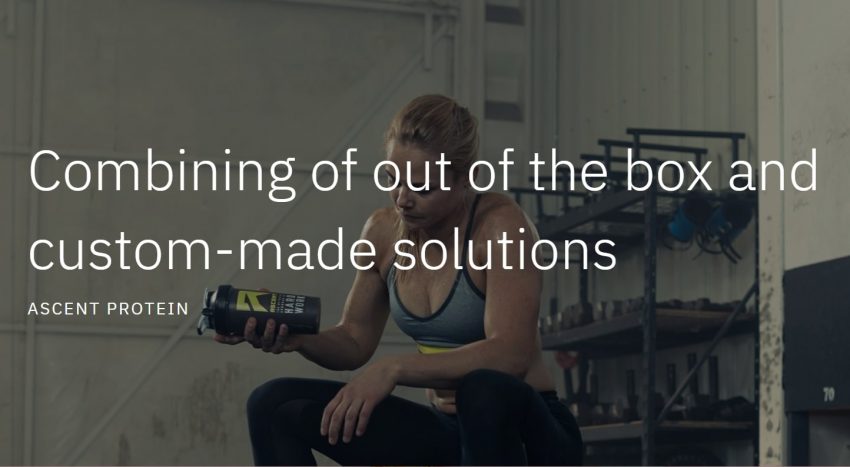 From: Estonia | Founded: 2011 | Hourly rate: $49
Bamboo Agile is a design and build studio that knows e-business needs and is ready to implement them in life. Being an official Shopify affiliate, the team specializes in creating e-commerce solutions that everyone needs, both new and mature businesses. Regardless of whether the client needs to create a platform from scratch or to improve an existing one, Bamboo can help with a fully customizable website, online store, and blog.
Pangaia is an eco-friendly clothing brand that needs a non-standard Shopify business solution. Bamboo guys gave particular attention to building a custom integration with the NFC vendor's system in order to make the purchase process convenient for the user both in function and design. For this, a team of 7 specialists took 4 months and GraphQL API, JavaScript, Buy SDK, iOS-Swift technology.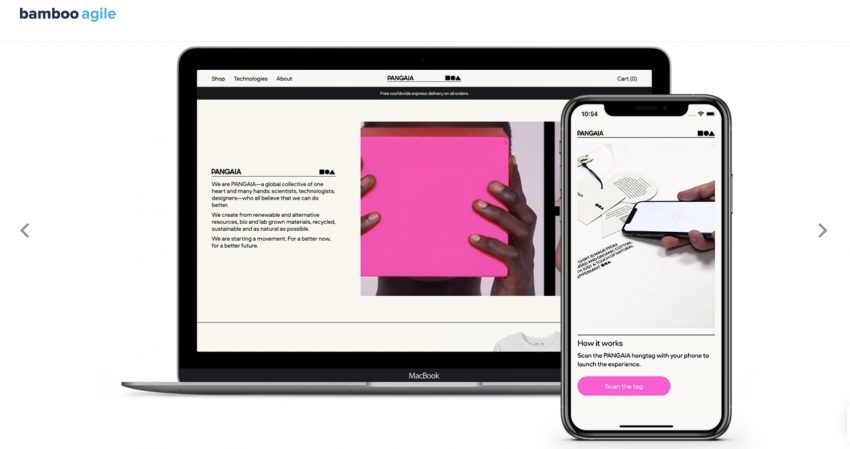 From: Canada | Founded: 2018 | Hourly rate: Undisclosed
Toronto-based, Arete Software provides solutions for clients all over the globe. From startups to enterprises, the company offers Shopify-based eCommerce solutions from scratch. The commerce websites created by the company are scalable and easy to use, which allows them to grow with the business. Beyond the web and eCommerce website development, the team is also highly specialized in digital marketing for SME clients and FORTUNE 500 corporations.
VARA Store project development was based on the iterative process in a record of 2 months. At the initial stage, the team of 1 web designer and 2 developers created the design for all web pages, after which go straight to the design integration and development process. As a result, the VARA eCommerce website has a minimalist design with a user-friendly interface, a convenient cart, as well as an advanced personal customer account.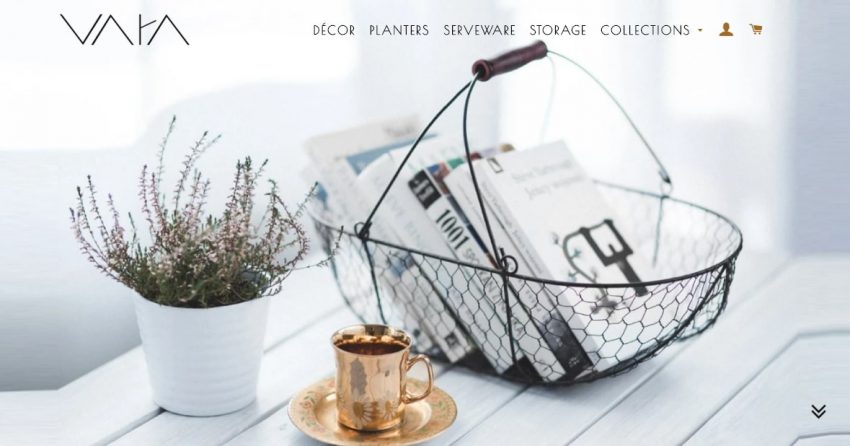 From: Ukraine | Founded: 2012 | Hourly rate: $99
GenovaWebArt is a small outsource company, offering Shopify services among other service lines. Building apps and expanding them with third-party API integrations, marketing tools, payment gateways, etc., designing Shopify themes and providing post-launch support.
GenovaWebArt has a regular customer named Runtime, a balanced nutrition provider. They've been  working together for a long time, and now Runtime has two stores. GenovaWebArt provides design/redesign, new functions (product bundles, subscriptions, etc.), upgrades, maintenance services.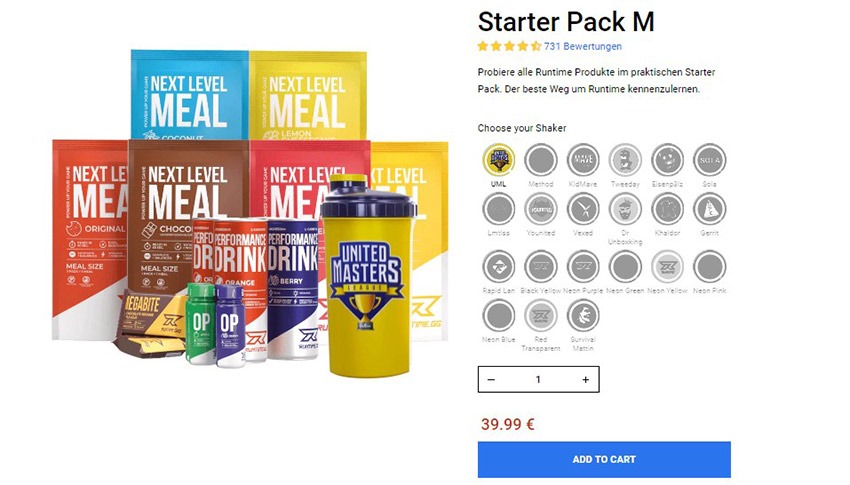 From: USA | Founded: 1999 | Hourly rate: $149
Absolute Web Services is mainly known as a development provider of eCommerce software based on such platforms like Magento, Shopify, WooCommerce, BigCommerce. It is a team of more than 60 certified specialists. They are also official partners of Google, HubSpot, Shopify, Magento, and Amazon.
One of Absolute Web Services projects was Redemption, an Italian fashion brand. They required a complete Shopify website redesign and handling of huge data volumes. In the end, they got a fresh website with a new custom Shopify theme, lookbooks, wishlist, product filtering, events module, several integrations, and email marketing automation.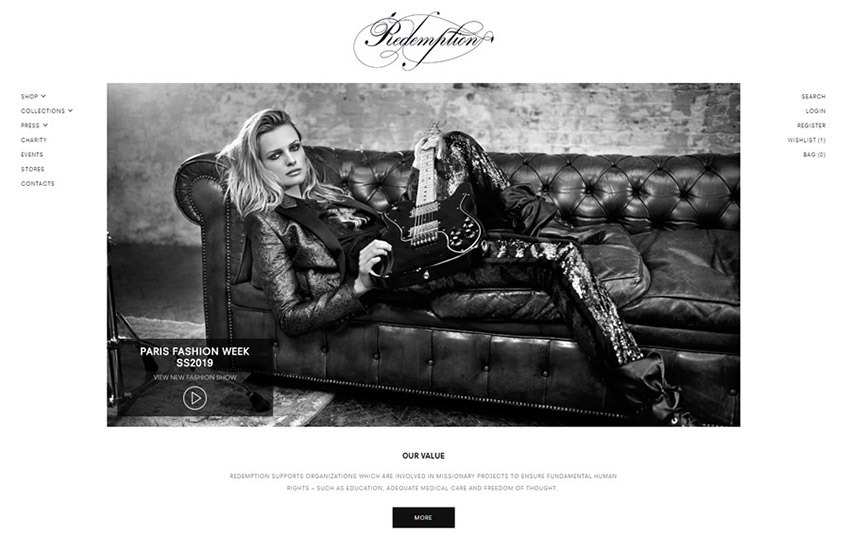 From: USA | Founded: 2014 | Hourly rate: $199
Specializing in ecommerce solutions, marketing, software development, UX/design, third-party integrations, ADA compliance, Noticed has bold vision for their clients. Headquartered in Philadelphia (Pennsylvania, USA), with about three dozens of experts, Noticed is a proud partner to Google and Shopify Plus.
For a final highlight of our top Shopify development companies, take a look at Starfire Direct project. A renowned provider of house heating systems hired Noticed team to move their store to Shopify Plus, to enhance UX. More importantly, Starfire's new online store ended up with conversion rate 31% increase and 23% order value rise.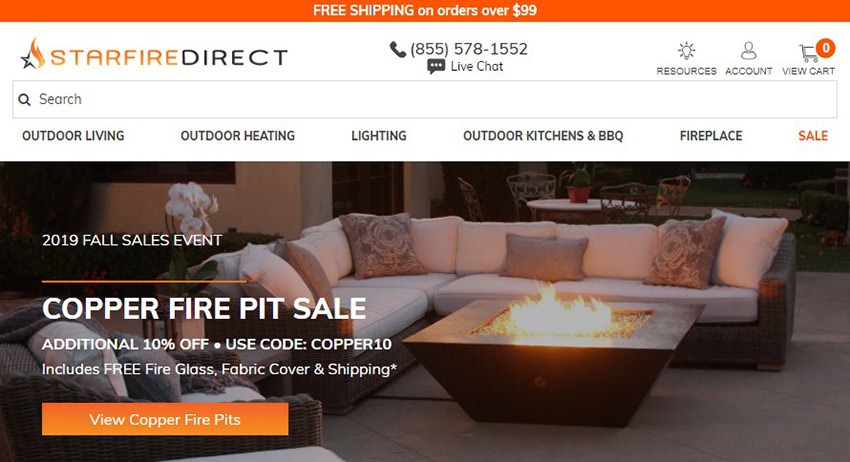 From: USA | Founded: 2009 | Hourly rate: $149
Codal is a full-stack mobile app development and UX design agency with over 9 years of industry experience. Based in the heart of Chicago, Codal has a knack for bringing out the best in every brand that we work with. The agency's clientele has ranged from small businesses to enterprise; but their philosophy has remained the same, to empower brand visibility and deliver the most elegant solutions possible.
For almost a decade, a team of innovators, creators, and makers offers the following services: UI & UX design, web and mobile app development, technology and innovation strategy, dedicated development teams, eCommerce Development (Shopify Plus Partner).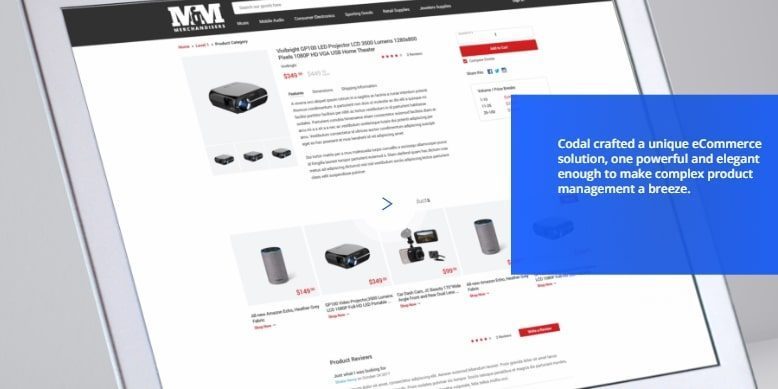 Nothing speaks about the company's professionalism level as its portfolio. In the case of Codal, consider the M&M Merchandisers case. The company has become a reliable partner for the client and has been able to successfully integrate Shopify with the entire digital infrastructure, including ERP. The Codal team proved itself in UI & UX design, and rapid development areas. As a result, the Codal's guys managed to create a modernized website, with a unique eCommerce theme, as well as new user features that gave M&M's customers a more immersive purchasing experience.
Related articles: 
What is a Shopify development company?
It is a company that deals with webpages developing, thanks to the possibilities of the Shopify platform. Shopify is one of the leading platforms in the field of e-commerce site development, which provides a range of marketing and content tools, payment gateways, and support. It is capable, easy to use, and does not cost much.
A Shopify development company, in most cases, offers the following services:
Shopify Setup & Product Import (provides for the provision of services for setting up Shopify theme, adding products, setting up outgoing email, payment and mail gateways);

Responsive Shopify Theme Development (companies provide attractive design services for e-commerce stores, typically from sketch to finish);

Shopify App Development & Customization (usually an app for the Shopify admin, Shopify POS, or Shopify Online Store);

API Integration, Plug-In & Module Management (include solutions for managing modules and stocks, APIs for developing, and integrating e-commerce plugins for an online store);

Shopify Mobile App Development (Shopify's mobile app offers interactive web browsing while exploring an e-commerce store);

Shopify Support And Maintenance Services.
How does a Shopify development company work?
Discovery. The first consultation involves the process of getting to know the client's business, his business idea, and the vision of the future project. For their part, the company's developers inform customers about the many options available when using Shopify.
Concept development. The company should have an individual approach to every client, so it is necessary to develop a unique plan, considering all possible options for action. Usually, the process takes several days, including planning for the final results, tasks, time frames, and a specific budget.
Design. The information acquired by the company in the previous step is used to develop a layout and then wireframes and sketches. The cycle of checking, adjusting, and approving layouts often occurs until both sides reach a consensus and are satisfied with the developed design vision.
Development. After the layout, budget, and other vital components of the planning parts are finally approved, then the actual development stage begins. First, the process of creating a content management system (CMS) takes place, after which all content provided by the client (images, graphics, and text) is downloaded to the newly created website.
Testing. Testing is a significant part of the development process, during which all the shortcomings and errors are revealed, and the client himself has the opportunity to make sure whether this is the version of the site that he required. At this stage, all errors are fixed, and everything necessary is added before launching the final version of the project.
Production. At this stage, the website is transferred to the final web server, processing, configuration of the domain strategy, and DNS (Domain Name System) are provided.
Website delivery. At this stage, cooperation is almost complete, the client becomes the owner of the site, and consultants help the client adopt, train, and sometimes provide training aids or lessons if necessary.
How to choose a Shopify development company?
Check the company's website. There is a saying that sounds like "Don't trust a skinny chef" and in our case, it is more relevant than ever. The appearance of the website is the first thing you should pay attention to. The agency should have a convenient, fast, structured site with high-quality content and design.
Portfolio. Once you have already entered the site, why not pay attention to the company's portfolio, which is usually on the site. This is one of the most important criteria. But note that the main thing is the quality of execution, not quantity. You must visit the sites to make sure that the company can satisfy your needs.
Appropriate web strategy. The strategy is an essential factor for further development, so make sure that the agency offers you an exact tactic that will increase your business. Don't be afraid to ask questions to make sure that you can cooperate with the company and the plan that it offers completely suits you.
Quality & cost. Today many companies provide e-commerce site development services based on Shopify, so it is possible to compare prices, service packages, and quality. Try to decide on your goal, choose key features, get rid of useless options, fix your budget, and make sure that the agency is not trying to offer you what you do not need.
Experience. Make sure that the team is knowledgeable in HTML and the Shopify API, and can create a Shopify application in any language, for example, PHP, Nodejs, Ruby on Rails, Python or ReactJS and so on.
Security. Please note that hacker attacks are quite common today, so the issue of site security and your data security should also be discussed with the company.
Support. Make sure that the company provides customer support services, since even at the testing stage, it is not always possible to strip all errors, besides you can always have questions.
How much does it cost to develop a Shopify website?
When it comes to creating a Shopify website, the pricing policy is quite flexible, since it depends on the client's budget, the hourly rate of the company, business goals, and urgency. Also, other factors affect the price of the final product: hosting, domain name, design, plugins & extensions.
There are 4 plans available in Shopify that provide you with a different degree of freedom in the development, Let's consider them more detail:
Basic – $29 per month + 2.9% and 30¢ per transaction;

Shopify – $79 per month + 2.6% and 30¢ per transaction;

Advanced Shopify – $299 per month + 2.4% and 30¢ per transaction;

Shopify Plus – $2,000 and more for month + 2.15% per transaction.
At this stage, the developer can help you to decide which plan is best suited for your business, explain the features of each, and help you make a choice. Shopify for small webstore:
Domain name: free or $20 per year;

Web hosting: $40 per month;

Shopify theme: $100 for a simple and fully ready e-commerce template;

The basic plan for the first 12 months: $348;

Total minimum sum: $508 yearly.
Shopify for medium webstore:
Domain name: free or $20 per year;

Web hosting: $200-$300 a year;

Design and development: $3000;

Third-party integrations: $300 to $1000 a year;

Web store maintenance, support, and updates: $500 a year;

Shopify or Advanced Shopify plan: $948-$3588;

Total minimum sum: from $5000 to $8500.
Shopify for large and enterprise webstore:
Advanced Shopify plan: $3,588 per year;

The rate for credit card payments of 2.4%: if you earned $ 1M per year through the site, you will need to pay an additional $24,000;

Design: from $ 500 to $10,000;

Unique functions development (exclusive shopping baskets, checkout pages, image galleries/enlarged images/360 views, additional plugins, discounts): $1,000 or more;

Total minimum sum: from $25,000 to $50,000 per year.
How industries can benefit from Shopify development?
Food and Beverage. To date, there are more than 1,900 sites created using Shopify to develop the food and beverage businesses. As an example, consider the Shopify store – Ratio Coffee, which uses such Shopify advantages as an elegant scrolling system with simple animations, simple product pages featuring the items in action, non-obtrusive email signup feature.
Fashion. Shopify can provide tools for outstanding design choices, which are necessary when creating a website directly related to fashion. Today, fashion is one of the largest segments, accounting for 7% of all sites written using Shopify (nearly 7,000 fashion sites). A vivid example is a jewelry store Bluboho, which skillfully combines Shopify's ability to create elegant blends of minimalism and smooth typography.
Consumer goods. Just another category of stores that uses Shopify to its full potential (at the moment it is more than 2,500 sites). With Shopify, developers organize the categories of all products following the wishes of customers and also use all the features of modern design. An interesting example of a Shopify site is TrendyGoods – a dropshipping Shopify site that doesn't have specific product categories, but all products are trendy and viral. The site uses a unique way of organizing products that are not interconnected without making the organization messy.
Sport. A healthy lifestyle today is a trend, so it is not surprising that there is an increase in the number of fitness e-commerce sites, including those created with Shopify, the number of which has already reached more than 2,355. Let's take as an example, one of the most famous companies that are developing smartwatches, fitness trackers, and more fitness products – Fitbit. Their site is very well organized by organizing their products into categories that make it easier for customers to find what they're looking for. Also, all the category-specific benefits, features, and apps in one easy-to-find and easy-to-use section.
Home decor & furniture. Shopify is also popular with developers of home decor & furniture stores, which already number around 1,200. When creating, they use such advantages of Shopify as straightforward and elegant animations, a sparse, modern design, calls to action on product pages, flexible product grid, and more. An example of a great site is the Ivory & Deene home store, which focuses on selling all kinds of furniture and decorations, including lighting, living, and outdoor products.
What new expect from Shopify in 2021?
First Shopify sales network. Shopify promises to shortly launch an entirely new platform for corporate brands and new trading opportunities for selling companies internationally. The Shopify sales network, currently undergoing testing, will provide US sales companies with a network of sales centers and will use machine learning to ensure timely deliveries and reduce delivery costs, which will improve their interaction with customers.

The brand new Shopify Plus platform for corporate entrepreneurs. The new platform promises a simpler than ever way to create new stores, as well as a new and improved set of tools, as well as a single overview of the entire business of the selling company.

All-new online store design experience. The main advantage will be that sellers will have the opportunity to edit the site design, following the growing needs of customers, without changing the code. Moreover, a new feature will be included in the design, which will allow seeing products through video content and 3D models.

New advanced tools. New tools. Thanks to the unique Shopify App Bridge tool, developers will be able to combine their applications directly into Shopify, including desktop computers, Shopify Mobile, and Shopify POS. For the convenience of developers, a Shopify App command-line interface will now appear, which allows developers to combine all stages of the application assembly into one team. Besides, Shopify's Most Popular Libraries will now be available in GraphQL.

Next-generation POS terminal software. Not only a simple, faster, and more intuitive interface will become a feature of the new Shopify POS terminal, but also new customer service features and access to all Shopify POS application extensions.

New languages. The creators promise to add 11 new languages that will be available at Shopify Admin around the world, including traditional and simplified Chinese, Korean, Thai, Danish, Dutch, Norwegian, Swedish, Finnish, Hindi, and Malay. Shopify's translation software application interface will store translated customer-oriented content, including both products and blog posts, allowing all customers to access all the information which is provided.

Multiple currencies. Customers can pay for the purchase within any currency they prefer, and there will be an immediate conversion based on daily foreign exchange rates, so customers get the most current, accurate price.

New shipping features.