Best IoT companies for all things smart
Tenants who can control lighting, heating, electricity, doors, all via a smartphone – who could have thought of this as reality some fifteen or twenty years ago? Technology is moving at a rapid pace, and this Internet-of-Things phenomenon, or otherwise IoT, is connecting more and more devices. Tech startups and established enterprises are linking devices to operate together, making it user-friendly. Best IoT companies include teams of various scope and from all walks of life/fields.
Though, there's still a tough struggle to deliver integrated platforms for all IoT devices to function together, we also have good news. Tech talents and developers across the globe are working on new solutions and apps in regards to IoT space. Multiple IoT startups are designing unified app interfaces to speed up user adoption. Others produce great things like a video doorbell, a  medical emergency bracelet, cloud data platform, etc. So it's time to list some of the top IoT companies.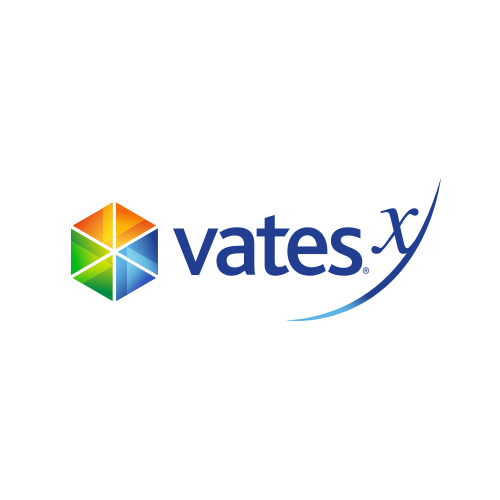 Vates
Smart, connected products
Industrial IoT
Supply chain management
Visit website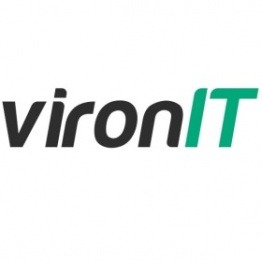 VironIT
IoT development
AR/VR applications
Custom software solutions
Visit website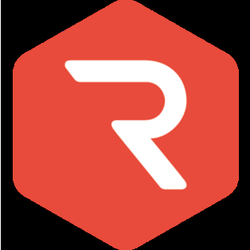 R-Style Lab
Internet of Things
Electronics prototyping
Cloud applications
Visit website
The list of best IoT companies
These best IoT companies in the list below comprise of both hardware and software vendors, end-to-end (M2M) and connectivity service providers (CSP). And though tech giants like Google, Intel, Microsoft or Amazon are also offering IoT services, we'll rather be focusing on mid-size entities and startups with specific IoT products.
Companies that use Vates' end-to-end IoT solutions benefit from experienced IoT engineers that fully understand systems integration and great user experiences. Work with your dedicated project manager and engineers to create multi-platform, fully integrated IoT apps for your customers using state-of-the-art integrated architectures, MVP development, and thorough testing services. Vates lab environment helps your company avoid costly hardware component selection and interoperability mistakes early and throughout your project. Knowing about hardware is key and Vates goes beyond IoT development to full systems integrators with end-to-end project management.
Using big data, cloud, and machine learning technology Vates make your business smarter and agile
Connected Assets: Know where and how your business assets are being used

Connected Operations: Improve your operations by collecting data and analyzing it through advanced analytic technology to obtain insights and increase predictability.

Connected Supply Chain: Tap into the data gathered by IoT devices, and get complete visibility of products, all the way from manufacturer to retailer.

Connected Facilities: Empower facilities monitoring and management

Connected Manufacturing: Improve production efficiency using smarter decisions made possible through advanced analytics enabled by IoT
Website: Vates.com
VironIT is a custom software development company with a primary focus on delivering Internet of Things development services. Company's core areas of expertise are a development of mobile applications, web-oriented software products, business software solutions that harness the power of connected devices to advance lifestyles and empower enterprises with IoT products.
VironIT has successfully carried out over 500 successful projects to over 300 high-profile companies in eHealth, Sports, Banking, Retail, Marketing, Gaming and other industries.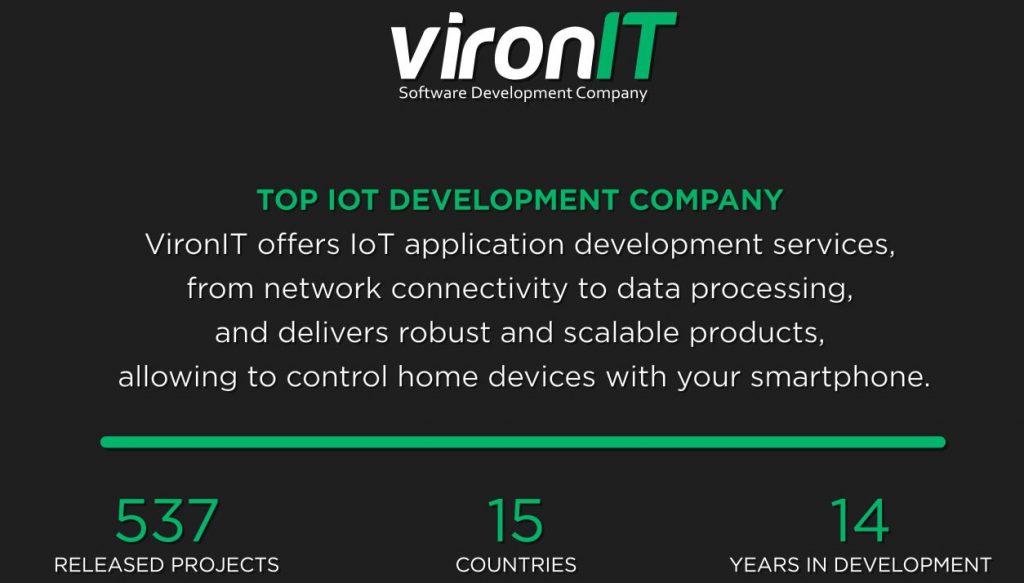 Specialties: IoT solutions development; AR and VR application development; Custom software solutions; Web application development; Mobile application development; Software product development; Software reengineering; Quality assurance and testing; Technology consulting and prototyping; Maintenance, customization, and enhancement.
Website: https://vironit.com/
R-Style Lab creates software solutions since 2006 and specialises in IoT solutions. With vast expertise in mobile, web, wearable and low-level applications, R-Style Lab acts as a single-point-of-contact service provider for businesses that operate in the reality of data-driven and connected economy.
R-Style Lab IoT solutions expertise includes: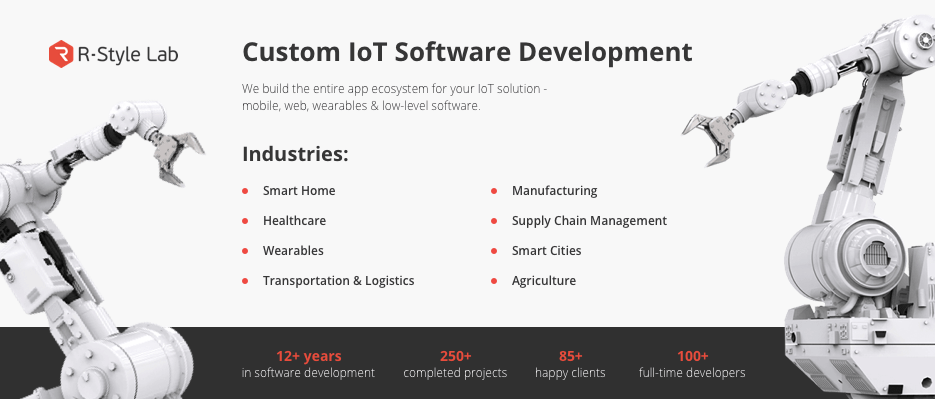 Website: https://r-stylelab.com/services/internet-of-things-app-development
HQSoftware is a trusted custom software development company delivering complex solutions across the globe since 2001. The company's core domains include IoT (Industrial, Healthcare, Automotive, Smart City, etc.), Augmented and Virtual Reality, E-learning, Finance and Banking. For the IoT vertical the team provides any development above low-level programming for hardware: from high-level development for devices and sensors to web and mobile application development and third-party integrations. HQSoftware's transparent development processes and established workflows enabled the team to successfully deliver over 450 projects to such world-known brands as HTC, BBC, Skoda, Sega, World Health Organization, The United Nations, and many other.
Specialties : IoT solutions development; AR and VR application development; Custom software solutions; Web application development; Mobile application development; Software product development; Software reengineering; Quality assurance and testing; Technology consulting and prototyping; Maintenance, customization and enhancement.
Backend tech stack: PHP, Java, .Net, Python, Node.js; Front-end technologies: JavaScript, ReactJS, Angular 2-5, Knockout, Bootstrap, Vue, Backbone, and more; Mobile stack: iOS Native, Android Native, React Native, Apache Cordova, Ionic 1-3, Qt, Xamarin, Meteor; UI/UX design.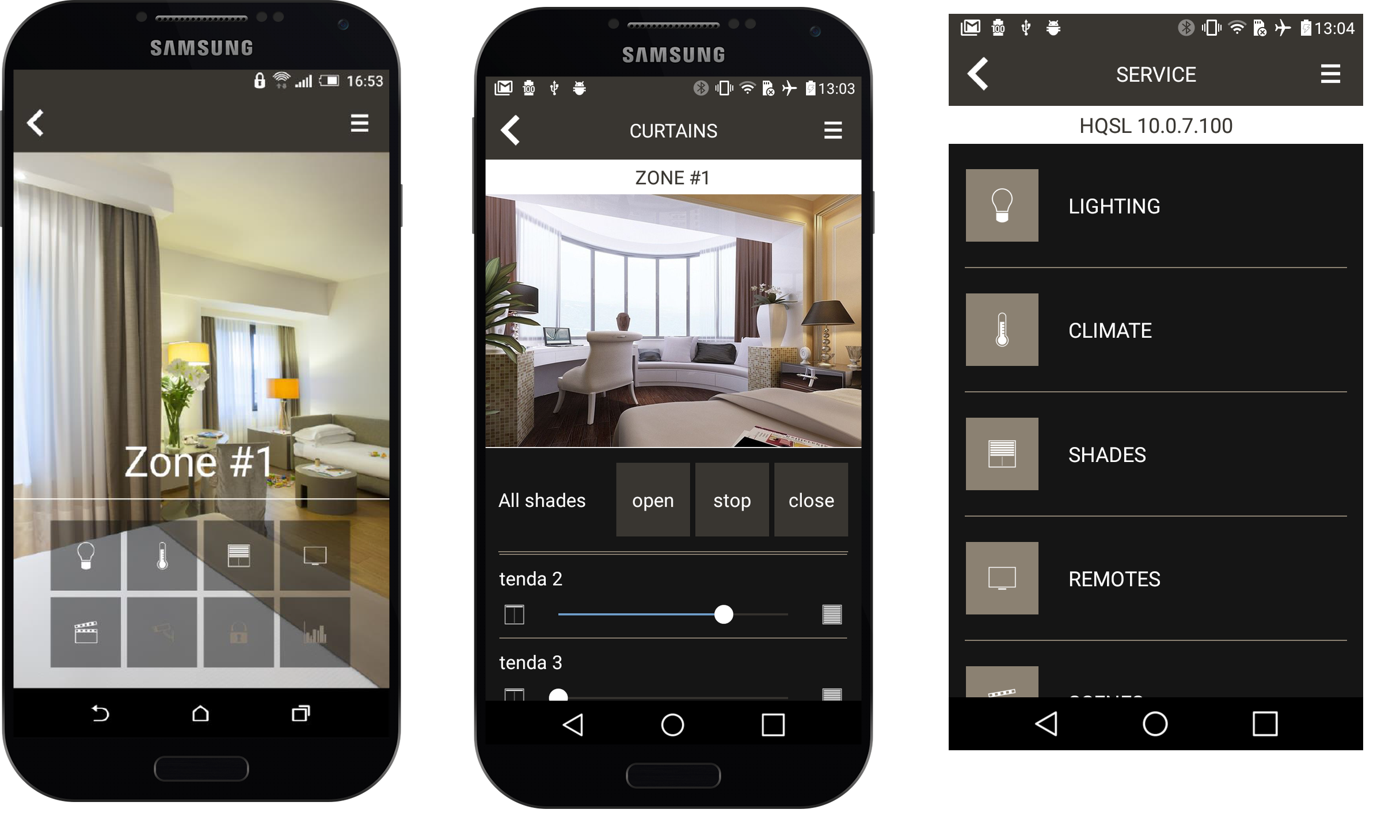 Website: https://hqsoftwarelab.com/solutions/internet-of-things
The term Internet Of Things is now evolving and is considered the futuristic advancement in technology. We at Magneto IT Solutions, develops solutions IoT solutions which have medium, so called our INTERNET which enables electronic devices to communicate between themselves. We can remotely access things and do tasks which were impossible few years ago.

Magneto IT Solutions develop highly intuitive mobile application for IoT devices that enhances usability and control management. The IoT mobile application that MIS offer is not only having great design but highly secured. They have a brilliant team of developers which will deliver you an excellent software solution for your IoT scenario.
Hourly rate: $15/ Headquarters: India, USA, Bahrain / Founded: 2009 / Employees: 100/ Contact: +1 214 447 0720 , +91-8141301021
Website: https://magnetoitsolutions.com
One of the globally leading providers of WLAN products, TP-Link has also delved into IoT sphere. After making minor products like a wi-fi LED energy-reducing bulb and a mobile app alongside, it was time for something bigger. So they introduced a new smart home all-in-one router with touchscreen. It brings a central control point for all devices and is compatible with other manufactures. Its goal is automation, security, energy management, its means are day/night cameras, wi-fi light bulbs, smart plugs and switches.
Core features of this great IoT product are:
Wi-fi connectivity of all devices into a single system;

Tablet or smartphone to control and schedule all tasks via the Kasa app;

5GHz wi-fi performance (up to 1300Mbps);

A 4.3 inches touchscreen display, plus USB 3.0/2.0 ports;

SD storage slot to save videos or other data;

Works with Google Assistant, Amazon Alexa.
Website: https://www.tp-link.com/en/
Eastern Peak is a custom hardware and software development company, focused on helping startups, mid-size businesses and large enterprises reach their full potential by building great technology platforms, spectacular websites and intuitive mobile apps.
Key Areas of Expertise: IoT (from wearable devices and personal trackers, to industrial IoT services); Uber-like Solutions; Enterprise; Education; Mobile Apps; Websites; Marketplaces; FinTech; Branding.
They have gathered the Eastern Europe's most experienced software developers, designers and project managers along with top Israeli product experts under one roof to deliver reliable software solutions to clients on time and on budget.
DPD, Western Union, Gett, Fly and dozens of other companies of all shapes and sizes rely on their custom development solutions in their day-to-day operations.
Website: https://easternpeak.com/
Offering a really nice and fun small thing as a smart video doorbell – see, hear and speak to visitors at your doorstep, SkyBell brings IoT close to people. You can see it and try it, this smart doorbell sends live video to your phone via an app whenever someone rings a bell at home. A motion sensor can even alert you of a visitor before he/she presses the bell. The company also designs other IoT products like color night vision, Android apps and iOS apps for IoT systems, smart locks, triggers, sensors, etc.  
Website: http://www.skybell.com/
What about some IoT hardware platforms? Particle from San Francisco, USA presents an all-in-one platform, that has everything for IoT developers under one roof. From getting devices online (wi-fi, cellular, mesh), microcontrollers and an operating system (Device OS), to development kits as open source. Its community lists about 135,000 software developers who design IoT devices and IoT applications, often in collaboration. They also have Device Cloud, a special cloud software to manage multiple devices remotely, a secure API, web and desktop IDEs, and more things we don't have enough time to cover.
Website: https://www.particle.io/
A Singapore-located company which had introduced a so called "intelligent IoT messaging", combining chats, AI and IoT into one API. Thus, one could communicate and control multiple  smart devices. The purpose of their invention is to remotely control and get alerts from connected devices via any modern communications channel. From popular chats to social media apps WhatsApp, Viber, Telegram, Twitter, Facebook Messenger, Xing, etc. The company provides developer APIs for various tiers: smart homes, smart enterprises and smart cities. Visit their page for more details.
Website: https://unifiedinbox.com/
Another great team that offers a cloud IoT SaaS platform, particularly for SMBs and startups. The platform aims to help build, manage and monetize IoT products and services in various industries. For device connectivity Jasper also provides a Control Center, a special software environment to manage all the devices, monitors, sensors, etc. As part of premium services, the company offers smart security for tablets, traffic segmentation for IoT devices, management platform for "connected cars" – a unique project for remote vehicle fleets. For ladder, they've partnered with GE, BMW, Daimler, Toyota, Volvo, Ford and many more.
Website: https://www.jasper.com/
An IoT data platform providing products for energy/power monitoring, utilization, vehicle tracking, etc., which all truly make it one of the best IoT companies. It also develops industrial IoT apps with features such as dash cams, GPS tracking, as well as lots more other products, monitors, modules, developer APIs. For instance, one the most curious products is dual-facing dash camera (cloud-connected), designed to reduce distracted driving and crashes. Great stuff!
Website: https://www.samsara.com/
iTechArt is a custom software development company with a heavy focus on delivering feature-rich and secure IoT solutions for startups and fast-growing tech companies. From GPS tracking to building smart secure home solutions, the iTechArt team steps up as a go-to-partner for companies wishing to build their IoT prototypes or fully integrated solutions.
With more than 1300 talented devs on board, the team is competent at meeting challenges associated with the needs of the connected economy for IoT companies from:
Real Estate

Security

Fitness

Healthcare

FinTech

Transportation, and other verticals

.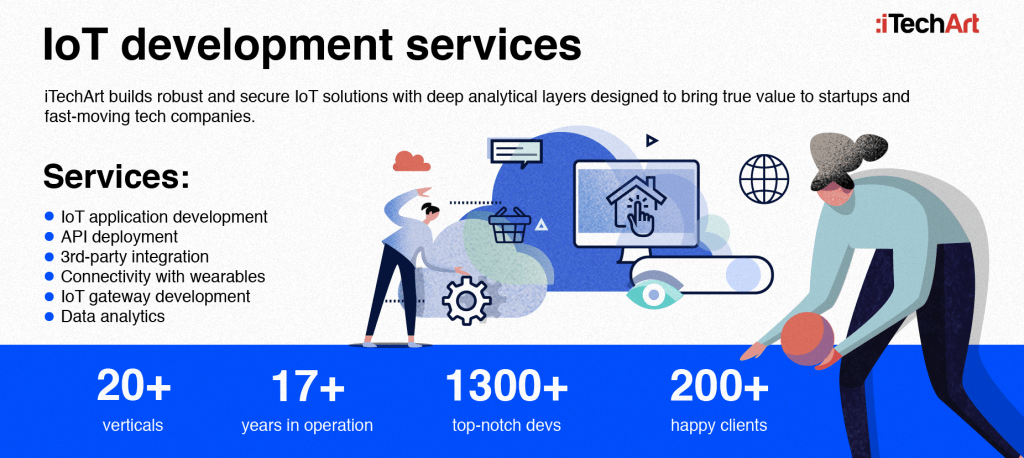 Specialties: web and mobile IoT applications, AI-powered IoT solutions, AR/VR apps, blockchain-based solutions, QA and testing, MVP development, web development, custom software development.
Website: https://www.itechart.com/development/expertise/iot/
OSDB is a team of energy-driven development professionals with core competency in Javascript (TypeScript) and Java. They got a deep expertise in building web applications for Internet of Things domain- Controlling smart devices and robots via a web application for your business or domestic needs.
OSDB helps companies with their IoT prototypes to develop software infrastructure, connect their devices to the world and get the utmost from the data they receive. The team will help you to increase business value through manual processes automation, workflows optimization and new ways of user engagement within custom development of highly efficient IoT web applications that make the world interconnected.
Understanding the the value of connected devices they bring interconnections and let ones interplay through our IoT software development services.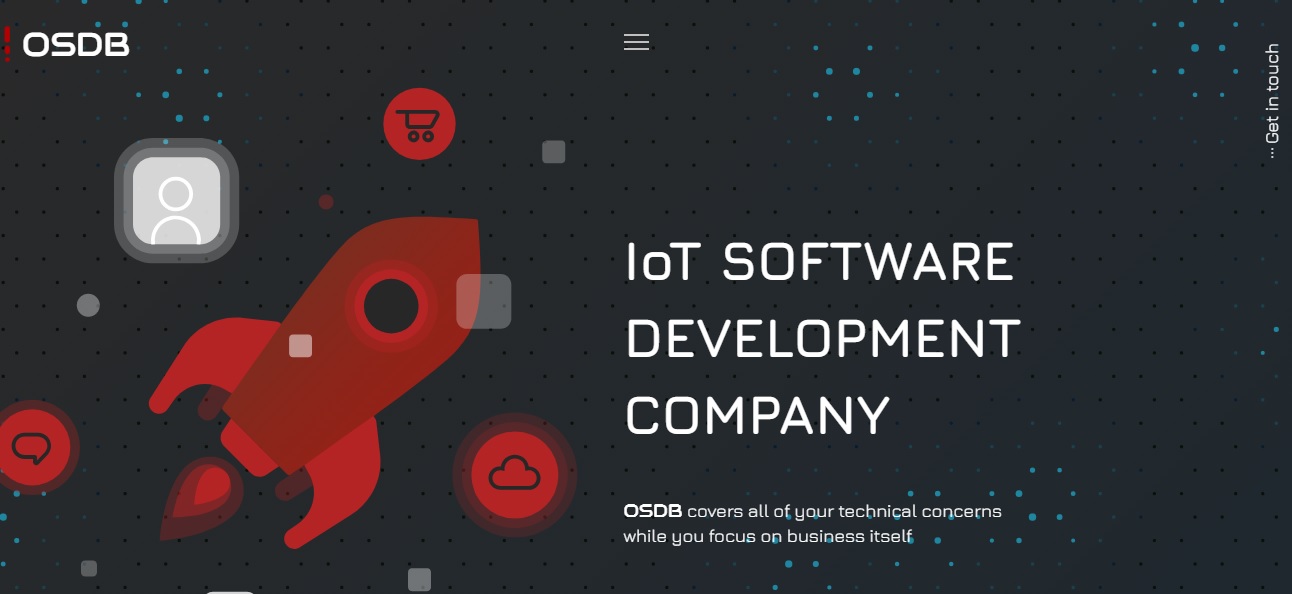 Website: https://osdb.io
A global player in telecommunications products, speakers and phones, Invoxia, founded in 2010 and based in France, offers a line of IoT products, starting with a unique GPS tracker to help secure personal belongings, devices or even modes of transport. To track things, there's the Roadie GPS app with no distance limitations. A second piece of IoT tech is a smart portable speaker with Alexa voice command, and with many features like music, web, radio, controls, alarms, and even hands-free calls.
Website: http://invoxia.com/
La'Quest a global business solutions provider dedicated to elevating its business partner's backbone as it facilitates the update of obsolete business platforms provides reliable business backend support, and help traditional business system transform to the digital world. A trusted Google Cloud partner with Certified G Suite Administrators and an expert in the database and technical supports, La'Quest is committed to bringing digital advancement with its reliable source of competent professionals honed to deliver client satisfaction
Founded: 2017 / Contact: +1-888-311-5444 (e) [email protected] /Employees: 35-50
Website: https://www.laquest.net/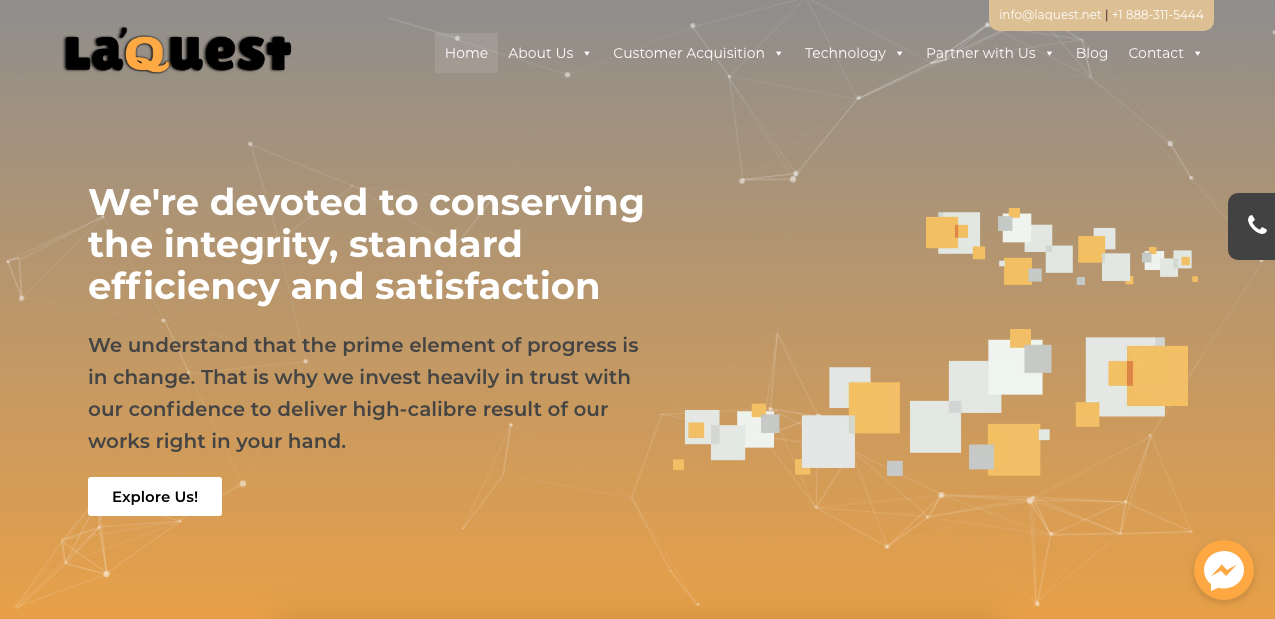 A leading US telecommunications provider Verizon that has been developing IoT services for few years already, in 2017 announced the global strategy. Its goal is to simplify services in Internet-of-Things though vast network of thousands of channel partners and experience in devices/platforms/applications. They have launched ThingSpace – an IoT platform to control multiple devices and data as a single environment. Any developers are allowed to code and test on ThingSpace. Verizon's core IoT areas include smart cities, telematics (route planning for delivery trucks), mobile commerce, asset tracking and management, 4G network with services specifically for IoT.
Website: http://www.verizonenterprise.com/

What's common for IoT technology and home gardening? Well, surprisingly enough those two things become one as indoor smart gardening devices by Click And Grow. Their system of garden capsules and pads is Internet-of-Things as it involves automatic watering, nutrients injection, special lighting and oxygen supply. You really have to spend some time to explore all and wrap your head around this. Such "zero-effort" home gardening for plants and flowers includes tools and elements like plant capsules and kits, soil nano-materials, timers, low energy consumption, self-watering tanks, biodomes, various indicators, etc.  
Website: https://www.clickandgrow.com/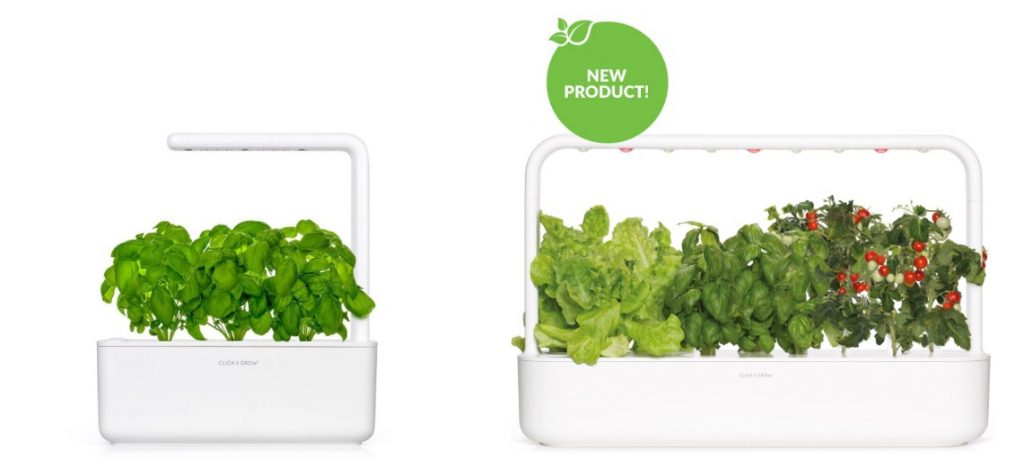 Wireless modules for NASA, marine navigation systems for Furuno, smart city devices for Enlight, charging stations for AddEnergie and more – Digi from Minnesota, USA, easily makes it into the list of best IoT companies. With history starting in 1985, the company is "putting machines to work", and currently in the IoT-way, as M2M communications. In other words, a highly innovative and diverse company delivering hardware, software and services to make Internet-of-Things into Internet-of-Getting-Things-Done. Well put! Products include wireless modules, gateways, routers, firewalls, console servers and serial servers, USB hubs, etc. Find much more at their site.
Website: https://www.digi.com/
Looking to accelerate your business with digital transformation? Check out Telit IoT company works in every key area such as end-to-end IoT solutions, IoT modules, IoT connectivity, IoT platforms and IoT know-how services. In fact some of it include the following: cellular modules, vehicle software/telematics, low power wide area networks (LPWA), IoT platform and Telit portal for all things IoT, M2M sim cards, etc. All of that, apparently, is aimed at creating smart buildings, smart management systems, smart transportation.
Website: https://www.telit.com/
More IoT companies to consider
Clearly, our list is not the ultimate or full, there are literally thousands of startups and innovators out there. So you have to know exactly what and who are you looking for. As few more honorable mentions as top IoT companies, here are 15 more to follow:
Litmus Automation

, cloud platform for enterprise apps;

Gemalto

, hardware and software for IoT;

Pegasystems

, cloud software provider;

Microduino

, systems for students, teachers and inventors;

KaaIoT

, an open source IoT platform;

ForgeRock

, digital security systems;

Fathym

, a data management system for enterprise-level IoT;

Sifteo

, gaming and entertainment IoT;

Thingsquare

, low power wireless networks;

Xively

, all-in-one platform for connected devices;

Wi-Next

, industrial Edgeware IoT platform;

Vates, providing data streaming for real-time global apps;
Berg Insight

, M2M and IoT products and services;

Kepware Technologies

, connectivity/industrial automation software;

Losant

, IoT developer platform.