Currently, a business without online presence is basically nonexistent. In order to succeed, every firm requires fully developed systems for online software management to operate and advertise adequately. For that, we need a company with certified, skilled employees. The rivalry between these organizations is as fierce as ever, and in this article we present the list of best custom software development companies and what elevates them to top positions.
20 top custom software development companies
Geomotiv is a company with over 10 years of experience in custom software development. The team specializes in creating the most efficient mobile and web supply solutions from scratch while taking into account all the individual requirements of customers. Small mobile app or complex Enterprise Software project – nothing is impossible for Geomotiv.
Geomotiv uses a great tech stack for its projects: Java, Node.JS, Python, PHP (back-end), JavaScript, Angular, React.JS (front-end), Hadoop, Druid, Spark, Kafka (Big Data), AWS, Google Cloud (cloud), iOS, Android, Cross-platform (mobile).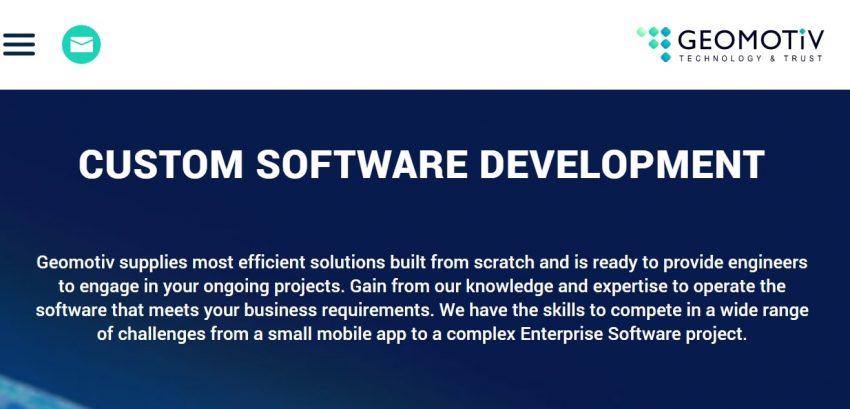 SoftKraft services:
Enterprise Software Development

Software Integration

Legacy Software Upgrade

Consultancy and Innovation

Maintenance and Support
Pricing: Pay-as-you-go (PAYG) rates / $ 25 – $ 49 hourly rate / Headquarter: Alexandria, USA
Employees: ~100 / Contact: info@geomotiv.com
Website: https://geomotiv.com/
Headquartered in Texas, USA, ScienceSoft is an international software development company that offers a wide range of all-round custom software services. Most of ScienceSoft's clients are companies based in Europe and the US, among which are such big corporations as Walmart, PerkinElmer, eBay, NASA JPL, IBM, T-Mobile, and Baxter.
Exploiting the relevant and trusted IT trends (reactive systems, microservices, cloud computing, etc.), ScienceSoft enhances businesses from various domains with custom applications for different needs. The examples of their recent work include innovative CMS platforms, complex B2B/B2C portals, ERP and CRM systems, real-time data processing and data analytics applications, IoT solutions, etc.

ScienceSoft services:
Technology Consulting – Giving detailed advice on the most suitable tools and architecture for the solution backed with a wide development experience and technology expertise.
Web, Mobile and Desktop Application Development – Delivering applications of various complexity for any browser and any device. ScienceSoft employs the most relevant tools of multiple available platforms for back-end (Java, .NET, C++, PHP, etc.) and front-end (JavaScript/HTML5) creation. The development can be either organized from scratch or based on the detailed requirements specification.
Internet of Things (IoT), Big Data and Artificial Intelligence (AI) Solutions – Delivering smart solutions for manufacturing, supply chain management, retail, healthcare and more.
Software Upgrade – Migrating the legacy software to a modern technology stack, enhancing its architecture, integrating it with other internal business systems (ERP, CRM, PLM, etc.) or external services (payment systems, social networks).
Support & Maintenance – Ensuring the relevance of the application, its stable work and immaculate UX.
Pricing: Pay-as-you-go (PAYG) rates / $25 – $49 hourly rate.
Headquarters: McKinney, Texas, USA / Employees:  250 – 1000 / Contact: + 1 214 306 68 37
Website: https://www.scnsoft.com/
Miquido is a long-term custom software development partner for the business, which aims to provide proof of concept, software development, product design, and consultancy services since 2011. From the time it was incorporated, the team has successfully launched over 100 projects that are distinguished by quality and functionality. Being an international company, Miquido has offices in Krakow, London, Berlin, Zurich, Vienna, Amsterdam, and Dubai.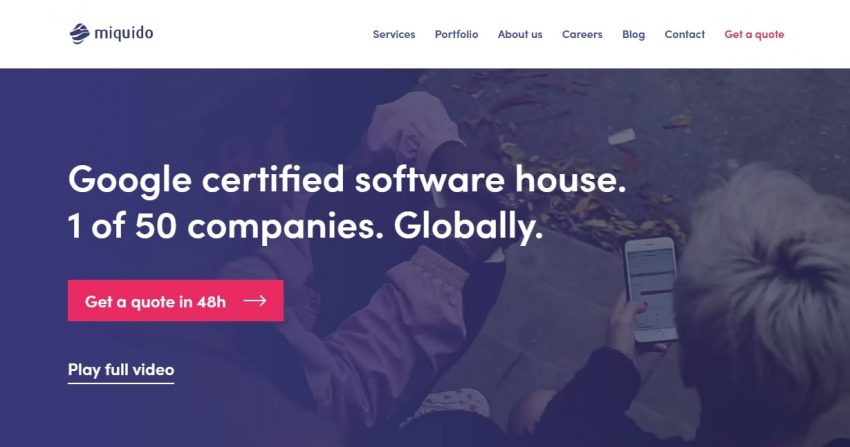 The team uses a wide tech stack for its projects, which Miquido specialists own professionally, using all their capabilities. They include Angular ReactJS, Go (Golang), Node.js, PHP, Java, Kotlin, Microservices Architecture, MongoDB, PostgreSQL, MySQL, AWS, Azure, Kubernetes, Docker, Kotlin, Java, Swift, Flutter, React Native. To create a prototype, the team needs only about 2 weeks, and for the MVP just 3 months of cooperation.
Miquido services:
Research & Development

– the team provides Prototypes, Augmented Reality, IoT, Audio/Video streaming solutions;

Product Design & Strategy

– Miquido team professionally delivered Voice User Interface, Mobile Design, Web Design, Competitive Analysis, User Research, Prototyping, Testing, Motion Design, Video;

Mobile & Web Development

– the team transform businesses and simplify users lives via Front-end Development, Back-end Development, Native Mobile Apps, and Cross-platform Mobile;

Artificial Intelligence

– Miquido provides top-notch solutions as Data Science, Machine Learning, Computer Vision, Voice Assistants & Chatbots.
Pricing: $50-99 hourly rate
Headquarters: Krakow, Poland / Employees:  50+ / Contact: +48536083559
Website: https://www.miquido.com/
With their Javascript, Python and PHP expertise, XSolve covers all the mobile and web platforms. They build fast applications for businesses in different industries and point out automatic testing and peer-to-peer code review as some of their key specialties.
XSolve developed an Electronic Warranty System for Bosch, built the entire e-commerce platform for a Takamol Holding from Dubai in only 6 weeks and stood in front of a very interesting project – BlaBlaCar. This Parisian carpooling company connects drivers with people who travel to the same destination.
The idea became a sensation pretty quickly so the BlaBlaCar needed a rapid extension of their development team and improvement of their IT system, which XSolve took care of. Below, you can see the functionality of Tesla App developed by XSolve:
XSolve services:
Team Development

– Extending your team with backend and front end developers, assurance engineers, designers and scrum masters.

Software Development

– Developing software with customized features and design.

Mobile App Development

– Creating and developing innovative cross-platform apps.
Pricing: pay-as-you-go (PAYG) rates / $50 – $99 hourly rate
Headquarters: Gliwice, Poland / Employees:  50 – 250 / Contact: +48327390900
Website: https://xsolve.software/
A group of Indian entrepreneurs founded this company back in 1997 and managed to expand it not only across the whole country but the world as well. IndiaNIC develops web and mobile applications as well as cross-platform games for enterprises of all sizes.
They created a website for the famous Cosmopolitan, customized several online shops, such as Panda, Ria, and Myonsto and worked with clients from different industries and countries. One of those projects was the creation of Summit Radio app, where IndiaNIC allowed users to stream four different stations, request and share songs via social networks, display the lyrics of the song, etc.
Infotech Ltd. services:
Mobile App Development

– Developing strategies and creating mobile apps for iOS, Android, and Windows with Hybrid Technology.

Web Development

– Offering solutions for the existing website, creating an entirely new website and enhancing IoT devices and apps.

Mobile Game Development

– Creating Unity 3D plugins or 3D and 2D Games based on the client's idea or a specific development stage.

UI/UX Design Analysis

– Analyzing the design of the application and applying engineering practices into creation of a unique visual presentation.

Virtual Reality App Development

– Producing realistic VR apps, suitable with most VR devices.

Wearable Devices App Development –

Fabricating apps for wearable gadgets, such as smartwatches and headbands.
Pricing: pay-as-you-go (PAYG) rates / < $25 hourly rate
Headquarters: Ahmedabad, Gujarat / Employees:  250 – 1,000 / Contact: +14089229083
Website: https://www.indianic.com/
Praxent is not a simple custom software IT company. They have the role of an IT assistant to businesses of all sizes. They work on growing the business with them, bring more customers and spread the world about the client's company, not only create an app by someone's instructions.
By introducing custom cloud solutions to a ticket broker TicketCity, Praxent liberated 98% of their inventory, resulting in expansion of the system capacity by the whole 6800%. Moreover, Praxent gained 12,000 subscribers for Plumb's veterinary drugs within a short time period, making the veterinary handbook easily accessible online for veterinarians across the world.
Praxent services:
Design and strategy –

Making a plan for the software construction and design.

UX Design –

Designing the software according to the previously created plan.

Software Development –

Developing a custom software with all the necessary data and features.

Software Modernization –

Refreshing the existing software and introducing new features.

Mobile App Development –

Developing mobile app for online and offline utilization.

Web Development –

Implementing web application of the company.
Pricing: Free consultation, pay-as-you-go (PAYG) rates / $150 – $199 hourly rate
Headquarters: Austin, Texas, USA / Employees:  10 – 50 / Contact: 512-553-6830
Website: https://praxent.com/
Focused on cloud solutions (SaaS, ERP, CRM) and providing custom software services, Apriorit is a distinctive company, different from the others on this list. They emphasize technical part of the software development, analyze data, set up a plan and perform corresponding activities toward its achievement while predicting results of these actions.
Apriorit has an ability to perform stealth technologies, which they did in many of their projects. These technologies serve to hide the components of a certain application especially for an individual local user or a specified domain.
That is not the only security-related process Apriorit specializes. They implement services, processes, and files, install apps in silent mode and monitor the system. Apriorit services:
Mobile and application management

– Recording the screen, managing and monitoring mobile device and/or specific application.

Virtualization Development and Cloud Computing –

Personalizing the environment of the user, virtualizing the file system, storage, and IP address.

Cloud Platform Engineering

– Maintaining, securing and future scaling the cloud platform.
Pricing: Pay-as-you-go (PAYG) rates / $25 – $49 hourly rate
Headquarters: Dover, Delaware, USA / Employees:  50 – 250 / Contact: 202-780-9339
Website: https://www.apriorit.com/
Bamboo Agile offers custom solutions development for any type of business. Taking into account the characteristics of each client, the company provides only scalable, world-class software, created with a unique approach. The company has expertise in such technologies as Node.js, RabbitMQ, Redis, MySQL, Vue.js, React.js, Angular, Javascript, Mobile Kotlin, Swift, Firebase, etc.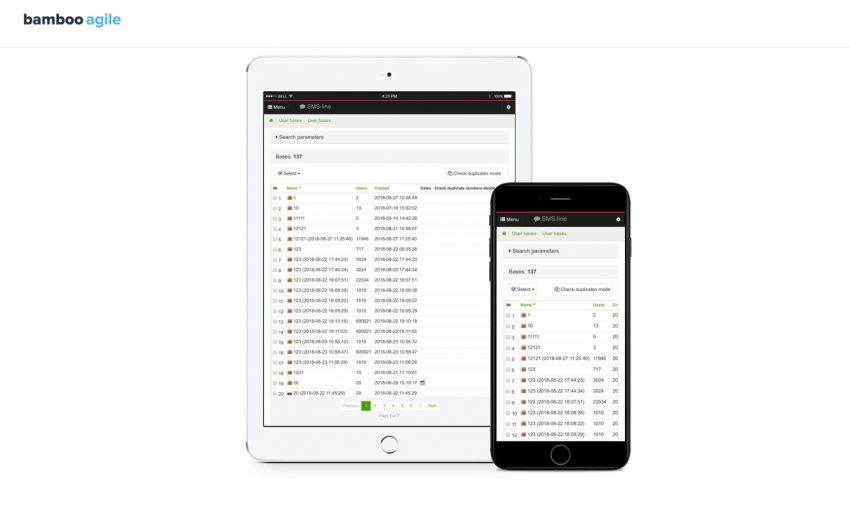 At the moment, the team works on design and implement a mobile marketing platform, which aims to send targeted push, social media, and e-mail messages to subscribers' devices. After platform launching, users will be able to create and view subscriber bases and blacklists, check balances, see customers' answers for SMS, and order SMS packages.
Bamboo Agile services:
Mobile App Development
Shopify Development
Custom Integrations
Performance Analysis
Pricing:  $25 – $49 hourly rate
Headquarters: Tallinn, Estonia / Employees:  30+ / Contact: +372 63 462 94.
Website: https://bambooagile.eu/
A bespoke software development company from the UK, designing web, desktop, and mobile applications for businesses of all sizes. They work with public and private sectors, for individual clients and large enterprises, making them agile for different types of customers.
Usually, tech experts must develop different versions of the software for desktop and mobile devices. DCSL created a smart front-end for a British online store GAK with the ability to detect and optimize the access of the user on different gadgets.
Therefore, they only created one flexible platform with a powerful automated detection/adaptation system. That action saved extra money for GAK and provided a new, innovative experience to the users.
DCSL services:
Bespoke Business Apps

– Ensuring safe business management, all-inclusive dashboard, stock control reports and more.

Web and Mobile Apps

– Consulting, creating and operating apps on all existing platforms.

Internet of things (IoT)

– Designing software that connects through Wi-Fi, NFC, Bluetooth and or radio.
Pricing: Pay-as-you-go (PAYG) rates / $50 – $99 hourly rate
Headquarters: London, UK / Employees:  50 – 250 / Contact: 020 3096 6199
Website: https://www.dcslsoftware.com/
The only Latin custom software IT outsource company from this list, Belatrix Software applies the agile Scrum methodology and Design Thinking to their programs. They develop mobile and web applications, have their own Inovation Lab and offer most services a regular software provider does. 
The featured clients of this company inspire reliability as they are some of the most-recognized brand in the world, such as Disney, Adobe, Aol, Factora and Stone River. They also partnered with several companies, such as WSO2, which expanded the possibilities of Belatrix and made their products more innovative.
Belatrix services:
Product Creation

– Building a product based on client's ideas and Belatrix development team.

Mobile and Web Application Development

– Developing the designed product.

Software Innovation

– Renovating the existing, outdated software.
Pricing: Pay-as-you-go (PAYG) rates / $50 – $99 hourly rate
Headquarters: Buenos Aires, Argentina / Employees:  250 – 1,000 / Contact: +1 (855) 524-4533
Website: https://www.belatrixsf.com/
MojoTech is an American custom software development company with major focus on cloud-native solutions. They have a relatively small team that works effectively on product design, development, training, coding and risk reduction. So far, clients from healthcare showed most interest in a collaboration with this company.
Some of those clients are Aetna, a healthcare insurance company and Delta Dental, a dental plan system. MojoTech designed unique programs for both of these firms, with custom features according to their services. Some of those characteristics allow users to find useful tips for their health improvement, health outcomes and similar.
MojoTech services:
Product design and development
UX/UI/CX design
SaaS Web development
Pricing: Pay-as-you-go (PAYG) rates / $150 – $199 hourly rate
Headquarters: Boulder, Colorado, USA / Employees:  10 – 50 / Contact: 1-855-665-6832
Website: https://www.mojotech.com/
Serving in American and Indian markets, Magneto IT Solutions. They work on web and mobile applications although one of their distinctive areas is the chatbox. By creating an automated chatterbox, they take a big responsibility from their clients, fulfilling the role of one employee.
The automated chatterbox responds to inquiries and questions of the clients based on the words they used. Magneto's employee makes sure to input all the common and uncommon keywords and creates answers for a long list of questions related to those words.
That is not the only service they offer as they have many strategical and developmental projects in their portfolio, especially eCommerce.
Magneto IT Solutions services:
Web and mobile app development
Digital marketing
Chatbox
Pricing: Pay-as-you-go (PAYG) rates / $25 – $49 hourly rate
Headquarters: Las Vegas, Nevada, USA / Employees:  50 – 100 / Contact: +1 214 447 0720 (US), +91-9665548189 (India)
Website: https://magnetoitsolutions.com/
Intellectsoft targets startups, mid-sized and large-sized enterprises by providing full mobile and web application services with innovative characteristics. They build software on stable platforms and cover all existing operating systems, making them suitable for diversified clients. Their rich portfolio stands as a confirmation of their quality with prestigious company names in it, such as Audi, Jaguar and Land Rover, among others.
They recently announced a partnership with 1World Online, a blockchain-powered platform with over 12 million registered users. Intellectsoft will integrate empowered operations and security system to the mentioned company.
Moreover, they announced Intellectsoft Blockchain Lab, a blockchain consulting and development enterprise. With these projects, Intellectsoft showed became a part of the blockchain, one of most profitable and fastest growing businesses industries today.
Intellectsoft products/services:
Enterprise Software Development

– Designs enterprise software system for the entire company while supporting and following all the technical operations.

Mobile App Development

– Builds mobile apps from the scratch on fast, stable platforms.

IT Consulting

– Intellectsoft experts provide solutions, advice and suggestions for the current and future management of your business.

UI and UX Design

– Adapts the style of the website or mobile app to the company's image, providing simple and user-friendly experience to the surfers.

DevOps

– Automatizes and optimizes IT procedures of the company, including security, delivery, and fail-safe system.
Pricing: pay-as-you-go (PAYG) rates / $50 – $99 hourly rate.
Headquarters: Palo Alto, California, USA / Employees: 250-500 / Contact: (650)300-4335.
Website: https://www.intellectsoft.net/
For over 10 years Selleo has delivered professional services on more than 150+ software development projects for clients from Europe, the US, Canada, and Australia, designing and building a number of applications throughout a wide spectrum of business domains, industries, and technologies (Ruby on Rails, ReactJS, React Native, EmberJS, Angular)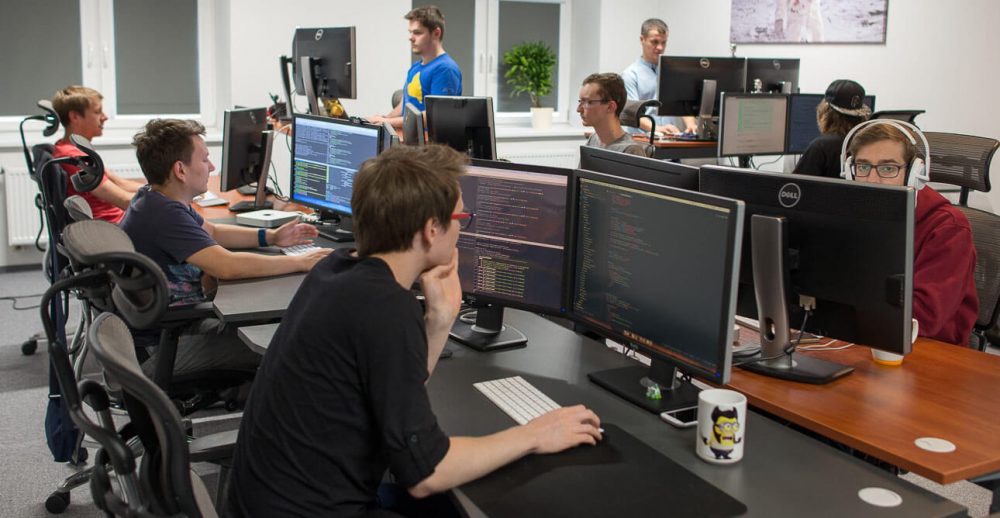 Selleo services:
Custom software development;
Web and mobile applications development;
UX/UI design;
DevOps & Cloud
Pricing:  $25 – $49 hourly rate
Headquarters: Bielsko-Biala, Poland / Employees:  50 – 250 /
Website: https://selleo.com/
Orases is a modern agency from the US with standard services on their menu, including mobile and web applications development, custom software services and flexible IT solutions. They list SMBs and Fortune 500 companies as only some of the businesses they work with it.
This company was involved in two industries that not many custom software IT outsource companies cover – sports and farming. Namely, they created websites for Dairy Farmers of America, Homegrown Frederick and Prince George's County, as well as MLB Pitch Hit & Run, and several apps for NFL. 
Below, you can see some testimonials and interviews of Orases' clients and employees:
Orases services:
Mobile and Web Application Development –

Custom software development for apps of different types and requirements.

Product Design –

Designing, customizing and creating the product. Analyzing and optimizing the material of the software.

Strategy Development

– Researching and analyzing development methodologies, creating and applying a convenient software strategy.
Pricing: Get a quote online, Pay-as-you-go (PAYG) rates / $150 – $199 hourly rate
Headquarters: Maryland, USA / Employees:  10 – 50 / Contact: 301-694-8991
Website: https://orases.com/
Another company with Agile and Lean methodology, Innovify targets companies that need long-term partners and IT support, rather than one-project software creator. They start with consultation and advice, proceed to the development of the plan and continue to support the company technically, even after putting the software in use.
Innovify worked directly with Microsoft on several projects, which built their IT capabilities rapidly. They also partnered with Nokia, BBC, HSBC, O2 and other globally famous companies. Innovify showed its potential by creating an online betting website BetFair, which requires top quality and accuracy for online betting, analysis.
Innovify services:
Innovative Design

– Doing a minimum viable product (MVP) in the early stage while implementing the final product with innovative features.

Mobile and Web Application Development

– Developing and operating all types of apps, regardless of the platform.

Growth Hacking

– Refining the product with conversion optimization, MVT and A/B Testing.
Pricing: Pay-as-you-go (PAYG) rates / $25 – $49hourly rate
Headquarters: London, UK / Employees:  50 – 250 / Contact: +44 2035 145388 (UK), +1 650 690 2186 (USA), +91 7948000038 (India)
Website: https://www.innovify.com/
WorkingMouse cooperates with new and established companies by either creating or recreating their websites and apps. They point out the Codebots Platform as the "secret ingredient" of their successful projects. This platform helps developers understand and use codes in a better way and, therefore, impacts their efficiency and speed positively.
WorkingMouse's team points out that the speed is one of their key advantages, which turned out true in their project with Dirigo, a financial group. This software development team managed to finish a complex task of creating a finance application within a few weeks, even after the executives themselves thought that it would take several months.
WorkingMouse services:
Cloud Migration –

Designing, developing and deploying applications under the Codebots platform.

Software Outsourcing

– Using the agile software outsourcing methodology.

UX Design

– User-friendly design of the app.
Pricing: Pay-as-you-go (PAYG) rates
Headquarters: Brisbane, Australia / Employees:  10 – 50 / Contact: (07) 3371 2003
Website: https://workingmouse.com.au/
Web and mobile developers with Python and Django in their first plan, Merixstudio is a modern firm that goes up-to-date with the market changes. They use the UI/UX design for all their apps and HTML5 for games, which also take a big part of their company.
Merixstudio built several impressive games, such as Playism, in collaboration with Active Gaming Media. It is a multilingual PC game with its own shop and extensive social features, such as discussion board, game reviews and similar.
Another game in their portfolio is Kopanito All-Stars Soccer, an arcade soccer, multiplayer game with a touch of fantasy, making it very interesting and addictive.
Merixstudio services:
Mobile App and Web Design and Development
HTML5 games
Testing and Optimization
Pricing: Pay-as-you-go (PAYG) rates / $50 – $99 hourly rate
Headquarters: Poznan, Poland/ Employees:  50 – 250 / Contact: +48 570 001 928
Website: https://www.merixstudio.com/
This Ukrainian company mainly engages with startups and small firms, rather than aiming for big enterprises. Apart from offering the regular custom software services, S-PRO is involved in blockchain development. They take care of the full development cycle by using the React Native technology as their first choice.
S-PRO developed a payment platform Breakout, which turned out as a very successful project. During the first year of its existence, the payments through this softer reached the number of $4,5 million.
Another project worth mentioning was Safe Chain. Here, S-PRO's team presented blockchain solutions for the sharing and document saving software.
S-PRO services:
UI/UX Design –

Analyzing the product and designing the software in accordance with its style and purpose.

Mobile and Web Application Development –

Selecting suitable technologies and applying to the app; supporting all platforms.

DevOps

– Management of the operations, improvements and constant support.
Pricing: Pay-as-you-go (PAYG) rates / $25 – $49 hourly rate
Headquarters: Kyiv, Ukraine / Employees:  50 – 250 / Contact: +1 888-208-0054
Website: https://s-pro.io/
Fingent Corp points out affordability and flexibility as some of their key virtues. They are offering their mobile and web IT services mainly in the United States, United Arab Emirates and India, the three possibly biggest markets in the world.
Infince, an Enterprise Cloud Platform, is one of the Fingent Corp's products. It is an extended system that also provides IT services, especially secure cloud hosting. They also created UpSkill, a platform for training and development that aims to empower productivity and creativity among organizations.
Below, you can see how the second product looks like:
Fingent Corp services:
Product Development
Mobile and Web Application Development
Digital Transformation
Pricing: Pay-as-you-go (PAYG) rates / $25 – $49 hourly rate
Headquarters: Poznan, Poland/ Employees:  50 – 250 / Contact: +1 (914) 615-9170 (USA), +971 (04) 501-5951 (UAE), +91 (484) 405-5006 (India)
Website: https://www.fingent.com/
15 more outsource companies to mention
Surely, this list of top custom software development companies is not limited by those mentioned above. There are plenty other fish in the sea. Small and big agencies, with niche specialization or wider range of services exceeding clients' needs. The trusted platform Clutch counts more than 4000 companies, involved in custom software development. And here are a few others, we want you to consider as potential executors of your project: