Infor partners are IT/tech/software companies, certified to provide implementation and consulting services for Infor systems. Often, they are resellers of Infor products and services. Infor itself is a multinational business software vendor with thousands of employees and revenue in billions. It caters to businesses of all tiers with cloud products, e.g. CRM, ERP, Coleman (AI), Birst (analytics), CloudSuite apps for manufacturing, distribution, consumer products, finance, HR, Infor OS, and much much more. 
IPN (Infor partner network) currently counts 770 companies as of January 2020. These include channel partners, alliance partners (AWS, Accenture, TATA, etc.) and delivery partners (complete Infor Services providers). We will be focusing on those "basic level" Infor channel partners, who are in most demand. They help to implement and maintain Infor products. For the sake of this article we'll be calling them "Infor partners". First off, a little sneak peek.
15 best Infor partners as of 2020
Any business entity takes operations to a new level when utilizing Infor products. ERP, in particular, such as LN, M3, SX.e, Financials, are highly-advanced systems allowing to manage complex manufacturing and distribution processes. And in most cases, those who plan on purchasing it, do not possess skills and resources to set it up. So they need a "middleman", and that's why Infor partners are of such huge importance. 
From: USA / Founded: 1973 / Employees: 30 / IPN: 2019 Partner of the year
Central Data is a distributor of enterprise software (ERP, CRM, inventory, warehouse) and a business partner from Farmington Hills, Michigan, USA. Acknowledged by Infor as the "2019 Cloud Distribution Partner of the Year", they provide expertise in CloudSuite products, SX.e, Infor OS. 
This software offers many benefits: stock purchase optimization, order control, special pricing, private labeling, warehouse management, etc. As Infor partners, Central Data specializes in consulting, project management, IT services and network/peripheral support, stock/inventory/order management. See their highlights on Infor systems (clickable): 
Today, the Central Data team not only has 46 years of experience, having a distributed team in 9 United States cities but is also a certified partner of Infor and Acumatica. Central Data has a strong portfolio of more than 150 successful go-lives business process optimization projects.
Case example. Out of 150 projects, consider Toledo Physical Education Supply who required a  replacement for their old legacy software. Together, they decided to switch to Infor SX.e. As a result, overall process efficiency increased – from order entering to invoicing. In consequent 3 months, performance improved by 98%.
From: USA / Founded: 1989 / Employees: 50 / IPN: CloudSuite Industrial consultant
Copley have accumulated 30 years in ERP systems and analytics, and unsurprisingly became Infor Gold channel partner. Their expertise lies in manufacturing, aerospace, defense, education, healthcare industries, as well as local government. In terms of ERP, both cloud and on premise, the Group distributes CloudSuite Industrial (a.k.a. SyteLine). They help implement and maintain it. With it, companies can benefit from features like supply chain management, planning, quality control, CRM, etc. 
Case example. In huge Copley portfolio we may take AccuSpec Electronics – a manufacturer of electronics for medical, military, aerospace markets. A task was to speed up product delivery after assembly. With SyteLine ERP introduction, deliveries went up 94% while return rate went down 85%. A new system allowed better customer management, materials management and work control.  
See another client testimonial on SyteLine:
From: USA / Founded: 1993 / Employees: 40 / IPN: Gold channel partner
As Infor Gold partner and reseller, what VBS does in ERP services is three words: implementation, consulting and maintenance. Along with own products (Kaizen, VBS eCommerce) they consult and distribute the following set of Infor products: Infor VISUAL (ERP to control processes in real-time), CloudSuite Industrial, or CSI (cloud software for manufacturing), CloudSuite CPQ (pricing and quotation platform). 
Case example. J&E Manufacturing, a producer of precision metal components, required a central business management system. After cooperating with VBS and installing the ERP, they obtained timely delivery, high productivity and reduction of missed deliveries. In the words CEO Mike Hansen, "Infor Visual is the evident cost-saver".
Also, check out how VBS team is utilizing Infor VISUAL to the benefit of client:
From: UK / Founded: 2004 / Employees: 30 / IPN: 2017 EAM Partner of the year
Progressive TSL is a leading UK consultancy in finance and asset management, for oil and gas industries in particular. These are IT experts, accountants and managers, working with top clients such as Genel Energy, Seplat Petroleum, Petroceltic, Svenska Petroleum, etc. As certified Infor partners, they focus on SunSystems – financial management software (FMS). It is used by over 9,000 companies worldwide due to benefits like multi-currency, analytics, IFRS and GAAP reporting.  
Case example. Turkish Genel Energy approached Progressive TSL to upgrade their finance system and transfer the accounting process in-house to London. After considering SAP, Oracle, MS Dynamics and SunSystems, the company chose the latter. It took only 3 weeks to go live, which in itself was an achievement. But more importantly, Genel gained more efficient month closes, fast invoice processing, accurate cost allocations, process visibility and reporting.
As another strong case, see Robert Wilde, Impact Oil and Gas CFO, attest on their involvement:  
From: Poland / Founded: 2006 / Employees: 150 / IPN: CloudSuite Industrial (Silver partner)
BPX Global is a tech consulting and IT staff augmentation company, based in Wroclaw, Poland. For SMBs, mid-market companies and enterprises, one of the services they offer is CloudSuite ERP system. And it is full-circle: consult, implement, maintain,upgrade and support. Additional expertise by BPX encompasses business intelligence (BI), analytics, SAP, Qlik, IT services, training, audits.
See BPX argumentation for choosing Infor ERP for manufacturing process:
Case example. DGT, a producer of telecom electronics for Europe, went with Cloudsuite Industrial. BPX aided in setting up 2 business modules: CRM (customer relations management) and SM (service management). Benefits became obvious after a while – better communication with clients, proper customer service, routine tasks automation, reporting.
From: South Africa / Founded: 1998 / Employees: 500 / IPN: CloudSuite distributor
70,000 customers in 165 countries since 1998 is surely impressive for EOH Group from Johannesburg, RSA, a part of which EOH Infor Services is. Their market spans from African continent to Middle East and Europe. Bringing help in asset, supply chain, financial, product lifecycle management makes EOH one of the most vital Infor partners in the region. In terms of Infor software, they distribute CloudSuite, LP, M3, System 21, Visual. 
Case example. A project for Cianbro Equipment, construction equipment rental company, who wished to replace their old tracking system. EOH team consulted them to choose Infor M3, able to unify all data in one place. In result of such paper-to-desktop transformation, Cianbro greatly improved rental management, orders, packaging, shipment, as well as reduced equipment downtime.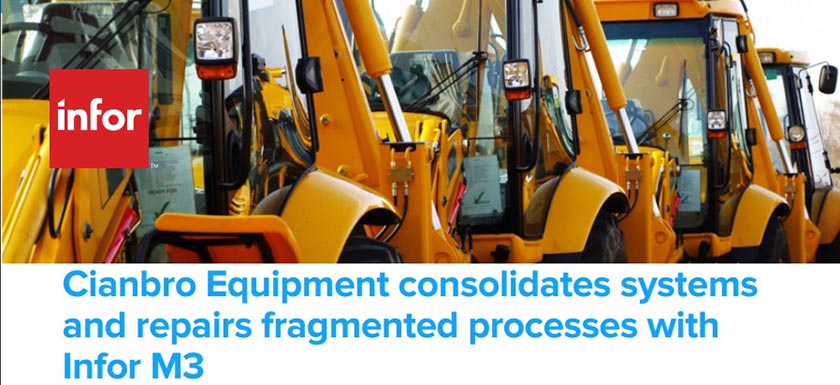 From: USA / Founded: 1993 / Employees: 40 / IPN: Channel partner
Infor consulting and configuring ERP, CRM, VISUAL are among top services by Visual South, a B2B from Concord, North Carolina in the USA. Typically, it is a 5-stage process, i.e. project planning, installation, training, launching and post-launch support. Take any Infor product, from CloudSuite Industrial, Visual to CRM, CPQ (Configure Price Quote) or CADLink, you may rely on VS team to bring it to life.
Case example. One among many is Tightitco Inc., for whom VS had implemented an ERP system, handling the timing and inconsistencies in strictly professional manner, as confirmed by COO Peter Nicholas. Or take METCAM, sheet metal fabricator, who were able to cut down inventory by half due to SyteLine use. 
From: Australia / Founded: 2005 / Employees: 40 / IPN: Gold Channel partner
A Sydney-based team is an IT and software provider for businesses involving supply chain and manufacturing. Cooperating with clients in Australia, New Zealand and South East Asia, ComActivity keeps a tight Infor arsenal: M3, Birst, PLM, WMS etc. Moreover, they can also customize software interfaces (via jScript, Mashups, SDK) to better adapt to various conditions.
Case example. For Beak & Johnson food processing company WarehouseACTION and M3 were introduced. It got them efficient transport and warehouse management. Next, you may check how Optiva, designed for food/beverage/chemicals specifically, serves Dr. Pepper Snapple Group in this video:  
From: Spain / Founded: 2002 / Employees: 120 / IPN: Infor LN consultant
Semantic Systems, besides offering own Repcon software for industrial purposes, is a consultancy in ERP systems. As Infor partner, the company works with LN and ION solutions, helping in setup and/or migration. In terms of related services, one could hire Semantic Systems for one of the following: consulting, software development, IT outsourcing, application maintenance, infrastructure. 
Case example. A migration project for Laboratorios Alcalá Farma attests Semantic Systems expertise with ERPs. The older Baan IV version (now discontinued) was replaced by Infor LN, and here's how what their CIO, Jose Manuel Garde, thinks about it:
From: Czech Republic / Founded: 1994 / Employees: 100 / IPN: Infor Global Solutions
Represented in Brno, Kladno, Plzen cities, and also a subsidiary in Bratislava, Slovakia, this Infor partner company focuses mainly on machinery, electronics and automotive industries. Solitea Gemma was trusted with Czech language localization of such Infor applications as Infor  Visual, Infor LN and Infor Scheduler. The latter is seldom noticed, although it is a great tool for supply chain, reducing idle inventory in particular (more details). 
Case example. Among 250 completed projects, one is KOVO Koukola, a metal manufacturing enterprise. The task was to put order management system into effect, and the choice fell on Infor VISUAL. Now they benefit from accurate cost tracking, production planning, sales.
Also, see how ERP by Solitea Gemma served Karned Tools (in Czech): 
From: Austria / Founded: 1990 / Employees: 800 / IPN: Gold Channel Partner
When we are saying "German quality", BE-terna could be one example in business IT services. With 19 offices, including Germany, Austria, Switzerland, 1400 customers and 2000 projects in portfolio, their experts deploy ERP, CRM and HRM systems. In regards to ERP, Infor M3 is their core product. BE-terna promotes it as a powerful software for any business: a central hub for all the IT infrastructure, modular ERP, 60 languages, search engine, visible data. And not the least important, it is easy to learn. 
The company also offers a custom solution (via M3 and PLM) for pharmaceutical purposes, called Be-Pharma. Here's a guide (clickable):
Case example. Expecting to increase productivity and lower costs, RailPool hired BE-terna to replace legacy software with M3. Railway vehicle leasing company with 150 locomotives is nothing less than a serious matter, for sure. The client expected appropriate coordination of technical and commercial data, cloud data storage. All was achieved, as well as operational cost reduction.
From: Australia / Founded: 1989 / Employees: N/A / IPN: Gold Partner
An IT consulting firm aiding other companies with all types of business applications, with HQ in Sydney. Also, it is among the leading and recognized Infor partners in Australia. Their main bet is Infor SunSystems for financial management and accounting. PA provide its integration, development of modules, staff training, upgrades.
Case example. BoysTown non-profit turned to Professional Advantage to replace the outdated financial system with relevant platform with quick data access, manage rising budgets and operations. Infor SunSystem and Infor ION BI combination was introduced, resulting in real-time data instead of spreadsheets, proper grant management, and a single system for all financial needs. 
Also, PA managers regularly invite customers to webinars about ways to improve work processes, like this one on invoice automation (clickable):
From: UK / Founded: 1982 / Employees: 150 / IPN: 2017 FMS Partner of the year
TouchStoneFMS from London, UK, specializes in financial software and acknowledges they cannot be "jack of all trades". This is frank right away, no doubt. Along with own custom solutions (to manage debt, assets, billing, corporate allocations, reporting etc.) Infor OS and  SunSystems are the lifeline. A video presentation by the company will explain the benefits much better than any words: 
Case example. Let's take 2. One is PHSO, the Parliamentary health ombudsman, was provided with a new financial system along with iPOS eProcurement solution. Another one was a project for West Yorkshire Police, who required a highly-efficient information system, as one may anticipate. SunSystems was deployed across 40 police departments, configured and police officers trained. All the elements, e.g. user verification module for secure payments, were set.
From: Norway / Founded: 1998 / Employees: 30 / IPN: LN and M3 provider for Norway/Denmark
Coming from Oslo, Mazeppa Consulting is a team of ERP experts and consultants with over 20 years on market. They provide services related to Infor LN (all-in-one global ERP for  manufacturing), Infor M3 (industry-adjustable, written in Java, available in 19 languages), and Infor OS (cloud platform with document management, analytics, business intelligence, etc.). 
Also, Mazeppa have their own cloud ERP, called Rambase. Here is CEO, Aage Ramstad, sharing company values:
Case example. Among top clients like Jotul, AIM Norway, Rolls Royce, there is Kongsberg Group, a high-tech systems vendor for defense, aerospace, oil and gas industries. They needed a unified management system to eliminate manual processes in project management. The choice was Infor LN, which helped reduce those tasks by 70%. 
From: USA / Founded: 2006 / Employees: 350 / IPN: 2018 Partner of the year
HQ in New Jersey, USA, and offices in the UK, Spain, Netherlands, a top-tier IT consulting and hundreds of employees, make Avaap the last one on our list of best Infor partners. And although they are alliance partners, we felt it was worth including it for a wider perspective to readers. With Infor consultants certified in finance, supply chain, human resource management, Avaap acts strategically via Infor OS, CloudSuite, Birst, HCM. 
Here, for instance, Avaap practice director Massimo Emilione explains the value of Infor Birst analytics app:
Case example. Take health non-profit Lakeland Regional Health from Florida. Avaap's Managed Services was added as team extension, as well as Infor Lawson (now CloudSuite Financials) implemented for financial management.
P.S. Congrats, you've made it to the end of the list. Find all 770 companies at Infor Partners portal. For more, we can direct you to Best cloud computing companies, Custom software developers, E-commerce development companies.